The quality of inflow air is known to have a vast impact on how your bike performs on the road. As a rule of thumb, the purer it is, the better. Extra clean air will give you more efficient combustion, which translates into increased horsepower while also prolonging the engine's life.
In this article, we'll tell you about the best air intake for Harley Davidson bikes, in our opinion, along with decent alternatives for those with other priorities. A Buyer's Guide section is included to help you make an informed decision.
Best Option
Pros
Smart breather technology (no hoses)
Top Pick
Pros
Smart breather technology (no hoses)
Harley Davidson Compatible Air Cleaners
Top 5 best air intakes for Harley Davidson:
The models featured below all stand out due to better-than-par performance. However, they differ in other parameters, so feel free to choose the one that best fits your needs and budget.
1. K&N Engine Air Filter HD-1508
–

An OEM Replacement High Flow Air Cleaner for Harley Davidson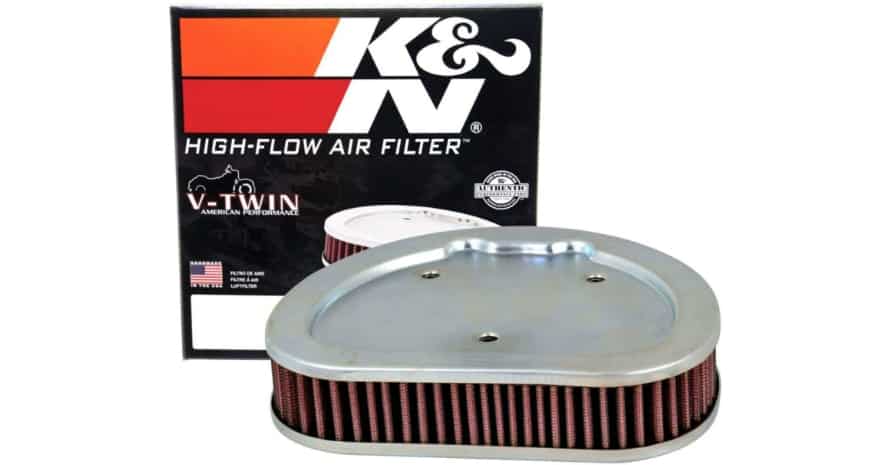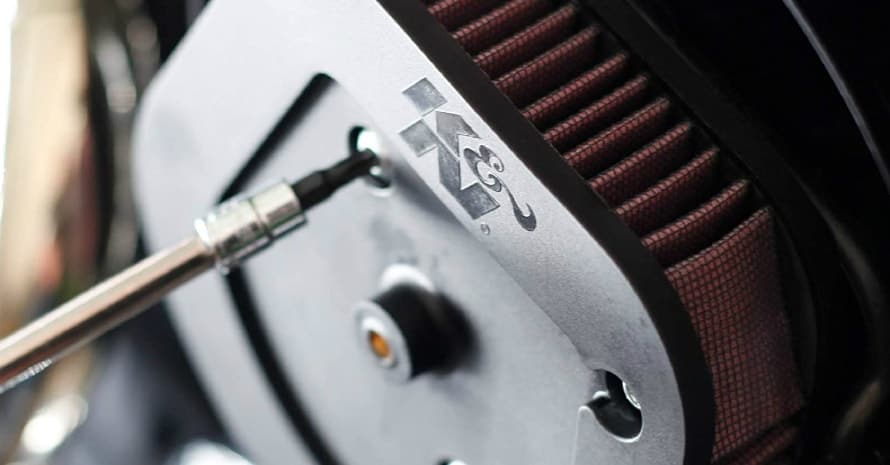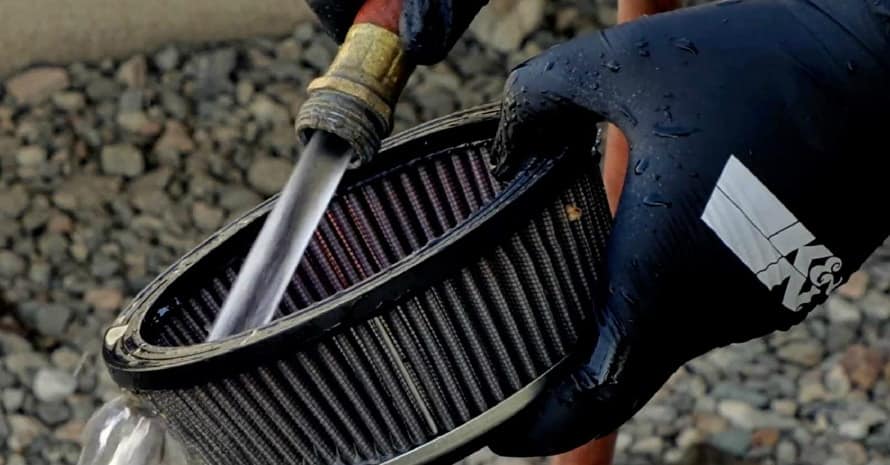 Designed to fit Harley motorcycles made from 2008 to 2014, namely FLTRX Road Glide Custom, FLHR Road King, FLHRC, FLHTC Electra Glide, and a number of other models, this K&N air filter can be a cost-effective replacement for the stock cleaner on your bike.
The filter is fairly DIY-friendly, with an estimated installation time of 5 to 10 minutes and no specialized tools required. Just like our top pick above, it comes pre-oiled. The pleated design increases the filtering surface and thus capacity, combined with special layered cotton fabric that traps oil and hard particles.
K&N offers a limited warranty of over a million miles, which also brings about environmental benefits. The model is also a good choice for driving in dirty conditions. Depending on the exact setting, the average mileage before cleaning is approximately 50,000 miles.
HD-1508 does a good job of improving the inflow of air to the engine, also increasing torque. Since torque, as a raw measurement of the rotational force inside the motor, translated to horsepower, this brings about considerable performance improvement.

K&N Engine Air Filter: High Performance, Powersport Air...
ULTIMATE LONGEVITY: 10-Year/Million Mile Limited Warranty protects for the life of your vehicle..Material:Paper
ENGINEERED POWER: State-of-the-art air filter media is designed to increase horsepower and acceleration as well as improve overall engine performance
EASY INSTALLATION: Pre-oiled and ready to install. One of the easiest and most cost-effective upgrades for your motorcycle or ATV for quick performance gains.
SAVES MONEY: K&N high-flow replacement air filters will save you $250 over 10 years by avoiding disposable filters.
ECO-FRIENDLY: Using a washable, reusable product helps reduce replacement waste. A K&N filter will last longer than 10 disposable filters.
[wpsm_column size="one-half"][wpsm_pros title="Positives:"]
Improves air inflow considerably
Easy installation procedure with no specialized tools needed
Efficient filtering element design
Budget-friendly
Extra-long warranty
[/wpsm_pros][/wpsm_column][wpsm_column size="one-half" position="last"][wpsm_cons title="Negatives:"]
Not the best power gain available
[/wpsm_cons][/wpsm_column]
2. K&N 63-1126 Air Cleaner Kit
–

The Best of Harley Davidson Air Cleaner Kits on a Budget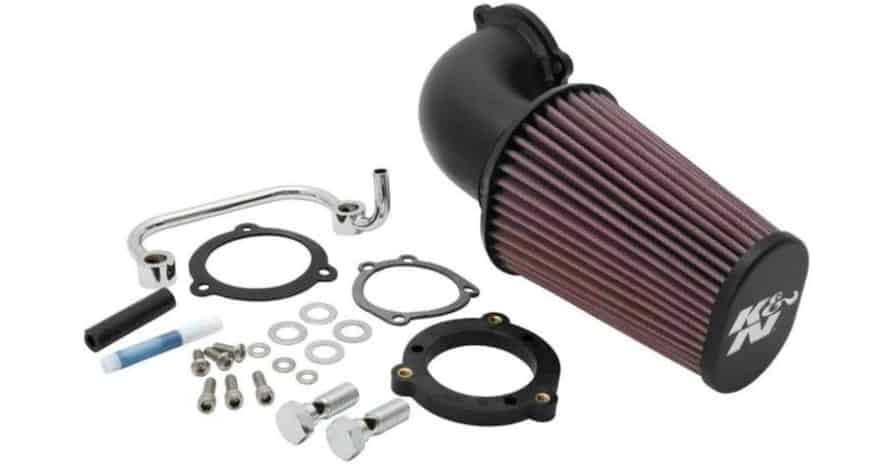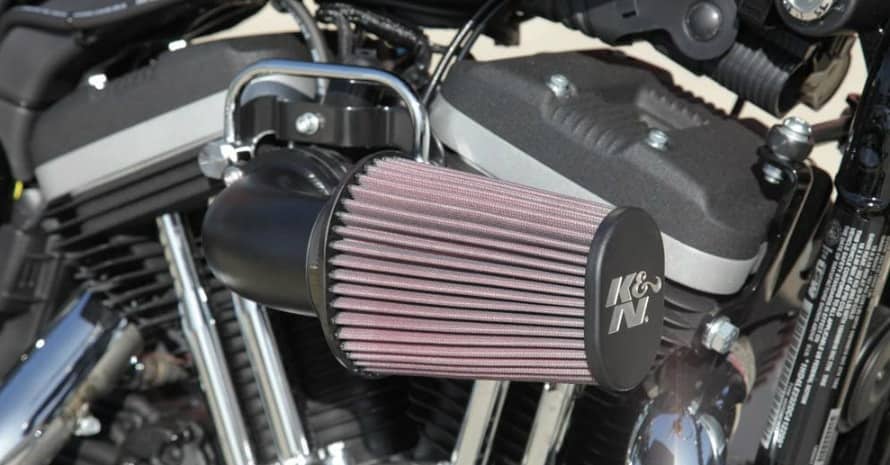 Another product by the K&N brand, 63-1126, is not just an air filter but a whole air cleaner kit that consists of a conical AirCharger red layered cotton filter using the traditional pleated design, a mandrel-bent intake tube made of aluminum, and a billet-designed plate for mounting the kit on the throttle body. Mounting hardware is included as well.
Again, the filtering element comes with some oil added to it to spare your time. Since this is a system rather than an individual part, however, the estimated installation time is increased to approximately 90 minutes.
Designed with improved throttle response in mind, the kit will also benefit how your engine sounds. Its estimated gain in horsepower is 8.57 HP at 5533 RPM.
The air filter used in this kit is washable. According to the manufacturer, it will last you about 100,000 miles before you have to clean it, which is impressive mileage. The famous K&N million-mile limited warranty applies, with a guarantee of increased power.

[wpsm_column size="one-half"][wpsm_pros title="Positives:"]
Considerable horsepower gain
A cost-effective option
Comes with a million-mile warranty
Provides for long intervals between cleanings
[/wpsm_pros][/wpsm_column][wpsm_column size="one-half" position="last"][wpsm_cons title="Negatives:"]
Might take time and skill to mount.
[/wpsm_cons][/wpsm_column]
3. Arlen Ness 18-803 Big Sucker – The Best Harley Stage 2 Air Cleaner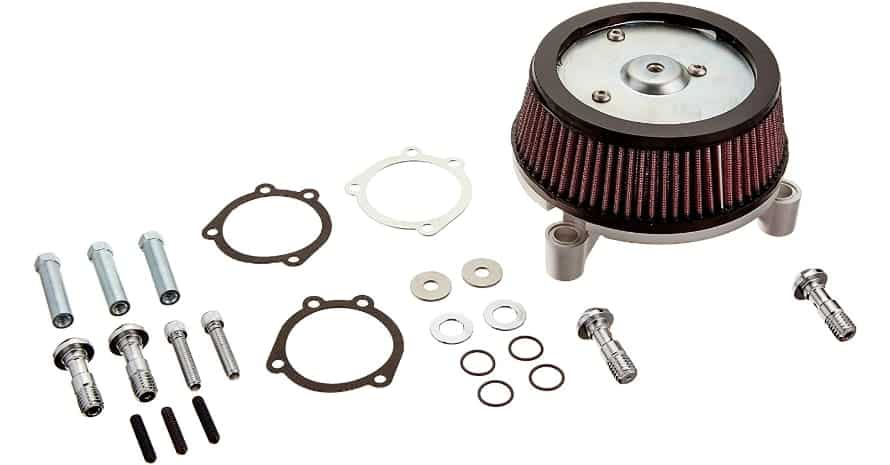 The Big Sucker is probably one of the most popular high-performance air cleaners for Harley Davidson, which we are inclined to attribute to its performance-boosting capacity, promising a gain in horsepower of up to 21%.
This model comes in two varieties, namely Stage 1 and Stage 2. The difference is mainly due to the size of the filtering element, which is 20% larger in the Stage 2 kit.
The filtering element consists of 4 layers of surgical-grade cotton. It is made by pouring the material manually over a urethane body, which means a cleaner filtering medium. The Big Sucker comes pre-oiled.
This filter pairs well with the stock air cleaner cover. It's also famous for its unique backing plate that eliminates the need for hoses or banjo fittings. The way the breather is positioned makes it virtually a closed-loop design.
The filter will fit a wide range of Harley models, including some made as long back as in the 90s. Some people find the way it looks obnoxious, but it's surely a matter of taste.
It is noteworthy that an exemption from the general prohibition in California has been granted to this model provided that factory tunings are used.

[wpsm_column size="one-half"][wpsm_pros title="Positives:"]
Unobstructed air inflow
Provides a noticeable increase in power
Smart breather technology (no hoses)
The extra clean filtering medium
[/wpsm_pros][/wpsm_column][wpsm_column size="one-half" position="last"][wpsm_cons title="Negatives:"]
Not the sleekest design ever
[/wpsm_cons][/wpsm_column]
4. Vance & Hines VO2 Naked Air Cleaner Kit
–

High Flow Air Intake for Harley Davidson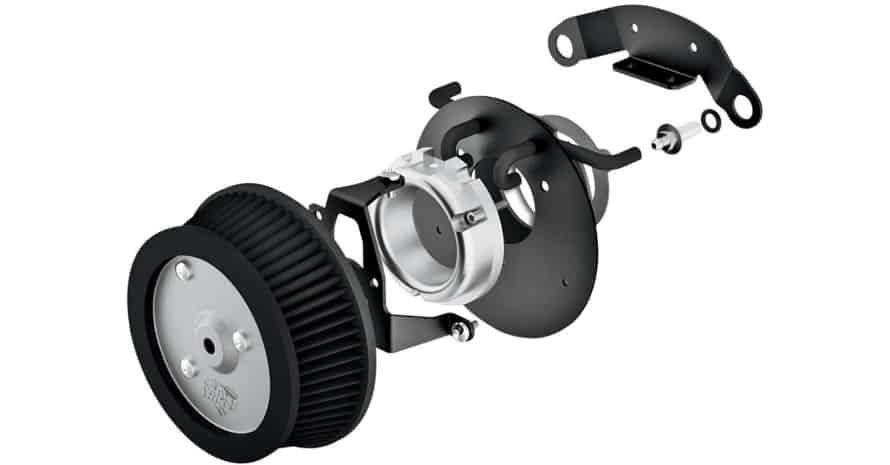 This kit will fit a wide range of Harley bikes, including some older ones from the late 90s, as well as Street 500 XG500 2015-2020 and Street 750 XG750 2015-2020. It is a kit based on a high-flow washable cotton filter.
The product can be attached directly to the factory-made throttle body. Mounting hardware is included in the kit.
While not as efficient per se as our No. 1 favorite, this kit will make a difference in power when paired with a proper fuel management system. The combination gives you great performance across the power curve.
The word "naked" in the model's name refers to the fact that it is sold without a cover. You can choose to keep the stock one purchase one of the many custom air filters covers available.

Good performance gained with a fuel management system
Cost-effective
Made to last with a million-mile warranty
Provides for long intervals between cleanings
[/wpsm_pros][/wpsm_column][wpsm_column size="one-half" position="last"][wpsm_cons title="Negatives:"]
Needs to be paired with an effective fuel management system
[/wpsm_cons][/wpsm_column]
5. Kuryakyn 9439 Alley Cat Air Cleaner Cover
–

One of the Best Harley Air Cleaner Covers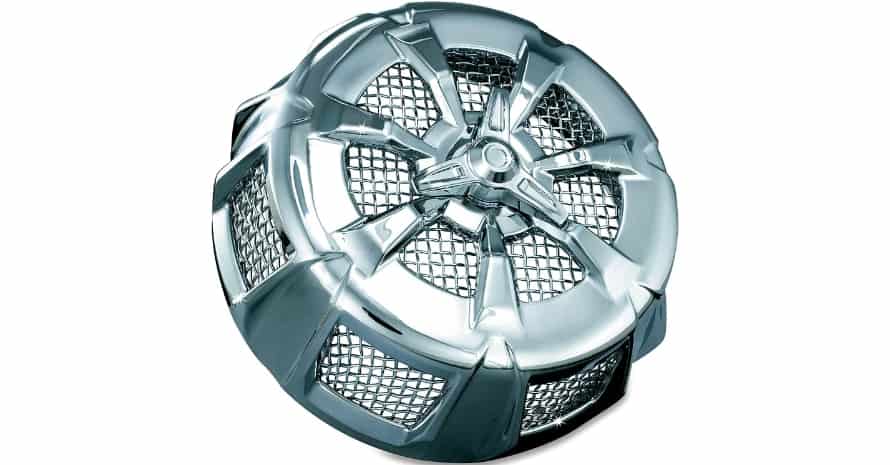 Designed specifically to fit air filters on 1999-2017 Harley Davidson motorcycles, this cover will add style to your bike while also protecting the cleaner inside. Apart from the chrome cover, the kit includes the necessary mounting hardware.
The cover features unique stainless-steel mesh inlays between chrome parts for a retro-ish look, supported by the knock-off end cap. It will pair with a number of round filters, including Arlen Ness Big Sucker Stage 1 (but not stage 2).

Kuryakyn 9439 Alley Cat Air Cleaner/Filter Cover for...
Specifically designed for Harley-Davidson's and Kuryakyn Street Sleeper II/III as well as many other aftermarket high flow air cleaners
Has a fantastic chrome finish, sporting aluminum construction with stainless steel mesh
Includes (1) Chrome alley cat air cleaner cover, (1) stay ring, (1) hardware kit; suggested tools for installation (not Included): set of hex wrenches, set of combination wrenches, torque wrench IN/LBS, socket set and Blue Thread Locker
Compatible with Harley-Davidson models: Screamin' Eagle Stage 1 Air Cleaner kits for '99-'16 Touring, '00-'17 Softail, '99-'07 Dyna; Kuryakyn Street Sleeper II and III and All Arlen Ness Stage 1 Big Sucker Kits
[wpsm_column size="one-half"][wpsm_pros title="Positives:"]
Protects the filter
Stylish vintage look
Fits a wide range of models
[/wpsm_pros][/wpsm_column][wpsm_column size="one-half" position="last"][wpsm_cons title="Negatives:"]
[/wpsm_cons][/wpsm_column]
Buyer's Guide
Finding the very best Harley Davidson air filter for superb performance and motor longevity can be a challenge unless you have a solid understanding of what you are looking for. Let's delve into the topic so you can decide smartly.
The Purpose of an Air Filter
The air that we and our motors breathe is full of dirt and particles that are hard to see with the naked eye. When injected into the engine, however, they can cause violent damage to the pistons and cylinders, causing the unit to wear sooner than it should.
An air filter is an object that is placed at the inlet to capture such unwelcome impurities and prevent them from getting inside.
Air Filter Classification
Most disposable OEM filters are made of cellulose (these are referred to as paper filters) and remind of those used to brew coffee. Their key advantage is low price and high filtering capacity. However, such filters restrict airflow to a bare minimum, which is why many riders replace them with aftermarket options.
Harley Davidson air filters are mostly made of oiled multilayer cotton gauze. While having more pores than their paper counterparts, these can hold an impressive amount of dirt. Besides, they are usually washable and reusable and thus more cost-effective than cellulose.
Oiled foam filters are a more specialized option that is good in extremely dirty settings but also messy and demanding when it comes to maintenance. They aren't really popular with street riders for this reason.
Riders in California should be aware that the California Air Resources Board restricts the use of certain aftermarket parts, including air cleaners unless exempted.
What Aftermarket Air Filter Should I Get for my Harley?
Every filter style has its pros and cons, and a lot depends on other parts of your bike. If you are a road rider with a stock air exhaust and no significant modifications, you shouldn't expect a striking gain in power due to a new filter alone. Combined with tuned exhaust and fuel management systems, however, oiled gauzed filters can really boost performance.
Casual users will be 100% with the best Stage 1 air cleaner for Harley Davidson, while those for whom the sky is the limit should look into a Stage 2 option. We recommend Arlen Ness Big Sucker as the best product for either application due to its high filtering capacity and the power gain it provides without being a pain to install.
How to Clean Harley Air Filters
Since paper filters are disposable and foam ones pretty uncommon, we'll focus on the oiled cotton/gauze variety.
Pull the filter from its housing and remove a coarse degree.
Soak in an appropriate filter cleaner according to the instructions.
Rinse well.
Swish in a bucket of warm soapy water and rinse. Repeat until clean.
Let dry completely (don't use compressed air!)
Apply fresh filter oil, wiping off any excess.
Put the filter back in its housing.
FAQ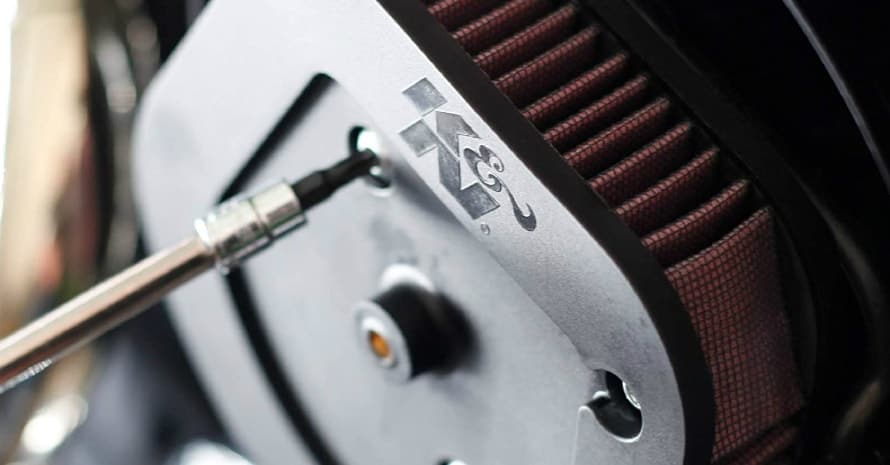 Here are the answers to common air filter questions.
How much horsepower does a K&N air filter add to a motorcycle?
This depends on the model, but 63-1126 is estimated to give you an extra 8.57 HP at 5533 RPM.
What is the difference between a Stage 1 and Stage 2 air filter?
The main difference is the size of the filtering element and its capacity. Stage 1 is enough if you aren't planning any major engine work such as lugs, high-flow heads, or forced induction. More considerable changes mean you should consider the more effective Stage 2.
Do air intakes increase horsepower?
They do, but not considerably unless paired with exhaust and/or fuel management tuning.
What is better open or closed air intake?
The closed cold air intake is more powerful than the open air intake. It can keep the intake air temperature lower, whether you're at the track or on a twisty backroad.
What does an air cleaner do for a motorcycle?
An air filter is an important part of a motorcycle. It captures dirt and other particulate matter, keeping it from entering the engine. When an air filter is dirty or clogged, it can reduce engine performance and fuel economy.
How often should I change my Harley air filter?
The filter gets filled with dirt as it does its job, and if it's dirty it will make the engine less powerful and use more fuel. That's why it's recommended to replace the filter every 10000 to 15000 miles.
Is a cold air intake better than stock?
The less restricted inlet pipe allows for air that is moving faster and contains more oxygen, which enriches the mixture of fuel and air in the engine. This, in turn, can increase both horsepower and torque, as well as improve fuel mileage. However, a side effect of the increased air intake is that the engine will usually run louder.
Can you drive a cold air intake in the rain?
If you have a cold-air intake, you don't need to worry about your engine hydro locking if you drive in the rain. However, if you have a coil-air intake without splash shields or fender lines, you could run into problems if you have to drive through water that's deeper than 6-8 inches.
Bottomline
Whether it's their reusability or potential power gain that makes aftermarket filters appeal to you, quality oiled gauze/cotton models will cover the needs of most road riders.
If you don't want to spend time choosing, get Arlen Ness 18-803 Big Sucker as it combines considerable air inflow improvement with ease of use and installation. However, feel free to choose a more budget-friendly or specialized alternative for your Harley as needed.
What type of air filter are you using now? What are the challenges? Please share in the comments section!