Tending to a Harley Davidson includes many things, which secure the bike's functionality, riding power, and longevity. All of them are as essential as they are high-maintenance, but there is one that lies in the heart of the vehicle. The battery is what keeps the bike running, but finding the best battery for Harley Davidson is not that simple.
Many people discount the battery, believing that any would do and choosing whichever model they have found online. This may often cause subsequent issues with the wiring, ignition, and, eventually, safety. And no one wants to have their Harley considered unrepairable, not only because of the money but because each unit is quite unique.
Well, I have dealt with the complexity of picking an HD battery before, and I can surely say that it takes time and effort. The choice depends on different characteristics, which demand robust expertise. For instance, the FLH series has 1340cc, which is unlikely to be compatible with YTX battery models, and so on.
Nonetheless, I would like to give you a hand here and help you choose the best motorcycle battery for Harley to last, using electric storage batteries safely. Shall I?
Top 10 Best Batteries for Harley Davidson
When it comes to the 'heart' of HD, it's difficult to say who makes Harley Davidson batteries the best. Quite a few manufacturers have been doing it for years and have gotten the hang of the product. Meanwhile, one thing remains clear – it's highly recommended to acquire a battery from a reputable manufacturer to avoid damaging your vehicle.
Here are a few batteries that I know work perfectly with the bike since my friends and I have used them before. Serving well and reliably, each of them is, of course, not ideal, even if it's the best battery for Sportster Harleys, so make sure to pay attention to the pros and cons. Well, let's get started!
1. Chrome Battery YTX30L-BS – Best Battery for Harley Touring
If you are looking for a Harley Davidson motorcycle battery to last longer than usual, this option is a match. This one is designed for durability and a high power consumption rate, which normally exhausts similar models. Apart from Harleys, it's compatible with a range of other vehicles and can be used to sustain an impressive charge on long distances.
The YTX30L-BS type is known for its portability with a width of around 5 inches so there is no need to 'fit it in' forcefully. It has a standard polarity to make it easy to charge without any additional equipment used. Besides, the clips are insulated to prevent electroshocking even upon touching them while charging.
Completely sealed off, the container holds a highly acidic blend of lead chemicals, which provide twice as much power as regular chrome-based batteries. The technology is meant for reducing the time of maintenance even though it preserves the standard 12-unit voltage.
As Harley Davidson AGM battery models go, this model induces 360W of pure and steady powering, excluding interruptions or surges. Also, the terminal is standard, i.e., the nut-and-bolt junction, to be adaptable to any modern tenders.
[wpsm_column size="one-half"][wpsm_pros title="Positives:"]
Sufficient charge
Compatible with different chargers
Leak-free
Easy to install
[/wpsm_pros][/wpsm_column][wpsm_column size="one-half" position="last"][wpsm_cons title="Negatives:"]
The complicated warranty registration process
[/wpsm_cons][/wpsm_column]
2. Yuasa YUAM620BH Battery – Harley Ultra Classic Battery Replacement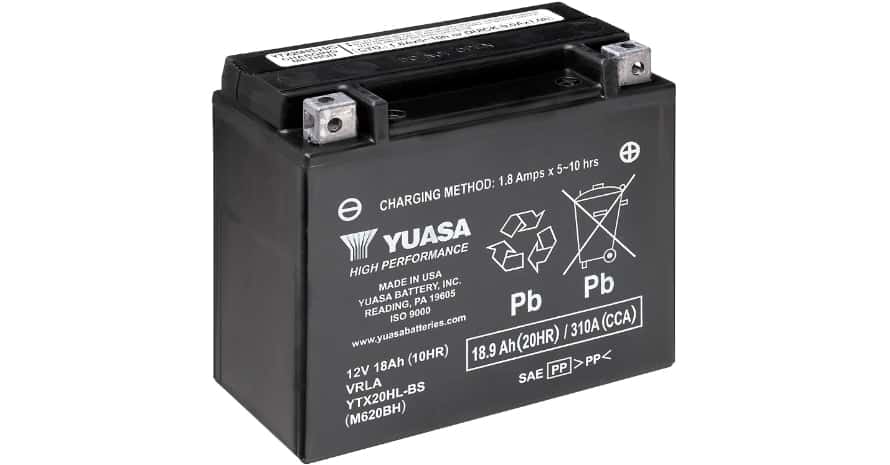 You might be tired of supplying water to your battery to tend to the acid, so you need a dry battery, like this one. Designed for high-performance bikes, the battery is 100% compatible with YTX20HL-BS replacements, which are used as the best Harley battery options due to their CCA. Besides, the product stands out with its longevity and powerful output.
Now, if you wonder about the dimensions, then simply don't. Because the battery uses the standard length and with, it is perfectly suitable for Harleys and takes very little time to install. Whether you have a cruiser or a touring bike, your motorcycle won't feel the difference in weight, which is about 14lbs.
The lead-calcium technology not only seals off the body to prevent shock but also covers all the crevices, which can cause leaks. Also, the battery runs 3 times longer than that of the same size and weight. Mind that the manufacturer doesn't ship the item everywhere, so you have to confirm your legibility.
[wpsm_column size="one-half"][wpsm_pros title="Positives:"]
Versatile
Safe and well-protected
Hardened terminals
CCA with approx. 20 hours of preserved power
[/wpsm_pros][/wpsm_column][wpsm_column size="one-half" position="last"][wpsm_cons title="Negatives:"]
The paint peels off with time
[/wpsm_cons][/wpsm_column]
3. Weize YTX30L-BS Battery Replacement – Efficient HD Motorcycle Battery Replacement
Take a look at another AMG Harley Davidson battery to replace the YIX30L models. It stands out due to its conductivity and surge-free power supply, preventing overheating or boiling. There is no need to assemble it since it's shipped pre-assembled and takes minutes to install, connect, and start using.
The dimensions here are standard, 7 by 5 by 7 inches, which has been a norm for Harley models since the late 90s. It fits easily and doesn't need any special fitment tools to secure it inside the battery compartment. Also, there is a manufacturer's seal, which comes with a nice guarantee and money refund options to back up the manufacturer's quality assurance.
Despite the size, the battery is suitable for replacement with CB, YB, CT, and a few other battery models. Don't mind the differences in the amperages, which is 30 units for YTX30L-Bs, since the voltage remains unchanged, i.e., 12V. The battery is equipped with a nice safety precaution to prevent surges even if the power input is higher than the battery is designed for.
[wpsm_column size="one-half"][wpsm_pros title="Positives:"]
Versatility
Powerful
Safe and secured
Durable
[/wpsm_pros][/wpsm_column][wpsm_column size="one-half" position="last"][wpsm_cons title="Negatives:"]
You will need to find a specific angle to fix the battery
[/wpsm_cons][/wpsm_column]
4. Deka Sports Power ETX-30L – Best Motorcycle Battery for Harley Overall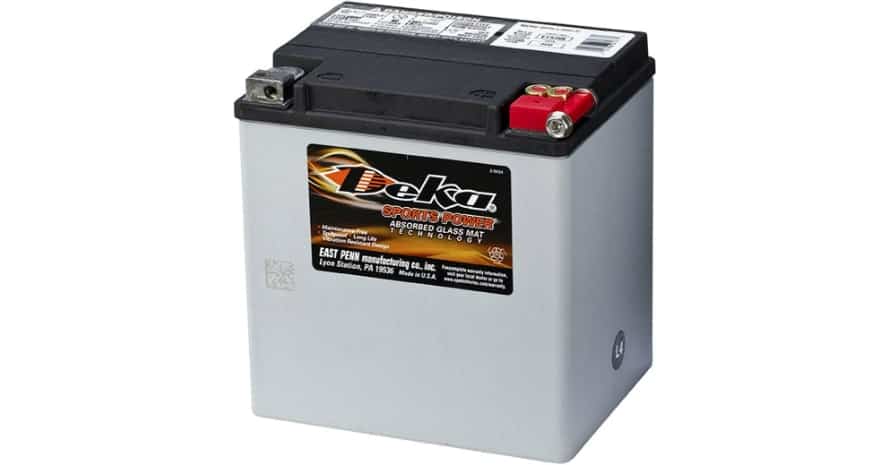 Among the top-quality batteries, Deka has always been my prime choice of mine. It's made to be safe and leak-free to prevent contamination with chemicals or spoiling the wiring. On top of this, it's extremely easy to maintain, and once installed, it doesn't require much cleaning, providing years of stable service.
Designed for stability and longevity, the battery is purely based on the absorbed glass mat technology. It weighs around 22 pounds, which is relatively light as a battery for Harley Davidson. Thanks to the dimensions of approximately 7 by 7 inches, the utility fits in precisely and is firmly fixed to prevent wobbling or detachment while riding. Also, the top lid is made of highly resistant polymers, securing the liquid inside and sealing it off in cases of boiling or overheating.
As for power, the utility voltage comes to 12V, which is very compatible with most modern chargers. The same applies to the charge capacity, which holds for 10 hours before the battery runs out of power. It's great for people who often travel long distances and have already been stuck in the middle of nowhere with their battery empty.
[wpsm_column size="one-half"][wpsm_pros title="Positives:"]
Liquid-tight construction
Hard plastic to secure the insides
Safe and insulated
Enhanced reserved capacity
[/wpsm_pros][/wpsm_column][wpsm_column size="one-half" position="last"][wpsm_cons title="Negatives:"]
[/wpsm_cons][/wpsm_column]
5. Renegade RG30L-WS Premium Wicked Battery – Best Road King Battery Replacement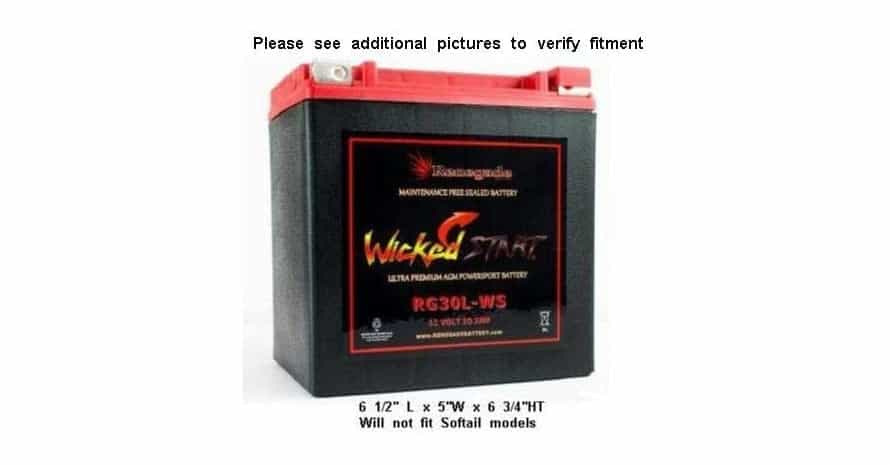 While this battery is not suitable for all HD models, it has a lot of benefits once it is compatible with your bike. Foreseeing the possibility of leaks, Renegade has doubled the body coating to seal each detail for good. Also, it has a nice cooling feature, reducing the chances of boiling, which often results in the pollution of the battery compartment and malfunctioning.
As a relatively young company, Renegade comes to its products responsibly to make the best Harley ultra classic battery replacement options. The battery is AGM and accommodates strictly 12 Volts, which can be supplied either from a standard power source or a power generator. All of this is packed into a mobile 7 x 7-inch battery, which, unfortunately, doesn't fit Softail Harleys.
The product is otherwise compatible with CVO Limited, Ultra Classic, Electra Glide, and many other HD models. On top of this, it's a perfect Road King battery as regards the size and, of course, the amperage. Also, mind that you need some fitment tools to accommodate the battery in the compartment and follow the rules for battery replacement under warranty.
[wpsm_column size="one-half"][wpsm_pros title="Positives:"]
Wide range of compatible models
Arrives ready to use
Increased cranking capacity
Double-coated body
[/wpsm_pros][/wpsm_column][wpsm_column size="one-half" position="last"][wpsm_cons title="Negatives:"]
[/wpsm_cons][/wpsm_column]
6. Banshee Battery for Harley Davidson Road King – Non-Lithium Motorcycle Battery
Another battery from Banshee that goes with Road King Gliders offers a lot of power packed into a small body. Created for touring vehicles, including HD bikes, the battery is completely deprived of acid. This makes the product both efficient and eco-friendly.
Using a 12V input point, the product is supplied with sufficient power to run for days without losing its fitness. Interestingly, the battery uses no acid, so there is no chance of any toxicity emitted toward the rider. 30 Amps are conducted freely and require no maintenance.
While charging, you need to connect to the flush terminals with any tender or charger you are using simply by fixing the clamps. With 500 CCA, your bike is very resistant to freezing and will start instantly. Finally, there is a ventilation system to prevent overheating, so you don't need to stop your Harley to cool down.
[wpsm_column size="one-half"][wpsm_pros title="Positives:"]
Mobile and neat
Environmentally friendly
Prompt recovery
No leaks
[/wpsm_pros][/wpsm_column][wpsm_column size="one-half" position="last"][wpsm_cons title="Negatives:"]
[/wpsm_cons][/wpsm_column]
7. PowerSource FLSTC – Best Harley Softail Battery Replacement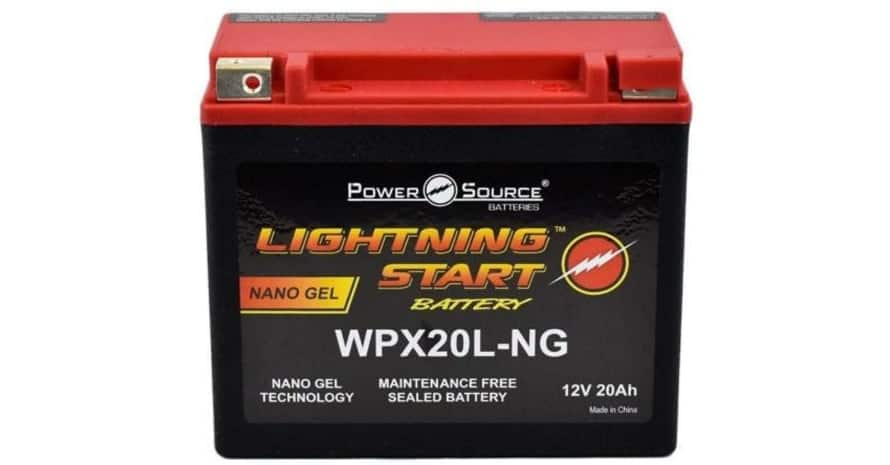 Softails are, of course, an indisputable classic that brings you to a different level of riding while having a very specific set of battery requirements. This battery is one of the few batteries for Harleys that suit a Softail Harley without burdening its power output.
While other models have release-year or series limitations, this one is compatible with the company's motorcycles from the early 90s to the mid-10s.
The WPX20L-NG is a perfect blend of gel technologies and portability. It's extremely lightweight (~15lbs), which doesn't overload the bike, and feels almost absent, especially at high speed. 4 inches long and 7 inches long, the battery is easy to remount and can be charged separately from the bike.
Another great feature here is the ignition mechanism. I've seen a battery where it would take up to 3 minutes to start the bike while with this battery, it takes around 3 seconds. The 20-Amp flow ignites the vehicle almost instantly since it's rather higher than standard batteries have. However, the power input is still regular, i.e., 12V, so you don't have to look for an extra-strong power source.
[wpsm_column size="one-half"][wpsm_pros title="Positives:"]
Highly compatible with all Softail models
Instant ignition
Reasonable price
Great warranty
[/wpsm_pros][/wpsm_column][wpsm_column size="one-half" position="last"][wpsm_cons title="Negatives:"]
It may vary from the manufacturer's product images
[/wpsm_cons][/wpsm_column]
8. Caltric AGM – Best Electra Glide Battery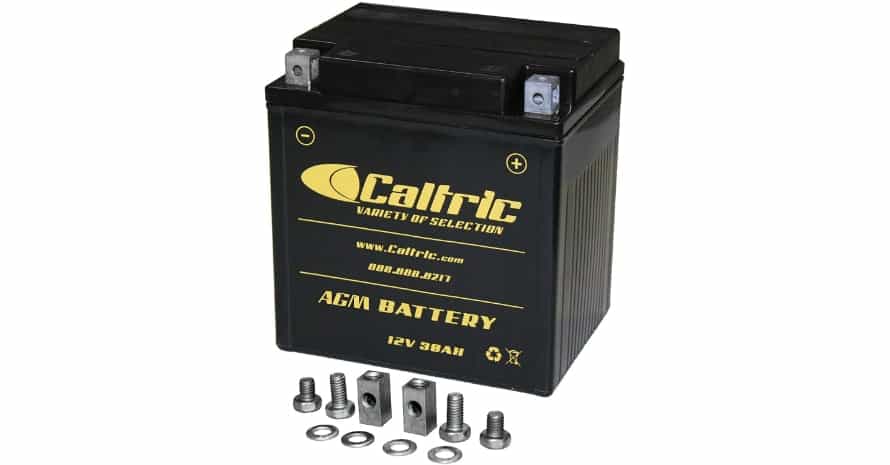 Just like with the previous battery, this one is designed specifically for a series of Harleys Glide Electra, though it still goes well with some other models. The specifications are made to fit the model's battery compartment size and power consumption rate. With a wick that joins the bike electrolytes and the battery terminals, the product works efficiently from the moment it's installed.
Hard and leak-proof, the battery is of the standard dimensions (~7×7) and weighs around 22lbs. The battery works efficiently even in the coldest seasons, where the temperature holds below zero without any freezing. It's because of the Cold Cranking Amps, which come to 350 units, enabling you to start your bike regardless of the climate conditions.
While Harley Softail battery replacement options are limited in their models, this battery is quite universal. It can suit other series models without losing its power or leading to power surges. Anyway, the installation process is rather simple as well, since the battery comes almost completely assembled. However, you will probably need to use straps and fix them firmly, just like with similar household batteries.
[wpsm_column size="one-half"][wpsm_pros title="Positives:"]
Extremely swift ordering and shipping
High-quality plates
Water-free
Cooling technology
[/wpsm_pros][/wpsm_column][wpsm_column size="one-half" position="last"][wpsm_cons title="Negatives:"]
Only a satisfactory warranty is available
[/wpsm_cons][/wpsm_column]
9. Banshee Lithium-Ion 625 – Best Lithium Battery for Harley Davidson
In case you're still in search of a YTX30L-BS replacement with increased longevity, here is a solution. The lifespan is extended by 3 times due to the high-quality lithium. Besides, what can be better than a combination of durability and a reasonable weight?
The average Harley Davidson battery life is around 3 years, whereas this manufacturer claims that the Banshee 625 can last up to 5 years. What is really remarkable about this battery is that it has enhanced terminals designed specifically for Harley Davidsons regardless of the model. The clams are coated with an alloy to insulate better and facilitate charging without risking your bike's safety.
Now, if you are wondering about the capacity it provides, then there are some more upsides. The cranking power here is 625, which is 2.5 times higher than that of a normal battery. It allows for fast and effective starting each time you ignite the engine. Moreover, the power storage is extended, containing more power and providing a lower discharge level. With it, you will be warned about an upcoming discharge long before its due time.
[wpsm_column size="one-half"][wpsm_pros title="Positives:"]
Superb cranking capacity
Larger power storage
No leaks
Compatible with different chargers
[/wpsm_pros][/wpsm_column][wpsm_column size="one-half" position="last"][wpsm_cons title="Negatives:"]
Hard to install due to the size
[/wpsm_cons][/wpsm_column]
10. THROTTLEX HDX14L – Best Battery for Sportster
Manufactured in the U.S.A, this almost weightless HD motorcycle battery is a perfect match for the Sportster series. Just like the bike itself, the battery is designed for speed and epic travel, providing the power and low maintenance you need. Fit it in your bike within a couple of minutes and start the engine right away as the company ships it fully charged right away.
Thanks to the low weight, which amounts to 13lbs, the dimensions are also reduced. A little over 5 inches in length and 3.5 inches in width guarantee smooth lending into the battery compartment. Moreover, since the product is manufactured in the same place where the original HD batteries are produced, it uses the same anti-spill technologies to secure the battery.
As for power, you can rely on a standard 12V outlet to connect the battery. With an amperage of 12 units, it provides a safe and stable power supply, preventing surges or burning down. Also, you don't have to worry about your Sportster getting stuck in frost. With 220 CCA, you can easily bring it into motion with a single switch.
[wpsm_column size="one-half"][wpsm_pros title="Positives:"]
Ideal for HD Sportsters
Enhanced anti-spill
Extremely light
Stainless steel terminals
[/wpsm_pros][/wpsm_column][wpsm_column size="one-half" position="last"][wpsm_cons title="Negatives:"]
You must check for exact compatibility before ordering
[/wpsm_cons][/wpsm_column]
How to Choose the Best Harley Davidson Battery: Buyers Guide
To choose the right battery for your motorcycle, there are key factors to consider. It is with their help that you can choose exactly the battery that you need.
Size
When replacing a Harley battery, the size is the most important factor. The new battery must fit in the small battery compartment. If it is too big, it won't fit. If it is too small, it will rattle and jiggle around in the compartment. Most of the time, Harley Davidson battery replacement can be accomplished using an exact size match. You can use a filter to make sure the battery will fit your make and model.
You can use a smaller battery than what is specified for your Harley, as long as it still performs well enough. Just make sure to put a rag around it to pad the voids and prevent the battery from shaking and vibrating, which will shorten its life.
Capacity
The capacity of a battery is measured in a unit called amp hours (Ah). The Ah rating will be listed in your Harley service manual and on any replacement battery you buy. If you can't figure out the Ah rating of the battery you're considering buying, don't buy it. Look up the required Ah rating for your motorcycle model in the service manual, or do a quick online search. Keep in mind that the Ah requirement may be different if you have battery-draining accessories installed, so be sure to factor that in.
If you can't figure out what's wrong with your Harley, check the battery. If it's been working fine, then replace it with a battery with an equivalent rating. But if that doesn't work, take it to the dealer and ask them to test it to determine the appropriate Ah rating for a replacement battery.
What Are the Types of Battery for Harley Davidson?
Batteries come in many different types, each with its own advantages and disadvantages. Newer technologies have replaced some types of batteries.
Lead Acid
Harley batteries need to be kept upright and occasionally filled with acid. They require moderate maintenance, and if they leak, the acid can damage Harley components.
Sealed
Lead acid batteries require topping off, while similar batteries do not. These batteries should be kept vertical to prevent leaking. There is little to no required maintenance for these batteries during their lifespan.
AGM
AGM batteries are a type of sealed battery that does not require maintenance. They can be used in any orientation, except upside down. AGM batteries have a fast discharge rate, which makes them a good choice for Harley-Davidson motorcycles.
Gel
Gel batteries are good for conditions that are not ideal. They work well when there is a slow and long discharge of power. It can also be mounted in any direction. They are usually more expensive and are not as good for when there is a fast discharge of power.
What is the CCA or Cold Cranking Amps?
The battery's cold-cranking amps (CCA) show how much power it can deliver on demand when you start the engine. If the CCA rating is too low, the battery may not have enough power to start the motorcycle. If you have an older or vintage Harley, you'll need a battery with a higher CCA rating because the starter and alternator are older and may not work as well. And if you've installed aftermarket accessories that use electrical power, such as lighting kits or radios, you'll also need a battery with a higher CCA rating.
FAQ
How many CCAs does a Harley need?
A Harley motorcycle needs a battery with a cold-cranking amps (CCA) value of at least 300 to work efficiently. Most Harley batteries have a CCA value greater than 300, which provides reliable startups in cold weather and a smooth riding experience.
How often should you replace a Harley battery?
The average battery life for a motorcycle is three years, but it can range from much shorter to much longer depending on how often the motorcycle is used. Battery tenders are devices that can help to keep battery charges at an optimal level when the motorcycle is not being ridden, and they are always recommended.
Does it matter what battery I put on my motorcycle?
Motorcycle batteries come in different types and sizes, even though they are all 12-volt. The three or four main groups of batteries each have a different cold cranking amp rating and physical size. Make sure to use only the battery type and size recommended by the manufacturer.
Final Words on Why You Should Pick a Battery Mindfully
As you can see, there are many options if you are looking for the best battery for Harley touring, coursing, or simply riding. A battery isn't solely about supplying your engine with power, but it is also responsible for sustaining your bike when there is an unfavorable temperature around. It protects your crucial parts from freezing up irreversibly.
While you have a variety of batteries to choose from, you should pay attention to your type of bike. For instance, a Harley Dyna battery is likely to be a high-acidity product, whereas a Harley Softail battery replacement is more difficult to find among the common models. For this, always read the compatibility instructions and make the right choice.
Anyway, I hope you have already determined which of the batteries is the one. Now, what kind of replacements have you used before? Were they any good? Also, do you prefer Gels, Wets, or AGMs? Leave your comments below!