Traveling by car or motorcycle on long distances takes a lot of time and, sometimes, leaves you estranged from facilities. Though it brings us a lot of pleasure, we often can find ourselves left in the middle of nowhere. If we're lucky enough, we have all the necessary means of finishing our journey without any contingencies. But what if the vehicle breaks down or, at least, runs out of battery?
This can be not only inconvenient but also dangerous. So what can one do when one finds oneself stuck in the middle of nowhere with their battery empty? Even if you have the best motorcycle battery, you will never be immune from such unpleasant situations.
For cases like this, you can always get yourself a nice, portable charger. Such appliances are normally lightweight, compact, and extremely easy to use. They make up a great, efficient substitute for large, heavyweight chargers, which are not really comfortable to carry around. They can make your Harley-Davidson go again just as if you've tended your vehicle in the garage. Your motorcycle battery for Harley will be as good as new and you can continue your trip without any problems.
But what kind of Harley Davidson battery tender is the most reliable one? How do you use it and, more importantly, how to avoid buying a shabby appliance? Well, that's what this article is all about.
Best Battery Tender for Harley-Davidson Motorcycle: Top Picks from Your Repairman
When you think of a battery tender for Harley, you might picture a heavy-duty utility: long wires, greasy coating, and a lot of weight. But it doesn't have to be like that anymore. Modern vehicle-tending appliances have shrunk in size and become more convenient than ever.
Here, I've prepared a list of the best motorcycle battery tender options. Varying in size and capacity, they can be a perfect fit for your vehicle. So, let's see which one is the right one for you.
1. DieHard Platinum Smart Battery – Most Compact Motorbike Battery Charger
If you're looking for an automatic charging appliance for your motorcycle, consider this charger. The item is meant for both small and medium-sized vehicles with a ranging voltage capacity and several charging modes. Compact and effortless to use, the product can become a nice complement to your motorcycle emergency kit.
The device is compatible with most modern vehicles. It can take in power ranging from 6 to 12 Volts while preserving a stable and anti-blackout charge. This is facilitated by two quite heavy-duty clams that clunch on your motor easily, causing no disturbances. Each of them can withstand around 50 Amps of pure electrical charges. Apart from them, you can make your vehicle go again by using a plug. It can endure a voltage of over 10 Volts and allows for different types of batteries.
The appliance is made of hardened plastic to ensure durability and proper current conduction. Thanks to the material, the device is extremely safe and doesn't require any additional gear for preventative measures. Also, this motorcycle battery charger is easily operated with nice digital controls located on the display. With a green light on, the appliance shows you that charging is still in progress whereas, a pulsating light means that your battery is ready to go.

Compact and neat
No additional gear is required
Safe and current-insulated
Lightweight
[/wpsm_pros][/wpsm_column][wpsm_column size="one-half" position="last"][wpsm_cons title="Negatives:"]
[/wpsm_cons][/wpsm_column]
2. Battery Tender SuperSmart Charger – Versatile Battery Tender for Harley
To provide portability and efficiency, the manufacturer has created a small yet effective appliance for your Harley-Davidson. The device is so minute that it barely takes up any space in your travel kit or backpack. With long and sturdy wires, you can supply your battery with power even if it's tangled or difficult to reach with a normal charger.
Not bigger than a cell phone, the utility is a combination of hi-tech controls and durable hardware. It can process around 8 times more Amps than a regular 100-MilliAmp charger. The efficiency of the device has been acknowledged by numerous rankings, including the AED of the Golden Bear State. Subsequently, it's a great HD battery charger that can provide a safe current input without overloading or wearing off your battery.
It's not limited to charging only motorcycle batteries but can also be applied for a range of terrain vehicles and watercraft. The appliance comes with two sets of charging means, such as clips and a crimp. When using the first one, you can be completely sure of the utility's accuracy and safety since it's covered in highly resistant materials to prevent surges or shocks. Whereas, the latter is great for less conventional batteries that require adjustments when charging.

Two sets of chargers
Completely automatic
High voltage input and output capacity
Very durable
[/wpsm_pros][/wpsm_column][wpsm_column size="one-half" position="last"][wpsm_cons title="Negatives:"]
Complicated warranty/replacement system
[/wpsm_cons][/wpsm_column]
3. NOCO Genius Smart Charger – Battery Tender Motorcycle Maintenance Assistant
In case you need a device not only for recharging a battery but also for maintaining its performance condition, NOCO has an offer for you. This one is a highly functioning charging/maintenance appliance with lots of useful features. Whether you're on the road or at home, you can rely on its efficiency and promptness.
With a length of around 4.5 inches, the charger can be a Plan B for your long-distance travels. It weighs less than 15.5oz, which is great for carrying in a travel sack or simply placing it in the glove box. Also, it's a great Harley trickle charger for occasions when you need to recharge your vehicle's battery on the spot. The device can easily conduct the current of 6 and 12 Volts without overheating or harming the circuits.
Another great feature of the item is its maintenance-orientedness. When connected to your battery, it sends a sufficient yet safe current flow through the insides. As a result, it dissolves the upbuild of Sulfur, which so often happens to be the reason for a battery's wear-off. The petrified volume falls apart, normalizing the acidity of the battery.
Besides being an effective desulfator, the device is extremely resistant to temperature fluctuations. Unlike similar products, this motorbike battery charger doesn't receive a performance decrease when heated up or cooled down. On the contrary, it manages to preserve good inner-battery thermal regulation, ensuring its longevity.

Automatic battery maintenance
Reasonable price
Minute and relatively light
Great thermal regulation
[/wpsm_pros][/wpsm_column][wpsm_column size="one-half" position="last"][wpsm_cons title="Negatives:"]
Not completely water-resistant
[/wpsm_cons][/wpsm_column]
4. LST Trickle Battery Charger – Harley Davidson Battery Tender for Better Current Control
Another superb appliance for your consideration that will save you time, money, and the vehicle is the LST Recharger. It provides quite a few benefits that can be a life-saver for your motorcycle.
Combining various coatings and enhanced voltage-regulating circuits, it's one of the safest options to find online.
To initiate charging, you have to choose between the 6-Volt and 12-Volt modes. This diversity allows for using the device for most of the common battery types without running the risk of over or undercharging. Contrary to the output, the power input can range from 100V to almost 240V for better stability of the current flow.
One more thing worth underscoring is the appliance's display. It's a handy and full-of features panel that enables the user to control every process it undergoes. The tiny 'Battery' icon showcases the stage at which your charging currently is. When the light flashes, it indicates that the battery is half full, whereas if the light is solid, the charging is complete. In case this battery tender motorcycle appliance detects deficiencies, it activates the 'Fault' icon.
Besides this, the utility is rather friendly to any battery. Because it's extremely disadvantageous for a battery to receive power after it has been fully replenished, there is an in-built safety precaution. After charging is done, the battery can stay connected to the appliance for another day and a half without any risks.

2 voltage modes are available
Hardened plastic coating
Smart and neat
Great power input regulation
[/wpsm_pros][/wpsm_column][wpsm_column size="one-half" position="last"][wpsm_cons title="Negatives:"]
The hanger is not very stable
[/wpsm_cons][/wpsm_column]
5. KUFUNG Automatic Charger – Water-Resistant HD Battery Tender
Supposing you already know that you're going to need a Harley Davidson motorcycle battery charger, you might use it for other vehicles as well. Then, take a look at this completely versatile appliance that is to take care of, basically, any kind of transport. A cutting-edge combination of design, hi-tech, and longevity can serve you well, no questions asked.
The device is as small as 9 by 5.5 inches and weighs only 1.5lbs. Such dimensions are great for people who are always on the road. Just keep it with you on your travels, and you might need it one day. It has a voltage capacity of 12 units, which is more than enough for recharging a battery of any size.
With its automatic current adjustment feature, the appliance can easily adapt to your battery's power output. All the changes are displayed on the panel, equipped with special indicators. Every quarter of efficient charging is assigned to a specific light that keeps you updated on the battery's current status. Also, when the process is finished, the device seals the power flow to prevent overcharging and overheating.
To ensure longevity, the charger is resistant to water. Now, even if it suddenly starts raining, both the appliance and battery are unlikely to have a power surge. Also, the circuits and wiring are dust-proof and resilient to rust.

Water and rust-resistant
Well-insulated clips
Temperature regulation
Versatile
[/wpsm_pros][/wpsm_column][wpsm_column size="one-half" position="last"][wpsm_cons title="Negatives:"]
Requires rebooting before new charging
[/wpsm_cons][/wpsm_column]
6. Battery Tender Charger and Maintainer – Best Harley Trickle Charger for Two Vehicles
Charging a couple of vehicles at the same time has been known to be impossible up to now. However, this appliance can change it for good, providing a two-storage charging capacity. Smart and easy to use, the tender will always be at hand should you need it, which makes it the best battery tender for Harley-Davidson motorcycles in the long run.
The device is a little bigger than other similar products. It comes to a bit over 11 inches in length. Though larger than you'd want it to be, it perfectly fits your car or van without taking up too much space. The upper coating is a hardened plastic blend meant for providing the best protection against rain, dust, and excessive heat.
Thanks to the two-storage design, the appliance can be utilized for charging two large-sized vehicles at the same time. For this, connect your vehicle/s to the charger using clips or ring terminals.
On-screen indicators will show you how successful the connection is and start supplying your battery with current right away. Moreover, the product is designed with three functions in mind: to adapt, to power, and to secure. The latter prevents your battery from receiving excessive voltage, which can lead to wear-off or circuit combustion.

Two-chambered charger
Hardened plastic case
Smart display
Spark-prevention measures
[/wpsm_pros][/wpsm_column][wpsm_column size="one-half" position="last"][wpsm_cons title="Negatives:"]
[/wpsm_cons][/wpsm_column]
7. MOTOPOWER MP00205B Battery Charger – Best Motorcycle Battery Tender for Used and New Batteries
In case your battery is not completely brand new and you're worried about its performance, you need more than a charger. This product can be an excellent battery tender Harley Davidson motorcycle appliance for worn-off batteries. With its maintenance features that diffuse the battery acidity, it improves the overall performance, as well as provides a decent charge.
The appliance has a voltage of 12 units, which is perfect for both old and new Harley models. You can charge your battery using a crimp or a standard set of clips that come with the product. As for the first one, it can conduct around 8 Amps to ensure safety and promptness for each procedure. Whereas, the latter suits for 50-Amp charges with a regular joint to provide a stable polarity.
One more feature worth mentioning is the device's extended charge technology. To ensure balanced charging, the current is led through a pulsating adapter. The pulses are well-calibrated and aimed at improving the battery's overall performance. Normally, such surges are applied at each stage of the charging process to regulate the power input.
I may call this device a truly efficient Harley Davidson supersmart battery tender because it provides regular Sulfur checks. It sends an electric charge inside the battery to cause the dissolution of acidic deposits and residues. This way, the service period and performance of your battery increase sufficiently.

Maintenance and acidity checks
Compatible with 12-V batteries
Waterproof
Long service
[/wpsm_pros][/wpsm_column][wpsm_column size="one-half" position="last"][wpsm_cons title="Negatives:"]
[/wpsm_cons][/wpsm_column]
8. Mroinge Automotive Smart Charger – Harley Davidson Supersmart Battery Tender, Compact Version
One more honorable mention to save the day is this Mroinge product. It's efficient, compact, and favorable for your battery. Besides, it has a ton of features that similar chargers offer, but they are all neatly folded into one small box.
With the overall length of the charging cable of more than 10 feet, you can get to even the most unreachable areas of your battery. It's suitable for both motorcycles and other vehicles. And it can conduct around a thousand milliamps effectively without damaging or wearing off the battery. Also, the circuits are secured from overheating and excessive power input. This makes the product extremely safe in the voltage range of 12 units.
It's considered to be the best lithium motorcycle battery charger for medium and large-sized motor vehicles. Because the appliance does well with in-battery acids, it can prolong your battery life span and improve its performance. When charging, make sure to pay attention to the control panel, which notifies you about all the processes going on inside the battery.
To provide swiftness in use, the manufacturer has equipped it with a whole array of protective precautions. You cannot overcharge your battery due to an automatic shut-down mechanism, which stops the power supply the moment the battery is full.
[wpsm_column size="one-half"][wpsm_pros title="Positives:"]
Ultralightweight
Cords are included
Multiple protections
4-stage charging
[/wpsm_pros][/wpsm_column][wpsm_column size="one-half" position="last"][wpsm_cons title="Negatives:"]
Not compatible with 6V input
[/wpsm_cons][/wpsm_column]
9. Foval Trickle 12V Battery Charger – Safe Battery Tender for Harley
Have you had a misfortunate experience with other chargers? Now, you can rest assured about your battery's safety. There is a good quality product that cares more about efficiency than popularity and prevents malfunctions rather than fixes them.
When plugging in the charger, it's easily connectible with most modern battery models. Thanks to the sturdiness of the cord, it can withstand stretches, pulls, and even pet bites without cracking or tearing. You can extend it up to 8 feet to reach an outlet and connect the device effortlessly. As long as it's a battery with a voltage of around 12 units, the appliance starts adapting to the battery. Even if it's empty and has been idle for some time, the device will provide an efficient charge.
The chances of reverse polarity are completely excluded due to the automatic in-battery checks. These checks monitor even the slightest changes inside the battery and notify you about possible failures via the control panel. The body of the charger is sealed off to prevent dust and moisture from getting on the circuits. This makes the appliance rather water and dirt-proof so that you don't have to perform maintenance and cleaning so often.

Tough cord
User-friendly control panel
Anti-reverse-polarity protection
Sealed-off body
[/wpsm_pros][/wpsm_column][wpsm_column size="one-half" position="last"][wpsm_cons title="Negatives:"]
[/wpsm_cons][/wpsm_column]
10. HOYOA Automative Gel Charger – Truly Stable HD Battery Tender
For those of you who are into garage work, this little charger can be a lifesaver. You can utilize it not only for a motorcycle but also for tractors and lawn-mowing utilities. It has a nice set of various connection cords to suit even the most whimsical vehicles.
Longer than normal, the cord can extend further than regular 5 or 6ft wires. It guarantees the comfortability of the use and flexibility of finding a charging site. Thanks to the clams that clench firmly, the connection is never loose, thus being safer than ever. In case the clams don't go with your battery, you can always turn to the ring terminals for a better adjustment.
Even the best trickle charger for motorcycle batteries requires a correct power input. As for this one, you surely charge batteries of regular 12-Volt power. Unstoppable when charging has begun, the appliance will conduct enough power to fill up the battery to the fullest.

Multi-purpose
Stable power input
Firm clams
Warranty
[/wpsm_pros][/wpsm_column][wpsm_column size="one-half" position="last"][wpsm_cons title="Negatives:"]
[/wpsm_cons][/wpsm_column]
FAQs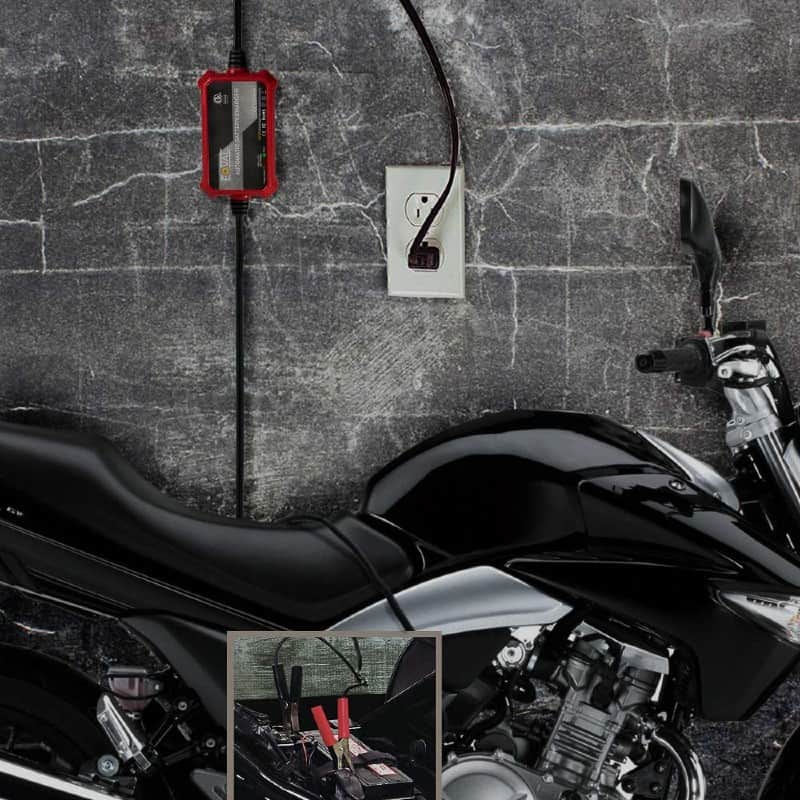 You might still have some questions left. Let's get through a couple of them.
What Type of Battery Tender Is for Harley?
The best thing you can do for your HD motorcycle is to find a 12V tender. The reason for this is quite simple. Harley's battery is meant to have an input of around 12 Volts. To ensure the stability of the connection, it's essential to have a tender, compatible with the battery's power capacity. This prevents charge leaks and wearing-off.
Of course, if you happen to find a versatile 6V/12V charger, it should do. Since such appliances are very adaptable to different kinds of batteries, they can do well with your motor vehicle. However, make sure that the recommended voltage and wattage comply with those of your battery.
How Do You Use a Motorcycle Battery Tender?
A motorcycle battery tender works like any other charging device. You have to supply a sufficient power output for the appliance through an outlet, for instance. Connect them using a cord provided by the charger's manufacturer. It's important to use only the original accessories since they can vary in power capacity so that you don't damage your utilities.
When your battery is connected, choose the right mode (if there are any). Normally, you would have to select the 12V charging option. Watch the display for information regarding the charging process since there can be indications of failure or other issues. After the display lights solid green, remove the charger since the battery is ready to go.
What Size of a Battery Tender Should I Buy?
The most important thing about choosing a trickle charger is, of course, the compatibility with your battery. When it comes to picking the size of a product, it's completely up to you since it doesn't matter here. Fortunately, there is a whole array to choose from.
The optimal size for a charger would be around 6-8 inches in length. This way, the appliance is compact enough to carry and keep in the glove box. However, there are also bigger options if you don't mind the size. Choose a 10-12-inch charger to use in your garage since it can also be a fit for other vehicles.
Can You Overcharge Your Harley Battery With a Trickle Charger?
Well, overcharging any battery can cause lots of aftermaths, like reduced performance, wear-off of the circuits, etc. But most modern chargers are designed to shut down automatically when a battery has reached its full charge. To ensure that your trickle appliance is equipped with this feature, turn to the instructions or contact the manufacturer's customer support.
A Harley Doesn't Run on Faith, Does It?
As you can see, there is a wide range of modern, automatic chargers. Some of them are designed to provide even more functions than you might expect of them. When used wisely and accordingly, these appliances can be a lifesaver and release you from unnecessary inconveniences.
I hope you've found this article useful. Yes, each motorcycle battery charger review is a lot to process. But have you found what you've been looking for? What kind of charger have you been using lately? Make sure to comment down below!