The efficiency of fuel additives has been arguable for many years. However, today it's totally clear that additives should be used to promote good engine health and longevity of the fuel line. I wrote this piece to help you choose the best fuel additive for a Harley Davidson motorcycle. Below are the reviews of top products that I've ever tested, along with answers to some of the most bothering questions on the topic. Use this knowledge to keep your two-wheeler healthy for as long as possible. Read on and forget about googling and scrolling through forums as I've covered all the essentials.
The best fuel additive for Harley Davidson is
STA-BIL 22213
. It keeps the fuel fresh for 2 years and is compatible with any type of fuel. It always provides a quick and easy start. This supplement is top-rated and at a great price, you can see for yourself.
However, if you are in doubt, then I can offer you the top 3 best additives:
Pros
Works with high and low-octane fuel blends (ethanol blends as well)
Neutralizes poor-quality fuel
Prevents phase separation
Top Pick
Pros
Works with high and low-octane fuel blends (ethanol blends as well)
Budget Choice
Pros
Neutralizes poor-quality fuel
Premium Choice
Pros
Prevents phase separation
Top-5 Fuel Additives for Your Harley
I've tested a bunch of fuel additives over the years of riding and repairing Harleys, so it wasn't too difficult to gather a set of the 5 most reliable remedies. They're always present on the shelves in my garage and allowed by the EPA registered gasoline list.
1. STA-BIL 22213 – Best Fuel Stabilizer for Motorcycles
STA-BIL Storage Fuel Stabilizer - Keeps Fuel Fresh for 24...
Preserves Fuel - Keeps fuel fresh for up to 24 months so you can store the car you're not driving, keep outdoor power equipment fresh through the winter, or stock up on gasoline without worry
Prevents Corrosion - Maintains a healthy fuel system by ensuring that your engine and fuel components don't suffer from the breakdown of ethanol or non-ethanol blended fuels
Ensures Quick, Easy Starts - Helps you store any equipment or vehicle with confidence knowing that you'll be able to start it up smoothly without issue once you need it again!
Directions - Pour contents directly into the fuel tank before adding gasoline. Use 1 oz of STA-BIL Storage for every 2.5 gallons of gas. After adding the fuel, run the engine for 5 minutes to treat the entire fuel system
All STA-BIL branded products are good for use up to 2 years after the bottle was opened. Be sure to mark the date you opened the bottle on the back of your package!
STA-BIL is one of the oldest American manufacturers of fuel additives. It has been supplying the market with some of the most reliable solutions since the start of the Gold Eagle brand in 1932.
STA-BIL 22213 is the best-selling additive in the entire category on Amazon and other marketplaces. This is due to several aspects. This remedy has a soft chemical composition that can keep the fuel fresh for up to 2 years of still stored in the garage. Using the liquid, you can leave the bike for a long time without the need to drain the fuel tank before that.
I add it to all the bikes that I don't plan to use for a long time. The longest period without ignitions was around 14 months, and the start was perfect every time I wanted to ride. The effect is the same independently of the fuel type. It stabilizes all blends, including the fuel with ethanol. You should add the liquid only when the fuel is fresh. Otherwise, it won't be as effective or effective at all. Add it when you're at the pump.
The one-gallon bottle is enough to treat around 320 gallons of fuel. You can also order it in smaller bottles from 4 oz to 128 oz if you don't have many bikes.
[wpsm_column size="one-half"][wpsm_pros title="Positives:"]
Saves fuel for up to 2 years
Available in a variety of bottle volumes
Works with high and low-octane fuel blends (ethanol blends as well)
Prevents varnish and gum build-up
Full USA production
[/wpsm_pros][/wpsm_column][wpsm_column size="one-half" position="last"][wpsm_cons title="Negatives:"]
1-gallon bottles may come from old batches
[/wpsm_cons][/wpsm_column]
2. Star Tron Enzyme Fuel Treatment Concentrate – Great Value Fuel Rejuvenator
STAR BRITE Star Tron Enzyme Fuel Treatment Concentrate, 128...
UNLEASH YOUR ENGINE'S FULL POTENTIAL - Star Tron Enzyme Fuel Treatment uses advanced enzyme technology to ensure all engines start easily and run smoothly, even after months of inactivity
SAY GOODBYE TO ETHANOL-RELATED PROBLEMS - Prevents and cures most ethanol-related issues, including poor performance, rough idling, and decreased fuel economy, giving you peace of mind on the road or on the water
MAXIMIZE FUEL ECONOMY - By removing and preventing gum, carbon deposits, and varnish build-up, Star Tron keeps your fuel delivery system clean, resulting in improved fuel economy
WORKS FOR ALL ENGINES AND FUEL TYPES - Whether you have a car, boat, RV, or lawn mower, Star Tron works in all engines and all fuels, making it the ideal fuel treatment and stabilizer for any vehicle
PREVENT WATER BUILD-UP - Helps prevent phase separation by dispersing water throughout fuel as submicron-sized droplets that are safely eliminated while the engine operates, keeping your engine running smoothly in humid or wet conditions
Star Brite is an American manufacturer that was founded around a single auto polish product. Now it's specialized in a variety of products, including complex fuel treatments from the Star Tron series.
To apply the remedy efficiently, you have to pour 1 oz of the liquid into every 16 gallons of fuel when it's fresh. Add it before fueling up to ensure even dilution. If, for any reason, you didn't know that fuel in the tank can get old and stale, try adding a double dose (2oz/16 gallons) and keep the engine working for at least 1 hour. This will stabilize the fuel, rejuvenate it as much as possible, and clean the fuel system at the same time. Inspection proved that Star Trone removes varnish, gum, and carbon residue from the fuel system.
I don't recommend using ethanol fuels in Harleys, but if you do, this treatment will make it work better as well. This fuel treatment causes better combustion and burns to the last drop. This effect is achieved due to enzyme droplets that disperse water. The quality and effect guarantee makes this product a deserved #2 on my listing. It costs a bit more than STA-BIL, but the cleaning effect is also more powerful, so it's recommended for both new and aged Harleys.
[wpsm_column size="one-half"][wpsm_pros title="Positives:"]
Overdosing isn't dangerous
Cleans the fuel system
Up to 2 years of stabilization
Reduces emissions
Prevents phase separation
[/wpsm_pros][/wpsm_column][wpsm_column size="one-half" position="last"][wpsm_cons title="Negatives:"]
Costs more than STA-BIL per 1 gallon
[/wpsm_cons][/wpsm_column]
3. LUCAS 10013 Fuel Treatment – Excellent Complex Cylinder Lubricant
Lucas Oil 10013 Fuel Treatment - 1 Gallon
Cleans and Lubricates Fuel System: The product contains a blend of detergents and additives that help to clean and lubricate the fuel system, including the fuel injectors, carburetor, and combustion chamber.
Improves Fuel Economy: The product can help to improve fuel economy by removing deposits and contaminants from the fuel system and improving the efficiency of fuel combustion.
Reduces Emissions: By improving fuel combustion, the product can also help to reduce exhaust emissions, including harmful pollutants such as carbon monoxide and nitrogen oxides.
Increases Power and Acceleration: The product can also help to increase power and acceleration by improving the flow of fuel through the system and reducing the buildup of deposits that can impede engine performance.
Neutralizes Low Sulfur Fuel Problems: Lucas Oil 10013 Fuel Treatment contains a blend of detergents and additives that help to neutralize sulfur and other harmful contaminants that may be present in the fuel system. The detergents work to clean the fuel injectors and carburetor, which can become clogged with sulfur deposits over time.
Lucas Oil Products is an American family brand that does a whopping variety of businesses, including the manufacturing of high-quality oils and other high-performing liquids for motorsports.
LUCAS 10013 fuel treatment is based on an upper-cylinder lubricant oil mixed with fuel conditioners and injector cleaners. Although the solution costs around $15 more than the remedies above, it has a more concentrated composition that lets you treat up to 400 gallons of any fuel type.
10013 is made for neutralizing the harmful effects of poor-quality fuel and for boosting the performance of the motor. Some riders even use it to pass emission tests on older and self-made motorcycles. It helps the engine to burn more exhaust emissions.
It's an excellent solution if you need to clean and restore pistons, injectors, and carburetors. One three uses enough to get rid of sulfur and carbon build-up as well as to reduce harmful moisture that can appear in the tank and the fuel system over time.
The remedy has limits, though. If your motorbike suffers from severe clogging and contamination of fuel system parts, then you should look for a tougher cleaner as well as to ask your mechanic if the time to replace one or more parts has come.
[wpsm_column size="one-half"][wpsm_pros title="Positives:"]
Economic semi-concentrated solution
Removes and prevents sulfur and carbon deposits
Removes harmful moisture
Neutralizes poor-quality fuel
[/wpsm_pros][/wpsm_column][wpsm_column size="one-half" position="last"][wpsm_cons title="Negatives:"]
Quite an expensive product
Doesn't help with severe cloggings
[/wpsm_cons][/wpsm_column]
4. Red Line 60102 – Race Level Harley Fuel Injector Cleaner
Red Line 60102 Complete Fuel System Cleaner - Powersports -...
Concentrated, high-temp detergents clean your carburetors or fuel injectors, fuel lines, tank, intake valves, combustion chambers and fouled plugs
Compatible with both pump gas and race fuel, pre-mixed or injected two-strokes
Cleans deposits on intake valves and combustion chambers, lubricates upper cylinder
Reduces octane demand and regain lost power and improve fuel economy
4 Ounces (12 Pack)
Red Line is an authoritative oil and fuel additive manufacturer that has been competing with other top brands since 1979. The brand's synthetic oils and additives are widely used in motorsports. Their solutions are suitable for all kinds of high-performance tasks.
Red Line 60102 is designed to improve the throttle response of your bike's engine and save up more fuel independently from performance requirements. It's compatible with all fuel types acceptable for Harley-Davidson. The composition includes highly effective concentrated detergents that can clean the entire fuel system, including the injector, fuel line, valves, plugs, and combustion chambers.
I recommend using this one in regions where only poor-quality ethanol blends are available as it reduces the potential harm to the engine to a minimum and takes away most of the built-up after the first use. The manufacturer claims that it boosts engine performance, but it's noticeable only if you have a heavily clogged engine that starts badly. If the motor is new and fresh, the additive will work only as a maintenance remedy.
[wpsm_column size="one-half"][wpsm_pros title="Positives:"]
Effective with all fuel types
Cheap solution (1 4-oz bottle around $5)
Cleans the entire fuel system easily
Available in packs of 2,6,12
[/wpsm_pros][/wpsm_column][wpsm_column size="one-half" position="last"][wpsm_cons title="Negatives:"]
Available only in small bottles
[/wpsm_cons][/wpsm_column]
5. Chevron 67740-CASE – Effective Fuel Additive for Carburetor Cleaning
Sale
Chevron 67740-CASE Techron Concentrate Plus Fuel System...
For best performance, follow the manufacturer's recommendations in your vehicle owner's manual.
Cleans, restores, protects the entire fuel system (fuel injectors, carburetors, intake valves and combustion chambers)
Restores: lost power, acceleration, lost fuel economy, and operation of the fuel gauge sensor
Reduces: rough idle, engine surge, hesitation, and spark plus fouling
Improves: cold start performance, and fuel stability for up to one year
Chevron's Techron cleaner was nominated as the best 2019 fuel additive manufacturer by Auto Week readers and had the highest sales rate amongst full fuel system cleaners on Amazon. 67740-CASE is a powerful cleaner for the entire fuel system. It removes harmful debris from the motor, including carbon deposits, fuel lines, injectors, and other important parts. There's no real need to use a harsh remedy if the engine is new, but you can just add less liquid per gallon of fuel and prevent clogging in advance.
If your Harley is quite old already, be sure to receive a higher MPG rate as declogging always means higher mileage and fewer emissions. I recommend it for all Harley models as it's compatible with all accepted fuel types and doesn't cause problems with ethanol blends.
[wpsm_column size="one-half"][wpsm_pros title="Positives:"]
Convenient bottle with a long neck
Cleans the entire fuel system effectively
Economic 12 and 20 oz bottles are available
Boost performance of clogged engines
[/wpsm_pros][/wpsm_column][wpsm_column size="one-half" position="last"][wpsm_cons title="Negatives:"]
Unavailable in big commercial bottles
[/wpsm_cons][/wpsm_column]
Answering Your Questions
Many readers and customers ask me these questions again and again, so I decided to provide brief answers to save time. Don't skip this section as it may help you to solve some of your problems.
Should I Use Fuel Injector Cleaner in My Harley Davidson?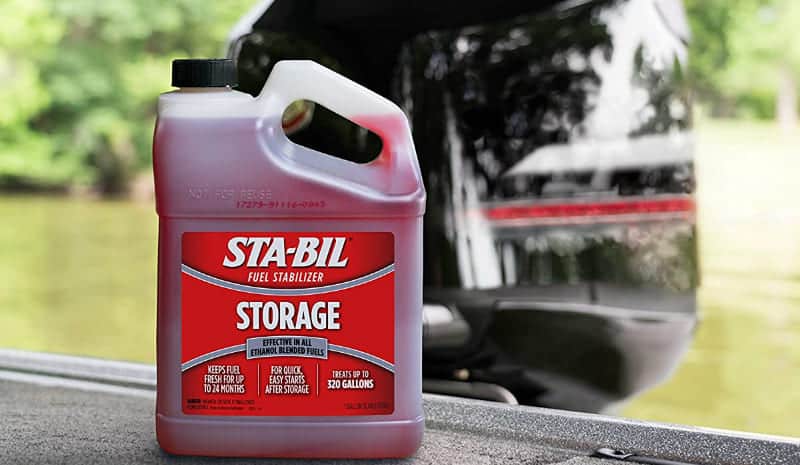 Adding some fuel injector cleaner periodically is a good idea. Injectors gather dirt from the blow, so regular cleaning is required. This procedure can even reduce the level of emissions. Simply pour the required amount into the fuel tank and run the bike. Residues and deposits will be washed out. Some of the best cleaners are made by Lucas, Red Line, Chevron, Sta-Bil, and Star Brite. Test-based reviews are above.
What Is the Best Fuel for Harley Davidson?
The truth is that tension in the engines of most H-D motorcycles is higher than in motors by other manufacturers. This may cause pre-detonation if the octane level is too low. That's why Harley Davidson recommended fuel is premium high-octane fuel. Many riders also report worse performance if the fuel includes ethanol.
What Is the Best Fuel Treatment for Motorcycles?
My favorite fuel stabilizer additive is Sta-Bil by Gold Eagle. It's a universal remedy that saves your motorbike engine and makes it easier to store the bike without draining the tank. It's tested by millions of Americans, including me, so it's worth recommending.
Do Fuel Injector Cleaner Additives Really Work?
Yes, indeed. These remedies include various solvents that help the engine clean the buildup on your bike's injectors and other parts of the fuel line. Don't worry about cleaner deposits as it's fully combustible and leaves the line with the processed fuel.
Carburetor vs Fuel Injection Motorcycle. What's Better?
Motorcycle carburetors are generally cheaper and easy to repair/replace as they're not built into the engine. On the lower end, they usually look dated, prone to damage, and provide a slower throttle response. Motorcycle fuel injection provides better combustion, faster throttle, and sometimes even more power. They almost never break down but cost more, cannot be repaired with basic tools, and it's really expensive to customize them.
Make Engine Healthy
Now you know that fuel additives are totally safe and even very beneficial for your Harley-Davidson engine health. It's a premium motorbike brand, so it requires thorough care. Respect it, and it will praise you with high-quality performance for many years without serious repair work. That may look costly, but your bike isn't cheap too, right?
Have you already used any fuel additives before? Share your impressions via the comments section and tell me whether you agree or disagree with my reviews of the best additives. For more useful articles about motorcycle parts and maintenance, stay tuned to YourMotoBro.com!
Bruce was born in Atlanta. He started riding motorcycles when he was 10 and has been passionate about them since. Bruce says he feels absolute freedom when he's on two wheels. He prefers riding his bike slowly and smoothly along a country road and hardly ever enjoys wildly speedy rides. With a strong Ducati Multistrada 1200 in the current stable, Bruce enjoys his super powerful, comfortable and easy rides. Ducati Diavel is the beast he's currently dreaming about…