I am Max Farmer, a big moto fan. My love for moto races started after attending the 2005 MotoGP at Laguna Seca when I was 13. I was taken away by the sheer sight of motorcycles, racing, and the general atmosphere. With years of experience with bikes, I have learned a lot about motorcycles and their operations. Today, I want to talk about the best Harley Davidson mirrors worth adding to your bike.
Motorcycles are my specialty, and I have learned a lot about what makes the right mirror for your bike. As a rider, I know that the mirror is my safe space. It is what protects me from accidents. It is not just an accessory; therefore, it needs to be of high quality. Harley Davidson brand has managed to carve a name for itself when it comes to the production of mirrors.
With an extended variety of different best motorcycle mirrors, it is hard to decide which one will suit your needs the best. I have broken down my top 7 picks of the best Harley Davidson mirrors in the market currently.
My selection is based on experience with many models available. It also includes an in-depth analysis of the features, ergonomic design, affordability, and ease of use of the chosen mirrors. In light of the new age of motorcycling, it is worth mentioning the ergonomic designs and features of the mirrors. The products you will see in this review feature short-lengthened arms, which most drivers have trouble adjusting.
Also Read: Best Auto Tuner for Harley Davidson in 2022
Top 7 Best Harley Davidson Motorcycle Mirrors to Buy
Here is my roundup of the best mirrors you should buy for your motorbike this year. Let's jump right into the first item review.
1. Kemimoto Mirror – A Black Sportster Mirrors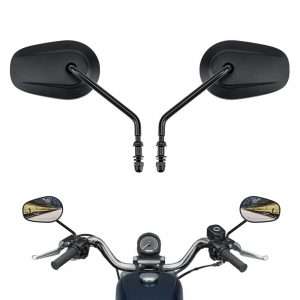 When it comes to compatibility, the Harley Davidson Sportster mirrors have wide use, and fit different models ranging from 1982 to 2019 year of manufacture. However, this Kemimoto mirror will not pair with VRSCF, Vrod, XG750A, and XL1200X models, which have mirrors mounted below the handlebars. Additionally, it complements other models such as Sportster, and Road King except for the 2014 to 2016 models, Road glide, street glide, and the Electra glide except for the 2011 to 2013 FLHTCUSE.
If talking about the Harley Sportster black mirrors, these models come with 360-degree adjustable arms with the side mirrors. It allows for a multi-position, which gives riders the chance to adjust the mirror position to the required angle. The Kemimoto mirror has a longer stem, which gives an outward appearance. This offers a broader positioning, which provides the riders with wide shoulders the proper view from behind.
This mirror Harley Davidson has a unique design, which is backed with a lot of accessories for improved performance. The accompanying components are bigger compared to other Kemimoto products. This particular model is fitted with a stylish black finish, which goes along with many of the Harley Davidson bike colors.
The stylish color addition does not hamper the OEM features but rather enhances them. The installation process is simple and won't take up a lot of your time. The mirror has an extended adjustable arm, allowing for your preferred viewing angle. This enhances your viewing angle since you can see beyond your elbow when you are riding. Thus, no more blind spots and a better riding experience.
It is made up of high-quality anodized black material that increases the longevity of the model and its rust resistance. Check out the pros and cons of this mirror highlighted:
KEMIMOTO Black Sportster Mirrors with M8 Thread, Long Stem...
【Wide Suitability 】Fits 1982-2023 Models (Except VRSCF, XG750A, Revolution Max models, Vrod models and XL1200X with mirrors mounted below the handlebar). Fit for Sportster, Softail, Dyna, Road King (Except 2014-2016 models), Street Glide, Electra Glide (Except 2011-2013 FLHTCUSE), Road Glide (Except 18-later CVO Road Glide), Ultra Limited (Except 14-later CVO Limited), Heritage Classic.
【Easy to Install】Not need install instructions, can be mounted on the top or below the handlebar.
【360° Adjustable】The side mirrors can provide multi-position to allow riders to adjust the angle needed.
【Longer Stem】The long stem makes the mirror more outward, provides a broader position to allow riders with wider shoulders to see behind them more easily without being blocked.
【NOTICE】The threads of these mirrors are M8,not the OEM 5/16 24 UNF, so if you need to install the turn signal light on the mirrors, they will not fit.
[wpsm_column size="one-half"][wpsm_pros title="Positives:"]
Simple installation process
Affordable
Clear rearview
[/wpsm_pros][/wpsm_column][wpsm_column size="one-half" position="last"][wpsm_cons title="Negatives:"]
[/wpsm_cons][/wpsm_column]
2. i5 Chrome Mirrors for Harley Davidson – The Reliable Equipment You Need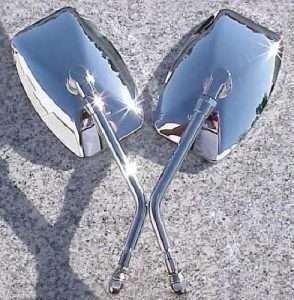 I know a lot of bikers who have easily opted for these i5 products when replacing stock mirrors. This model features an overall height of 21 cm and width of 20 cm, which hands you a broader view of the road when riding. The Skeleton Hand mirrors Harley Davidson will ultimately leave you secured when driving down the open road.
Most stock items have the disadvantage of being too short going past your elbows. This is a significant inconvenience for big bike riders. However, with the i5 model, you will have more space and a better rear view. The amazing fact that I recently learned about the i5 chrome Harley Davidson mirrors is that they fit with both 2005 and 2006 models of Soft Tail Harley perfectly.
I like how the i5 chrome mirrors make it light work when driving down a busy road. With the rearview mirror Harley Davidson measurements at 15 by 9 cm, you are assured of maximum viewing from the rear. Another added advantage of the i5 chrome model is easy installation. You only have to install the handlebar ends, the handlebars themselves, and the fairing.
However, I want to mention that the product does not feature an instruction guide for installation. So, you can take advantage of YouTube videos. The outer appearance of the product has stainless steel and a shiny design. The strength of stainless steel is that it is less vulnerable to rust, thus, the item will serve you for a long time.
[wpsm_column size="one-half"][wpsm_pros title="Positives:"]
Chrome glasses for a comprehensive view
Easy installation process
Larger compared to other similar products
Fits a variety of Harvey Davidson bikes
Maximum rear view
[/wpsm_pros][/wpsm_column][wpsm_column size="one-half" position="last"][wpsm_cons title="Negatives:"]
Not accompanied by an instruction guide
No full-view rotation at a 360-degree angle
[/wpsm_cons][/wpsm_column]
3. HTTMT MT383E Chrome Skull – Among the Best Harley Davidson Turn Signal Mirrors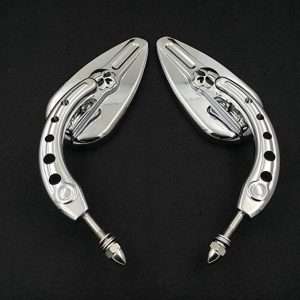 In contrast to the models made from stainless steel, these skull hand mirrors for Harley Davidson are made from high-quality aluminum material. This is in addition to a heavy-duty billet aluminum stem with an adjustable angle design to view from various positions.
The high-quality aluminum material ensures that the product will last a long time. The curvy design of the MT383E model makes the product unique. It also hands riders with a better rear-view angle when driving.
I, however, find it a bit difficult to match the silver color with different motorcycles. It ends up becoming the standing-out feature in your motorcycle. But this is not a massive concern for most riders, especially when your safety on the road is on the line.
I prefer this model since it comes with drilled holes, which match most of the bike accessories in your possession. It also comes with great quality, when you make a comparison of the costs. You can additionally wax the surface regularly to reduce wear and tear.
I want to mention that recently I have discovered that the product is not compatible with the Harley Davidson models which have mirrors mounted below the handlebars. Thus, this MT383E model is compatible with bike models ranging from 1982 to 2019 with mounts above the handlebars.
In case you are purchasing your first aftermarket mirror, you may find it a bit hard to install the product. This is because it does not come with an installation manual. However, you can start by looking through the overall design, while assembling the smaller parts.
Thanks to the adjustable arm, the mirror can be twisted for viewing from different angles. Given the curvy design, it is not fitted with turn signals to indicate incoming traffic. However, it is worth the purchase if you are not interested in the turn signals.
Sale
HTTMT MT383E- Chrome Skull Side Mirrors Compatible with 1984...
100% Brand New aftermarket high quality mirrors
Hight quality aluminum mirror ,Heavy duty billet aluminum stem/arm ,Adjustable angle design
Color: the same like pictures show
Easy install,No Installation Instruction
For Harley Davidson 1982-later all models(except VRSCF,2014-later FLHTKSE,FLHRSE6, FLHR and FLHRC models and XL1200X mounted below the handlebars).
[wpsm_column size="one-half"][wpsm_pros title="Positives:"]
Highly resistant to corrosion
High-quality aluminum material
Curvy design for a better viewing angle
Adjustable arm
[/wpsm_pros][/wpsm_column][wpsm_column size="one-half" position="last"][wpsm_cons title="Negatives:"]
Lacks the installation guide
A bit costly
[/wpsm_cons][/wpsm_column]
4. SMT Chrome – The Long Stem Mirrors Harley Davidson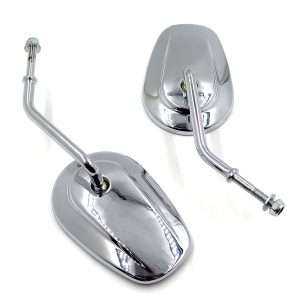 This is yet another excellent addition to the Harley Davidson bikes. This SMT chrome model best suits the flashy motorists living that rock star life. The product adds an elegant look to the designed motorcycles. This aftermarket mirror is a perfect fit for young adults, looking for stylish accessories but still maintaining their safety.
The item is made with stainless steel, which ensures the longevity of the product when exposed to riding often. This material ensures that the product will serve you for a long time.
In terms of dimension, it guarantees the rider a wide rearview with measurements of 130 mm by 83 mm. This is advantageous for riders since the mirror opens a vast space for viewing when riding on an open road.
With this large rear view, you can reduce the stress of bending your head every time you are making a corner or crossing a road. This is highly dangerous since it can lead to an accident. With the SMT Chrome item, you are assured of your safety since the mirror extends beyond your elbows.
It has a stem length of 160 mm. It extends further compared to other products in the market. This is highly advantageous for big riders, who usually face a hard time when viewing through the original mirrors.
With colored glass, it adds an extra touch to your style and your bike design. It is one of the most sought-after mirror products since it provides a clear view of the road. This is important in preventing occurrences of collisions on the road.
An added advantage to this product would have been the installation of turn-on signals to indicate incoming traffic when driving. However, this does not compromise the overall quality of the product.
Despite lacking an installation manual, it is not that hard to assemble the parts of the mirror. The model is simple to put together, and even a novice can learn the ropes fast. Here are the good and bad points I want to summarize about this mirror:
Sale
[wpsm_column size="one-half"][wpsm_pros title="Positives:"]
Large dimensions for wide rearview
Stainless steel material for longevity
Easy installation process
Complements most HD bikes in the market
[/wpsm_pros][/wpsm_column][wpsm_column size="one-half" position="last"][wpsm_cons title="Negatives:"]
Lacks turn signals
No installation manual provided
[/wpsm_cons][/wpsm_column]
5. HTT Motorcycle Item – The Harley Davidson Black Illuminated Mirrors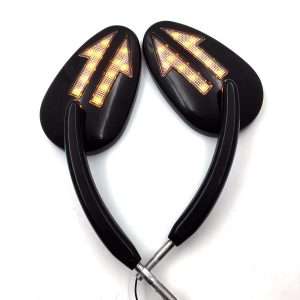 This is another highly-placed product in the market, which features three turn signals. I am a big fan of mirrors with turn signals since they can indicate your presence to other riders. Thus, you can have a smooth riding time even at night.
Additionally, there is an adjustable mirror angle. The mirror can be tilted up and down, left and right. The ease in its adjusting can give a rider the chance to fix the mirror position according to the road specifics.
It is manufactured from high-quality billet aluminum used for top-class custom mirrors. The material makes the product less corrosive compared to other similar products.
Moreover, the billet aluminum increases the durability of the product, especially against wear and tear. The outer material is made from glass, which offers a clear view. The glass is additionally reinforced to ensure it won't crack easily during minor accidents.
HTT Motorcycle mirror complements the 1997-later Harley Davidson models. This, however, doesn't include XL1200X, VRSCF, 2014-Later touring, and FXCWC models.
This mirror also has an easy installation process. It won't take you minutes in assembling the different parts. It already has drilled holes, which allow for quick mounting on your bike.
HTTMT MT400-015-BK Black Integrated Arrows LED Turn Signals...
Adjustable Mirror Angle (Up & Down, Left & Right)
High quality 6061 Billet Aluminum Custom Mirrors(Left & Right Sides)
Mirror Material: Glass (provides clear view and not easy to crack or break)
Comes with everything show on the picture
Fits 1997-Later Harley Davidson Models (excepte VRSCF,XG,XL1200X,FXCWC, and 2014-Later Touring)
[wpsm_column size="one-half"][wpsm_pros title="Positives:"]
Fitted with turn signals
Easy installation
Complements different Harvey Davidson models
[/wpsm_pros][/wpsm_column][wpsm_column size="one-half" position="last"][wpsm_cons title="Negatives:"]
[/wpsm_cons][/wpsm_column]
6. KiWAV Arrow – Among the Coolest Harley Davidson LED Lighted Mirrors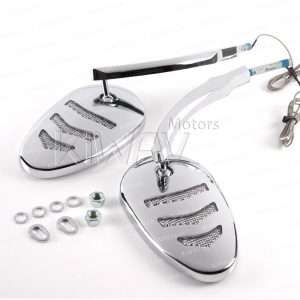 This mirror model suits the best riders aiming at striking a stylish design for custom configurations. Even though it has a high price tag, I believe that it is worth every penny.
The product is manufactured from aluminum material, which makes it strong and sturdy. It is one of the few products in the market, which equals the aesthetics of the Harley Davidson products. It is wide enough to provide a clear rear view.
I am attracted to the design of the product with its three-arrow turn signals. These arrows light up when under low lighting conditions. This will make your bike stand out when you are on the road.
The product is designed with an oval shape, which makes it more compact and portable. The item also requires a few minutes to install only. It has amber LED lights that are comfortable when driving at night, and the wire design completes the look. The three-arrow system makes this mirror model such a worthy purchase.
You will not experience corrosion issues with this product due to the aluminum material used for its manufacturing. It is also more aesthetic and relatively lightweight compared to other models available in the market, making it a preferred choice for many bikers. Here are the advantages and drawbacks of this mirror model:
KiWAV Arrow LED Chrome Mirrors Aluminum 5/16 Inch -24...
Oval shaped style motorcycle mirrors with LED
Aluminum made, strong and sturdy, chrome convex lens for a better view
Compatible with Harley-Davidson and motorcycles with 5/16"-24 mounting
LED : 19 pcs 12V~13.5V (0.5W)
100% made in Taiwan, nice and stable quality
[wpsm_column size="one-half"][wpsm_pros title="Positives:"]
Simple installation process
Resistant to corrosion
Wide rear view
Comes with three turn signals
[/wpsm_pros][/wpsm_column][wpsm_column size="one-half" position="last"][wpsm_cons title="Negatives:"]
The cost is above average
[/wpsm_cons][/wpsm_column]
7. KiWAV Two-Tone LED – A Second Option to Consider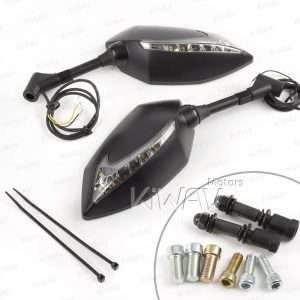 As I have made clear, turn signals are an important addition to a mirror. The KiWAV bar end mirrors feature turn signal light-up sequences, which emanate from inside outwards. This particular model is additionally sealed with an LED module and IP67 anti-dust and waterproof features.
The two-tone color LED lights clearly indicate to other drivers when riding at night. The mirror has a white light, which acts as the running light together with the yellow one as the signal light. The LED light can be spotted by other drivers, even at a distance.
I like the way this mirror complements most Harley Davidson models. It is backed with a stylish design, which can be applied to meet your specifications. The curved design of the lens ensures that you have a wide rear view when riding.
The installation process is simple and does not require previous experience with the installation of mirrors. However, it may take you some time for installing since the mirror does not come with an installation manual. Here are the good and bad points I want to mention:
KiWAV Magazi Lucifer Black Motorcycle Mirrors Dual LED with...
Turn signal light up in sequence, from the inside outwards.
Sealed LED module with IP67 dust & waterproof compliant.
Two-tone color LED lights. White light as the running light, yellow light as the turn signal.
Fit for most Harley Davidson
Stylish designs for your custom applications.
[wpsm_column size="one-half"][wpsm_pros title="Positives:"]
Easy installation
Wider vision with convex lenses
Simple maintenance
[/wpsm_pros][/wpsm_column][wpsm_column size="one-half" position="last"][wpsm_cons title="Negatives:"]
Lacks an instruction manual
[/wpsm_cons][/wpsm_column]
Buyer's Guide for the Best Harley Davidson Motorcycle Mirror
All Harley Davidson models come with mirrors; many riders even own bikes for a lifetime without changing these mirrors. So, why should you look for a custom motorcycle mirror? Here is why modifying your bike's mirrors can be worthwhile.
Why Consider Aftermarket Motorcycle Mirrors?
Mirrors may seem like simple components for your bike. However, they make a great difference when it comes to your driving experience, in addition to overall safety. In case your motorcycle mirror vibrates too much or has low visibility, it can lead to severe accidents.
The perfect mirror for your motorcycle is the one that comes at the right height for the rider. It should also be durable and allow for high visibility when you are driving. Most riders do not stay with primary mirrors since stock products tend to come one-size-fits-all. It is because every rider can find the proper mirror of the right height and in a specific size. Let's take a look at the characteristics you should look for when purchasing a mirror for your bike.
Building Materials
With various products under the belt of Harley Davidson, the building materials range from stainless steel to ABS plastic and aluminum. The million-dollar question is which material is far superior to others?
It is hard to say, which is the best overall build material since each of them has its pros and cons. Take, for example, the aluminum material. It is lightweight and looks stylish. On the contrary, stainless steel is less likely to corrode and is more durable, while ABS plastic is much more affordable among them all.
However, resistance to corrosion is one of the most important features to look for when investing in a mirror. But going for the aluminum material comes with a pricey price tag in addition to a stellar design. In the end, it is all about the compromise between your requirements and budget.
Adjustability
The ease of adjusting the mirror when riding is an additional safety measure. Not only does it give you a clear rearview, but it also enhances your riding experience. This is very helpful when avoiding blind spots when riding.
So, which is the most adjustable mirror in the Harley Davidson belt? It entirely depends on the shape and design of the mirror. Features such as compact glasses fitted with round shapes can alternatively be adjusted at 360-degree angles. Other models can be adjusted left to right and up and down, so basically, all Harley Davidson aftermarket mirrors are pretty adjustable.
Fit
If you check some of the disadvantages of the mirrors listed above, you will notice that not all of them are complimentary with all Harley Davidson models. I have included exceptions for each brand while listing the complementary models, which fit together.
Dimensions
Dimensions have a lot to do with the rearview. You should check on the length of the arms in relation to your elbow. I recommend going for a curved arm past your elbows, which will securely enhance your rearview.
Extra Features
What is all the hype about the turn signal mirrors Harley Davidson? This is an added security feature when riding in the dark of night. It comes in the form of waterproof, running lights with pointed arrows. By adding them to the LED stock lights and Harley Davidson blinker mirrors, you are guaranteed of smooth riding experience on your bike at any time of the day.
Final Takeaway
Harley Davidson is more than just a bike. It is a cultural statement. Therefore, it is fine to take your time to upgrade your model to the best of its abilities. Getting better mirrors is a great way to achieve this without going overboard with obnoxious decals or other impractical modifications.
Since different mirrors literally mirror your personality, you will have to sift through a wide range of options before choosing the one that best suits your bike. Luckily, I have made this roundup to make things better for you. You can go for the mirror from this list or use the tips I have outlined here to make your search for the ideal mirror more streamlined.
At this point, I hope that you have gained in-depth knowledge when it comes to Harley Davidson mirrors. My top 7 picks are purely based on my experience with different motorcycle equipment. Before making your final decision, take your time by going through the list carefully. Keeping in mind the main features you need your mirror to have, you will find the best model for yourself shortly.
As a bike enthusiast, I am always looking for ways to make my Harley look better. If you have a trick or modification that you believe will go well with custom mirrors, please let me know in the comments section below. By the way, have you used any of the reviewed mirrors? What was your experience with one or several of these models? You can also share your favorite aftermarket mirrors with me.