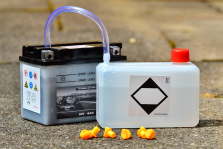 Best Lithium Motorcycle Battery of 2020 on the Market
The old lead-acid batteries that were once popular are no longer as required. In terms of advancements in technology and in various industries, there have been a lot of innovations made to batteries as well. Today, lithium motorcycle batteries are more preferred because they weigh less, have a better performance as well as longer life, strong cranking amps, and increased flexibility in usage. If you're still using your old battery, you're most likely looking to make a switch. 
However, you may know nothing about these new batteries. You would love to find out how they work, the different brands, their affordability, and, of course, get yourself the best lithium motorcycle battery that will meet all your expectations. Before I got myself one of these batteries, I had looked through so many reviews online, window shopped at different stores, and read so many expert opinions on the web. Then, I eventually settled on the brand that suited me best.
So, to make the decision easier for you, I have created a comprehensive review of the top 10 lithium motorcycle batteries of 2020. That way, when you are ready to step up your game and get a lithium battery, you will be confident that you're making the right decision and thoughtful investment. So, with this review, you'll get to understand which item will meet your needs, making the decision pretty straightforward. 
Amazon Bestseller
The Best 10 Lithium Motorcycle Batteries
With the following review, getting the best lithium motorcycle battery has never been easier! Your extensive search will soon come to an end. Just go through this description that covers the top lithium batteries, and you can easily choose the model that is best suited for your needs. 
1. Battery Tender Engine Start Battery: Lithium Model with Smart Battery Management System (BMS)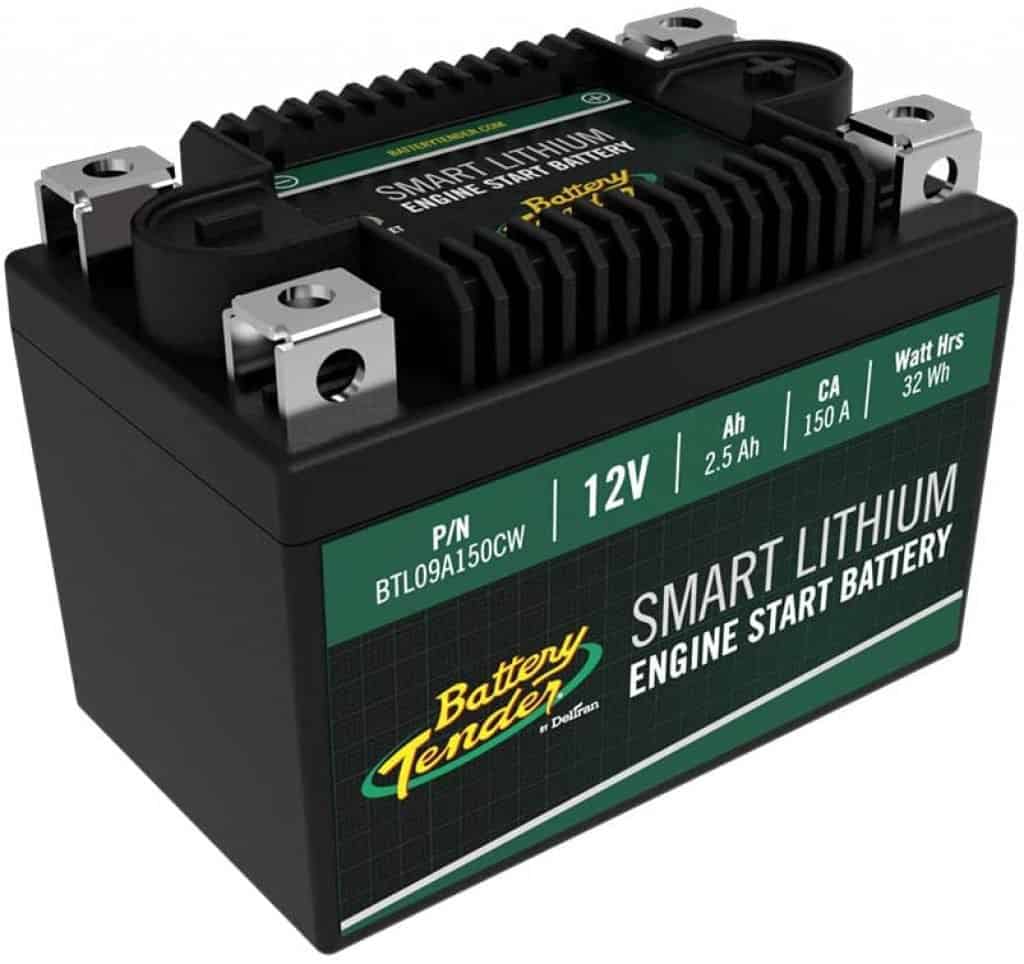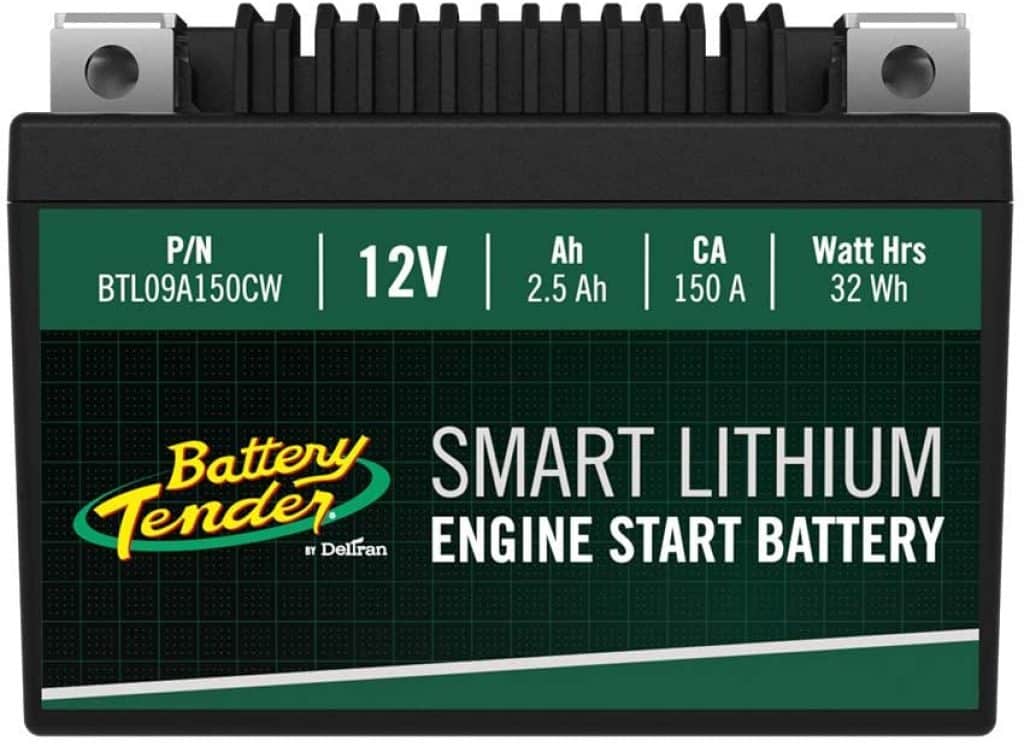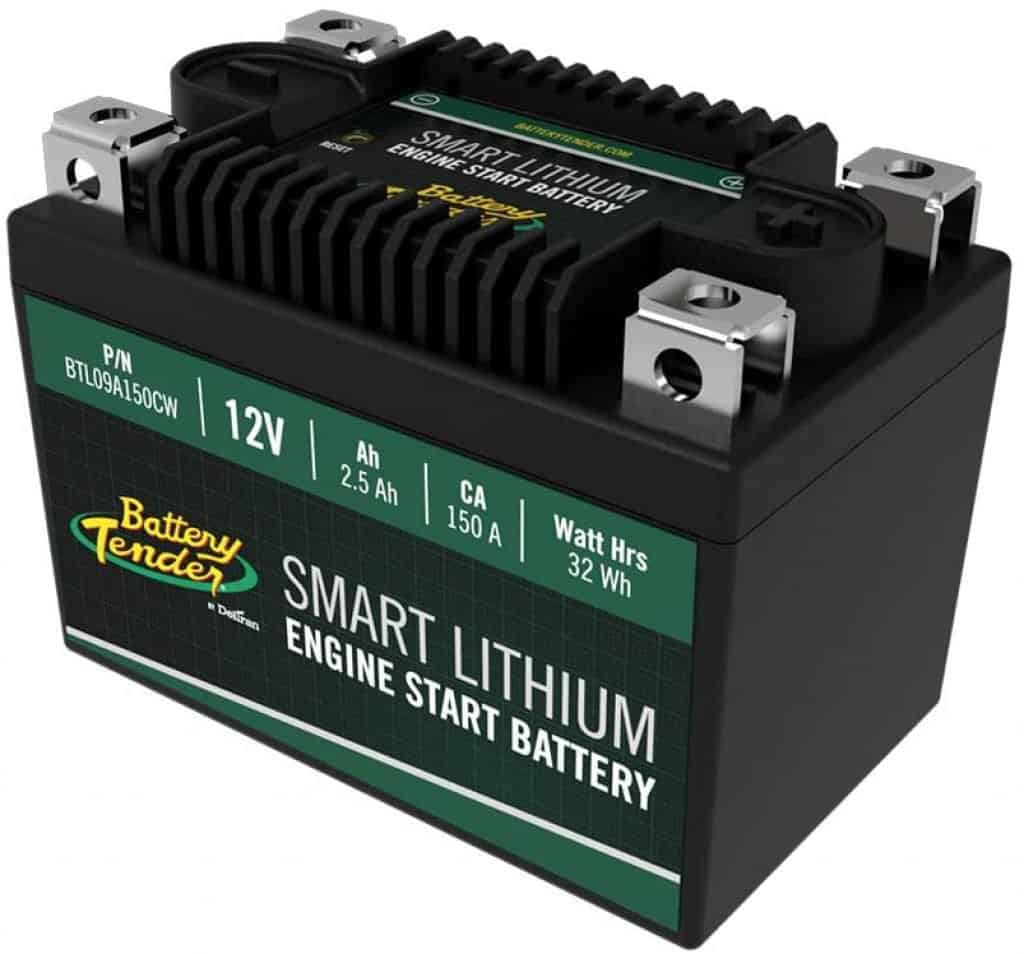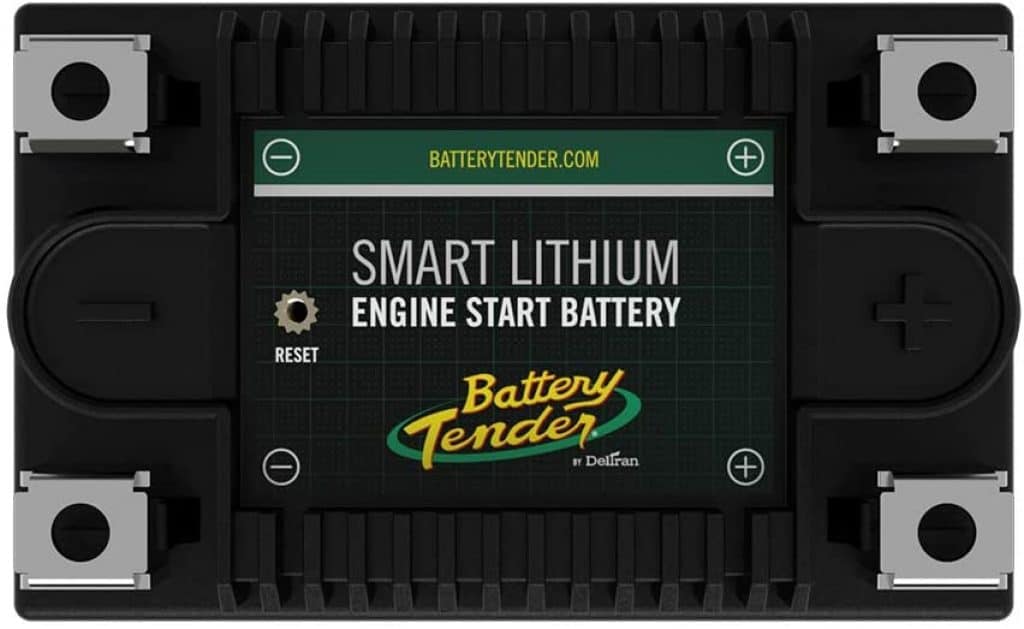 This item is among the top batteries to purchase for your motorbike. It gives a strong cold-cranking power of 480 AMPS, ensuring its ability to start any bike type. An incredible feature of this lithium battery is its long life, as well as the efficient preservation of energy. This battery is over three-quarters lighter as compared to other lead-acid units in this field and lasts 5 times longer than the rest of these batteries. 
The characteristics that make this battery outstanding include its power, the fact of how lightweight it is, how long the item`s charge lasts, and its non-hazmat feature. This unit from Battery Tender weighs approximately 1.4 pounds and has a voltage of 12 V, 2.5AH, and 150CCA. Its temperature of operation ranges from 0 to 140°F, and its highest charge rate is 10 amps. This model is a replacement of the Yuasa YIX30L-BS model, and not only does it come with a detailed user manual but also has foam spaces that are suitable for different size battery boxes. So, this unit has the following advantages:
Has been designed well: This phosphate model has been created as a replacement for the lead-acid batteries for bikes. Still, it should perform well for utility cars, the ATV, individual watercraft, motorbikes, scooters, lawnmowers, and dirt bikes. 

The battery is simple to install, and it comes with foam spaces: This model's foam spaces make it easy to fit inside battery boxes of several sixes. Besides, it is easy to mount it in every possible position, because it features an incredible terminal configuration. 

Effectiveness: The unit offers efficient power that you would not normally find in ordinary batteries. Also, it can run properly between temperatures of 0 to 140°F and comes with a 10 Amps max charging rate. 

Value for money: This battery is strong, non-hazmat, and will last you long. Besides, it will work on any motorbike. 
Sale
Battery Tender Engine Start Battery: Lithium Motorcycle...
HIGH PERFORMANCE: Reliably start your vehicle and turn on the lights, radio and other motorcycle electronics in all temperatures and climates with our high powered LiFePO4 engine start 12v battery
GET SMART: A built in protection circuit board prevents overcharging, discharging and overdrain; when overcharge or over discharge is detected, the BMS shuts off the battery to avert permanent damage
SAFETY FIRST: Engineered to be safer, our battery is equipped with a protection circuit board, water resistant casing, and fire retardant coating that supports high current flow for thermal protection
LIGHTWEIGHT, INCREASED EFFICIENCY: Environmentally friendly and weighing just 1.76 lbs, our economically sized battery increases fuel efficiency and provides a higher capacity while lasting longer
SPECS: Our 12v lithium battery measures 4.49 x 2.80 x 3.27" with a 2.5 aH battery capacity, 150 CCA and 32 watt hours, and includes an activation switch on the Quick Disconnect Cable to activate charging
Positives:
Very light
The energy of the item lasts long
Reduced self-discharge
Two tinier battery posts
Increased voltage cranking loads
Negatives:
No visible negative sides
---
2. EarthX ETX48E Eco-Friendly Lithium Motorcycle Battery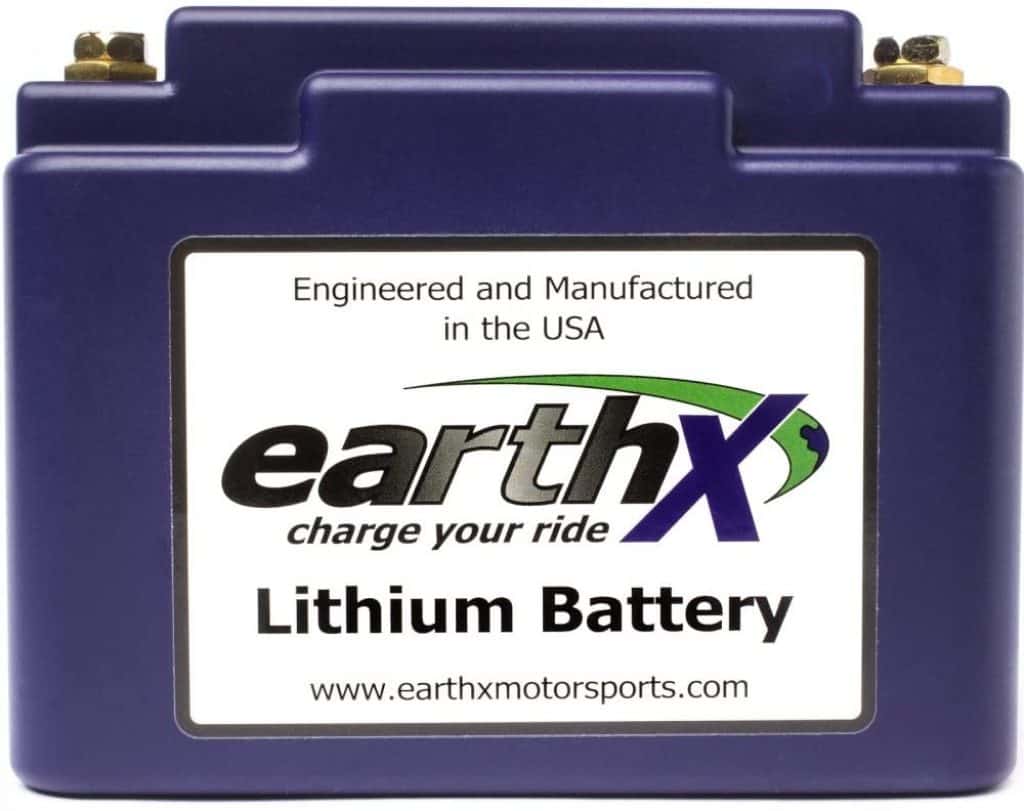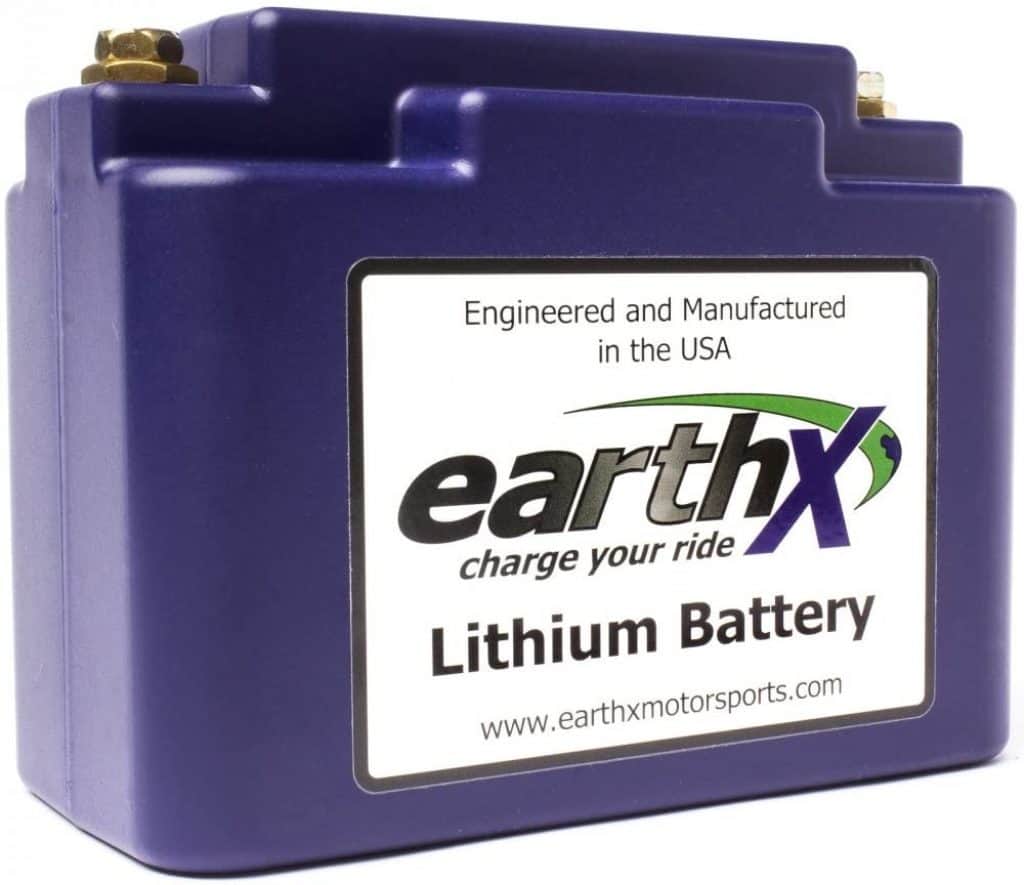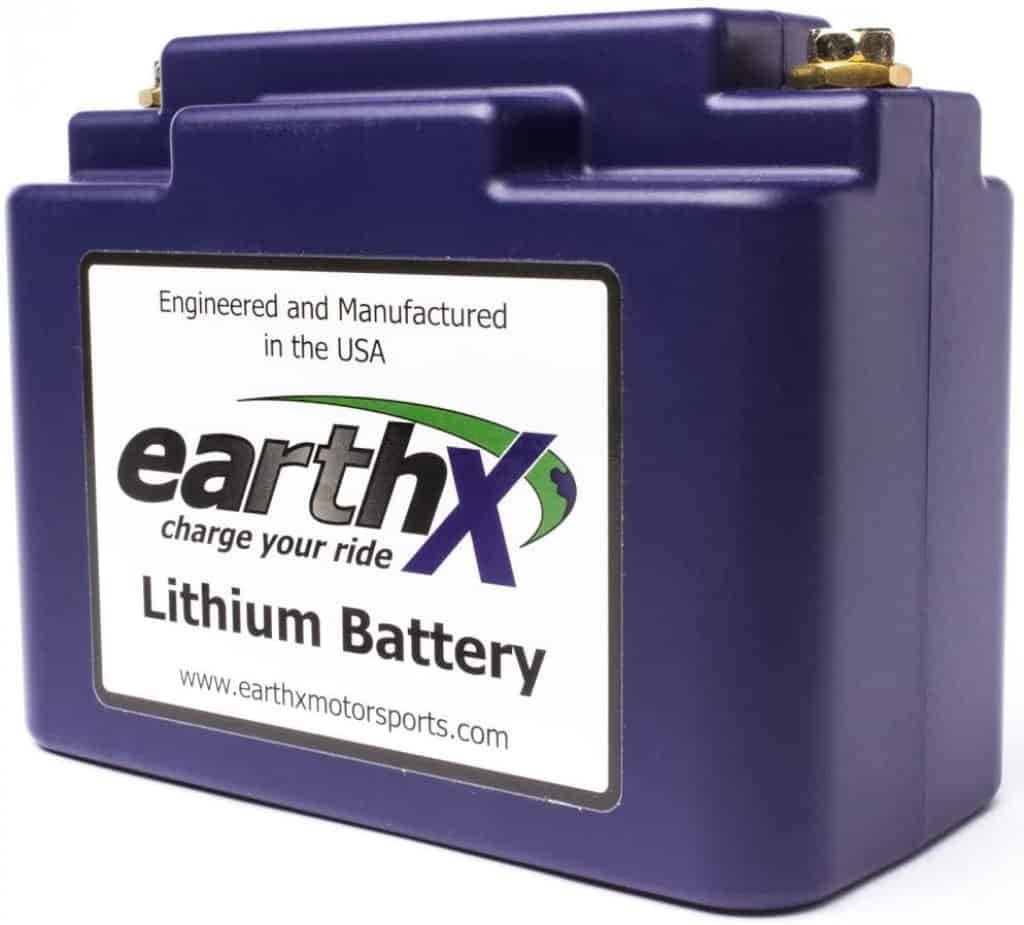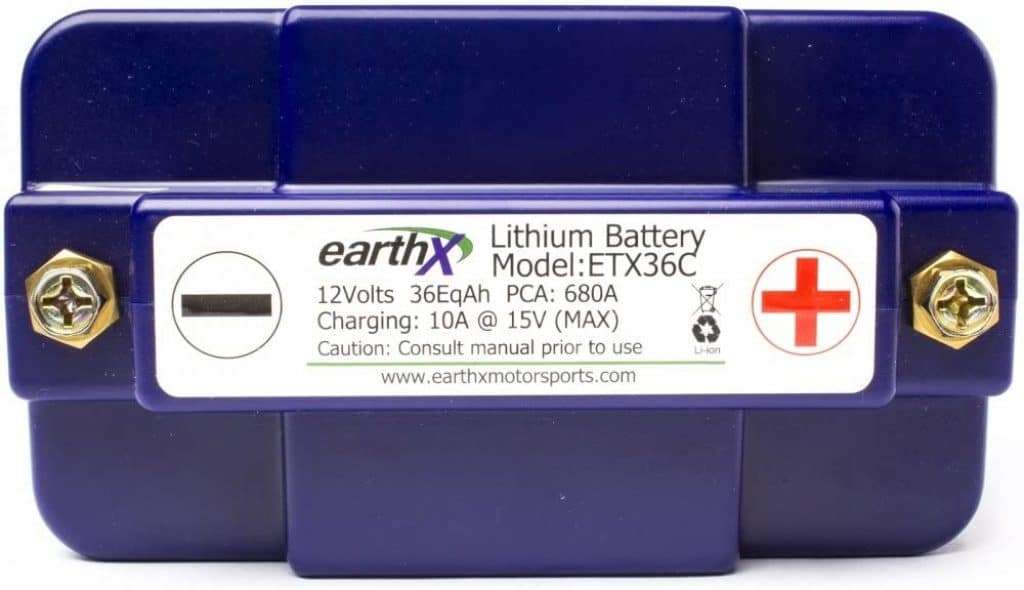 This item is among the best batteries on my list. The product is designed in an exceptional way, allowing you to use it in almost every motorbike you know, including customized choppers and bigger bikes. This US-made model comes with an in-built system that prevents overcharging, which could possibly destroy the battery.  
This feature will also allow you to easily notice when you need to charge the battery before installing it inside a new bike, or taking a ride. It comes with a 24-month warranty, meaning that EarthX can replace your battery if it stops working within 2 years. Also, you'll get terminal adapters to hook up this model. Other features that make it stand the challenge include: 
Fast charging – this battery will charge two-three times faster as compared to a lead-acid model.

Strong and long-lasting – it has a higher nominal voltage. So, the unit easily cranks over your engine, enhancing the starting performance of your motorcycle. Also, expect this battery to last for more time in comparison to a lead-acid one. 

Light-weight – with a weight of only 4 pounds, this battery guarantees an enhanced performance. 

Environmentally safe – it is non-toxic to the environment since it has no acid spillage, doesn't require water added to it, does not freeze, corrode, or sulfate. 

Reduced discharge rate – it discharges slowly as compared to a lead-acid battery, meaning that you should charge it rarely.
EarthX ETX36C Eco-Friendly Lithium Motorcycle Battery with...
Replaces Yuasa: YB16B-A, YIX30L-BS, YTX12-BS, YTX14-BS, YTX14H, YTX14H-BS, YTX14L-BS, YTX16-BS, YTX16-BS-1, YTX20CH, YTZ12S, YTZ14S.
Designed, engineered and assembled in the USA
2 year full coverage warranty (Not a prorated warranty that offers you the replacement at a discounted rate IF they don't void the warranty)
Over discharge protection (#1 killer of all batteries and other brands do not protect against this and void the warranty)
Terminal adapters are included with this battery if you have a front mount connection with the standard size of 6mm.
Positives:
Long-lasting
Fast charging
Low discharge rate
Nontoxic for environment
Lightweight
---
3. MX20L – Motorcycle Battery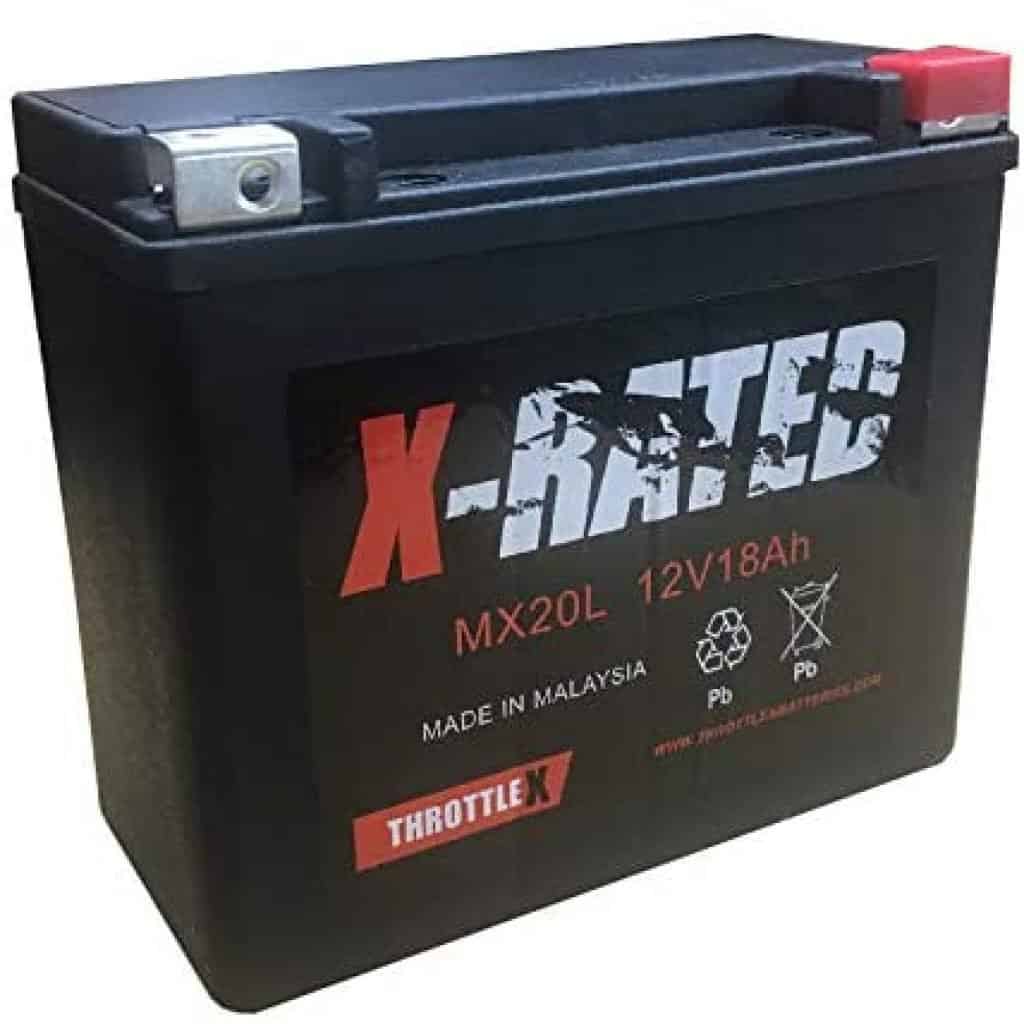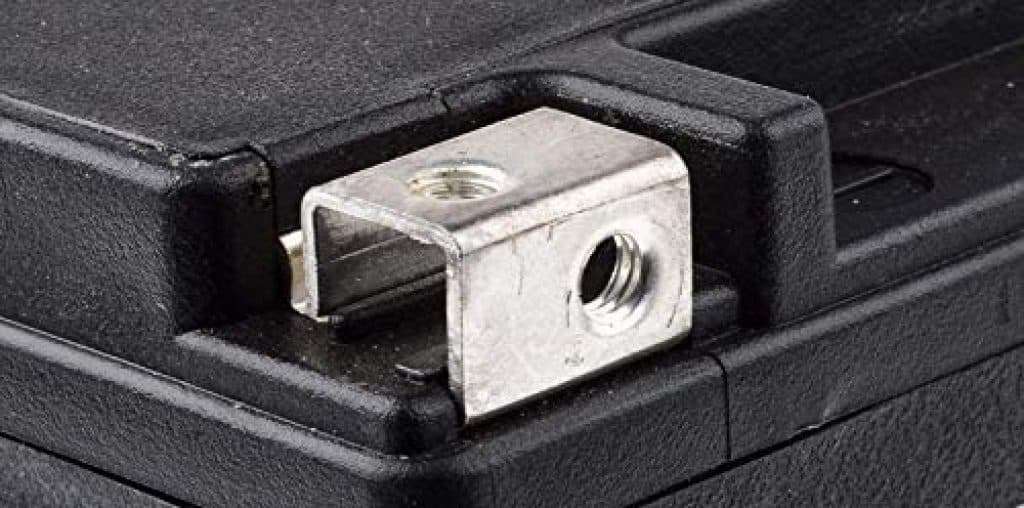 This battery from ThrottleX will give you the best performance every time you take a ride. Its sturdiness and long performance are among the reasons why it is on the list of the best models. It makes use of activated AGM tech. So, no spillage will occur while installing or running the item. 
Besides, this battery can be positioned at whatever angle you wish. It comes with vibration resistance tech, which assures a longer life, improved service life, safety, as well as incredible performance. What I love about this battery is its defiance to tearing as well as the Absorbed Glass Mat separator, making it a must-buy item. Full-frame plates are responsible for protecting the separator, to ensure reduced rates of discharge and to improve cranking amps. 
Also, the product comes with rapid starting power, making it easy to start even during the cold season. Another thing worth noting is the fact that it is maintenance-free. This is one of those batteries for the riders looking for a device in which cells don't need to be cleaned. Additionally, it will come fully charged. So, you can instantly install the battery in your motorbike, once you purchase it.
In my opinion, this is the best battery for your bike, especially if you live in places that are extremely cold and need something easy to maintain and start. This product weighs roughly 16 pounds and has the same power and high quality, 20 A.H and 500+ CCA. So, the features worth noting in this product include: 
Advanced Technology – this model has an activated AGM technology that prevents it from spilling. Also, the vibration defiance tech ensures better performance, increased service life, safety, and durability. 

No maintenance stress – there is no need to waste your time and energy taking care of this battery, which makes it the best pick for riders. Besides, you can easily install your battery at any place and start your ride instantly. 

Quick starting power – this is the ideal battery for your bike, especially if you live in a really cold area.
So, this battery stands out from the rest because it comes fully charged. So, there is no need to mess around with acid containers, attempting to fill it by yourself. Besides, it has been customized to fit most motorbikes, and it lasts for a long time.
MX20L - MOTORCYCLE BATTERY - 500+ CCA
Maintenance Free - Fully Charged - Ready to Install
Meets or Exceeds Specifications of Original Battery - 500+ CCA and 18 A.H.
12 Month Free Replacement Warranty with a 30 Day Money Back Guarantee
AGM (Absorbed Glass Mat) Non Spillable Sealed Technology With Heat Sealed Cover
Dimensions: L = 6 7/8, W = 3 7/16, H = 6 1/8. Weight = 15.5 lbs.
Positives:
Affordability
Easy to install
Vibration defiant
Can be used in extremely cold conditions
No fumes
Bought fully charged
Negatives:
Challenging to understand instruction manual
---
4. Expert Power 12v 7ah Rechargeable Sealed Lead Acid Battery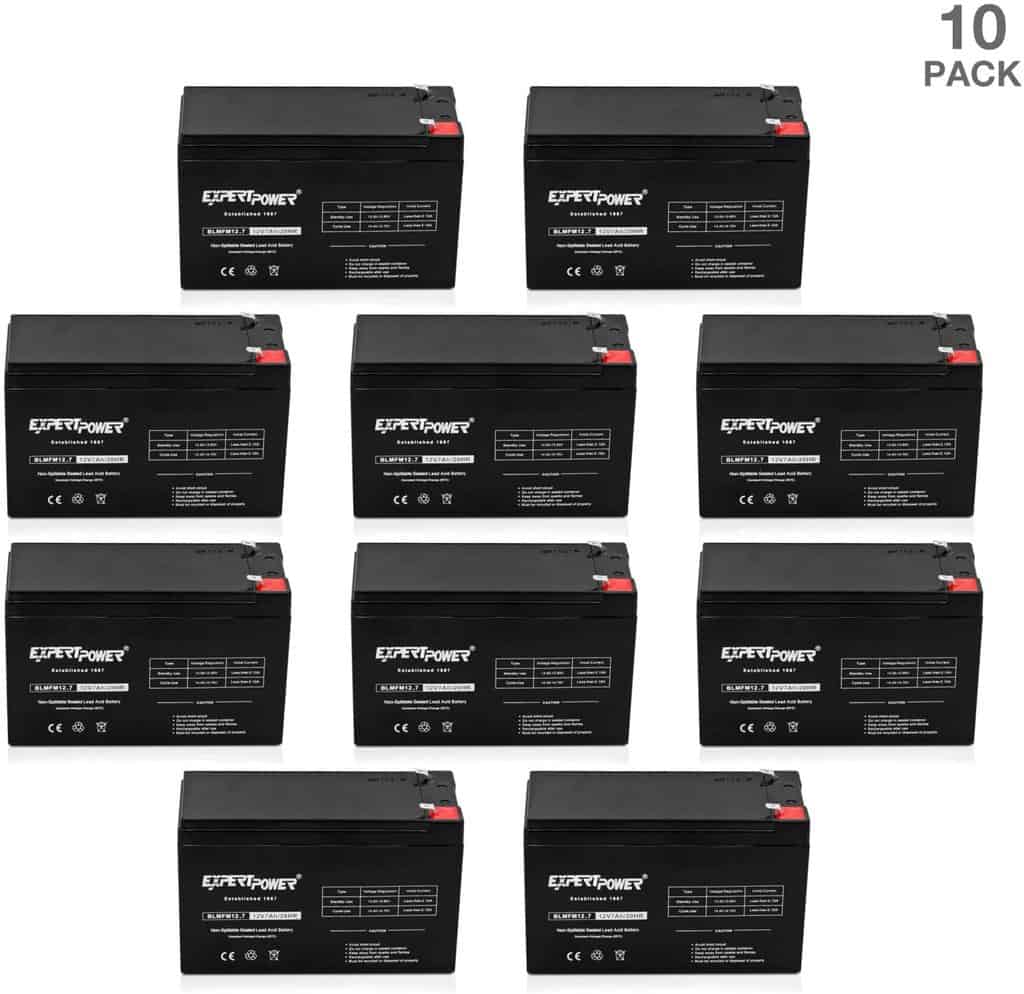 This 4.3-pound battery from Expert Power is rechargeable, and you can use it efficiently. It is an ideal model since it will fit in almost every bike, and will last long. The reason why this battery is so popular lies in its versatility. It is mainly utilized in powering alarms and has tons of various types of applications. 
This battery is easy to maintain and is valve-controlled. Also, you can return it within 30 days if you're not satisfied with the item, and it comes with a 12-month warranty. Additionally, it is easy to install and has been sturdily and ruggedly constructed. Its great features include: 
Great design – it helps this battery to withstand high temperatures, shock, and vibrations without any damage to it. An acid electrolyte is put in-between the plates. This is a measure of safety to prevent spillages from the model. 

The small-sized item with AGM tech – this compact-sized 12-volt model can work on any kind of bike. Its size makes it ideal for a lot of applications. This lead acid unit has been sealed, and utilizes AGM technology, preventing any spills from occurring and ensures no maintenance is needed. It can be used for vehicles, electric scooters, wheelchairs, security systems, etc. 

Protective outer case – ABS plastic that has been hardened is used for the outer case, preventing spillages and leaks. 

Glass mat tech – this model utilizes absorptive glass mat tech, capable of delivering higher electric currents when needed, and offers a comparably better service life. 
ExpertPower 12v 7ah Rechargeable Sealed Lead Acid Battery ||...
Genuine ExpertPower Battery - The Most Trusted And Highest Reviewed Sealed Lead Acid Batteries On Amazon
Battery Type - 12 Volt 7 Amp 20 Hour Sealed Lead Acid Battery With F1 Terminals
Ease Of Mind -All Of Our Batteries Are MAINTENANCE FREE and VALVE REGULATED
Used for Alarms, Automobiles, Lighting, Electronics, Emergency Systems, Medical Devices, Scooters, Solar Power, Wheelchairs, etc...
User Friendly - Easy Installation With a Very Durable And Rugged Construction
Positives:
Higher voltage
Requires no maintenance
Rechargeable battery
Long-lasting
Affordable and versatile
Simple to install and use
Negatives:
The product lacks negative sides.
---
5. Bike Master Lithium Ion Battery DLFP-51913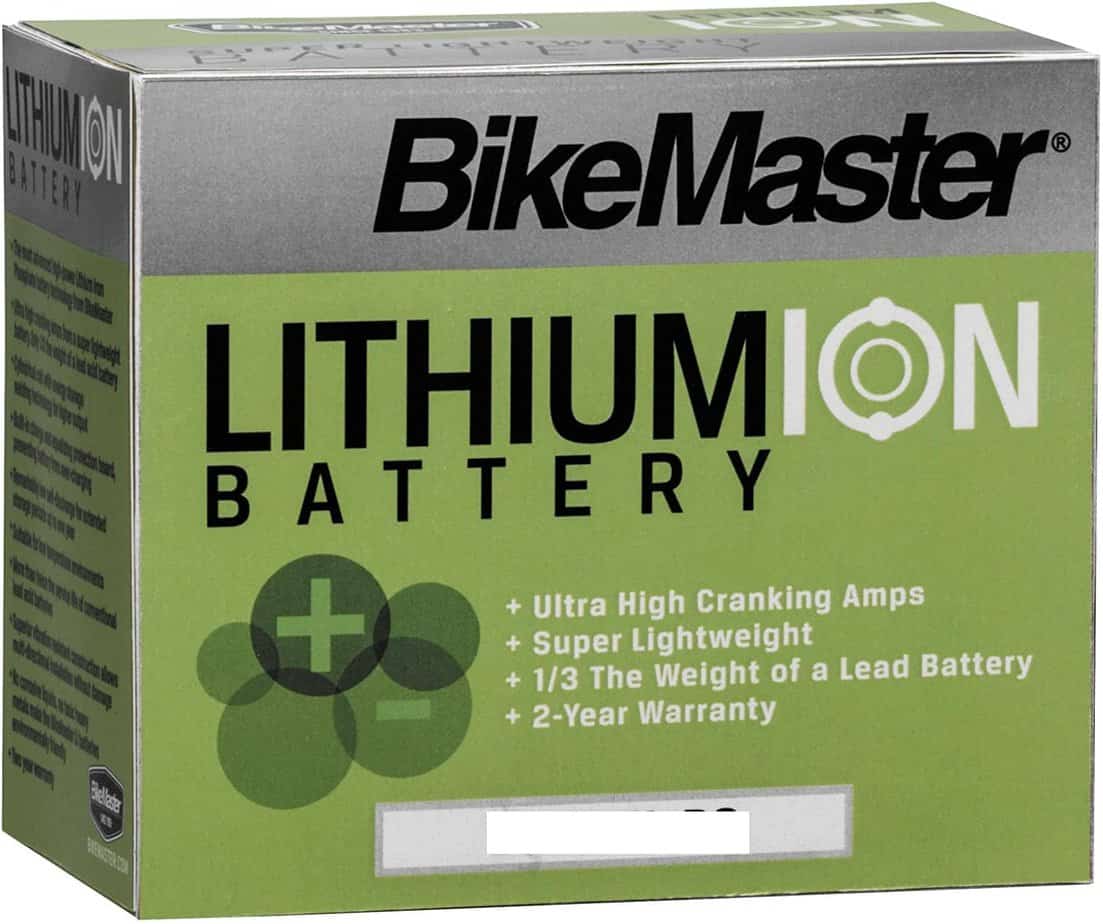 Bike Master has a Lithium-Ion battery line that has the most advanced increased power Lithium Iron Phosphate tech. This particular lightweight battery weights approximately a third of lead-acid batteries, and it provides exceptionally high cranking power. Other features that make the item unique include:
Protection from overcharge – This 4.4-pound unit has an in-built charge as well as an equalizing protection feature that prevents the battery from overcharging. 

Fast charging – it has a super-fast recharge rate, with the battery reaching 100% within a couple of minutes as compared to traditional batteries that generally charge a little when fast-charged. 

This battery is easy to maintain – It comes already sealed and ready for usage, requiring no extra fluids. So, battery acids won't leak, which would possibly cause damage to the finish. 

Incredibly low self-discharge – it can last up to 12 months. 

Ideal for low-temperature regions – the item works incredibly well in really cold places.

Improved service life – it can last to two times longer as compared to lead-acid batteries.

The construction is highly resistant to vibration – This makes it easy to install the product in multiple directions without any damage. 

Environmentally safe – it does not contain any hazardous heavy metals or corrosive acids. 
BikeMaster Lithium Ion Battery DLFP-51913
Most advanced high-power lithium iron phosphate battery technology from BikeMaster
Ultra high cranking amps from a superweight battery which makes it 1/3 the weight of a lead acid battery
Cylindrical cell with energy storage welding technology for higher output
Built-in charge and equalizing protection board which prevents battery from over-charging
Remarkably low self-discharge or extended storage periods up to one year
Positives:
Suitable for cold regions
High cranking power
Environmentally safe
Can be easily installed in several directions
---
6. Shorai LFX14A4-BS12 Lithium Motorcycle Battery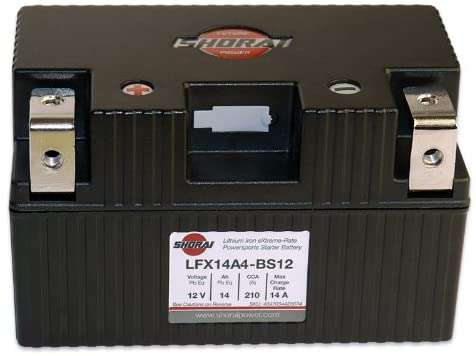 This lithium battery by Shorai provides automatic start-up power. Make use of this model and expect to be a great rider. It works for any kind of sports application, including motorcycles, bikes, individual watercraft, and ATV. It is worth investing in and requires quite low maintenance. Also, you should expect no cases of desulfation with this model, because it is a lithium-ion unit. 
The unit is small in size, weighs less, and, therefore, it is portable. Also, the two self-adhesive foam shims allow you to strengthen your battery box. What's even better for long-distance bikers is that this battery cannot slide into the battery section. It comes completely covered without acid, so you don't need to drain or add acid. Since it does not have any acid, the parts, fittings, or paint on your bike cannot get damaged, which would typically happen when using a lead-acid model. With this model, all you need to concern about is its connection to the proper terminals.  
This 2-pound model has greater energy and CCA, providing improved start-up performance. So, expect a double lifespan as of a lead-acid battery. The rate of self-discharge is also really low, and you can always use a lead-acid charger to charge this model. This unit also stands out because it can be positioned at any angle, and has multiple terminal points of configuration. Besides, the item comes with a 36-month warranty as the manufacturer states it is among the best motorcycle lithium battery style="font-weight: 400;"> for your machine. Some other notable features of this model include: 
Greater voltage – expect more excellent starting performance as a result of the higher CCA and voltage. 

Extremely small and light – this portable unit weighs only approximately 2 pounds, compared to the 10 pounds that a lead-acid battery featured, making it an ideal option for any motorcyclist. 

Double-sided self-adhesive foam shims – they let you back up your battery box, and you can rest assured that it won't slide into the battery area even if you're riding fast. 
Shorai LFX14A4-BS12 Lithium Battery
Extremely Light Weight, 1/5th the weight of Lead-Acid
Higher Voltage and more CCA provides better starting performance
Longer Lifespan - Lithium provides 1.5x to 2x the life of lead acid
Makes maintenance easy - Extremely low self discharge rate and can be charged with lead acid charger
3 year Prorated Warranty - First year free replacement
Positives:
Lightweight and portable
Needs no maintenance
36-month warranty
Greater cranking amps
Negatives:
A bit pricey
Does not come with a charger
---
7. MMG YTZ10S Z10S Lithium Ion Sealed High Performance Powersports Battery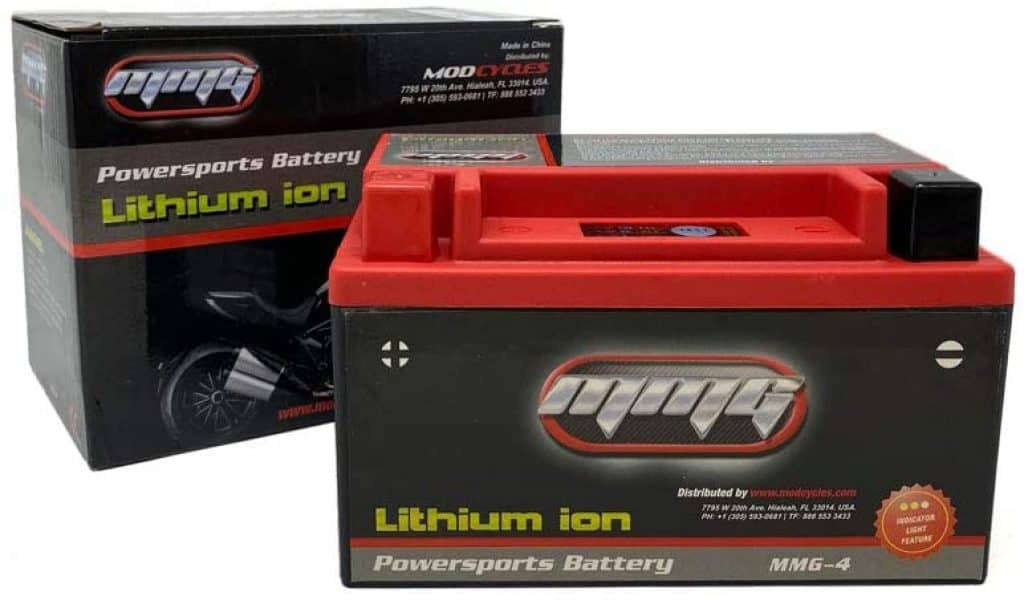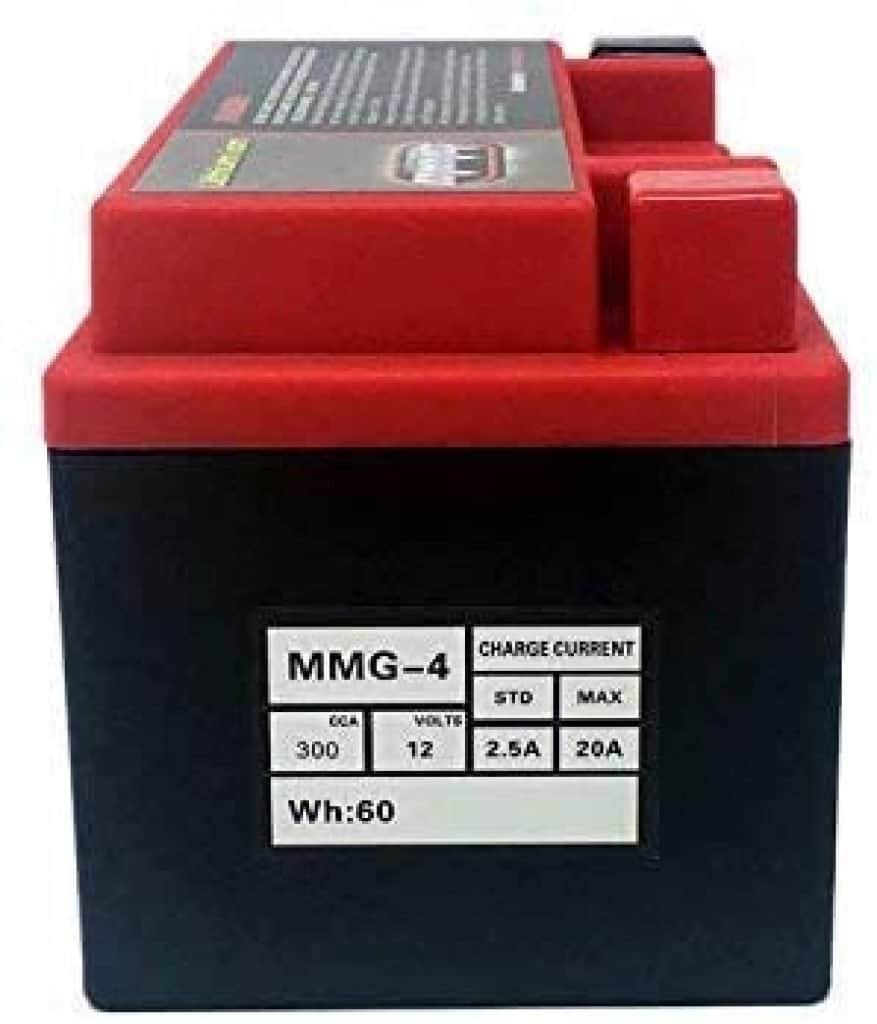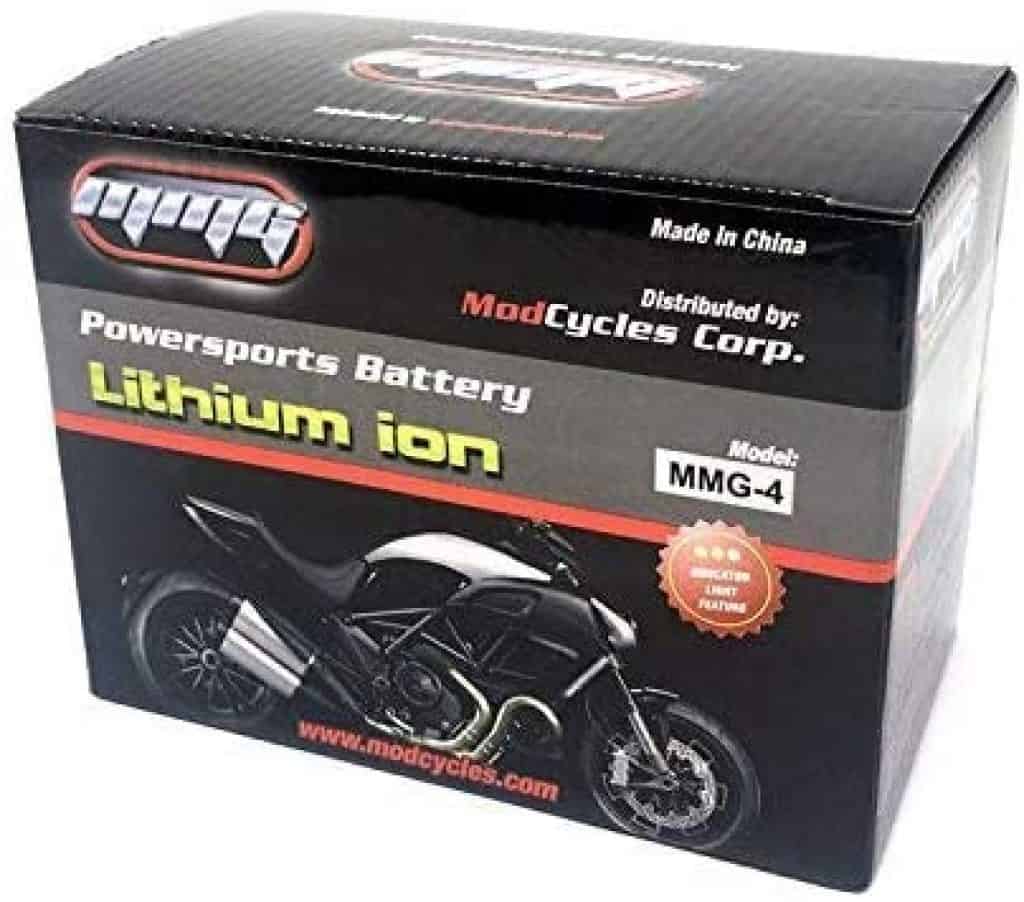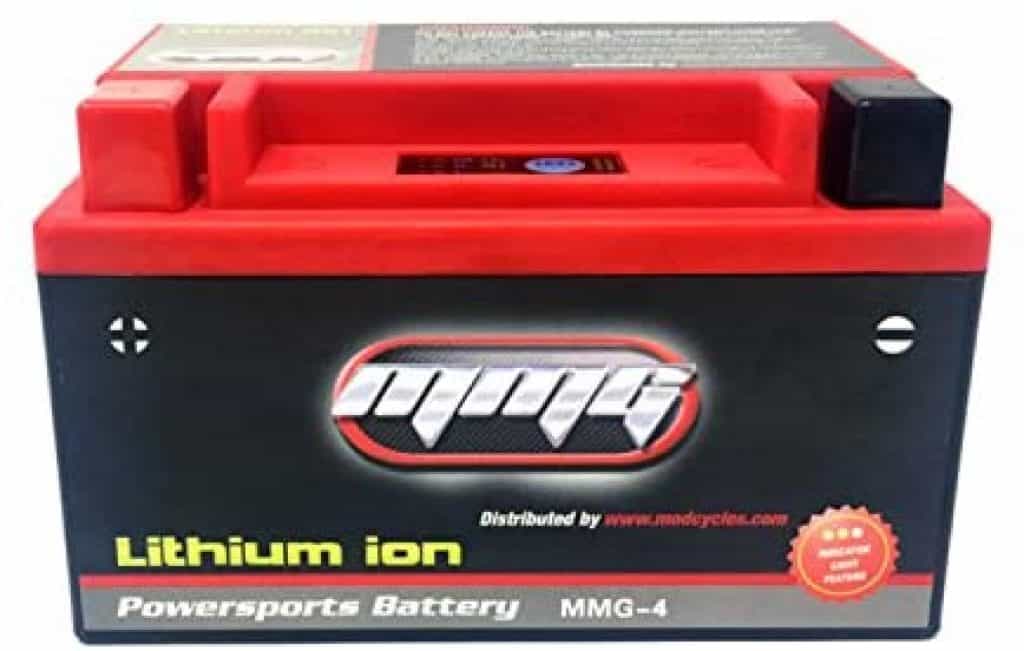 This affordable model may not last as long as other higher-priced items out there. However, it is effortlessly set up and doesn't require any additional maintenance. Besides, it will come fully charged and won't need to be charged for 12 months. Other features that make it stand out include: 
Higher cranking amps – the device should readily start almost any bike

Comes with a led charge indicator – you'll easily tell when your battery needs to be recharged. 

Lightweight – this 2.3-pound model weighs roughly a third of most lead-acid batteries. 

Requires absolutely no maintenance – it doesn't spew, leak, and holds no acid within it. 

Nontoxic to the environment – the item doesn't cause any pollution, making it friendly for the environment. This is because it doesn't consist of any acid or heavy metals, including mercury, cadmium, or lead. 

Fast charging – its rate of recharge is unbelievably fast, and, at the same time, it maintains an incredible performance at higher temperatures. 
Positives:
Higher cranking power
Cheap
Lightweight
Effortless to install and requires no maintenance
Safe for the environment
Negatives:
Lasts only approximately 18 months
---
8. Shorai LFX Battery – LFX19A4-BS12/Black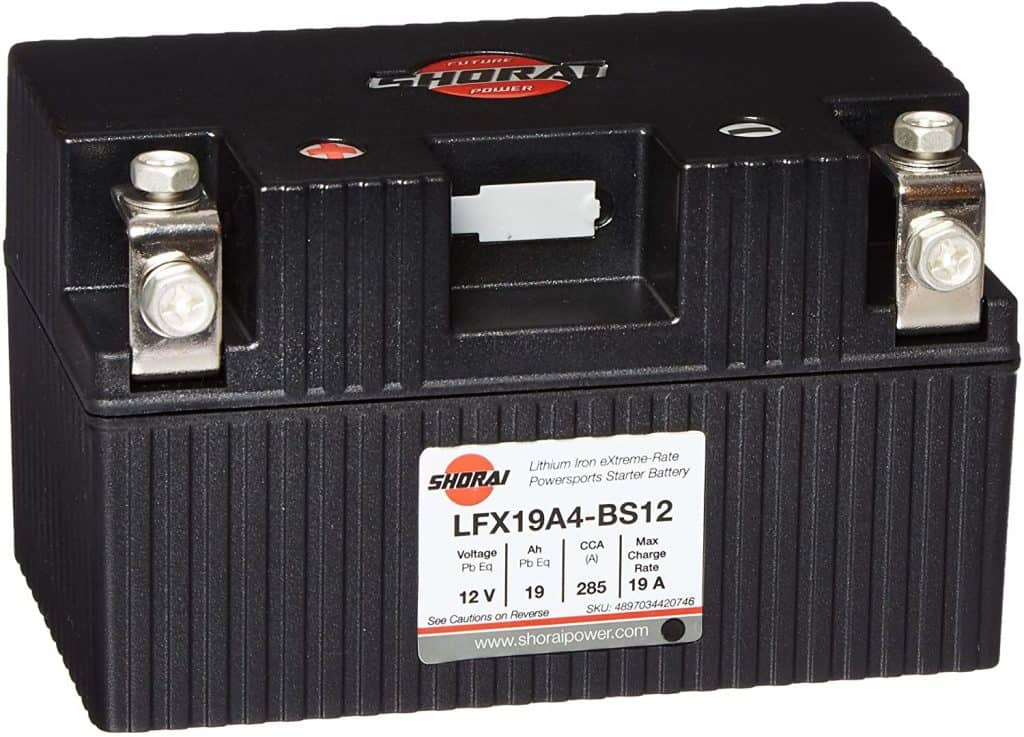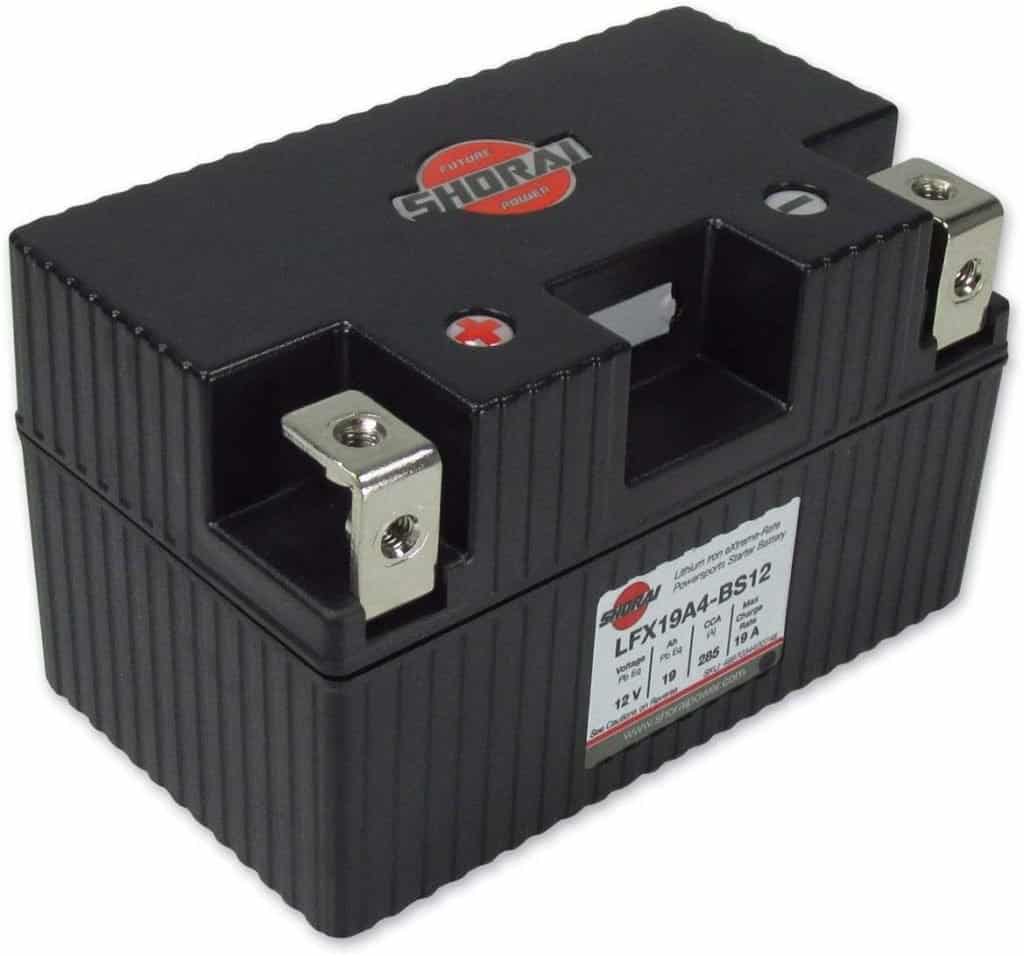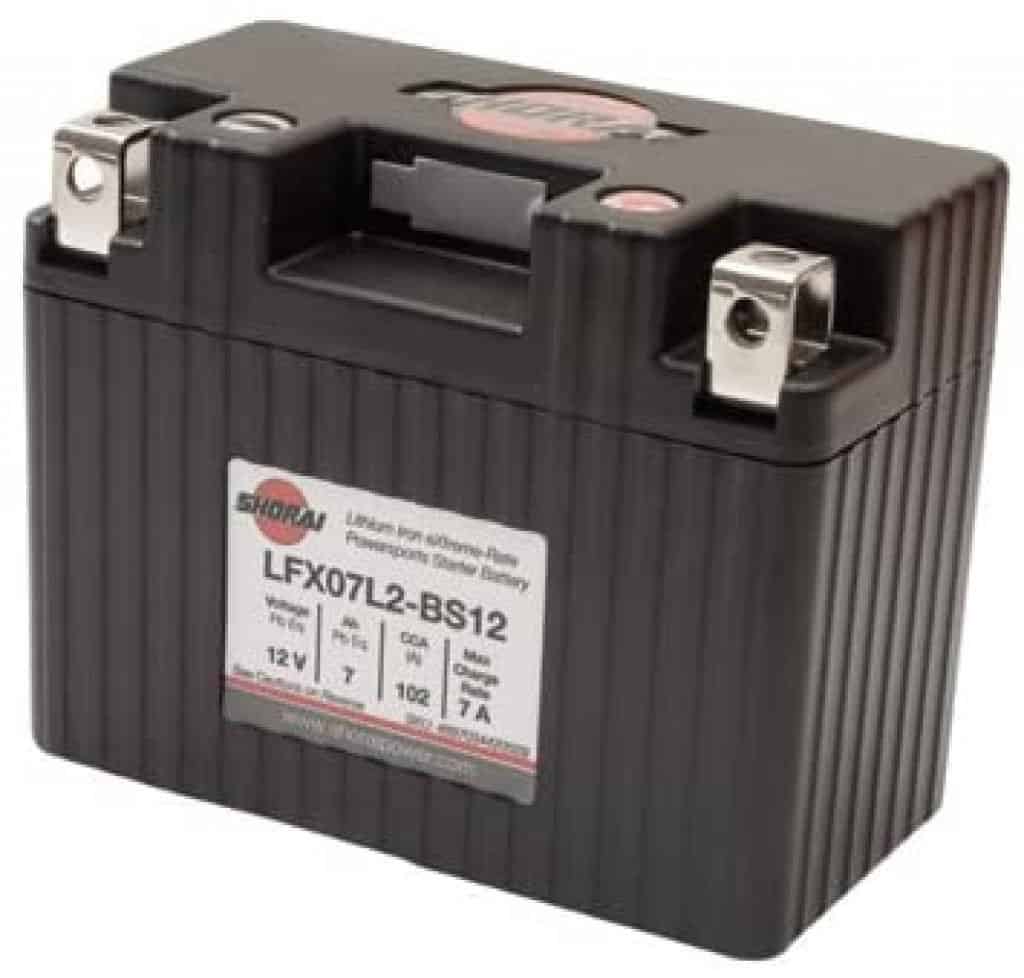 This 2.5-pound model is quite light as compared to 10-pound lead-acid units. This feature makes it an ideal choice since you will barely notice its weight on your motorbike. Besides, it doesn't have any deadly acid or lead that is contained in the majority of cells. Also, rest assured that there will be no formation of gasses, and it is nontoxic to the environment because it does not sulfate.
Expect this battery to hold its charge for up to 12 months, without requiring any maintenance since it comes with a reduced rate of discharge. So, the model can easily take you throughout winter and have enough power to start your bike during summer. You can connect your cables either at the terminals' heads or sides. 
The foam spacers that come with this battery will provide you with a greater fitting to your model. This is the ideal lithium-ion motorcycle battery for beginners because it requires no maintenance. Besides, the item is completely covered, so it is environmentally-safe. Also, you may expect an incredible engine performance because it is capable of giving higher cranking power. 
Moreover, the carbon seal of this battery is military-grade, meaning that it will grant an even longer lifespan. There are several sizes and shapes of cases, so you can get one that meets your particular needs. Installing the battery is hassle-free since you simply drop it in the compartment. Furthermore, the double foam shims ensure that it fits perfectly inside the battery box, meaning that it won't move around the box. Additionally, the shims provide thermal insulation and additional vibration. The manufacturer has also included terminal crews, a pair of spares, and an informative guide. So, the best features of the model include: 
Light and compact – this unit is not only thin, but it also comes with pad spacers, making this battery an ideal fit for your machine. Besides, it is straightforward to install. 

Environmentally safe – this LFX unit doesn't have any acid or lead, both of which can be dangerous. Also, expect no gas to escape while charging. 

Integration of a case made of carbon fiber composite – it is light in weight, durable, and enables your battery to effectively provide the necessary protection for the cell's internal factors. 
Shorai LFX19A4-BS12 Lithium Battery
Extremely Light Weight, 1/5th the weight of Lead-Acid
Higher Voltage and more CCA provides better starting performance
Longer Lifespan - Lithium provides 1.5x to 2x the life of lead acid
Makes maintenance easy - Extremely low self discharge rate and can be charged with lead acid charger
3 year Prorated Warranty - First year free replacement
Positives:
Fast charging
An informative guide is included
Lasts long
Light and portable
Incredible power
Negatives:
The battery can spill hot liquid and gas
---
9. FirePower Featherweight Lithium Battery HJTZ7S-FP-IL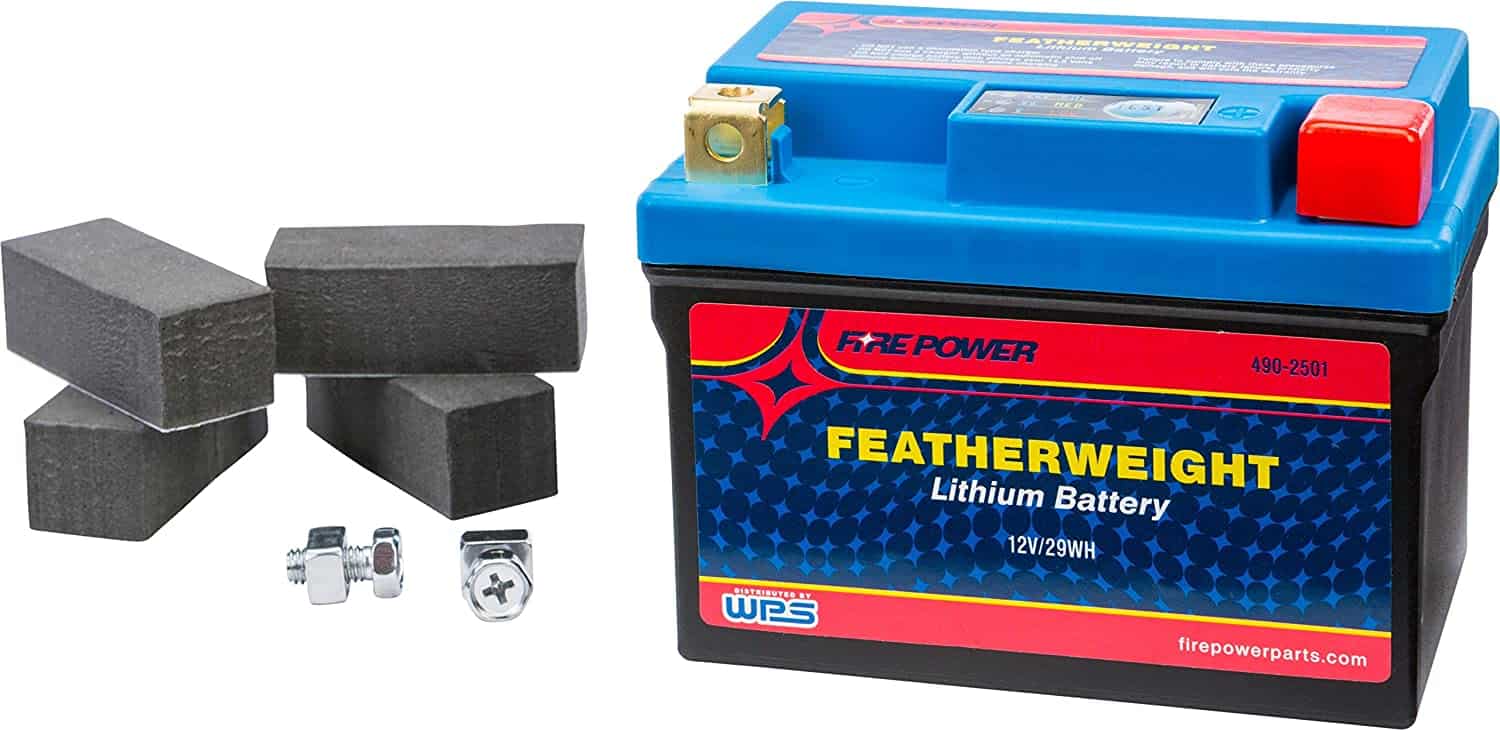 This is among the cheapest models on the market, costing roughly 75 dollars. So do not expect it to have the top performance on the list. The key advantage of this brand is that it's cheap, making it among the most affordable units around. So, it's ideal for casual riders, or if you're looking to try out the new lithium batteries. Besides, you can mount this unit in any position. Other features that make this FirePower unit stand out are: 
The item is very light – with this unit weighing roughly over a pound, it is 70% lighter as compared to AGM and lead-acid models. 

Higher cranking amps – the performance may not be on the top of the list. Still, this model delivers essential performance due to its high cold-cranking amps. 

Long shelf life – it doesn't drain power passively, and you should expect the item to last for a year without recharging.

Easy to install – the battery comes with installation hardware and spacers that are straightforward to install.

Fast charging – within 6 minutes, the unit can charge up to 90%. 

In-built LED test gauge – this characteristic should help you keep tabs on this model. 

Environmentally safe – the item does not have any heavy metals or corrosive acids. 
Sale
Fire Power HJTZ7S-FP Featherweight Lithium Battery
Lithium Ion Polymer technology
All components are designed, manufactured, assembled and packed in one location assuring high quality and consistency
Extremely lightweight, 50% to 70% lighter than standard batteries
Built-in LED test gauge
Increased cranking amps over lead acid batteries
Positives:
Affordable
Long shelf life
Easy to install
Environmentally safe
Negatives:
Many users complain that the battery may die unexpectedly.
---
10. Antigravity Batteries 24-Cell OEM Case 720 CA 24Ah YTX12-24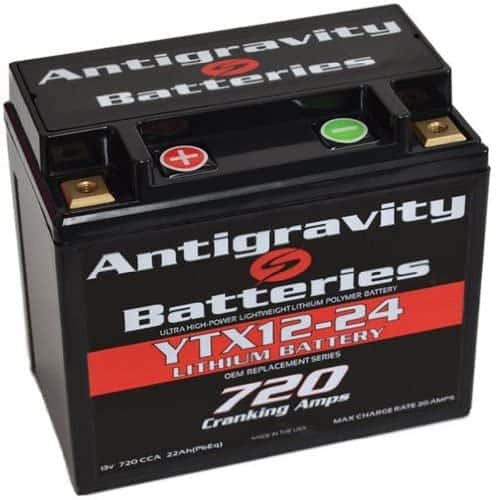 The Antigravity series has a lot of batteries, with the YTX12 OEM being the most powerful one. It works as a direct replacement in a lot of bikes, offering massive cranking power once you install it. Still, this compact, lightweight model is easy to install, and it works best in extreme conditions, including long-distance rides or taking hikes. So, what makes it stand out is that: 
It is powerful – considering its size; this model is the most powerful on the market.

Light-weight – this 5-pound battery is light, but it still guarantees an incredible performance for vehicles ad motorcycles. 

Easy to install – this lithium-ion model comes with simple green and red labels on its top, making it easier to install it on your bike. 

Long-lasting unbreakable brass terminals – this compact item will save you approximately 14 pounds compared to other models and comes with long-lasting brass terminals. 

The product doesn't need to be regularly charged – if you maintain and care for it properly, that means not connecting it to accessories and alarms that consume a lot of power, expect it to last for 12 months before needing a charge. 
Positives:
Powerful
Compact and lightweight
Works well in extreme situations
Easily installed
Negatives:
Most users have complained that the battery quickly reached below a critical voltage
Issues with leaking and doesn't last long.
---
Choosing the
Best Lithium Ion Motorcycle Battery
There is so much information on the top lithium batteries of 2020 on the market scattered online. It is no doubt that with so many reviews, one can easily get confused in terms of which battery will meet their needs best. This review has compiled this information and comprehensively discussed the top ten batteries on the market, their features, pros, cons, and why they stand out among the rest. 
Besides, with so many brands offering lithium batteries, it could be even harder to make a decision. However, the more brands you consider, the more options you will get to choose from. It all depends on the peculiarities of the item you're looking for to satisfy all your expectations.
So, make sure to look out for features like the price, warranty, portability, cranking amps, durability, usage, etc. Have you used any of the above-listed lithium batteries? What was your experience? Is there any particular model that you prefer over the rest, and why? It would be great if you left your questions or comments in the comment section below. I'll make sure to answer each of them.