A long motorcycle ride could feel boring and tedious, but the right set of speakers with a good motorcycle amplifier can make all the difference. Whether you are on a solo trip, or accompanied by a passenger, having some good music will make the journey more pleasant and amusing. Motorcycle amplifiers are specially crafted to enhance a bike's audio electronic equipment, giving the rider tuneful and pleasing music while on the go. On that note, every biker should install a set of Bluetooth motorcycle speakers on their motorbike. But the question is, how do you identify the best amplifier for motorcycle that is suitable for your bike?
Depending on the motorbike's design and your overall sound preference, some speakers and specific amplifiers may be a good pick while others may not. In this review, I will outline the best motorcycle amplifiers that are currently most selling, expound on their positives and also provide a first-hand customer report in regards to the music machine's sound quality and performance. Having tried out several motorcycle speakers with amplifier, I will be outlining the specifications of each device as also the pros and cons. This review will help you save time while choosing the right Bluetooth motorcycle amplifier for your bike.
Amazon Bestsellers
Best 12 Motorcycle Speakers with Amplifier – Top Market Players
With thousands of amplifier motorcycle speakers in the market, it might be overwhelming and time-consuming for you to get the one that best fits your needs. I have tried several top brands, checked their quality and suitability for various bikes, and the following is a detailed list of the best speakers and Bluetooth amplifier for motorcycle that I recommend for different audio qualities and settings.
BOSS Audio MCBK470B – Bluetooth Handlebar Speakers for Motorcycles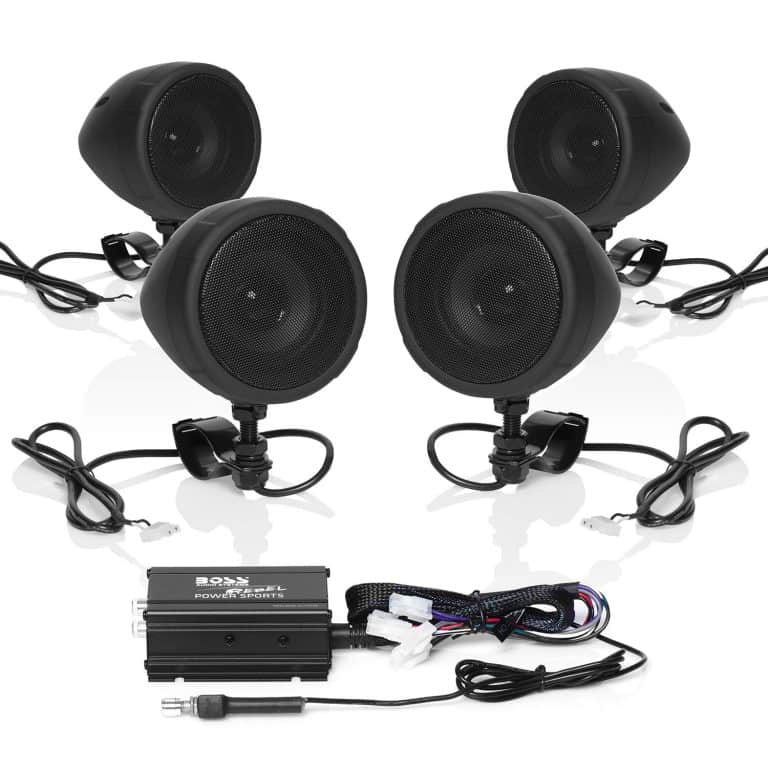 BOSS is a brand that is associated with excellent audio electronic equipment, and their excellent craftiness is reflected in the BOSS Audio MCBK470B. I intuitively mounted this unit on my 2018 Harley Davidson Street Bob. The MCBK470B is a water-resistant motorcycle music appliance which includes a Bluetooth supported mini amplifier and four mounted handlebar speakers. The complete set comes with the single inline volume control device and four adjustable handlebar brackets suitable for handlebars sized 0.75 to 1.25 inches.
The 2-channel external amplifier has dimensions of 4" X 3" X 1.5", giving it a convenient size for installing on both Motorbikes and a variety of other 12 Volt applications. This high-performance class A/B amp has a 3.5 mm auxiliary port and jack, making it well-watched with iOS and Android devices, and most MP3 audio devises. One of the things I loved most about this set is the ability to link my smartphone and conveniently listen to my most loved through the motorcycle Bluetooth handlebar speakers. Most apps are supported, and these include Pandora and Spotify.
I also plugged my Samsung Galaxy Note 9 using the 3.5 mm Aux jack and was able to listen to my favorite playlist through the audio system. Each speaker has a suitable size of 4.8 X 4 X 6.1, making them ideal for mounting on the handlebar. Whether it's raining, snowing, or just total sunshine, the BOSS Audio MCBK470B system is built to withstand all weather conditions. This makes it one of the most reliable Bluetooth motorcycle speaker systems. I must admit that I loved them, the sound produced was awesome, and I would recommend them.
Designed to withstand varying climatic elements
Supports Bluetooth connectivity for music streaming
Comes with adjustable handlebar brackets
Aux-In port compatibility with most smartphones and MP3 players
The ideal dimensions of the units for simple and convenient installation
Negatives:
Short linking wires
Considerably costly compared to other brands
DS18 CANDY-MICRO2 – Compact Mini Motorcycle Amplifier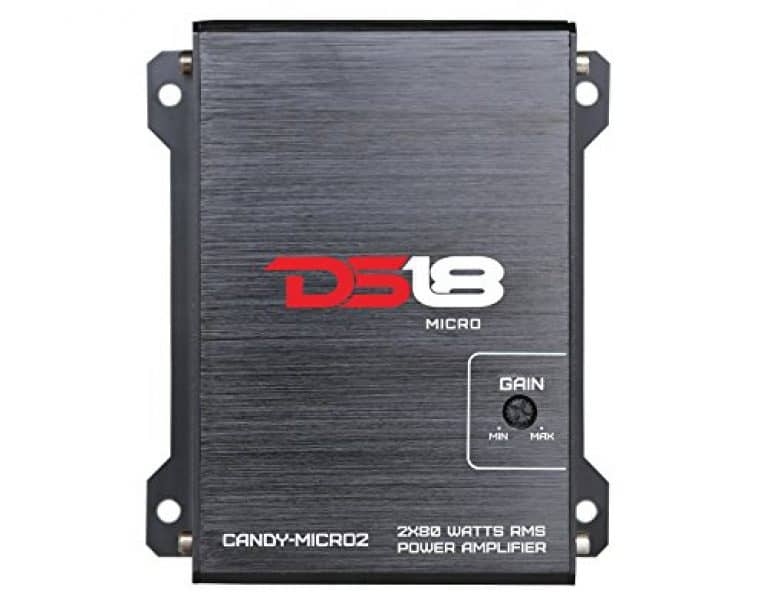 DS18, one of the top market players in manufacturing motorcycle Bluetooth speakers and amps, features the DS18 CANDY-MICRO2 which is a small high-performance amplifier. This mini amp has dimensions of 3.3" X 5" X 1.5", and was designed to offer more for less, taking up minimal space and delivering top power of up to 80 Watts to the audio devices. After mounting the system on my 2018 Harley Davidson Street Bob, one of the cool things I found ideal with this piece is that it didn't take much space regardless of where I installed it.
This class D amplifier has a wide assortment of applications in regards to a user's choice of the music appliance. With a range of 2 to 8 Ohms impedance, I was able to try it with both small and medium-sized Bluetooth speakers for motorcycles, and they functioned awesomely. The only notable downside of this compact mini amp is that it does not support Bluetooth connectivity. However, I tried out connecting it with a set of Bluetooth speakers for motorcycle (used speaker cables to connect) and was able to stream music using my Android device.
The amplifier does not come with wires for connecting speakers, so I had to source for some. The unit may not be that powerful, but it sure drives enough power to produce awesome sound quality. It is a unit that delivers value for money. Here are the pros and cons of this mini amplifier.
The convenient size for easy mounting and neatness
Wide range of applications
Power-efficient
Cost efficiency compared to other amplifiers
Negatives:
Does not support Bluetooth connectivity
Not weather resistant
Kenwood KAC-M3001 600W – Powerful Mini Motorcycle Amplifier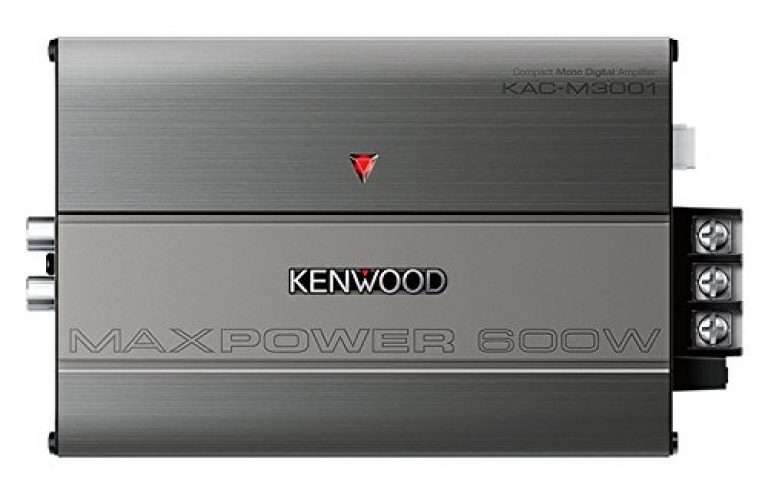 Probably one of the players that have been in the market for ages, Kenwood have demonstrated persistent and consistent innovation in crafting high-performance sound system components, one of these being the Kenwood KAC-M3001. This is a class D compact motorcycle audio amplifier which has a maximum power output of 600 watts with an operating power voltage of 14.4V. However, there is an allowance on this between 11 to 16 V.
This single-channel digital amp has an impedance spec of 2 and 4 Ohms, meaning that it can output 200 watts and 300 watts respectively depending on the impedance of the audio devices. It wasn't a huge task mounting it on my 2018 Harley Davidson Street Bob, and the unit took little space on my bike's dash. I must admit that the amplifier is amazing, considering the quality of sound it drives. Despite being a small unit, it drives such immense power. When playing music, the amplifier does not produce any noise and does not overheat. When giving it a try, I noticed that it started drizzling, but that never affected its functioning.
I linked the amp to a Boss motorcycle speaker and loved the clarity of the audio quality produced. The 600 watts rating makes this amp ideal for use with high-end speakers for motorcycles in regards to power specifications. It is noteworthy to say that it is not ideal for individuals who wish to use several speakers as it only supports one channel, and this is a major downside associated with the amplifier. Here is a summary of the various advantages and disadvantages of the unit.
Compact size which facilitates easy mounting
Very power efficient
Clear bass sound
Negatives:
Does not support Bluetooth connectivity
Single-channel output
Kicker 12Px100.2 – Motorcycle Amplifier 2 Channel Device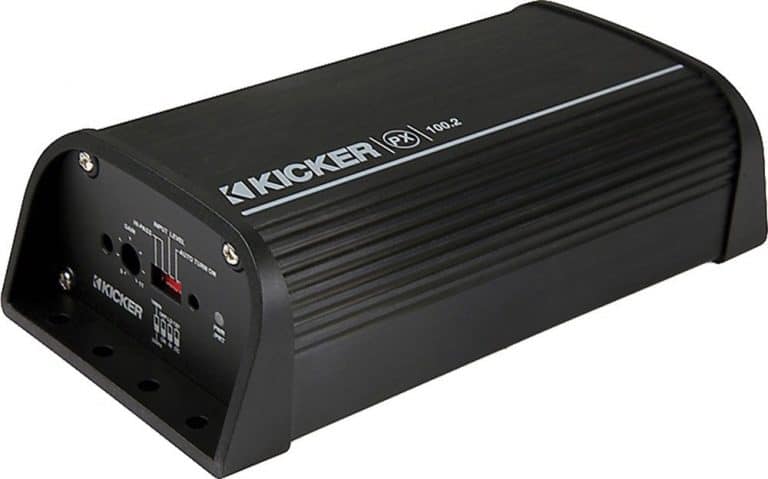 The Kicker is, without a doubt, one of the best sound systems brands around. The Kicker 12Px100.2 Two-Channel Amplifier is one of their works of ingenuity, a best-selling motorcycle unit that is ideal for all weather conditions. Its conformal-coated circuit board safeguards the electrical components from exposure to moisture. This amplifier has a selectable high-pass filter and a crossover, giving the user the liberty to customize the sound to preferred standards.
A selection of input levels enables one to connect the amplifier with speakers and a radio easily. I gave it a try with a pair of Bluetooth handlebar speakers for motorcycles (used wire connectors as it does not support wireless connectivity) and the sound quality was impressive. This compact amplifier outputs a maximum power of 50 watts into each of the two channels. It looked clean and compact on my 2019 Harley Davidson Street Bob as it does not take much space. I tried out the variable high-pass filter and personalized some cool sound. This unit works awesomely with 2 ohms impedance speakers, as it delivers just the right amount of power needed to push the motorcycle speaker system. Here are various advantages and disadvantages associated with this amplifier.
Designed to withstand varying climatic elements
Compact design which allows easy installation
Has selectable high-pass filter options
Direct amp technology for better power efficiency
Negatives:
Does not support streaming via Bluetooth
Does not come with speakers
Water Resistant Bluetooth Marine 4 – Motorcycle 4 Channel Amplifier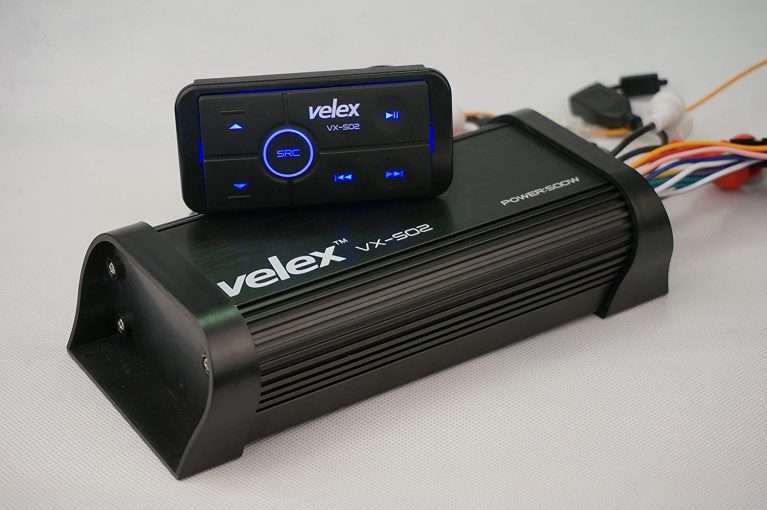 This Velex amp is one of the best budget motorcycle amplifiers currently in the market. With a 4 ohms output, the amplifier delivers 25 watts of power to each of the four channels. It has dimensions of 7.8" X 4" X 2", giving it an appropriate size that allows for mounting on a motorcycle. I didn't struggle with finding the right spot on my bike to install it.
One of the things I loved with this unit is that it has a USB audio input port into which I plugged in my USB device and played my favorite music. I think that the fact that the amplifier does not support Bluetooth connectivity is the biggest disadvantage associated with this motorcycle audio amplifier unit. I connected it with two 50 watts handlebar speakers for motorcycle, and the performance was impressive, considering that the amplifier only outputs 25 watts to each speaker.
This little amplifier surely beats most of its competitors as it delivers superior sound quality. It is also very power efficient as it only draws little current while delivering considerably higher power output. Overall, this mini amplifier offers value for money when one considers its price range. I would recommend it for individuals will a low budget for motorcycle stereo amplifier. Following are some of the positives and negatives of this mini motorcycle amplifier.
Designed to withstand varying climatic elements
Compact design for easy installation
Power-efficient
USB audio input port
Negatives:
No Bluetooth support
Does not include speakers
Kenwood KAC-M1804 Compact 4-channel Amplifier – A Compact Device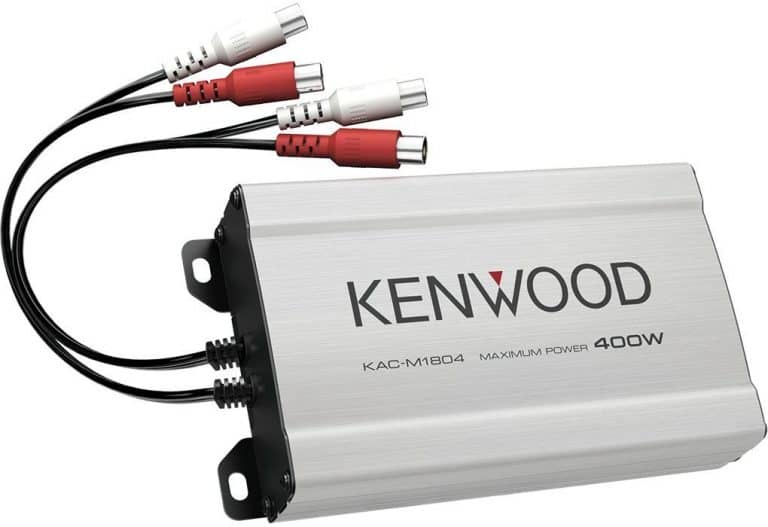 Being one of the giants in the sound system industry, Kenwood is excelled at crafting ingenious systems and single components such as motorcycle handlebar speaker units. Kenwood KAC-M1804 is a compact 4-channel mini amplifier that delivers the power of up to 400 watts. It has a 4 ohms RMS power rating, therefore enabling it to output 45 watts to each of the four channels.
Having mounted this sound system on my 2018 Harley Davidson Street Bob, I must state that the sound driven by the amplifier was of impressive quality and loud enough. Therefore, I could listen to music without straining, even in noisy areas or when the engine is running. The circuit board is conformal coated, making it weather resistant and suitable for application in areas with high humidity. This class D digital amplifier has a sleek aluminum heat sink design that prevents it from overheating.
The amplifier comes with a complete wiring kit, making it convenient to install and connect with external motorcycle speakers. I would say Kenwood KAC-M1804 Compact 4-channel Amplifier is one of the best and reliable units that I have tried, and would certainly recommend it to someone who is looking forward to tuning up their bike for some good entertainment while riding. Here I've noted down the pros and cons of the amplifier.
Conformal coated for application in high humidity areas
High power output for fuller sounds
Aluminum heat sink design to prevent overheating
Power-efficient
Negatives:
Does not support Bluetooth connectivity
Delicate channel output wires
Rockford Fosgate PBR300X4 Punch 300 Watt – Best Selling Amplifier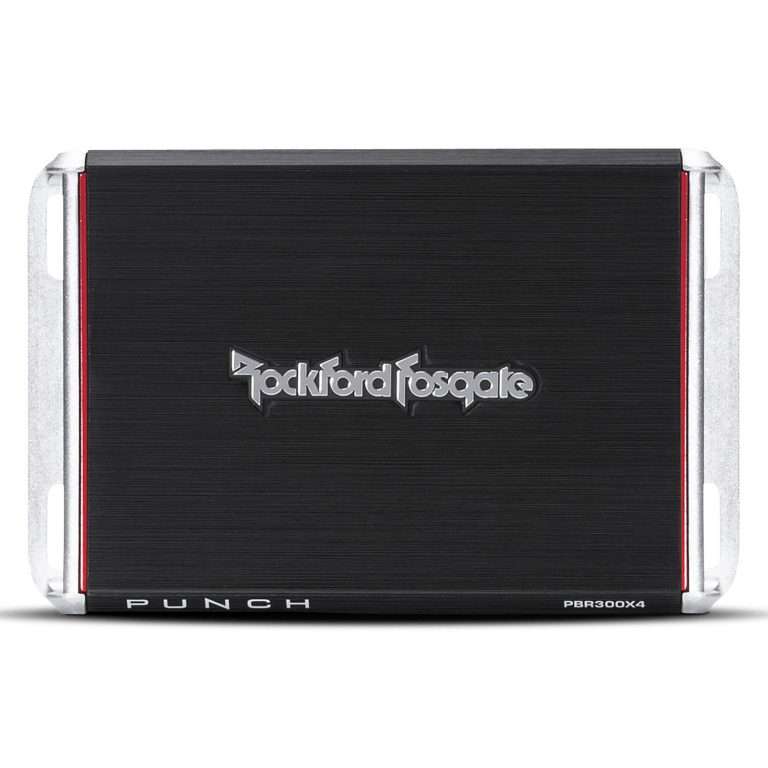 Despite being a relatively young player in the market, Rockford has proven to be competitive enough to build a name as one of the top sound system brands today. Their Fosgate PBR300X4 is a masterpiece, a mini amplifier that can deliver a maximum power of 300 watts. It is one of the best motorcycle speakers with bass in the market. With four channels, this 4-ohm compact amplifiers outputs 75 watts of power to each of the channels connected to a motorcycle Bluetooth speaker. The punch bass boost is ideal in boosting up the level and quality of sound, tuning up the motorcycle speakers for optimized performance.
The manufacturer recommends the amplifier to be used with a 75 A alternator and a 50 A fuse.  Its dimensions of 1.53 X 4.25 X 6.75 inches makes it ideal for mounting on the handlebar or any other suitable point on a motorcycle. For a variety of sounds, the unit allows selection of various high pass filter options which include LP and AP. I decided to give these options a try and was able to get a variety of cool treble and bass sounds. This high-performance compact amplifier delivers superior quality sound with good clarity, even after increasing the volume.
This unit is suitable for use with high impedance speaker for motorcycle putting into consideration amplifier and speaker compatibility. After giving the sound system a try, it demonstrated high performance and delivered superior sound quality, making it a great option for individuals looking for external motorcycle amplifiers. Here are some of the advantages and disadvantages of the incredible Fosgate PBR300X4.
Sizable unit for smaller spaces
Has selectable high pass filters
The high-power output of 300 watts
Very energy efficient
Has bass boost and superior sound quality
Negatives:
Not suitable for humid weather conditions
Does not support Bluetooth linking
BOSS Audio MC720B – Handlebar Speakers for Motorcycle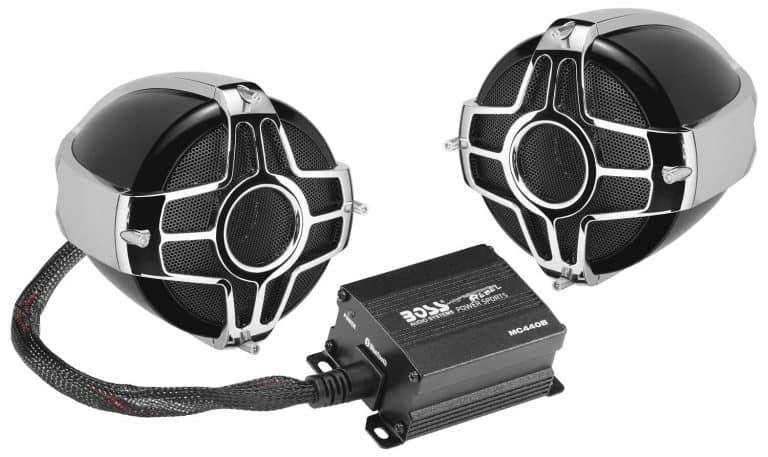 The BOSS Audio MC720B is another ingenious set tailored by the BOSS, a leading sound systems brand that designs and manufactures some of the best speakers for motorcycles. BOSS Audio MC720B is a complete unit whose main components include a high-performance compact amplifier and two speakers. The unit supports Bluetooth connectivity, making it convenient to stream music from apps such as Pandora and Spotify using a mobile device. It is also compatible with most MP3 players.
The 2-channel class D compact amplifier is suitable for use in all weather conditions as it is weatherproof. With the 3.5 mm Aux-in port, I was able to play my favorite songs from my Samsung Galaxy Note 9. This feature is convenient considering that not all MP3 players support Bluetooth connectivity. Therefore, you can plug in media players using the Aux jack, ensuring that you can listen to music whether or not the device can connect via Bluetooth. This motorcycle handlebar speakers and amp unit has been designed with cutting-edge weatherproof techniques protecting it from harsh conditions such as rain.
The two full-range speakers for motorcycle deliver incredible chrome sound, not forgetting their sizable 2" dimensions that make them suitable for installing on your bike's dash or handlebar. The unit also comprises of adjustable mounting brackets tailored for 0.75 to 1.25 inches handlebars. I was able to tweak the span of the brackets to find the suitable grip on my bike's handlebar. The complete audio item comprises an inline volume control which is fastened to the amp unit, and this can be easily fixed on the desired point to facilitate easier adjustment of volume.
Customized for motorbikes and several other 12 V applications, the amp, and the speaker components have suitable sizes of measurements 3.5" by 3" by 1.5" and 4.5" by 1.5" by 3" respectively. I can confidently say that BOSS Audio MC720B is a leading water resistant speaker for motorcycle after trying other several devices. This appliance is very power-efficient and does not heat up as other speakers, and amplifier appliances do. The only downside with the set that I felt could limit me was the short linking wires provided.
In any case, I needed to mount either the speakers or the amplifier on a different part of my motorcycle, and the short connectors would not give me much liberty to do this. Other than that, the speakers deliver incredible audio standard with clear audibility, enabling one to listen to favorite tracks even in noisy environments effortlessly. I would recommend this motorbike audio appliance to any bike owner in search of a system that delivers awesome audio quality and also takes little space. Below are some of the observed advantages and disadvantages of the MC720B.
Weatherproof design
Supports Bluetooth connectivity
Compact size for convenient mounting on the handlebar
3.5 mm Aux-In port that is well-matched with most handheld mobile gadgets and players
Convenient volume control
Negatives:
Considerably short linking wires
BOSS Audio MCBK420B – Handlebar Mount Speakers for Motorcycle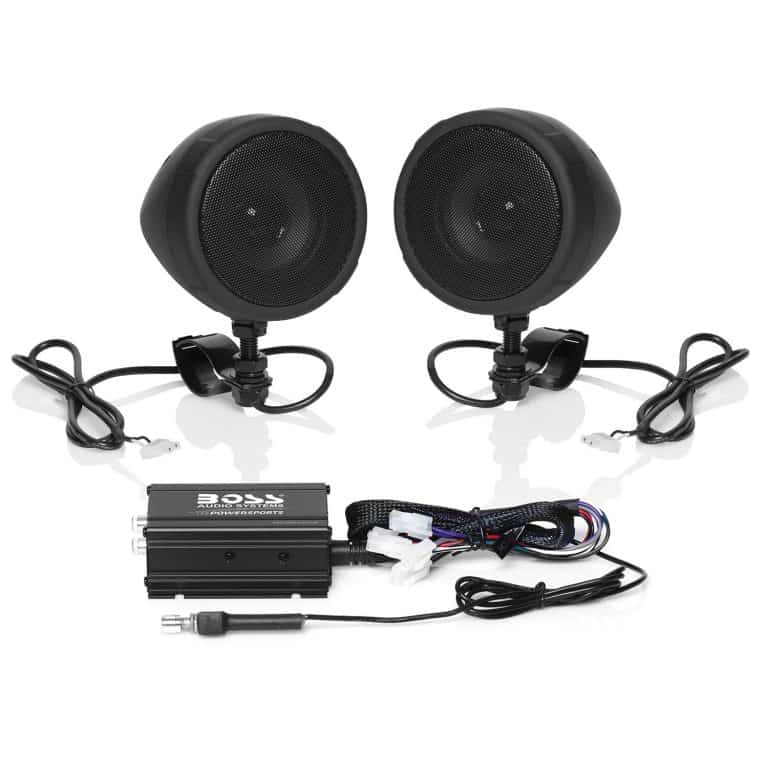 The BOSS Audio MCBK420B is among the top-quality audio appliances designed by BOSS to give motorcyclists a pleasant time while taking a ride. Included in the set is a 2-channel compact amplifier with sizable dimensions for easy installation on small bike areas. This class A/B amp is designed to withstand humid weather conditions, whether riding in the rain or during winter, the piece of equipment is guaranteed to be secure. One of the top-selling factors about this piece of equipment is that the external amplifier has Bluetooth connectivity, making it ideal for streaming music using a smartphone on supported apps such as Spotify. Bluetooth supported MP3 audio players can also be connected.
This sound set comes with a pair of 3" full-range speakers. These can be mounted on the handlebar using the adjustable brackets. There is a handlebar size allowance of 0.75 to 1.25 inches. With the 3.5 mm Aux-In port, I was able to enjoy an hour of playback using my Samsung Galaxy Note 9 smartphone by using the provided Aux jack. Inline volume control is included, which can be conveniently fastened on any part of the motorcycle depending on the user preference.
I was satisfied with the performance of this water resistant speaker for motorcycle, as it delivered a really clean sound even with the bass fully turned up. It is a great option for individuals looking for quality speakers for motorcycle handlebars appliances but having limited space on their motorcycles. The sound system comes with essential linking wires, which make it easier to install on the motorcycle. Below is an overview of the positives and negatives of the sound system.
Weatherproof piece of equipment
3.5 mm Aux-In port which enables payback using smartphones and MP3 players
Has Bluetooth linking to facilitate audio streaming using smartphones and audio players
A convenient size for mounting on handlebar
It is power-efficient
Negatives:
BOSS Audio AR1500M Car Amplifier – Best Selling Position
This is a state-of-the-art amplifier piece of equipment manufactured by BOSS audio appliances. Designed as a car amp, it's specifications, and suitable size extends its applications to motorcycles and other 12 V applications. Being a high-performance appliance, it can drive a maximum power of 1500 watts to one channel at 2 ohms impedance and a maximum 750 watts to a single channel at 4 ohms impedance.
With a class A/B topology, this amplifier is very power efficient compared to other competitor products such as Harley Davidson motorcycle speakers. The MOSFET power supply used in the amplifier also facilitates further energy efficiency of the appliance. Weighing just 7.5 lbs., the amplifier has dimensions of 10.3" X 6.5" X 2.6", giving it just the right size for mounting on a motorcycle. With a need to personalize the sound quality, I was able to take advantage of the selectable low pass filter and got a techno sound which entertained me throughout the ride.
The sound output is also loud and clear, and this can be attributed to the high power rating of the amplifier. This motorcycle stereo amplifier comes with a wiring installation kit, and this handy accompaniment includes 30 Ft speaker wire, an AGU fuse with a reliable fuse holder and 3 Ft 8 GA wires. The accessory components that come with the amplifier are ten ring terminals, 20 Ft RCA interconnects, 3 Rubber Grommets, a split loom tubing, and 20 4-inch wire ties.
I recommend the amplifier to individuals who are looking for a sound system that can produce loud music and at the same time, takes up little space. Here are the pros and cons of the BOSS Audio AR1500M amplifier.
High performance owing to the high power output
Power-efficient
Selectable low-pass crossover
Comes with wiring installation kit
Compact design that facilitates easy mounting
Negatives:
No Bluetooth connectivity support
Not suitable for use in humid areas
INNOGLOW Stereo Speakers – Handlebar Speakers for Motorcycles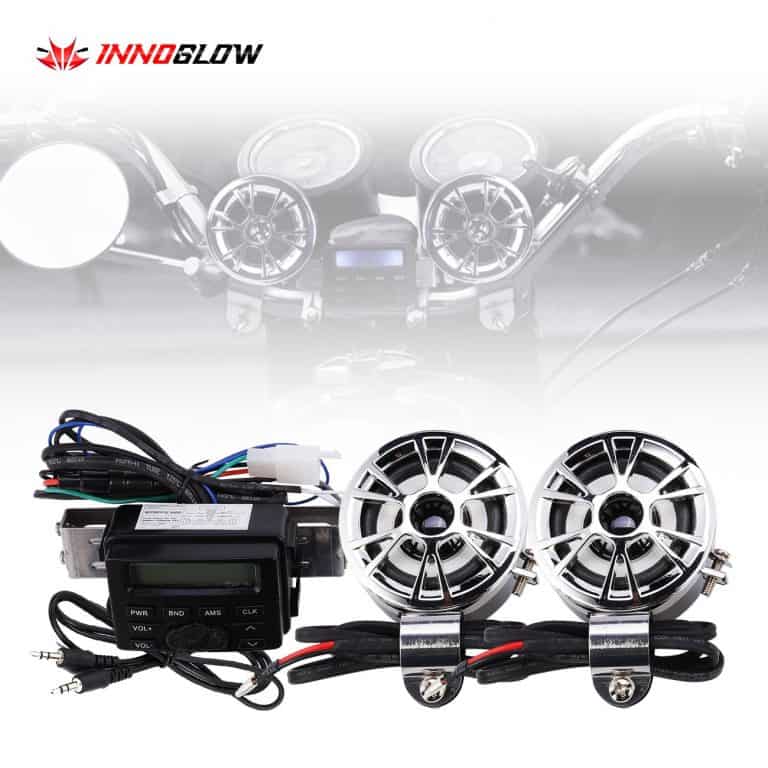 This ingeniously tailored piece of equipment has probably the best motorcycle speaker you can find at a very competitive rate. INNOGLOW have crafted this sound system using cutting-edge technology, giving riders great convenience and some good entertainment when riding. What makes these motorcycle handlebar speakers and amplifier appliance one of the best in the market is that it not only supports streaming but also has an FM radio. The 3.5 mm Aux jack facilitates linking with smartphones and MP3 players.
The various inputs conveniently offer a wide range of playback options, and after trying all of them, the sound quality was awesome. The LED display conveniently displays the mode and the tracking number currently playing. Some of the special functions included are automatic memory even after the gadget has been switched off, and a clock option. Whether on a wild off-road or a city ride, the piece of equipment is shock-resistant and can withstand extreme movements.
Both the speakers and the amplifier are extreme weather resistant, having been crafted with advanced weatherproofing techniques to withstand rain and snow conditions. These are some of the best handlebar mounted speakers for motorcycle that I have tried so far:
Supports Bluetooth connectivity
Has an FM radio
Automatic memory even after powering off
3.5 mm Aux jack
Designed to withstand varying climatic elements
Negatives:
Rockville RockNRide – Bluetooth Speakers for Motorcycle Handlebars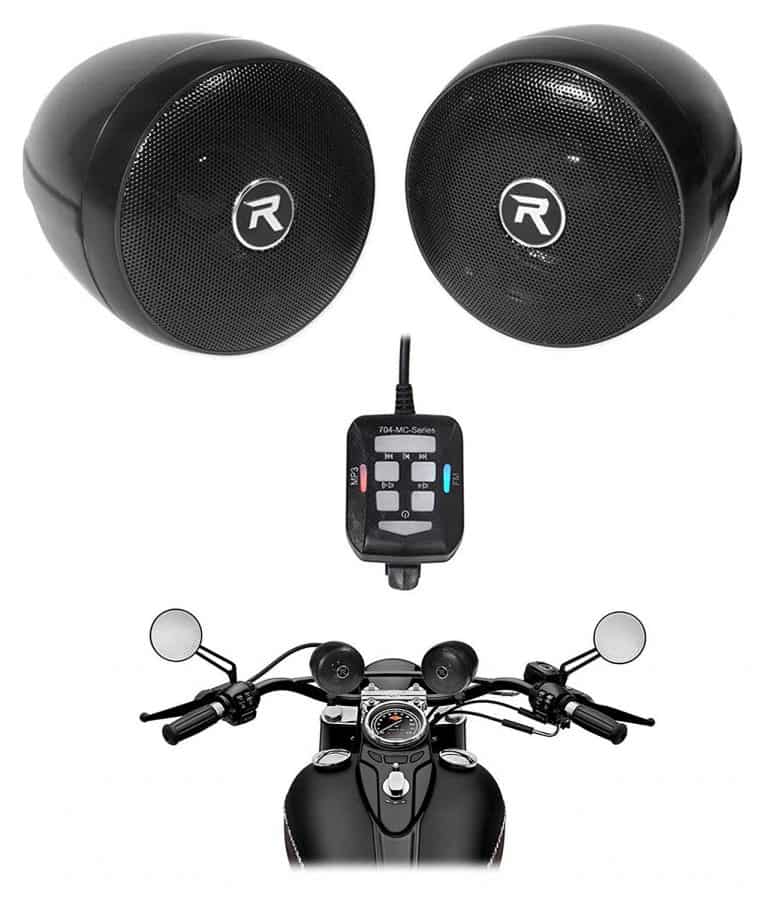 Rockville offers the RockNRide music machine, one of the best sound systems set for motorcycles in the market. With two 3" speakers, the system produces incredible quality sound that is heard over the engine noise. The system maintains a clean and clear sound quality even when the volume is turned up. The appliance has a maximum power handling of 300 watts and 10 watts RMS power level. The metal casing of the speakers, with the inbuilt amplifiers, are weatherproof and unbreakable. No worries when riding in the rain or when performing wild stunts off the road.

Whether taking a rough ride off the road or in the rain, this appliance is guaranteed to remain functional, having IPX67 rating. There are no exposed connection terminals. Their 3" size makes for simple installation. The water resistant motorcycle speakers gadget has several inputs including 3.5 mm Aux, USB port, RCA, and FM radio. These facilitate listening to the device through the speakers. Rockville RockNRide supports Bluetooth linking up to a 0.33-foot range. With the automatic memory functionality, the speakers automatically connect with the previously connected device such as a smartphone.

The appliance can be mounted on the handlebar using the provided adjustable brackets, and these allow a 360-degrees rotation of the speakers. You can have them facing you or positioned at an angle depending on your preference. These can be fixed on 0.75 to 1.2-inch handlebars. The appliance comes with a wired remote to facilitate easy interaction with the piece of equipment. Here are the positives and negatives of this incredible motorcycle amp and speaker kit:

Positives:
Supports Bluetooth connectivity
Water-resistant appliance
Power-efficient
Has FM radio function
Automatic Bluetooth linking synchronization
Negatives:
It is costly compared to competitor units
Answering Your Frequently Asked Questions
You've got any query? Here are some of the most asked questions and their respective answers.
The primary purpose of an amplifier is to boost audio signals. This enables one to listen to the louder sound of better quality. If you want to listen to music over external speakers, an amplifier is necessary to drive the sound system. It is important to have an amp as it enables one to listen to good music from their smartphones, USBs, and MP3 devices at a higher volume and pleasant sound quality.
When choosing an amp, it is important to ensure that it has a power rating that is twice the speaker's power rating. For example, a music machine with a 400 watts rating requires an amplifier with 800 watts rating, both having a nominal impedance.
The purpose of a filter enables one to select the sound quality they prefer by eliminating some frequencies in the original audio signal.
Depending on the size and design of the Bluetooth speaker, they can be installed on the handlebar or mounted on the dash. For example, you can check out motorcycle handlebar speakers Bluetooth units come with brackets for fitting on the handlebar.
Yes. Checking speaker amplifier compatibility is essential as it determines the quality of sound produced by the combination. Some of the factors to be considered during compatibility evaluation include impedance, a power rating of both units, and sensitivity.
Impedance shows the effective resistance of an amplifier to the flow of output signals, therefore determining the maximum quantity of power that can be delivered by the amplifier. Appliances with low impedance have high output ratings and vice versa.
Most amplifier product descriptions include the maximum power rating and the RMS power rating. Always check for the RMS rating value as this is the average power needed for you to use the amplifier without any hitches continuously. The values differ from one amplifier to another.
Most amplifiers will have basic control components which include speaker level inputs, bass boost, HP, and LP filters. However, some may come with additional components, which include USB and RCA terminals.
The bottom line is, different motorcycle speaker systems and amplifiers have different specifications, and this makes them suitable for different personal preferences. Some wireless Bluetooth motorcycle speakers are more power-efficient than others, and this might be a concern if you engage in long rides. Whether you want a bike music machine with a wide volume range or a system that you can link with your MP3 audio device or smartphone via Bluetooth, it's all comes down to identifying what you need before picking a motorbike music machine. You can take advantage of this motorcycle speakers review and use it to identify the motorbike audio electronic equipment that meets your needs.
Which Motorcycle Speakers and an Amp Gadget Fit Your Needs Most?
It's time to pick the amplifier that best suits your motorbike's design and your audio quality preference after I've taken you through a number of the top speakers for motorcycles handlebars and amplifiers. If you intend to have several speakers on your bike, you should go for motorcycles speakers with several channels, at least four. An amplifier with a high rating is needed to deliver the required power to several speakers. If you are space-conscious, you can select a motorcycle speaker with an in-built amplifier as this will not require much space on the dash.
You can also get a Bluetooth speaker for motorcycle that has diverse terminals if you are interested in getting more playback options such as having USB and RCA ports. Amplifiers with radio functionality are awesome when you are bored with listening to the tracks on your mobile device or MP3 audio player. You can shift to radio mode and enjoy your most-loved broadcast and programs.
Amplifiers with high output rates will generally produce louder sounds compared to those with low power ratings, and this is a point to consider if you are looking for massive and fuller sounds. Your budget is also another consideration, as different amplified motorcycle speakers are offered at different price ranges. Final words: see to it that you pick the piece of equipment that matches your needs for a remarkable experience. Or, perhaps you have already picked one of the devices? Leave a comment below to let me know if the review helped you select the right amp!