Best Motorcycle Backpacks for Enthusiast Bikers
Most bikers will agree that it is worth having a high-quality backpack specifically made for riders. The feeling is even better when you get heads turning to admire your stylish backpack matching with that perfect biking suit. Apart from the aesthetic value, you can use it to carry the luggage you need for your road trip or work.
Realistically, not everyone buys a motorcycle for leisure and outdoor fun. Most people utilize them as their daily commute to work or a great hobby in free time. With a bike, you only need to carry the essential luggage. Therefore, a motorcycle backpack should have more than just practicability. It should satisfy you with many features, including style, durability, capacity, and comfort.
My name is Max Farmer, and I know about motorcycles and biker needs a lot. Since my experience with MotoGP 2005 at Laguna Seca, I felt like never wanting to leave that place and atmosphere. Not only did I fall in love with motorcycles but also became a huge fan of the moto equipment and the whole biking experience. I am writing this blog to share my knowledge and experience with all the bike enthusiast and pro riders.
Today I want to talk about the essential thing you need for your rides, namely a reliable backpack. Thus, I have reviewed some of the best motorcycle backpacks available in the market to provide you with an understanding of features and specifics to consider. Let's jump right into the first review!
Amazon Bestseller
The 10 Best Motorcycle Backpack Reviews
Are you considering buying a suitable backpack to improve your biking experience? Below are my detailed reviews of the best bags you can find in the market.
Ogio Mach 5 – The Greatest Hard Shell Motorcycle Backpacks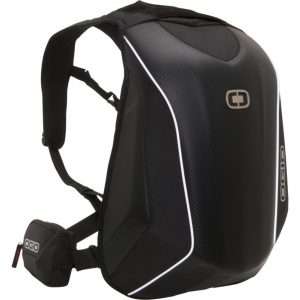 The Ogio Mach 5 backpack is the most spacious one in the brand's No Drag Series. This is part of their innovative tough shell backpack series. The backpack is created as a sleek bag with aerodynamic advantages while riding.
The bag's exterior has been designed to allow a streamline flow of air. This ensures you do not get pulled back while riding. The fact that the bag has tough exterior results in proper protection of anything you put inside. Its compactness also enables it to achieve a rigid shape.
Also, the backpack implies that items placed inside will remain intact without getting disarranged or moving around. The hard exterior is also made waterproof, so you don't have to worry about bad weather damaging your electronics when riding.
For those that prefer everything to be neatly arranged, you are going to fall in love with Ogio Mach 5. It contains several compartments that are ideal for various items you would normally carry in your bag. For example, it contains separate protected sections for your laptop and tablet.
It even has a compartment made explicitly for carrying shoes. It is a relief for those who prefer to carry an extra pair of shoes to change into after riding a bike. As part of this Ogio Mach 5 review, I want to emphasize that with this backpack, space will no longer be a bother.
What is more, this model contains a flexible load divider to help in adjusting your space and enabling you to distribute weight across the bag evenly. It also includes zippered gusset that you can use to expand the carrying capacity of the main compartment. Further, for better comfort while riding, it has been fitted with delicate neck shoulder straps. They minimize the possibility of scratching your helmet or feeling too much weight on your shoulders.
Not only does it perform the basic function excellently, but you can also create your own trips. Just set certain waypoints that you want to visit or drive through on your way to your final destination. The smart programming will immediately offer you the best and most traffic-free route possible. Additionally, you can download predesigned scenic and intriguing routes or trips that will definitely create some exhilarating memories for you. And what is more, you can edit them to your liking!
The GPS case is very sturdy, and it fits a nice 4.3-inch display of medium-high brightness. The screen works nicely with and without gloves. I did not notice anything out of the ordinary when rerouting while driving. Even though TomTom does not explicitly state it, the electronic navigator is resistant to harsh weather and rain. However, I would not recommend completely submerging it underwater, as the circuitry may not survive such an experience.
The network module allows the device to connect to your phone to receive and show messages and calls that you get during your ride. You can also connect this navigator with either Siri or Google Now to make use of your smartphone on the go and enjoy hands-free messaging and calling. Pairing up with a Bluetooth headset is not a problem for TomTom Rider 550, but you do have to buy headset separately. TomTom has a list of recommended headsets which are sure to work with the navigator.
The Wi-Fi chip grants you frequent and free map updates whenever and wherever you need. However, the only map that you get for free is the map of North America. Thus, be prepared to pay up when travelling across the world.
A power cable is included in the kit, but there is no need for it, most of the time. The navigator has a 1 A battery, and it lasts approximately 8 hours without recharging. The mounting process took me 30 minutes maximum and created no complications for me. Lastly, the interface is partially intuitive. I say partially, because setting up caused me some amounts of headache and made me read the incredibly long manual.
For such an amazing device, I had no problem with its cost. For the current price, TomTom Rider 550 is a real steal.
Positives:
Motorcycle backpack Ogio includes a removable hip belt for carrying relevant accessories
Spacious enough with a secure compartment for electronics such as laptops
Fitted with shoulder gasket for improved comfort when carrying it
Aerodynamic design for an improved riding experience
Negatives:
The fact that it weighs 3.7 pounds when empty makes some bikers consider it too heavy
back to menu ↑
Shoei Backpack 2.0 – A Cool Backpack for Motorcycle Helmet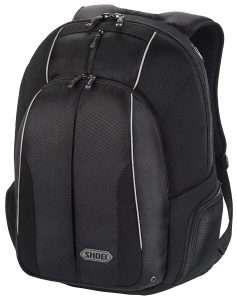 Among the experienced riders, Shoei is a brand that does not require much of an introduction. To many, the manufacturer is renowned for its quality helmets and other motorcycle accessories. However, this time, we get to review their Shoei helmet backpack, specially hand-crafted in Japan.
The design of this bag promises huge value for money. The aerodynamic features of the backpack ensure you not get too much air resistance when riding. The design also contributes to its stylishness, thereby ensuring that you are going to get several heads turning.
The design also makes it spacious enough to fit a laptop of up to 17 inches. The laptop compartment is secured with a padded sleeve and kept into place by a Velcro closure strap. The main compartment is what you can use to carry your other luggage.
Another remarkable feature of this Shoei backpack is its well-positioned media pockets, located inside the main compartment. To top it all, they have a media port that you can hook as a source of entertainment while riding. It also includes side pockets that have stretchable netting, which can be used in carrying your beverages, keys, or other stuff.
The one thing that makes Shoei model ranking among the best helmet backpack motorcycle is its detachable shield holder.
It helps in improving the convenience of carrying your helmet when not worn. In terms of comfort, the backpack comes with shoulder straps that have been padded for effective weight distribution. All the shoulder, chest, and waist straps are adjustable to your size and comfort.
Shoei Backpack 2.0 - One Size
Padded panels keep your electronics safe from impacts
The main compartment fits your favorite SHOEI hat, extra layers and SWAG from the races
Removable shield holder fits most SHOEI helmet shields
Adjustable, padded shoulder straps keep the wearer comfortable on and off the motorcycle
A hidden three-point buckle and flap system can cradle your SHOEI helmet while walking around
Positives:
The backpack includes reflective details for better safety at night
Several spacious compartments for carrying various items
Adjustable shoulder, chest, and waist straps for increased comfort when carrying
The bag's design includes media pockets and port at the top for providing you with entertainment while riding
Negatives:
It does not come with a waterproof exterior
back to menu ↑
Velomacchi Waterproof Hybrid – Among Superb Waterproof Backpacks for Motorcycles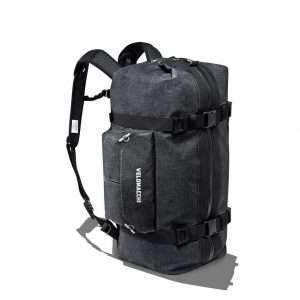 The phrase "hybrid" in Velomacchi roll top backpack title comes for a reason. This model doubles up as both a backpack and a duffle bag. This comes with more benefits of expanded 50-liter capacity, where 42 liters are for the main compartment, and the others are subdivided among the two side compartments.
It is a backpack designed with the needs of bikers that take long road trips or go hiking. For example, if you put too much content that zipping it is a problem, the compression straps will help you to zip the bag quickly. All the straps have pockets so that they can be carefully tucked when not in use. This helps to maintain the bag's compactness and avoid distractions when riding.
If durability is your primary concern, then Velomacchi backpack got you covered. It is made of 1000D competition material. This implies that with this backpack, you are assured that there will be no water seepage into the main compartment even during a heavy downpour. This has been made even more possible by the use of a waterproof YKK zipper for the main compartment. The material is also resistant to standard forms of wear and tear.
Velomacchi Waterproof Hybrid Duffle Bag Backpack 50 Liter
Watertight main compartment with #10YKK zipper; stretch zipper panels protect zipper and make closing overstuffed bag a cinch
Travel harness has rotating clavicle hinges and a cam lock system for torso size adjustment
Ballistic quilted back panel allows you to tuck away the travel harness and is hydration sleeve compatible (Bladder Not Included)
The handles can be tucked away in velcro closures behind the watertight quick access side pockets. Side pockets have toggle closures.
Self-tailing compression straps, motorcycle tie down anchor points, document pocket, internal key and accessory leash
Positives:
Waterproof
Innovatively designed to be used as both a backpack and duffle bag
You can conveniently strap it at the back of your motorcycle
Spacious enough to carry luggage
Negatives:
Not an ideal choice for bikers who rarely carry large luggage
back to menu ↑
Viking Moto – A Durable Water Proof Motorcycle Backpack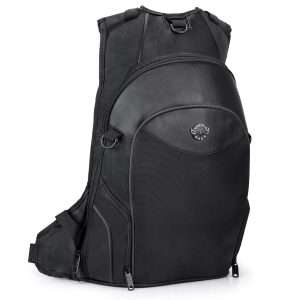 The first glance at this backpack will tell you that it is made to be special, and surely, it is. The product itself is made from a mix of leather and Cordura material, which highlights its durability and toughness. The Cordura material offers it a sleek appearance with the denim-like touch. The material is also waterproof. Therefore, you can rely on this bag even when traveling in adverse weather conditions.
Viking backpack is also aerodynamically designed and includes a snug fit. All this helps to minimize the amount of resistance when traveling against the wind currents.
When it comes to space, the main compartment can comfortably accommodate a 15-inch laptop that will be carefully secured using a Velcro strap. It also leaves large enough room to hold any other luggage such as extra clothes for your road trip. Among the backpack's compartment, there is one for holding glasses. The side pockets also have zips to secure small necessities such as credit cards, wallet, and keys.
Viking moto motorcycle backpack has a back panel with enough padding for comfort when carrying it. These cushions are strategically placed at all the bag's pressure points. The padding also includes a mesh lining, which helps in facilitating air circulation on your back.
The shoulder straps are connected at the top with a panel, and opposed are directly attached to the bag. This makes it possible to adjust the weight of the bag until you achieve a perfect balance.
It is made with highly durable leather and Cordura material
An aerodynamic design that includes a snug fit for minimal wind resistance when riding
Zipped side pockets for better security of smaller items
Negatives:
No good helmet holder provided
back to menu ↑
Seibertron – A Fantastic Waterproof Motorcycle Backpack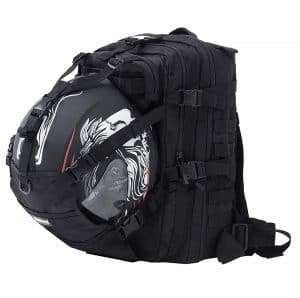 If you are like me who have been searching for a perfect backpack for biking needs, then Seibertron backpack may be your answer. This bag can effectively be utilized by hikers, professional sports players, and bikers.
The most noticeable feature is its front segment that contains straps to helps you safely secure your helmet. The section is also ideal for those bikers that like carrying an extra helmet. When riding, you can use this space to carry other outdoor gear such as your hiking shoes or your basketball.
The Seibertron motorbike backpack comes capacious enough. The interior is subdivided into compartments suitable for your luggage needs. For example, the inside is made up of mesh compartments for storing small items such as your card and sunglasses. The content in your bag is also secure from adverse weather because the backpack is made of the waterproof 900D material.
Seibertron Waterproof Large Capacity Molle Motorcycle Helmet...
900D waterproof fabric, but the zipper is not waterproof
Backpack exclude helmet,basketball,waterbladder,but fit full face helmet,basketball,seibertron 2L water bladder and so on.
High strength thicken alloy zipper, Molle system backpack
Can be used as a Hydration Bladder Backpack
Fit different types of sports full face or half face helmet, basketball and so on.
Positives:
It includes several Molle Loops on the outside, which can be used for attaching more luggage to the backpack
It comes with a special helmet holder
It is made of 900D material that is both water-resistant and durable
Negatives:
The backpack does not include waterproof zippers
back to menu ↑
Alpinestars 3517-0403 – A Stylish Backpack for Bikers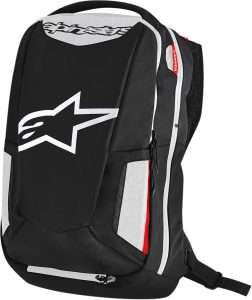 Of all the backpacks I have reviewed, this is the most appealing of them all. The Alpinestars city hunter backpack has been designed with some sense of style in it. The manufacturer has included flashes of red, black, and white colors in distinctive locations. The exterior is made up of a 420D material, and ripstop nylon is used to make the bottom side of this bag. These materials effectively make it water-resistant.
The Alpinestar motorcycle backpack has also taken the issue of space into serious consideration. First, the item has two exterior pockets that are large enough to fit various electronic devices such as a tablet and a phone.
On top of these, the Alpinestar backpack has a main compartment that can be used to house both your luggage and a 15-inch laptop. Inside the main compartment, there are smaller pouches that can be used to hide smaller items such as your wallet or credit cards.
The Alpinestar motorcycle backpack comes equipped with adjustable ergonomic shoulder straps with foam pads to minimize the pressure on you when carrying heavy luggage. It also incorporates padded mesh panels that help to protect your back when carrying it. The mesh design also facilitates better air circulation.
Alpinestars 3517-0403 Black/White/Red 25 Liter City Hunter...
Multi-material outer shell: Lightweight 420D Nylon / 420D Ripstop Nylon to reinforce the bottom part
25L Capacity (approximately)
2 external waterproof pockets on front
Computer compartment with full length zip featuring 15" laptop protective fleece sleeve
Large main compartment with internal organizer featuring a smartphone protective fleece sleeve
Positives:
Alpinestars backpack features a rain cover that has its storage pocket inside the main compartment
Includes reflective details at the front and shoulder straps for improved safety while riding at night
It is spacious enough to fit maximum luggage of 25 liters
Negatives:
Not large enough for outdoor luggage
back to menu ↑
Porsche Motorsport Collection – A Classy Backpack to Note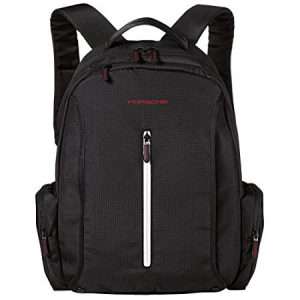 Porsche is a brand that is commonly associated with luxury. Everyone expects high-quality products from this brand. In this respect, they have not disappointed with their Porsche design backpack.
The bag is made with high-quality nylon and webbing material. You will love it because the materials are not only durable but also very easy to clean. The backpack Porsche design has also been made to reflect a sporty appearance, thereby making the bag appear stylish for any event that you may attend.
Porsche backpack suits ideally for carrying small luggage. The main compartment is subdivided into laptop, document, and tablet segments. These segments have been cushioned with foam pads to ensure that they do not get damaged in the event the bag falls. Unlike other backpacks for motorcycles I have reviewed so far, this one is padded on all its side pockets. The manufacturer's idea was to achieve both elegance and practicality.
Porsche Motorsport Collection Backpack
From the Porsche Motorsport Luggage Collection
Practical rucksack with a durable, wipe-clean exterior
Capacity: approx. 35 l.
Lined scratch free pocket for fragile items
Positives:
It has an elegant, sporty design
It contains separate padded document, laptop, and tablet compartments
Made of high-quality nylon and webbing material for easy cleaning and improved durability
Negatives:
Not spacious enough for putting many things at ones
back to menu ↑
Nelson-Rigg CB-PK30 – A Capacious Motorcycle Backpack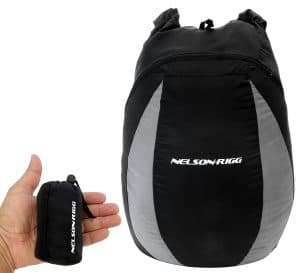 Have you ever imagined of a bag with 30 liters that comes compact at the same time? Well, you can now easily enjoy it with the Nelson Rigg backpack. When not in use, the backpack is designed to easily fold to a size that can easily fit at your hand's palm. When you pack it, the bag appears to be large enough to fit your helmet and other smaller items.
The Nelson Rigg compact backpack is made from strong Tri-Max nylon that also comes with embroidery style stitching to improve its strength. The material is, therefore, strong enough to carry your luggage without wearing off. This would explain why the manufacturer is confident enough to offer a one-year warranty on the product. It is also one of the cheap motorcycle backpacks you will come across.
Sale
Nelson-Rigg CB-PK30 Black Compact Backpack
Gain 30L of storage whenever needed
Packs small enough to fit in the palm of your hand
Large enough to carry a full face motorcycle helmet basketball or a days clothes
Made from strong Tri-Max nylon with embroidery style stitching for added strength
Ultra lightweight and integrated compact storage bag
Positives:
It comes with a one-year warranty
The backpack is very spacious as it offers a 30-liter carry capacity
Can be folded and packed to a size of your palm
Negatives:
Does not include padded compartments for carrying fragile electronics devices
back to menu ↑
Advocator – An Awesome Mens Motorcycle Backpack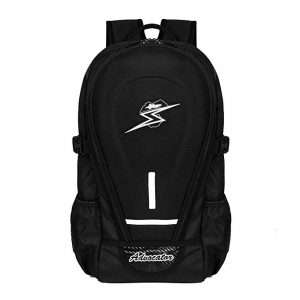 This is a very common backpack among bikers. It is because it has a concrete shell, specifically made from oxford polyester. This effectively makes it strong enough to resist scratches, stretches, or wear and tear.
The material is both water and heat resistant, which makes the item hard to degrade easily. In case of more adverse rainy conditions, Advocator backpack comes equipped with a rain cover for more safeguard.
The bag is spacious enough to carry a capacity of 20 liters in several pockets. This not only offers enough space to carry your luggage but also ensures you can arrange the items in an orderly manner. Space is also increased thanks to the side pockets that you can use to carry your water bottles and smaller stuff.
Carrying too much luggage with this backpack should not be much of a hassle. It contains adjustable padded shoulder straps that make it extra comfortable for you to carry around.
It is made of sturdy oxford polyester material, which enables it to be both heat and water-resistant
Spacious enough with several compartments to arrange your luggage
It includes a rain cover for extra safeguard
Negatives:
Not spacious enough to accommodate a 16-inch laptop
back to menu ↑
Badass Motogear – The Best Motorcycle Backpacks with Helmet Holder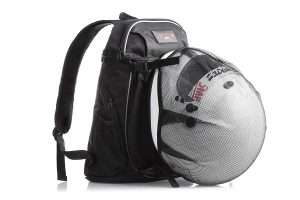 The name of this backpack suggests that it has been made with young bikers in mind. However, apart from the name, there are other reasons why you should consider getting this bag. Most noticeable among them is the large enough helmet holder that you can strap your helmet in.
It is also suitable for carrying other outdoor items such as a ball. The fact that this bag weighs 1.25 pounds only makes it even lighter than a Givi backpack that was popular not so long ago.
The backpack contains a padded compartment specifically for your laptop. This is on top of other compartments that you can use to store other devices and accessories. The backpack also ensures that your luggage does not get wet as it is water-resistant and can stand minimal to moderate rainfalls.
Badass Moto Cool Motorcycle Helmet Laptop Backpack for Men &...
Convenient riding backpack: durable motorcycle go bag with adjustable straps and reflective piping strip
Commuter gear storage: padded laptop sleeve & large vented accessory compartment for biker jackets or pants
Expandable mesh pockets: mesh and zipper pouches for sunglasses, gloves, water bottles, or goggles
Full face helmet holder: secure webbed carrier for full size or half helmets & soccer balls, basketballs or other large items. Clip it on and bring it with you.
Light weight tactical bag: doubles as an outdoor daypack & heavy duty molle strip rucksack for camping, hiking, trekking or travel
Positives:
Lightweight
Suitable for other outdoor activities such as hiking
Has a secure helmet holder
Negatives:
It is not suitable for use during heavy rain
Choosing the Best Motorcycle Backpack – A Buyer's Guide
A backpack is an important and huge investment in terms of your motorcycle accessories. Therefore, you have to check the viable models in details to make sure that the chosen backpack meets your needs. For example, the particular features can push you going for a Givi EA104 easy range backpack as opposed to an Ogio motorcycle backpack. So, here are some of the important features to look for when buying a backpack:
back to menu ↑
Carrying straps
At times, you will use your motorcycle riding backpack to carry heavy luggage. As such, you need straps that can guarantee comfortability when carrying such weight. The straps should be strong enough to support the load capacity of your bag. They should also be suitably fitted to not to cause back or shoulder pains when carried for long.
Among the things to look for in straps, they should be padded and easily adjustable. The added pads help you to carry the bag at ease even when having excess luggage. You should also look for a backpack with chest and waist straps for proper fitting. These straps will help you to fit your bag at the back comfortably.
back to menu ↑
Build materials
The material used to make the backpack have a huge influence on the bag's quality. Just like any other purchase, you should be looking to gain value for your money, so be attentive when looking at this point.
The material used to make your backpack influences aspects such as durability and water resistance. For example, there are such materials as nylon that can withstand even the high amounts of rainfall.
Moreover, the quality of a material can also determine the expected lifespan of a backpack. This is why certain companies have warranties on their bags.
back to menu ↑
Capacity
The capacity of your backpack should fit your personal needs. For example, if you are seeking a backpack to use for outdoor activities, consider one with a capacity of about 30 liters and above. However, if you do not plan long trips and enjoy your rides, a smaller compact bag would be ideal.
Besides, the capacity matters when it comes to the size of your computer. Note that if you have a laptop that exceeds 15 inches, a model such as Shoei Backpack 2.0 would be an excellent choice for you as it can accommodate a 17-inches laptop.
back to menu ↑
Water resistance
As a biker, you always wish not to find yourself riding in adverse weather conditions. However, you cannot control the weather. Therefore, it is always advisable to search for a backpack that is waterproof to protect your luggage.
This, in particular, is an important consideration if you often carry electronic devices such as a laptop or a tablet. From my experience, at one time or the other, you will find yourself in need of a waterproof bag. Therefore, I would advise on settling for a waterproof one because you will look for it anyway in the future.
Maintain Your Biking Style with the Right Backpack
As earlier mentioned, having a stylish backpack will surely get you turning heads as you ride. However, the bag should not only be bought to fulfill the aesthetic values. As such, this review has provided you with an ultimate guide of the best waterproof backpacks to consider.
The water-resistance of a backpack is the essential feature you should be looking for. I do not have to remind you what it means to ride through the harsh weathers. While it may be fun at times, you do not want to suffer from having your laptop rained on, as such, having a waterproof backpack is crucial.
Besides water resistance, you have to consider other features, such as the comfort of the bag. This is an important consideration because you will always have the item on your back, which implies that you need something that won't be a bother while ridding.
The review has also highlighted more factors to look for when deciding on the best backpack. For example, if you are an outdoor activities fan, the capacity has to be a huge consideration for you. As such, Velomacchi waterproof hybrid backpack should be higher among your priority list. But if the capacity is not a driving factor for you, there is plenty of good options to choose from in this post.
After reading these reviews, which of these cool backpacks have you tried out and what was your experience with it? Can you recommend more bags for riders? I will be happy to read your comments on this topic.