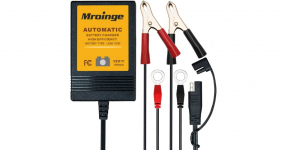 Best Motorcycle Battery Chargers: How to Choose & Use
Summer days are perfect for riding motorcycles. Moreover, if you are the owner of a perfect quarantine vehicle since it can fit a maximum of two people. However, in order for the motorcycle to work properly and please you with its roaring during the season, it is necessary to replace oil, carefully check and service all its components, including moto batteries.
Surely, many owners of motor vehicles have already faced the problem of discharging batteries and choosing a suitable charger. To make your battery serve for years, you need to choose the right charger. Why? A charger for motorcycles is an important part of the service. Your battery is literally the heart of your motorcycle, so you have to care for it properly.
Pros
Versatile and easy to use.
Automatic battery charger with high security.
Top Pick
Pros
Versatile and easy to use.
Premium Choice
Pros
Automatic battery charger with high security.
How to choose the best motorcycle battery charger? This question can be answered in different ways. The choice depends on the amperage and voltage needed, your budget, and the type of charger. Modern motorcycle chargers are divided into several types, depending on the charging algorithm. Do you know which type of charger you need? Then, you can head straight to the reviews section. For newbies, I recommend going through the battery instructions first.
Honest Reviews of Best Motorcycle Battery Chargers Worth Checking
Charging a 12-volt motorcycle battery does not require any special professional knowledge or skills, as the procedure is simple enough. You just need to read the instructions that come with a charger carefully, know the technical characteristics of the battery, and figure out how to charge it with the current. The list of the products below will help you choose a new charger.
Top Pick Motorcycle Charger: NOCO GENIUS1 Fully-Automatic Smart Charger
NOCO Genius1 is a 1 amp fully automatic smart charger for year-round usage. It's designed to charge 6V and 12V lead-acid, helium, non-disposable, lithium-ion, and AGM batteries. The NOCO Genius1 is a versatile tool, which suits charging the motorcycles batteries, snowmobiles, lawnmowers, watercraft, ATVs, and more. This compact and powerful device recharges batteries 2 times faster than traditional chargers and is one of the safest and most advanced battery chargers on the market.
NOCO Genius1 provides zero risks of overcharging, so you don't have to be afraid of fast wearing out. A safe connection to the battery contributes to superior performance and versatility. The device is suitable for micro-hybrid start/stop vehicles and is compatible with electrical CANBUS systems. Moreover, due to the dimensions of the device (3.43 x 4.02 x 6.73 inches), it can easily fit your pocket. It also comes with needle-nose battery clamps.
Ultra-compact, portable, energy-efficient, UV, and water-resistant, it easily plugs into any AC outlet. The device actively monitors the battery and ensures safe and efficient charging. Equipped with anti-spark and reverse polarity technology, it detects defective or damaged battery automatically.

---
PROS:
Fully automatic device;
Versatile and easy to use;
Handy design.
CONS:
Might be a bit expensive.
---
BMK 12V 5A Smart Battery Portable Charger – Modern Motorcycle Charger for Every Budget
BMK 12V 5 amps is a bit bigger (9.5 x 4.5 x 2.9 inches) than the previous option of the charger, but it doesn't make the BMK less convenient one. It is a portable and quite budget option for all moto fans. This device doesn't work only as a charger, but also as a maintainer.
This is important to protect the battery from discharge in vehicles that may operate for a long time. The BMK Battery Charger has a modern and convenient design with the latest technology, compact, and easy to use on different types of vehicles.
This product is versatile and can be used to charge various types of rechargeable batteries since it comes with a set of detachable alligator rings clips. If you are a lucky owner of a boat, car, or a lawnmower, this portable charger will be your assistant at maintaining the proper work of vehicles and equipment. Its four-stage smart charging modes controlled by MCU provide a fully automatic process of battery charging.
The BMK Battery Charger protects your battery from overcharging, overheating, and short circuits. Of course, fully automatic charging means that it stops submitting once the battery is fully charged. Moreover, the manufacturer provides service and long-quality warranty to offer you a risk-free purchase.

---
PROS:
Four-stage charging process;
Fits for charging many types of vehicles and equipment;
Lifetime warranty.
CONS:
No fuse on the lead wire of the battery.
---
Excellent Option of Travel-Sized Motorcycle Charger: DieHard 71219 Shelf Smart Battery Charger
The DieHard 12V smart battery charger is another great option of motorcycle chargers on the list. Though it offers a little less amperage than two previous variations, do not write it off. This charger has 5 steps charging system which prevents overcharging.
This charger has a relatively small size (7.25 x 3.88 x 6.75 inches) and will perfectly fit any motorcycle trunk. The DieHard smart battery charger comes in several amperages options, so everyone could find a proper edition. Choose a tool with 2, 3, 6, or 10 amp depending on the requirements of your battery.
The charger also has a feature called Quick Connect Harness. This option serves for charging hard to reach motorcycle batteries using fast installation and 3 connector options: 50-amp clamps, a 12-volt accessory plug, or permanently attachable ring connectors.

---
PROS:
Automatic charging with the ability to maintain it;
A small size that fits an ordinary backpack;
Safe and convenient.
CONS:
It takes too long to complete a full charge of the battery.
---
5 Amp 12V Automotive Smart Battery Charger: A Perfect Variant for Powerful Motorcycles on the Go
This universal charger will be in need of people who use different equipment that has to be charged. The MEEARO charger fits charging motorcycles, cars, lawnmowers, boats, RVs, and more. So, if you need an option that will be perfect for charging different items, I recommend giving this charger a try.
The MEEARO tool has a 5 amp 3 stage charger for 12V battery. The device is fully automatic and switches from fast charge to top-off and trickle charging. The built-in short circuit protection provides fast and safe charging of the motorcycle battery, so it won't take too long to get your vehicle ready for the next trip.
It also has a large LED display that shows battery and charging status, charges current, voltage, temperature, etc. As far as I know, this unit can also be used for charging boats, golf cars, lawnmowers, and even cars, but make sure to buy additional clamps, since the package doesn't include any.
Could you ever imagine such a powerful and multipurpose device that will come at hand in any case? You are also likely to appreciate its size (8.98 x 4.72 x 2.36 inches). The MEEARO Automotive Smart Charger is a perfect option for keeping your motorbike or another vehicle always on the go.

---
PROS:
Three-stage charging;
Circuit and overheat protection;
Portable and powerful.
---
A Good Deal of a Trickle Motorcycle Battery Charger: LST 12V 5A Trickle Battery Charger
This is another powerful option for charging various means, including lawnmower tractors, cars, and motorcycles. Five stages of automatic charging provide 5 amperage, which is enough for charging big vehicles like cars and motorboats. A relatively small-sized tool that fits your palm (1.50 x 3.20 x 1.70 inches) is quite powerful to provide maintenance function.
At first glance, it may seem that all of the stated motorcycle battery chargers are alike, but there are some reasons why I have put these deals on the list. When it comes to the LST option, I can say that this 12V trickle charger has many useful qualities that will definitely meet requirements even of the most sensitive batteries. This trickle charger starts with a current of 5A, and the process of charging gradually decreases to provide safety and security.
Like many other options, this charger has built-in indicators that help to control heating, circuit, and amperage. The design of the charger is perfect for compact storage in any trunk or garage. It is a very durable and totally safe option among the portable trickle chargers. Protected from corrosion and other detrimental weather conditions, this device can become your irreplaceable companion for proper motorcycle service.

---
PROS:
Suitable for high-efficiency batteries;
Long service life;
Portable and convenient to store.
CONS:
LED indicators can break down soon.
---
Jethax Automatic Portable Motorcycle Charger – Perfect Deal of an Inexpensive Portable Charger
The Jethax Automatic Portable Battery Charger is another option of a remarkably versatile tool. It works for all types of 12V 4Ah-100Ah capacity lead-acid batteries, SLA, AGM, Gel, VRLA, deep cycle batteries, and more.
This portable battery charger (5.87 x 4.02 x 3.25 inches) has clips and ring bindings for charging and maintaining your vehicle. The presence of a built-in LCD screen allows you to monitor and control the charging process, charge voltage, and current. A powerful four-stage charging system is entirely automatic and includes:
Initialization,
Bulk Charge,
Absorption Mode,
Float Mode.
Similar to other available options on the market, this charger is protected from short circuits, overcharging, overheating, etc. What makes it a good deal? Well, it comes with a one year warranty, is ultralightweight, and, what I like the most, is its hands-free repair battery feature. So, if you face problems with starting your vehicle, just connect the Jethax charger to the battery and let it do its work.

---
PROS:
Repair function;
Affordable price;
Lightweight.
CONS:
Comes without a protective case.
---
Simple & Affordable 12V Charger for All Battery Types: Battery Tender 800
In fact, the name of the device speaks for itself. This charger is so small; it can easily fit the pocket of your jeans. However, such a size (10 x 4 x 10 inches) holds amazing power and useful functionality. You don't have to take pains to start your bike or car no more.
Battery Tender will easily start any solid vehicle without extra efforts. As once was said: 'With great power comes great responsibility'. The responsibility of any charger is to be safe and provide a great service life. The Battery Tender 800 handles this with a bang.
It fits for charging all standard 6V motorcycle and 12V car batteries by providing 800 Milliamps and 12V charging. The device does not harm the battery but extends its life. There's a restore function that is aimed at giving a new life to a discharged battery.
Among its essential features are protection against overheating, short circuit and reverse polarity protection to prevent battery and charger damage. To sum up, I can recommend this charger if you are looking for an option that doesn't take too much place and has amazing power.

---
PROS:
Automatic battery charger with high security;
Simple and straightforward design;
Useful features.
---
MOTOPOWER MP00205B Automatic Battery Charger: Strong Motorcycle Charger for an Amazing Price
The MOTOPOWER smart automatic charger is designed to charge and maintain lead-acid batteries of WET, MF, AGM, and GEL types with 6 and 12 voltage. This charger is small in size (4.1 x 2 x 1.5 inches) but can handle sports cars and powerful motorbikes providing 1 amp of charging.
Two-staged pulse charging provides a safe and secure service of the motorcycle battery. Moreover, the charger is equipped with a function of Soft Start (4 Volts) and Safety Timer of 24 hours (max) Absorption Mode.
The charger is compact and easy to use. Its design has built-in LED mode indicators and versatile clamps. Being fully automatic, this smart charger doesn't need any manual operation right after you bind its clamps to the battery of a vehicle. The efficiency of the charger is ensured by the Automatic Recondition Mode technology. With its small size and simple design, MP00205B can fit any trunk, pocket, or even the smallest bag.

---
PROS:
Strong charger with many useful functions;
Quite an affordable price;
Absorption mode for even more convenience.
CONS:
Requires protection if used outside.
---
A Perfect Gift for a Moto Fan: Mroinge MBC010 Automotive Trickle Battery Charger
This easy-to-use miniature automotive trickle charger is designed to charge the lead-acid batteries of strong generators, motorcycles, boats, snowmobiles, lawnmowers with 1 amp, and 12V. Mroinge produces high-quality and low-cost devices that are incredibly famous among many car and motorcycle owners.
It complements most types of automotive accessories (for example, battery testers, chargers, tire inflators, etc.). Complete 4-step charging program inside this 3.45 x 2.29 x 1.3 inches tool provides sufficient charging protected from overheating and overcharging. This accessory is a necessary and simple gift for every biker, traveler, fisherman, hunter, and summer resident.
A pre-programmed smart chip, the unit safely maintains your battery and expands its service life. The manufacturer also includes a harness to the package to make using the charger a fast and easy process. The Mroinge Automotive Trickle is designed especially to meet the highest standards of energy-consuming efficiency.
Besides, it has a special built-in mechanism that helps to detect any errors when connecting the charger, and therefore, it won't start delivering power until you fix the problem. I recommend purchasing this device to avoid problems of overcharging and overheating, as well as provide your bike's battery with smart power consumption.

---
PROS:
Easy to use;
Indicator lights for convenience;
Impressive maintenance.
---
Foval Automatic Trickle Battery Charger 12V: Reliable Option of Motorcycle Charger
The last place on the list is occupied by a device that is almost in no way inferior to the rest of the options above. The Foval automatic battery charger can be a great option if you are looking for a 1 amp 12V DC charger that can be used with most types of lead-acid batteries. Its standard mechanism is great for the safe and secure process of battery charging. Spark and overheating free; it also has a very attractive price for such a good features kit.
What's more, the design of the device assumes a small size (3.9 x 2.4 x 1.2 inches) that fits perfectly into any trunk of a boat, motorcycle, or car. The automatic tool switches to the maintenance mode right after the battery is fully charged. Thus, it helps to avoid the most common battery problems (overvoltage, heating, etc.).
Apart from that, it also has a smart circuits system with several levels of protection to expand the life of the motorcycle battery. It's easy to use, safe, and high-quality for efficient battery charging. Don't hesitate to check this option out if you need a top-notch charging device for a quite fair price.

---
PROS:
Spark, overheat, overvoltage, and reverse polarity free;
Convenient size;
Fits for charging many vehicles.
CONS:
The indicator may glitch when in the maintaining mode.
---
FAQ
If you still have questions about how to choose and use the motorcycle battery charger, use this section to find the answer. By the way, you can leave other questions that aren't included in this section in the commentaries below, and I will manage an answer as soon as I can.
How to charge a motorcycle battery?
There are several ways to charge a motorcycle battery or restore a fully discharged one. It is best to charge according to the manufacturer's specifications using a matching charger. Emergency charging methods are acceptable, but their frequent use will inevitably reduce battery life.
If you are a newbie, here're some tips: once you see that your battery needs to be recharged, sketch the wiring diagram before removing it from the motorcycle. This diagram will come in handy when you have to mount the battery back. Make sure the battery has a proper temperature before charging. It is also worth checking for open flames or sparks nearby. After that, you can connect the charger and start the process.
Lead-acid batteries must be charged at 10% of their capacity. Therefore, using the current regulator, set the required value. The charger will work until the voltage reaches an indicator equal to the number of battery cells multiplied by 2.4 (for a standard battery, respectively, 14.4).
How many amps is a motorcycle battery?
Basically, a motorcycle battery has 12 Ah. Of course, there are models that have bigger amperage. So, to know exactly how many amps your battery has, check the instructions carefully.
What voltage are motorcycle batteries?
To start the engine of motor vehicles, manufacturers use batteries with liquid electrolyte technology (serviced), AGM, or GEL (maintenance-free and sealed) with a voltage of 12 Volts. The capacity can vary from 2.5 to 30 amps per hour.
How long to trickle charge a motorcycle battery?
Trickle charging of the motorcycle battery usually takes from 12 to 20 hours. To find out a more accurate period of charging, you have to consider the battery type and the charger's quality.
How long do motorcycle batteries last for?
Most of the modern battery manufacturers state that a normal motorcycle battery lasts for 48 months. Of course, if you use only the best equipment for servicing your vehicle and its components, and especially the battery, you can expand its service life. So, that's why choosing a proper battery charger is a very important task.
Can a completely dead motorcycle battery be recharged?
Of course, it can be. For this, you have to purchase a charger that has an automatic repair or starting option. You can find similar models on the list I've stated above.
Can I use a car battery charger on a motorcycle?
In fact, most battery chargers aren't designed especially for cars or motorcycles. However, it is better to check if the device you're about to purchase is versatile since batteries installed on motor vehicles have slightly different requirements. After all, you have to make sure that your battery won't get overheated or overcharged. Since the capacity of car batteries is many times greater than motorcycle batteries, the charger must also be able to deliver the required current with the required voltage.
Best Motorcycle Battery Chargers: Which One You Need?
If your budget allows you to buy the newest portable automatic charger, you have to do it. Most modern chargers can be used with all types of rechargeable batteries, but you have to select the model with the appropriate voltage. Another good choice is a universal charger that can charge both motorcycle and car batteries, and here I recommend paying attention to the NOCO GENIUS 1 fully automatic charger.
Do not connect incompatible components; this will damage either the charger or your battery. There is a huge variety of chargers on the market for any type of equipment, so you just have to compare the parameters of the charger with the parameters of the battery, and make the right choice. Which battery charger have you chosen? Have you ever used vehicle battery chargers before? Let me know in the comments section.