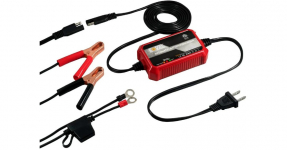 Best Motorcycle Battery Tender Reviews
If your motorcycle, ATV, or snowmobile rests in the garage for a week or longer, perhaps it's time to invest in a battery tender. The thing is, lead-acid batteries lose their charge pretty quickly if not used on a daily basis. Therefore, there may come a moment when you will want to jump on your bike only to realize that the battery has run out of power.
The best motorcycle battery tender will successfully prevent the battery from dying the moment you start the machine after long periods of 'sleep'.
Pros
Long-lasting and reliable.
Premium Choice
Pros
Long-lasting and reliable.
That being said, keeping your bike or snowmobile connected to a good battery tender (also referred to as battery conditioner or maintainer) prolongs your battery life, keeps it completely charged even when the vehicle is dormant, and improves its overall 'wellbeing' and efficiency.
In this post, I will provide trusted motorcycle battery tender reviews for you to get a better idea of these devices, analyze their perks and drawbacks, and help you make your own conclusions as to the best battery maintainer for your needs.
So, are you ready to check out my reviews and finally stick with the most suitable product for your situation? Read on and ask questions whenever they pop up.
10 Best Motorcycle & ATV Battery Tenders: Compare & Choose
To save you from hours, days, or even weeks of rummaging the net for a good battery tender, I've already done it all for you.
Moreover, I've test-driven all the products listed and reviewed below. It means you can trust my reviews completely when shaping up your own battery tender comparison and ultimately deciding which model to stick with.
Ready to make a smart choice? Keep reading and enjoy being all enlightened.
1. Schumacher SC1319: Brings Your Battery Back to Life
Now when you go into your garage and see the little green light showing that the device is in the 'maintain' mode, you will instantly know that your truck or bike is ready for the next chore.
Knowing that your machine with an electric start is always ready to go whenever you decide to turn the key is incredibly reassuring. The blissful peace of mind this little Schumacher baby brings is literally priceless.
There's not a single button or switch on the device. All you need to do to make it function is just plug it in – and that's about it, no extra guesswork required.
You can leave the maintainer hooked up to the battery for hours and days, without a risk of overcharge. And you will be fascinated by the high level of customer service the company is famous for.
The Schumacher SC1319 is a very reasonably priced solution to keep your car/truck/mower/bike/ATV battery charged up and ready to go. Just keep in mind that there's a difference between a battery maintainer and charger. Overall, you can't go wrong with Schumacher products. And they're the best bang for your buck.

---
PROS:
Completely automatic and a breeze to set up and utilize;
The unit is small-sized and featherweight;
Perfect for all boat, car, and power sport batteries;
Outstanding customer service;
Useful as both charger and maintainer.
---
back to menu ↑
2. Deltran Battery Tender Plus 1.25-Amp 12v Car Battery Charger & Maintainer
Unlike cheap trickle chargers that tend to overcharge your batteries if you don't keep track of time, this high-end smart device automatically identifies a fully charged battery and starts working again only when it detects a drop in voltage.
Bear in mind, though, that this battery maintainer won't help you if the battery you're trying to hook it up to is dead or almost dead.
This Deltran Battery Tender Plus is a compact device that's also very effective, resistant to shaking and water. In addition to this, the unit is very durable, which means it will most likely work flawlessly for years. And you will love how easy it is to operate – just plug it in, and it works! All in all, great value for the money.

---
PROS:
Small-sized and well-made;
Straightforward in usage;
Long-lasting and reliable;
Works great as both charger and conditioner;
Perfect for trunks, boats, cars, and motorcycles.
CONS:
Takes longer to fully charge larger batteries, but it's only natural.
---
back to menu ↑
3. Deltran Battery Power Tender Plus: Works Like a Champ
battery tender a try. With this fantastic device, you just plug it in and let it do the job.

This honey is an awesome investment, for it prolongs the life of your batteries, and the engine starts every time without a single problem.

Even when this Deltran battery maintainer is exposed to shaking or rough weather conditions, it shows no sign of weakness or deterioration. This battery tender is genuinely waterproof. The indicator is solid and accurate. When it shows that the battery is charged, it really is so.

On an additional plus side, this battery maintainer isn't prone to heating up and does not feature any noisy fan that starts playing up within a few weeks of service.

Overall, it's a very reliable battery conditioner and charger. It works so well that you may start thinking it was built by the same company that builds tanks.

---
PROS:
Compact and built to last;
You just plug it in, and it works like a champ;
Rain-resistant and vibration-proof;
Includes a very accurate indicator;
Comes with a two-year warranty.
CONS:
When the unit is functioning, you may hear white noise similar to the one you hear on the radio in your garage; no worries, it's typical for these devices.
---
back to menu ↑
4. Noco Genius 1 Battery Charger & Conditioner: A Breeze to Use
The device excels at checking and detecting the status of the battery, which means it's also great at automatically adjusting the best charge current. Your super-smart Noco Genius 1 will keep track of your battery's condition and automatically adjust the mode (charging or maintenance) depending on the situation. This baby will keep your batteries from overcharging.
You're probably aware that the 'just-sitting' condition is not good for your car's battery. With this wonderful unit, you will definitely save yourself about $100 for not having to replace a battery.
As far as the price is concerned, compared to other similar units, this battery tender is a bargain. So it's definitely worth your undivided attention if you're on the prowl for a top-notch battery conditioner.

---
PROS:
Featherweight and straightforward in usage;
Works like a dream;
Feature-packed and 100% intuitive;
Comes with a very attractive price tag;
Noco is a reliable brand.
CONS:
The size of the printing on the instruction manual could be bigger.
---
back to menu ↑
5. Noco Genius G1100 Battery Charger & Conditioner: A Great Value
Make the most of the device's status lights to determine how much life is left in your battery. You will like that this gadget doesn't get warmer than it should.
Are you searching for the most efficient and convenient way to charge and prolong the life of your vehicle's battery? Opt for this high-quality gadget. If the battery isn't completely dead, the device does a great job bringing it back to full charge.
It doesn't work instantly, you will have to wait a few hours until the battery is fully charged, but that's a given when it comes to battery tenders.
In addition to all this, Noco boasts outstanding customer service. Their managers are always happy to help whenever any questions arise. Whether you need a battery tender motorcycle, car, boat, RV, mower, or any other means of transport, this Noco Genius baby is sure to leave you impressed. And it's surprisingly affordable, too – great value for the money.

---
PROS:
Excellent construction and design;
Fantastic versatility;
Features four smart charge modes;
Advanced diagnostics technology to assess the condition of your batteries;
Works very well in cold weather.
CONS:
Isn't the fastest battery charger on the scene.
---
back to menu ↑
6. GOOLOO Battery Charger & Maintainer: Top Product That Saves Your Money
If you don't drive your car or motorcycle for a week or two, just use this gadget overnight, and it will keep your battery strong and healthy. The device is great at charging your vehicle battery and keeping it healthily charged. In addition to this, you will also fancy their super responsive support team.
All things considered, this solution is way better than purchasing a new battery every year. It is a great gadget if you want to save a lot of money. Furthermore, investing in a solid battery tender is an environmentally-friendly choice. When all is said and done, this baby is worth every cent.

---
PROS:
Features six stages of charging;
This gadget automatically determines if the battery is damaged;
Intuitive LCD interface featuring a status indicator;
Good at prolonging battery life (unless the battery is hopelessly depleted);
Comes with at least a 4 ft cable.
CONS:
Is not the fastest charger on the market;
Instructions are not the clearest out there.
---
back to menu ↑
7. BLACK+DECKER BM3B Battery Tender for Motorcycles & Cars: A Perfect Addition to Any Man's Arsenal
I like that this model features 3 various connection options. The DC plug option comes with maximum convenience. Want to charge your car battery without even lifting the hood? Plug it into your car's cigarette lighter.
The only disadvantage of this honey is that it takes a while to charge (up to 10 hours if the battery is almost dead).
The unit comes with a fantastic selection of adapter and connection choices, and the unit features plenty of cord length. Super handy! This battery maintainer isn't made to charge dead batteries, just like any other similar device presented on the market. As long as the battery isn't completely drained, this baby will keep it properly charged.

---
PROS:
Extremely reliable and durable tool;
Convenient plug-and-play solution;
All-around perfect gadget for charging and maintaining the charge of your vehicle's battery;
The unit comes with top-notch long cables;
Great product, great price.
CONS:
Gets pretty hot at the bottom when in the charging mode;
Manual instructions could use more clarity.
---
back to menu ↑
8. Foval Battery Charger: Meets All Your Expectations
Just plug the gadget in, and it will start working. It's as simple as that: no tricky switches, endless settings, or various buttons implied. Straightforward LED lights display the charging status as well as the diagnostic details, even when the battery is in the maintenance mode.
When the battery is fully charged, the device enters the maintenance mode, and the risk of fire is nonexistent.
To cut a long story short, the Floval battery tender is a great inexpensive solution that's compact, smart, powerful, and water-resistant. And it doesn't heat up during the charging process like some of the previously mentioned units.
A pleasant bonus, this baby comes with a very pleasant 18-month warranty from the manufacturer. Great value for the price – and the best choice if you're on a budget and need a superb battery tender/charger.

---
PROS:
This featherweight device is made with longevity in mind;
Great for the majority of vehicle types;
No buttons, switches, or settings;
Tons of intuitive features in a tiny gadget;
Temptingly affordable.
CONS:
The instructions are slightly confusing, but the straightforwardness of the unit makes up for this minor drawback.
---
back to menu ↑
9. MOTOPOWER MP00205A: Reasonably Priced & Portable
So if you're looking to keep your long-resting vehicle(s) ready to go without breaking the bank, this MOTOPOWER battery tender might be exactly what you need.
If you have a security camera in your garage, the device's indicator lights will help you easily see if the battery is being charged or not – super convenient. From now on, you will never have to worry that your bike rested too long without starting, and the battery is now dead. With this wonderful gizmo, you always know when you're ready to ride, so is your bike.
Aside from motorcycles, this easy-peasy-to-handle battery tender works great on cars, boats, ATVs, tractors, mowers, and a variety of other vehicles. It's very durable and reliable despite its compact size and (obviously seeming) fragility.
I definitely recommend this well-built honey for its quality and fair price. Cutting to the chase, chances are this device will turn out to be your battery's best friend. No more dead batteries for you!

---
PROS:
Portable, intuitive, waterproof, and long-lasting;
Completely automatic: just plug it in and let it do all the work;
Gets the job done very well;
Comes with a complete safety feature set;
2-year warranty from the manufacturer.
CONS:
The unit does heat up when the battery is being charged.
---
back to menu ↑
10. Deltran Junior 3-Pack: Great Solution for Vehicles in Storage
Batteries aren't cheap these days, so just letting them sleep and sulfate away is not a wise decision. Instead, use this wonderful maintainer to make sure that your vehicle battery lasts long, is perfectly 'topped off' and ready for use all the time – in a healthy way, without even a hint of an overcharge.
Need an efficient battery saver for commercial mowers or boats at work? This 3-pack solution might be your best bet! These honey work very well. And the 3-pack is much more cost-effective than purchasing separately.
All in all, this solution is a lot cheaper (and wiser!) than buying new batteries non-stop. You can tell that the manufacturer is confident in their peace-of-mind-bringing product, the warranty alone is solid proof of that.

---
PROS:
Well-made and durable;
Easy to operate and move around;
Straightforward LED features;
Performs flawlessly on vehicles that sit for extended periods of time;
Great for the price.
CONS:
If the battery is completely discharged, the gadget won't work (and the same goes for other battery tenders).
---
back to menu ↑
Answering Your FAQ About Battery Tenders
A high-quality battery conditioner should be good at charging your battery to the full power and then maintaining that power without overcharging. These two missions sound simple. But the process itself can get tricky.
Overcharged batteries are potentially dangerous both in terms of damaging your vehicle and causing personal injury. To make the notion of battery tenders clearer, we've answered some of your most frequently asked questions on the topic below.
back to menu ↑
Is a battery tender the same as a battery charger?
No. The major difference between a battery tender (or maintainer) and a battery charger is that the latter sends constant charge to the battery without 'caring' if it still needs it. As a result, the risk of overcharging is pretty high with a battery charger.
A smart, automatic battery tender, on the contrary, can easily detect how much of a charge the battery requires.
back to menu ↑
How do battery tenders work?
After automatically analyzing how much of a charge is needed, the maintainer sends a trickle charge to the battery within several hours. Once the battery is 100% full, the conditioner switches to the intelligent maintenance mode. That being said, a good battery tender may not be the speediest charging solution for your vehicle, but you can be absolutely positive that it will maintain your battery in great shape without ever overcharging it.
back to menu ↑
How to install battery tender on the motorcycle?
Whether you're mechanically savvy or not, hooking up the maintainer to your battery is relatively easy. Follow these steps and get everything set up in no time:
Take out the seat on your bike for easier access to the battery. Not sure how to do that? Refer to the instructions in your manual.
Proceed by disconnecting the leads: firs – the negative, then – the positive one.
Decide whether you will leave the battery in your motorcycle or remove it. I recommend the latter option.
When hooking up the maintainer to the battery, adjust the positive terminal first. Then, connect the negative terminal. Check the connections and verify if everything is correctly and reliably hooked up.
Plug in the maintainer. If you've set the whole thing correctly, the battery tender should light up and show the charging status.
If nothing's happening, you've most likely failed to properly hook up the battery to the maintainer. Check the connections once again.
back to menu ↑
What size battery tender for motorcycle should be?
A compact battery tender is the best solution for your motorcycle. However, what you should also take into account is the overall performance of the device – that is, if you're on the hunt for the best motorcycle battery tender on the scene.
back to menu ↑
So, How to Choose the Best Portable Motorcycle Battery Tender?
As you may have noticed, the majority of excellent battery maintainers flaunt similar benefits. Most of them are good at fully charging your bike's battery prior to automatically diving into the maintenance mode, where they constantly keep tabs on the battery's charge.
So, with all this similarity, how does one choose the best motorcycle battery maintainer? Other than focusing on the cost, you will want to first and foremost run the manufacturer's support service through their paces. Also, a long-term warranty is a great bonus.
So, what are your thoughts on car and bike battery maintainers? Based on your experience, which models are the most reliable and long-lasting? You're welcome to share your opinion with your fellow readers in the comment box below. Your two cents are paramount to us.