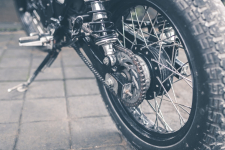 Best Motorcycle Chain Cleaner: Top Experience-Based Picks
Hi! Glad to see you at YourMotoBro.com! If you're reading this article, then you're concerned about proper bike chain cleaning methods, and you need the best motorcycle chain cleaner. If that's what you need, I will help you.
First of all, you have to define what type of chain does your motorcycle has to select the right cleaning method. Plain bike chains don't include a seal between metal-on-metal links, which means that you can apply aggressive cleaning methods. O-ring, Z-ring, and X-ring sealed chains include rubber seal rings between the inner and outer links. It's a more advanced design that prolongs the chain life cycle as it keeps road grime away from the grease. However, it requires a more thorough and gentle approach to cleaning.
To start cleaning the bike chain, you have to use the kickstand, center stand, or a garage paddock stand to make the rare wheel spin freely. You can also simplify the task and remove the chain. This will also let you examine it for irregularities.
Now, the important step is to choose the best moto chain cleaner to ensure a good result and proper lubing afterward. Read my 7 experience-based reviews of the most effective chain cleaners, choose the one that looks best to you, and you will reduce the probability of untimely outwearing dramatically. I have to emphasize that all products on the list are decent, but they are effective in different conditions. You rarely can buy the first item on the best list and get what you want, so weigh all pros and cons.
Amazon Bestseller
Best Motorcycle Chain Cleaner: 7 Top-Efficiency Products
Let get straight to the point. Here is my bike chain cleaner review compilation, in which I gathered the best products that I've tested so far. I included practical tips and recommendations where necessary so that it was easier for you to make the right choice. Read on!
Maxima Clean-Up Chain Cleaner – Excellent Motorcycle Chain Cleaner Spray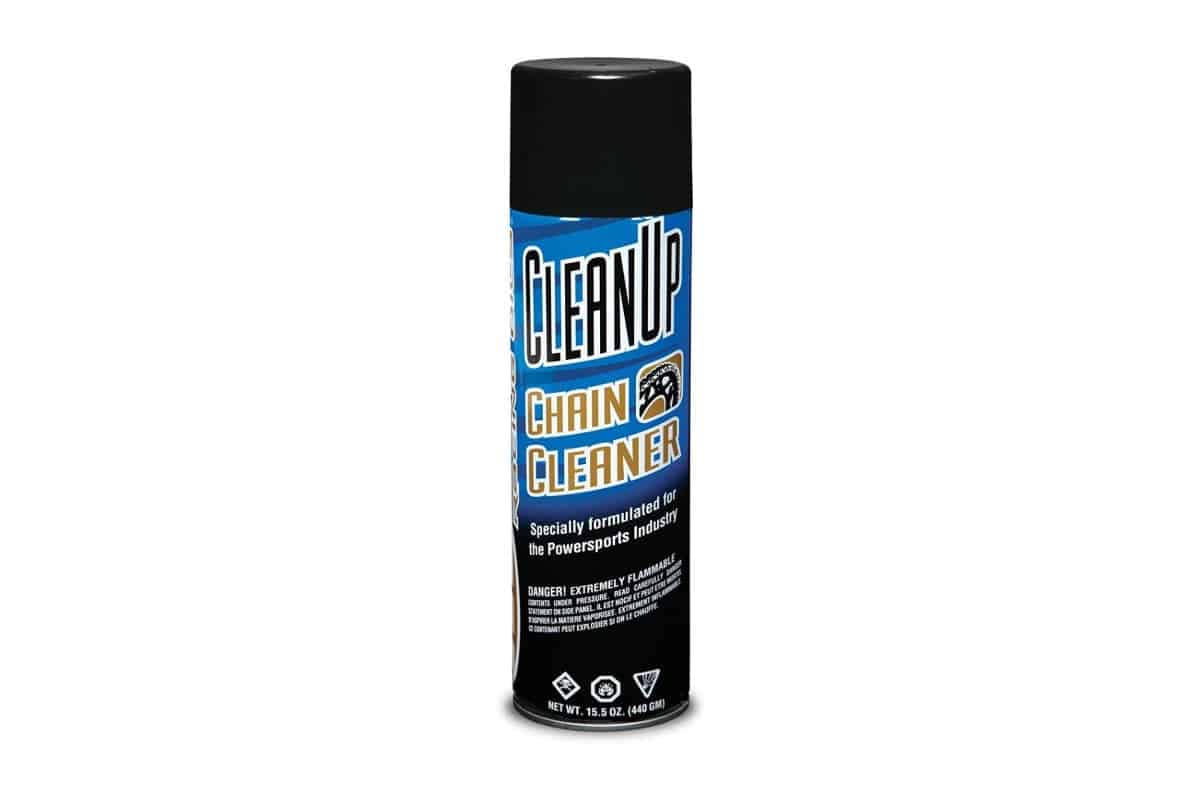 Maxima is a California-based manufacturer that has been amongst top motorsport industry brands since 1979. The brand has extensive experience in supporting sports and racing communities worldwide.
The Clean-Up spray chain cleaner is a powerful single-item solution that lets you get rid of dirt quickly and anywhere you go. It's an emulsion-type aerosol that provides excellent results without eroding rubber rings between the outer and inner links of the chain. It means that you don't have to be too careful. Just spray it on the entire chain, scrub, and wipe away with a fiber.
When you apply the spray, it foams up very well and sticks to the chain. The foam catches the dirt and takes it right off so that you can keep going even without wiping if you don't have time. Compared to the traditional remedy, kerosine, this one works much faster. It's a great dirt bike chain cleaner that you can use during those nasty days when your entire vehicle gets extremely dirty.
You can apply it even on severe dry contaminations and then remove everything with a stream of water. Usually, it helps from the first try, but in some cases, you can repeat the procedure locally to get rid of smaller pieces.
By the way, it's compact enough for transportation, and a 15.5 oz can provide multiple cleanups, independently from your bike type. I recommend it to owners of dirt bikes and four-wheelers, who need a quick problem solver in the garage and on the go.

Sale
Maxima 75920 Clean-Up Chain Cleaner - 15.5 oz. Aerosol
Maxima Clean Up is a heavy duty, emulsion type cleaner designed to thoroughly clean chains without harming rubber O-rings or metal surfaces
Outstanding performance on aluminum
Maxima Clean Up quickly dissolves and removes hard to clean buildup on your chains
Clean Up's handy aerosol container allows you to spray it on, allow it to set for a minute and then thoroughly rinse it and the dirt away with a hard stream of water
CAUTION: May cause some painted surfaces to discolor! Do Not use on clear plastic or Lexan windshields! Flammable!
Positives:
Formulated for motorsports;
Available in discounted packs;
Wide range of settings;
Safe for rubber seal rings;
Dissolves age-old dirt.
Negatives:
Don't use on plastic;
May discolor painted surfaces, be careful.
---
Motul Chain Cleaner – Powerful Aerosol Remedy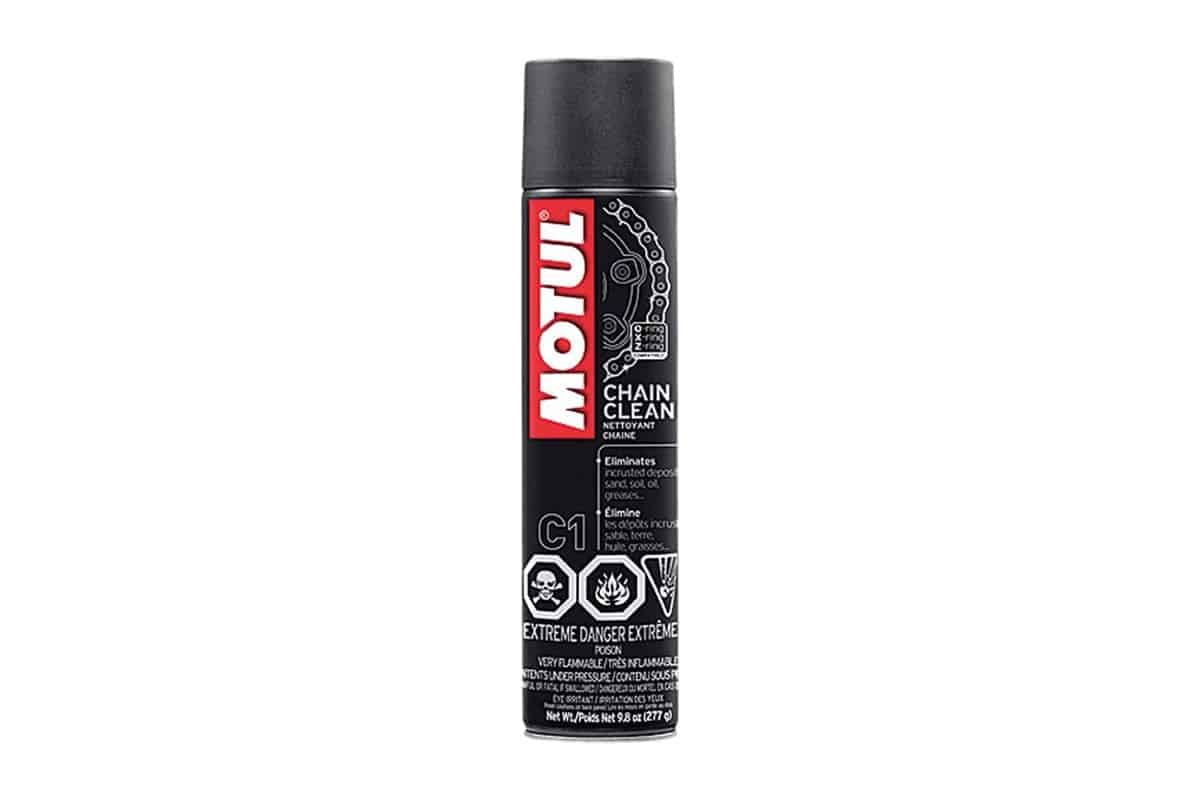 I think there's no bike owner who doesn't know about the French company, Motul. This industry giant has been a leader among automotive care products since 1853. Motul Chain Cleaner is designed to help you remove incrusted contaminations, which makes it an option to consider for cleaning neglected chains. The final result is enough to ride up to 300 hundred miles in normal conditions.
Unlike the previous product, this one requires you to wait around 5 minutes to ensure full delusion of muck. After that, you can easily remove it with a professional chain scrubber or a simple hard toothbrush from the nearest store. I'd recommend using the first option to save time, though. When the work is done, you can easily wipe off the remnants, lube the chain, and enjoy another 300 miles without maintenance.
C1 Chain Cleaner comes in a 9 oz can aerosol, which is compact enough for taking it anywhere you need. However, I think this product is better for indoor use in garages as it consists of toxic components that are not marked as bio-degradable. You should use something to avoid drippings of the liquid on the ground if you need to use it outdoors. As for garage use, it's the right choice. It will help you to do maintenance works even in tough cases. Due to the strong chemical formula, you should avoid applying the spray on painted parts, commutation, and other parts that are potentially vulnerable to abrasive chemicals. You can use a piece of cardboard for that.

Sale
Positives:
Compact-size aerosol;
Multiple uses guaranteed;
Good against encrusted muck and grease;
For all vehicle types;
Excellent pre-lubing remedy.
Negatives:
Not bio-degradable, better use indoors only.
---
Ultimate Chain Care Aerosol Combo Kit – Best Motorcycle Chain Cleaner and Lube Kit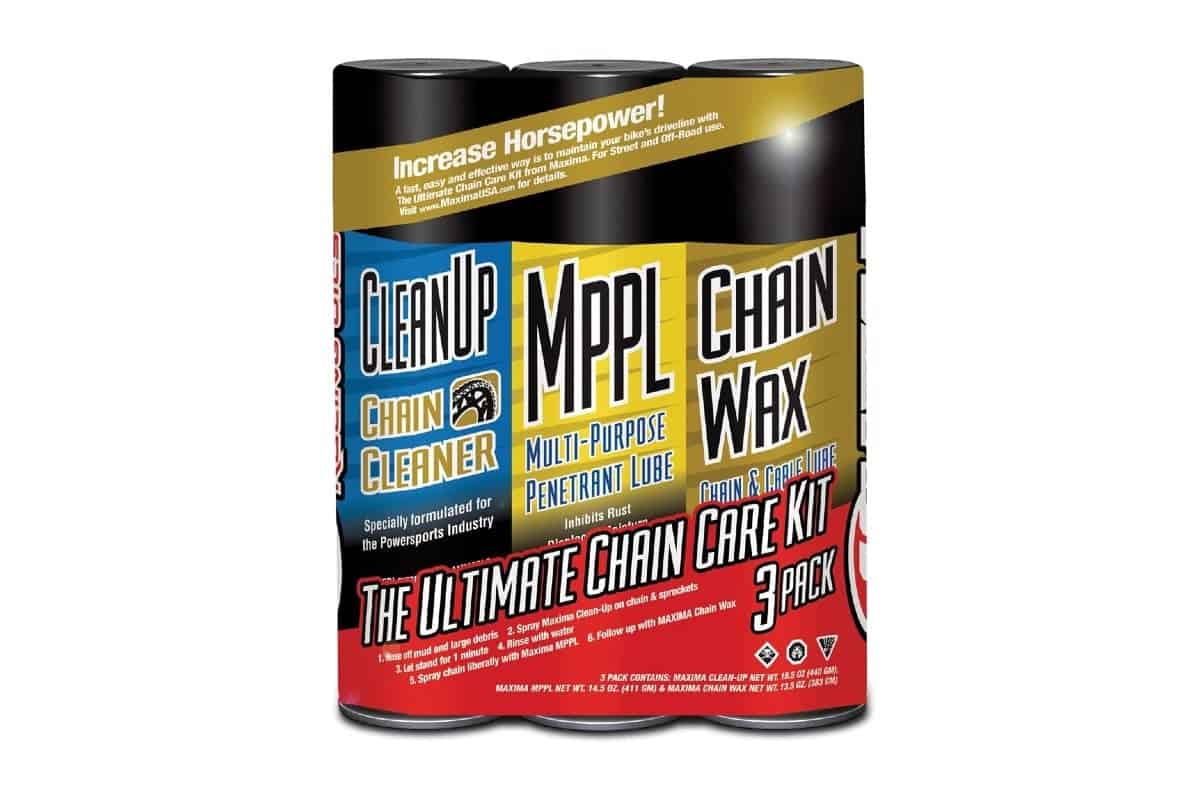 This item is the full version of Maxima's chain care product line. It includes high-quality Clean-up cleaner, multi-purpose penetrant lube, and chain wax. All three products come in convenient 9.8 oz aerosol cans that let you easily apply the liquid. Using this kit, you can conduct a 3-stage maintenance job without difficulties.
You already know about Maxima Clean-Up from the first review in this article, so let's take a look at the rest. The second one is a professional penetrant lubricant that is used for corrosion protection and a sustainable anti-rusting effect and hydrophobic effect. The third can is filled with chain wax that provides an extra protection layer. You can use it for extra lubrication of the chain and sprockets and reduce the outwearing of the system. The effect of this item is very similar to Cosmoline, which is great if you ride in areas with high humidity and your bike is exposed to water frequently. You can apply this wax for sprockets and cables as well. But I don't recommend it for plastic and glass surfaces as they don't need lubrication.
You have to apply these remedies one by one to achieve the proper effect. I suggest pressure washing after the first stage to remove grime completely. The second stage will help you to prevent rust after water washing. This spray can also blow the water out of places that you cannot dry manually. Thinking that the water doesn't do harm to metal parts in such a short period of time, you contribute to its faster outwearing. Finally, the wax should be applied on the inner side of the chain (the one that contacts with sprockets). Leave it for about 10 minutes and you are ready to ride.

Maxima 70-749203-3PK Chain Wax Ultimate Chain Care Aerosol...
3 Pack Contains: Maxima Clean Up 15.5 ounce, Maxima Multi Purpose Penetrant Lube 14.5 ounce and Maxima Chain Wax 13.5 ounce
Maxima Clean Up is a heavy duty, emulsion type cleaner designed to thoroughly clean chains without harming rubber O-rings or metal surfaces
Maxima Multi Purpose Penetrant Lube is a superior, all purpose penetrating lube that displaces water and provides excellent rust and corrosion protection
Maxima Chain Wax is formulated with heavy duty, anti-wear, and extreme pressure additives that provide superior lubrication for all chains, cables, and sprockets
Its special PARAFILM formula creates a waxy film similar to Cosmoline, offering long term protection especially in water and high humidity environments
Positives:
Comprehensive care cycle;
Competitive pricing;
Long-lasting protection;
1-minute for deep cleanup;
Anti-rust lube.
Negatives:
May discolor painted parts, be careful.
---
Motorex Chain Clean – Swiss Quality Cleaner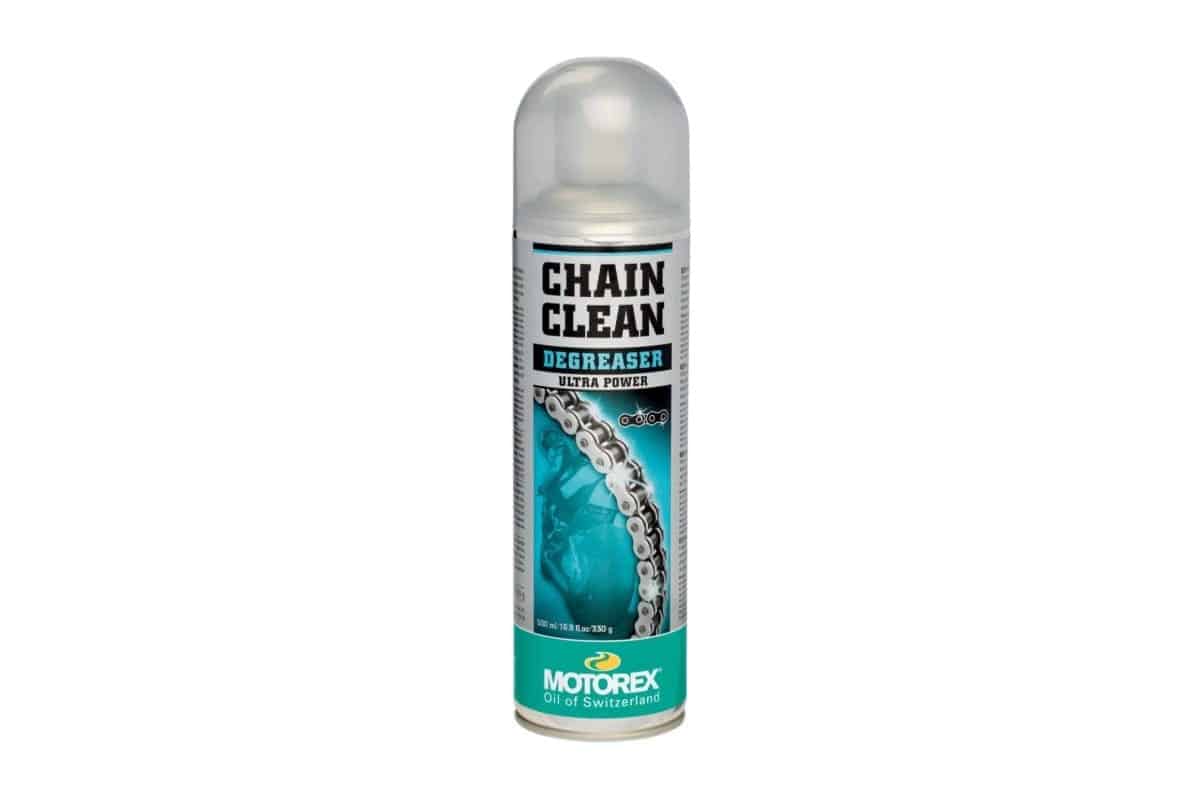 Motorex comes from a Swiss company with over 100 years of history, which made me expect a high-quality result. Fortunately, I didn't waste my money. During my comparative tests, this cleaning spray showed the best results on the spraying challenge. It makes the largest amount of grime to run off quickly. On the other hand, it's not as useful for scrubbing. Nevertheless, I cannot disprove its spraying effectiveness, which is pretty much enough for average purposes.
If you're not keen on conquering offroad tracks, you may lack scrubbing power, but it's excellent for all other cases. If you have enough time to wait to apply it twice, you can achieve a good effect even in harsh conditions. Still, you don't have to keep it for over a minute, if your bike has seal rings. Motorex cleaner includes strong abrasive components that are dangerous for painted surfaces, which also means that it's not the best solution for sealed chains. It penetrates the O-ring almost immediately. On the other hand, this feature makes it more effective for plain chains. This liquid easily riches the inner side of each link, making the grime leak out.
This item isn't universal, but you can apply it effectively in normal environments. It's a powerful remover of dry city dirt and grease. I recommend it for use on plain chain constructions as it provides an almost instant effect.

Positives:
Penetrates inner sides of links;
Effective spray;
Good for plain chains;
Fast degreasing.
---
DuPont Motorcycle Degreaser – Motorcycle Chain Degreaser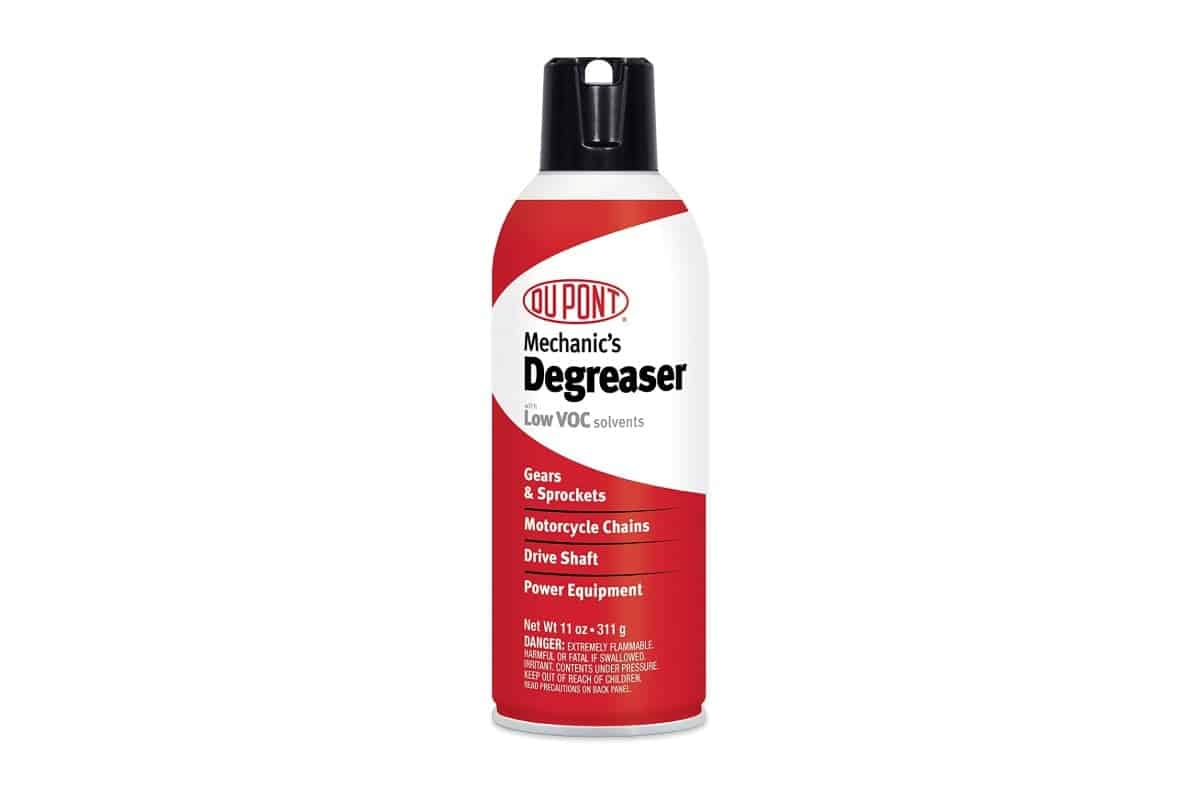 Unlike the previous product, DuPont's degreaser is rather soft-acting and can be used for all types of sealed chains. I tested it on all types of seal rings, and I didn't notice any leakages, so you can be sure that it's totally safe. The majority of other brands are safe for O-ring chains, but harmful for z and x types.
At the same time, the degreasing effect is rather fast. Such a balance is achieved due to soy-extracted esters. They're not only powerful grime removers, but also nature-friendly biodegradable materials. It means that you can take this spray anywhere you may need a degreaser. If you use chain waxing, Mechanic's Degreaser will take it off along with the grease and grime, even if the whole thing is covered in wet dirt.
Using this degreaser, you can remove everything in about 10 minutes. If you keep it for a shorter time, you will have to scrub the chain much longer. It's also not obligatory to rinse the chain with water afterward. Esters seem to evaporate off the chain, letting you lube it straight away. If you want to remove old wax and grease off a chain that hasn't bee used for a long time, you will need rinsing and scrubbing anyway. I also recommend you pair it with a lubricant from the same series. This will ensure easier removal the next time.

DuPont Motorcycle Degreaser for Chain and Sprockets Aerosol,...
Strong & fast acting, yet safe for all sealed / O-ring chains
made with biodegradable ingredients including soy extracted esters
No water rinsing required, just spray, wipe, re-lubricate and ride
Safe for all x-ring, z-ring, O-ring chains
Quickly cleans grease, dirt, wax & grime off chains & sprockets
Positives:
Fights aged grease and wax;
Convenient applicator;
Safe for all types of seal rings;
Can be used for separate sprocket cleaning;
Bio-degradable components.
Negatives:
It requires 10 minutes for a decent result.
---
Honda Genuine Chain Cleaner – Universal Motorcycle Chain Cleaning Kit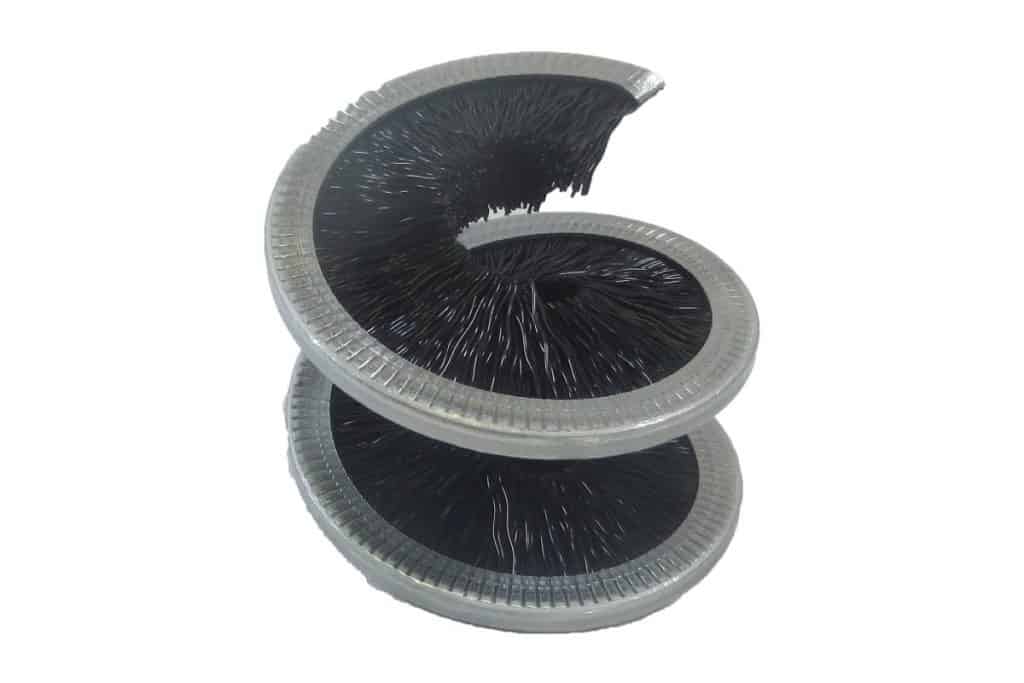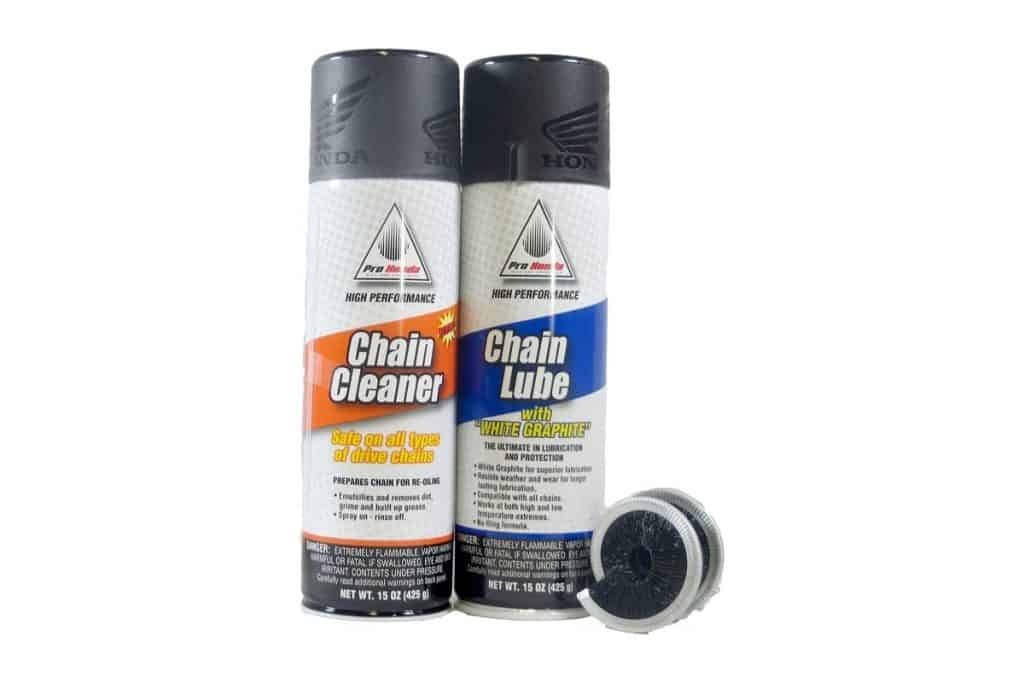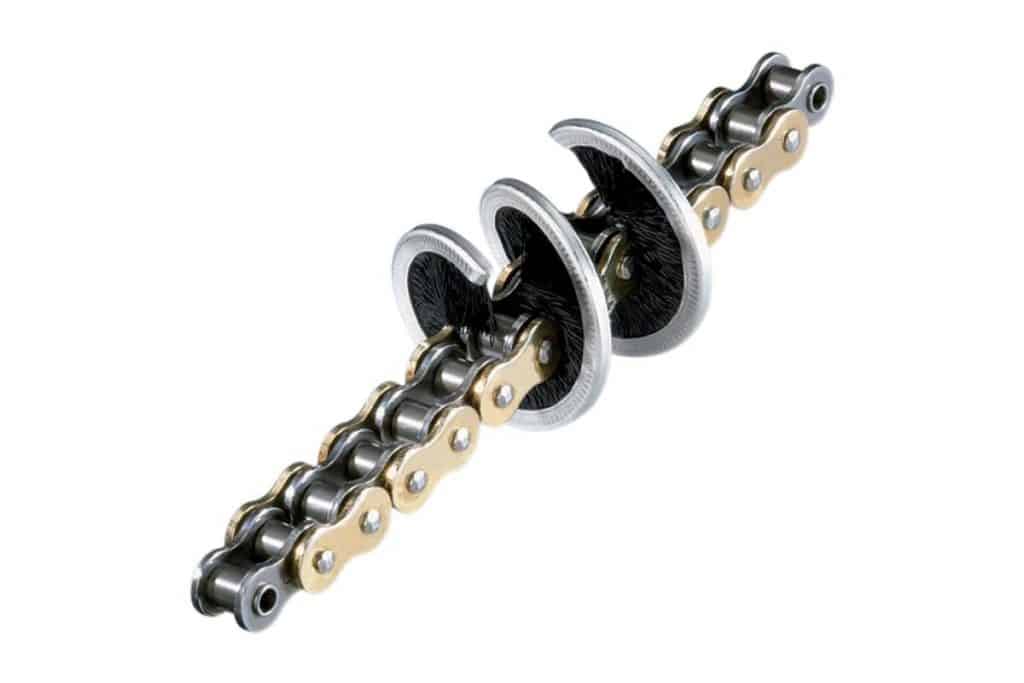 This is the second kit on my list and the only Japanese product. Although it includes 2 care steps instead of 3 in Maxima's Ultimate Kit, it has some advantages. Honda's Genuine Cleaner kit includes 2 maintenance steps. The first aerosol is excellent for thorough cleaning of the chain and preparation for reoiling. You have to use this spray to help pressure washer rinse off grime and grease in a single attempt. If the contamination is too strong, you can use the spiral-shaped brush to remove grime from all sides of the chain simultaneously. It's very easy to wear the spiral on and off.

The composition of the liquid isn't biodegradable, but you don't have to worry that it will damage your advanced sealed chain structure as it doesn't penetrate rings. The manufacturer claims that it's not harmful to any ring type, and my tests proved that.

The second item is Chain Lube mixed with white graphite that provides superior lubrication for cleaned links. Its formula is resistant to weather conditions and high-pressure exploitation. That's why this item is selling well in northern states, including Alaska, where snowmobile drivers use it as a weather-resistant solution. Besides, it's sustainable to extremely high temperatures.

You can use this kit in the garage, or take it along to events. But don't use it on the uncovered ground as it can be poisonous for plants and animals. Use it for frequent cleaning and lubing when you're short on time and away from service facilities.


Positives:
Spiral brush in the kit;
Works in extreme heat and cold;
Good for sports events;
Powerful cleaner and lube;
Cleans all types of chains safely.
Negatives:
Cleans all types of chains safely.
For indoor use only.
---
WD-40 Bike Cleaner, Degreaser – Effective Grease Remover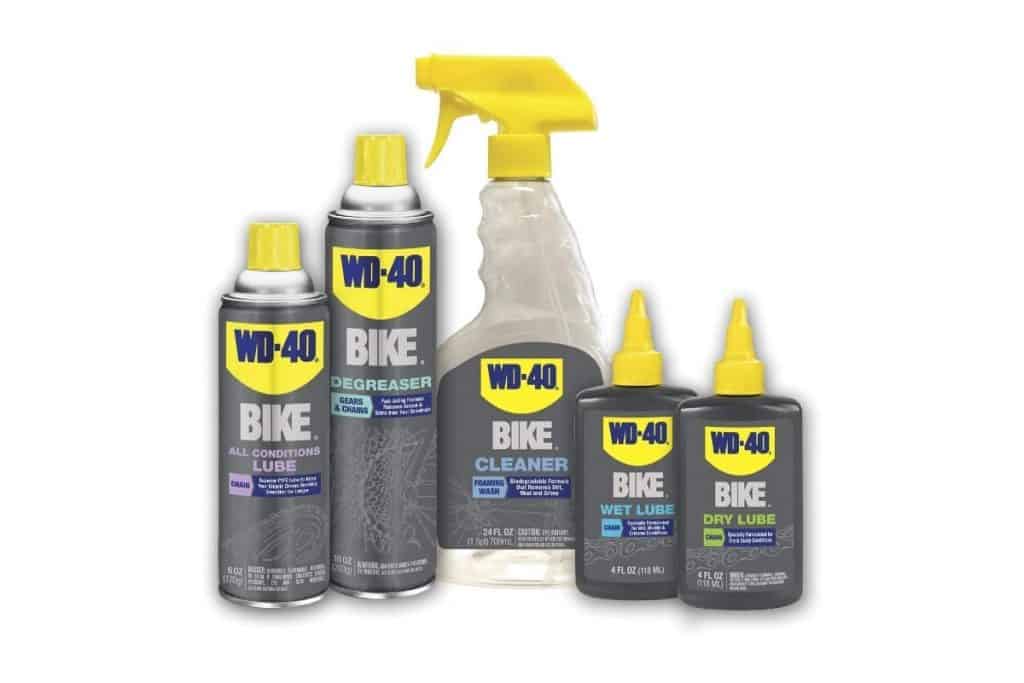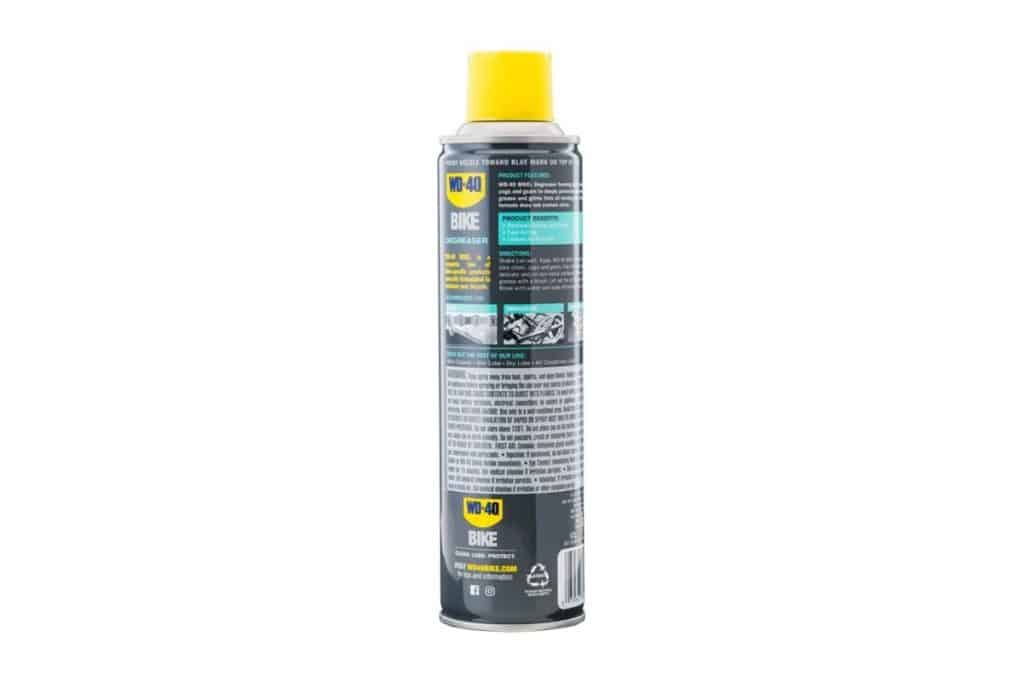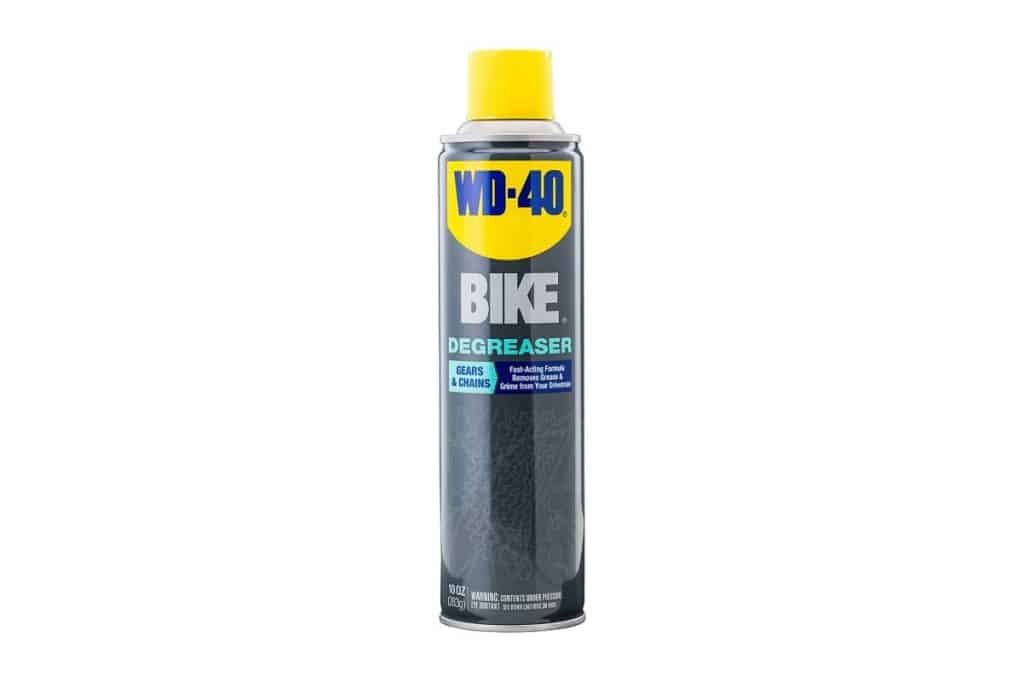 WD-40 Company is famous for its all-purpose hydrophobic spray that has been the best corrosion preventer for over 60 years. It's used virtually everywhere. I was surprised when I saw the line of bike maintenance products by this brand, so I purchased the degreaser for the test immediately.

The WD-40 Degreaser creates a thick layer of foam when you spray it onto the chain, so you have to keep the sprayer close enough to avoid the foam from splattering. On the other hand, the foam takes off grease very well. You don't even have to use a pressure washer as a simple garden hose will work similarly. The foam penetrates each link deeply without destroying O-rings. It's also too thick to penetrate x and z rings. To test it, I put a ring into a test tube filled with this liquid for 3 days, which is significantly more than it takes for WD-40 to dry completely. There were no registerable differences, though I used a precise digital thickness meter. It's also totally safe for coated paint, so you don't have to cover everything.

WD-40 Degreaser is a worthy solution for all chain types. You can purchase it for both private and commercial purposes as it provides speedy results without the probability of damaging anything, even if you hold it for too long. It's not biodegradable, so use it indoors.

WD-40 Specialist Bike Degreaser , 10 OZ
Foaming action clings to bike surfaces to deeply penetrate and quickly remove stubborn grease and grime from bike chains and the rest of the drivetrain
Safe for all bike finishes and components, as it does not contain citrus, which can damage varnish and paint. Keep your bike looking and working just as good as the day you bought it
They say a clean bike is a fast bike. WD-40 BIKE has something to help every type of bike and rider. From beginners to pro athletes, WD-40 BIKE products are there to keep your gears clean and your wheels spinning
WD-40 BIKE products have undergone extensive testing at the hands of internal and 3rd party scientists, bicycle retailers, and professional mechanics. Experience the difference of a professional-grade formula
Community approved. WD-40 BIKE sets up hands-on wash stations at local bike events around the globe. They visit and set up shop while providing riders of all levels an opportunity to engage with each product for essential bike maintenance
Positives:
Doesn't erode seal rings;
5-minute degreasing;
Doesn't require a pressure washer for rinsing;
Quick degreasing.
Negatives:
The foam can splatter.
For indoor use only.
---
Be Confident
Proper regular chain cleaning is key to extending the longevity of your motorcycle chain life. Besides, it will prevent sprockets from speedy erasing, which is a very important aspect of your safety on the road. I recommend you pick up a product that matches your motorcycle category and the level of contamination. This way, you will ensure proper lubrication and set your self free from any issues for a very long time.
Chain maintenance procedures are rather simple but require you to be attentive as it's important to remove every little piece of dirt to achieve the needed result. If you're not sure about the approach to your particular bike model, check out the unique manufacturer's instruction to learn how to clean a motorcycle chain of your type. There you can also find the proper schedule for scrubbing. But to my mind, it's better to use your own eyes and clean it every time it starts looking dirty or gets wet too often.
Do you know any useful chain cleaning tricks? You're welcome to share them with other readers and me in the comments section below the article. If something is not clear about the products from my reviews, you can ask a question below. I read all the relevant comments and reply as soon as possible.