While motorcycles are fast and stylish, they're also much louder than cars and don't have soundproof cabins to protect your ears. This is why motorcyclists are at high risk of developing serious hearing problems. If you are a motorcycle enthusiast like me, this article is for you to consider.
According to the American Academy of Audiology, noises louder than 85 dB can cause permanent hearing loss if your ears are exposed to that level of noise for more than 30 minutes. Most motorcycles produce between 80 dB and 100 dB, so hearing protection is a must.
But before we move on to earplugs, I want to share a hack with you. My old friend uses vacuum wireless earbuds instead of earplugs. With their help, he listens to music while driving can answer calls, and does not drown out excessive noise. I decided to try it and you know, it's quite an interesting experience. I have good earbuds from Samsung and sometimes I use them instead of earplugs. Below I will give you my earbuds:
I faced hearing issues last year, and that took a lot of time and money to recover. I thought that I wouldn't have any problems if I wear a high-quality full-face helmet, but I was wrong. Ear plugs for motorcycle riders are also a must-have item on the road. I don't recommend you neglect this precautionary measure as this indiscretion may lead to deafness. After treatment, I tested many models of earplugs, and now I want to share my findings with you.
Read this motorcycle earplugs review and keep safe!
Top 7 Motorcycle Ear Plugs
1. Eargasm High Fidelity Earplugs for Motorcycles – Quality & Utility
High-Fidelity Earplugs by Eargasm is the last but not the least option on the market. The brand offers high-quality plush silicone earplugs that can provide decent protection in a large variety of situations, including medium-loud motorcycle rides. The filters by Eargasm can block up to 21dB off harmful noises, without distracting you from important sounds.
I also noticed that the metallic attenuation filter membrane makes loud incoming noises less tangible without making you feel that you perceive less information. It cuts off excess vibrations and doesn't muffle sounds that aren't too loud. This technology is more effective and durable than fiber membranes that cut high frequencies too much and usually tend to get dirty too quickly.
The package includes 2 pairs of plugs so that you can choose the size that fits your ears best. If you have very small ear canals, you'd better order a smaller version. If you don't like the blue color of the filters, you can get the transparent model.
Both these pairs are highly durable, yet soft enough to prevent compression pain. It's easy to pull them in and out due to long pull tabs that are similar to options offered by other brands. Fortunately, there's no instrument for pulling them in. I don't like having to use a special stick to put my Alpine earplugs in, but it's up to you to decide whether you need a smaller size or a more convenient plugging experience.
The set also comes with a thick waterproof aluminum case that looks more compact than cases by competitors, but it's actually an optical illusion that makes the product look different. To my mind, the marketing campaign for this product is too pompous for such a niche product. However, my tests proved that all the claimed characteristics are real.
If the price looks too high, you should consider that Eargasm provides full support and can send you free replacement parts if you live in the US. If not, you will still be satisfied with the quality of protection.

Two shell sizes included
Compact case size
Wide range of settings
The easiest cleaning due to removable filters
US-based support and free replaceable parts
[/wpsm_pros][/wpsm_column][wpsm_column size="one-half" position="last"][wpsm_cons title="Negatives:"]
The average price tag is relatively high
Easy to see these plugs inside your ears (but you can get transparent ones)
[/wpsm_cons][/wpsm_column]
2. Vibes High Fidelity Earplugs – Invisible Ear Plugs for Motorcycle Riders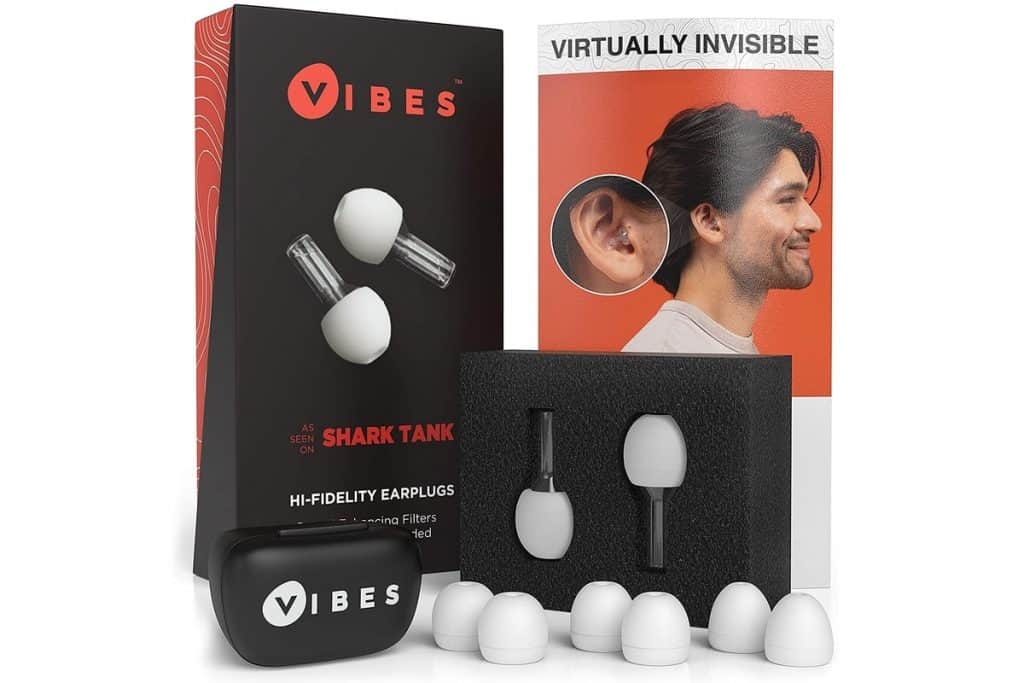 These earplugs provide excellent protection for your hearing, regardless of the noise level produced by your two-wheeler. I tested them on both sports bikes that produce high-frequency noises and choppers with low bass roaring. The material of these micro plugs can reduce harmful decibel levels by up to 22db. It means that your ears won't suffer, but you will hear everything clearly enough in the traffic flow. However, they're not enough for extremely loud sports events.
VHFE also includes attenuating filters that reduce the volume without damaging sound fidelity. Although this option is more useful for musicians and their fans, as a rider, you will benefit on the streets as well. Professional sound filtering lets you hear all the traffic noises clearly, which ensures your safety on the road.
The design of these earplugs makes them nearly invisible. The hold of the item is made of transparent hypoallergenic plastic. As a result, no one will notice these plugs when you're outside. Another benefit of their compact design is the reduced risk of pinna damage if something hits your head in a road accident. The item is also big enough on the plugging side so that the plug doesn't get too deep.
The package includes a pair of invisible plugs with reusable soft gum filters. You can easily remove them if they get dirty or tear up and replace the old pair with a new one. Fortunately, the package includes 2 extra pairs of ear tips. What I don't like is that these plugs are all of different sizes. It's a good feature for finding the right size for your ears, but they may be unacceptable for your ear shape when you need to replace worn-out ear tips.
Besides, there is a hard plastic case that you can use to keep your pair of Vibes clean and safe when you don't need it. The case is compact enough to fit inside any pocket of your motorcycle jacket.
Vibes High Fidelity Earplugs are the best motorcycle ear plugs for drivers who are not looking for extreme protection. It's perfect for everyday rides in heavy traffic and highways. You can also get a pair for your children and other family members if they're traveling with you.

Lightweight design
Almost invisible design
Several sizes of ear tips
Convenient hard case
Cut up to 22dB of harmful noises
[/wpsm_pros][/wpsm_column][wpsm_column size="one-half" position="last"][wpsm_cons title="Negatives:"]
Not for professional racers
[/wpsm_cons][/wpsm_column]
3. EarPeace Motorcycle Ear Plugs – Noise Reduction and High Fidelity Hearing Protection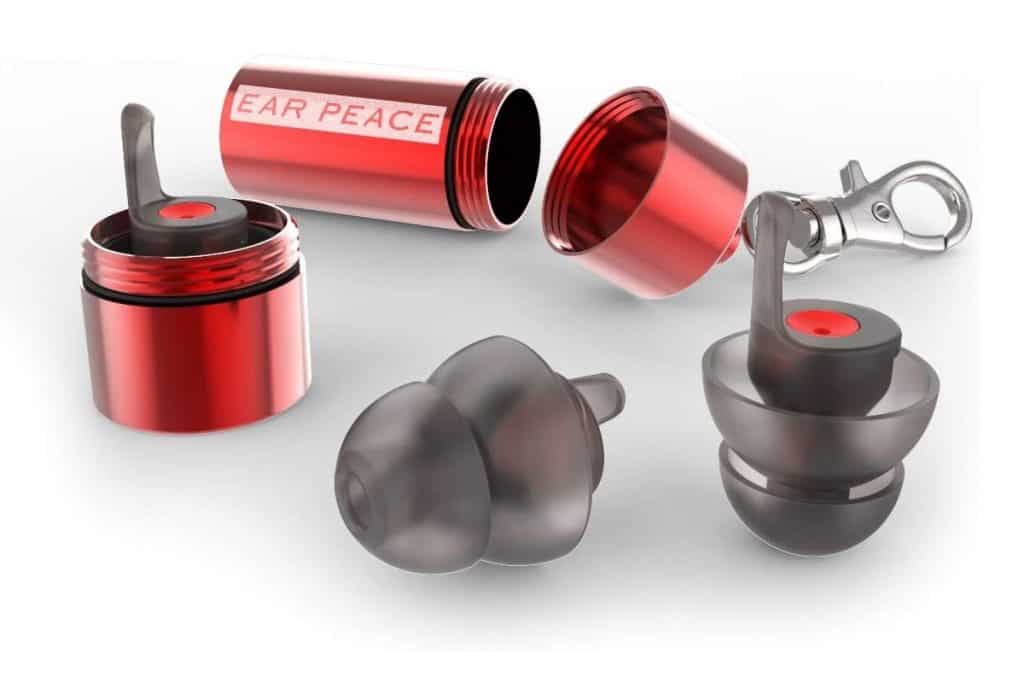 Hearing protection by EarPeace can compete for the title of the best motorcycle ear plugs due to compliance with norms of NRR (Noise Reduction Ratings) and SNR (Signal to Noise Ratio). The high-tech filter includes 3 filtering layers that can reduce noises varying from 13dB to 26dB. The Medium Protection filter cuts off from 13dB to 20dB, the High filter blocks from 16dB to 21dB, and the Max filter cuts up to 27db, which is enough for racing.
All these dimensions are approved by EPA (Environmental Protection Agency), which is an excellent quality validation. Another quality proof is the support of the brand by such brands as Red Bull and Ford. Professional drivers who take part in Ford Racing and Red Bull GRC Rallycross have been officially using them for around 10 years, and I understand the reasons behind their choice.
Each filter in the set performs separately to fulfill your demands. For example, the Max filter is inactive when you're talking to your mates, but it starts reducing heavier vibrations when you ignite the engine and accelerate.
EarPeace ear plugs come with an aluminum case that looks the same as products by Alpine and Mudeela. However, there is a difference. The case is separated into 2 parts. The bigger one is designed for the main pair of earplugs, while the smaller part is for the third plug that you can use in case you lose or break one.
The materials avoid slippering and skin irritation even during lengthy, intense races. It's easy to clean the plugs afterward, but they require longer drying than their analogs by other brands. Water stays inside because of the complex structure of filters. On the other hand, you can avoid inconveniences by cleaning them using wet antibacterial tissues.
This Model by EarPeace offers excellent 3-in-1 protection against hearing issues. You can consider it for both professional racing and daily motorcycle commuting. This product meets all the official requirements and has the trust of US racers.

Available in black and red colors
Compact size
Set of three filters
Invisible design
Three protective layers
[/wpsm_pros][/wpsm_column][wpsm_column size="one-half" position="last"][wpsm_cons title="Negatives:"]
The same problem with opening the case as in the item by Mudeela
[/wpsm_cons][/wpsm_column]
4. Mudeela High Fidelity Concert Earplugs – Hearing Protection Ear Plugs
This set of earplugs combines many prominent features. The first thing that you notice when looking at this offer is the number of plugs in the case. Although it's not bigger than the cases of the competitors of the brand, it can carry up to 3 pairs of earplugs at the same time. Now, let's take a closer look at each pair.
The main set includes 2 high-fidelity earplugs made of durable non-abrasive materials. The form of the product lets it adjust to any pinna size and shape, and it's easy to wear the plugs on and take them off due to a prolonged holder. The material is almost transparent, so it's hard to see these earplugs while a person is using them. The noise reduction quality is high enough for everyday commuting on your motorbike as it cuts off up to 23dB. According to NRR (Noise Reduction Ratings), it's enough to block the majority of harmful noises produced by the environment and wind. In fact, I didn't notice any extra benefits of the double sound filtration, but it does what it is intended for, and it's great.
The second pair is designed for blocking slightly louder noises as it cuts off up to 27dB. It's a convenient solution for racers. This model provides high-quality hearing protection but still lets you perceive important sound information coming from the environment and your helmet intercom. Unfortunately, these plugs have a less attractive design, and it's easy for someone to see them in your ears. Non-abrasive silicone is easy to clean, but sometimes it may feel too slick if your ears sweat.
Finally, the pair of foam earplugs isn't useful for motorcyclists as it cuts off 32dB and doesn't have a channel for high frequencies, making the sound muffled and hard to perceive. You can use them to sleep better anyway, so it's a nice bonus. I recommend this set of earbuds to all motorcycle owners who need an all-in-one solution. It's also a good option to figure out which level of noise reduction is the best for you. Another advantage is that this bundle is available in black and pink colors.

Available in 2 colors
Three types of earplugs in the box
Extra durable compact case
Blocks up to 32dB
Double filtering technology
[/wpsm_pros][/wpsm_column][wpsm_column size="one-half" position="last"][wpsm_cons title="Negatives:"]
It takes quite a long to open and close the case
[/wpsm_cons][/wpsm_column]
5. Alpine MotoSafe Race Reusable Ear Plugs – Professional Ear Plugs for Motorcycle Riders
Unlike the previous product, this model of earplugs is designed not for multiple purposes but is intended only for motorbike owners. The noise filter of these plugs can cut off up to 28dB, thus protecting your hearing at high speeds when you're commuting through a highway or racing on a circuit. Still, it provides perfect audibility so that you can hear your navigator and your helmet's commutation system. If you're not a racer, you will enjoy the perfectly normalized audibility of the environment.
The Alpine filter doesn't merely block sounds. Instead, it lets the sound come into your ears through a thin pipe that damps harmful noise without muffling the overall soundscape. It works like an automatic music equalizer that flattens the sound properly to let you hear every instrument clearly.
Due to the compact size of the bud, you won't feel plugs under your helmet. During long journeys and races, you can be sure that they won't fall out because of sweating. Besides, they're made of a non-abrasive material that doesn't cause allergy and skin irritation. The unique design of soft filters makes it easy for you to plug the item in, independently from your ear size. To make it even more simple, you can use the plugging instrument that comes inside the box. Pulling out these plugs is also very comfortable, due to the thin gum 'whiskers'.
The default pouch for earplugs is thin and compact, which makes it more comfortable to carry in small pockets than the case by Vibes. Moreover, you can clip it to your keychain, and you won't ever lose this pouch. It's also impossible to crack it by accident. What I don't like about this pouch is that it features a zipper for closing. It means that you cannot open and close it as fast as the flipping case by Vibes.
Alpine MotoSafe Race Reusable Ear Plugs are an excellent choice for both racers and commuters who need even, scientifically approved protection. They're small, imperceptible, and don't make it harder to perceive important information on the road. If the Pro model seems too powerful for your needs, you can order the Tour version with a softer noise reduction.

Imperceptible design
Free soft pouch in the box
Racing and touring versions
Smart noise filtering
[/wpsm_pros][/wpsm_column][wpsm_column size="one-half" position="last"][wpsm_cons title="Negatives:"]
It's inconvenient to open and close the zipper of the pouch
[/wpsm_cons][/wpsm_column]
6. Ruckus Earplug Earbuds – OSHA Compliant Noise Reduction in-Ear Headphones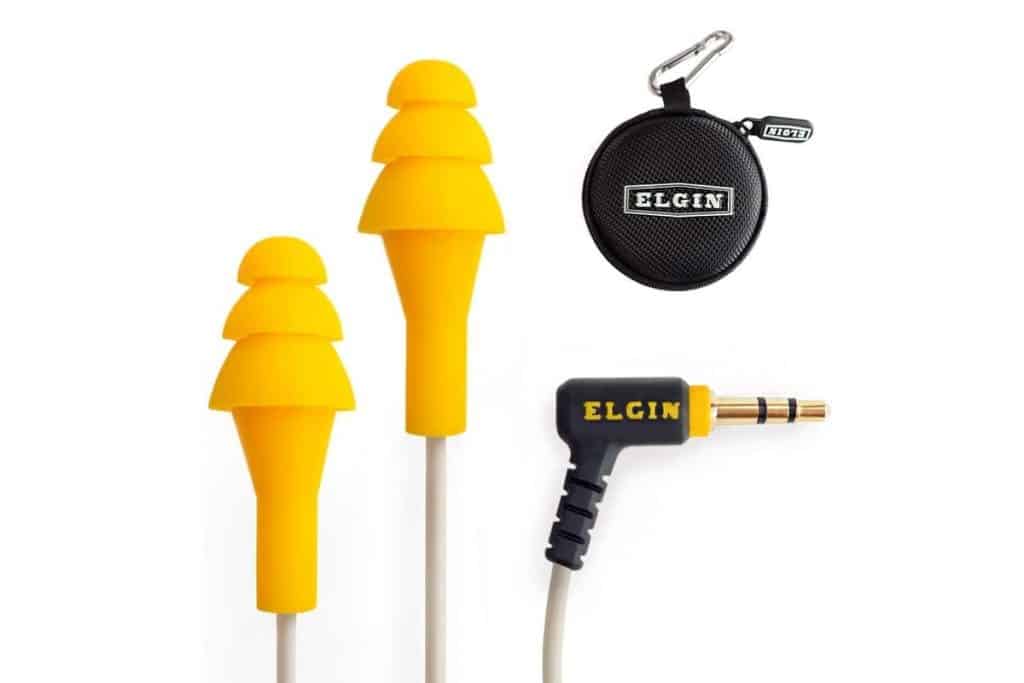 These Elgin's classic-shaped earplugs provide high-quality noise isolation and surprisingly good sound quality. Although the cost of these earplugs is relatively low, they manage to cut off up to 25dB of outer noises and let you enjoy the music, podcasts, and audiobooks without getting distracted from the environment. Noise-isolating silicone doesn't provide the environment recognition of such a clear rate as the models above because the core filter is replaced by the speakers. Nevertheless, the construction meets ANSI (American National Standards Institute) standards.
My own experience with this model was mostly positive. I like that the cord is long enough to hide it under the jacket. The 3,5 mini jack is compatible with most modern smartphones, and it's strengthened with a hard rubber coating to prevent cable breaking. The manufacturer also claims that the cable is coated with a Kevlar strand, which means that it can serve for years. In addition, you can keep these plugs in a convenient zip case that lets you avoid knots. Moreover, the patient has a good metal clip for carrying it on the belt or your keychain.
The only thing that I don't like in this model is that there's no overmolding on the section where the cord is attached to the earplug. Such type of construction makes it easier for you to rip out the cord if you pull it hard enough. Still, I didn't try to do it. My verdict is based on the observation.

IP65 Splash Proof Rating
Convenient soft case
Good sound quality
The industrial design looks professional
Available in 2 colors
[/wpsm_pros][/wpsm_column][wpsm_column size="one-half" position="last"][wpsm_cons title="Negatives:"]
No microphone
Requires medium or big ear channels
[/wpsm_cons][/wpsm_column]
7. Snug Phones Wireless Silicon BLUETOOTH Ear Plug Headphones – Best Motorcycle Ear Plugs With Speakers
These are my favorite electronic earplugs as they combine fine noise reduction capabilities with superior assembly quality and clear sound. Due to the Bluetooth transmitter, you achieve full freedom of movement while driving and when you get off the motorcycle. The fiber cord coating prevents the wire from breaking. On the other hand, this material soaks moisture. Fortunately, it's not a problem as the electronic modules have IPX-6 water protection. It means that this device is protected against high-pressure water streams, but it is not likely to survive in case of drowning.
The user experience of Snug Phones is quite smooth. You can keep them on for 8 hours if you set the volume to 100% (which is bad for your hearing), 10 hours on 80%, and 12 hours on 60%. In fact, my iPhone 8 can't stream music via Bluetooth for so long, so such a high battery capacity is more than enough for your long-journey playlists and conversations. The remote control module includes 3 buttons that you can use to tune volume, skip or repeat songs, and pair the headset with your smartphone. The quality of the speakers is high enough for all music genres, podcasts, and calls.
The quality of noise reduction is similar to Ruckus Earplugs. You can clearly hear the sound of the environment along with the music, so it's safe to use these headphones in city traffic and on the highway. Snug Phones is a reliable solution if you're looking for a headset that can handle both long trips and daily commuting without frequent recharging.

Wireless Bluetooth connection
Convenient remote controls
Built-in microphone
IPX6 waterproof
Up to 12 hours of uninterrupted music
[/wpsm_pros][/wpsm_column][wpsm_column size="one-half" position="last"][wpsm_cons title="Negatives:"]
Much more expensive than Elgin earplugs
On some helmets, the buttons can be difficult to reach
[/wpsm_cons][/wpsm_column]
Types of Motorcycle Ear Plugs
Foam
Foam ear plugs are the cheapest option and on average cost 20 cents per unit. Another advantage is their functionality as they expand inside the ear canal to create a perfect seal. However, they are not ideal for motorcycle riding as they will block out all noise, including horns and sirens. They are also not very hygienic.
Custom
If you're looking for motorcycle ear plugs that will fit your ears perfectly, you may want to try custom molded ear plugs. These ear plugs are made from a removable material, so they can be adjusted to fit the exact shape of your ear. They can also come with or without filters. Although they're advertised as the most advanced type of ear plug, they're also the most expensive, with a price tag of up to $100. Keep in mind that they're not necessarily the best option for motorcycle riding.
Silicone
I think that silicone ear plugs are the best hearing protection for motorcycle riding in general. They are comfortable, long-lasting, and can be washed. Because they are hypoallergenic, you can reuse them many times without having to worry about ear infections. They also fit well inside a motorcycle helmet and come with a filtering technology that allows high-pitched sounds while blocking low frequencies–which is great for riding in traffic and listening to GPS directions.
What to Look for When Choosing the Best Motorcycle Ear Plugs
Fit
Foam earplugs will expand to fit your ear canal, so you don't have to worry about choosing the right size. Earplugs made from plastic and using filters usually don't fit as well and usually have flanges to keep them in place. If you're buying earplugs made from TPE, make sure they come with more than one tip size.
Filters and Sound Reduction
When it comes to earplugs with filters, not all are created equal. All filters serve the purpose of letting desirable sounds like your intercom system or traffic through while reducing harmful wind and highway noise. However, some filters are better than others when it comes to reducing dangerous sounds. For example, some filtered earplugs can reduce wind noise by up to 20 decibels while others can reduce it by nearly 30 decibels. Therefore, if you frequently ride on the highway or tracks, it's worth it to spend more money to get earplugs with better noise reduction capabilities. Some filters also offer unique features, like ear-wax protection.
Extra Features
Some earplugs come with extra features that can be useful but aren't required. A carrying case can be helpful for keeping your earplugs safe. Some high-tech models can connect to an app that will tell you how loud it is around you and how long you can be in that environment without damaging your hearing.
Why You Should Buy Motorcycle Ear Plugs
There are many reasons to buy motorcycle earplugs, but the main one is to prevent hearing loss. When riding a motorcycle at high speeds, the engine noise can reach up to 80 decibels, which is dangerous for your ears. Prolonged exposure to loud noise can damage your eardrums, causing temporary deafness and the loss of the ability to hear all frequencies. This condition is not life-threatening, but it should be avoided. Luckily, there is a wide selection of motorcycle earplugs available that will block the noise and protect your eardrums.
The ability to listen to music or make phone calls without being distracted by wind noise is another advantage to wearing motorcycle ear plugs. Most earplugs come with special filters that only cancel out specific ultra-low frequencies, so the quality of the sound coming from your speakers will remain unchanged.
Protecting your ears with motorcycle ear plugs will help reduce fatigue while riding a motorcycle. Prolonged exposure to noise can exhaust the brain, making it difficult to concentrate or function well. Wearing ear plugs will help reduce the amount of noise you're exposed to and make it easier for your brain to function.
FAQ
Should you use motorcycle earplugs?
If you wear a helmet while riding a motorcycle, wind noise can damage your hearing over time. This is especially true if you are wearing an open-face or half helmet that does not protect your ears. Wearing earplugs can help reduce noise and protect your hearing.
Can motorcycles damage your hearing?
Riders who enjoy the wind in their face may be more likely to have hearing problems. On average, motorcycle engines produce about 90 decibels of noise, but many products have over 100 decibels. This is the level that requires hearing protection in workplaces in the United States. Excessive engine noise is just one factor that can cause hearing loss in motorcyclists.
Should you drive with earplugs?
Many people worry that they won't be able to hear important sounds like sirens or horns if they wear earplugs while driving. However, earplugs will only reduce the volume of sound, not completely prevent it from reaching your ears.
Is it legal to wear earplugs while riding a motorcycle?
You should check if motorcycle earmuffs are legal to wear in your state before investing in them. Most states do not have laws against earplugs, so they are legal. However, only California, Ohio, and Maryland have restrictions on driving with earplugs.
Safe and sound
Now you know all about the best motorcycle earplugs. Choose the option that suits your needs and budget, and you will minimize the risk of hearing problems. You can buy simple earplugs to save money or get a pair of electronic ones as these are the best motorcycle earplugs for riders who like long rides with the right sound. It all depends on you.
Noise levels without earplugs can exceed 100dB even if you're driving at normal speeds, and even the tightest-fitting helmet won't provide adequate hearing protection. I can't prescribe motorcycle earplugs as my doctor did, but you can take my advice and leave all the risks behind. Otherwise, you may face hearing problems that may prevent you from cycling for long periods of time. If you have any questions about the products I review, feel free to ask them in the comments. Have you used earplugs before? Share your experience below and stay tuned as new reviews are coming soon.
Bruce was born in Atlanta. He started riding motorcycles when he was 10 and has been passionate about them since. Bruce says he feels absolute freedom when he's on two wheels. He prefers riding his bike slowly and smoothly along a country road and hardly ever enjoys wildly speedy rides. With a strong Ducati Multistrada 1200 in the current stable, Bruce enjoys his super powerful, comfortable and easy rides. Ducati Diavel is the beast he's currently dreaming about…