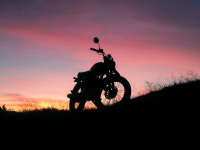 Best Motorcycle Glasses for Night Riding to Purchase Right Away
Driving a motorcycle in the dark poses a certain risk, especially in poorly lit areas. At night, the number of accidents on the roads increases due to insufficient or variable lighting. Drivers have to deal with a number of negative effects. For example, with a decrease in the image contrast, night myopia, blinding with bright light, and numerous reflections, glares, and halo effects. Besides, bikers need to protect their eyes from flying stones, raindrops, dust, and insects.
You need special glasses to facilitate driving in the dark and reduce the impact of these negative effects. In this article, I reviewed five safety glasses for motorcycle riding at night. Besides, you will find some useful recommendations on what to look for when choosing glasses and goggles and how to extend their life.
However, before I go directly to the reviews, I would like to remind all drivers that driving safety at night is right up to you. Regularly check visual acuity with specialists, avoid driving at high speed (especially with poor visibility), do not use ordinary sunglasses with a dark coating, and take breaks during long trips. Motorcycle goggles for night rides will help you with the rest.
Amazon Bestseller
Top 5 Best Night Riding Glasses
When choosing the right glasses, I recommend paying attention to several important details:
Wind protection: glasses should have special pads for a snug fit to the face;
Ventilation: make sure there are holes in the glasses with wind protection so that the lenses do not fog up. This factor is highly important when driving at night.
Photochromic: the lenses of such glasses change hue depending on the light;
Polarization: such glasses smooth out glare on flat surfaces;
Anti-scratch: with such an additional effect, glasses will last longer;
Tint: each color has certain advantages. The yellow color is the most common among glasses for night trips. Ideal for city driving with variable street lighting. However, remember that any tint can impair the driver's vision in the countryside, where street lighting is virtually absent.
Furthermore, most models have only one size, which should fit both men and women. But faces are different, not only in width but also in the height of the nose bridge, eyebrows, ears, etc. Some glasses press too hard and leave imprints on the face. Others, on the contrary, do not fit tight enough. Try several different models to see which one is the most comfortable for you.
If you drive a lot at night on roads with different light conditions (for example, from city to city on deserted highways), I recommend choosing a few glasses and changing them depending on the conditions.
Belinous Safety Glasses — Four Pairs of Lenses For Different Light Conditions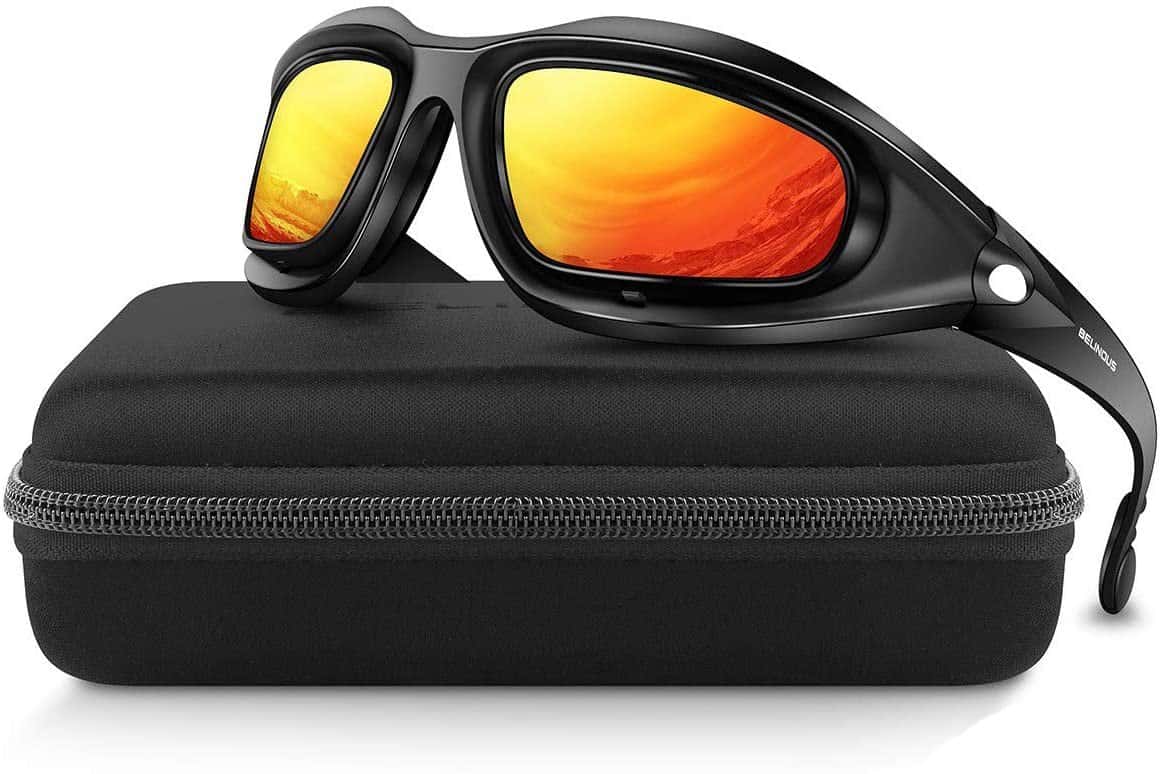 Safety Glasses by the Belinous company are designed specifically for different activities in difficult lighting conditions: fishing, hiking, skiing, and driving and riding. The kit comes with an adjustable strap and four different types of lenses, which you can change depending on weather and lighting conditions. That means you don't have to buy a few pairs of glasses.
Yellow lenses add lights when driving at night, copper ones are anti-glare and suitable for driving in bright sunlight, clear ones are transparent and improve visual acuity in dim light conditions, and smoke ones smooth out glare. But only the last pair of lenses in the kit is polarized. At the same time, they all provide 100% protection against UV rays and do not distort the picture.
These glasses have soft foam padding that protects your eyes from the wind. Additional holes along the seal will provide the necessary ventilation, and the lenses will not fog up. There are also rubberized pads at the legs ends, thanks to which the glasses will not fall from your head.
These motorcycle night glasses are designed for typical European and American faces and have a width of 5.7 inches — 6.3 inches (14.5 cm to 16 cm) and a height of 2.0 inches (5.08 cm). They protect your eyes from wind, rain, and your own sweat. Although the manufacturer claims these glasses are suitable for men and women, their shape may still not suit the owners of low nose bridges and narrow faces. In this case, a gap appears and reduces wind protection, peripheral blind spots form, and the tilt of the lenses can get uncomfortable. And if you wear a mask or helmet, there is a chance of fogging up the lenses.

Sale
BELINOUS Safety Glasses, Polarized Motorcycle Riding Glasses...
4 INTERCHANGEABLE LENSES - 1 * polarized lens: smoke; 3 * non-polarized lens: clear MLC, cadmium yellow, copper. Changing the lens is simple, just hold frame with fingers then push the lens inward with 4 thumbs.
WINDPROOF & DUSTPROOF - BELINOUS sturdy hallowed foam air cushions are directly attached from the frame of the goggle, providing the ultimate eye protection against wind and dust particles and excellent full day cruising comfort.
UV400 EYE PROTECTION - Offer 100% UV protection against the sunlight filtering UVA/UVB/UVC and harmful blue light up to 400nm. Restore true color, eliminate reflected light and scattered light and protect eyes perfectly.
PREMIUM QUALITY MATERIALS - High grade SWITZERLAND TR-90 material frame, super lightweight, stylish and durable. Shatterproof and scratch-resistant polycarbonate lenses, its thickness of 1.6mm guaranteed to withstand long time of using.
WHAT YOU GET - Each BELINOUS sports sunglasses are packed in portable case and original gift box, including frame, 4 pairs of lenses, strap, pouch, and cleaning cloth. 18-month hassle-free warranty for any defects£¨including size problem£, and 24-hour customer service online, any questions please contact us
Positives:
Wind and scratch protection;
Four interchangeable lenses;
Lightweight.
Negatives:
Fragile frame, you need to change the lenses carefully;
The form does not fit everyone.
---
Yellow Motorcycle Riding Goggles — Perfect for Night Riding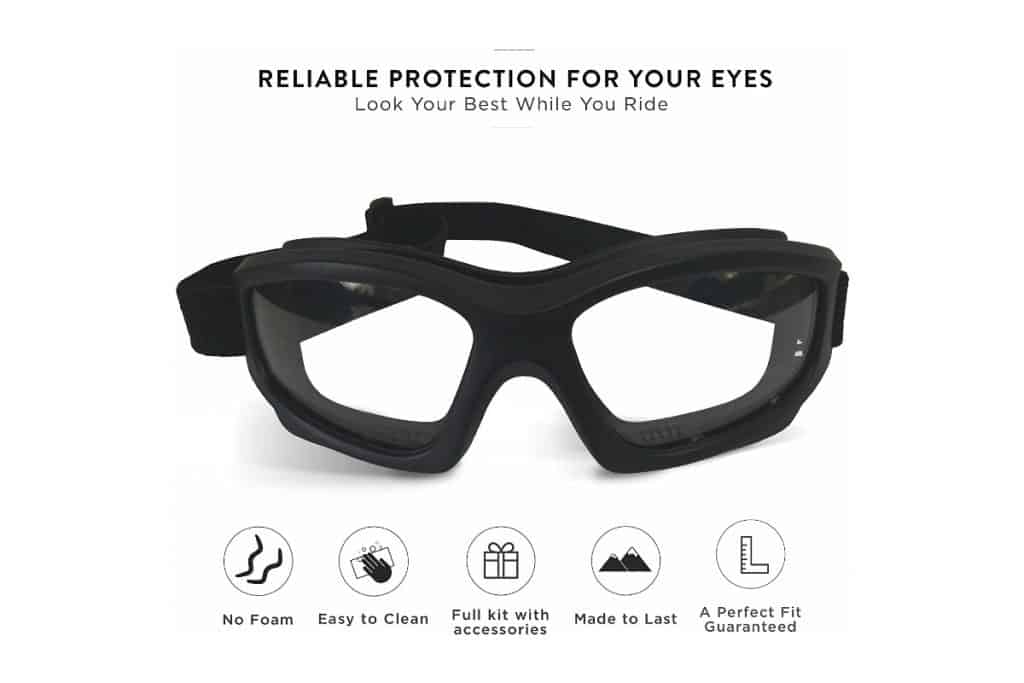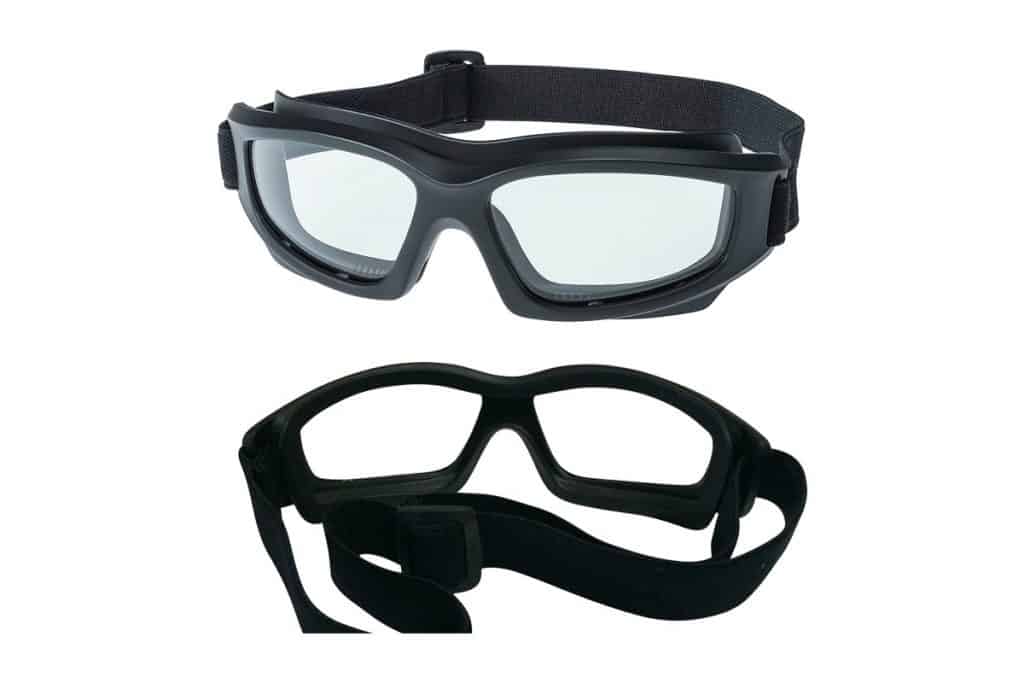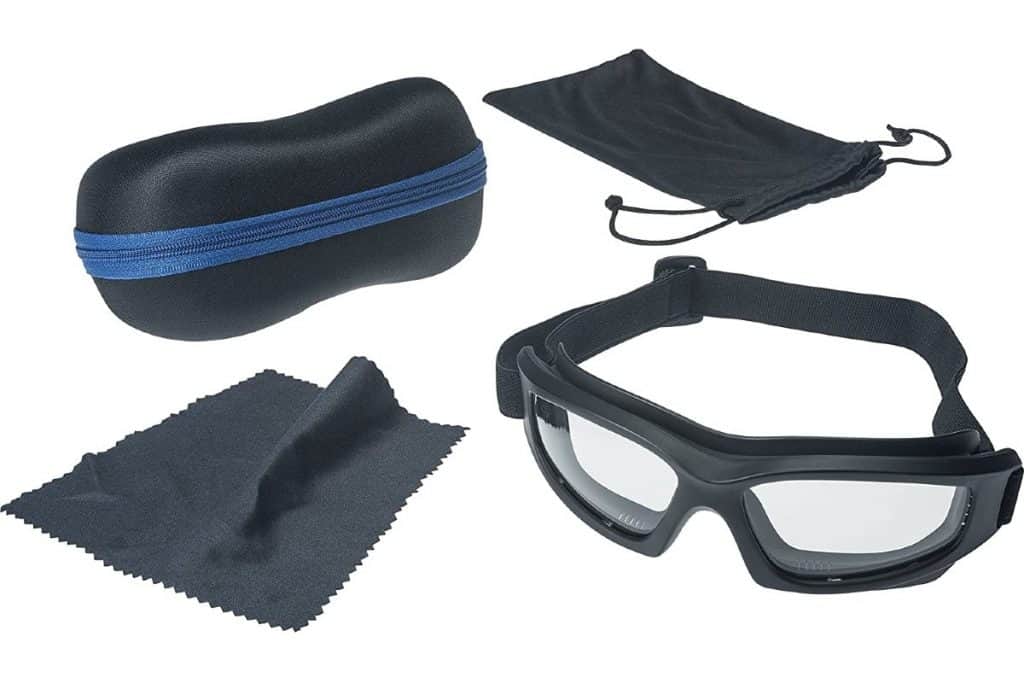 Yellow Motorcycle Riding Goggles are designed for night city driving as well. In low light conditions, light yellow lenses improve the clarity and contrast of objects. Despite the color, these goggles do not distort the picture and do not interfere with the perception of the surroundings. They are resistant to scratches and mechanical damage. However, unfortunately, there are non-polarized lenses on it.

These motorcycle night goggles have a curved shape for a better fit to the face. However, this solution may not be suitable for everyone. Their width is 6.25 inches (15.87 cm), height 2.12 inches (5.4 cm). They also have a special strap that can be adjusted from 9.5 inches to 18 inches (24 cm — 45.7 cm). They can be worn with different types of helmets.

These glasses do not use foam padding. The manufacturer did this so that the glasses last longer because such padding begins to get worse over time. However, in practice, it turns out that this option is not the best. Goggles can dig into the nose or cheeks and leave unpleasant red marks on the face. And although you can loosen the belt a little, it will not save you much from the marks on the nose bridge.

Also, the glasses have special ventilation holes so that the glasses do not fog up while riding. However, this can still occur, depending on the shape of your face and the humidity in the area. In this case, you will have to use additional anti-fog cleaners.


Sale
Yellow Motorcycle Riding Goggles: Night Vision Nighttime...
★ MADE TO LAST ★ - Our goggles conform to the shape of your face and are not made with foam edging, so they won't fall apart after just a few uses like other motorcycle goggles. We use heavy-duty polyurethane frames and scratch-resistant lenses to make our goggles strong enough to be carried in your pocket or saddlebags without suffering the normal wear and tear. Don't worry about sitting on them, crushing them in your saddlebags, or any foam ripping off after just a few rides.
★ RELIABLE PROTECTION FOR YOUR EYES ★ - These outdoor riding glasses feature a curved edge that flexes to fit your facial contours in order to keep out wind, dirt, rain and bugs. We aim to keep your eyes safe and focused on the road in front of you so you can enjoy the ride and take in all the enjoyment that cruising the open road offers.
★ LOOK YOUR BEST WHILE YOU RIDE and PITSTOP ★ - These sleek motorcycle goggles just cover the eyes, keeping the rest of your face exposed for a stylish look. Slotted vents allow minimal airflow to prevent your eyes from sweating and the lenses from fogging and the adjustable strap keeps that red ring from forming on your face, so you'll look great at each stop when you take the motorcycle goggles off.
★ A PERFECT FIT; GUARANTEED ★ - Fully adjustable straps on these yellow lens goggles can fit everyone from children to the biggest biker men with equal ease or fit the strap around a 3/4 or FULL face helmet if you wear one. You can even insert prescription lenses (insert required - not full glasses) inside them comfortably. And the yellow lens is tinted for yours eyes to cut down on night time glare or headlights and signs - or also just to cut down on the full sun glare during the daytime.
★ COMES WITH EVERYTHING YOU NEED FOR MAINTENANCE & CARE ★ - This Motorcycle Riding Goggles Kit includes a microfiber cloth for care-free cleaning, a microfiber pouch for easy storage and a protective hard side carrying case for damage-free storage.
Positives:
Curved shape;
Yellow tint;
Adjustable strap.
---
Verdster Airdam Motorcycle & Driving Sunglasses — Yellow Lens Motorcycle Glasses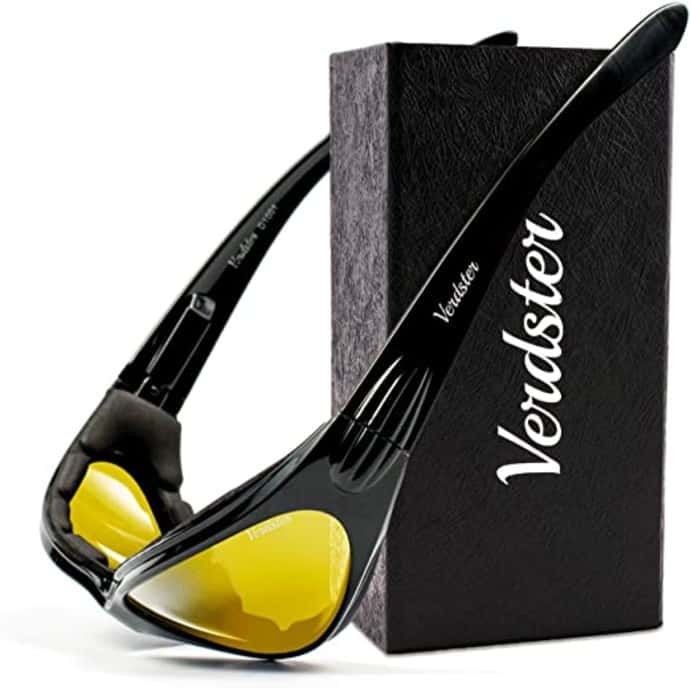 Verdster Airdam Motorcycle & Driving Sunglasses not only have good functionality, but also stylish design. There are yellow-tinted polarized lenses in them that smooth out glare, direct, and reflected light, as well as reduce eyestrain. And also protect the eyes from ultraviolet radiation. However, the quality of the lenses themselves is quite poor. They slightly distort the picture and make it difficult to read road signs. Of course, this doesn't make riding in the dark any easier.
The glasses have foam padding around the lenses for a better fit to the face, as well as ventilation holes. Their width is 5.5 inches (14 cm) and height 1.5 inches (3.8 cm). Like most other glasses, they are available in only one size and can be too large for those who have small faces. They are very light, have a thin frame and legs. These glasses really seem weightless on the face, which makes them comfortable to wear for a long time, but at the same time, they seem a little flimsy to the touch. By the way, arms loosen pretty quickly, so you have to tighten them up from time to time.
A big advantage of these motorcycle night riding glasses is a slightly curved shape and wraparound design that provides a good peripheral view and a 180° protection. This model is suitable not only for night riding but also for outdoor sports, such as skiing. However, if you damage them, you will have to buy new glasses, since the lenses are not removable.

Verdster Airdam 2020 Polarized Sports Sunglasses for Men &...
✔️ SEASON 2020 IMPROVEMENTS ARE A LONGER-LASTING GLUE USED FOR FOAM PADDING & A NEW FOLDABLE CASE ✔️ This is unisex size. These sunglasses don't fit large faces!
😎 FOAM PADDED FRAME 😎 Lightweight frames padded with soft foam will ensure a comfortable fit. This unique construction ensures a broad view and 180 degree protection against the sun and wind. In addition, your glasses will always stay put. If you love riding and other outdoor sports these are the ones to get.
🛡️ UV PROTECTION 🛡️ Thanks to the UV400 protection your eyes are permanently shielded from harmful UVA & UVB rays making them more than a stylish sports accessory!
🎁 ACCESSORIES 🎁 Our Verdster sunglasses come with a protective a foldable magnetic triangle case, soft pouch & cleaning cloth.
🕶️ MANUFACTURER'S WARRANTY 🕶️ Every frame and lens comes backed by a 100% REFUND GUARANTEE for manufacturing defects assuring customer satisfaction!
Positives:
Polarized lenses;
UV protection;
Stylish design.
Negatives:
Blur the picture;
A fragile model compared to others on the list.
---
AULLY PARK Polarized Motorcycle Riding Glasses — One Pack, Four Pairs of Lenses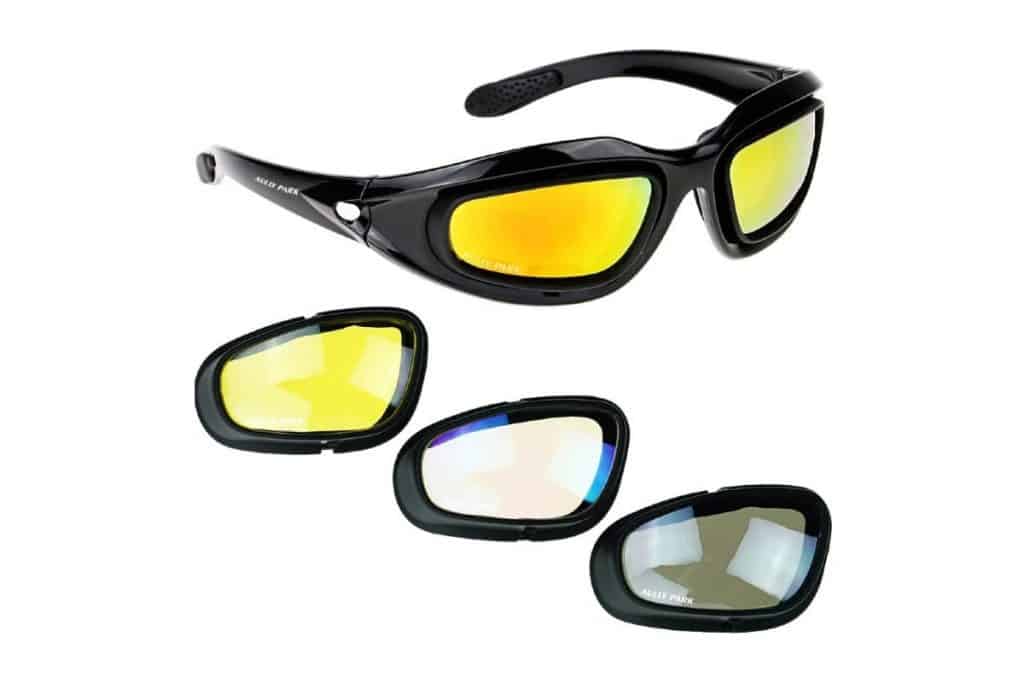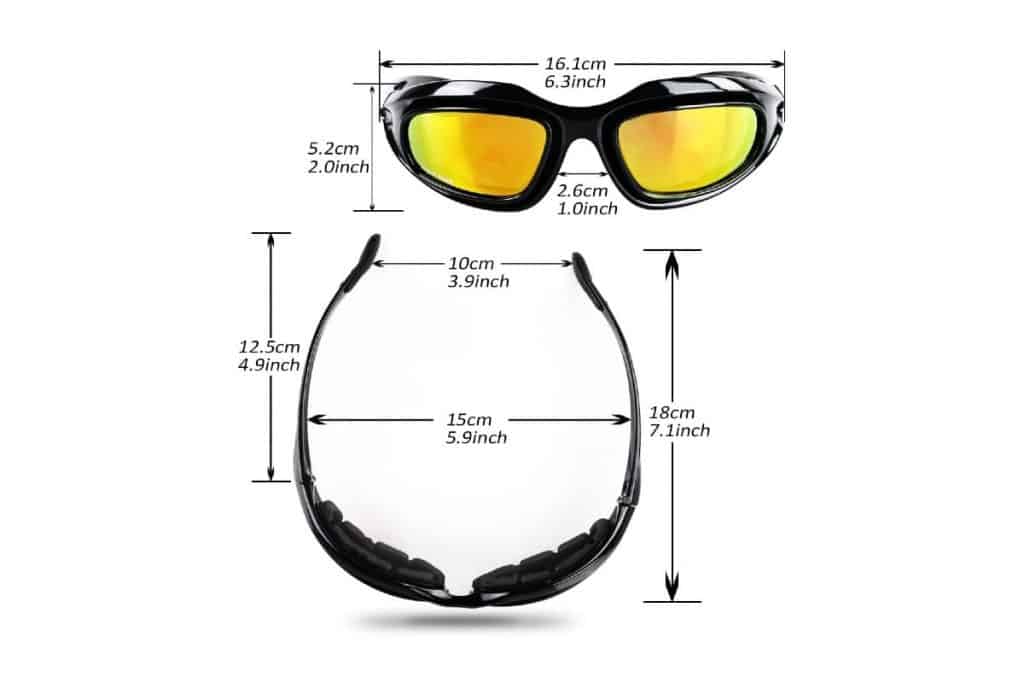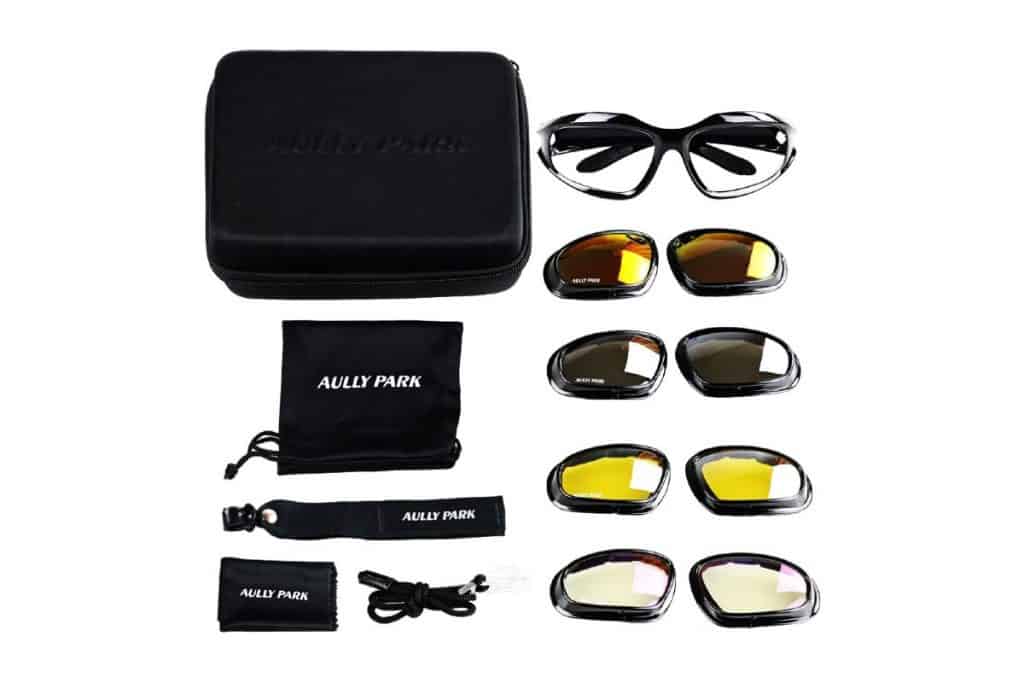 Other glasses that come with a set of four lenses are AULLY PARK Polarized Motorcycle Riding Glasses. Here you can find polarized light gray lenses for every day, light yellow ones for driving in bright sunlight, transparent ones for traveling in poorly lit areas, and, of course, high-contrast cadmium yellow ones for night trips. But the last pair of lenses seems too dark to ride at night. These glasses are suitable for riding a motorcycle, as well as for any other activity in the open air (horseback riding, rock climbing, and other sports).

Lenses are easy to change, but they can also easily pop out of their socket without your help, for example, in a backpack or right while driving. Besides, they are not tight enough to the frame and can let air through at high speed. The good thing is that they are resistant to scratches and minor damage. And also provide 100% protection against ultraviolet rays.

The frame of these glasses has a width of 6.3 inches (16.1 cm) and a height of 2 inches (5.2 cm). If necessary, you can tighten the glasses on the back of your head using the belt that comes with the kit. The frame is made of high-quality material that bends easily but does not break. These motorcycle riding glasses fit snugly around the face but don't push too hard thanks to the foam pads around the lenses. However, it is worth noting that the rubberized padding can come off after some time of using the glasses.

AULLY PARK Polarized Motorcycle Riding Glasses Black Frame...
Polarized foam padded motorcycle sunglasses
UV400 protection polycarbonate lens, shatterproof and scratch-resisting
4 Interchangeable lenses: Polarized Lens - Neutral Gray; Non-polarized Lens - Clear MLC, Cadmium Yellow, Copper
Matte black plastic frame with rubber ear pads. Sport headband, pouch, cleaning cloth,and hard case included
Every motorcycle riding glasses you have ordered from AULLY PARK enjoys a free replacement or full refund. If you have any quetions or problems, don't hesitate to contact us
Positives:
Interchangeable lenses;
UV protection;
Flexible frame.
Negatives:
Lenses do not fit tightly on the frame;
Padding may come off.
---
Foam Padded Motorcycle Night Glasses — Night Vision Motorcycle Glasses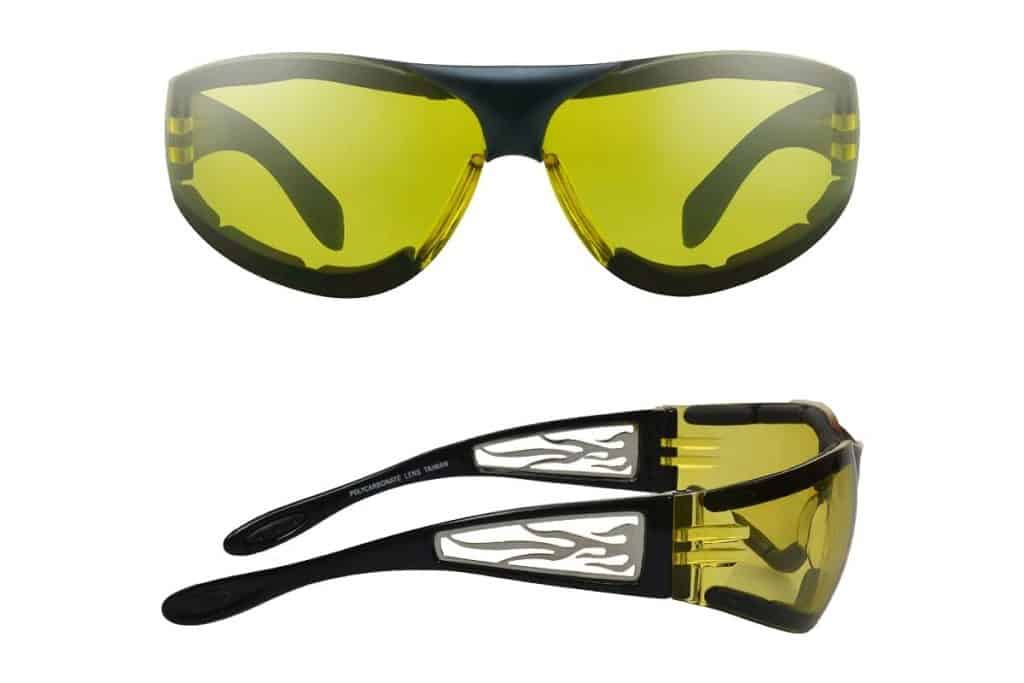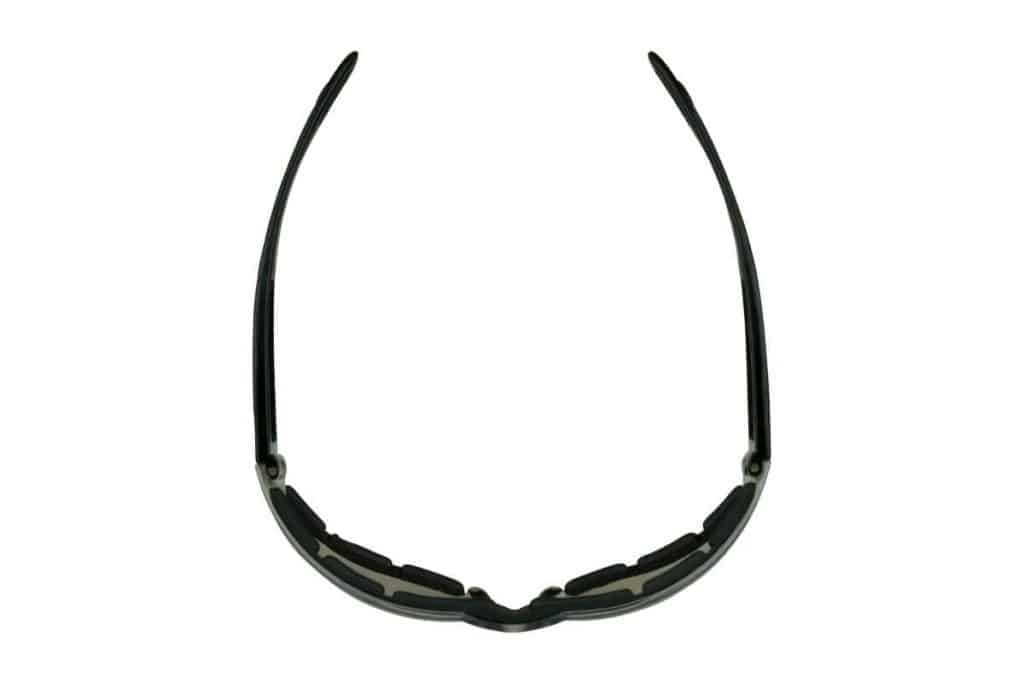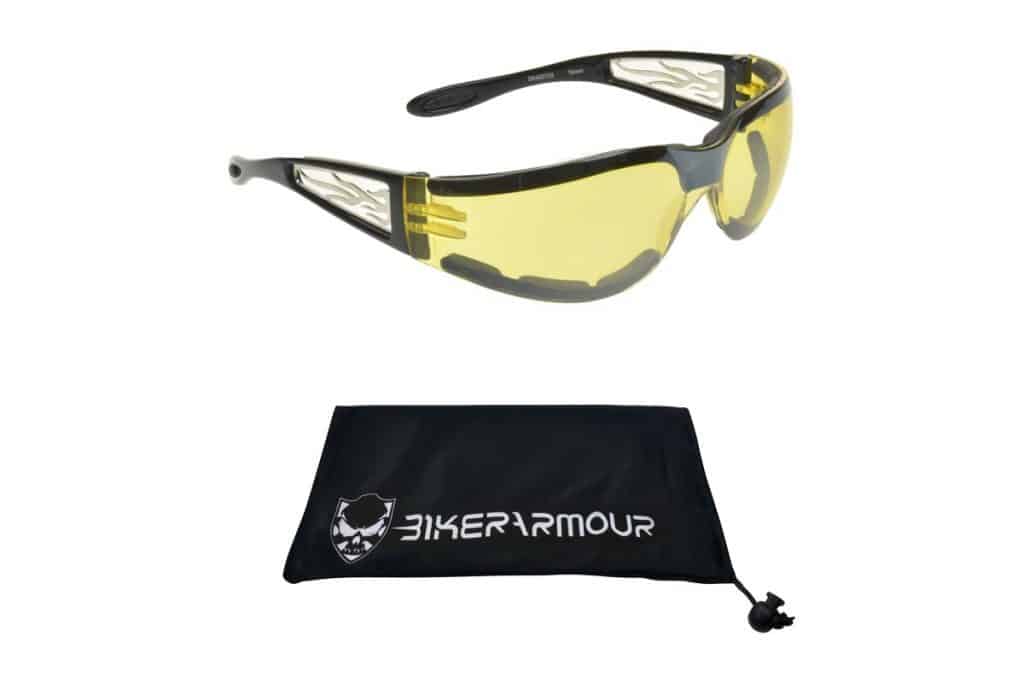 Foam Padded Motorcycle Night Glasses made by the BikerArmour company feature special yellow anti-glare night lenses as well. The manufacturer uses the same material (Polycarbonate) as when making helmet visors, which means that they really protect your eyes from small objects. Glasses also provide 100% eye protection from ultraviolet radiation.

Compared to others, the design of these glasses is as close as possible to ordinary sunglasses, although it looks a bit outdated. There is no massive frame around the lenses, but there is a metal chrome decoration on the temples (in the flame form). It distinguishes them from the rest of the glasses in this segment, but it can also alienate buyers who prefer minimalism. The width of the glasses is 5.51 inches (13.9 cm), and the height is 1.77 inches (4.49 cm). The frame is universal, designed for both men and women. However, its size is likely to be large for those with small or narrow faces. The manufacturer himself recommends these glasses for people with medium to large heads.

Along with each lens, there are foam pads that should provide a snug fit to the face and protection from the wind. The specific design provides a good peripheral vision; the frame does not obstruct the view. Nevertheless, it seems that precisely because of the design, the wind can get under the glasses. Compared to the previous night time riding glasses in this review, which were wide enough to cover a significant part of the face around the eyes, these seem too narrow.

Foam Padded Motorcycle Glasses Night for Men and Women with...
Impact resistant Polycarbonate lenses - same material used for helmet visors
Vented, softer and sweatproof foam
Distinctive chrome metal flame design on temples
FREE deluxe microfiber cleaning case with drawstring included with each pair ($5 value)
Dragster is an extremely versatile frame. Fits Medium to most extra large heads
Positives:
Anti-reflective coating;
Scratch resistant;
Distinctive design.
Negatives:
Narrow lenses;
Do not block the wind.
---
Afterword
The range of glasses for driving bikes at night is wide enough, and it is important to find the pair of glasses that will be right for you. With their help, you will not only reduce the negative effects of traveling at night, but also protect your eyes from bright light, wind, dust, rain, snow, and insects. I hope my review will help you with choosing the best motorcycle glasses for night riding. Try a few pairs to see which one fits your face best on. When it comes to wearing glasses, comfort is no less important than their protective properties.
And for the perfect pair of glasses to last you as long as possible, follow these recommendations:
Do not forget to take care of the glasses and store them in a hard box;
Clean lenses with warm soapy water and wipe with a soft cloth. I recommend that you do not use wipers, as they can damage lenses.
Regularly clean paddings from sweat to prevent their breaking.
Do not forget to check the screws and tighten them if they are loose.
Use an antistatic spray for added protection. It will prevent the dust from sticking to the lenses and clog into the frame joints.
Do not leave glasses in direct sunlight; this may melt the plastic frame and deform its shape.
Please share with me in the comments below what night time motorcycle riding glasses are your favorite. Maybe you can recommend your favored brand? What do you prefer: glasses or goggles? Do you use only one pair of glasses, or do you have several for different weather conditions?