Best Motorcycle Hitch Carrier – Detailed Reviews and Buyer's Guide
Best Motorcycle Hitch Carrier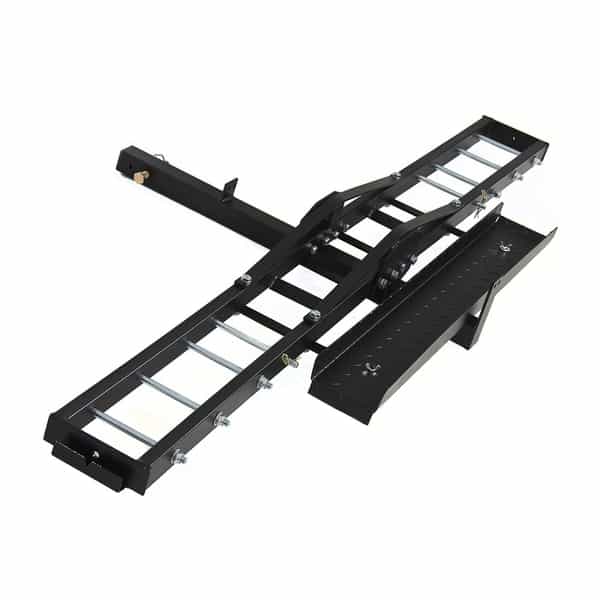 My name is Max Farmer; I am a huge moto fan and motorcycles lover. Motorbikes were never my thing, not until I accompanied my dad to the 2005 MotoGP, which took place at Laguna Seca. I was 13 at that time. The experience was life-changing, and that marked the start of a passion that would never be quenched. At a young age, there wasn't much I could do, although I longed to participate in circuit races. However, in due time, I was able to participate in a few races, and to date, racing has been my thing.
My father was not just a motorcyclist; he was a motorcycle mechanic. He taught me a lot about how bikes work and provided me with the opportunity to ride and use different gear and equipment. During the last races I've been in, I've had to transport my bike using a motorcycle hitch carrier. So, I have had varying experiences with the different equipment I used.
I've come to learn that not all hitch carriers are ideal for any rider. Types of hitch carriers vary a lot. Depending on your vehicle needs and specific options, you should choose the most suitable variant for you. It is for this reason that I decided to write this article in which I'll be highlighting my favorite motorcycle hitch carriers.
Amazon Bestsellers
back to menu ↑
The Best 9 Motorcycle Hitch Carriers on the Market Today!
It is given that in every industry, there'll always be dominant and inferior products in terms of quality and convenience offered to the consumer base. Similarly, there are numerous hitch carriers on the market, which are of a 'shady' quality and also ones that are characterized by reliability, durability, and high performance. Having used numerous carriers and seen peers with different brands, I have singled out nine of my favorite carriers. I'll be sharing my experience with each, highlighting their primary specifications and their advantages as well as disadvantages.
Black Widow is a market leader when it comes to motorcycle gear and equipment. The Black Widow AMC 400 hitch carrier is my favorite carrier and the one I'm currently using anytime I need to carry my motorbike. This motorcycle hitch mount carrier beats many of its rivals by far as it features a roll-on ramp that comes with it, therefore making installation easier and convenient to load the motorcycle. It has a sturdy design and is made of efficient aluminum. The material makes it easier to carry the motorcycle around and prolongs the durability of the vehicle too. It is compatible with class III and IV receivers and carries weights of up to 400 lbs. This aluminum hitch motorcycle carrier is highly reliable equipment, and I would recommend it to all riders with bikes weighing 400lbs and below. Here are the pros and cons:
Black Widow AMC-400-F-Folding Aluminum Hitch Carrier for Dirt Bikes
Durable, hitch-mounted folding motorcycle carrier for use with dirt bikes and motorcycles; comes with self-storing ramp that can be attached to carrier during transport
Track measures 6' 3.5" L x 5.5" W; ramp measures 3'' 11" L x 5.5" W; maximum 400 lb weight capacity; 27" clearance from folding adapter hitch pin to carrier
Works with 2" Class III or IV hitch receivers; fits bike wheels up to 5.5" W; carrier can be folded up when not in use
Ramp installs either side for bilateral roll-on, roll-off action; includes heavy duty folding hitch adapter, a youth dirt bike adapter, anti-rattle device and anti-tilt bracket
High-strength, lightweight aluminum construction
Positives:
It has a roll-on ramp on both sides essential for convenient loading as this makes it almost effortless
It has a sturdy design for longevity
It is made of industrial aluminum which makes it easy to carry

This gadget can carry motorbikes with wheels measuring up to 5.5 inches in width

It is compatible with both class III and IV receivers
Negatives:
It is expensive in comparison to the average market price point for mono carriers
If you own a big bike, then the Goplus 600 LBS carrier might be a great choice for you. It is a 600 lb motorcycle hitch carrier made with high-quality steel, making it durable and able to withstand obstacles. You can be sure of having your motorbike in good condition throughout the journey, thanks to the wheel chock and locks that secure the wheels. Though it is a bit expensive, this carrier is worth your trust and money. Also, it is water-resistant, so you don't have to deal with rust. I would surely recommend this carrier to all motorcyclists.
Goplus Motorcycle Carrier
【Durable and Solid Construction】Steel construction which has high strength and good toughness. It can help you carry your motorcycle very firmly. Also the steel is impermeable, you don't worry about that your rack will rust when it rains.
【Large Load-Bearing Capacity】This rack can be used to light bike as well as some heavy motorcycle, because it can support up to 600 lbs.Do not exceed 55 MPH while the Carrier is attached.
【Perfect Size and Widely Applicable】Mounts using your vehicle's 2" receiver, hitch pin included with is 3/4", rail is 79" long with a raised adjustable wheel stop that serves as a stabilizing wheel chock.
【Safe and Stable Transport】Equipped with 2 quick release lock which will help fasten your bike. Even if you are on the bumpy hillside, it will provide you a secure transport and keep your motorcycle ride safely behind your vehicle.
【Shipped In 2 Packages and 100% Satisfaction】The rack will be packed in 2 boxes, please be more patient with shipment. We promise we will response in 24 hours, we have confidence that you will love our professional customer service.
Positives:
It is made of steel, making it strong enough to carry heavy bikes weighing up to 600 lbs and durable for a long-term use
It features a wheel chock essential for keeping the bike in place upon loading on the carrier
It has integrated locks which help in securing a motorcycle even when driving in bumpy terrains
It is made of water-resistant steel; thus the carrier is resistant to rust
It is easy to mount on the rear of a vehicle
Negatives:
It does not feature an integrated ramp
It is expensive
One of the strongest motorcycle hitch carriers on the market is the Titan Dual motorcycle hitch carrier 1000 lbs. It features dual carriers and is compatible with all 2-inch receivers. With a steel frame, this 1000 lb motorcycle hitch carrier is built up for durability. Considering that it doesn't have a lot of detached parts, it is noteworthy in this Titan Ramp reviews article. This carrier is extremely easy to assemble and install. Though it is a little pricy, you can be sure that this carrier will serve you for a long while. It is for these reasons that I would recommend it to all riders:
Titan Dual 1,000 lb Capacity Motorcycle & Dirtbike Carrier w/Ramp
Compatibility: Fits motorcycles, dirt bikes, bicycles, and scooters up to 1,000 lb and tires up to 5" wide
Convenient: Easily attaches to 2" ball receivers on vehicles or trailers; Ramp easily attaches to either end for loading or to the side for transportation with attached pins
Sturdy: Rustproof steel construction is extremely strong and stable; Ramp's pins securely attach it to carrier
Dimensions: Overall width – 23 1/8", Length - 69 5/8", Individual width – 5 3/4" each; See Specifications section for more detailed dimensions
Includes: Easy to assemble instructions, loading ramp, square tube and pins for connections
Positives:
It can carry heavy bikes weighing up to 1000 lbs
It is made of hardened steel, making it long-lasting and resistant to rust
It is compatible with 2 inches receivers
It features double carriers
It is simple to assemble and mount on the rear of a vehicle
Negatives:
It is considerably expensive compared to other double hitch carriers
The EGO BIKE steel carrier is another top-selling brand, popular among riders who engage in circuit races. With a weight capacity of 500 lbs, this hitch mounted motorcycle carrier is convenient for carrying most multicycles designed for circuit racing. A winning factor that sets this carrier ahead is its compatibility with almost all classes of hitches. This means that a rider can install it on almost any vehicle. Currently, It is also one of the cheapest carriers on the market. This trailer hitch motorcycle carrier is characterized by durability as it is made with rustproof steel. I would recommend it to all riders:
Positives:
It features an anti-tilt system that keeps the motorcycle properly aligned during transportation
It is somewhat cheap and ideal for lightweight motorcycles
It is compatible with most hitches including II, III, IV and V hitches
It is rust-resistant for long-term use
It is easy to mount
Negatives:
It has a limited weight capacity of 500 lbs
The Black Widow MCC-600 is a high duty motorcycle hitch carrier made of tough steel for extended longevity. This hitch for motorcycle carrier has a wheel chock which plays a vital role in keeping the motorcycle properly fastened on the carrier. Though it's a little heavy, portability is manageable. This carrier is easy to assemble and mount. I would recommend it to all motorcycle owners:
Black Widow MCC-600 Steel Motorcycle Carrier – 600 lb. Capacity
Heavy duty hitch-mounted motorcycle carrier for use with wheels up to 8" wide and 600 lbs.
Extra-long 71" loading ramp can be stored on the carrier when not in use
Includes a 5/8" hitch pin, anti-rattle device, and built-in adjustable wheel chock
Durable, powder-coated steel construction; 600 lb. weight capacity
Designed for Class III or IV 2" hitch receivers
Positives:
It is a high-performance equipment that is characterized by high durability
It has a generous weight capacity of 600 lbs, making it ideal for carrying dirt bikes

It is made of steel and therefore not susceptible to rusting

It makes it simple to install and load a motorcycle

It features a wheel cock which keeps the bike from going over the carrier upon loading
Negatives:
It is compatible with III and IV receivers only

It is highly-priced
The SKY1375 is one of the best hitch carriers manufactured by one of the leading brands in the moto gear space Best Choice Products. The Best Choice Products Sky1375 is a relatively cheap product but of impeccable quality. It is strong and rustproof, therefore offering a long service span. With a weight capacity of 500 lbs, it can carry the most small-sized motorcycles. This carrier is easy to install and use. From my point of view, I would highly recommend it:
Best Choice Products Hitch Mounted Anti-Tilt Motorcycle and Dirt Bike Carrier Rack, 500lb Capacity
LOADING RAMP: Self-storing ramp installs on either side for easy loading and unloading
ANTI-TILT LOCKING DEVICE: Prevents wobbling and rattling, and has tie-down sites on both sides of the track
HEAVY-DUTY STEEL: Durable hitch mounted design built to hold up to 500 pounds
VERSATILE: Fits a 2-inch square receiver for use with Class II, III, IV, or V hitch receivers
OVERALL DIMENSIONS: 76"(L) x 7"(W)
Positives:
It can be loaded from both ends
It is simple to assemble and install on the vehicle
It is rustproof, and this facilitates longevity
It is one of the cheapest hitch carriers on the market
It features an anti-tilt system ideal for holding the motorcycle in position after loading
Negatives:
It has a limited weight capacity of 500 lbs
Titan Ramps hitch carrier is high-performance equipment designed to offer convenience and extended service. It goes well with vehicles that have 2 inches hitch receivers. This hitch motorcycle carrier has a wheel chock that is resourceful in enhancing the stability of the motorcycle when it's loaded. Weight is slightly below 99 lbs makes this carrier lightweight and easy to carry. Also, it is easy to assemble this Titan Ramps carrier since it does not have many small parts. I would recommend it to all riders:
Titan Ramps Dirt Bike and Motorcycle Carrier, Sports Bike Rack for Truck Hitch
EASILY TRANSPORT YOUR BIKE: Take your bike out to the dunes or the track, using our handy motorcycle ramp. It holds a single full-size sports bike and can support an impressive weight capacity of up to 600 lbs, accommodating several makes and models of dirt bikes and motorcycles. Add it to your motorbike gear and equipment today to help you transport your bike anywhere!
KEEP YOUR BIKE SAFE: This ramp features an integrated cradle wheel chock for greater security. The chock helps stabilize your sports bike, preventing it from falling or tipping over while you're driving. It will effectively keep your bike centered, so you don't have to worry about any inconvenient or damaging accidents.
CONNECTS TO TRAILER HITCH: At Titan, we don't believe in complicated instructions or easy-to-lose pieces of hardware. That's why we made setting this ramp up incredibly easy to install. It is designed to fit a 2" receiver to ease installation. Just hook it up to your trailer hitch and you're all set! It's that simple.
MADE FROM HEAVY-DUTY MATERIAL: This motorcycle ramp is made from strong, durable steel for added strength and integrity. Since it's made from steel, it will resist corrosion and rust with ease, making it perfect for outdoor use. Its all-steel construction ensures that you'll be able to enjoy using it for years to come.
SPECIFICATIONS: This attachment weighs approximately 99 lbs., making it lightweight and easily portable. It measures 72" L x 7.5" W, which is enough room for a single sports bike. It can also support a powerful weight capacity of up to 600 lbs., allowing it to accommodate different dirt bike models. The track has a length of 78.75".
Positives:
It is made from industrial metallic material for longevity and reliable performance
Its weight is 99 lbs, making it easy to carry around and install
It is compatible with any 2 inches vehicle hitch making it convenient for any rider
It features a wheel chock which is resourceful in holding the bike to prevent it from tipping over

It is lightweight for more accessible transportation
The Kage Racing ST3401 is one of the most convenient hitch carriers you'll find on the market as it is compatible with all classes of hitches. It is made with aviation aluminum, making it durable and rustproof. Its design allows loading from both sides. Also, it has an anti-wobble system that helps in holding the motorcycle in position. It is a real pleasure for me to recommend it to all motorcycle owners:
Positives:
It does not rust as it is made from aviation standard aluminum
It features a convenient ramp which makes it easy to load a bike from any of the two sides
It has an anti-wobble system which is essential in keeping the bike secured during transportation
It is compatible with most hitch classes including II, IV and V
The carrier is convenient to use with most vehicles including campers and SUVs
Negatives:
It is somewhat expensive compared to most single hitch carriers
The GudCraft ALEKO is a highly dependable carrier, featuring a weight capacity of 600lbs. It has a length of 79 inches, making it ideal for carrying the longest motorcycle models. It is durable, thanks to the strong metallic build and the coating which prevents rusting. This carrier is not only easy to install but also to load a motorcycle. Also, it features an anti-wobble system which is efficient in firmly holding the bike. I would recommend this carrier any day:
Positives:
It has a large carrying weight capacity of 600 lbs

It has an extended length of 79 inches, making it ideal for carrying long motorcycles

The strong steel framing is coated in oil powder to prevent rusting

The assembly process is almost intuitive

It features an anti-wobble system for securing the motorbike in place
back to menu ↑
Your Buyer's Guide
Motorcycle hitch carriers are among the most critical equipment for motorcyclists considering the wide choice of products on the market. In this regard, there are many factors one ought to consider when choosing a hitch carrier. Follow this guideline, and you'll be able to get a good carrier with ease.
back to menu ↑
What Should You Look for When Purchasing the Best Motorcycle Hitch Carrier?
In order to ensure that a rider gets the ideal motorcycle hitch carrier for their vehicle, here's a list of the top six essential elements to consider before buying one.
back to menu ↑
Which is Your Preferred Motorcycle Hitch Carrier?
Clear and comprehensive trailer hitch motorcycle carrier review articles help buyers make an informed choice in regards to their preferred product. With the motorcycle hitch carrier reviews placed above, probably you already know which hitch carrier you'll be purchasing for transporting your motorcycle. As most products do not have a reliable return policy, it is important for a rider to take their time in weighing between options in regards to the evaluated elements.
Also, you have an option of going for a carrier with a dual or single design depending on the size and number of your motorbikes. Though there are brands that are generally associated with high-performance products, you can also consider products manufactured by not-so-popular brands, which are still of great quality. Again, if the carrier of your choice is not able to securely hold your motorcycle in position, regardless of the bumpy movement its subjected to, after all, a carrier that wouldn't safeguard your motorcycle is not worth having.
As I wrap up, one essential factor you should never forget when buying a hitch carrier is the hitch class compatibility. If a carrier's hitch receiver and your vehicle's hitch are not consistent, no doubt that the carrier will not help you unless you change your vehicle or get another carrier. On that note, there are carriers that are compatible with a number of hitch classes, and these are the best just in case a rider decides to change their car.
Which carrier would you choose from the equipment reviewed above? Maybe you have another motorcycle hitch lift carrier in mind that is not featured in my reviews, in this case, what other carriers you think do deserve being featured in this top 9 list? You can share your thoughts and opinions with me by posting in the comments section below. Let's keep the discussion going!