Best Motorcycle Horn: Detailed Reviews of Top 8 Products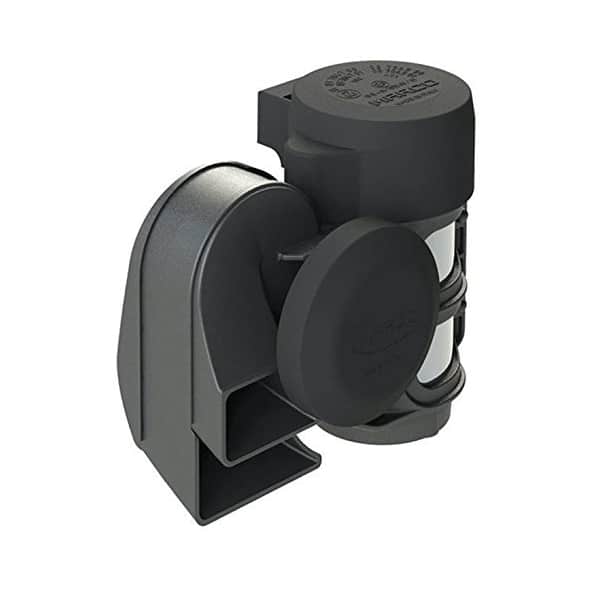 As a biker, you probably know that stock horns can appear not loud enough to perform their task well. This is why you may start thinking about investing in the cool motorcycle horns.
I am Max Farmer, a huge moto fan. I have been in love with motorcycles from the age of 13. My father, who is a mechanic and also my mentor, introduced me to the world of bikes. Since that time, I have learned many things about motorcycles and bike equipment.
Safety comes first, and the horn plays a critical role in ensuring your safety while on the road. I am not saying that stock horns are not helpful, but with these aftermarket OEM products, you can get a remarkable upgrade for your bike.
I have an experience with many motorcycle horn brands. Therefore, I took the initiative to provide you with my top picks of the motorcycle horns available on the market in this motorcycle horn review.
Top 8 Motorcycle Horns on the Market Today
What makes one horn different from another? The essential things to consider when choosing a bike horn are the performance, the functionality, the design, the weight, the sound level, the versatility, and the durability of the product. With all these features taken into consideration, here is my selection of the best motorcycle horns on the market nowadays.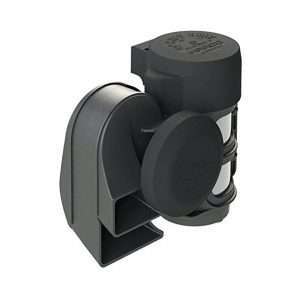 This is, by all means, the best motorcycle horn while riding down a road. The horn is loud enough to alert inattentive drivers on the highway. I mounted the horn on my second bike, and I was taken away with its functionality, design, weight, and performance.
Unlike other products on the market, the Marco Tornado horn makes use of an electric compressor. This feature adds to the power and effectiveness of the horn. The compact size makes it worth the purchase since the item can be mounted on your bike easily without taking up much space.
Despite its lightweight nature, this product can withstand high-blowing winds when you ride down a road on a windy day. With a total weight of 1.75 pounds, this equipment is the perfect upgrade for your bike.
Although there are horns that have an elegant design but a limited performance, this is not the case with this super loud Marco Tornado horn. This item is compatible with all 12 volt systems. Thus, the device can be efficiently used on a variety of vehicles apart from bikes, including ATVs, cars, and trucks.
The equipment was tested by the manufacturer to ensure it meets the set requirements and standards. It also comes with a two-year guarantee.
The most outstanding feature that makes this compact air horn motorcycle leading my list of the best bike horns is the sound level. A primary requirement by most riders is a high-pitched horn that can alert other drivers around. With this horn, you don't have to worry about being heard. It is fitted with 139 dB, ranking as the loudest electric motorcycle horn. Thus, it is very effective in attracting the attention of the drivers on your way.
You may have a hard time when installing the item for the first time. However, you can take advantage of the provided instruction manual in mounting the horn.
Positives:
Has a highly efficient sound level
Inclusive of a compressor
Energy-efficient
Has a compact size
Negatives:
A limited warranty
A high price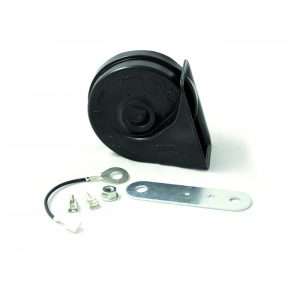 This is the perfect bike horn to purchase when you are on a tight budget. Aside from having an affordable price tag, this item has a lot of benefits, which you can take advantage of. The product comes with an aluminum coil motor, an ABS plastic projector, and a corrosion-resistant steel housing.
The Fiamm 72112 freeway blaster horn is tested by the manufacturer to guarantee maximum performance. The quality of the horn even surpasses the OEM and SAE specifications. This assures that the performance is beyond the required standards.
Since the product has a high versatility, it can be used on a variety of vehicles apart from motorcycles, including different cars and ATVs. Moreover, it is compatible with 12-volt systems.
With two terminals, Fiamm 72112 horn produces a sound level that can reach a pitch of 130 dB. This comes really efficient, especially while riding in city traffic. The item has a unique design and weighs only 8.8 ounces.
This motorcycle horn has a simple installation process, primarily due to the universal mounting bracket. The added instructions make it easier for first-time owners to mount the horn on the bike. You get a mounting bracket, a nut, and female connectors together with a jumper wire within the package.
Positives:
A compact design
Affordable
Bypasses the OEM and SEC specifications
Compatible with 12-volt systems
Negatives:
Comes with an unclear warranty information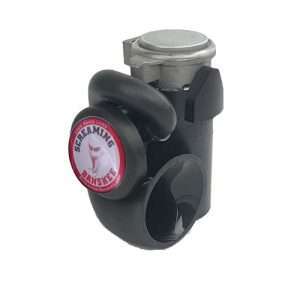 The Screaming Banshee horn brand has managed to gather an impressive number of positive customer reviews, and nowadays, it is one of the leading horn manufacturers in the market. This horn model provides a perfect blend between high and low volume added to a unique design, a light weight, and a great performance.
The Screaming Banshee motorcycle horn has a compact size, which can fit perfectly onto your bike without occupying much space. It also has a lightweight but steady nature, which ensures that it can't be blown away during your ride.
It has a range of different sound options from friendly tones to high-pitched sounds. The wide range of different sounds will surely alert other drivers of your presence while on the road. You can use the soft press to produce a friendly tone and a hard press when altering inattentive drivers on the road.
Apart from notifying the nearby drivers about your presence, it also comes with a light beam for night rides. This light beam is a unique solution provided by Screaming Banshee manufacturer. Many bikers find this feature extremely helpful for their rides.
This Screaming Banshee motorcycle air horn can produce up to 130 dB of sound, which is loud enough to alert other drivers on your way. As an aftermarket product, it is much more of an upgrade from your standard stock option.
The product comes with extra relays, connectors, and wirings within the package to ensure an easy installation process. All you need to do is to remove the old stock horns from your bike and replace them with your new counterparts.
Positives:
A loud horn of 130 dB
A complete installation package
An additional light beam
Negatives:
The price is high compared to other similar models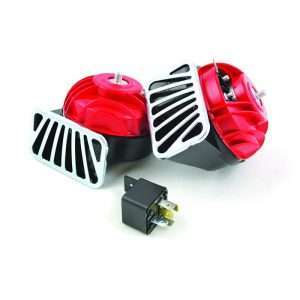 The El Grande twin electric model comes with two horns as a part of the package. They feature high and low notes and are enclosed in a stylish cap with red marks and chrome grills.
The item is fitted with an aluminum coil motor and ABS plastic enclosed with a corrosion-resistant steel housing. All these materials ensure that the Fiamm 74100 El Grande twin horns are durable and can produce a harmonious sound when on the road.
The corrosion-resistant steel housing is an added advantage since most components of your bike are exposed to rains and other harsh weather conditions. This weather-resistant housing ensures you save up on the costs of your bike protection.
The Fiamm 74100 El Grande Twin Hornsare have been tested and approved to meet standards held by SAE and OEM. This ensures that the end products are quality ones and will serve you a lifetime.
I once took a ride with a mounted Fiamm horn motorcycle. At first, I did not pay attention to the horns. I was enjoying my riding experience. But when I had to make a turn, I pressed the high tone button, and sure enough, the sound volume allowed all the drivers to know about my presence on the road. I admit the comfortability and the loudness of these horns, and I have been satisfied with this product all the time I have used it.
The items are high-performing while providing sounds up to 128 dB that is around the recommended limit for horns. If you are looking for a loud motorcycle horn, I recommend taking into consideration these Fiamm 74100 El Grande twin horns. The product is just strong enough to alert other drivers of your presence. However, I advise not to use the highest decibels all the time as such a loud signal can scare other drivers and also damage your ears over a prolonged time of use.
When it comes to installation, the manufacturer looked after all the needs and interest of bikers. Thus, the item comes with a complete instruction kit together with an extra relay, female connectors, and nuts. This makes the installation process of the Fiamm 74100 El Grande twin horns quick and easy even for beginner bikers.
Positives:
Has a corrosion-resistant steel housing
Simple installation process
Loud horns of 128 dB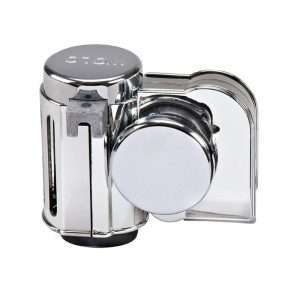 The Wolo bad boy air horn is a fantastic equipment for bikers who get frustrated with being ignored by big cars while on the bike. It is a perfect mixture of a unique design, a powerful performance, a great functionality, and an elegant style.
The Wolo motorcycle horn is has a chrome cover that adds to the appearance of the item. This Bad Boy air horn motorcycle is versatile and compatible different 12-volt systems. Thus, the horn can work great not only for bikes but also cars, ATVs, and trucks.
The product can produce a high sound level of 123.5 dB. Therefore, it is loud enough to alert inattentive drivers on the road. The Wolo Bad Boy horn is of a compact size and has ideal aerodynamics.
Wolo air horns are known and appreciated by many bikers because of the simple installation process. However, the installation can be quite tasking for beginners, especially with the number of components within the package. I want to mention that the manufacturer provides a 30-amp relay and a mounting bolt so that you can install the horn with a single bolt only.
Positives:
Has an impressive chrome coating
Affordable
Easy installation process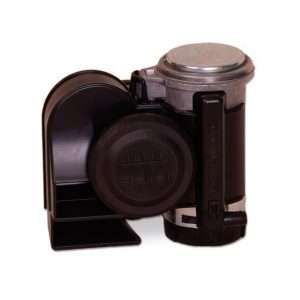 The Nautilus horn motorcycle is one of my favorite options because of its design and versatility. This Stebel equipment is of a compact size, and it is easy to install. The ABS black finish adds to the design of this product.
The Stebel air horn features a harmonized twin tone sound, which ranges between 580 Hz and 680 Hz with a sound level up to 139 dB. This is enough to alert any driver about your presence on the road and not to damage your ears. This Stebel compact Nautilus truck horn is also versatile as it is compatible with different 12-volt system of motorcycles, cars, and ATVs.
As I have already mentioned, this Stebel Nautilus air horn is of a compact size, measuring 4 ½ to 3 ½ to 4 ½ inches. The Stebel Nautilus motorcycle horn does not feature complicated components, so that you can install it on your bike within minutes.
Positives:
An easy installation
Energy-efficient
Comes with an impressive ABS finish
Produces a sound level up to 139 dB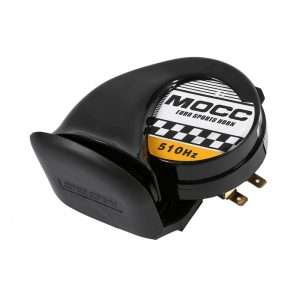 This horn has a snail-shaped design, which adds to its high performance, loundness, and compactness. Since most motorcycle details are exposed to harsh weather conditions, the Vgeby product has a water-resistant covering.
The Vgeby Electric Snail Horn delivers a stellar performance. The equipment is compatible with all 12-volt systems and can draw a current of 3.5 A. It has a sound frequency rated at 510 Hz. The item also comes dust-proof to ensure it does not get blocked when you are riding on a dusty road.
The sound level produced by this horn is rated at 115 dB, which is quite low compared to other brands mentioned. Still, that's enough to get the attention of other drivers while on the road. This aftermarket product is manufactured to surpass the industry standards while complementing other OEM products. I recommend this product to all the drivers looking for a moderately loud dust-proof horn.
Positives:
115 dB loud horn
Affordable
Dust-proof and water-proof
Has a compact design
Negatives:
Unclear information about the warranty terms​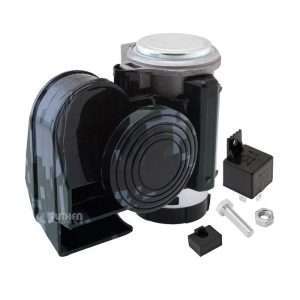 Last but certainly not least is the Vixen horn, which has an impressive performance compared to stock products. Although some horns tend to get quieter with time, and this is a worrying trend for most bike owners, it is not the case with the Vixen train horn.
The item is made from high-quality materials, which ensure its durability. The model has a camouflaged look, which can pass for a military design. The horn is highly attractive and can fit your bike perfectly.
Additionally, this Vixen air horn is highly efficient when it comes to energy consumption since it uses an electric compressor. It is also very versatile going along with other trucks, ATVs, and cars due to the 12-volt system supported. The product draws in between 18 to 25 A from any 12-volt system.
The product can produce sound level up to 139 dB, and it is ranked as the loudest motorcycle horn in the world. It has a frequency range rated between 410 Hz and 510 Hz.
The complete package features a detailed instruction, a four-pin 30 A relay, a mounting bracket, and a heavy-duty compressor. Therefore, you don't need any additional tubes for the horn, and you can install the product very quickly with the use of a single bolt.
Positives:
Has a compact design
Dust-resistant
Works with 12-volt systems
Negatives:
Unclear warranty information
back to menu ↑
Choosing the Best Motorcycle Horn – This Year Buyer's Guide
With your current knowledge about the specifics of the different motorcycle horns, it is time to delve deep into the buying guide. As part of these guidelines, I have included the specific features, which you should check out before purchasing a horn model. These include the types of motorcycle horns, their characteristics, and my profound recommendation.
back to menu ↑
Types of Motorcycle Horns
After going through my top 8 motorcycle horns available on the market, you have probably noticed that all these products are air-based horns. Other types of horns can serve the same purpose, but I find air-based ones the most reliable and loudest. In total, there are air horns, train horns, and novelty horns on the market.
Air horns are typically the loudest ones that can reach a pitch of 136 dB. These horns make use of compressed air for delivering sound. They rank among the most powerful motorcycle horn models. Air horns are usually compact and have a simplified installation process with the relays and wirings provided in the package.
Train horns, on the other hand, have an adjusted design. The sound delivered by train horns for motorcycles is similar to the one that a freight train produces. Thus, you don't have to concern about being heard while riding. Although being bigger than air horns, these models usually have a well-thought-out design that makes them easy to mount on the bike.
Novelty horns give off a hyped-up sound effect, which can be customized to reflect your style. This is a must-have for enthusiasts looking for unique horn sounds. You can choose from a variety of sounds, including musical instruments, animal sounds, whistles, bull horns, among others. However, such novelty horns usually not that durable compared to air and train horns, and can be too quiet to really work out on the road.
back to menu ↑
What Features to Look Out For?
Selecting a horn is not just simply walking into a shop, taking the one on the shelf, and mounting on your bike. You must decide on what specifics you are looking for in a horn, analyze the features of each horn, and consider how a particular feature can improve your riding experience. You will have a difficult time even with my top choices of motorcycle horns since each model has a different design and impressive points to note.
back to menu ↑
My Recommendations on Choosing the Best Motorcycle Horn
When it comes to securing your safety while on the road, it is worth considering some of these top motorcycle air horn models available on the market. To have a pleasant riding experience and protect yourself, you need a loud and durable motorcycle horn. With the features of each horn mentioned above, I can say that these items are bound to alert all the drivers so that they get aware of your presence on the road.
Stock products are reliable; however, they become quieter with time and, thus, inefficient. Therefore, you can't depend on them for long runs. That is why you need to invest in a reliable and efficient motorcycle horn.
As an expert in the field of motorcycles, I highly recommend every bike owner to go for the aftermarket products. These products are specifically designed to meet all the needs and requirements for the enjoyable riding experience.
Are these the only motorcycle horns on the market? No, there are numerous horns available, which come in different weights, sizes, designs, and have different performances, too. However, my top eight picks of the motorcycle horns are the most preferred options by bikers.
Do you have any experience with some of these motorcycle horns? Do you need any help in choosing the best horn for your bike? Let me know in the comment section below.