I am Max Farmer, and I am a huge moto fan. I have learned a lot about repairing bikes from my dad, who was a racer and a mechanic, too. I know that it may be hard to decide on the best tools for your garage. So, I am here today to share my reviews on the best motorcycle lift tables available.
In spite of the many variable choices present in the market, picking the right tool for your bike repair doesn't come easy. Without the knowledge of what to look for, you will end up with an instrument of less or no value to you.
You should do regular checkups on your bike to ensure it is up for the task. By equipping your garage with the necessary tools for bike checkups and general repairing, you can upkeep your motorcycle and fix little issues when needed. I am not telling you about doing extensive repairs on your bike but slight checks to prevent long-term damage.
You will still be in a position to visit a mechanic in case the issue exceeds your expertise. But the slight oil checkups, tire repairing, greasing, shaft upkeep, and so on you can do by yourself easily when having the right tools in your garage.
There are a lot of benefits when using the proper equipment and the best motorcycle jack. The lift plays an essential role when it comes to bike checkups, so it is important to choose a durable and comfortable model. Below you can find the 8 motorcycle lifts I find the most practical, and I hope that one of the reviewed items will fit your needs.
Top 8 Motorcycle Lift Reviews – The Most Reliable Purchase Guide
I understand the hassle of picking equipment that will serve your expectations. I have tried a dozen different lifts during my life, but you do not have to go through the same to get a proper tool. The reviews of the top 8 motorcycle jack models, according to my knowledge and experience, will sort your needs in the best way.
My choice of models was based on:
quality;
price;
strength and durability;
maximum weight supported;
design and safety.
So, read the reviews below and pick a bike lift for you. I believe that among these eight positions, you will be able to select suitable equipment.
1. OrionMotorTech Dilated Scissor – A Durable and Cheap Motorcycle Jack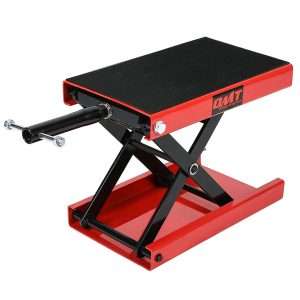 To anyone looking for a cheap motorcycle lift, I highly recommend purchasing the Orion Motor jack. It is a scissor-shaped stand, and this eases the upkeep. Only grease application on joints is required. Its ability to lift to 1000 pounds effortlessly adds to the many reasons why you should settle on the item.
The item is supported by a one-year warranty that will clear all doubts in mind about its quality. Even without reading a manual, you can efficiently set up the stand and begin your bike maintenance. The lift measures close to 4 inches when not in use and extends up to 14 inches.
The stand is applicable to use on flat-bottomed motorcycles. It has a rubber surface to protect the bike from damage and scratches. Adjusting the height is easy, and there is a detailed manual on its usage to avoid damaging the equipment.
The platform is 9-inches long and 15-inches wide for maximum stability for your bike. The accompanying steel sleeve makes it simple to use. It is one of the most useful tools, given the cost.
Has a rubber surface
Easy to operate
Its cost is affordable for all
There is a one-year warranty
[/wpsm_pros][/wpsm_column][wpsm_column size="one-half" position="last"][wpsm_cons title="Negatives:"]
Not suitable for belly-shaped bikes
[/wpsm_cons][/wpsm_column]
2. Extreme Max 5001.5044 – A Remarkable 1000lb Motorcycle Lift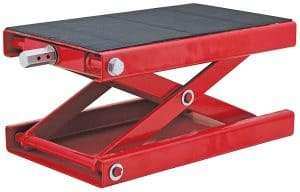 This equipment is all you need for stable and efficient upkeep. It is the best scissor-shaped stand. Quality is assured, and durability should be the least of your worries. It is made of powerful steel, and this makes it ideal for supporting up to 1000 pounds.
It is super easy to use, and you can operate it intuitively. I have used steel stands before, and most items cause damage to the lower surface of a bike. It was a problem for me until I purchased this stand.
First of all, it has a rubber surface. It cushions the soft bottom part of the bike and prevents it from scratches. In contrast, the exterior is tough enough to stop the bike from sliding.
Additionally, the Extreme Max motorcycle lift can be extended to 14 inches. The height is not only suitable for work on a bike but also safe for optimal balance and stability.
The 3.75-inches collapsed height makes it easy to store as it doesn't consume much space. The lift is not weighty, and it perfectly fits outdoor requirements. For three months, I have used the equipment, and I had no issues with it so far.
You can use this lift as an anchor when washing your bike without fear of the stand rusting as it gets into contact with water. It is polished with paint that is dust, mud, and rust-resistant. I highly recommend you buy this item, but make sure not to overload it with maximum weight.
It is manually operated
It is rust-resistant
Comes at an affordable cost
High-quality and durable
[/wpsm_pros][/wpsm_column][wpsm_column size="one-half" position="last"][wpsm_cons title="Negatives:"]
The scissor stands tend to bend when the bike is too weighty
[/wpsm_cons][/wpsm_column]
3. Titan Ramps 1,000 Lb Hydraulic – Starting with Titan Ramp Reviews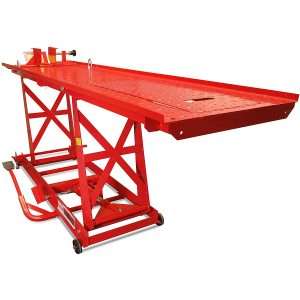 You need a strong stand that can support your bike's weight and take minimal space possible. That's the tip of the iceberg of what the Titan motorcycle lift provides. Your safety is not a concern here as it has been dealt with extensively.
The Titan 1000D XLT motorcycle lift can hold up to 1000 pounds and uses hydraulic stands to ensure you raise the bike to the required height effortlessly. The anti-slip surface locks your bike's wheel in place. There is also a clamp for minimizing the mobility of the motorcycle when placed on the stand. The available straps will allow you to keep your bike in a fixed position as you work on it.
It is high enough to enable you to do all repairs without bending a knee or raising an eyebrow. I have used it in a garage, and I can assure you that it is perfect for any motorbike repair activities.
The tool, however, is a bit short. It comes at 86 inches, which might make it unsuitable for long bikes. Given the price and the quality of this item, I do not see a better option. Thus, I profoundly recommend this bike lift.
Strong
Uses a hydraulic pedal for effortless bike elevation
Has wheel clamps and an anti-slip surface
Suitable for use at home or garage
[/wpsm_pros][/wpsm_column][wpsm_column size="one-half" position="last"][wpsm_cons title="Negatives:"]
It is not suitable for long bikes
[/wpsm_cons][/wpsm_column]
4. Zeny 1100 LB – A Time-Proven Motorcycle Lift Model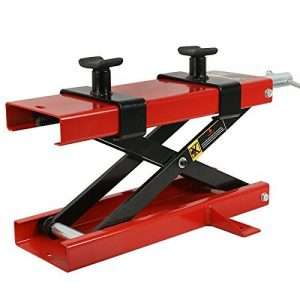 Scratches and damages on the supported surfaces are likely to keep you from buying metallic stands. But with the ZENY stand, scratches and damage become a thing of the past.
The rubber pads ensure safety as they keep your bike from sliding. There are also clamping anchors to help keep your bike in place when working on it.
The hard and durable steel makes the lift support up to 1100 pounds. It makes it ideal to use for most bikes. The stand is 6-inches wide, more than other motorcycle lift stands, to offer optimal stability to the bike. Its maximum extension reaches up to 19 inches, and this eases any checkups you need to carry out.
It is scissor-shaped, and you need to grease the joints once a week or two. You will experience the most straightforward bike maintenance with the jack. It is 18-inches long to provide a big space for adequate balancing. The 5-inches minimal height eases its storage.
The item is not bulky to carry, and it enables you to use it outdoors. It is durable and worth the price. The setup process is anything but hard, and the manual will help ease any concern about its upkeep. The stand lived up to my expectations, and I highly recommend you purchase it.
Strong
Durable
Easy maintenance process
Affordable cost
[/wpsm_pros][/wpsm_column][wpsm_column size="one-half" position="last"][wpsm_cons title="Negatives:"]
The top may be a bit slippery with time
[/wpsm_cons][/wpsm_column]
5. Vivohome Steel Hydraulic – The Best Motorcycle Lift Table for Harley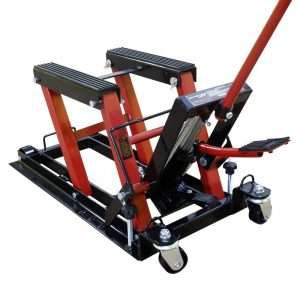 The Hydraulic lift motorcycle is strong to support up to 1500 pounds. For safety assurance, the lift has been made of top-quality and sturdy materials. The supporting surface has rubber bands to ensure it doesn't damage the item you are lifting.
There is a pedal that you can use to ascend or descend the bike to the height of your convenience. Additionally, you can attach the machine to a compressor for automated and effortless operations.
Your convenience in transporting the item has been ensured as it is wheeled for the same. You do not need to clamp the lift on a surface, and this enables you to use it anywhere. There is also a handle for perfect gripping when transporting the item.
The base is broad for optimal stability and balance. The motorcycle lift jack can be adjusted up to 15 inches, and it is easy to store thanks to the sleek collapsed design and height.
There is a hard-to-understand manual that accompanies the lift, especially if you have not used such a tool before. However, once you manage to assemble the item, you will be able to do it quicker next time.
Transporting is easy
Made of high-quality steel
Suitable for substantial bikes
It can be operated automatically
[/wpsm_pros][/wpsm_column][wpsm_column size="one-half" position="last"][wpsm_cons title="Negatives:"]
Setting up is a bit complicated
[/wpsm_cons][/wpsm_column]
6. Bikemaster Easy Lift – A Bikemaster Universal Aluminum Front Stand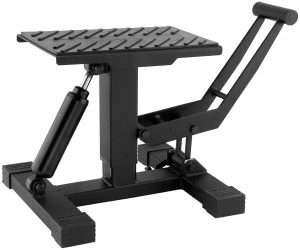 As the name suggests, the item aims at providing an effortless lift for your bike. It is fitted with an anti-slip surface that keeps your motorcycle intact for as long as you use the platform. The coating also cushions the bike from damage and scratches.
Its assembling will take less than five minutes. Attaching the lift arm is also pretty easy as you do not need additional equipment to do it. It is handy and simple to get to work.
For me, descending the bike was always an issue with other stands. But with the Bikemaster universal aluminum rear stand, the shock absorbers enable smooth descending, and it ensures bike safety. You won't require assistance when lowering your bike.
The standard height of the stand is 9 inches, and it can be extended to 17 inches. The height is ideal for smooth working, although I found it not stable at the maximum height. It might be a result of the slim surface that your bike settles on.
It is, however, a good bargain at its current price. The stand is also not weighty, making it ideal for use outdoors. In a garage, it won't consume much of your storage space, which is always a concern to many.
Adjusts to a more extended height than other stands
Descending the bike is effortless and smooth
Easy to assemble
Worth the price
[/wpsm_pros][/wpsm_column][wpsm_column size="one-half" position="last"][wpsm_cons title="Negatives:"]
Not stable at maximum height
[/wpsm_cons][/wpsm_column]
7. Black Widow BW-1604A – A Universal Equipment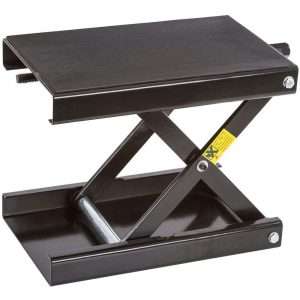 The Black Widow motorcycle stand is metallic and suitable for all bikes. It is strong to hold up to 1100 pounds and raise your bike to a height convenient for repair.
This bike stand gets the job done, but it is not as effective as a bike lift. There is a rubber surface with a rough texture to prevent the bike from sliding. The basic height is 4 inches, which can be extended up to 15 inches.
I have used the Black Widow motorcycle lift for more than a month, and I can tell that its purchase was worth it. It makes the bike stay stable and balanced even at its maximum height. Greasing the joints is vital if you want to raise the bike effortlessly over and over again.
Unfortunately, the item comes without a dolly. However, the Black Widow motorcycle lift is strong to raise even the heaviest bikes. It ensures the bike is stable and gives you ample time to do your bike upkeep. I highly recommend it.
Strong and stable
Ease of maintenance
Easy to store
[/wpsm_pros][/wpsm_column][wpsm_column size="one-half" position="last"][wpsm_cons title="Negatives:"]
The dolly is not included
[/wpsm_cons][/wpsm_column]
8. Kendon Folding Stand-Up ATV – A Durable Lift to Note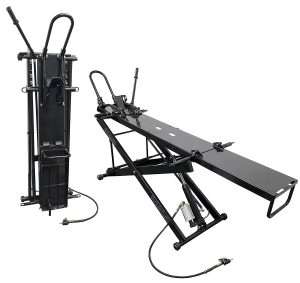 The cost of this bike lift is suitable for all. Convenience in raising your bike to a higher level for straightforward repair has never been this easy. By being fitted with hydraulic pedals, this product allows for a really small amount of energy to be used to ascend or descend the bike.
It is the ultimate Harley Davidson motorcycle lift, long enough to accommodate the length of the bike without fear of it falling. It is strong and balanced. There are clamps to keep hold of your bike's wheel and ensure your safety during maintenance.
Its setup is easy, and it perfectly settles on any surface. You do not have to clamp or fix the lift on a surface. To prevention against rusting, you need to store it indoors. The quality is not the best, but the lift is worth its money.
Note that this model is foldable. The Kendon folding motorcycle lift enables you to save storage space when you are not using the stand.
The product is protected by a one-year warranty to clear any doubt you might have about its quality. It can hold a weight of up to 1000 pounds. I recommend you buy this item as it saves a lot of storage space and it is ideal for long bikes. The motorcycle lift Kendon is also reliable when it comes to extensive use.
[wpsm_column size="one-half"][wpsm_pros title="Positives:"]
You can use it as an ATV stand or bike lift
Effortless to use thanks to hydraulic pedals
Foldable for convenient storage
One-year warranty
[/wpsm_pros][/wpsm_column][wpsm_column size="one-half" position="last"][wpsm_cons title="Negatives:"]
[/wpsm_cons][/wpsm_column]
A Detailed Guide on Purchasing the Best Motorcycle Lift
Under this section, I have prepared a detailed guide to help amateurs understand more about motorcycle lifts and their importance. Pros shouldn't feel left behind, as the guide contains several factors to put into consideration when purchasing the best motorcycle lift table. The information below will, therefore, help you to make a worthy purchase. But first of all, let's cover the basics.
What Is a Motorcycle Lift?
By being built specifically for handling motorcycles, a bike lift is an essential tool that can be used to raise your motorbike to a given height. The elevated motorbike position will help you to operate and execute checkups and maintenance comfortably.
Benefits of a Motorcycle Jack
The most important benefits:
when using a lift, working, or performing your bike's repair will be smooth, and you will have little strain when doing it;
considering the danger posed by traditional support methods and the amount of energy required to raise the bike to any level, the bike lift comes as a beneficial solution. By using a lift, you can work on your bike easily and be exposed to no danger. Thus, you can have a complete focus on the issue with the bike only;
a bike lift enables access to those hard-to-reach surfaces for a complete check and repair;
you can change the height and the position of the lift when working on the bike easily;
it also protects you from dirt and mud as opposed to laying on the ground.
What is the Maximum Capacity of the Motorcycle Lift?
In most cases, lifts can support up to 1100 pounds. That's the figure I have come across in almost every bike lift I have used. However, there are lifts with a capacity of 1500 pounds. Also, the 1500 lbs motorcycle lift is the maximum capacity under my reviews. To sum up, the weight averages at such figures, and it is in line with the weight of most bikes.
What Important Features to Consider when Purchasing Motorcycle Lifts?
There are a number of features that should be considered when choosing and buying:
The main reason for buying a bike lift is to elevate your motorcycle. Thus, your bike's weight becomes an essential factor to consider. For the lift to be put into productive use, it must be in a position to support more than the bike's weight.
Cost consideration should come next. Do not overpay for inferior-quality products. Read reviews and learn from those who have been using the product. Is the item worth buying, or is it a waste of resources?
How often do you need to use the item? Is it resilient enough to handle frequent use? If the equipment is going to be used daily, then quality should be one of the main factors to consider.
For outdoor use, the material making the lift should be rust-resistant. Also, consider the size in case your garage is that large to accommodate huge lifts.
Design
For your convenience, bike lifts come in an assortment of models to pick from. Hydraulic, manual, and automated lifts differ in the speed of job execution and cost. Steel-made products are also more potent and resilient, and your choice should revolve anywhere between quality and resilience. You need to make a purchase that will serve you close to a lifetime.
Safety Measures
Your safety should come first, especially when using a lift for your bike. Thus, you need to check if the item has straps for keeping the bike in its intended place as you work.
When you adjust the height to the maximum level, ensure the item provides optimal stability. Do not overload the lift because the bike can fall off as a result. Most lifts bear less weight than the stated value. I, therefore, recommend going for a lift that is stated to take care of more weight than your bike has.
Height Range
Whereas a maximum height allows less straining when using the equipment, a higher extension might affect the stability of the lift. This might be dangerous as it can lead to complete damage to the bike in case it falls and your injuries. So, go for the model that has room for height.
Extra Features
Some lifts are conveyed with wrenches for smoother operations. There are also manuals for the easiness of assembly. There are no specific extra features that you should definitely go for, but getting something extra is always pleasant.
Motorcycle Width
The bike width presents stability and usability concerns. If the lift's surface is too thin, then bigger bikes will sway, and it can be dangerous. Opt for broader lifts as there are many different models available.
Price
No one wants to overpay for a low-quality item. There are motor lifts that exceed $1,000. But I have used and picked some lifts that cost less than $100, and they proved to be durable and top-quality. You need to get the best quality at a bargain, and the lifts under review will cover your needs.
Closing Remarks on Choosing A Motorcycle Lift
As I wind up my review on the best motorcycle lifts, I hope that I have put everything in place for you to make an easy decision on the bike lift. I picked eight remarkable models based on my experience with the items, their affordability, quality, durability, strength, safety, size, and designs.
I want to point out the importance of considering your safety when going for a bike lift once again. You should never subject the lift to more weight than its maximum capability. Even for its optimal stated weight capacity, it is crucial to deduct a few pounds as it is better safe than sorry.
Picking the right material and design should not be a concern after reading this blog. Be aware of the sturdy and robust steel-made products and differentiate them from light material goods.
You need to clamp the bike to minimize its mobility on the stand. It is all for your safety and your bike's protection. Make use of the manual that comes with each lift model to learn how to utilize it properly.
Have you used any of the reviewed motorcycle lifts? What do you think about motorcycle lift jacks? Would you recommend a friend to use a motor lift? Let me know your thoughts about bike lifts and share some good and bad experiences with these tools.