Best Motorcycle Lock – Features, Prices, Pros, and Cons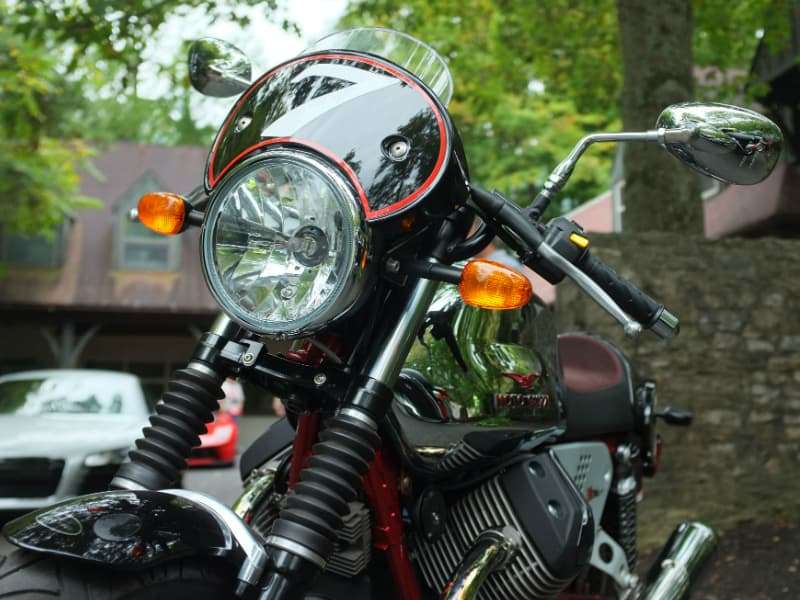 Years ago, bike riders had no problem leaving their bikes out while in town. It was made possible by neighbors looking out for each other, and also the fact that parking lots were not as crowded as they are now. Leaving your motorcycle out today is a tricky affair.
Thieves have sophisticated equipment that lets them steal your bike.
No matter the type, make, or price of your machine, you want to keep it safe. If you are a true biker, you understand the sentimental value of a motorcycle. Therefore, there are no lengths you would not go to keep it safe. Thanks to technology, we have various sturdy motorcycle locks that serve this purpose.
Motorcycle locks come in different shapes and sizes. They work on different parts of the machine. However, if chosen right, they all do a great job of securing your bike from thieves. How do you identify a good motorcycle lock that will not be easily broken? Today, I will use my years of experience to review locks that are worth buying. I will discuss the product specifications as well as the pros and cons of each to help you make a choice.
Amazon Bestseller
Top 10 Motorcycle Locks Review
There are three different types of locks for a motorcycle. Grip locks are placed on the throttle, clutch, or handlebar. When locked on the handlebar, they clamp down the clutch or brake lever and ensure that a thief cannot drive away with your machine. Their portability and easy visibility are some reasons why bikers prefer them over other types.
Wheel locks, on the other hand, go over the rotor on your front disc brake. They have a steel bar that penetrates one of the holes on the disc rotor and locks into place. These immobilize the wheel and are quite simple to use. However, it is easy to forget about them and attempt to drive off without unlocking. That never ends well. Security chains and bar locks are other types of motorcycle security devices that you can buy.
In this review, I have included different lock types. Each of them is well suited for a specific machine, and I will tell you why.
Best Motorcycle Disc Lock – MYSBIKER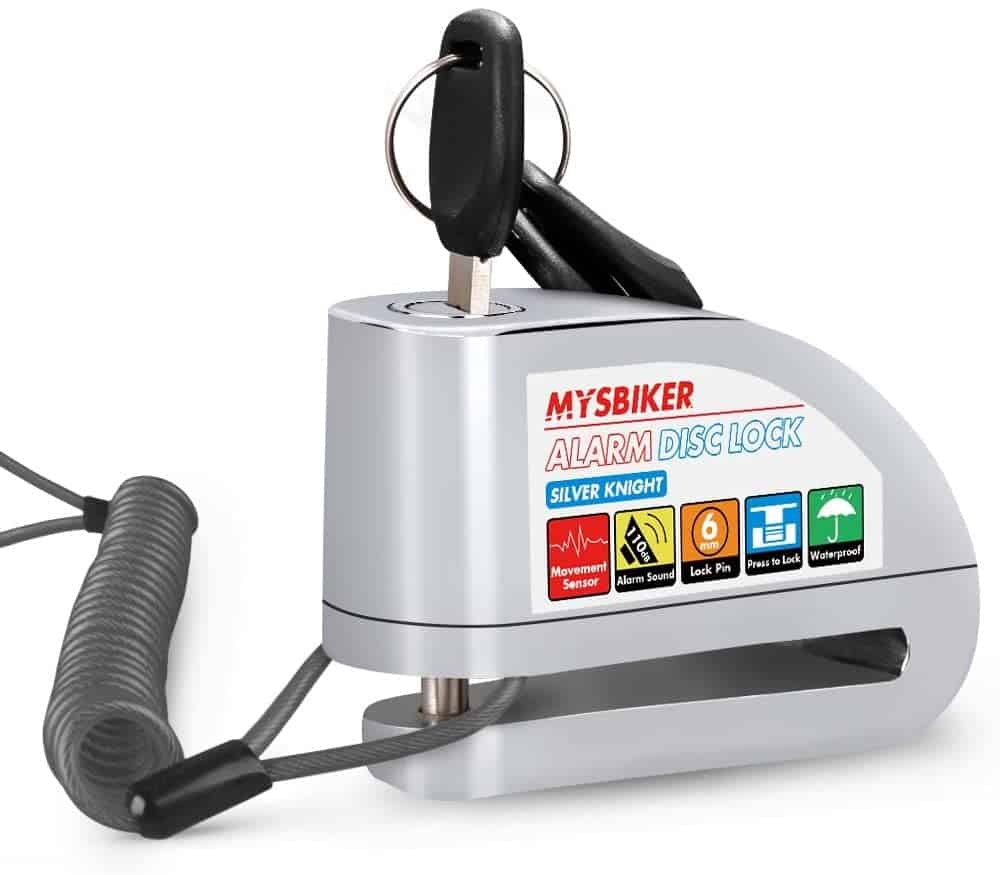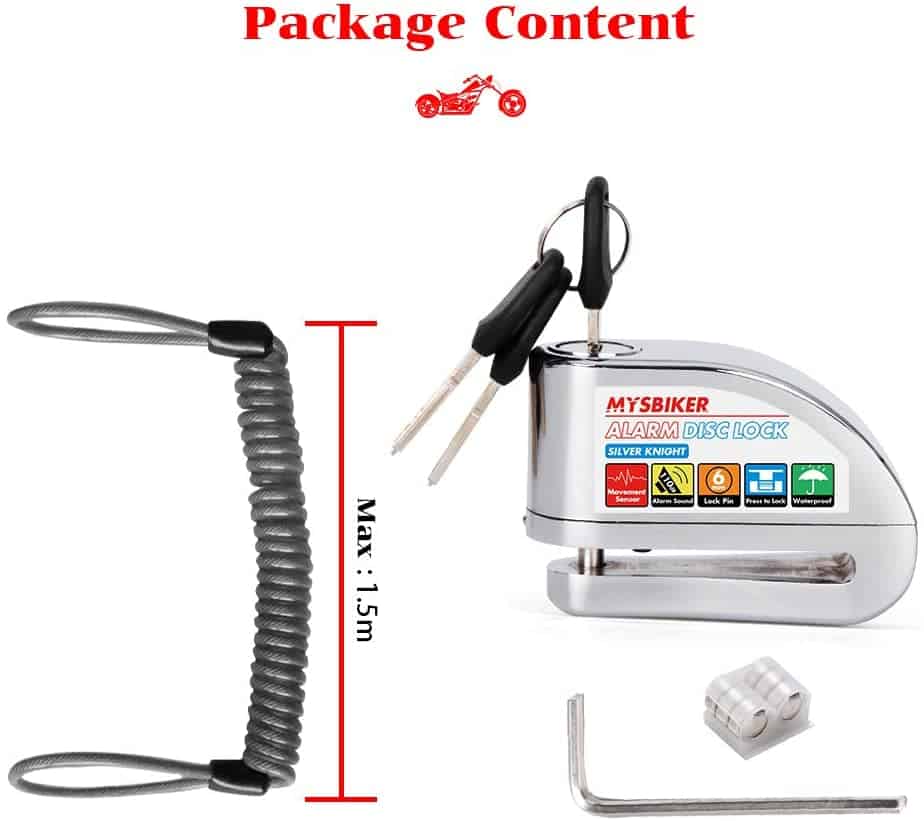 This product is the best overall as it works on all dirt bikes, street bikes, motorbikes, and recreational vehicles that have a quarter-inch thick drilled disc. It is sturdy, versatile, and very efficient. It has a 6mm lock pin that goes through holes in the discs and locks down. The lock is made of reinforced steel that is very difficult to cut.
The lock comes with one of the loudest alarms ever used. When it senses slight vibrations and movements, it issues a three beep warning. However, if the interference is more than that, the loud alarm goes off to alert the owner of potential theft. This alarm can either be switched off using the lock key or letting it go off on its own after a few seconds.
Even after years of use, its stainless steel coat ensures that the metal does not rust. Therefore, its strength is guaranteed over time. It is also waterproof and capable of withstanding long hours of exposure to the elements without rusting or fading.
It comes with an alarm, mini wrench, lock keys, reminder cable, and extra zinc batteries. The reminder cable is one of the most practical and useful additions to this lock. It comes over to the handlebar to remind you that the wheel disc is locked. Therefore, it helps you avoid damage to the wheels when you drive off without unlocking.
Being an audible disc look, it might not be suited for windy areas or places where there is a high volume of movement. Strong winds and thunderstorms might easily set off the warning alarm and, at times, the loud, full alarm. It can be an inconvenience to you and your neighbors.
MYSBIKER Motorcycle Alarm Disc Brake Lock, Anti Theft...
▶Theft Prevention: MysBiker Alarm Disc Lock-Silver Knight is a practical solution for bikers to protect your beloved motorbikes or bikes while parking outside or at home. The disc lock will be automatically activated when sensing any vibration or shock and the alarm sound is able to reach up to 110 db,keeping your belongings safe and sound.
▶Easy to Notice: The disc lock includes a 2m reminder cable, reminding you to remove the disc lock before riding and easy to lock with one-press operation.
▶Wide Application Range:It is ideal for motorcycles, bicycles, scooters and any vehicle where there are holes or spokes on a wheel.
▶Strong and Durable:Made of forged stainless steel, it is waterproof/cut resistant/corrosion resistant/high temperature resistant.
▶Long Life Use: Each Motorcycle lock is pre-fitted with 6 LR44 batteries and extra 6 pcs batteries,and 3 pcs brass security keys.To replace the battery,you can use the mini wrench to spin out the 4 screws at the bottom(see picture #6),then change the battery inside.
Positives:
Durable
Affordable
Versatile
Negatives:
Not suited for windy areas as the alarm will be set off easily
---
Best Motorcycle Theft Protection – Yohoolyo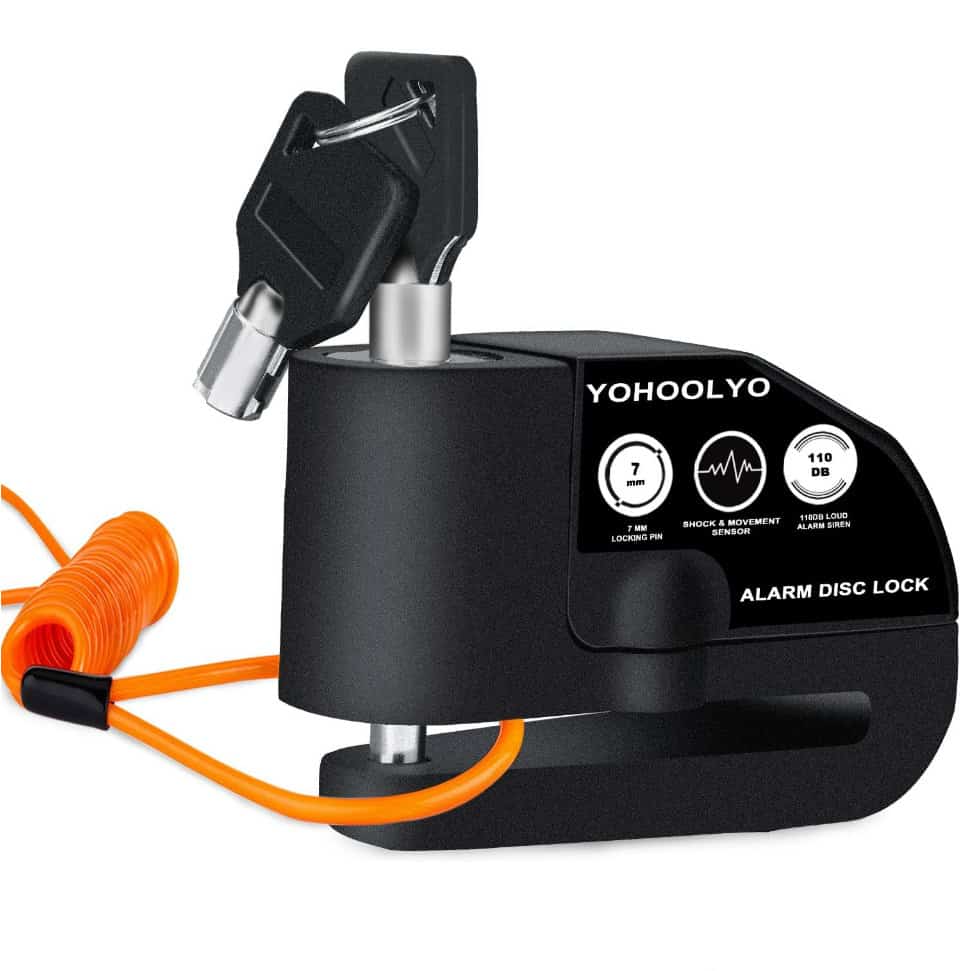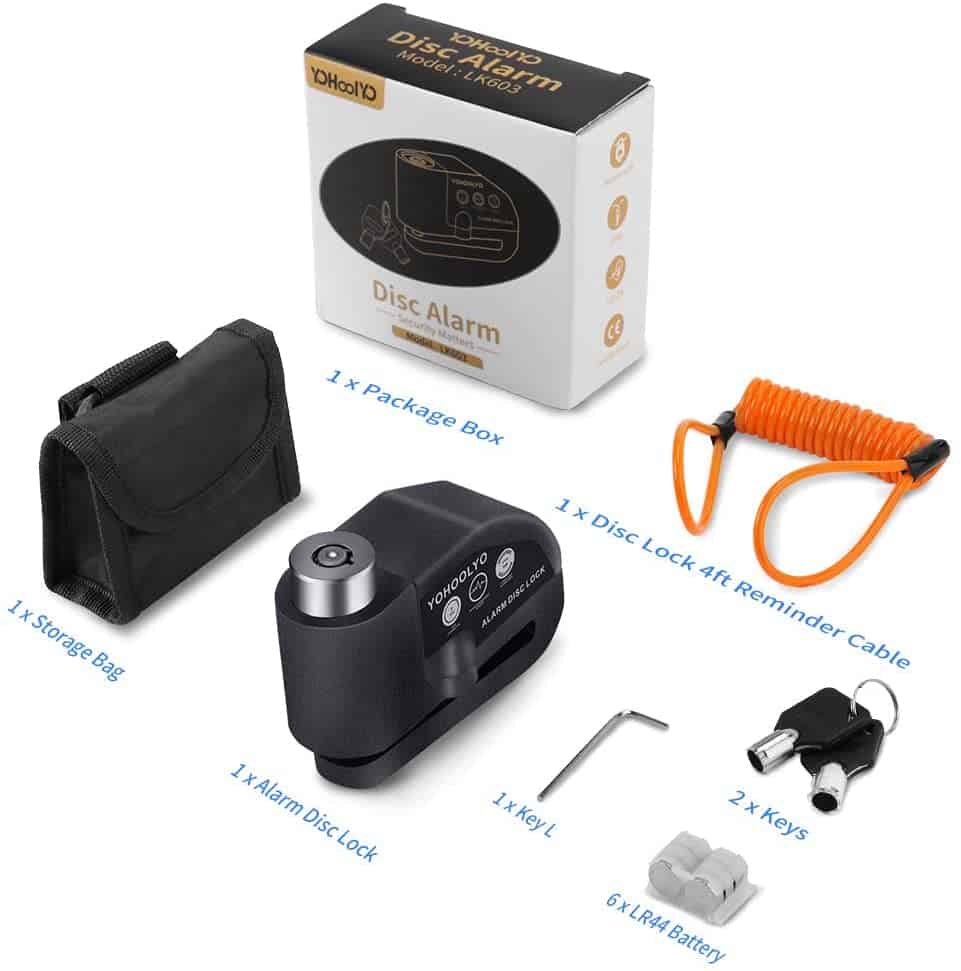 If you are looking for a safety device that is easy to use and sturdy, this is the product for you. It has a pin that should be inserted into the wheel holes. To lock it, you simply need to press it down. There is an extra set of keys for opening it. The material is a heavy metal that cannot be broken easily, especially with the alarm on standby. It is also waterproof to ensure that it does not rust after getting rained on.
This motorcycle lock has one of the most intricate alarm systems. For a lock so small, it has a very loud alarm that will deter any thief. It is very sensitive, and the only way to stop annoyance is by understanding the alarm sequence. The first lock elicits one beep to confirm that the lock is in place. The actual sealing takes place 15 seconds later, but this does not cause any beeps. When something sets it off, it makes three warning beeps. After this warning, any movement will cause the alarm to go off, making a shrill and loud noise for 10 seconds. It can silence itself automatically or be silenced using the keys.
This alarm is so sensitive that if you live in a stormy area that has strong winds, it might be set off once in a while. The loud siren goes off automatically after 10 seconds, so you do not have to go out in the rain to turn it off. If the volume of the alarm goes down, you should replace the batteries. The lock comes with an extra set.
The only criticism I have of this device is that it is not very visible because it is black. The whole point of such a lock is to deter theft. Bright colors that are easy to see can prevent unwanted attempts that might destroy parts of the bike.
YOHOOLYO Alarm Disc Lock Motorcycle Disc Brake Lock...
The Anti Theft Lock is made entirely of metal, it is sturdy and durable
The alarm sound is able to reach to 110 db, the measure of the locking pin 7 mm that allows us to set at 360 degrees, and it is possible to fix it in any position
It comes with two keys, it is ideal for motorcycles, bicycles, scooters and any vehicle where there are holes or spokes on a wheel
Motion sensor with 5 seconds delay and rust-resistant, weather-resistant, resistant to destroy physical and waterproof
The package is included 1 motorcycle Disc Lock 2 keys and 1 allen key ,you can use the supplied allen key to unscrew the 4 screws in the back of our lock
Positives:
Loud alarm
Sturdy build
Easy to use
---
Best Wheel Locks – Kryptonite Keeper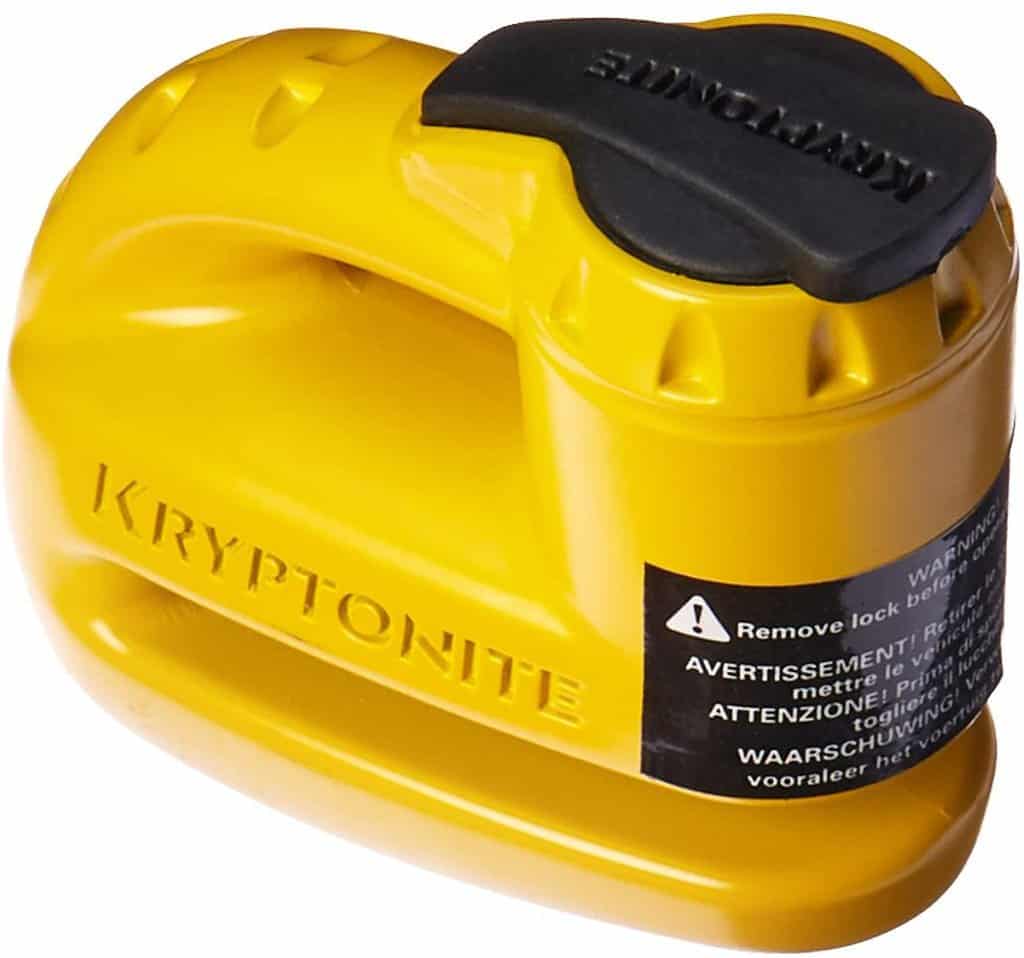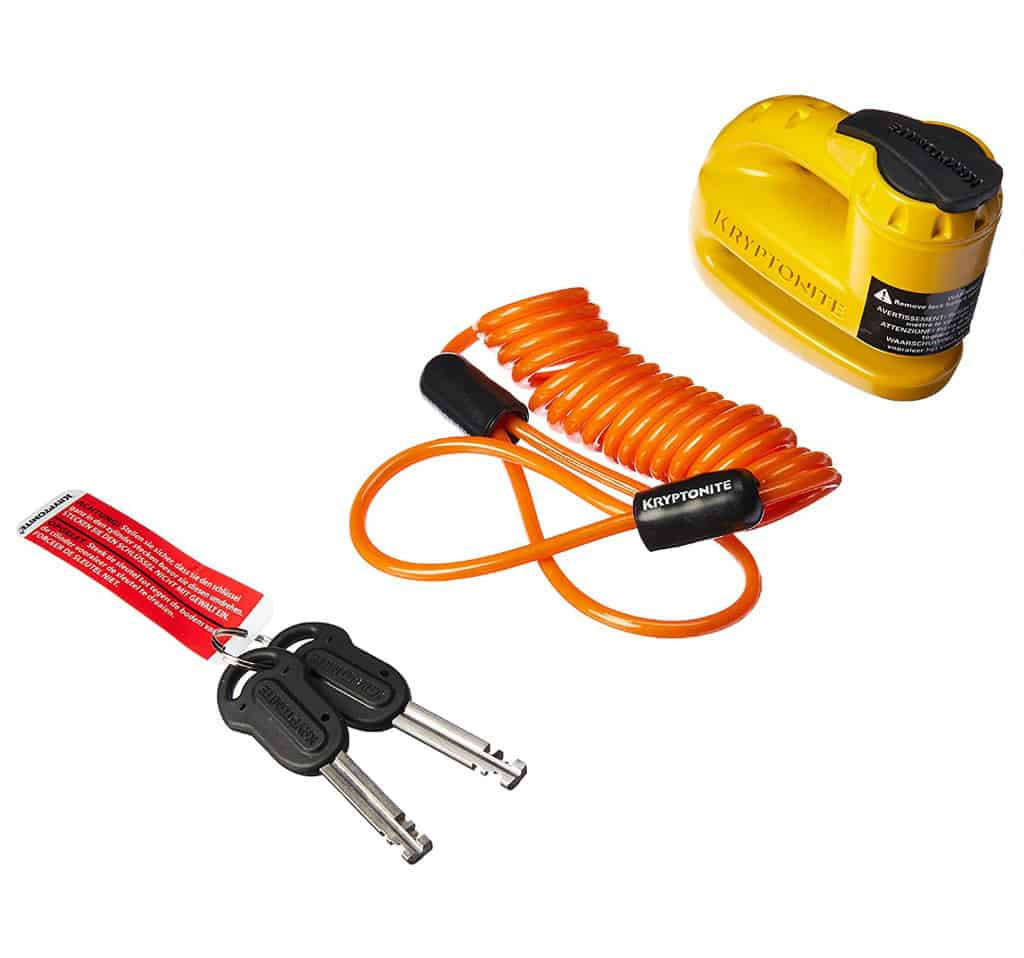 If you are a fan of disc locks, the second product in our review will be of interest to you. It is a brightly colored and compact lock whose pin has a smaller diameter than most. This feature makes it appropriate for a motorbike with small holes on the whiles. It has a stapler design that is easy to use by just inserting the pin and stapling it shut.
Although it is brightly colored, the material underneath is stainless steel to keep it from rusting. Therefore, you should not worry about its durability outdoors. One of the best qualities of this motorcycle lock is that it is lightweight. You can carry it in a pouch and use it wherever you are. Whether you have gone on a trip or to run an errand in town, carrying this lock around is quite easy.
Its unique shape and design are quite ergonomic. It reduces the effort needed to staple the lock in place. It also ensures that the lock cannot be pried easily. A thief bending it to steal your machine is out of the question.
To remind you that you have locked your wheel and prevent an accident, it comes with a coiled reminder cable. This cable is colored bright orange and comes over the handlebar. Before gearing up to go, you will see the cable displayed on the handlebar and remember that you have a motorcycle lock.
On the flip side, the shaft of this motorcycle lock can get quite rusty. This makes it difficult to open at times, especially if it is not well lubricated. You might need to have some oil to use from time to time to get things moving.
Kryptonite 000884 Keeper 5s Yellow Disc Lock
Dual reinforced high security disc style cylinder
5mm pin diameter fits smaller vent holes
Compact, lightweight and weatherproof
Includes 2 Stainless Steel keys, with ergonomic design to reduce the amount of torque, and keep them from bending or breaking
Stapler style disc lock immobilizes vehicle to prevent roll-away or ride-away theft
Positives:
Lightweight
Ergonomic design
Brightly colored reminder cable
---
Best Motorcycle Security Chains – Kryptonite 1415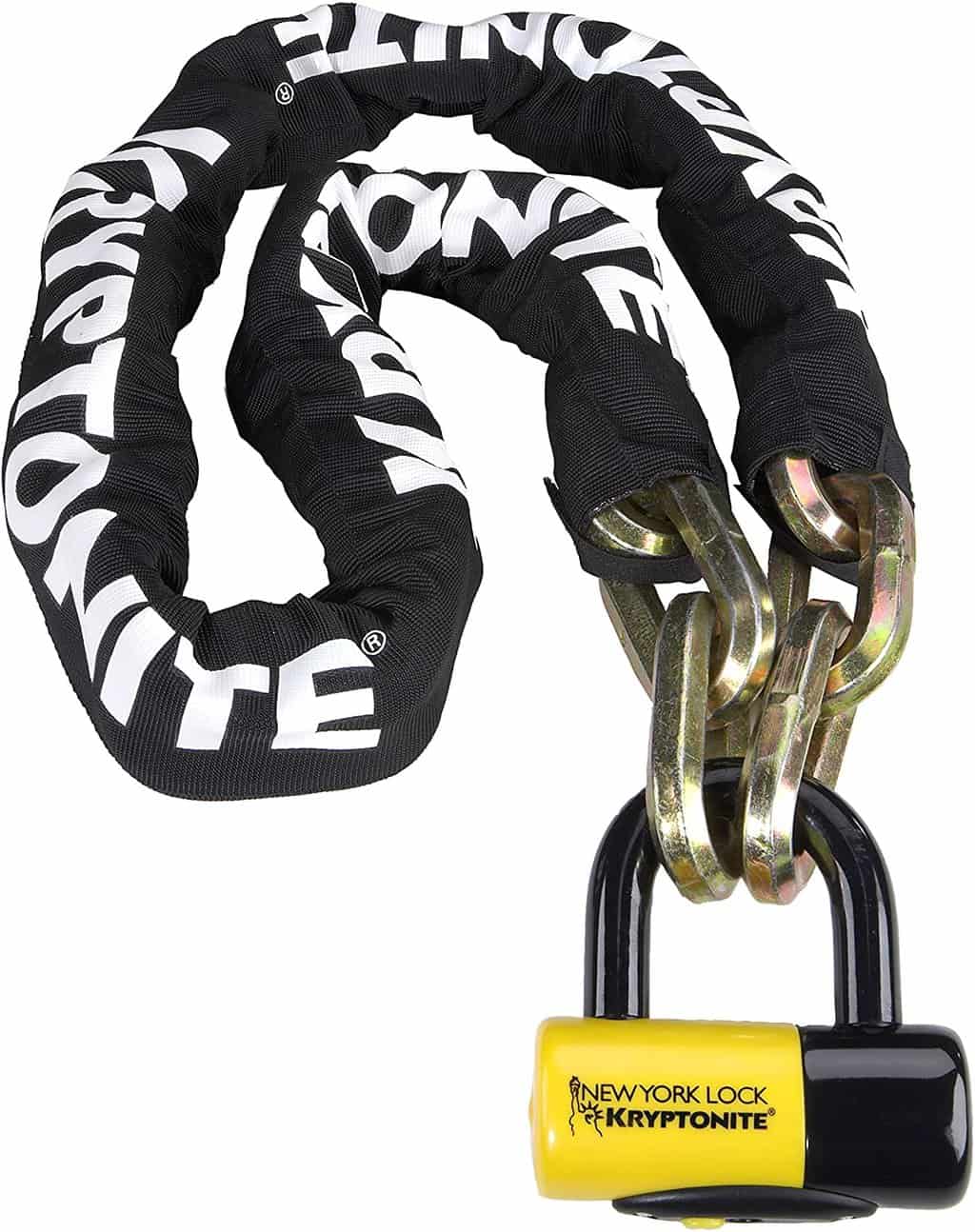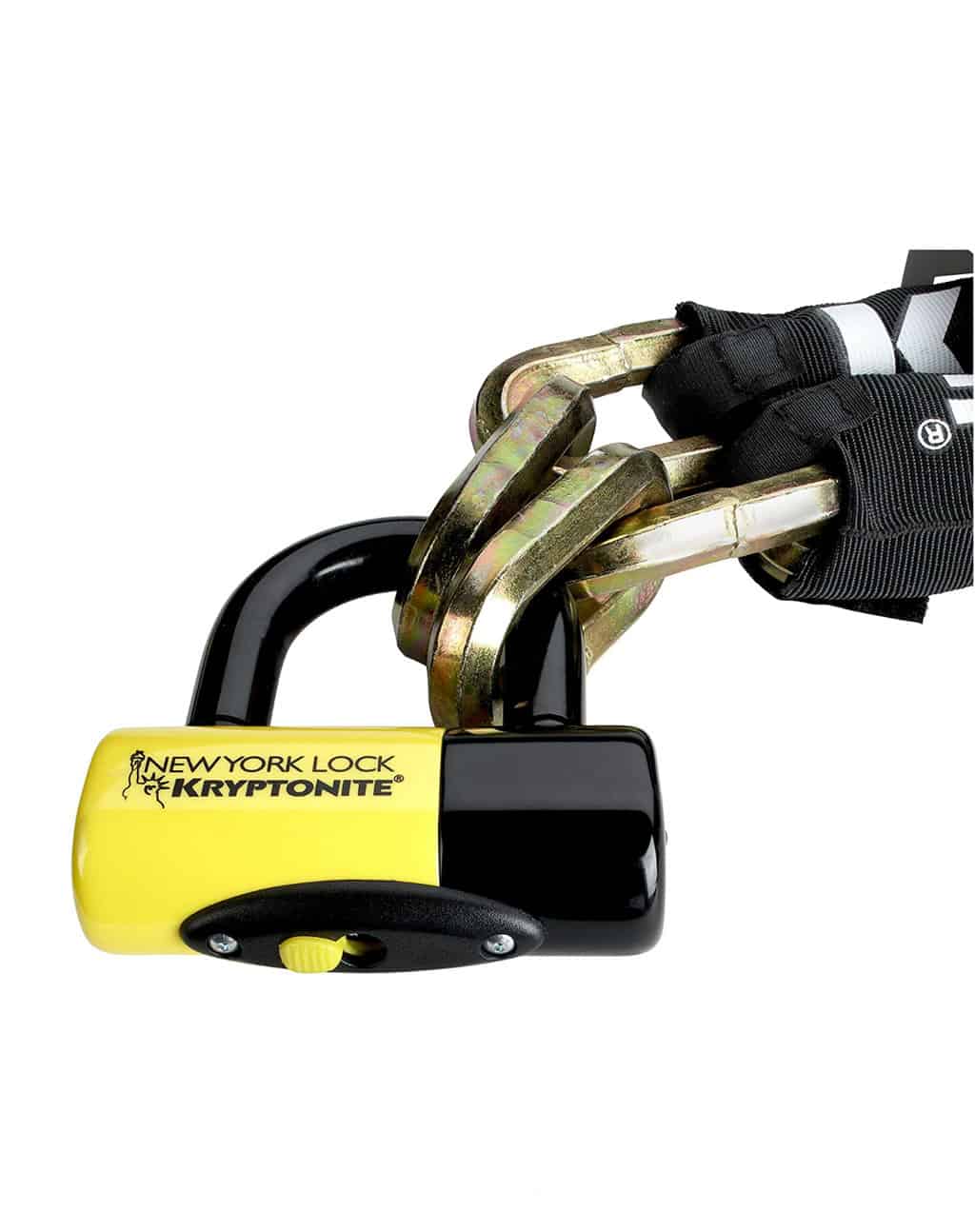 This is one of the most secure motorcycle chains you can buy. It is also one of the thickest and heaviest in the market. As a result, it may not be suited for use on trips or outside the home. It is not very portable due to its weight, so you might want to have it for home use only. Despite not being very portable, it is one of the best locks in terms of security offered.
The chain itself is about 15mm thick and weighs almost 3 tons. To cut it, a thief would need the biggest pair of bolt cutters. They would also need some technique to cut through the chain. As a result, you are guaranteed that theft is highly unlikely. Apart from the heavy metal cord, this motorcycle lock also has a sturdy padlock.
The padlock is made of 16mm hardened metal that is impossible to cut through. Picking it is also not an option because its disc is unique and not easy to manipulate. As an added measure, this lock has a deadbolt that is reinforced. To protect your motorcycle's paintwork from scratches and damage, the chain is wrapped in a nylon sheath. It ensures that it stays in place and does not end up scratching your bike.
One of the winning qualities of this product is anti-theft insurance. If your bicycle is stolen while secured with the lock, the company offers a payout based on the worth of your machine. It is proof that the company believes in the strength of this motorcycle lock. The warranty is valid for the first month after purchase.
Sale
Kryptonite New York FAHGETTABOUDIT 1415 14mm Chain & New...
14mm six-sided chain links made of 3t HARDENED MANGANESE STEEL for ultimate strength
Durable, protective nylon cover with hook-n-loop fasteners to hold in place
Includes maximum security New York Disc Lock with 15mm MAX-PERFORMANCE STEEL SHACKLE
Patented*, oval hardened STEEL CROSSBAR for extra security
Hardened DOUBLE DEADBOLT locking for extensive holding power
Positives:
Sturdy
Has anti-theft insurance
Very visible
---
Best Wheel Chock for Motorcycle Security – MaxxHaul 70075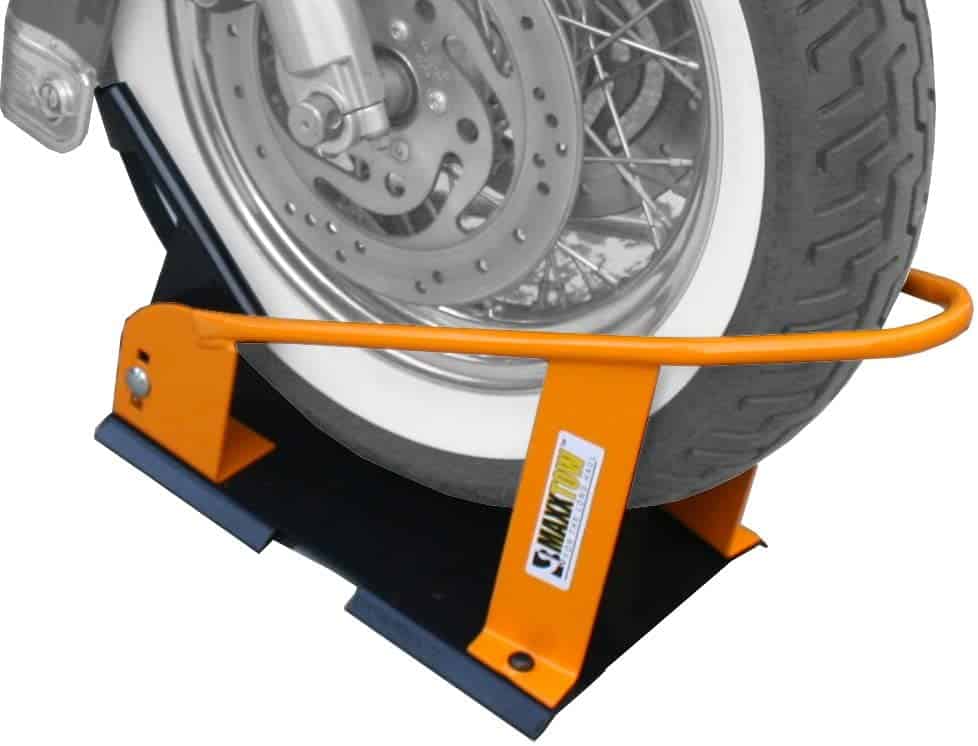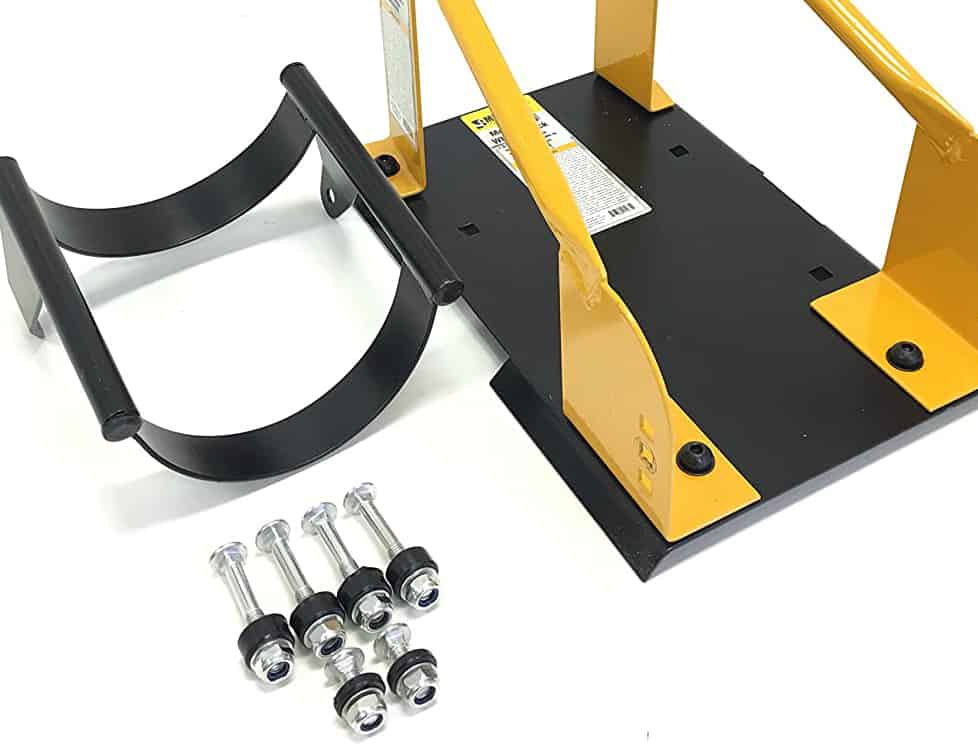 A motorcycle lock is good enough for security purposes alone. However, when transporting your machine, you might need something more than a lock. Remember that thieves can take your bike and break it down for parts. Therefore, while it is in transit, your best bet is to have a sturdy chock that not only holds your bike in place but also protects it from being hauled off the truck.
The Maxxhaul has a strong grip on the ground that ensures your motorbike stays put and cannot be moved without your consent. It also serves as an anchor base to prevent damage during transportation. Without it, your ride might be highly unstable and even cause accidents while being transported. Its best feature is that it can cater to a wide variety of wheel sizes. It has three brackets for positioning wheels according to their size.
Another good quality of this chock is that it is reasonably priced. In comparison to others on the market, it is fair to say that Maxxhaul offers the most value for money. It has a sturdy build comprising heavy-duty steel and a powder coat for rust prevention. Therefore, using this choke outdoors is advisable as it will not be affected by the elements.
Considering its importance in preventing accidents, the instructions must be clear and easy to follow. It is also necessary for the set up to be convenient and straightforward. Setting up this choke is very easy because it comes with corresponding bolts to fix the bottom plate on to any platform. It also has a pivoting cradle that enables easy loading and unloading of bikes. Overall, when it comes to heavy-duty protection, no portable lock beats this choke. Thieves cannot have enough time and skill to pry the motorcycle away from it.
Sale
MaxxHaul 70075 Motorcycle Wheel Chock
3-position adjustable holes on wheel base to accomodate various motorcycle wheels
Includes hardware and mounts securely to floor, truck or trailer
Locks your tire as you roll it into your wheel chock; Easy for one person to strap-down a motorcycle
Heavy duty steel construction; Durable powder coat finish to resist rust and corrosion
Overall Dimensions: 24" L x 9-3/4" W x 12-7/8" H; Base Dimensions: 15-5/8" L x 10-5/8" W
Positives:
Easy to use
Sturdy build
Impossible to break
---
Best Motorcycle Anti Theft Devices – Winner Club Lock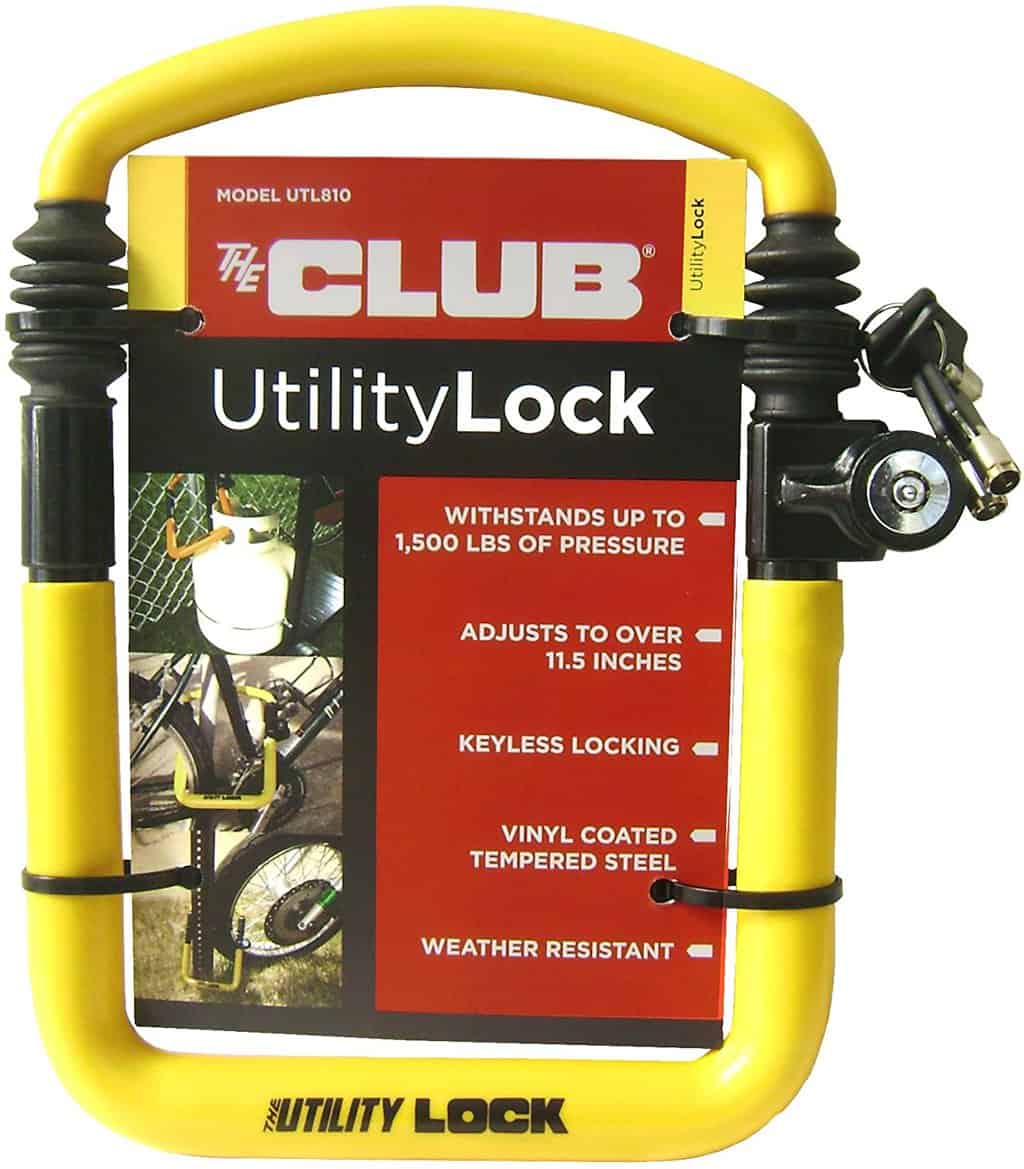 This versatile locking equipment can be used on cars, motorcycles, scooters, and much more. It has a thick rectangular shaft that is meant to wrap around an anchor and hold your machine in place. Compared to other D-bolt type locks, this shaft is quite sturdy. It has a wide expansion to allow it to fit in different sizes of anchors. It has a minimum of 6 inches, but it can be extended to 11 inches. To reach the right length, you simply have to adjust it at the joints.
It is a sturdy heavy-duty lock that is not easy to cut through. The metal is thick and reinforced. Although with enough time and skill, a seasoned thief can beat any type of security system, it would take quite a lot of effort to break this lock. This alone is a deterrent for someone looking for a quick buck. The lock is very visible due to its size and color. It is another deterrent as thieves will move on to an easier target.
Being heavy-duty comes with the disadvantage of being bulky. It is not easy to haul this lock around. Carrying it in a backpack or messenger bag can prove to be cumbersome. A better idea is to strap it on your bike and ride with it. However, it may not always be possible. It is also not the easiest lock to use because you have to figure out the best way to anchor your motorcycle for it to be effective.
It is made of rust-resistant coating that prevents it from discoloring and fading after being used outdoors for a while. However, the cylinder will need some lubrication from time to time. It is especially necessary if you live in a rainy or humid area. Lubrication will get rid of the rust and make it easy for you to unlock the device. Because the lock is coated, it cannot scratch your bike.
The Club UTL810 Utility Lock, Yellow
Replaces chains and padlocks to safely secure ATVs, patio furniture, tools, motorcycles, and more
Length adjusts from 8.5 inches up to 11.5 inches, 6.25 inches inside width
Weather resistant and easy to use
Extra heavy duty construction withstands over 1,500 pounds of pressure
Vinyl coating tempered steel protects objects from scratches and scrapes
Positives:
Sturdy build that is difficult to break
Brightly colored for visibility
Coated metal offers scratch resistance
---
Best Handlebar Lock for Motorcycle Security – BigPantha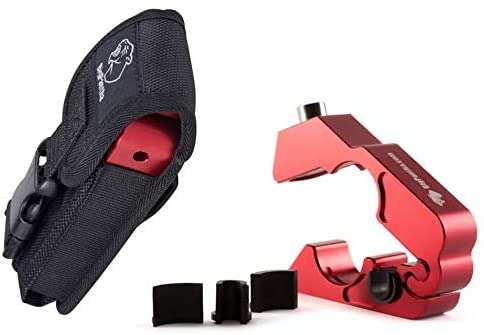 This motorcycle lock works by immobilizing one side of the throttle or front brake. It can also immobilize the clutch. By doing so, it makes it impossible for a thief to ride away with your machine. It is very lightweight; at just 1lb, you can carry it with you wherever you go. This feature makes it one of the most portable and convenient locks out there. It is also quite versatile as it works on all motorbike brands regardless of specifications. Unlike discs that can easily be forgotten, resulting in serious damages to the wheel, these handlebar locks are impossible to miss.
The lock has two grips, both of which are placed on the throttle just next to the front brake. That way, the brake is fixed, and no one can use the throttle. Alternatively, the lock can be used to secure the clutch. If you worry about thieves who could move the entire motorbike and load it onto a truck, you can use this lock along with a chain or disc lock. The handlebar lock can serve as a reminder to disengage all other locks on the wheel.
On the flip side, this lock does not have an alarm like most disc locks do. Therefore, you will not be notified about any theft immediately it happens. However, the lack of an alarm makes this lock very compact and eliminates the need for batteries. It is sturdy and well-built, so that trying to pry it off may not work. It is also resistant to the elements. You do not have to worry about it rusting and leaking onto the paint on your motorbike. If you have mounted any additional items to the handlebars, this lock might not work well.
BigPantha #1 Motorcycle Lock - A Grip / Throttle / Brake /...
NOTE - WORKS ON ALL TWO WHEELER'S WITH GRIPS UP TO 1.5 INCHES (38 mm) IN DIAMETER. Universal operation means that it fits all Motorcycles, Sports Bikes, Scooters, Mopeds & ATV's (yes that's a four wheeler). Will accommodate all Brands of vehicle - Yamaha, Kawasaki, BMW, Ducati, Suzuki, Triumph etc subject to Handlebar Grips < 1.5 INCHES (38 mm) IN DIAMETER.
PREVENT YOUR MOTORCYCLE FROM GETTING STOLEN. Time tested, proven anti-theft Grip Lock is tough, durable, and tamper-resistant making it extremely difficult for a thief to steal your vehicle.
BONUS GRIP LOCK HOLSTER. Yet again - a BigPanatha first! Yes you could carry the lock in your pocket or in a shoulder bag / waist bag, but why bother when you can use the BigPantha custom designed Holster which IS NOW INCLUDED FREE OF CHARGE with the Grip Lock? Absolutely the best way for you to store and transport your grip lock. It looks great, it's comfortable, and it's very practical!
SAVE TIME & HASSLE. In a rush? The lock is simple to use & fast to implement - you can remove the lock from your pocket and fit it in less than 5 seconds - that's faster than any other motorcycle security device on the market!
SAVES YOU MONEY - CHEAPER THAN BUYING A NEW MOTORCYCLE! This is a very low investment to protect your machine.
Positives:
Lightweight enough to be portable
Easy to use
Visible
---
Best Motorcycle Lock for Handlebar – GL Red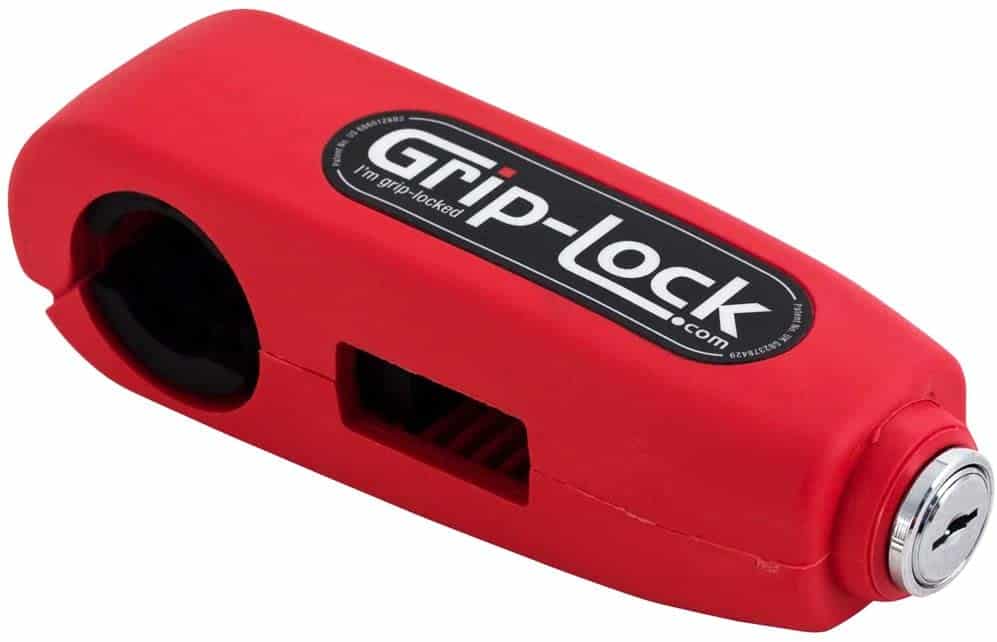 If you are looking for a quick and easy to use theft deterrent, look no further than this grip lock. Fixing it onto the handlebar takes less than 10 seconds, and before you know it, you will get accustomed to snapping it one each time you leave your bike. No key is needed, which makes it more convenient. Because it is very visible, it is one of the best ways of discouraging unwanted attention from potential thieves.
Its core is made of hardened steel to ensure that it cannot be broken easily. The motorcycle lock has a capable key system that cannot be picked easily. It is cased in nylon to prevent rusting and ensure that it does not scratch any surfaces. The space for handlebars is adjustable, with a 1 inch to 1.5-inch diameter to choose from. This feature makes the motorcycle lock appropriate for a variety of bike models and brands.
You can also use this lock as a reminder of other sturdier locks you have put in less visible places. You must understand that a grip lock cannot prevent a determined thief from carrying your bike and mounting it on a truck. The best approach is to use this lock in combination with another one that prevents the physical movement of your bike.
This handlebar lock does not have an alarm, which most portable locks do. It can be a slight disadvantage because it makes it harder to prevent someone from carrying away your bike. However, it is also beneficial as it enhances the portability and compact appearance of the item. Therefore, you should use this device with another lock that can act as a backup in case of any theft attempts.
Grip-Lock GLRed Red Motorcycle and Scooter Handlebar...
Grip-Lock is the smarter way of protecting your motorcycle from theft, it mounts right at the handlebar and locks both throttle grip and Brake lever
Applying and removing the Grip-Lock takes less than 10 seconds - a solution so quick, you will use it every time
Every Grip-Lock contains four hardened Steel cores for maximum protection & the reinforced nylon casing protects the Grip-Lock from corrosion
With a weight of only 11.6 oz. (330 g) and a compact size of 6 x 1.8 x 2 inches (15 x 4.5 x 5 cm), Grip-Lock fits into every motorcycle glove box or storage area
Able to be mounted on the left or right grip, the Grip-Lock acts as both a visible deterrent & lock Reminder
Positives:
Portable
Easy to use
Affordable
---
Best Wheel Locks with Universal Fit – TCMT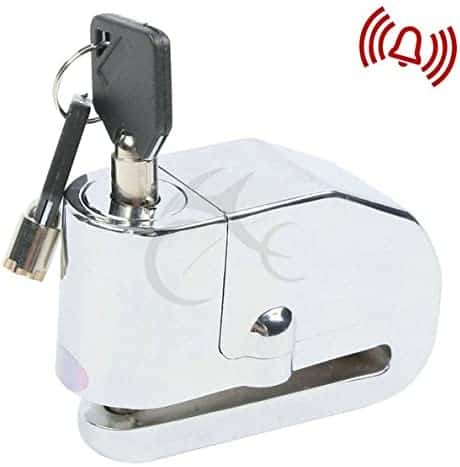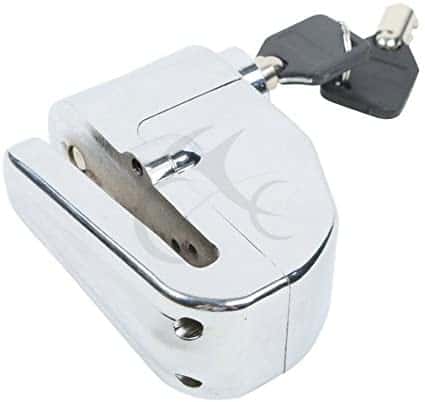 Offering a combination of efficiency, sturdy construction, and a reasonable price tag, this motorcycle lock is one of the best alternatives for bikers who want a guaranteed safety device. Despite being reinforced with hard steel, this device is very lightweight and portable. It weighs less than a kilo and is easy to carry along wherever you go. Its design is ergonomic to ensure ease of use and convenience.
This lock has a very loud alarm. For some users, it might be an inconvenience, especially when the alarm is set off by wind or thunderstorm. If you do not want the alarm, you will need to remove the batteries. You have to remove the lock from the bike and use the Allen wrench provided, open the cover, and remove the batteries.
The whole idea of this lock is deterrence, and a bad guy looking at your bike will quickly know that any movement will give one chirp as if to say it is your first and final warning. The next move will set off the alarm. It will even warn you if you mount your bike and have forgotten to remove the lock. It can prevent you from damaging your wheel in the process.
My main criticism of this device is that its color blends in with the motorbike, and it is hard to see from a distance. It beats the point of a deterrent, as thieves will attempt to ride off, and that might result in damage for your bike, especially if the alarm is disabled. Had this device been brightly colored, it would rank a little higher in this review.
TCMT Wheel Disc Brake Lock Safety Alarm Anti Theft Fits for...
Conditon:Aftermarket 100% Brand New,Colors: Silver,Alarm loudness: >100dB,Weight: 620g
Main parts are made of the high-quality harden stainless steel and metal.
The electronic alarm is with water resistant and anti-damage function.
If tampered with the alarm will sound grabbing attention and scaring the thief.
Fitment:The lock is suitable for use in various types of vehicles and luxury windows and doors,Package included:1 x Motorcycle alarm lock disk brake locks,2 x key
Positives:
Portable
Ergonomic design for ease of use
Loud alarm to deter theft
---
Motorcycle Anti Theft Devices – Trimax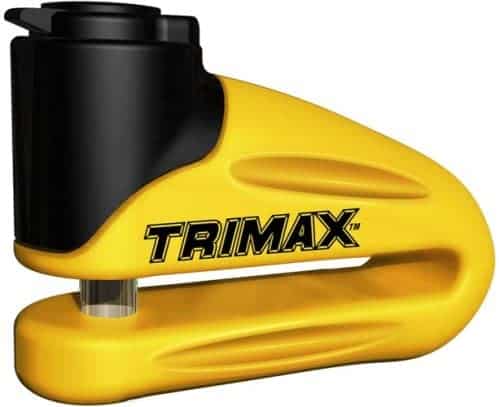 It is yet another disc lock worth buying because of its sturdy build and high-security features. Its steel core is not only hardened to prevent breaking but also boosted with the latest anti-drilling features. A determined thief might attempt to break it, but it would take so much time that they would give up at some point. Because most motorcycle thieves are opportunists, they would rather move on to an easier target than struggle with this tough lock.
Its design makes it lightweight in comparison to other wheel locks. It also features a state-of-the-art alarm that is loud enough to be heard from miles away. This alarm is triggered when someone moves the bike or tampers with the wheels. It first issues a warning beep before blaring at the loudest volume. It is a very effective deterrent. The alarm is battery powered and has to be boosted with a new set of batteries whenever its volume lowers.
To prevent you from starting up the bike with the lock still on, it comes with a reminder cable that can be draped to the handlebar. That way, whenever you want to move, you will be reminded to unlock the device first. However, this device is not easy to use. It can be difficult to open due to the design of its keys. As a result, it can leave you stranded when you least expect it.
Trimax T665LY Hardened Metal Disc Lock - Yellow 10mm Pin...
TRIMAX Corporation is the world's leading lock manufacturer providing customers' high quality products through innovative design
10 mm pin (long throat)
Rugged disc lock is hardened to resist cutting, sawing and chisel attacks
Features high security and anti-drill round key lock cores
Includes a free carry pouch and a free disc lock reminder cable
Positives:
Sturdy build
Lightweight
Has reminder cable
---
Final Take on Anti Theft Devices for Motorcycles
Most bikers have a sentimental attachment to their machines. They want to use them for years and even pass them on to their loved ones later in life. However, it is not possible if the bike gets stolen. Using a motorcycle lock is one of the best ways to ensure that no one makes away with your beloved bike.
There are different types of locks ranging from handlebar/clutch locks to wheel locks and chocks. Each of them offers a different level of security, and all of them have pros and cons. I think the Mysbiker disc lock is the best you can buy. However, it is not the only good theft deterrent on the market. Each of the products on this list does a good job of deterring and preventing theft.
Have you used any of the motorcycle anti-theft devices that I reviewed? What was your experience? Would you recommend it? Let me know in the comment section below. You can tell me about any locks that you think I should have included in this review, and I will be happy to check them out.