Best Motorcycle Phone Mount – Exhaustive Reviews of the Top Products
Best Motorcycle Phone Mount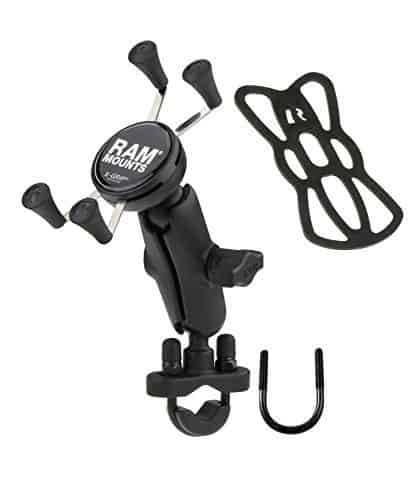 Before sharing the experience of my favorite phone mounts, here's how it all started. I fell in love with motorbikes at the age of 17, when I had my first ride. However, I badly wanted to get my own bike, I had the opportunity to ride my friend's Yamaha Fazer occasionally. I loved it. Today, I have a Honda 600 Shadow, and I'm the happiest when I'm on two wheels. On the weekends, my friends, namely Bruce and Max, and I have never found a better way to unwind and relax than to take country motorcycle rides. 
The dangers of holding a phone by hand when riding a motorcycle cannot be overlooked. Picking up a call or selecting your favorite song on your playlist during a ride can be catastrophic, as this is said to be one of the leading causes of motorcycle accidents. Phone mounts for motorcycle are not only lifesavers but also convenient motorcycle accessories that enable riders to securely carry their phone and listen to their most loved music with ease. Ever since I started riding bikes, I've used several motorcycle cell phone mounts, and truth be told, I found some convenient while others never served their purpose. Many low-quality motorcycle phone mounts never lasted as long, as they were susceptible to wear and tear. 
9 Best Motorcycle GPS Phone Mounts
Rather than spending hours trying to search for a good motorcycle phone mount, I will take you through nine motorcycle cell phone mount reviews covering my favorite phone mount products. When choosing the ideal phone mount for your bike, there are several products you ought to take into account. When picking the best cell phone motorcycle mount, you should consider the material used in building it as this determines the strength and the longevity of the mount. There are many phone mounts made of cheap plastics, and these are easy to snap. No ridder wants to be replacing a phone mount ever month simple because the previous one caught during an extreme off-road ride. Also, the best cell phone mount for motorcycle will depend on the compatibility with your phone. If a mount cannot be adjusted to perfectly grip a small or big phone, then it cannot serve the purpose it is meant for. Other factors to take into account include bike handlebar compatibility, the efficiency of the mounting process, and the pricing. Let's have a look at the various products among my favorite motorcycle phone mounts.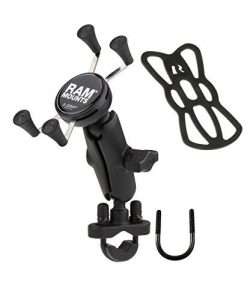 RAM mounts are among the most reliable mounts on the market, as they are built to last as they are made of high-quality materials including steel, rubber and industrial plastic. This Ram mount motorcycle phone holder is among my favorite mounts as it is not only easy to install, but it also has a stainless-steel holder frame that can withstand extreme movements without snapping. Also, it is loaded with a spring that acts as a shock absorber and therefore can securely hold the phone even during bumpy rides. This Ram hone mount features curved rubbered holder tips that aid in keeping the phone in place without dropping it. Another factor that makes this one of my best motorcycle phone mounts is the compatibility with a wide range of smartphone sizes. The holder clamps can be adjusted to fit differed phone widths. Again, the unit comes with a rubber rope that can be used to offer extra hold more so when riding in extreme terrains where the ride is so bumpy. Also, it does not cover the entire phone, therefore, leaving room to plug earphones whenever the rider desires to listen to music. The downside to this Ram mount for phone is that it does not protect the phone against weather phenomena such as rain and splashing water. Other than that, this Ram phone mount for motorcycle is an awesome accessory that serves for long. I would recommend it to any ridder.
Positives:
Features a spring-loaded holder that allows for expansion and contraction for all mobile phone sizes
Has rubber clamps that hold the phone in place
Features stainless steel durable parts for extra strength
It is compatible with a wide range of mobile device brands and sizes including iOS and Android devices5. It comes with a tether essential for extreme terrains such as rocky paths
Negatives:
Assembly and mounting might be a little challenging when doing it for the first time
It does not protect the phone from dust and precipitation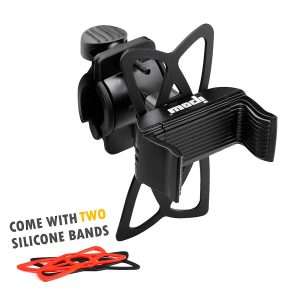 IPOW Metal mount had to be featured in my top 9 list of best phone mount for motorcycle owing to its incredible features and reliability. It has a strong base mount made of hardened metal that is efficient for bumpy rides such as during mountain excavations. This not only makes the mount sturdy but durable. Another reason that makes this one of my favorite cell phone motorcycle mount is the adjustable pivot point. It allows for compatibility with a variety of motorbike handlebars in regards to the diameter. Some bikes have large handlebars and others somewhat thin. This mount is designed to fit most handlebar sizes up to a diameter of 1.1 inches. Also, the holder can be rotated at an angle of 360° to give the rider the flexibility of conveniently finding the best aspect of view when riding. The mount is fitted with rubber holder straps, which aid in securing the phone in place and also acts as shock absorbers. During bumpy rides, the straps can absorb the pressure and prevent the phone from dropping off the mount. The holder has an arched design that is useful in keeping the phone in place. However, considering there are other mounts designed to protect the phone from weather elements, the IPOW Metal ram phone mount does not serve this purpose. Overall, I would recommend this great product any day to any motorcycle rider.
Positives:
Features a metallic mount that is sturdy therefore not susceptible to snapping
Has an adjustable pivot point to accommodate a wide range of handlebars in regards to diameter
Has a 360° angle phone rotation allowance for the perfect angle of view
Features rubbered straps that aid in securing the phone in place during rides on rugged terrains
Has a shock-absorbent shim that carbs mechanical damage to the phone during bumpy rides
Negatives:
Plastic parts are not that long-lasting compared to metallic parts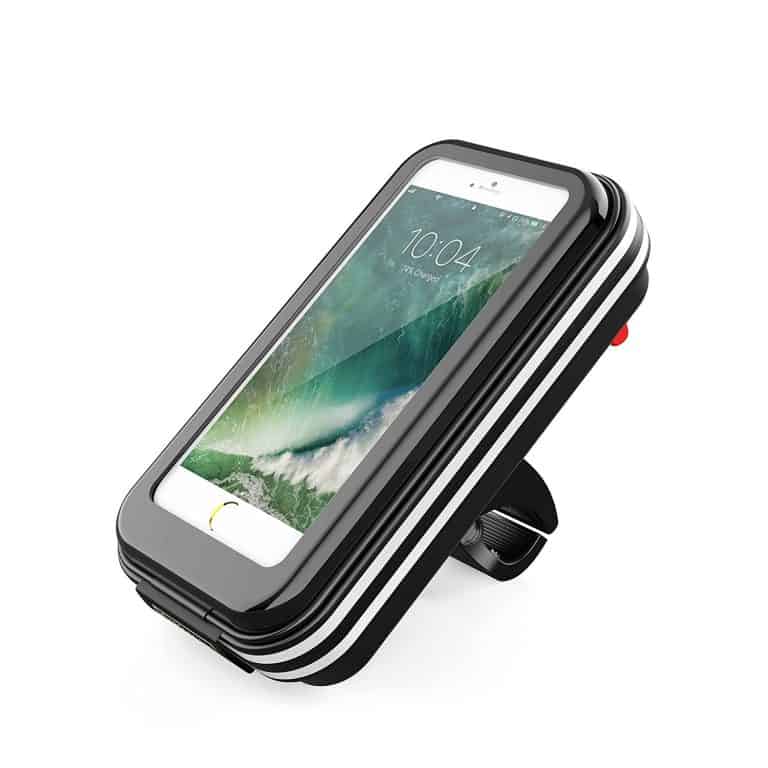 Wiki Valley is a leading brand of most reliable phone mounts. Owing to the design, it is waterproof and dustproof. It has a unique design as it features a pouch that encapsulates the phone, therefore protecting it from dust, splashing water, and extreme weather conditions such as rain. It has a waterproof zipping system that stops water infiltrating through the zipper. This handlebar phone mount motorcycle accessory is compatible with a variety of phone brands and sizes. It is one of the most efficient and dependable motorcycle cell phone mounts in the market when considering shock-resistance. This mount can withstand extreme shock as it has a thickened sponge mat that serves to protect the phone from mechanical damage regardless of the extreme movement. It also features a fixed its board that is efficient in holding the phone in place. Considering that it covers the entire phone, it has a sensitive, transparent top that allows for convenient using of the smartphone when riding. However, the fact that it has parts made of plastic cannot be overlooked. It is given that metallic parts are more durable than plastic. On that note, the holder is prone to span over a long time when exposed to extreme bumpy movements. It is one of the mounts I would highly recommend especially to ridders living in areas with high precipitation levels.
Positives:
The holder is waterproof therefore protects phones from any form of precipitation and dust
It can hold a wide range of devices up to 6.2."
It is shockproof and will securely hold handheld devices in place even during extreme rides
It has a simple, intuitive mounting procedure5. The transparent covering is sensitive to allow efficient phone usage while riding
Negatives:
Plastic parts are susceptible to snaps compared to metallic parts
Does not have an earphone jack port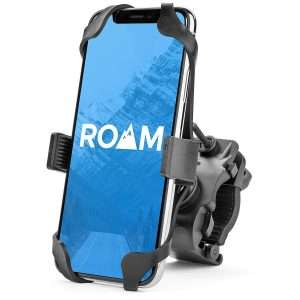 The Roam Universal Premium phone mount is another reliable product you can get at a budget. This motorcycle handlebar mount for phone is compatible with phones widths measuring up to 3.5 inches. One of the cool features with this Roam motorcycle phone mount is the adjustable mount pivot that makes it compatible with different handlebar diameters. Also, this motorcycle mount for cell phone has silicone straps that are sturdy and help in keeping the phone secured regardless of the movements. I like it because it has a curved clamp that also helps in firmly holding the phone, preventing it from dropping during bumpy rides. Here are advantages and disadvantages of Roam phone mount:
Positives:
It is compatible with most phones up to a width of 3.5 inches
Features an adjustable mount pivot to accommodate different handlebar diameter sizes
Features silicone straps that serve as a shock absorber and secures the phone in place even on turbulent rides
It has a curved clamp to hold the phone firmly
It has an easy installation process
Negatives:
It has plastic made parts, and these are prone to breaking with time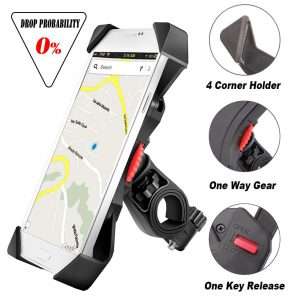 The Visnfa is one of the best motorcycle phone mount units today. It has a unique locking system for holding the phone in place. Having a four-corner holder, it has a one-way locking system that adjusts the holder to grip or release the phone. With this holder design, there are minimal chances of phone dropping. It also allows for a 360° rotation that gives the rider a convenient angle of view. It is compatible with a wide range of phone sizes ranging between 3.5 inches and 6.5 inches in width. However, it does not protect him from weather phenomena. Here are the pros and cons of this mount:
Positives:
Allows 360° phone angle rotation to attain the perfect angle of view
It features a four-corner holder that securely holds the phone with minimal probability of dropping
It can hold a wide range of phone brands and sizes
Has a one-way locking system for the perfect phone grip 5. It is easy to install and clamp the phone
Negatives:
Mostly comprises plastic parts that are not as durable compared to steel parts
Does not protect the phone from dust and precipitation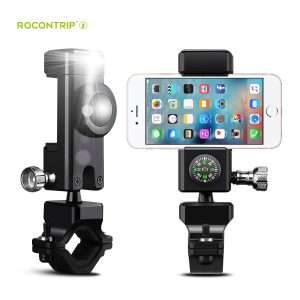 Another of my favorite motorcycle phone mounts brand is ROCOTRIP. It is a very convenient mount as it comes with an integrated LED lamp and a compass. It also has a 360° rotation allowance to give the rider the perfect angle of view. It also has a silicon pad essential for absorbing shocks, therefore protecting the smartphone from damage. It is compatible with most smartphones with widths of up to 6.5 inches. It has an anti-theft stud. It has an easy installation process and is also easy to remove. Though it is a little pricy, I would say its quality matches the price point, that is why I can recommend it to any rider.
Positives:
Features an LED, which is resourceful for night vision
Comes with a compass essential during off-road and mountain excavations
Features a 360° rotary mechanism, which allows different angles of view
Has a shock-absorbing pad to prevent mechanical damage to the phone
It is covered by a hassle-free refund policy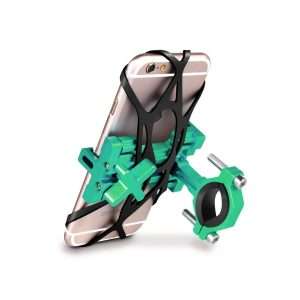 SpoLite Chrome had to be featured in my best motorcycle cell phone mount list. It is durable, thanks to the aluminum build and sturdy straps that protect the phone from dropping regardless of the movements. It also allows 360° rotation angle, which offers flexibility for obtaining the perfect angle of view. The mount accommodates a wide range of smartphone sizes as the holding straps are elastic and the mounting frame is expandable for holding larger phones. The pivot can also be adjusted to fit different handlebar sizes for the perfect grip. This unit has an easy mounting process and is therefore convenient to use. I would recommend it to all motorcycle riders. 
Positives:
Made of high-quality aluminum, which is more durable and less susceptible to snaps
The clamp allows 360° rotation of the phone to achieve the convenient angle of view
Feature a rubber clamp that firmly holds the phone and absorbs shock during bumpy rides
Has an easy mounting process
It is convenient for use with all phones, as the holding bracket is adjustable
Negatives:
Does not protect the phone against dust and precipitation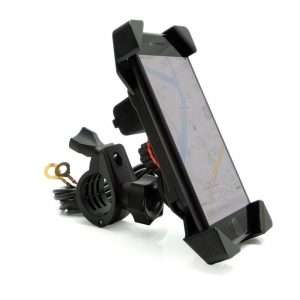 The Issyzone Universal motorcycle phone mount is one of the best units as it comes as a motorcycle phone mount and charger. I like it as I can conveniently charge my phone using my bikes battery while on the go. Noteworthy, the charging system is fast. Also, it has adjustable holding clamps making it compatible with a variety of smartphones in regards to the size. It features shock-absorbing parts that are resourceful in keeping the phone intact regardless of the extreme tension during bumpy rides. It has an intuitive installation process. I would recommend it to hobbyists.
Positives:
It allows for connection with the motorbike's battery for charging the phone while on the go
Can be rotated at a 360° angle to allow the perfect angle of view
Has adjustable clamps to hold phones of different sizes
It can withstand shocks without dropping the phone
Has a fast charging mechanism
Negatives:
It is not designed for racing bikes
The plastic parts are not as durable as metallic ones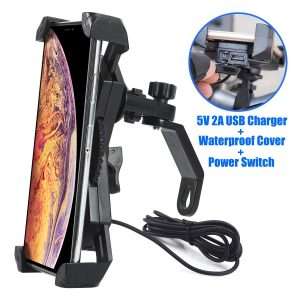 The PROCYMD phone mount is a favorite to me owing to the great performance it serves. It not only helps in conveniently holding the phone but also protects it from water as it has a waterproof cover. Also, it features a charging unit that conveniently enables the rider to charge their phone using the bike's battery. Noteworthy, it has a shock-absorbing surface that helps in keeping the phone secure. It is ideal for mounting most smartphones as it has an adjustable holder that can accommodate different phone width sizes. It is convenient for different handlebar diameters. I would recommend it to all ridders. 
Positives:
It has a waterproof cover for protection against splashes, rain and any other form of precipitation
Perfect for a wide range of phone sizes as it has an adjustable clamp system
Features a USB charging port for conveniently charging the phone while on the go
It has a shock-absorbing mechanism for protection against mechanical damage
Allows room for earphones usage as the Aux out port is conveniently exposed
Negatives:
It is made of plastic parts, which are prone to snapping under intense pressure
Best Motorcycle Phone Mount – Buyer's Guide
To but best phone mount can be a big challenge, especially when the choice is wide and all models are available. Still, with the help of such reviews, you can realize the basic features to look for. Below are some factors to take into account when purchasing a motorcycle phone mount. 
Which Is Your Best Cell Phone Mount for Motorcycle?
Now that we've looked at the best phone mounts in the market, it should be really easy to figure out which's the best product for you. In conclusion, if you're not on a bargain, going for a high-end phone mount would be a significant consideration. This would save you money considering you won't have to occasionally buy others owing to durability. Also, just a recommendation, metallic motorcycle phone mounts are more sturdy and durable than plastic ones. So if you don't have any plans of visiting the motorcycle gear store occasionally, then go for a metallic one.
Noteworthy, some household names manufacture phone mounts that are considered of low quality, but are over priced because of the brand name. So, you need to make a choice not based on the brand name but the basis of the features. Again, ensure that you pick a product that matches your handlebar size. In case you have a phone mount designed for a bicycle, you can use it on your motorbike but ensure that it fits your motorbike's handlebar diameter. For riders in uneven terrain regions where rides are always bumpy, ensure that the phone mount you pick has a perfect grip of the phone to avoid the handheld device from falling.
Some additional features come in handy in diverse circumstances. Therefore, you can consider purchasing a phone mount that has extra features. You might need them someday. If you've already bought and used one, or you have had an experience with any of the reviewed phone mounts, feel free to share your experience with me in the comment section below. In case you have other good quality phone mounts in mind, I would love to hear your suggestions. What is your desirable model? What features do you appreciate the most?