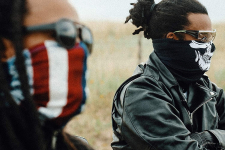 Best Motorcycle Riding Mask for Men
Protecting the face from all types of dust and dirt, as well as from cold and fallout is essential for every bike rider. I have spent a lot of time looking for the best motorcycle riding mask for men that can suit all my requirements. The type of mask depends on the individual requirements of each motorcycle rider: the climate, time of the year, landscape and duration of trips, as well as physical attributes, head parameters, individual health features and more.
Today, I want to share my experience with all those that are looking for a comfortable mask. All experienced motorcycle riders know how important it is to choose the motorcycle mask that is both comfortable and reliable, protecting your face from dirt, dust and any liquids that easily get between face and helmet. Even the best helmets cannot prevent you from inhaling the smallest pieces of road's mud or protect you from the wind, rain, and sunlight. Thus, a motorcycle riding mask for men is a real must-have for both experienced and new riders. Let's look through the top 10 motorcycle riding masks that will add comfort to any bike ride.
Amazon Bestseller
Top Motorcycle Riding Masks
Creating the list of best motorcycle masks for men, I used my personal experience, but you are always free to express your thoughts in the comments. I have collected all key features, as well as strong and weak sides of each model to help you find the mask that will meet all your needs, becoming an inseparable component of your rides!
Motorcycle Riding Mask For Men: Ergodyne N-Ferno 6823 Balaclava Ski Mask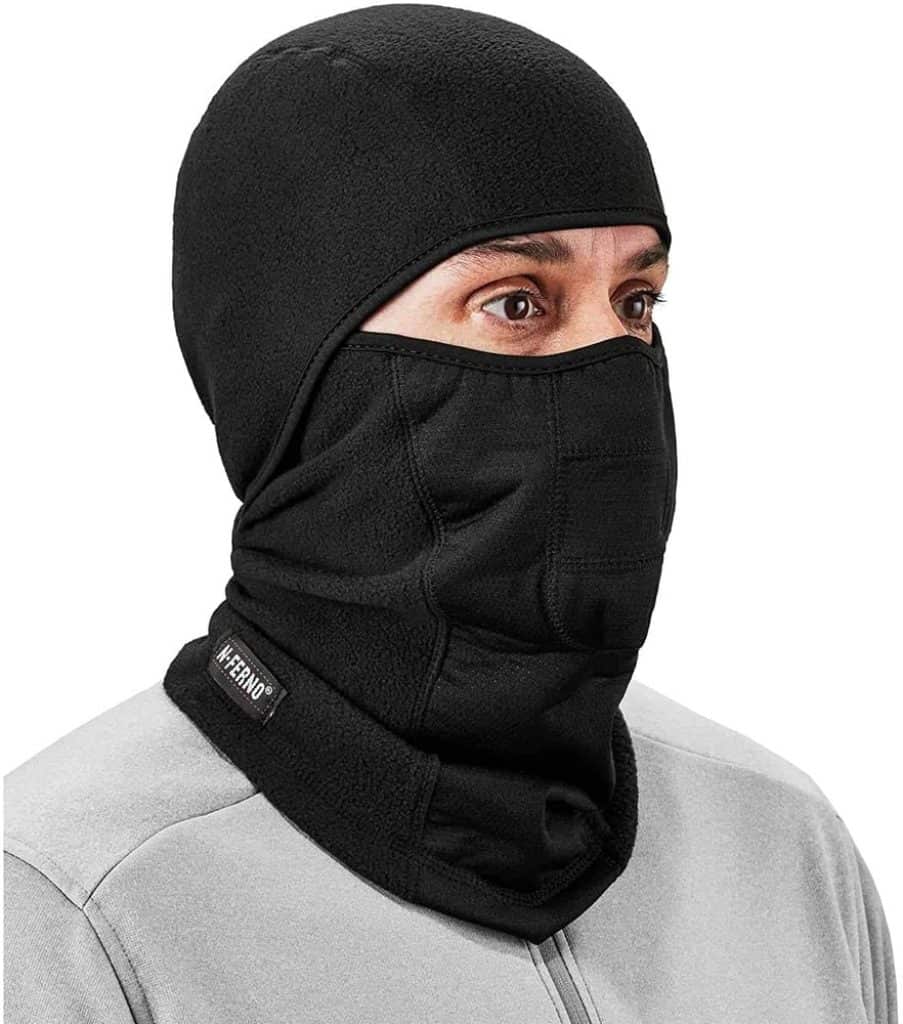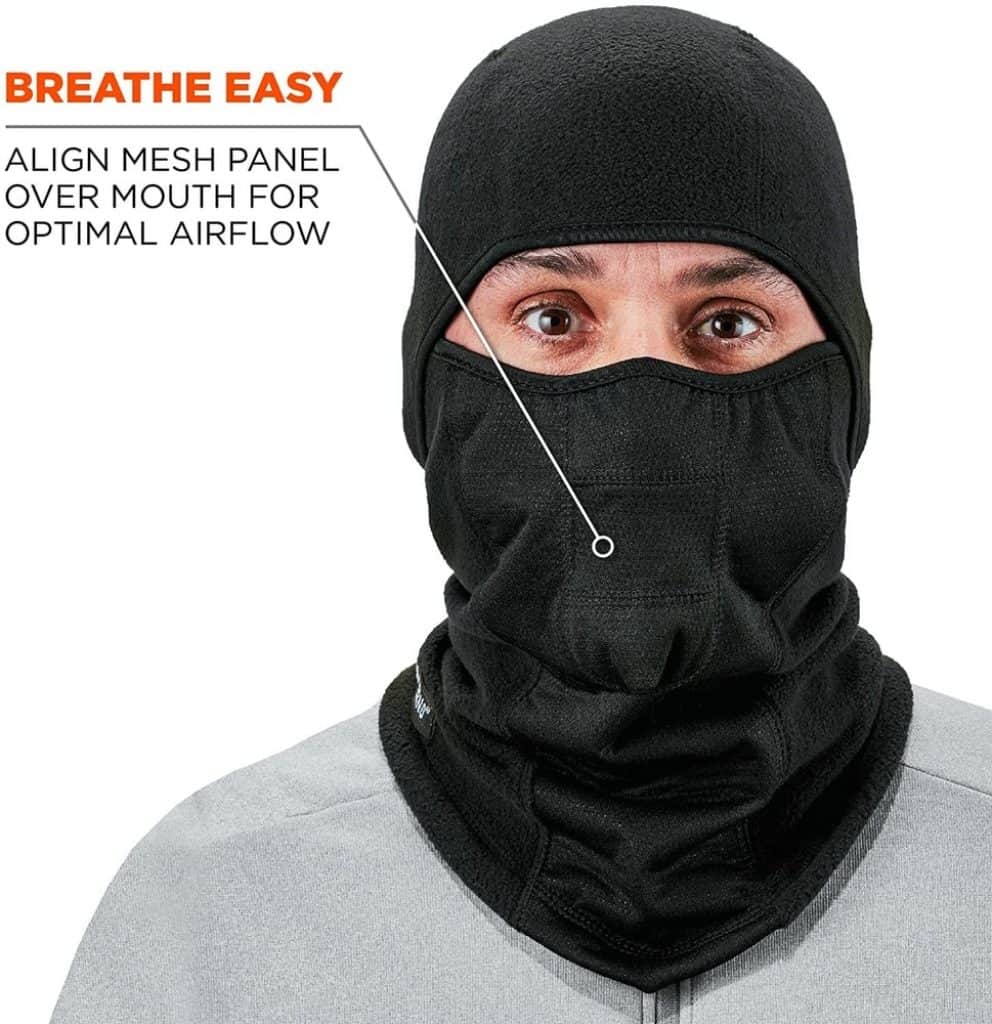 Ergodyne creates public safety gear broadly used by experienced professionals, explorers and people that have an active lifestyle. Starting from high-quality work gear, the company developed a set of new technologies and product lines that are used by sportsmen, motorcycle riders, emergency workers and extreme athletes.
This mask is a perfect match for cold-weather rides: it is made of high-quality thermal fleece that will protect your face during intense wind, snow or sand storms, and even the most extreme weather conditions. Its design allows wearing the mask in three different ways, including full-face coverage. It is a perfect match for those seeking a motorcycle mask for men with air filter — with its specific mesh panel, the mask helps you breathe easily in any weather, protecting your nose and mouth from all types of pollutants and sediments.
The mask has a long neck section to provide additional protection, and the additional panel shields of protective fabric in the nose and mouth zone to keep your face warm in cases of strong head wind. The mask is made from synthetics that effectively wipes all extra liquid and quickly dries out, keeping your face dry and well-breathing.
Main characteristics:
Wind-resistant: the mask is made of tight fabric that protects the face from cold and windy weather;
Super stretchy: the material is specifically chosen to fit all types of heads;
Useful design: it is possible to wear this mask in three different ways, and it is possible to apply it in your own individual way.
Sale
Ergodyne N-Ferno 6823 Balaclava Ski Mask, Wind-Resistant...
WIND-RESISTANT – Protective fabric paneling over face shields against the wind's bite
BREATH EASY – Align mesh panel over the mouth for optimal airflow
HINGED DESIGN – Can be worn in 3 different ways: open face balaclava, neck gaiter or full ski mask
HIGH-QUALITY THERMAL FLEECE – Warmth in mild to extreme conditions
LONG LENGTH – Full head & neck coverage that easily tucks into jackets
Positives:
The mask is made of thermal fleece that is really stretchy;
It is long and can effectively protect both face and neck;
The best option for cold and windy rides.
Negatives:
The mask will be inappropriate for hot weather rides;
It has a limited number of color options, so it is impossible to express your individuality or creativity.
---
Self Pro Balaclava Face Mask Ultimate Protection from Dust: Best Motorcycle Riding Mask for Men That Protects Your Face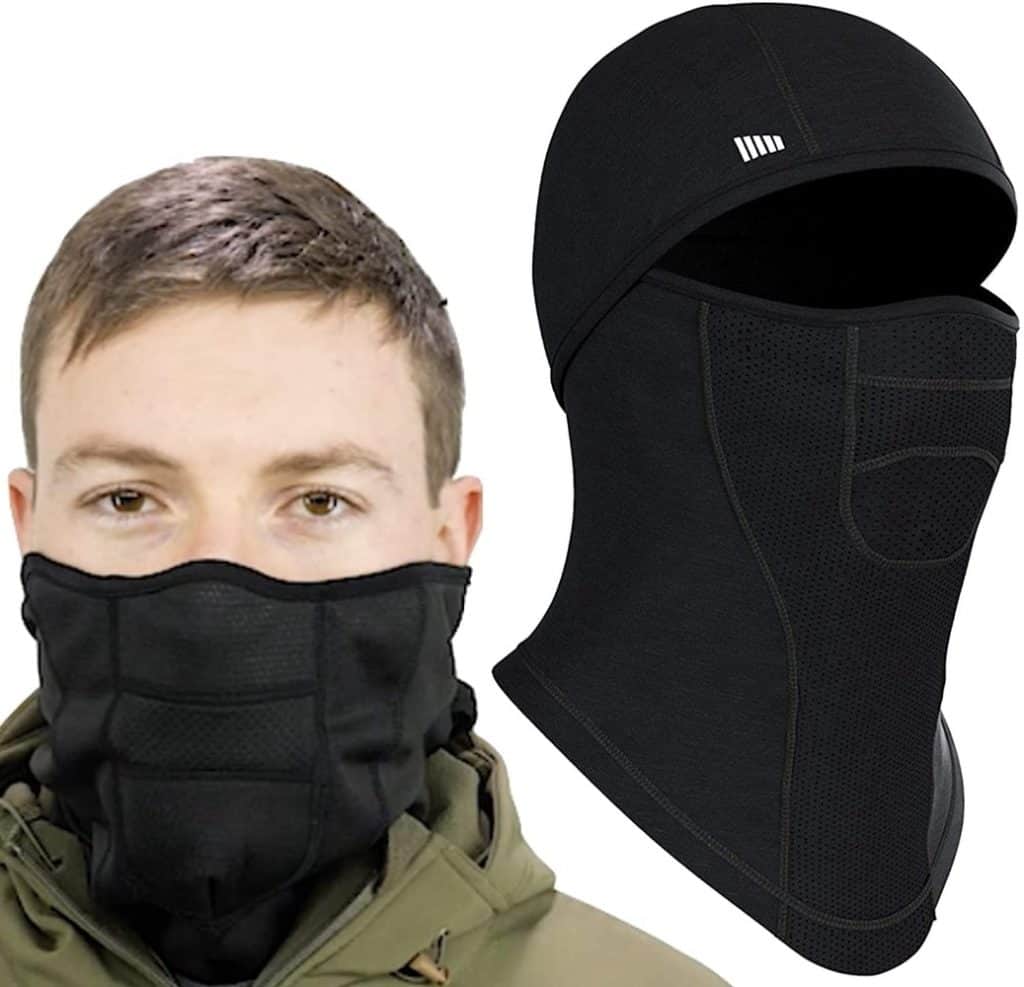 This is the mask from the Self Pro face masks series that is used by professional sportsmen and explorers that require an advanced level of face protection.
The first thing I can say about this motorcycle riding mask is that I really like its design: a great combination of style and usefulness. Being primarily used by sportsmen, it is quite popular among motorcycle riders, alpinists and construction workers. It is made of professional fleece that protects your face from dirt, wind, aerosols and UV rays. This makes this mask highly popular among riders that prefer motorcycle masks for men air filter equipped.
This motorcycle mask for men, women, and children has a well-developed unisex design that perfectly fits any face. Its shape, high elasticity, and filter make this mask a great option for those who require protection from an extended list of pollutants. CoolMax polyester fibers guarantee a high level of masks' absorbency and breathability, and it is also really quick-drying. It perfectly fits under any type of helmet and can be worn with glasses and goggles. The material of the masks guarantees perfect air circulation that prevents goggle fogging.
Main characteristics:
Good-looking and comfortable design that allows wearing this mask with any type of helmet or without it;
All-sizes model: perfectly fits both adults and children;
Has 6 different ways of wearing the mask — pick your perfect variant or create your own;
Hi-tech fibers protect face skin from all types of environmental influencers.
Sale
Winter Balaclava Ski Mask Thermal Fleece Breathable...
Ultimate Protection from Cold, Wind, Dust and Sun's UV Rays. Headwear Bundle Unisex Versatile Balaclava. Perfect fit for Women Men and Children - Protect Yourself & Family
Made with CoolMax Premium Hi-Tech Soft Polar Fleece to produce high quality outdoor sports masks with premium performance for breathability, absorbency, wicking, durability and abrasion resistance. It is very soft and close to your skin so you can breath easily while staying warm and dry with a wrinkle free product
Our New Model has better protection with longer measures in the neck and front, improved cut and different sewing angle for a better fit in your head. Can be worn as Full Face Mask or Neck Gaiter, Hat, Bandana, Open Balaclava & Ninja Hoodie
One Size Fits Most. Can be Worn on its Own or Under any Kind of Helmet. Fabric is Hypo-Allergenic and non-irritating to the skin. 4-way Stretch. Flatlock Seams. Machine Washable. Very Quick Dry.
Super Comfortable Wear Them While: Walking, Skiing, Motorcycling, Running, Biking, Trekking, Mountain Climbing, Snowboarding, Airsoft paintball, Hunting, Tactical training, Cycling and other outdoor activities.
Positives:
Protects your skin from UV rays, which is great for long-distance rides;
Hypoallergenic fiber that also protects from aerosols — perfect for people with sensitive skin or those that require additional breathing protection;
Can be used as a balaclava, half face mask, head cap or neck protection;
The mask is made of high-quality polar fleece and is really durable.
Negatives:
Can be too hot for summer weather;
It is not waterproof, although it protects you from getting wet in slightly rainy weather;
Has only back-color edition.
---
ZANheadgear Black Neoprene Half Face Mask: Leader in Motorcycle Riding Half Masks for Men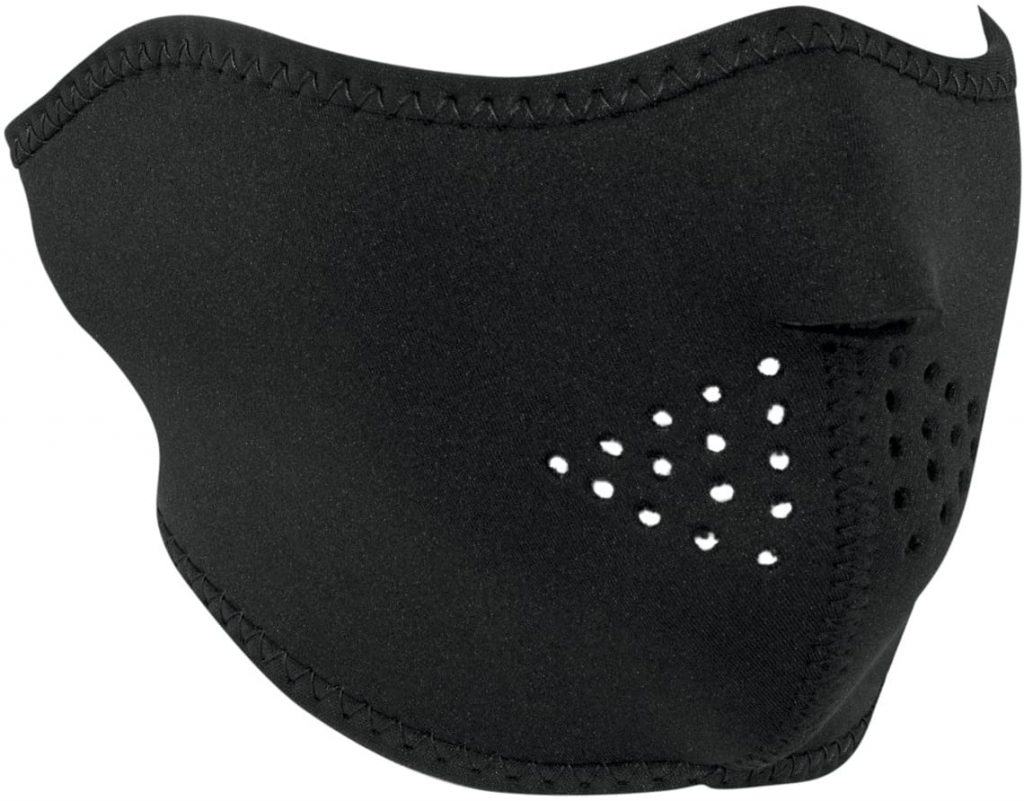 ZANheadgear is a great American brand with a passion for motorcycle riding that focuses on producing the best headwear for outdoor activities. They are focused on producing the perfect motorcycle riding gear, taking into account numerous feedback they receive from the clients. This is a US-based company that has originally started with a team of passionate admirers of riding that wanted to produce multifunctional and highly protective products that can help in expressing your individuality.
This mask has been created by motorcycle-riding fans with attention to all key requirements of experienced riders. One of the best variants for those looking for motorcycle masks for men half face skull printed — this model has a wide range of color options, including Venom, Harley Quinn, and skull print. I really like the variety of model options: it is released in full and half-face variants to fit everyone.
This mask provides additional protection for ears and nose zones, implementing Air Vents in the nose and mouth areas that increase breathability and also help to get rid of goggles fogging. The mask fits everyone: with adjustable Hook and Loop closure, it is possible to apply it to any head size.
Main characteristics:
Highly protective neoprene mask that warms up nose and ears;
Protects from all types of dust, dirt, and precipitation;
Air Vents in the nose and mouth zone — helps you breathe easily, keeping your face dry and warm;
Adjustable Hook and Loop closure that doesn't open or moves during the ride;
It can be worn inside-out, with the printed side, or the black side inverted outside.
ZANheadgear Unisex-Adult Half Face Mask Black
PERFECT FIT KEEPS EARS AND NOSE WARM: Neoprene is the perfect insulator. Made with Genuine Neoprene with stitched outer piping to ensure a great fit and long-lasting durability. Available in Full and Half Mask styles in a variety of patterns
SUPERIOR FACE PROTECTION: Protect your head and face from the elements. Wind, dust, cold, snow, rain, you name it this mask will protect you. Perfect for chilly mornings or windy days.Material- 70% Neoprene, 30% Polyester
ULTRA COMFORTABLE & VERSATILE: Ideal for Motorcycling, Skiing, Running, Biking, Trekking, Mountain Climbing, Snowboarding, Airsoft paintball, Hunting, Tactical training, Cycling and other outdoor activities!
BREATHABILITY: Air Vents around the nose and mouth increase breathability and help prevent eyewear from fogging
REVERSIBLE: All Neoprene Facemasks can be worn with the design side out, or reversed to solid black, 2 for 1 value
Positives:
Perfect design for wearing the mask with eyewear;
The broad number of masks' prints;
Has two size options and can be additionally fixed on your face with flexible closure;
Has nylon bound edges that don't irritate skin and tightly fix the mask on the face;
Can be worn with glasses or goggles;
Was created with the focus on motorcycle riding.
Negatives:
Cannot protect the whole face and neck zone;
Doesn't protect you from the sun;
The material is not stretchy enough to be suitable for children.
---
Fantastic Zone Winter Balaclava: One of The Best Windproof Motorcycle Masks for Men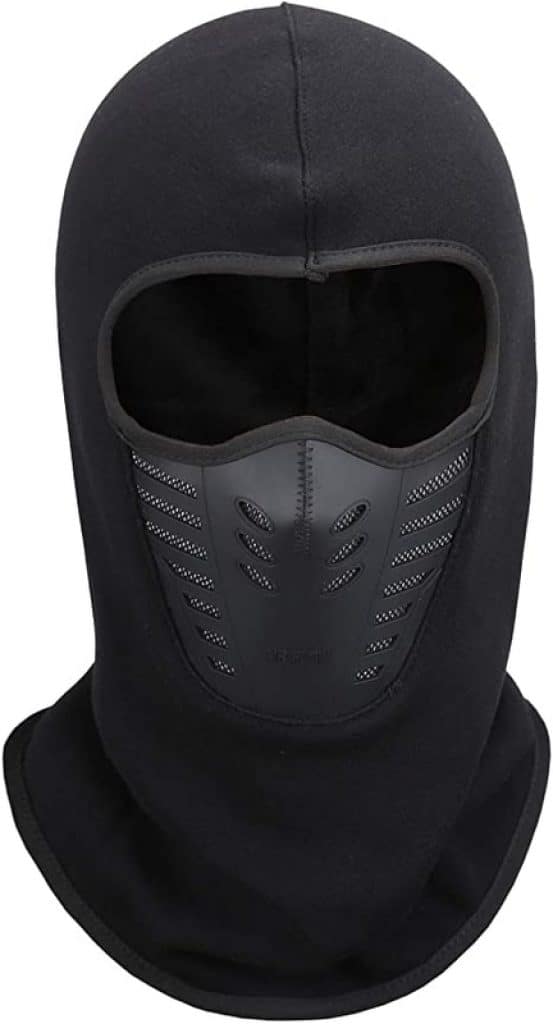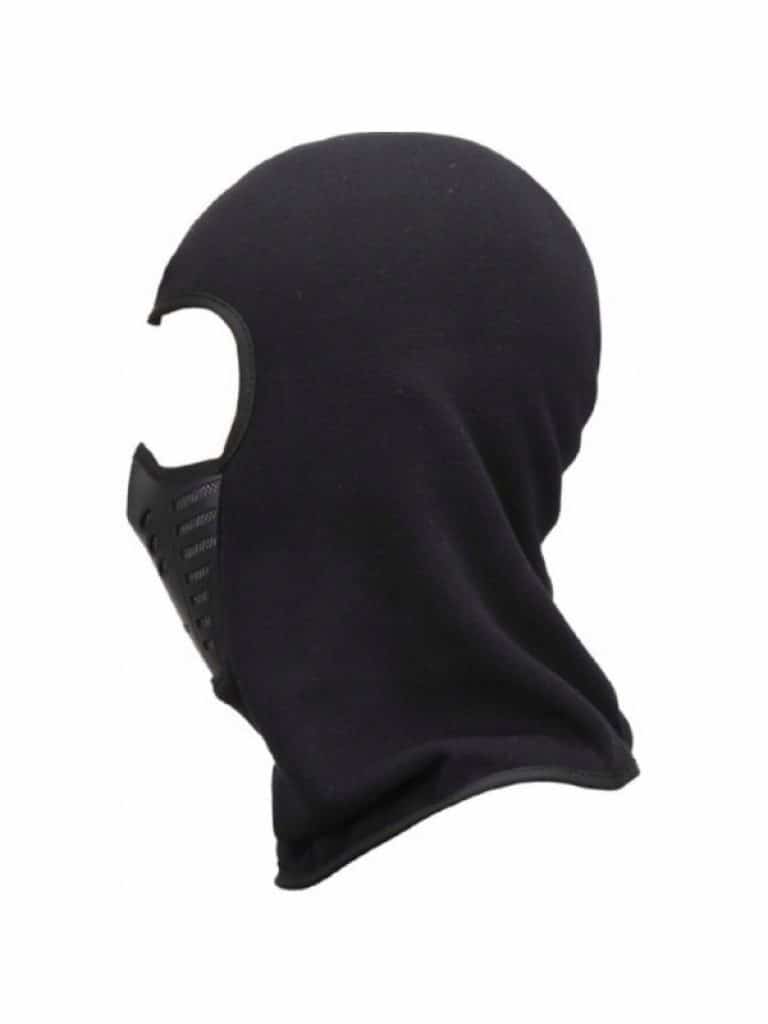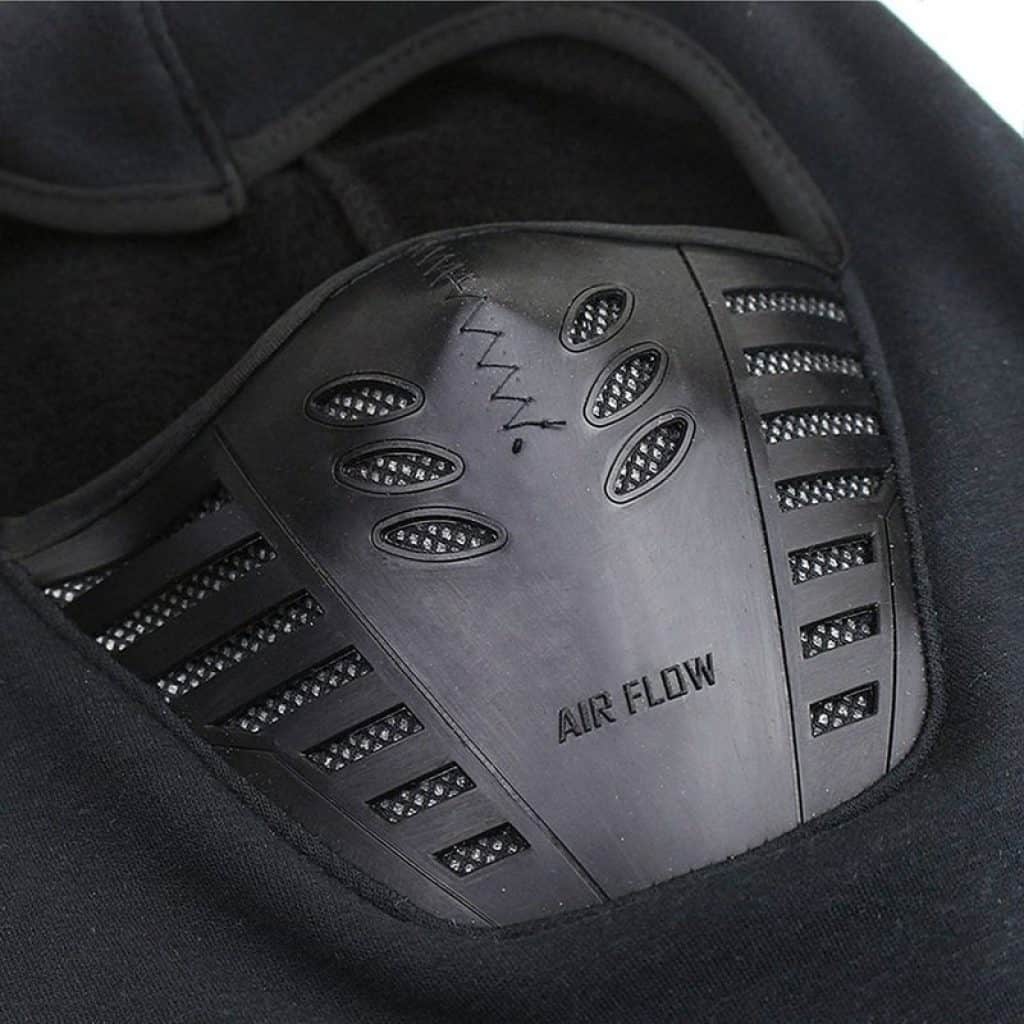 Fantastic Zone is a known expert in the development of high-quality sportswear accessories for pros and amateurs. They have been successfully manufacturing various sports gear for 17 years, being known for their quality management system.
This mask will perfectly protect your face in the wintertime: it is made of high-quality materials with a thermal polar fleece lining that will protect your skin from strong wind, snow, and ice during the ride. It fully covers your face and neck, while the mesh panel in the mouth and nose area allows you to breathe easily, protecting them with the rubber coverage on the front side of the mask. For additional breathing protection, the mask has an air filter implemented between the inner and outer layers of fabric.
This is an upgraded version of the model, with improved fabrics' elasticity that prevents the mask from being too loose or tight, and makes it more lightweight. It is possible to wear it with goggles, as soft spandex material in the nose zone protects them from fogging. It can also be worn with multiple helmet options, keeping your head dry in various weather. A great option for any weather condition.
Main characteristics:
Great spot design — it is possible to wear the mask with goggles or glasses;
The material is water-resistant and windproof;
Meshy sponge panel with silicone cover creates perfect protection for nose and mouth area;
The material can be machine washed and dried;
Comes in one size that fits all main head sizes due to the high elasticity of the material.
Fantastic Zone Balaclava Face Mask, Winter Fleece Windproof...
100% Premium Fabric - The winter ski mask is made of high-quality fabrics with cold-proof, windproof, warm, breathable comfortable and other characteristics. High-Quality outdoor sport Masks. Also, they are very soft, lightweight, wrinkle free and machine washable.
Thermal and Breathable - The lining is thicker polar fleece, very warm, but the wearer will not feel too sultry, because our balaclava has a good breathability, making the headgear to maintain the appropriate temperature.
Comfortable and Universal Size - Our new upgraded balaclava has good elasticity, you will not feel very tight or loose when wear it. The nose and mouth portion are made of soft spandex material for added comfort. And a dust filter will be provided, making it between the inner and outer layers.
Multi-Function and Widely Use - This product can be used as a hat or a mask. You can use our balaclavas for skiing, snowboarding, Motorcycling, riding, Running, Cycling, hunting, Trekking Mountain Climbing, Tactical training, warehouse work shoveling snow and other outdoor activities.
100% QUALITY ASSURANCE - Customer satisfaction is our greatest achievement. If you experience any problems with these hats for the lifetime of the product, contact us and we will solve your problem at once.
Positives:
Allows you to easily speak and hear everything while wearing the mask;
The mask filter can be easily cleaned up while washing;
Quickly absorbs liquid and dries out;
Has three color options;
It is perfect for low temperatures and extreme weather conditions.
Negatives:
Does not protect from aerosols and gases;
It has only one size, so there is a slight possibility it won't fit everyone;
There is only one way to wear a mask.
---
ZERDOCEAN Motorcycle Riding Mask for Men: Soft Fleece Balaclava With Full-Face Coverage Design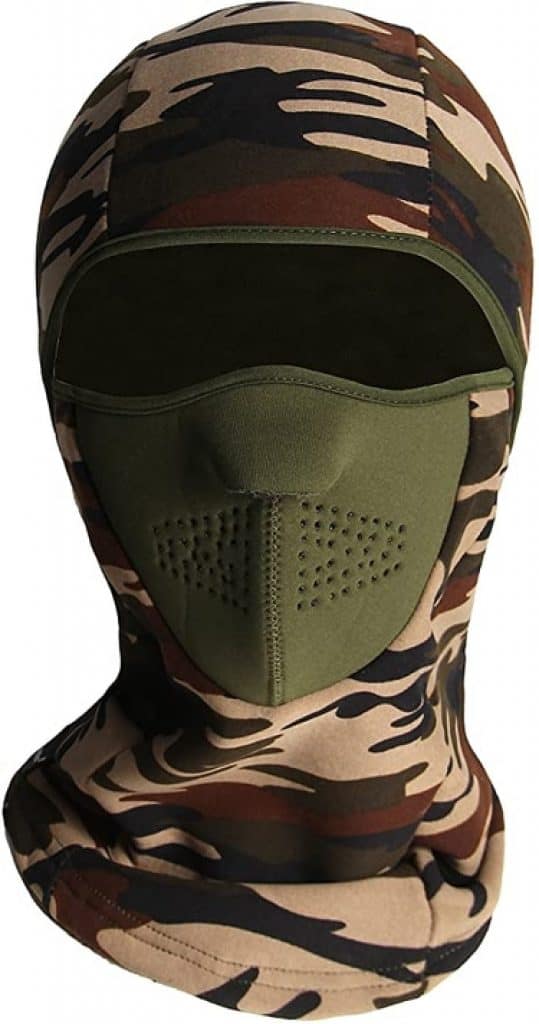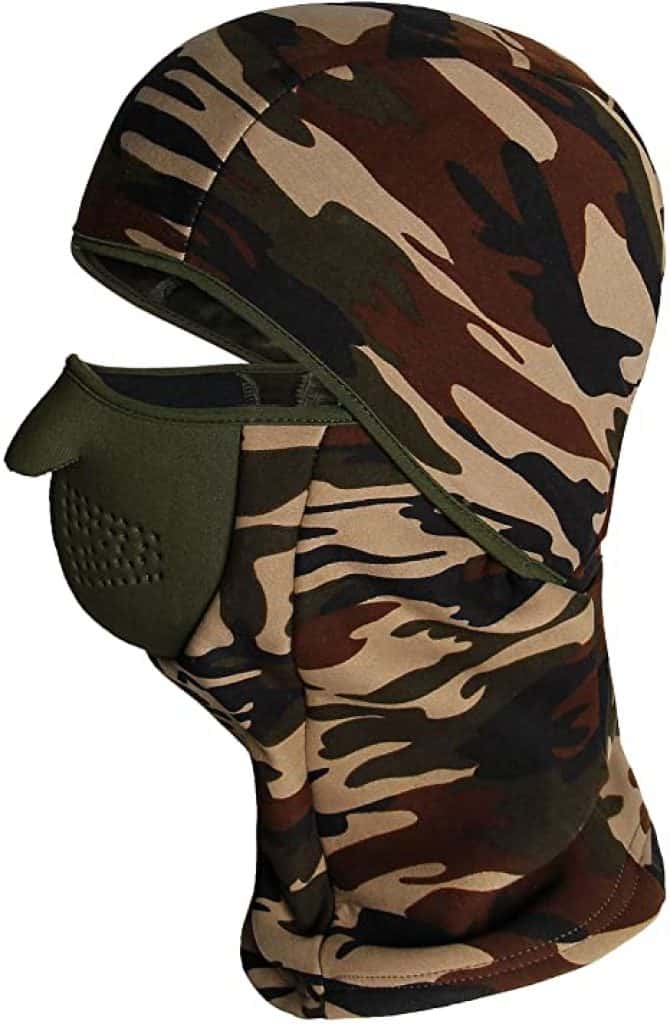 The main aim of the ZERDOCEAN brand is to produce comfortable clothing for everyone, so you can be sure about the softness and quality of the fabric they use.
ZERDOCEAN mask is one of the best motorcycle masks for men in this price segment: it is made of super soft fabric with a fleece lining that protects the skin from irritations. This one-size mask perfectly suits adult riders, is wind-resistant and warms up your skin in extreme weather. I can say that this mask is a softer version of the one from Fantastic Zone, having similar design and several wearing options.
This mask has been specifically developed for increased comfort for active sports activities, as it perfectly fits under the helmet and protects goggles from fogging. The mask is made in one size only, but the material is tight enough not to get too loose while riding. There are no extra face fixators or neck protectors, but this mask will keep your face warm and smooth even after a long ride. A great competitor for bigger brands at a reasonable price!
Main characteristics:
The mask has 4 ways to wear it;
It has a soft fleece lining for extra comfort;
Is made of slightly stretchable material to fit the head shape of the wearer;
Is long enough to protect the neck;
Machine-washable — it is possible to quickly wash it with other sports gear: the mask will keep its color and shape.
ZERDOCEAN Winter Windproof Fleece Motorcycle Ski Mask...
Hinged design, Breathable mesh vent design.
It won't fog up your ski goggles if you have it positioned just right.
Wear your balaclava on its own or under a helmet. Wear it as a full face mask, open balaclava, half ski mask or neck gaiter.(refer to the last image)
Perfect for skiing, snowboarding, riding, ATVing, hunting, construction, warehouse work and shoveling snow.
Slightly stretchable fabric for a comfortable fit. One size fits all
Positives:
Super soft and comfortable material;
Is a good option for cold weather;
Can be worn with or without a helmet;
Perfectly fits under a helmet;
Can be worn with glasses or goggles;
Serves for better breathing, while protecting your face from dirt and fallouts.
Negatives:
This mask is not that stretchy, so it won't suit child or non-standard head sizes;
No protection from gases and aerosols;
It has only two color versions.
---
Ubelly Motorcycle Goggles with Detachable Mask: Best Motorcycle Riding Mask for Men With Built-In Goggles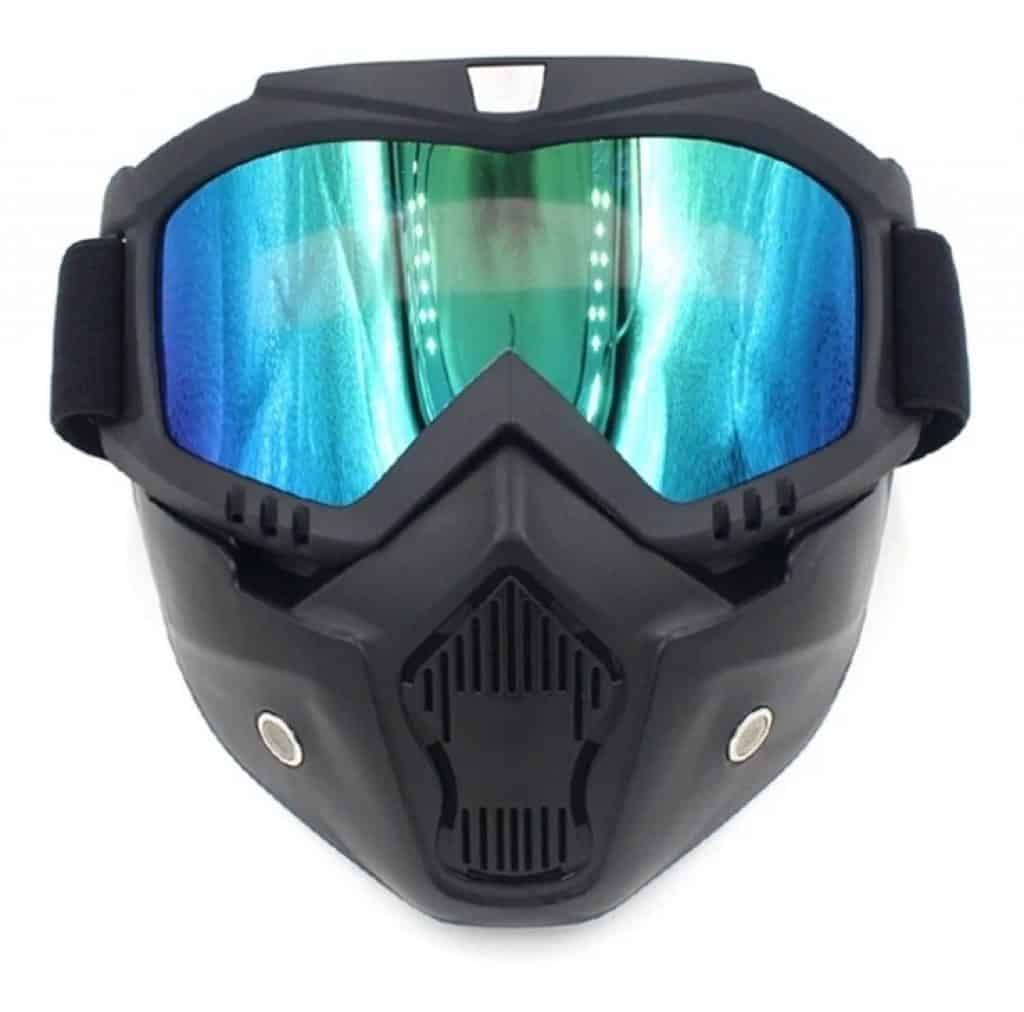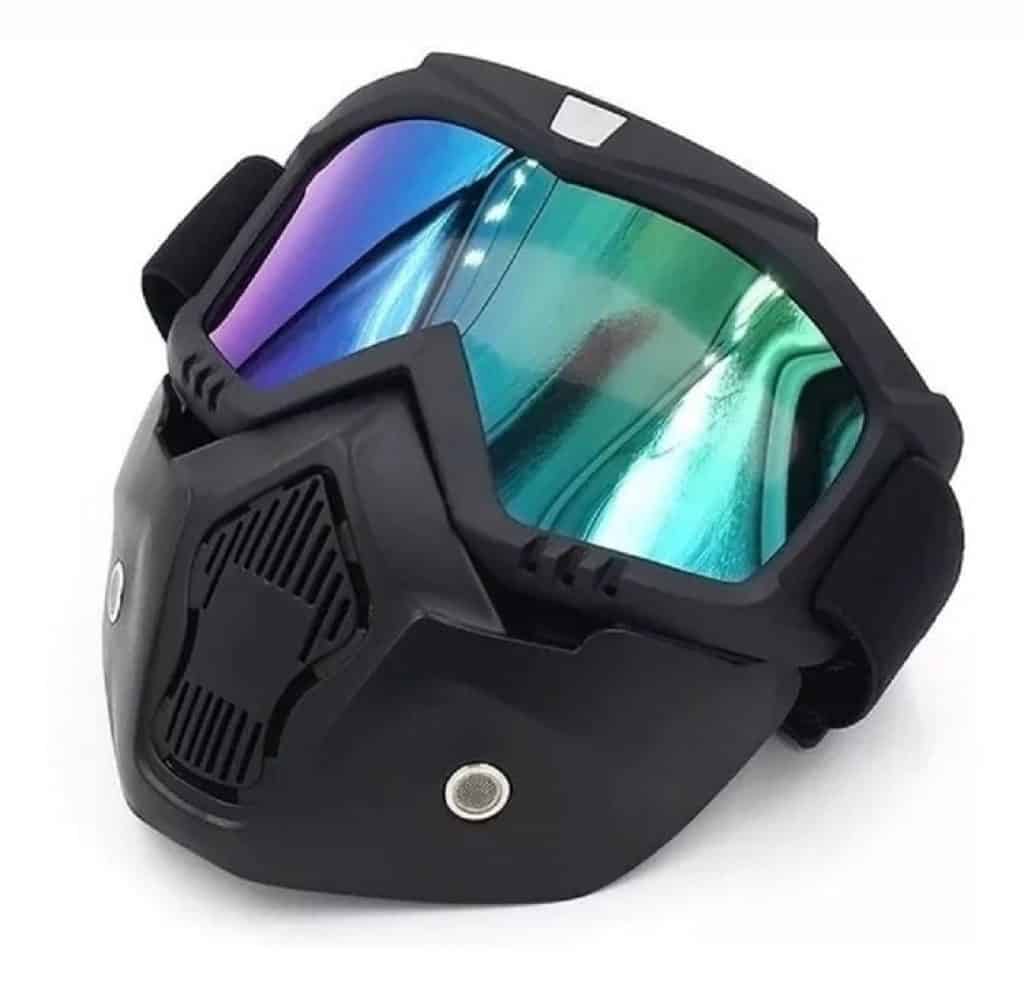 Ubelly masks are used for sports and motorcycle riding as this brand is focused on providing comfortable sports accessories that are stylish, practical and affordable. If you want to try this type of headwear and are not ready to spend hundreds of dollars — Ubelly has it all for a great price.
An Ubelly motorcycle mask with detachable goggles is an option for those who prefer advanced face protection. It is made of high-quality plastic with fiber inputs for better breathing. It is possible to wear the mask or goggles alone, easily detaching the gear. The goggles are fixed on the head with an elastic band that can be easily adjusted to fit your head. This is one of the most popular motorcycle riding masks air filter equipped, as it provides great protection from dirt, snow, and rain.
The mask also provides extra protection for your breathing, having a mouth muffle with an advanced air ventilation system that can block more types of air pollutants, dust and dirt thanks to the implemented inside strainer. The mask perfectly fits any head size thanks to the adjustable stretchy tape that easily fixes the mask on the backside. The goggles are made from high-quality PC lenses that protect your eyes from 100% UV rays, sand, snow, dust, and wind. The shape of the mask makes it a great addition to half face or open face helmet, and can easily change the style of your helmet with just one accessory.
Main characteristics:
High-quality goggle lens made of PC with great physical properties;
Easily-adjustable lens band — it is possible to firmly fix the mask on the head;
Strong plastic can protect the skin from UV rays, wind and also from physical traumas;
High consistency cotton inputs improve ventilation and safely steer the mask to the face;
High-quality mouth filter and holes for higher air circulation.
Ubelly Motorcycle Goggles with Detachable Mask, Motocross...
EASY TO INSTALL & DISMANTLE: Motorcycle goggle with detachable mask,so the goggles can be used alone.and the mask with slot and the goggles with slot hole which is easy to install and dismantle.And the windproof goggles is flexible and practical,Suitable for most outdoor sports.
SPONGE FRAME: Anti-Fog Windproof Motorcycle Goggles High consistency cotton has great exhaust ventilation for a comfortably wearing. Breathable mouth filter and holes provide better air permeability.
ADJUSTABLE ELASTIC BAND :100% cotton high elastic band, which can freely adjust the length.the non-slip strap fits any size of head.providing a comfortable wearing experience and well protection.
HIGH QUALITY LENS: Our lens is made of PC which has strong physical properties. It can not only prevent the cold wind on the eye irritation,but also prevent UV rays from burning on the eyes.
MULTIPURPOSE USAGE- For outdoor sport, such as cycling, motorcycling, riding, snowmobile, airsoft, CS, skiing, and riding. Or costume ball, Halloween Party and Movie props. A good gift for your friends or families. l properties. It can not only prevent the cold wind on the eye irritation,but also prevent UV rays from burning on the eyes.
Positives:
The light-weight mask that is not too tight-fitting;
Has several colors and design options;
Provides additional protection for the eyes;
Is made of strong plastic with cotton inputs;
Can be used without goggles as a half face mask;
Advanced face protection.
Negatives:
Requires special care;
Can't be worn with full face helmets;
It is still recommended to wear a fabric-made face mask underneath.
---
Tahbilk Balaclava Riding Mask for Men: The Highest Quality Mask That Fits Everyone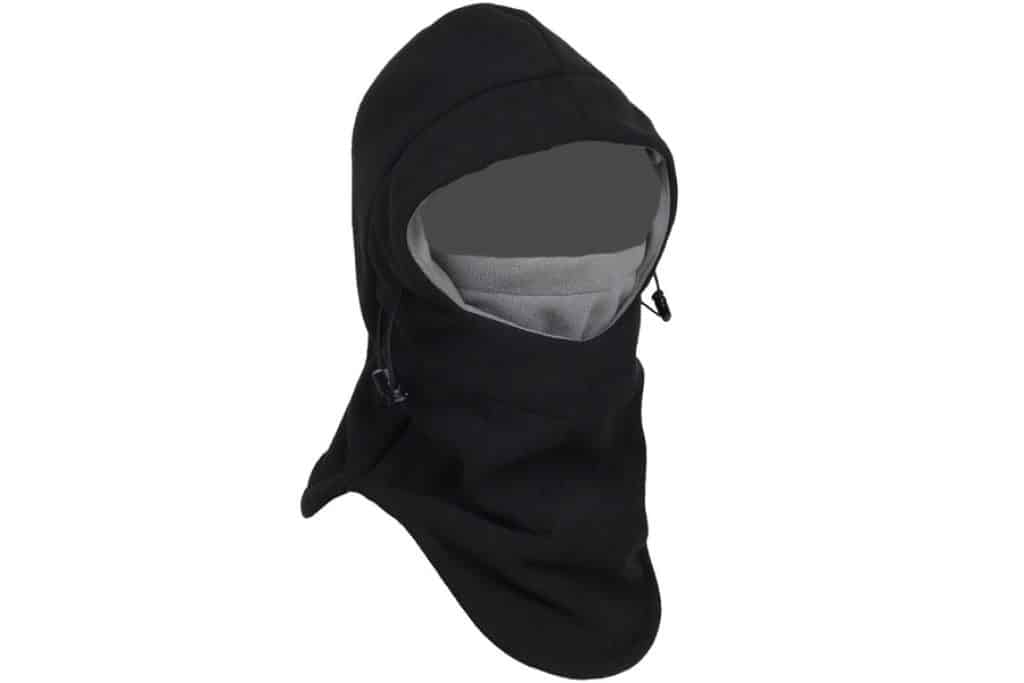 Tahbilk store specializes in modern sports gear that can suit various sport and outdoor activities, including motorcycle riding.
This is a super-soft gear for cold and windy weather motorcycle rides that protects your face and neck zones. It is the longest mask I have ever seen that has an additional length from the front side. Extra-firm fiber is windproof and keeps your face warm in the extreme cold. This is a great option for motorcycle rides and any other activities that require face and neck protection.
It is made of polar fleece and looks firm enough to be worn both with and without a helmet. The high-quality polar fleece improves the masks' breathability and wicking, making it durable and anti-static. It is easy to put it on and take it off, as it is slightly stretchy and really soft. Having so many various color versions, this mask will totally suit your helmet even if you require something special. The unisex mask design makes it great for men and women, adults and teenagers.
Main characteristics:
Extra-soft fiber for long-term skin comfort;
A one-size model that fits everyone;
Improved design — it became longer, more firm and cold-resistant;
Multifunctional — can be used for various activities, both under the helmet or solo;
Machine-washable fabric — easy to clean up the mask;
Absorbs moisture and dries out quickly.
Tahbilk Balaclava Fleece Hood,Heavyweight Cold Weather...
A POWERFUL HELPMATE IN WINTER:Will get crazy when chilly winter comes?Cannot stand the cold strong wind?Now it's time for a balaclava to save you!It,who with comfortable fleece,can provide you ultimate protection from extreme COLD,WIND BURN,DUST,UV RAYS.It is really perfect for keeping you warm and toasty all winter long.
HIGH-CLASS FABRIC:The premium soft fabrics provide premium performance for Zero-pilling,Breathability,Durability,Wicking,Abrasion Resistance and anti-static function.Also,they are SUPER COMFORT, LIGHTWEIGHT,PACKABLE and MACHINE WASHABLE.
Improved Design:longer neck and extra-long in front for better wind and cold protection,improved cut and different sewing angle for better fit on your head,It won't block the sight,safer.
Multifunction:Skiing,Motorcycling,Running,Biking,Trekking,Mountain Climbing,Snowboarding,Airsoft paintball,Hunting,Tactical training,Cycling and other outdoor activities.
Suit for party gift(Halloween,thanksgiving,christmas,new year)
Positives:
Protects from UV rays, extreme cold, and wind burns;
Has lots of bright colors;
Extra-long for additional protection;
Lightweight and easy-packable;
Has 2 layers of high-quality fabric;
Protects from extra cold weather conditions;
It is made of polar fleece.
Negatives:
Might not fit under the helmet that completely covers the head;
Doesn't have protection from air pollutants;
Too hot for summer weather.
---
Indie Ridge Motorcycle Mask: Pro Motorcycle Riding Half-Face Mask for Men And Women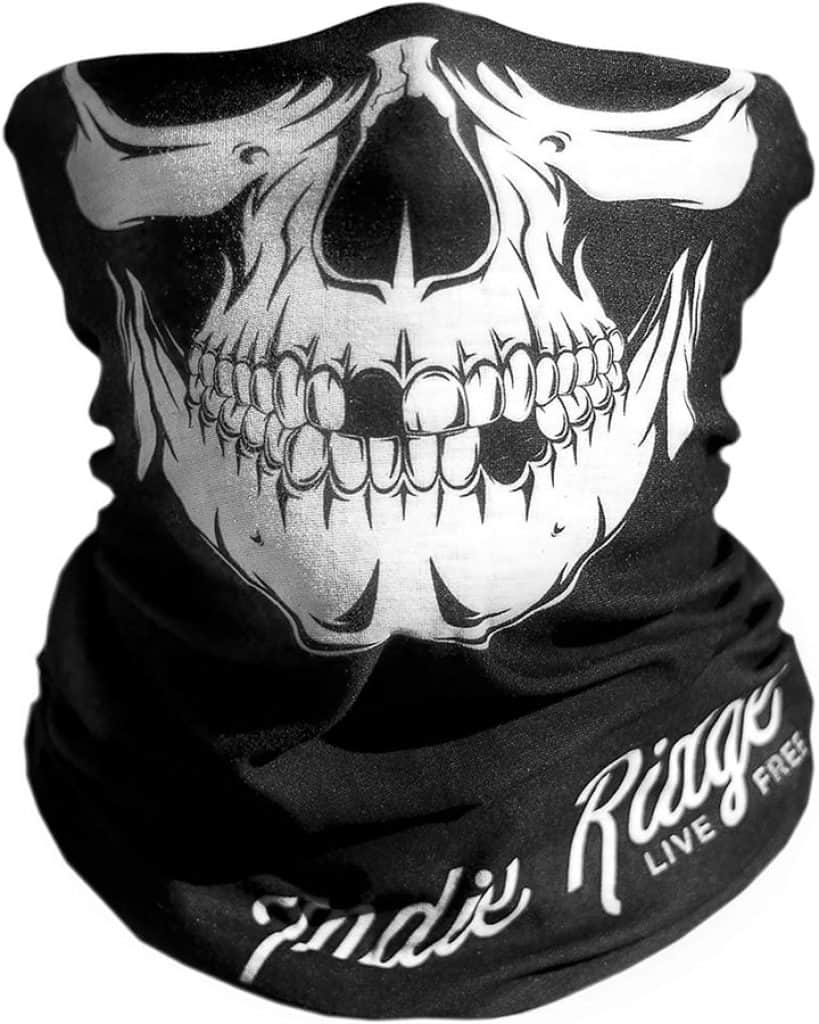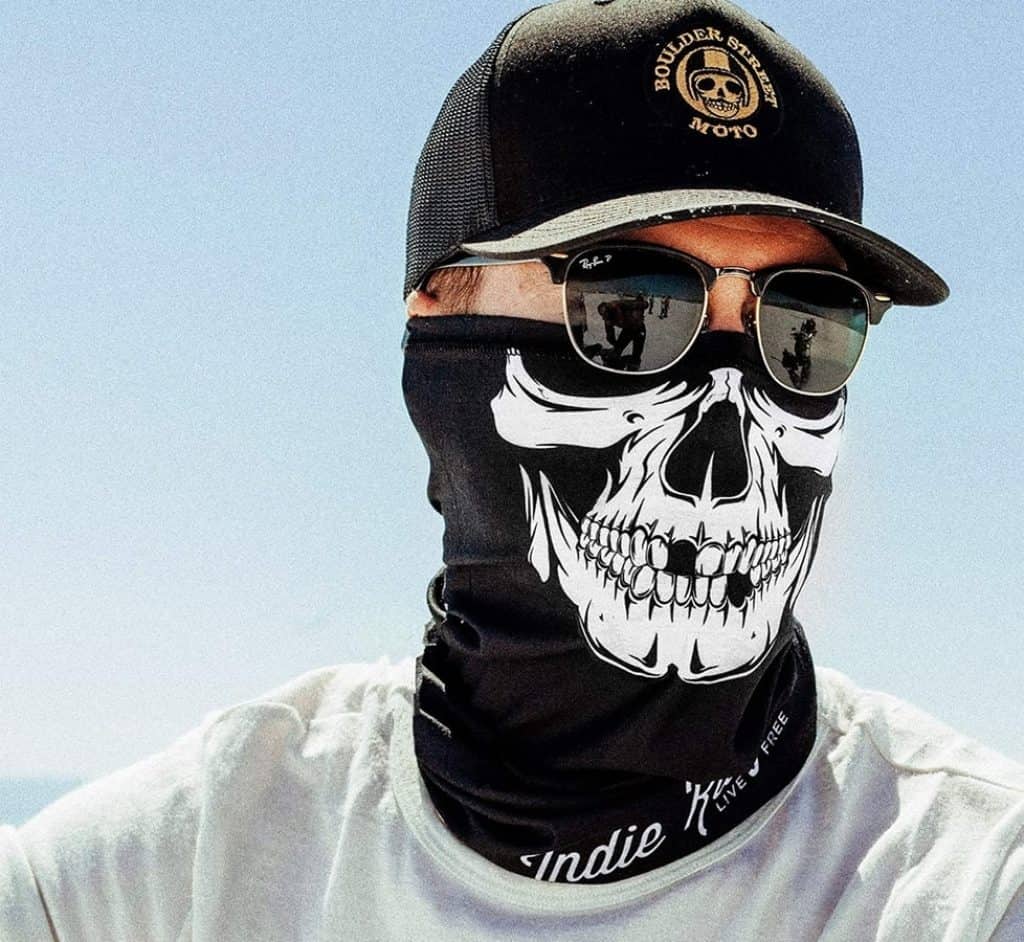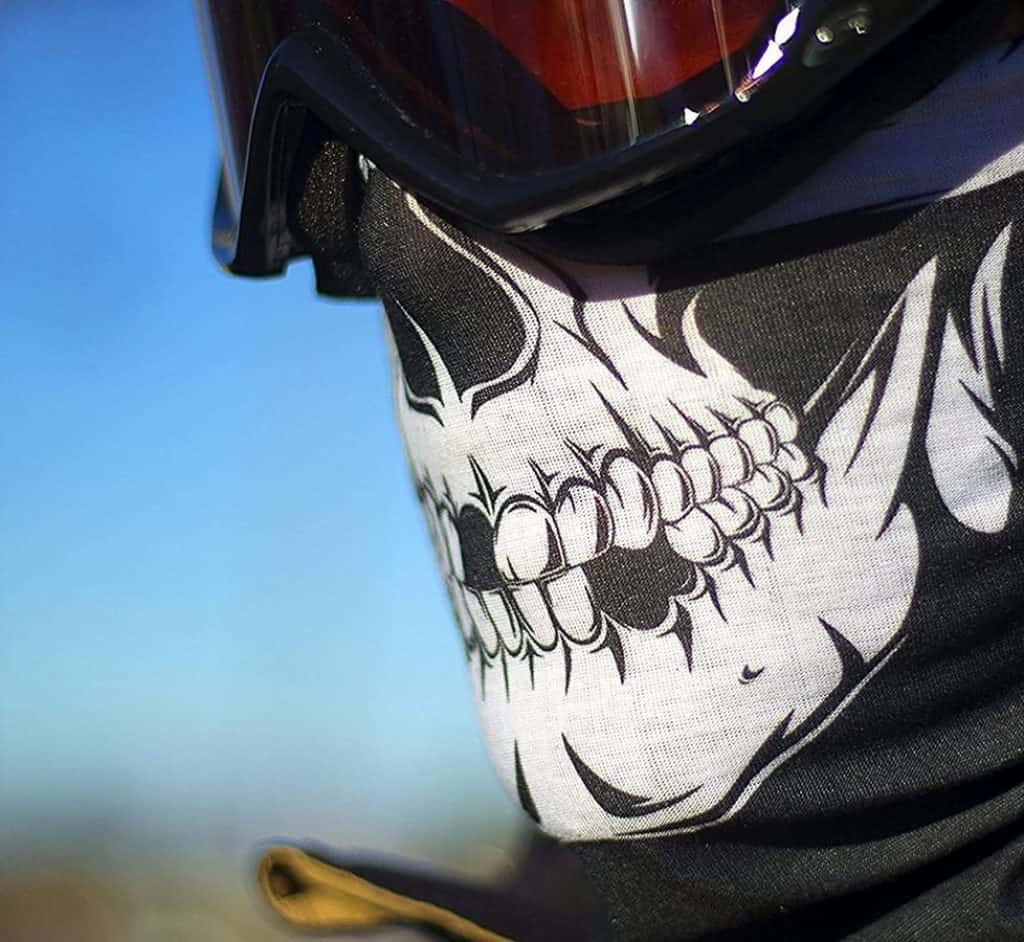 Indie Ridge is a great American brand that produces high-quality functional accessories for motorcycle riders. This is a great combination of style and comfort that this company is constantly working on, developing new models that perfectly fit the recent trends and sports standards.
This mask is a perfect match for comfortable summer bike rides: made specifically for outdoor adventures, it is made of light, breathable fabric that creates the perfect climate for your face and neck. Being made of light microfiber fabric, this mask provides you with improved breathability and air circulation that is important for long-distance riders. Being super lightweight, it is wind resistant and highly durable. The seamless design provides extra comfort, but it won't unravel thanks to hemmed edges.
I like the outstanding and trendy design of the mask. . This is the best motorcycle mask for men half face skull designed that you can find in this price segment if you need something super light and dust resistant. It has the full spectrum of UV protection, saving your skin from sunburns even under the strongest sunlight.
Main characteristics:
Has a full spectrum of protection from UV rays — a perfect match for summer;
Made of 100% microfiber — it helps your skin stay smooth and escape any irritations;
Skull-printed design — makes you look and feel great;
Can be worn with glasses — this is really important, as you have to provide protection to your eyes as well;
Seamless fit — you won't feel the mask during the ride.
Skull Outdoor Motorcycle Mask By Indie Ridge - Ski Snowboard...
Breathable, lightweight microfiber fabric. Perfect motorcycle mask, great for skiing, snowboarding, riding, fishing, angling, and hiking.
Seamless/tagless fit for optimal comfort. Hemmed edges to prevent unraveling.
Wind resistant and durable. Full spectrum UV protection mask.
Provides warmth in cooler temperatures, but stays fully breathable.
Great for all outdoor activities Motorcycling, snowboarding, skiing, hiking, mountain biking, and anything else outdoors.
Positives:
The mask is made of highly durable material that will serve you for years;
It is wind-resistant and protects your mouth and nose from sand, dust, and dirt;
Has a great skull design;
Plenty of ways to wear it;
Perfect variant for summer.
Negatives:
It is not tightly fixed on the face and can roll down during long-distance rides;
It won't provide as much wind protection during the cold weather as some of the previous mask models.
---
Tough Outfitters Headwear Tactical Neck Gaiter – Best Half Face Balaclava Motorcycle Mask for Men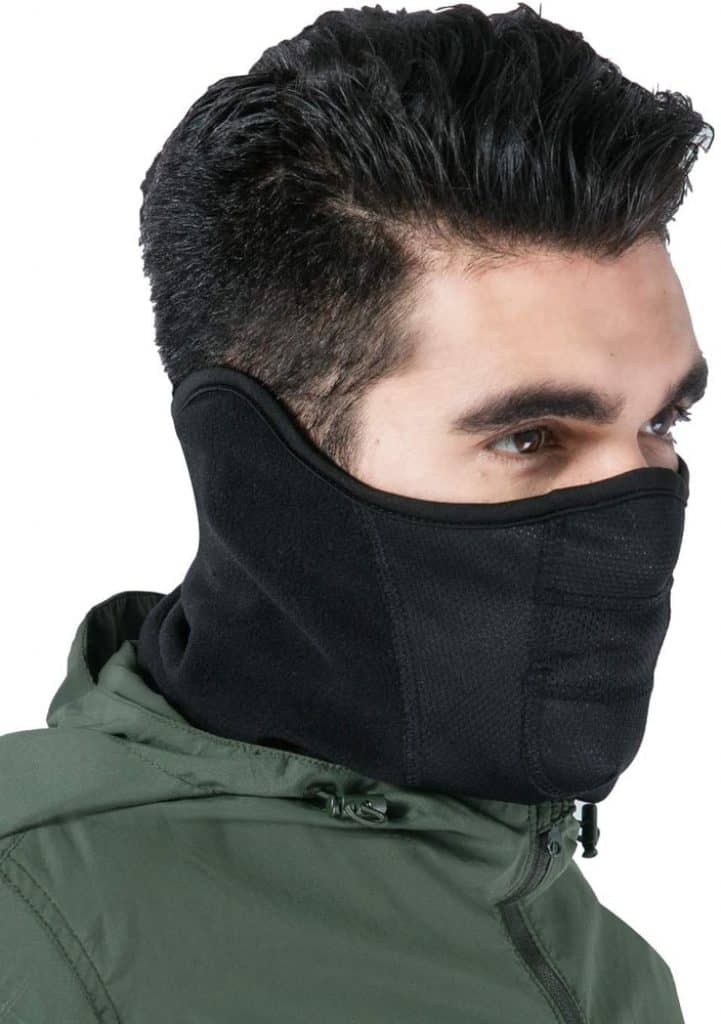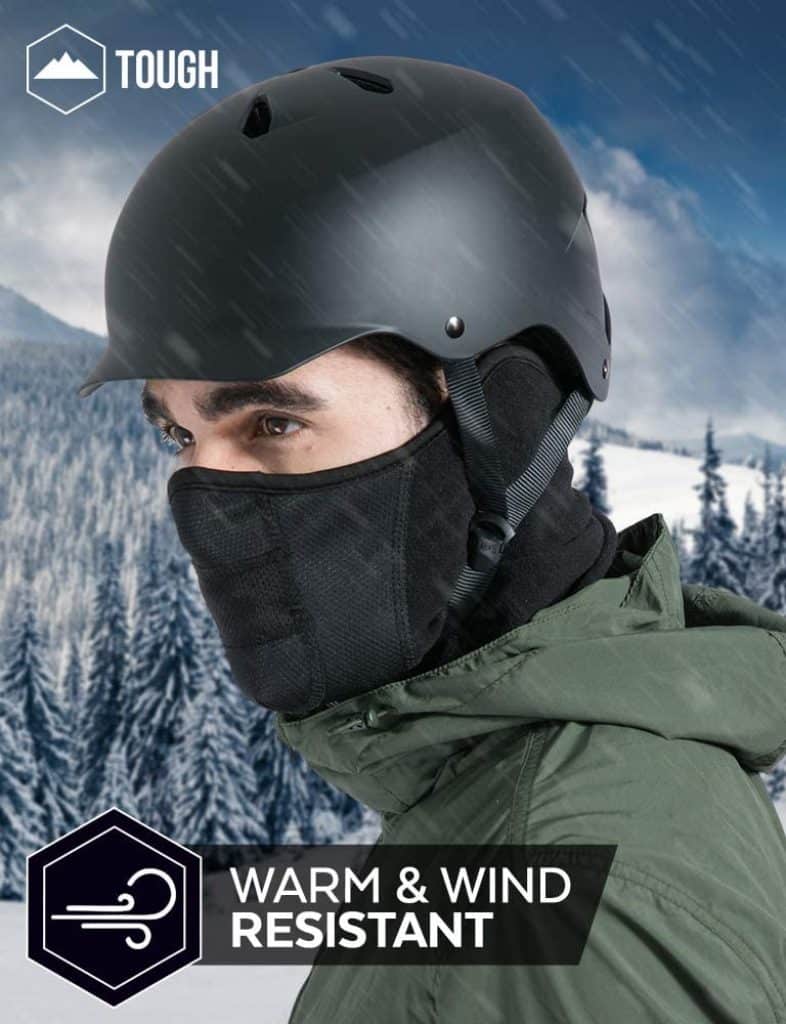 Tough Outfitters is a brand that has originally started in California and mainly focused on producing all types of clothing and gear for adventure seekers and active sport and outdoor activities. They produce a variety of sports gear for active living, and I recommend you to visit their blog!
This half-face mask is an advanced option of face protection in any weather. It has four-seasons protection that is probably one of the best motorcycle riding masks for men half-face air filter options. It is made of high-quality material that will equally protect your face in cold, windy weather and stormy desert climate. Special mesh panels in the nose and mouth area add to the masks' breathability and help your goggles to stay clear even during the most intense rides. It effectively protects your ears with an extra firm fabric section, and thanks to special ear slots, the mask won't fall down no matter what.
Being a good match for winter climate, it also keeps your face dry, wicking away moisture. It was made from a 4-season material and can be used as a basic model for all-time rides. The design of the mask allows you to wear it as the face or neck protection without losing its ultimate shape or getting loose. It perfectly fits your face and neck, doesn't roll down and can be easily worn as a neck gaiter.
Main characteristics:
Has ear slots for perfect mask fit without slipping down;
Mesh panels in the nose and mouth increase the airflow without the mask getting wet;
Machine-washable — can be cleaned up pretty easy;
It can be worn as a half-face mask or as a neck gaiter.
Sale
Winter Face Mask & Neck Gaiter - Cold Weather Half Balaclava...
Ultimate Protection From Cold, Wind, Dust & UV: Our balaclava protects you against the elements whether you blaze down the slopes like Shaun White, shovel snow faster or motorcycle in the desert like Mad Max.
Ultimate Comfort: Imagine cold blistery snow and sleet hitting you...and a smile on your face. No problem, you say. Our stretchy, breathable fabric protects your face while wicking away moisture. The fleece lining retains heat. To prevent stuffiness, our balaclavas feature mesh breathing panels to increase airflow while minimizing condensation on your goggles. That's why you're smiling.
Ultimate Versatility: Wear it over your mouth and nose as a face mask, or pull it down and wear it as a neck gaiter. People use our gaiter face mask for skiing, snowboarding, riding, ATVing, hunting, construction, warehouse work and shovelling snow.
Your Ears Will Thank You: Your half clava neck gaiter contains slots for your ears, making sure they stay warm and groovy like you. You won't be caught with your gaiter (or pants) down as you bomb down hills.
Mask up: Whether you need a face covering to go inside the ski resort, have to cover your nose and mouth on the job to keep out dust, or take public transportation to work, we've got you covered.
Positives:
Wind-resistant fiber;
Great for all seasons;
Wicks away moisture and doesn't get wet;
Suitable for all seasons;
It doesn't roll down your face.
Negatives:
Has only one color version;
It cannot provide full protection from goggles condensation.
---
KaruSale Windproof Face Mask: Motorcycle Riding Mask for Men With Advanced Air Filter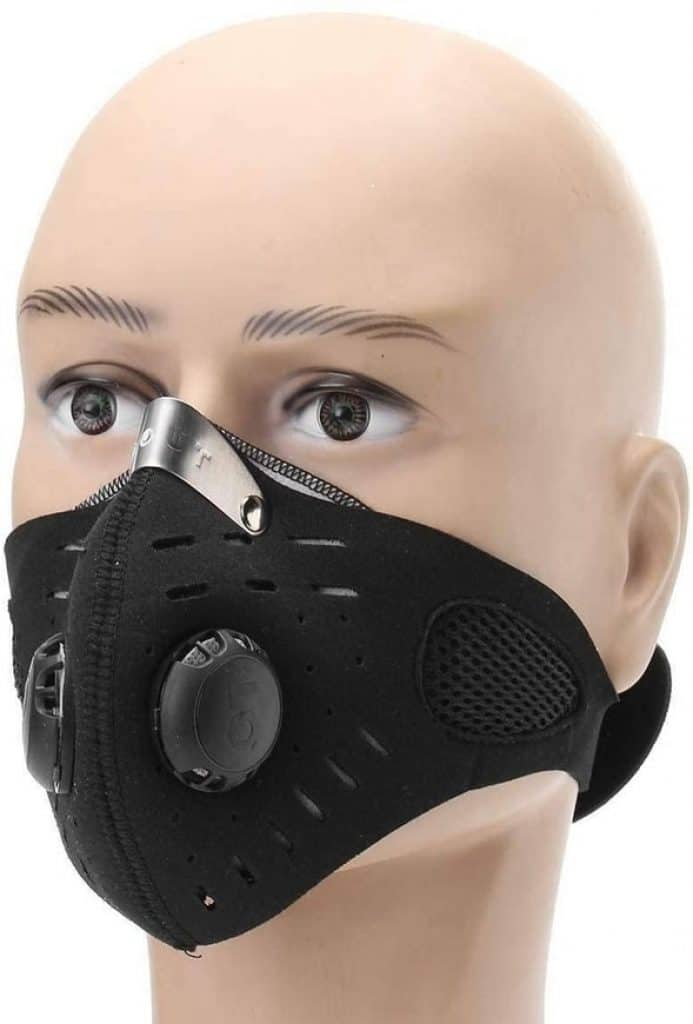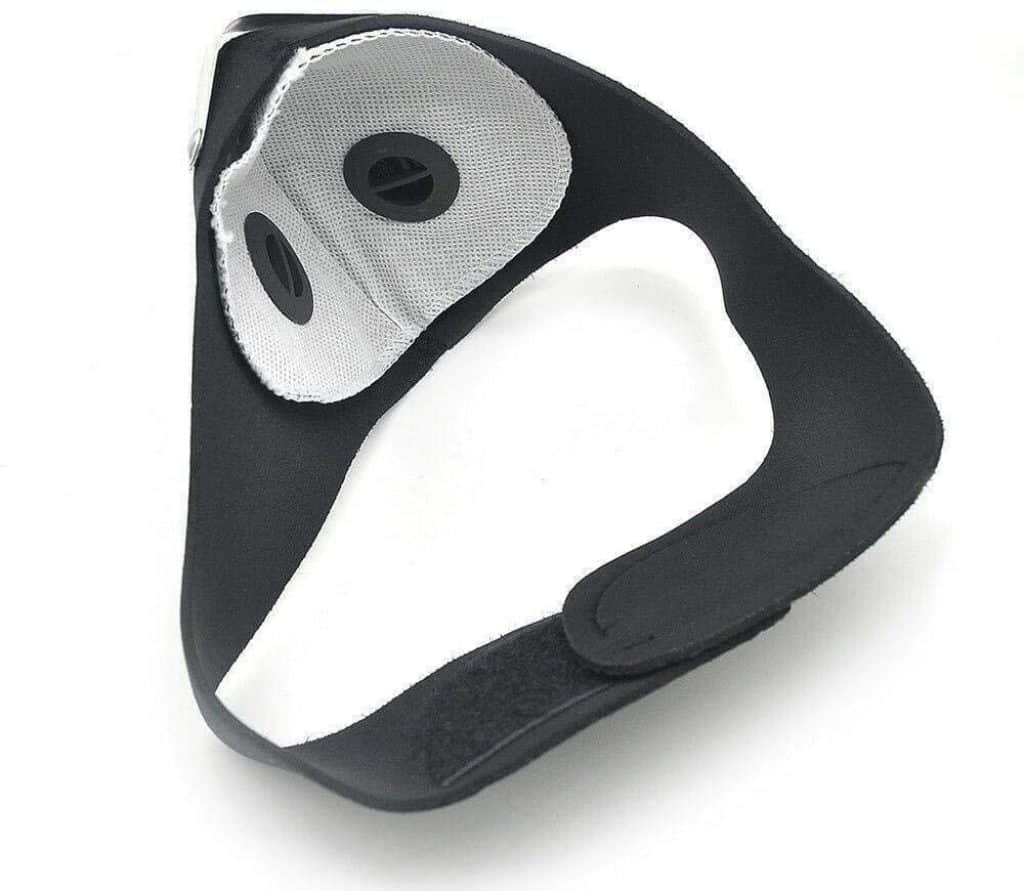 KaruSale is good at developing various gear for the active lifestyle, having a series of masks suitable for motorcycle riders. This brand is more focused on various protective gear, so you should look through this option in case you seek something reliable.
This mask provides advanced breathing protection with a high-quality carbon filter. It is a great variant for motorcycle riding in a dusty neighborhood and long-distance rides. Being made of both light and durable material, this is one of the best motorcycle masks for men half face summer weather options. The protection of your breathing is the strong side of this model: it has removable air filters and stays tight around the nose thanks to a special aluminum-made fixing sheet. With the developed set of mesh panels, holes, and filters, this mask smoothes breathing and makes it easy to both inhale and exhale.
Its extra protection combines with great design, variable usage, and universal design: the adjustable tape helps to easily fix the mask and prevents it from rolling down. It is easy to wash the mask manually or in the washing machine, and it can be used just hours after cleaning. I like the quality of the material that keeps the form of the mask and looks great even after extreme riding in the desert. This mask is super lightweight and is great to wear in hot and sunny weather, as it provides great air circulation.
Main characteristics:
Built-in carbon filter — this is a great protection of your breathing;
Mesh panels for improved inhale and exhale;
Machine-washable material — easy to clean the mask even if it is super dirty;
Adjustable fixing tape — it fits all head sizes;
Half-face design — can be worn with any helmet type;
It has a one-size unisex design that suits adults and children.
KaruSale Full Face Mask Motorcycle Cycling Anti-dust...
Anti dust mask is shock-proof, can help u keep out the bridge of your nose the following part with aluminum sheet fixed according to the person face design.
With unique ventilation design, a plurality of holes, excellent permeability, exhale, the valve of work out mask is opened without resistance, double air breathing valve, air resistance is smaller, smooth breathing.
Our cool dust mask is suitable for cycling, hiking, skiing and other outdoor activities, also can be used as haze day protection, anti-dust and so on.
This riding dust mask is washable if it getting dirty. Attractive appearance of our protective face mask is simple and lightweight.
One size fits most. Designed for men and women. Help prevent haze, dust and peculiar smell
Positives:
Advanced breathing protection with high-quality carbon filter;
Firm nose fixation with the aluminum sheet;
Easily washable;
Made of high-quality materials that improve its durability.
Negatives:
The carbon air filter has to be replaced as soon as it gets dirty;
This mask won't protect your face from cold weather and sediments.
---
Choosing The Best Motorcycle Riding Mask For Men
Motorcycle riding mask is a great riding gear that has lots of variations, features, and designs, so everyone can find a perfect match for his/her needs. Personally I prefer full-face coverage and four-season fabric that make the motorcycle riding mask as practical as possible. However, half-face masks allow you to wear glasses and goggles, which are more stylish and comfortable in hot weather. I have tried lots of masks and want to ask you about your favorite models. Can you add them to comments so I can make new reviews to choose the best motorcycle mask for men and women? Maybe you have tried one of the masks from my post? How did it work for you? I am waiting for your responses!