Best Motorcycle Seat Pad for Long Rides – Helpful Product Reviews
My name is Max Farmer, and riding is life to me. I can't imagine going a day without making a few strolls around the city with my friends or on my own. What I enjoy most is going for those long rides. I find it relaxing, soothing, and it clears my mind.
However, the seat pads can result in being a major discomfort during rides. They are the reason why many bikers dread going for long trek rides. Thus, it is critical to get yourself a comfortable seat pad because it will help you to remain focused on the road.
If you are riding with a friend side by side, an uncomfortable seat won't be a distraction from a small chat anymore. A good cushion may also help you to explore more places than you ever imagined because it will provide comfort throughout the journey.
I know it because since I went to the 2005 MotoGP at Laguna Seca with my father, I have been learning a lot about motorcycles and accessories that make the rides easier. I got hooked to repairing bikes thanks to my father, and I gave myself to know the ins and out of motorcycles. So, the information I will provide you with below comes from a bird's eye view of an expert.
Amazon Bestseller
Top 8 Motorcycle Seat Pads for Long Rides
I will review eight of the best motorcycle seat pad models that you can get online. Continue reading and find a cushion that will fit your needs. It's time to start taking long rides without worrying about injuring your sit bones.
Conformax "Topper Excel" – An Air Cushion Seat for Motorcycle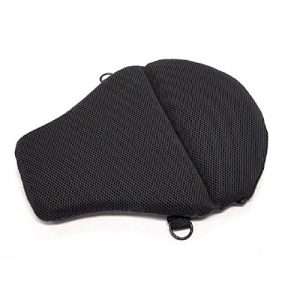 When I think about comfort when riding, I think about the Conformax motorcycle seat gel pad. The company has designed it uniquely by using foam and gel, which are more comfortable than any of the two materials separately. The seat pad comforts your back through a long ride so that you do not develop backaches after a great, enjoyable trip.
The cushion is very light. It weighs 2.9 pounds, which makes it easy to carry around. You can ride many miles without getting tired of the weight of the bike. In fact, you may not even notice that you have this seat pad on your motorcycle when riding many miles.
To enhance its comfort, Conformax has designed the seat with a depth of one and a quarter inches. At the front, it has a 6-inches width, while at the back, it is 12-inches wide, and it has a 15-inches length. It is essential to measure your bike before buying this product to ensure that it will fit perfectly.
I hate cushion seats that do not have sufficient ventilation because they make you sweaty, and this may distract you from enjoying your ride. But this gel pad seat for motorcycle has enough room for the air circulation. Hence, it cools you throughout the journey instead of making you feel like you are in a boiler room.
It also grips the motorcycle firmly; hence, it does not slide. The grip is also enhanced by the straps that you tie to the motorcycle to hold it firmly. It is great that you can choose to use either a Velcro or ear tub strap. The straps are adjustable, and they are easy to fasten on the bike.
CONFORMAX"TOPPER EXCEL" ULTRA-FLEX Motorcycle Gel Seat...
MADE IN THE USA. (Standard: Free 2-3 Day Shipping !!!). CONFORMAX "ULTRA-FLEX" HINGED-DESIGN TOPPER EXCEL gel cushions provide superior comfort for deep profile touring bike and cruiser seats. These ULTRA-FLEX designs provide extra comfort and gel protection to the rider's lower back and rear buttocks, in addition to "sitz" bone proection on the flat portion of the seat.
CONFORMAX body conforming gel-on-foam technology offers better comfort than gel or foam alone. 1/2" ULTRAGEL cast onto ½" high performance ULTRAFOAM ensures body-conforming fit to the rider's anatomy FOR ALL DAY, PAIN-FREE COMFORT.
Low profile comfort. Only 1-1/4" thick, Length: 15" x Rear Width: 12" x Front Width: 6".
All covers have a "grippy"-bottom and a handsome, durable top surface: The AIRMAX-3D Cool Ride cover provides EXCELLENT AIR-FLOW VENTILATION BETWEEN THE RIDER AND CUSHION SURFACE FOR EXTRA COOL COMFORT ON LONG RIDES. Minimizes heat build-up on the seat when parked in full sun. Color Black.
Attaches easily and safely to the seat with a secure, yet simple adjustable strap system (see photos). Choice of two types of strap systems included with each cushion: (Velcro-type hook & loop fastening system, or a universal D-Ring/Ear Tab). Simple, clear installation instructions assure extensive cushion positioning options for all fixed or removable bike seats and rider anatomies.
Positives:
It is lightweight
It can be adjusted on the motorcycle using Velcro or ear tub strap
It is long enough to fit any motorcycle size
Negatives:
It allows water, so it is not efficient for rainy days
back to menu ↑
Airhawk R-REVB Cruiser – Among the Best Motorcycle Seat Pads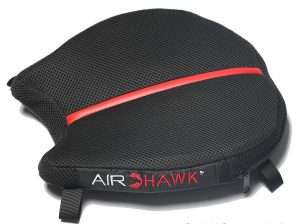 Having a wrong and uncomfortable motorcycle seat pad may mean a lot of things. However, the main problem is numbness. You have to stop from time to time to rest. In result, you lose time and reach your destination hours late.
Thus, it is worth going for the Airhawk motorcycle seat pads have comfy cushions made with thick material. The air motorcycle cushion allows free air circulation, which gives you a nice feeling.
The cushion is made of polyurethane cover that is meshed to enable air to penetrate the cushion. Thus, it allows for better blood circulation in your body, therefore, preventing you from experiencing numbness.
When you purchase this product, you will get two things: an inflatable air pad that is removable and a cover with an opening to the cushion insert. The cover has a sleek design that is made with breathable spandex.
The cushion is less dense on the front part to enable your legs to pass through easily. The seat pad comes with a manual on how to inflate it before hitting the road.
Sale
Airhawk - R-REVB Cruiser R Large Motorcycle Seat Cushion for...
PRESSURE POINT SUPPORT - Built-in stress relieving features reduce pressure point on tailbone, scrotum, and prostate for a more comfortable ride
EVERLASTING COMFORT - Patented air cell technology in the cushion prevents pressure injuries and ensures a longer, more enjoyable ride without any pain
ERGONOMIC DESIGN - Center cutout area runs front to back of cushion while a back cutaway allows for a tail bone relief area with a tapered transition for increased comfort
MATERIAL - Air pad is made of durable polyurethane and cover is made of breathable spacer mesh cloth with red vinyl accent, 3-layers of knit polyester for air circulation, and non-skid bottom
AIR CELL CUSHION - Cell height lowers on front for better leg passage and almost no effect on ride height and the re-designed cell geometry improves airflow under the rider
Positives:
It is made of comfortable material
It has an ergonomic and sleek design
It reduces pressure on vital parts of the body
It is easy to set up
Negatives:
It is made of elastic straps that may not hold on too much pressure
back to menu ↑
Skwoosh MSAF0910 – A Great Motorcycle Gel Pad Seat
Skwoosh is another best gel pad for motorcycle seat. I love it for being unique and for paying attention to cooling, which is essential during a long ride despite the weather.
The seat pad has specially designed air channels that allow circulation of fresh air into the cushion so that you experience a cooling effect. This is in addition to the top cover that is meshed to allow for extra cooling. You cannot go wrong with this seat pad in terms of cooling your body whether you are riding on a straight or curved road.
It has nine ounces' weight, and it measures 11 by 13 by 1 inch. This makes it compact, and since the seat pad is foldable, it is easy to carry when not in use. If you are going on a long trip and plan to spend the night out, you can pack the cushion in your bag and leave the motorcycle at the parking lot. All this will be seamless because of its sleek and compressed size.
This seat pad has elastic snaps on both sides that are used for fastening it on a motorcycle. The snaps go around the motorcycle, hence enabling the cushion to fit perfectly. The bottom material of the pad is non-slip; thus, you can be confident when using the cushion on a long trip with bumpy, curvy, and straight roads.
The gel inside protects the seat as it moves in the direction of your body, not resisting your movements. If it were resistant, it would cause spinal injuries, and this could bring your long rides career to a halt.
Positives:
It is affordable
The cushion has air channels that lead to cooling
It uses elastic straps that are easy to fasten on the motorcycle
It is foldable
Negatives:
It covers only the size of the bottoms
back to menu ↑
Gel Pad Seat Cushion – One of the Best Motorcycle Passenger Seat Pads
Have you ever ridden on a motorcycle as a passenger feeling like a rider does not care about your comfort? It is annoying, and it may make you lose interest in riding with anyone ever again.
This motorcycle seat pad by Sturgis is specially designed for passengers. Therefore, do not let your passengers get a terrible experience when riding with you. Even if you have never experienced such an incidence, you should understand that it is very humiliating, especially for long-distance rides.
Although the seat pad does not have an air passage, it is made of a breathable fabric that can achieve the same objective. It is also thick with three layers of memory foam and gel to enhance comfort. These layers can accommodate passengers of all sizes and make them feel comfortable. Thus, you do not have to worry about getting a new pro pad motorcycle seat cushion for your friends.
The foam and memory gel used to make the cushion are very dense to enable passengers not to experience the usual vibrations that arise when on rough roads. When turning on a curve, the pad also allows the person to remain sturdy and not slide on the seat as is commonly the case.
Positives:
The pads are of high density
It weighs only 1.55 pounds
It has straps for gripping it on the motorcycle so that it can stay in place
Negatives:
It does not have an air passage
back to menu ↑
Air Seat Innovations – A Superb Option for Long Roads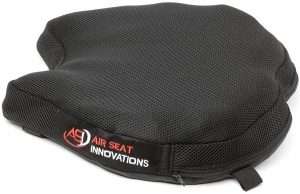 It's another wonderful and fully-functional motorcycle seat pad that you shouldn't miss in this list. With this product, you are not limited to long trek rides. By this, I mean that you can use it for sport touring like the Harley Davidson motorcycle seat pads.
The seat's size is 14.5 by 14 inches, but there is a smaller size available as well. This item has a proper inflation level to make your riding comfortable. You will also notice that it has staggered air pockets, a technology that aims to protect your spine and keep you riding for longer.
There has been a major complaint among riders that most of the seats don't stay for long. This is true, and it can mess up your travel schedule. However, this product is not the case. It's made of a neoprene rubber that lasts for a lifetime. It also has straps to hold the cushion onto the motorcycle so that it does not fall off or make you uncomfortable when you are riding.
Air Motorcycle Seat Cushion Pressure Relief Pad Large for...
[ FITMENT ] 14.5"x14" -This motorcycle air seat cushion is made to fit: large cruisers, all touring models, adventure touring most motorcycles with a full seat, UTV 's and Side by Sides. Easily adjusts to your shape for a custom fit. Air Seat Innovations front rider seat pad was designed to cover a wide array of fitment, we also offer a smaller front cushion for sport bikes and also a rear cushion.
PROMOTES BLOOD CIRCULATION ... Air Seat Innovations motorcycle seat cushions feel great on long rides because they promote blood flow through your lower body.
ABSORBS SHOCK FROM BUMPY ROADS ... Motorcycle shocks not so great? Our air seat cushion for motorcycle absorbs the vibration and bumps your suspension couldn't handle.
REDUCES PRESSURE ... Your cocyx and butt will thank you for using an inflatable air seat cushion on your motorbike. Now you can focus on the road and enjoying the ride.
QUALITY COMFORTABLE MATERIALS ... Using only top-of-the-line, durable materials with a washable cover, your ASI motorcycle seat cushion is made to last as long as your bike or even longer
Positives:
It has staggered air pockets
It is affordable
It is made of neoprene that lasts for a long time
Negatives:
These seats are a bit heavy
back to menu ↑
Air Motorcycle Seat Cushion Pressure Relief Pad – Another Item by Air Seat Innovations
If you are thinking about an air cushion, think about Air Seat Innovations. The company knows that to achieve comfort, you do not necessarily have to go for gel or foam. They have designed this cushion that gives comfort by filling in with the air. Thus, the product protects your back and seat from experiencing fatigue during long rides.
It is thick enough to absorb shocks that may arise when riding on rough terrains. It also takes in the shock produced by the engine, hence making you comfortable on the road.
Since the cushion's comfort is brought about by the air that is filled in, it is easy to adjust this product to anyone's size. Therefore, you can enjoy using air cushions for motorcycle seat no matter of your size.
The cushion is made of a high-quality material that is easy to stretch. Therefore, it can resist humidity and allows for the free flow of air. Thus, you will be cooled even when you ride on a very hot day. What more would you want from a motorcycle cushion other than comfort and cooling? These two are the most important options for me and every biker I know.
To inflate the seat pad, open the zipper on the cushion and let the air nozzle be exposed. Blow some air through it to inflate the cushion and make it comfy. Once you have done this, fasten the pad on the motorcycle using the straps located at the bottom. These are easy to clip, and since the bottom of the cushion grips the seat tightly, you can start your journey without any worries. It enables you to focus on the road while providing maximum comfort.
ASI - Motorcycle Air Seat Cushion, Rear or Small Seat Size,...
✔ UNIVERSAL FIT ANY MOTORCYCLE ... Rear Cushion 12" x 9.5" x 2" fits onto any motorcycle
✔ MADE FOR PASSENGER ... Our rear seat cushion for motorcycle makes riding on the back comfortable and safe
✔ ADJUSTABLE ... Easily adjusts and straps securely in place
✔ WEATHER RESISTANT NEOPRENE RUBBER ... Our premium neoprene resists even the harshest weather when left outside or in big rain storms
✔ AIR SEAT INNOVATIONS MOTORCYCLE ACCESSORIES
Positives:
Air cushion provides comfort
It weighs around 1.1 pounds
It is affordable compared to premium cushionsIt adjusts with the size of the individual using it
Negatives:
You must inflate it regularly to enhance its comfort
back to menu ↑
SKWOOSH Passenger Pillion IV – An Amazing Skwoosh Custom Gel Fishing Seat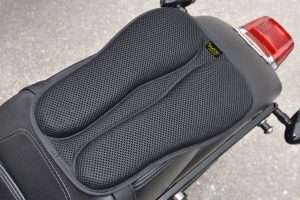 Don't you love using products made by experts who have the most advanced skills and production equipment? If you ask me, these are one of the best seat pads in the market. Skwoosh, the company that has made this Skwoosh passenger pillion gel pad, has experience in producing comfy seats for offices, cars, motorcycles, and watersports.
It has a passage that allows air into the seat when in use. Therefore, you will not experience overheating when using this pad. The material used to make the pad can resist heat from the sun. Consequently, it does not heat up on a hot day as this would be bothering and may even cause burns.
The seat's ability to resist heat shows that it is designed like a premium cushion, yet it is very affordable compared to superior seat pads. One thing I love about this cushion is that no other item is waterproof. With these motorcycle seat pads, washing seat pads after every first rain will be a past story.
It has gel filling, which comforts your backbone, pelvis, and seat. Therefore, you do not risk injuring any important tissues of your body when using this seat pad.
Like most of such products, it has straps for holding the seat pad tight on a motorcycle to avoid sliding. Therefore, you may be assured of being focused on the road and enjoying your road trip.
SKWOOSH Passenger Pillion IV Motorcycle Gel Rear Seat Pad...
Ergonomically designed to fit body geometry. Breathable Fabric - circulates air for natural cooling
Comfortable - Pressure relieving gel prevents numbness and discomfort. Cushioning - fluidized gel cradles your 'sitz' bones for long ride comfort
No Maintenance - durable water proof fabrics – all welded construction. Convenient - Lightweight, thin and compact for storage
Non-Skid Bottom - Anchors cushion to seat. Easy Installation - Cruising snap on Safety strap included
Easy Installation with elastic safety strap (included). MADE IN USA
Positives:
It resists water
It is very light (5 ounces)
It has an air channel for cooling
It is not costly
Negatives:
The cushion may feel too light to some people
back to menu ↑
SKWOOSH Classic Saddle – A Superb Skwoosh Seat Pad Review
If your budget is tight, you should consider Skwoosh Classic Saddle seat pad. Although it doesn't keep with the other items comparing extra features, it still can provide comfort on your rides. After all, this is what you are looking for.
The product has perfect airflow due to the breathable Airflo fabric. It is meshed to enable air to enter the seat pad through the pores. Thus, you are assured of being cooled when using this seat pad.
It is the lightest gel pad seat cushion motorcycle as it weighs only 9 ounces. The weight makes it portable. When you are not using the cushion, you can pack it and carry in a backpack.
It has a gel inside, which is great for enhancing the comfort of the seat. The gel moves in the same direction with you instead of remaining stiff and putting pressure on your bones and muscles.
SKWOOSH Classic Saddle Motorcycle Gel Seat Cushion Cooling...
Shape and thickness designed for stock and reduced reach seats. Pad won't change distance to pegs and lower controls
Maintains ergonomic design of any seat. Breathable AirFlo mesh fabric for a cooler ride
Air channel design directs airflow where it's needed most. Lightweight gel relieves pressure on "sitz" bones
Cutaway tailbone relief. Folds for easy storage. Easy Elastic Attachment secures under horn or use the Snap Strap attachment
No maintenance - welded construction - durable fabrics - non-skid bottom anchors cushion to seat
Positives:
Very light
Has a nice fit
Compact size
Negatives:
The size may be uncomfortable to some people
Factors You Must Consider When Buying a Seat Pad
Before getting motorcycle seats pads, develop a list of factors that you must take into consideration. Do not just buy a good-looking item without asking yourself what you actually need. Below are some of the important factors to consider when choosing the right seat pad.
back to menu ↑
The Cushion Material
You need to note that cushions can be made of several materials. The quality and prices of these materials may be different. They include:
Sheepskin has all the features you would want from a good seat pad. It absorbs sweat, cools you during warm weather, and warms you when it is cold. However, it is expensive because the product is natural. It is also expensive because it looks and feels classy.
Air cushions can absorb shock that arises from the engine or bumpy roads. It is also efficient as it does not have pressure points that are common with other materials. Air pads for motorcycle seats are affordable if talking about the price tags.
Air cushions also come with a nozzle that is used to inflate the seat pad. It is also responsible for deflating the pad while on a journey. Hence, you do not have to do it by yourself.
Gel seat pads are also efficient in eliminating numbness because they do not have pressure points. Since the gel is used in medicine to create wheelchairs, it means that it is efficient and will cause no harm to your backbone.
Foam performs the same function as a gel. However, you need a cushion with a high density of foam to attain maximum comfort. It is possible to get a seat pad that combines gel and foam to get a long-lasting comfort. These ones are one-of-a-kind in terms of protecting you from back injuries and vibrations on the road.
back to menu ↑
Cover Materials
Different materials are used for covers for motorcycle passenger seat pad options. Some of them include neoprene, polyurethane, and polyester. They can all be meshed, and their durability differs. You need to determine the material that you are comfortable with and that you will take care of without difficulties.
Attachments
The attachments for holding the seat pads on motorcycles also differ. Some pads use Velcro straps, while others have D-ring or elastic ones. They work the same, but you may choose the attachments that appeal to you the most.
Size
The size of a cushion is also a critical factor to consider. There is no sense to purchase a tiny cushion or a huge one that will hang on the sides and distract you throughout the ride.
Most of the seat pads reviewed above have a medium, universal size. Therefore, you can measure your bike and determine the size of the cushion that will fit well. A seat pad model may come in two or more sizes; hence, you can select the one that will fit your seat the best.
Choosing the Best Seat Pad for Bike: The Bottom Line
Going for a long-distance ride is adventurous and worth every minute and penny that you spend on the trip. But it is nowhere near being enjoyable if you do not have a comfortable seat pad. Sitting for many hours without a proper seat may result in sprains and some irritation as the hard metal used to make the motorcycle comes into contact with your skin. It can cause pain, discomfort, and lack of focus.
Therefore, if you want to enjoy real adventure, you need a cushion for the seat. The eight seat pads I have reviewed above are all efficient, and they come at affordable prices.
When selecting among the items above, take a close look at the material the seat pad is made of. Some models work as air pads, while others are filled with foam, gel, or sheepskin. The choice you make depends on which one you favor the most.
You should also consider the type of attachments and cover material that makes the seat pad. Velcro and elastic straps and common, and they get the job done efficiently. Polyester or neoprene can also be used as seat materials, and they can all last for a long time when you take care of them well.
Which material do you prefer on a motorcycle seat pad? Do you have a seat cushion for your bike, and have you used any of the reviewed seat pads? Tell me about your experiences in the comments below.