Best Motorcycle Tank Bag – Helpful Recommendations for Your Purchase
My name is Max Farmer, and I am a motorcycle fanatic with an unparalleled penchant for moto circuit racing. I was 13 when I had my first encounter with the moto world. I clearly remember going along with my dad to the 2005 MotoGP, which went down in Laguna Seca.
My love for motorcycles quickly developed into a hobby and till to date, I enjoy going for evening rides. My father is not only a motorcycle rider but also a mechanic so that I had access to substantial knowledge of moto riding as a skill and the technicality of bikes. Now, I am glad to share my knowledge and experience with you.
One of the important things for any bike rider is to be able to carry and store some essential items while on a ride. Considering that most motorcycles do not have designated storage compartments, getting special bags designed for mounting on bikes is a great idea.
Among the most common and, in my opinion, ideal bags for motorcycles are the tank bags. This article is all about helping you choose the ideal one for you. Below, I have reviewed seven motorcycle tank bags that I find practical, durable, and stylish. Some of them I have used by myself for my rides, and others I have checked in details to provide you with a comprehensive review.
Amazon Bestseller
back to menu ↑
The Best 7 Moto Tank Bags
It is always overwhelming trying to look for a product, yet there are hundreds of options on the table. I've made the work easier for you as I will be highlighting the seven best motorcycle tank bags I've used or reviewed so far. Therefore, you don't have to spend hours and hours browsing the internet to find the perfect product.
In each review, I will be focusing on the features and specifications that distinguish each bag, identifying the advantages and disadvantages of each item. Also, I will be sharing my thoughts about the most suitable occasion that the bag would be ideal for. Here are the best tank bags for motorcycle riders:
back to menu ↑
Chase Harper 450M – The Best Motorcycle Tank Bag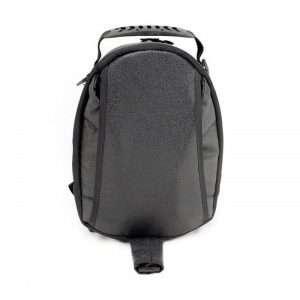 One of the top-selling tank bags with magnets is the Chase Harper 450M magnetic tank bag. The brand is famous for industrial quality motorcycle gear characterized by high performance and longevity.
This Chase Harper 450M is one of the most reliable tank bags you can find in the market and is among the best because of its specifications. In regards to the number of pockets, this tank bag has multiple full-length pockets ideal for carrying several items at a go.
Measuring 11.5 by 9 by 4 inches, the bag has ample storage capacity and can be used to carry a few big items such as a sweater or books. Also, it features a detachable pouch with a transparent top, which is convenient for carrying a phone or any other small item. The transparent material is touch-sensitive and will, therefore, allow the rider to use their smartphone without having to remove it from the bag.
In regards to longevity, this item made is made of a sturdy industrial material that is not only waterproof but also wear-resistant. Thus, a rider does not have to worry about sensitive materials in the bag while riding in the rain.
This bag is definitely one of my favorites, considering the numerous benefits it serves at a very low price point. It is a product I would recommend to all riders. Let's check the benefits this tank bag offers as well as the demerits:
Chase Harper USA 450M Magnetic Tank Bag, Water-Resistant,...
✅ MADE IN USA
✅ Universal fit constructed from industrial grade ballistic urethane-coated nylon. Water-resistant, tear-resistant, highly durable
✅ Non-slip rubberized material covers entire bottom to prevent scratching and provide added grip. Multiple strong neodymium magnets in each wing secure the bag firmly to the tank
✅ Designed to optimize tank space without compromising riding style. Several full-length pockets make full use of the bags compact size
✅ Reversible / detachable map pouch that features a touch-sensitive window for cell phone or tablet use. Dimensions: 12"L x 9"W x 4"H; 6.8 liters
Positives:
Features a number of full-length storage compartments
It has a detachable pouch for conveniently carrying items such as maps
The map pouch features a transparent cover to allow easy carrying and usage of mobile devices
Made of strong industrial material for longevity purposes
It is waterproof and will, therefore, protect sensitive items such as phones from rain or splashes
Negatives:
It is not ideal for carrying large items such as a motorcycle rain suit
back to menu ↑
Wolfman Luggage S0303 – A Magnetic Motorcycle Tank Bag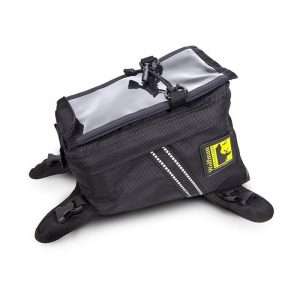 Wolfman is one of the biggest brands in the market when it comes to gas tank bag for motorcycle. The Wolfman Luggage S0303 is a classy yet sturdy moto tank bag that has been crafted with high ingenuity. It has a detachable pouchб which is ideal for carrying things one would necessarily use, such as a phone.
The Wolfman Luggage S0303 tank bag has a unique foam structure within the material, and this helps in giving the bag a rigid shape. The rigidness of the bag's shape is one of the top factors why I like it as one can comfortably carry items such as a camera with it.
Also, the bag can be comfortably carried by hand as it features a strong handle designed for the same. Another unique aspect with this tank bag is the interior silver lining, which makes it easy to identify something in the bag, whether in little or much light.
Also, the bag has an additional external mesh pouch, which comes in handy when a rider needs some extra carrying space. The only thing that could be considered a downside with this bag is the somewhat high price point, but this product is worth the money.
With that said, I would recommend it to both beginner and professional riders. Let's check the cool things about this bag as well as the drawbacks:
Positives:
It features a removable transparent pocket for small items such as a phone or maps
The sturdy foam structure gives the bag a rigid shape essential for carrying sensitive items such as cameras
It features a strong carry handle for portability
It has a silver lining which makes it easy to locate small items in the bag
It features an external mesh pouch for additional carriage space
Negatives:
It is somewhat expensive compared to other motorcycle tank bags
back to menu ↑
Aztop – Another Magnetic Tank Bag for Motorcycle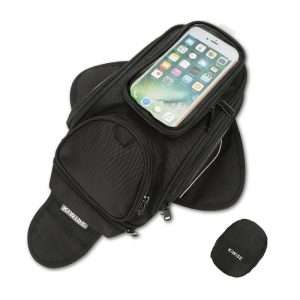 The Aztop tank bag motorcycle magnetic gear is a reliable product that is worth your consideration. I never had any difficult time in deciding whether or not to feature it in this review, considering the high performance it demonstrates.
Despite being a cheap motorcycle tank bag, the features it comes with are way beyond the bargain-basement price point. The bag is partitioned into four storage compartments, which facilitates great convenience when sorting items.
A rider can carry items such as a book in one pouch, MP3 player in another, and so on. Also, I like the bag because of the custom-made phone pouch embedded on the top of the bag to allow the rider to use the phone safely while riding. The phone pouch features a transparent cover, which means the rider can easily see and touch the screen. Also, it is made of a strong anti-wear material that facilitates the durability of the bag.
You might be wondering what will happen to your items in case you are out on a ride, and it starts raining. Well, the main compartments of the bag are water-resistant and will keep the items dry.
Again, for ease of installation, this bag features a set of strong magnets which conveniently facilitate the great grip onto the tank even on off-road rides. However, this bag is not the best option for carrying extra-large items. Here are the pros and disadvantages that come with this tank bag:
Motorcycle Tank Bag, Water Resistant with Super Strong...
There are 4 Pockets in this Bag ,and you can put your money, cards in the bag, very convenient for short trip.
Special designed transparent cell phone bag on the top, convenient to watch your phone or navigator.(Can install iPhone8/8plus/7/7plus/6/6plus/Sumsung Note8)
Upgraded powerful magnets to fasten the bag on motorcycle tank better; additional fasten belt with buckle if you are worried about losing the tank bag.
Select 1680 oxford fabric.Top resistant material; It is water resistant, wear, not easy to tear.(please do not put the bag into water directly.)
Upgraded Cell Phone part which can fit most of phone very well; Tank Bag size:approx. (L 33x W 20 x H 10)cm/(L 13.17 x W 7.87 x H 3.94)inch
Positives:
It features four separate pockets for convenient sorting of items when carrying
It has a transparent mobile device compartment with a sensitive cover to allow usage of the phone
It is made with strong material for durability
It is not only wear-resistant but also water-resistant
It features strong magnets essential for a strong attachment of the bag onto the bike's tank
Negatives:
It is not convenient for carrying larger items because of the size of the compartments
back to menu ↑
Cortech 8230-0505-12 – A Superb Cortech Motorcycle Tank Bag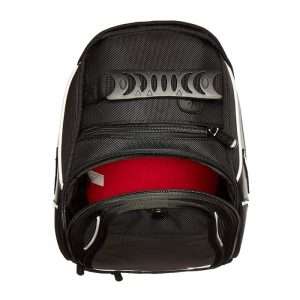 Another dominant market player in the motorcycle tank bags space is Cortech. The Cortech 8230-0505-12 is one of their top-selling tank bag models that offer a plethora of advantages compared to rival products.
The first distinctive element of this product is that it is a waterproof tank bag motorcycle gear. Therefore, it keeps the carried items neat and dry during rainy weather or when riding in marshy terrain.
Other cool features I like in the Cortech 8230-0505-12 are the designated cards slots. A rider can securely carry his cards in the bag without risking to drop them off the pockets while riding.
Also, the wing-like extensions have strong magnets which make the bag fixed on the motorcycle's gas tank. You can be sure that bag will remain mounted even on bumpy rides. Again, this bag is generous in regards to storage capacity as it has both interior and exterior pouches. However, I recommend keeping sensitive items in the internal pouches, which are secured by the zipper.
After the first purchase, you can be sure you won't be going back to the store any time soon for another tank bag. The Cortech 8230-0505-12 is tear-resistant and serves for a long time.
Though this Cortech tank bag is a little expensive, its benefits match the price point. I would recommend it to both circuit races and regular motorcyclists. Here's a condensed list of the advantages and the drawbacks of this bag:
Positives:
It features a number of ID compartments
It has designated slots for carrying cards
It has powerful magnets for a stronger grip
It has both interior and exterior compartments
It is wear-resistant
Negatives:
It is one of the most expensive tank bags
back to menu ↑
Joe Rocket 559-0000 – A Remarkable Model to Note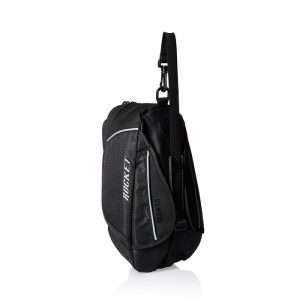 Owing to the remarkable quality of their products, I had to include this Joe Rocket manta tank bag review in the article. Joe Rocket is a dominant brand in the motorcycle gear and equipment industry. Their tank bags are among the best quality bags in the market.
Onto the features, this model of Joe Rocket motorcycle tank bag has reflective piping. It allows for the visibility of both the gad and the rider. Also, it features a powerful set of magnets ideally positioned to provide a tight hold onto the gas tank.
Some of the bags I've used before had weak magnets, and the bag would fall right off the tank during bumpy rides. As for this Joe Rocket tank bag, you can be certain that you will neither drop the bag nor any items carried during rough rides.
Another cool feature that I like about this bag is that it comes with a concealed rain cover, which is meant for use on rainy days. A rider can conveniently carry books and documents without any worries of them getting wet when it's raining.
Also, the bag comes with a detachable shoulder strap. I like the way one can easily carry the bag on their back or side using the shoulder strap when walking. Also, the bag has a designated phone pocket on the side of the gear. The transparent material used in the build allows usage of the phone.
The only drawback I see in regards to this bag is its limited carrying capacity. I would recommend the Cortech 8230-0505-12 to any motorcycle rider. Let's take a look at the cool factors and the shortcomings of the bag:
Positives:
It features reflective piping, which is essential in fostering the rider's visibility
It has a strong magnetic system, which helps in securing the bag on the bike's tank
It features a concealed rain cover essential for protecting items carried from rain
It has a detachable shoulder strap for convenient carrying when not on a bike
It features a dedicated mobile device pocket ideal for carrying phones while on a ride
Negatives:
It has a limited carrying capacity compared to some other tank bags
back to menu ↑
Chase Harper 1602M – Another Great Chase Harper Tank Bag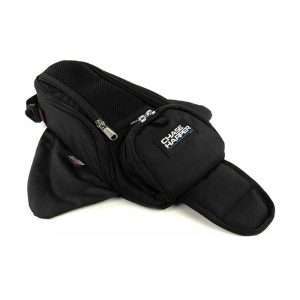 I have no second thoughts when saying that Chase Harper 1602M is one of the best motorcycle tank bags. I currently own one and use it for carrying small items such as notebooks and pens whenever I'm going for a meeting.
The tank bag is made with a strong wear-resistant industrial nylon for not only enhancing durability but also protects items inside from the rain. The surface is coated with urethane, and this helps in keeping water off from entering the bag through the pores.
Also, it has strong magnets that help in keeping the bag mounted on the gas tank regardless of the movement of the bike. I must say that I've had bad experiences with other bags as the magnets weren't strong enough to tightly hold onto the tank during bumpy rides. But this is not the case of Chase Harper 1602M.
The bag features a top mesh pouch ideal for carrying items that you would need easy access during rides. However, it would not be ideal for carrying water-sensitive items in this pouch, considering that it is not water-tight.
Also, shoulder straps can be attacked as the bag features two strap rings for it. Riders may need to carry their bags with them, so having a shoulder strap makes it a lot easier and convenient.
The bag features a number of compartments and pouches, therefore, providing the rider with extra storage space. The only disadvantage is the absence of a designated phone pouch. However, this wouldn't be a big issue if, for example, you already have a water-resistant motorcycle phone mount. Here's a condensed summary of the pros and cons of the bag:
Chase Harper USA 1602M Black Manta X2 Magnetic Tank Bag -...
✅ MADE IN USA
✅ Universal fit constructed from industrial grade ballistic urethane-coated nylon. Multiple high-strength neodymium magnets in each 'wing' for secure placement
✅ Non-slip rubberized polyester material covers entire bottom and magnetic wings to prevent scratching and provide added grip
✅ Low profile minimalist design reduces wind resistance and will not compromise tucking
✅ Zippered mesh pocket located on top of main compartment flap accommodates most cell phones. Large zipper compartment located on back. D-rings sewn to opposite ends of the handle for shoulder strap attachment. Dimensions: 12"L x 7"W x 4"H - 5.5 Liters of storage
Positives:
It is made of strong wear-resistant material for enhanced durability
It has strong magnets for a stronger hold
It has a top mesh pouch for holding items such as phones
It features strap rings where a shoulder strap can be conveniently attached
It has a number of compartments for easy sorting and carrying small items
Negatives:
The phone pocket is not water-resistant and does not allow using the phone as the mesh is not touch-sensitive
back to menu ↑
Cortech 8225-2405-00 Micro 2.0 – A Mini Tank Bag Motorcycle Gear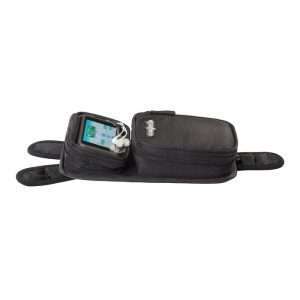 The last but not least product in my top 7 motorcycle tank bags is the Cortech micro 2.0 tank bag. This bag had to be included in this review for its excellent features.
Firstly, despite its small size, the bag has a number of pouches, and this means more space to carry more. It is made of a durable nylon material, which makes the bag water-resistant. Thus, a rider can confidently ride in the rain without worries of his items getting wet.
The bag has a sizable phone pouch ideally positioned on the top of the bag to enable the rider to use their handheld device while riding. The phone pocket has a transparent cover, which allows the user to see contents on the screen and allows for interaction with the interface as it is touch-sensitive. Also, you can connect your headsets to the phone via the Aux port.
This motorcycle tank bag also has a set of strong magnets ideal for keeping the bag mounted to the tank regardless of the bumpiness of the ride. The fact that this bag uses magnets for mounting results in an easy installation process.
Also, this motorcycle small tank bag allows connecting shoulder straps for easy carrying while on a stroll. The compact size of this bag makes it convenient not only for mounting on the bike but also carrying on the back.
The only downside to this is that the bag cannot carry large items because of its small size. However, this is one of the best motorcycles tank bags I've used so far, and I would recommend it to all motorcycle riders. Following is a summary of the factors worth a thumbs up and the drawbacks of the bag:
Positives:
It is made of a water-resistant material, therefore, keeps the carried items dry during rain
It features a special phone compartment on the top side with earphone ports
The phone port has a transparent touch-sensitive surface for easy using of the mobile device
It has a powerful set of magnets for a stronger grip onto the tank
Shoulder straps can be attached for easy carrying when not on a bike
Negatives:
It is not ideal for carrying large items because of the size
back to menu ↑
Important Features of the Best Motorcycle Tank Bag to Consider
When purchasing a motorcycle tank bags, there are a number of considerations to take into thought. It all comes down to the reason for which you are getting the bag. Moto tank bags made by different motorcycle gear companies have distinct features. Therefore, each is suitable for a specific purpose in regards to the items being carried. The following is a list of factors one should take thought of when looking for a motorcycle tank bag.
The material used in building the bag is an important factor. The material determines the longevity and contributes to the grip of the bag on the tank. You should go for a tank bag made with a sturdy industrial material as this determines the longevity of the bag.
Also, wear-resistant products such as Dowco iron rider cruiser tank bag are great in keeping items safe as they are not susceptible to tear. A slippery material is not great when it comes to grip on the tank. Also, these materials fade easily, especially when rained on or cleaned often. The material used in the design of a tank bag often influences the price point. You can opt to go for a high-end bag as it is worth your money.
Be sure to pick a bag that will keep your items dry and protected from UV. From time to time, you might need to carry items that should not be exposed to direct sunlight, such as medicine or cosmetic products.
Whether it's raining or in case water is unintentionally spilled, a bag that can restrain water from entering the inside is a must option. If you tend to carry documents or any other water-sensitive items, you should get a water-resistant bag such as the Dowco Fastrax sport adventure tank bag.
Carrying capacity is a critical factor. If you intend to carry a lot of items, a large tank bag will be more appropriate than the small-size models in the market. Larger bags are a little bit pricy than smaller ones, but they are more convenient when it comes to carrying large items.
For larger items, a bag with numerous pocket compartments wouldn't be ideal owing to space. However, carrying numerous small items will require a bag with several pouches.
The number of pockets available should also be a concern if you plan to carry several items with you. Some bags have both internal and external pouches, and the external compartments come in handy when one needs to access items quickly while on the go.
You should also think about the ease of installation of a tank bag before purchasing it. Some bags are easy to mount on the tank while others are not. Also, some bags such as BMW motorcycle tank bag have D-links for attaching a shoulder strap while others lack this.
When gauging this attribute for any bag, you can check the number of magnets used, the position they've been installed, and their strength. Some bags have small magnets while others have big ones, and these determine the ease of installation.
A common occurrence is that bags with weak small magnets tend to fall off the bike, especially during extreme off-road rides. With these considerations in mind, you'll be able to pick the best tank bag for your bike that matches your riding routines.
back to menu ↑
What's Your Favorite Motorcycle Tank Bag?
With these reviews, it should be now easier for you to select an ideal tank bag for yourself. There are numerous affordable tank bags out there, and any of the reviewed products above will result in value for your money. I recommend going for a bag that will serve you for a long while, such as the Dowco magnetic tank bag. It is better than getting a cheap bag that will head you back to a store in search for another one within a month or two of use.
If you're a rider that lives in areas eroded by rains, getting a water-resistant gas tank bag is necessary. The bag should be able to resist entry of water to protect your items, especially sensitive ones such as electronics. If you've got a lot to carry with you, it's better to go for a large bag with more storage compartments.
Depending on the purpose for which you want a tank bag, this should help you in choosing the appropriate item. Perhaps, you've already purchased or own one of the reviewed tank bags. If yes, what has your experience been like so far? Also, do you have any other motorcycle tank bag brands in mind? I would appreciate if you share your thoughts in the comment section below.