Best Motorcycle Tie Down Straps – Main Points and Recommendations
Best Motorcycle Tie Down Straps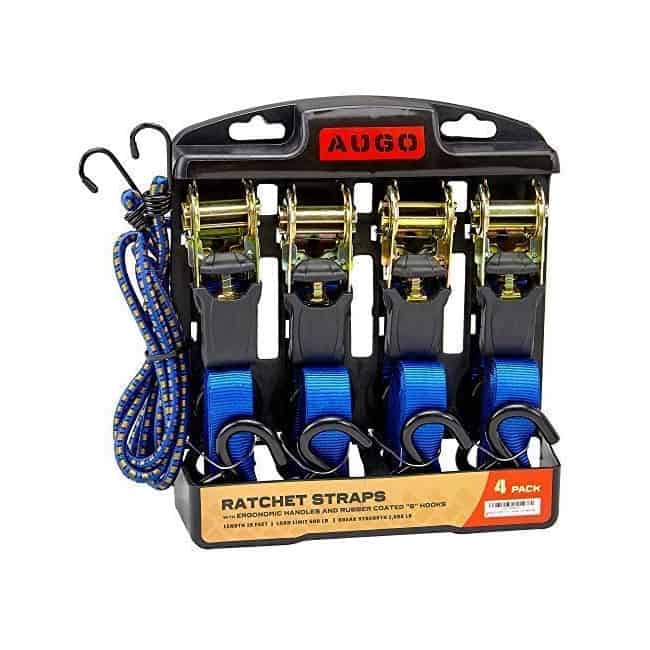 I am Max Farmer, and I am a die-hard moto fan. I have learned the art of bike repairing and maintenance from my dad from the age of 13. I find it challenging when riders send bikes from all regions only for them to arrive damaged even more than they were for repair. Many bike transportations straps that are available in the market present a tough challenge to first-time buyers.
Therefore, I decided to prepare a detailed motorcycle tie down straps review to ensure you have little to worry on your next purchase. Tie-down straps are essential in keeping the bike under transit in place. With this equipment, you minimize its movement and reduce any chance of damage in the event of falling.
Besides, the straps can save you from the hefty fines imposed through improper transit of goods. When buying, there are a lot of factors you need to consider as the features of a perfect purchase. Having used the equipment for long, I know that some soft tie down straps motorcycle can do more harm than good. Below is my list of vital features that should accompany the best motorcycle tie down straps:
Strength. The straps should be strong enough to prevent frequent breakages. Strength is also useful when tying the bike down as you can firmly put the bike in place.
Length. Long straps can serve for multipurpose applications.
Non-marking. Some straps will leave marks on your bike, and this will result in a painting expense.
Ease of use. Since many straps come with hooks, they are straightforward to use.
That's just a tip of the iceberg on the features you need to put in the forefront when buying straps. Below, I want to share my reviews on the best straps I have used so far. I hope that this information will help you to choose the right straps for your motorcycle.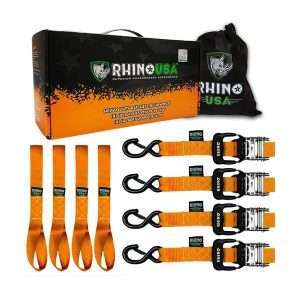 The product is made for a perfect grip to put the bike in place as you transport it on any terrain. The most exceptional feature in Rhino USA straps is the high strength that enables you to tie the item firmly as possible without fear of breaking. With the Rhino quality, the belt should top the list of the item to have during transit.
There are more exciting features that will make you fall in love with this USA ratchet straps. The coated hooks ensure you get a belt that leaves no marks on your bike, and one that's straightforward to put in place. The straps come with a lifetime warranty that talks a lot about durability and dedication of the manufacturer.
It is an item to last you a lifetime at a price that's affordable to all. More to the product is the way the manufacturer is ready to give a full refund in case you feel the item doesn't live to your expectations. It is a must-have item as it will provide the best value for money.
The Rhino USA ratchet straps are one of the most durable items, and I highly recommend to purchase it without hesitation. The one moment only, check out if the lengths of the straps are enough for your motorcycle. All in all, the over 5200 pounds break strength will be more than enough to tie your bike in place.
Positives:
Over 5200 pounds break strength
Contains coated hooks
Lifetime warranty
Value for money
Negatives:
The strap may be short for use on huge bikes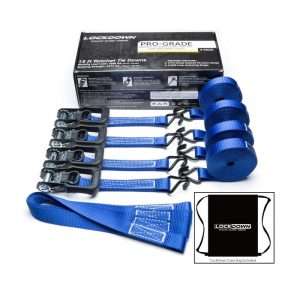 The moderate cost of this item proves that you get the best quality at a bargain. The break strength is slightly above 3370 pounds, making the item perfect for use on bulky bikes and considerably tough terrains. More to consider is the length, which makes the straps applicable in a wide range of use while ensuring your bike is safe.
Durability has been ensured, and quality is uncompromised. These ratchet straps will provide the best value for money as they are durable and affordable at the same time. What you get upon purchase are four bonus anchoring straps. The anchoring ropes do not leave marks on the bike, but the plastic hooks seems a bit susceptible to damage.
These heavy-duty motorcycle tie down straps are a perfect fit for ATV bikes, and they are worth every penny spent. I highly recommend you buy the items as they are built to last you years. They are also easy to use and tighten.
Positives:
Affordable price
Long
Durable
Considerably high break strength
Negatives:
Hooks are susceptible to damage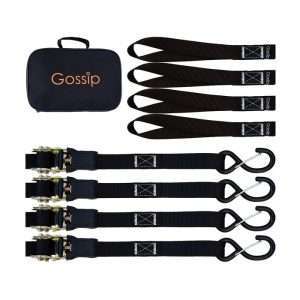 The well-modified rubber coatings will keep your bike free of markings. The hooks are also coated, and the soft loops in provision ensure ease of use. Quality of these heavy duty motorcycle tie down straps is exceptional. Bike straps problems should become a thing of the past with these high-caliber straps.
I was at times wondering how safe my bike would be if a strap accidentally opened in the middle of a voyage. My worries were put to rest thanks to the spring-modified hooks that are shielded from accidental unlocking.
The straps are long and adjustable. I have used these straps for some time, and I was glad to see that my bike arrived without any scratches the same way I had placed it. Untying the items is also straightforward and quick.
The manufacturer provides a comfortable straps storage solution so they will not get dusty or entangled. It is for this reason that there is a storage bag for the item for secure storage.
The 2050 pounds break strength is adequate for tightening massive bike brands. The product is ideal for use on long-distance transportations even where maximum tightening is required. The use on rough terrain will be the least of your worries as the belt will not easily detach or break.
Positives:
Long
Easily affordable
Adjustable
Perfect for ATV bike
There is a free bag for storage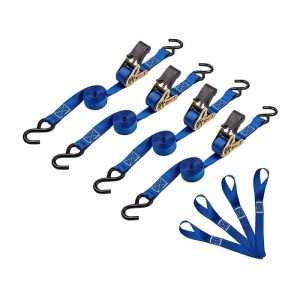 The glittering blue color will be the first thing that attracts your attention to this high-quality strap. But it shouldn't be the main reason to consider as the bike comes at a really affordable cost. The 1500 pound breaking strength is enough to tie down a motorcycle firmly without fear of it falling or damaging.
The bonus soft loops in provision are perfect in ensuring your bike comes with no scratches. Augo straps are long enough to tie any item firmly. The hooks are coated with rubber to prevent marking the motorcycle. They lack a spring for prevention of accidental slip but still good for use. The low price and high quality make the item ideal for use by everyone.
The tightening knob ensures you need little strength to tie down your item. The knob makes it easy for utilization without other people's help. These ratchet straps are popular among bikers because of their strength, and the item is one of the sturdiness models in the market.
Durability has been ensured, and the item can be subjected to everyday use without tearing. It is wear-resistant to ensure all your needs are met and exceeded. It is for this reason that I highly recommend you to buy these straps without hesitation.
Positives:
High-quality
Easy to use
Durable
Wear-resistant
Negatives:
Breakage durability is a bit low
Lacks the spring hooks for prevention against accident opening
Pro Taper straps come in pairs with perfectly crafted base hooks. These robust and anti-slip straps are ideal for tying down a bike in place without fear of damage. They are wide and long enough for average-size bikes. However, the length may appear a bit small compared to other straps under review.
The cost meets the needs of those under strict budgets, and quality is high to meet your expectations. The only challenging factor is the lack of an assortment of sizes. It means that when you have a considerable cargo to tie down, the only option would be purchasing several straps to tight your bike firmly.
I was also not much pleased with the durability of the metal swivel as it at times loosens up, and this can result in damage of your bike when transporting. The loops are fine as they protect the handlebar from damage. Easiness of use should be the most compelling reason to buy the product.
These soft straps for motorcycle tie down are a good option considering the price they come at. They are the useful motorcycle soft tie down straps to have as they will keep your bike in position when in transit. The item will keep your bike from running behind you when transporting it. So, if you need cheap tie-down straps of good quality, consider going for this item.
Positives:
Swivel base prevents accidental opening
Anti-slip
Durable
Doesn't scratch the bikes
Negatives:
Only available in one size
The metal swivel loosens up at times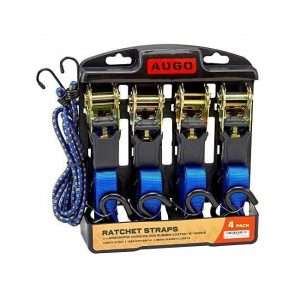 A perfect combination of a low cost, quality, and durability is what you get with these ratchet straps tie downs. I haven't heard any negative feedback about this product. And for me, the item went far beyond my expectations when I bought these straps a year ago. It is for this reason that I am recommending it to you now.
My choice in these straps remains non-regrettable. The ability to adjust the length ensures you can use it on any height you require without much straining. Using the strap is straightforward as the adjusting knobs ensure quick and easy tightening.
The hooks are coated to prevent scratches on your bike. The gripping end is perfectly modified to prevent accidental opening, which can result in the bike damage.
It is 15 feet long. Thus, it is great in tying down all cargo irrespective of the size. The loops are soft and provided at no extra cost upon purchase of the straps. The material of the straps is of high quality and weather-resistant. Therefore, these straps can be used during any condition without fear of damage.
Durability, low cost, and quality make the item stand out among the best ratchet straps motorcycle tie downs. Therefore, I profoundly recommend these straps. It is a choice that's proved to meet and exceed your expectations.
Positives:
High-quality
Long
Adjustable
Affordable
Negatives:
Not the highest break strength
The item looks durable by sight. It is made of polyester webbing, and its break strength of 3000 pounds is incomparable with many other items available. It is perfect to put into several uses without wearing and tearing, so you can tie down your motorcycle and not worry about its damage during transportation. The length, however, puts some usability challenges as it measures 8 feet long only.
But to tie down a motorcycle, you shouldn't be worrying about the size. The hooks are ideally modified to prevent accidental unlocks, which can be a costly mistake in the event it occurs. For other bike-sized items, the strap will work wonders in use.
The strap doesn't slip easily, and this ensures the bike is at a fixed position during the transition. You are left with nothing to worry about. You can as well use the item when driving on rough terrain without fear of damage or unstrapping of the bike.
The material of the strap is UV resistant, and it is made in such a way that it doesn't become elastic even when it comes in contact with water. The scorching sun will likewise not harm this superior item. These straps are suitable to use in any weather condition.
Adjusting knobs are in place for comfortable use. The manufacturer is also ready to give a complete refund in the event the item fails to meet your expectations. It should, therefore, provide a good deal of confidence as the item is made in the best way to serve you right.
My recommendation is you to make the item a reliable tool in your bike transportation. You will not regret the decision of buying these straps.
Positives:
Easy to use
Weather-resistant
Doesn't stretch when wet
Huge break strength
Negatives:
Not long enough for use beyond bike strapping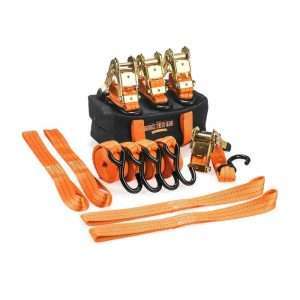 These straps have a bigger break strength compared to many other models in the market. Its 3300-pound break strength is sufficient to tie down a bike firmly without fear of breakage. Least energy is required when tightening the strap as the adjustment knobs are durable and reliable. Also, the loops are in place for protection against scratches.
Moreover, the number of pieces conveyed when you buy the item is provided to ensure you get a one-in-all tie-down solution. I am saying this because the product contains eight pieces of straps and four soft loops.
The price on the item is a bit high in comparison with other items. It is, however, worth the extra dollar paid as it will live beyond your expectations. These straps can be applied to several bikes, and this should come as an added advantage. With Badass Moto straps, you do not need different solutions for different bikes.
I profoundly recommend you to make a purchase and get a one-in-all solution for your needs. You won't find this number of straps and loops in any other tightening equipment.
Positives:
Durable
High strength
Doesn't leave marks on the bike
Simple to use
back to menu ↑
Motorcycle Tie Down Straps: Tips on Choosing the Right Option
When buying straps, ensure you consider ones that go in line with the following factors. That way, you will make a non-regrettable purchase.
back to menu ↑
Closing Remarks on the Best Motorcycle Tie-Down Straps
As I wind up my reviews on the best motorcycle straps, I hope you have already decided on the item to purchase for your bike. When confronted with many bike straps options to pick from, the blog should be your best source to use for item comparison and decision making.
To anyone who is still wondering what's the best choice to settle on, do not stress yourself about it. In terms of affordability, durability, and quality, I have two items I feel will work wonders for you. The Ratchet Tie Down and Augo straps top my preference list of the best ratchet strap options.
Their cost is considerably low, the quality is outstanding, and you can easily get a refund in the event the item fails to meet your expectations. Both pieces' lengths are long, and they are weather-resistant. However, the breaking strength is a bit low compared to some other items on the list.
The low strength leaves me with a choice to recommend the best item in terms of breaking resistivity. The Rhino USA straps have the highest break strength. The lifetime warranty issued results in no doubts concerning the durability of the item. It is, however, a bit costly but worth every penny used.
Before purchasing a motor strap, make sure you read and understand the features that make the right strap. That way, you will avoid the many regrets associated with unsatisfactory purchases.
In the event you have a question or an appreciation comment concerning the best motor strap reviews, feel free to post it on the feedback section of the blog. Are you still finding it hard to know the best strap for your bike transportation? Have you decided on what the best tie-down straps to purchase? Leave a comment, and I will attend to it in no time.