Best Motorcycle Tire Repair Kit – Buying Guide 2019
Best motorcycle tire repair kit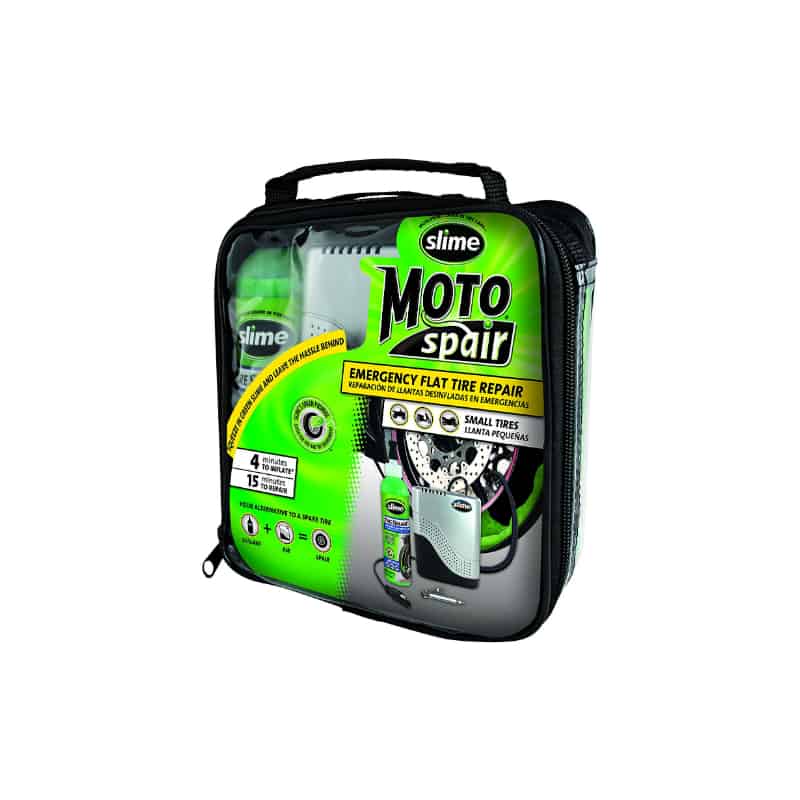 I am Max Farmer, a moto enthusiast. My love for motorcycles dates back to my childhood years when I attended the 2005 MotoGP at Laguna Seca. As an apprentice to my mechanic father, I learned a lot about motorcycles. I have worked with different motorcycle brands and accessories, and now I want to share my experience with you.
I know how it can be frustrating when you get a puncture in the middle of the road, especially when there are no repair shops around. But it is possible to manage such situations easily. Having the best motorcycle flat tire repair kit, you will rarely worry about being stranded by the roadside whenever you get punctured. Such kits are very functional and affordable. Also, you don't need prior training to use these kits.
There are too many types of tire repair kit motorcycle options that can confuse you and make it hard to choose one. To save you from the hassle of selecting various models and brands, I have handpicked my top eight tire repair kits for your use. I prepared these motorcycle tire repair kit reviews based on the affordability, usability, and durability of the equipment.
If you are looking for the best tire repair kit for motorcycle, here are the eight great options to be of help for you when getting a flat tire.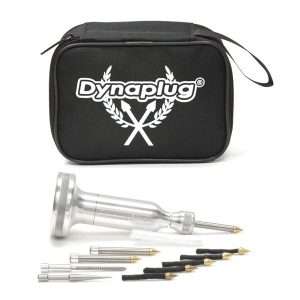 This tool has a special place in my heart. One day I was out with my group of riders heading to the mountains. Everything was going well, and we were enjoying the evening breeze and scenery. Unfortunately, my motorcycle got a small gash on the tire. I thought that it would take us a while to repair my tire.
However, with the plugs from Dynaplug Pre Extreme, the tire was repaired in a matter of minutes, and we were back on the road. Since then, I have trusted this tool kit for providing the same results, especially with small punctures and gashes in tubeless tires.
The Pro Extreme is a versatile edition of the Dynaplug edition that comes with an ergonomic design. The design is vital in repairing a full range of punctures. This is especially applicable in heavy-duty threads with thickness ranging from 1-1/8".
The new end cap features a broad flat surface which can be hammered to aid in insertion. The end cap threads are also compatible with the Pro tools, which makes the end cap interchangeable. The Pro Extreme kit comes with a detailed guide on how to repair punctures in heavy-duty tubeless tires for motorcycles.
The kit consists of such tools as zippered ballistic nylon pouch, eight repair plugs, aluminum Xtreme tool, one pipe cleaner, one cleaning attachment, three insertion tubes, and one air stopper. It also comes with a limited lifetime warranty.
With the Dynaplug tubeless tire repair tool kit, there is no need to use glue while waiting for the puncture all set. It offers a simplified repairing procedure so that even beginner bikers can fix tubeless tires of their bikes. You can make use of the provided eight repair plugs to trap air when by inserting them in your tubeless tire.
As a bike owner, you know the importance of having a reliable toolbox that you can use to fix both tires. It solely depends on the available tools in your repair kit. The durable and reliable tools included in the package allow fixing your tires without much hassle.
Fitting a repair kit on your bike can be a tricky option given the limited space on your bike. The Pro Extreme comes with a compact nylon pouch, which holds all the tools in space. This makes the set even more convenient to use when you stuck with a puncture in the middle of nowhere.
Positives:
Affordable
Highly durable tools added
Inclusive in a zippered nylon pouch
Fitted with extra support tools
Negatives:
Does not include T-handle and pliers for the tools section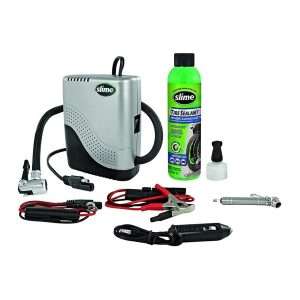 The Slime 50001 is made specifically for tire repairs and other related maintenance tasks. It is made of quality materials according to the latest manufacturing techniques. This guarantees that you will have a unique user experience and make quick fixes for punctures with minimum efforts and struggles.
With the Slime tire repair kit, you can fix your bike in a maximum of fifteen minutes with the tire inflation time rate at four minutes. An in-depth look into the specifications of the motorcycle tire repair kit with compressor showed that its capacity is of 12V. It also has a tire sealant capacity at 8 0z. The diameter for the punctures ranges to up to ¼". It has a tire pressure gauge which ranges from 10 to 50 psi.
The Slime tire repair kit package has an inflator, mini chrome pencil tire gauge ranging from 10 to 50 psi, and a convenient zippered case for storage of the tools. The case can be easily placed in your saddlebag and fit thanks to its compact design.
The Green Slime tire repair has everything you need when making a quick tire repair, no matter if you got stuck on the highway or down a winding road. All you have to do is squeeze the emergency repair tire sealant. This is followed by inflating the tire with the added inflator for a maximum of four minutes. Lastly, use a pencil tire gauge to ensure that your repair job is efficient.
The Slime motorcycle tire repair kit can be applied to various tubeless tires, including cars, bicycles, RVs, and motor homes. In addition to this Slime tire repair review, the kit is easy to store, so I recommend taking a closer look at this product.
Positives:
Works for other automobiles
Four minutes tire inflation rate
Inclusive of an inflator and PSI gauge
Quick tire repair time
Negatives:
No knife and pliers included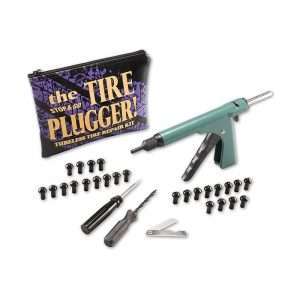 Just like the name suggests, the Stop and Go motorcycle tire repair kit offers unmatched professional experience when it comes to repairing your bike. When facing a significant setback in your journey, this is the perfect option to get you back on the road.
It is best suited for repairing tubeless tires. It features a tire plugger for the repair of your bike on the spot without hassle. What makes the Stop & Go 1075 worth your purchase? The repair kit is fitted with 25 mushroom-shaped natural rubber plugs. The plugs range from 5/16" in diameter and 3/4" inches long.
Also, the motorcycle emergency tire repair kit contains a plug gun, retractable blade, reamer tool, and 25 plugs that are zippered in a vinyl pouch. You can also purchase the replacement plugs in case you misplace them.
The advantage of the mushroom plugs is that they prevent air from escaping the tire when inflating. This helps you in finding a short-term solution when stuck in the middle of your journey. The efficiency of the repair kit makes it a worthwhile investment.
A downside to the product is that it is not compatible with all types of tubeless tires out there. It is compatible with class B and class C of motor homes, but it is not compatible with class A ones.
The zippered vinyl pouch has a compact design and is lightweight for easy transportation. You can fit the repair kit into your saddlebag and forget about incurring technical difficulties when riding.
Positives:
Fitted with 25 mushroom-shaped natural plugs
Suitable for repairing tubeless tires
Fitted in a vinyl pouch
Negatives:
Not compatible with class A motor homes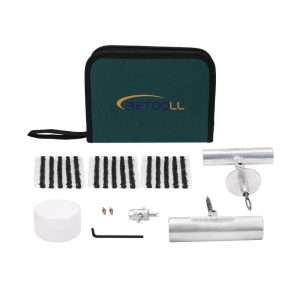 Simplicity is an essential component of a repair kit. It can be a bit intimidating when you have many tools, and each tool performs a different function. This is exactly what you will get with the Betooll tire repair kit. The motorcycle tube tire repair kit has a T-handle insert tool, an "L" hex key, a T-handle spiral probe tool, 15 pieces of self-vulcanization repair plugs, a jar of lubricant, a 4-way valve stem tool, and two pieces of tire value steam.
The Betooll brand is associated with simplicity while covering basics during times of emergency. A common addition to the pack is a lubricant that is essential to ensure that air does not escape the tire.
In case your tire runs into a sharp object, you can be back on the road in a matter of minutes. The simplified tools are practical and straightforward to use when on the road. You can reduce the chances of being stranded on the road with this tool kit.
It is a preferred option, given its high compatibility with different tires. It is considered one of the best tubeless motorcycle tire repair kit options in the market today. It reduces the need to purchase different repair kits with various tools.
Betooll tire repair kit is organized perfectly in a compact carry bag. The thickness and durability of the carry bag make it a must-have. It encloses all the tools in the repair kit in a plastic casing. This package can fit perfectly in your saddlebag without consuming much space.
Positives:
Fitted with a compact carry bag
Compatible with different automobile tires
22 pieces of tools for tire repair
Negatives:
Suitable for short-term use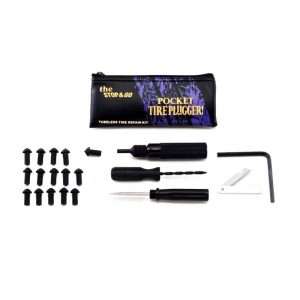 Like other Stop & Go products, the 1001 kit features 4 CO2 cylinders for reflating tires. It has a small design which measures 8 inches by 5 inches by 1 inch. It is the most affordable option among the Stop & Go products.
The kit is fitted with different tools needed for repairing your tubeless tires with 15 plugs. However, you cannot fix your tire with a tube with 1001. This removes the repairing chances for lawnmowers and bicycles. Basically, this product works best for repairing motorcycles tires. You will need to replace the CO2 cylinders after you use them.
This emergency motorcycle tire repair kit weighs 1.6 lbs only. It is accompanied by a functional instructions manual to guide you in fixing your tire.
Positives:
Very portable
4 carbon dioxide compressed air cylinders
Fitted with 25 plugs
Affordable
Negatives:
Not compatible with bicycles and lawnmowers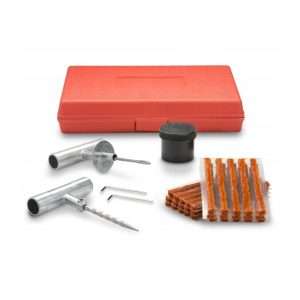 The 50002L motorcycle tire puncture repair kit suits best for emergencies. It is simple and easy to use while featuring fewer tools compared to general tool kits. It has four tools only, exclusive of the string plugs and lubricant. And this guarantees for a fast time when working with the kit.
It has simple usability due to the limited user kit. This suits for beginners and new bike owners. The included tools are comfortable and easy to use, and every tool has a grip design for firmer holding when using.
This equipment is highly durable due to the steel spiral rasp addition with the insertion of the needle with a sandblasted finish. It has a T-handle, which offers higher turning power and comfort. It is also accompanied with a storage case, which fits perfectly into your saddlebag in times of emergencies.
Even with the limited number of tools in this repair kit, it is still compatible with various automobiles. It works for tubeless tires for fast, effective repair of punctures and flats while on the road.
Positives:
Highly compatible with other automobiles
Comfortable and easy-to-use tools
Four handy tools
Negatives:
A limited number of tools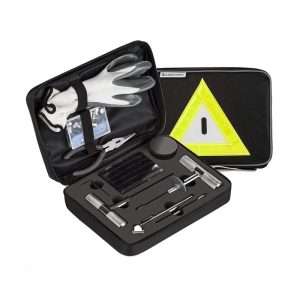 This repair kit is meant for heavy-duty purposes. It comes with added heavy-duty repair strings for easy repairs while on the road. The repair plug strings are required for plugging the hole in the tire while holding the seal temporarily. The Secureguard's strings are manufactured for offering reliable and durable seals.
The kit also contains solid steel equipment with the spiral probe T-handle tool and the T-handle insertion tool. These tools are manufactured from steel, which can handle heavy-duty work needed when repairing your tire. The kit has an ergonomic design for easing the job when fixing the puncture site and plugging the hole by placing temporal seals with the plug strings.
You are assured of the quality when selecting the Secureguard tire repair kit. I want to point on the compact design of the kit, which includes all the referred tools. This consists of a valve stem repair tool, seal lubricant, gloves, hex keys, pliers, T-handle probe, utility knife, and T-handle insertion. The carrying bag can also be placed easily into your saddlebag for easy transportation.
Positives:
Heavy-duty repair plug strings
Compact design
35 tire plugs included
Hardened steel tools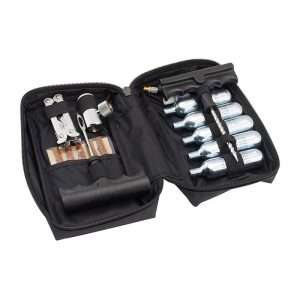 The fact that the V1 motor comes as the last option is not because it is limited in terms of its performance. The motorcycle tire tube repair kit consists of smaller packs, which makes it easier when placing them in your bag.
It is an additional solution to your common repair kit, which features lesser tools for essential functions only. This kit contains an aluminum check, metal scruffier, multi-tool, two T-handles, carbon dioxide canisters, rubber cement, and a carry bag.
The added T-handles allow probing your tires and inserting plugs when repairing them. Even though the plugs won't last long, they can save you as a short term solution.
The added carbon dioxide is essential in inflating tires in a couple of minutes. The multi-tool ensures that you can use these items in various repair jobs around your home. It can work great for cars, bicycles, bikes, and even golf carts.
Positives:
Ergonomic design
Simple-to-use equipment
Affordable
Durable
Negatives:
Less efficient with five plugs
back to menu ↑
What to Look for in Bike Repair Kits?
Below you can find brief information about the essential points you need to consider when selecting the best repair kit for your bike. It includes the number and range of tools included, the efficiency and usability of the complete set, and the storage capacity of your bike or a carry bag.
back to menu ↑
What Repair Kit Have You Chosen?
After reading this detailed review of different repair kits, I hope that you've selected the right option for your bike. However, with my top eight picks, you can rest assured of never being stuck on the road.
With the simplicity of all of the reviewed tools, it does not matter whether you are a beginner or expert in biking. You can always look up for tutorials on YouTube on how to use the various kits with simple guides. Most of the repair kits, however, offer short-term solutions. But at least, you can continue your ride after getting a puncture and then, fix your bike when you return home or drive to auto service.
Concluding my motorcycle tire repair kit review, I want to ask if you have already used any of the reviewed kits? Have you ever repaired your bike on the road? Let me know in the comment section below. Also, feel free to share funny stories about your repairing experience. I'd love to read them.