Whether you own a strong machine such as a Ducati Multistrada 1200 like me or a beast like the Ducati Diavel that I am currently dreaming of, the one thing we share in common is the passion for bikes. I am Bruce from Atlanta, a big moto fan who has been riding since the age of 10 years. My style is enjoying the freedom of riding while cruising through the country road smoothly, at a very reasonable speed. Therefore, when I talk about bikes I speak from the point of experience and passion for these machines.
Like a pet owner keeps pampering their animal, we bike owners like doing the same to our toys. For some reason, when feeling bored, I will always find myself either waxing or doing some routine maintenance on my bike. Those who share the same passion understand what am talking about. You can't keep your hands off the ride or even be at ease when it is far from you. The one thing that makes me even more enthusiastic about regularly engaging in maintenance work on my motorcycle is the right tools.
One of these tools that play a crucial role in maintaining the bike in the right place and position during maintenance is a wheel cleaning stand. The idea is that you want the motorcycle raised above the ground for you to lubricate your chain, check your wheel's pressure, or even clean it. This is why I found it essential to review some of the best and most affordable stands to buy to improve your experience while taking care of them.
Also Read: Best Auto Tuner for Harley Davidson in 2022
Amazon Bestseller
Title
Grand Pitstop Motorcycle Wheel cleaning stand - Paddock...
MAXXHAUL 80401 Motorcycle Wheel Cleaning Stand - 500 lb....
Hardline Products RS-00001 Rollastand for Sport Bikes, Red...
Top Pick
Title
Grand Pitstop Motorcycle Wheel cleaning stand - Paddock...
Premium Choice
Title
MAXXHAUL 80401 Motorcycle Wheel Cleaning Stand - 500 lb....
Budget Choice
Title
Hardline Products RS-00001 Rollastand for Sport Bikes, Red...
Motorcycle Wheel Cleaning Stand Reviews Made by an Expert
In this section, I review cleaning stands you can consider when deciding to buy one.
1. MaxxHaul 80401 – Aluminum Motorcycle Wheel Cleaning Stand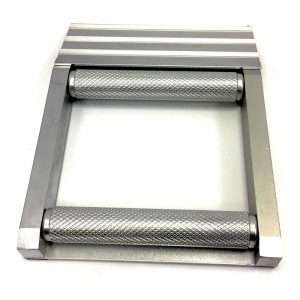 The one thing I am always looking for in a wheel cleaning stand is the ability to last for a long time. This is a product that you will only use occasionally, hence most of the time it will be just lying idle. Therefore, you want it to have a longer life span to avoid the costs of regularly buying one. In this respect, MaxxHaul 80401 does not disappoint. It is mainly made from aluminum.
This implies that the stand is strong, durable, and resists corrosion. The design aspect also includes an aluminum ramp, which is used for fastening the wheels on the rollers. This way, you do not have to worry about getting an extra pair of hands for cleaning. The design also makes it convenient for you to perform other maintenance functions on your motorcycle. For example, while still cleaning the back wheel, you can also lubricate your chains. This includes other maintenance practices such as adding pressure to your tires.
Does it perform the functions expected? Yes, it does. Maxxhaul cleaning stand is not all about aesthetics. It boasts of two diamond knurled rollers. These make cleaning wheels easy because they stabilize the bike on the stand. These rollers will also rotate efficiently without much strain on your part. The stability aspect is also boosted by its six non-slip rubber feet. Another performance aspect is the fact that it can hold five hundred pounds weight. It can also be effectively utilized for 12 x 9-1/16 x 1-1/2 inches wheels. The stand is also very light and small in size, hence pretty easy to move around, including carrying it in your tools kit.
Positives:
Made from durable aluminum that does not rust
Can be used for performing other functions such as lubricating your chain
Made of two diamond-knurled rollers for better cleaning and stability of your bike while cleaning
Negatives:
The aluminum material requires regular cleaning to maintain its attractiveness
MAXXHAUL 80401 Motorcycle Wheel Cleaning Stand - 500 lb....
Includes aluminium ramp designed to guide wheels onto the rollers easily
Features 6 non-slip rubber feet and diamond knurled rollers that provide stability
Makes cleaning your bike's wheel or performing chain maintenance fast and easy
Aluminium construction will not rust and corrode
Overall dimension: 12" x 9-1/16" x 1-1/2" with 500 lb. maximum capacity
2. Hardline Products RS-00002 – Multifunctional Motorcycle Roller Stand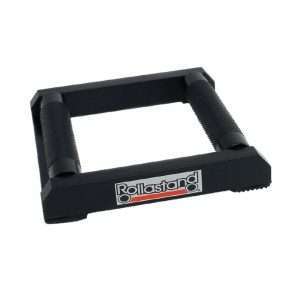 If you look at this product's description in various stores, including Amazon, you will notice that it has been described as a Harley Davidson motorcycle wheel cleaning stand. The product is also dedicated to metric cruiser bikes. There is a reason behind this move. It serves the needs of those motorcycles that do not have a center stand. I do not think you can offer better examples of such bikes than the metric cruisers and Harley Davidson brands.
This stand fulfills expectations. For starters, it is made of steel that is coated with powder to extend its durability. From basic science, this coating helps in minimizing the possibility of corrosion or rusting when the stand is exposed to external elements. To ensure its stability the stand has been made with sealed bearings that help effectively hold the rollers in place. Therefore, the rollers cannot wiggle when you are cleaning the motorcycle. The base of the RS-00002 also comes equipped with rubber pads that ensure it is stable and firm when placed on the ground. The rollers also contribute to stability. They are knurled, and powder coated too. The knurling helps them maintain a perfect grip on the bike's wheel while also minimizing friction when turning the wheels. The rollers are also non-slippery, hence when cleaning, you may hold on to them firmly.
This Harley motorcycle roller stand is also easy to use. You have to place it on a flat surface and then fasten the motorcycle. You can easily do it by yourself. The stand can comfortably sustain bikes weighing up to 500 pounds.
Positives:
Suitable for motorcycles without the center stand
Made of steel that is powder-coated for improved strength and durability
Fitted with non-slippery knurled rollers for better grip and minimal sliding while working on your bike
Negatives:
It does not include a ramp that should help minimize the effort of rolling the bike on the stand
Sale
Hardline Products RS-00002 Rollastand for Metric Cruisers...
Roll bike onto Rollastand, then spin front or rear wheel easily
Easy one person operation; no danger of dropping bike
Designed for Harley and metric cruisers without center-stands
Deep knurled rollers for more traction on belt driven motorcycles
Powder coated chassis with sealed bearings
3. GrandPitstop – Compact Motorcycle Wheel Cleaning Stand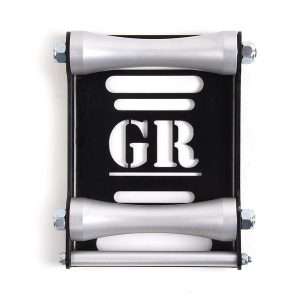 The Grandpitstop stand has been developed with the view of acting as an improvement to the large paddock stands. Therefore, this particular product is designed with the objective of improving the stand's portability and compactness. This objective has been achieved to a large extent as it weighs only 3.5 pounds, which makes it very portable. Its minimal weight is, however, not a reflection of its potential. The stand is capable of supporting a motorcycle weighing six hundred pounds and having a 240mm torn. It is also capable of conveniently lifting the bike to 1.4 inches above ground level.
In terms of design quality, this stand is made from stainless steel. This should give you assurances on aspects of strength, durability, and rust resistance. The rollers have ball bearing on the inside too, to make it easier for you to rotate the wheel. The manufacturer has also included two rubber pads under the metal plate with a view to minimizing the possibility of sliding when the stand is in use.
Positives:
The stand comes in a variety of sizes: small, medium, and large depending on the tire width and weight of your motorcycle
It is suitable for bikes without a center stand
It is made of durable stainless steel
Compact in size, which improves its portability
Negatives:
The fact that the rollers are not knurled makes the wheel slide a bit difficult when in use
Grand Pitstop Motorcycle Wheel cleaning stand - Paddock...
Ideal tool for Chain Cleaning, Lubrication, Tire Inspection and Wheel Maintenance
Perfect companion for any ride - Compact and Light weight
Same roller can be used for both wheels
DIY, Easy to use – Just roll bike onto Groller and place on side stand
Sturdy steel and aluminum construction with Non-skid backing
4. Haul-Master – Durable Motorcycle Wheel Spinner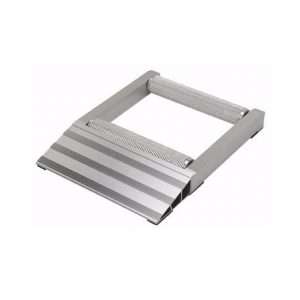 A simple look at this stand will surely make you want to own one. Aesthetically, the manufacturers have not disappointed with this product. The material responsible for this product's shiny look is the heavy-duty aluminum that is used for its construction. This particular material also makes it durable, strong, and rust-resistant. Strength-wise, the stand is capable of supporting a bike weighing up to 500 pounds. Pretty easy to get your motorcycle on the stand thanks to its aluminum ramp.
In terms of functionality, the haul master motorcycle wheel spinner stand can effectively be used with all motorcycles, whether having a center or side stand. For those without a center stand, it can be placed beneath the back wheel to lift the bike off the ground. This makes it possible to lubricate your chain while also cleaning and performing other maintenance operations on your wheel. It can also be used to clean the front wheel when the bike is on its center stand. The harbor freight motorcycle wheel cleaning stand is also fitted with two knurled rollers to help maintain a strong grip on the tire while cleaning it. Beneath it are six rubber pads that help ensure that it is stable and cannot slide when placed on a surface.
Positives:
It comes with an aluminum ramp to make it easier for you to roll your bike onto the stand
Made from durable aluminum material
It comes fitted with six rubber bands that prevent it from slipping
Negatives:
It can only support bikes weighing up to 500 pounds
Haul-Master Motorcycle Wheel Cleaning Stand
Aluminum ramp for conveniently guiding the wheel onto the rollers
Maximum capacity: 500 lbs.
6 nonslip rubber feet and 2 rollers
Motorcycle wheel cleaning stand keeps your bike up while you work
5. Hardline Products RS-00001 – The Sport Bike Motorcycle Roller Stand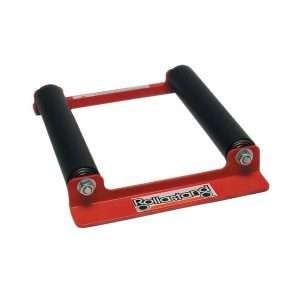 The manufacturer markets this product as the ideal stand for sports bikes, which lack a center stand. But does it live up to the billing of the sports bike category? It impressively does. This roll stand motorcycle wheel cleaning stand is made from powder-coated steel. This helps it remain durable and less susceptible to degradation by external elements. The sealed bearings on this stand's rollers also ensure that you can perform your routine maintenance on your motorcycle's wheels and chains without the fear that it will fall. Further, the distance between the first roller and the other helps improve stability when in use.
Among the strong points of this roller stand is the fact that it can support the weight of motorcycles weighing up to 500 pounds. You also do not have to worry about your bike slipping back while performing your maintenance operations. The design includes pads beneath that ensure a firm grip when placed on any surface. You will also love how easy it is to use this product. Just place it on the surface and roll your bike onto the stand.
Positives:
Made from steel that has been powder coated for improved durability
Has a robust design for improved stability
Easy to use
Negatives:
Some customers complain it is hard to turn the wheel when placed on this stand
Sale
Hardline Products RS-00001 Rollastand for Sport Bikes, Red...
Roll bike onto Rollastand, then spin front or rear wheel easily
Easy one person operation; no danger of dropping bike
Ideal for sport bikes without center-stands
Clean whitewalls, spoke, and chrome wheels easily
Non-slip backing; powder coated chassis with sealed bearings
2022 Motorcycle Heavy Duty Wheel Cleaning Stand Buying Checklist
We have reviewed some of the best wheel cleanings that stand out there. However, one may wonder about some of the factors we took into consideration before preparing the list. As it turned out, there are numerous stands available in the market, and you may already have a list of products that you are looking to narrow down. To help you pick the best one, we analyze what to look for when buying motorcycle wheel cleaning stands.
Design
The design has a huge influence on the functionality and quality of any product. In terms of functionality in a motorcycle wheel cleaning stand, you want a product that can manage to support the weight of your bike and facilitate the rotation of the wheels. As such, you should probably be looking for a stand that is made from either steel or aluminum materials as they are both strong and durable.
Quality stands with knurled rollers have a better grip on your wheel and are considered more stable. You should also consider those with flexible rollers to facilitate better wheel rotation. Remember to also check for those with pads underneath to avoid their slipperiness.
Capacity
Most of the wheel cleaning stands reviewed in this article support bikes with a weight of up to 500 pounds. It is only the GrandPitstop that seems to support a weight of about 600 pounds. Therefore, before deciding on what stand to buy, consider the weight of your bike. This will help minimize possible damages to both your bike and that of the stand.
Weather Resistance
It is important to remember that your wheel-cleaning stand is mainly an outdoor tool. This implies that it is bound to be exposed to external weather elements, corrosion, and water while in use. As such, you have to search for materials that are both rust and corrosion resistants such as aluminum and stainless steel.
Price Tag
As you may have suspected, the price has a huge influence on the stand you eventually end up buying. It is always advisable to maintain a list of products within your price range. However, do not make the mistake of allowing price to compromise the level of quality in the stand you choose to buy.
FAQ
What is a roller on a motorcycle?
The device allows a motorcycle wheel to be rotated in order to clean it or do maintenance on the chain.
What is the point of a motorcycle stand?
A motorcycle stand is a device that helps to support a motorcycle when it is not being ridden. This can be helpful in a number of ways, such as making it easier to clean or repair the bike, or simply keeping it from tipping over.
Should you clean bike rims?
While cleaning your rims may not be the most exciting bike maintenance task, it can improve your braking quality, lengthen the life of your rims and brake pads, and make sure your bike looks good – especially during rainy seasons. It also allows you to check your rims and brake pads for wear or any damage.
Motorcycle Wheel Cleaning Stand Review Verdict
The one thing bikes are known for is convenience. As such, enthusiastic bike owners are always searching for tools that help them efficiently maintain their valuable toys. This is what this article was all about. Engaging in a review of roll stands that make it convenient for you to not only clean your motorcycle's wheel but also perform other maintenance operations such as lubricating your chains.
This review mentions some of the best wheel cleanings stands available. It has centered around their functionality, design, convenience, and durability. The review has gone a step further in informing you of some of the important aspects to consider while buying your stand. Some of these factors include design, weather resistance, capacity, and price. Therefore, don't wait up till you visit the repair shop to have your tire pressure checked or have your chain lubricated. These are some of the simple maintenance functions you should comfortably perform by yourself in your garage or while breezing out in the sun.
What is your favorite product? What peculiarities do you appreciate the most about buying a motorcycle wheel cleaning stand?