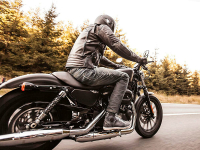 Best Oil Filter for Harley Davidson: Guide & Reviews
No matter what bike you have, the oil filter is very important. This part protects the core of your two-wheeler. A good filter does the hard job of keeping the engine run smoothly and optimally. Although all oil filters look almost the same inside and outside, they are designed to fit different vehicles and may not fit your bike, so it's important to understand how to choose the one you need. I provide 6 reviews of the best H-D filters that I've ever tested. My review-focused guide to best H-D filters will help you soak all the needed information quickly and choose the best oil filter for Harley Davidson without problems.
Pros
Provides a consistent oil flow rate
All-synthetic filtering media
Heavy-duty canister and base gasket
Top Pick
Pros
Provides a consistent oil flow rate
Budget Choice
Pros
All-synthetic filtering media
Premium Choice
Pros
Heavy-duty canister and base gasket
Motorcycle Oil Filters Review: Top 6 Products
First, I wanted to make up a top-10 but then decided to exclude 4 models that have similar characteristics to the listed items to make it easier for you to choose. Each review includes the main characteristics, advantages, and downsides or the item.
1. K&N Motorcycle Oil Filter – Best Oil Filter For Harley Davidson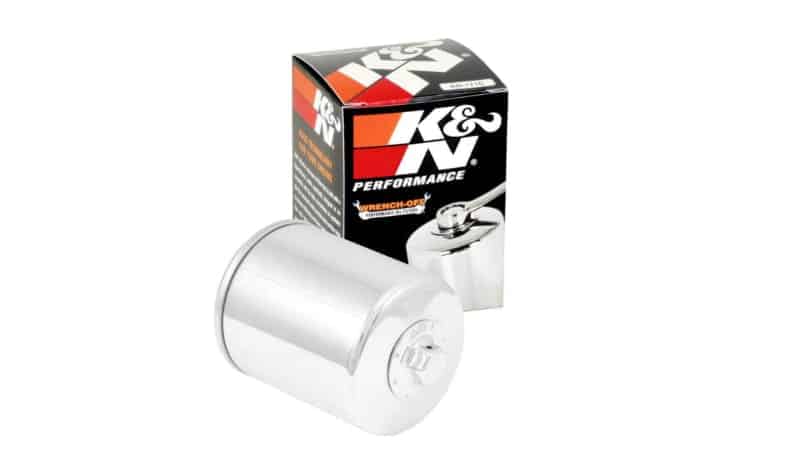 K&N has been the leading filter manufacturer for over 50 years already. This American company has the most innovative approach to producing filters and possesses a wide range of unique patents on oil and air filters. Their products for motorcycles have been tested in thousands of races, so I really trust them.
KN-171C is a wrench-off filter (invented by K&N in 1988). Today, it's considered a classic solution as it provides excellent performance and easy installation. This model has a high-definition filter material that efficiently blocks a high percentage of contaminants from conventional, synthetic, and blended oils. At the same time, the structure of the filtering part promotes a faster and more consistent flow rate.
Although this part isn't expensive, it's protected with a 1-year warranty and guarantees stability on all-terrain vehicles. Most Harley owners I know, and I use these filters repeatedly as they fail very rarely. Riders from hot regions with melting asphalt report excellent performance independently from the weather. It also lasts longer than standard H-D oil filters.
K&N Motorcycle Oil Filter: High Performance, Premium,...
HIGH FLOW RATES: Designed to provide exceptional flow rates and a consistent flow of oil to your engine
PROTECT YOUR ENGINE:  Synthetic-blend filtration media removes most harmful contaminants
EXTENSIVELY TESTED: Laboratory tested to ensure excellent capacity and burst strength
VERSATILE COMPATIBILITY: Designed to operate with all synthetic, conventional, and blended motor oils
EASY TO REMOVE: Fast and easy Wrench-Off removal
Positives:
Lasts longer than standard H-D filters;
Good for all weather conditions and terrains;
Sturdy protective can;
Easy to install/remove;
Provides a consistent oil flow rate.
Negatives:
Some buyers get wrongly threaded parts;
The top wrench-off part is only for removing the filter.
---
2. K&N Motorcycle Oil Filter KN-174B – Best Motorcycle Oil Filter (Alternative Fit)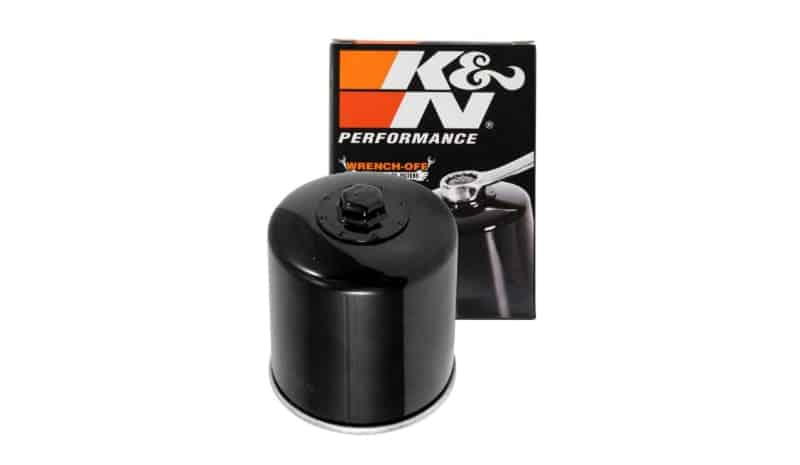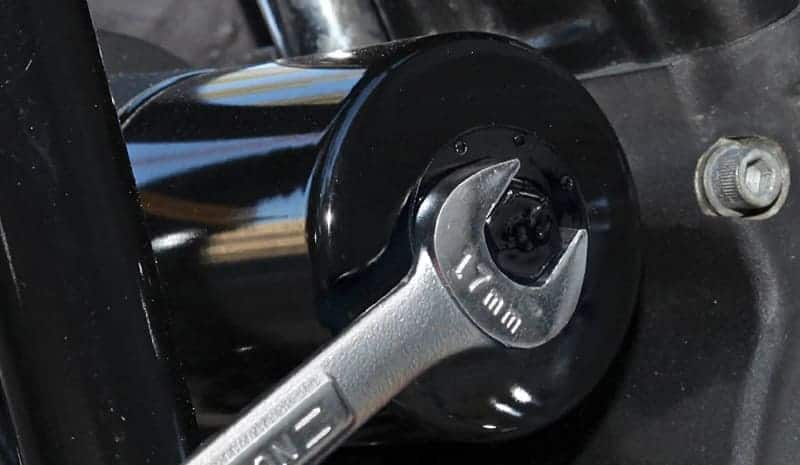 KN-174B is a modification of KN-171C that's designed to fit cruisers and touring motorbikes by Harley. It's also colored black, which makes the desired filter for many H-D fans. Similarly to the previous products on the list, it provides a full stack of features, including the proprietary wrench-off installation, which is very convenient. The filtrating part is made of a high-definition synthetic material that maintains the needed filtration quality longer than default H-D parts. This synthetic-blend media removes contaminants from conventional, synthetic, and mixed oils. For modern high-RPM Harleys, I recommend using synthetic oils as they're more tender to the motor and let K&N filters provide the highest flow rate possible.
The canister is made of 0.61-mm monolith metal, and it's extremely sturdy. You can also use the hole in the wrench top to secure it with an additional wire. I don't do that, and everything is ok, though. The bypass valve and the media holder inside are also made of sturdy metal, which excludes quick wear off. The valve gasket is made of silicone instead of conventional rubber as it provides good heat and cold resistance.
K&N KN-174B Multi Oil Filter POWERSPORTS Canister Black
HIGH FLOW RATES: Designed to provide exceptional flow rates and a consistent flow of oil to your engine
PROTECT YOUR ENGINE:  Synthetic-blend filtration media removes most harmful contaminants
EXTENSIVELY TESTED: Laboratory tested to ensure excellent capacity and burst strength
VERSATILE COMPATIBILITY: Designed to operate with all synthetic, conventional, and blended motor oils
EASY TO REMOVE: Fast and easy Wrench-Off removal
Positives:
Heavy-duty design;
Best for touring and cruising bikes;
High flow rate;
1-year manufacturer warranty;
All-synthetic filtering media.
Negatives:
Leakage may occur if you overtighten it. Don't install with a wrench!
---
3. Hiflofiltro (HF171CRC) RC – Best Racing Oil Filter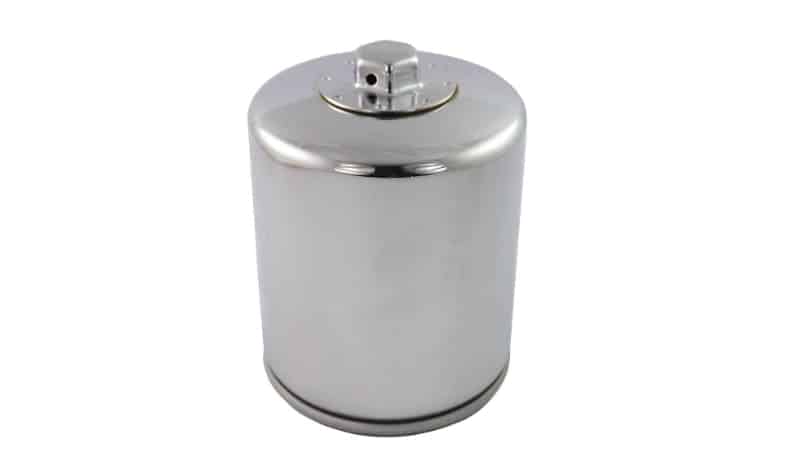 Hiflofiltro is another filter market mastodon with over 50 years of experience. The remarkable fact is that this brand builds filters of combined materials by top world brands, including Henkel, Ahlstrom Filtration, Hollingsworth & Vose, and Awa Paper. This makes the price for their products slightly higher than, say, K&N offers, but the quality is really worthy.
The HF171CRC racing filter that I tested replaces all Harley: 63731-99A OEM parts and offers excellent capabilities for high-RPM and racing machines. Similar to the option by K&N above, it features a wire lock for race use and a thick wrench-off canister.
The most interesting part is the filtration media made of a high-performing triple fiber that provides extended capacity and perfect flow. Actually, it's the only TUV-certified motorcycle racing filter that I've ever seen and used. This German certificate means the top-notch performance of the part in both racing and street conditions. It's a good alternative for K&N filters, especially if you're an aggressive street rider or a sports rider.
Hiflofiltro HF171CRC Chrome Single Oil Filters
Replaces OEM Part Numbers - Harley : 63731-99A
Tough heavy duty steel canister with a 17mm cross drilled nut enabling easy installation, removal, and lock wiring for race use
Advanced high performance tri-fiber filtration media for optimum filtration, higher capacity, and improved oil flow
The ultimate performance oil filter, engineered for both track and street, the RC Oil Filter uses a rubber coated relief valve for perfect sealing, and is compatible with all oil types
Fit type: Vehicle Specific
Positives:
TUV-certified racing oil filter;
Sports-level performance;
Easy to install and remove;
Heavy-duty canister and base gasket.
Negatives:
Rubber relief valve instead of silicone.
---
4. FRAM PH6022 Black Oil Filter – Great Value Harley oil Filter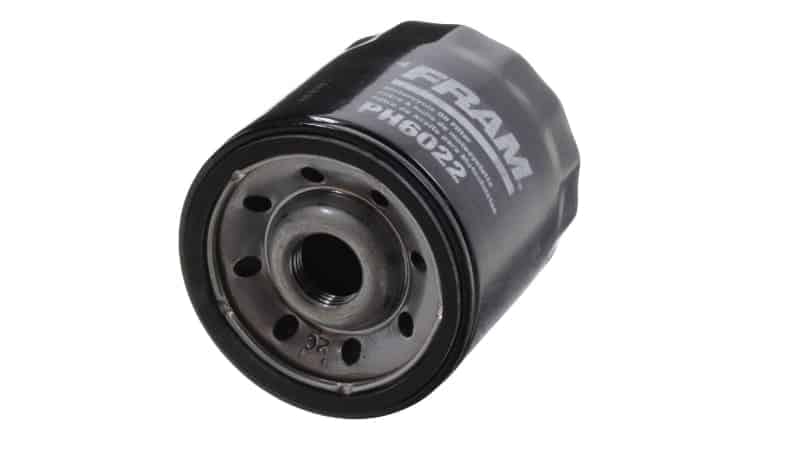 FRAM is an American filter manufacturer that has been producing OEM parts for a variety of automotive brands since 1936. The company has its own industry largest filtration research facility. If you are a bike owner with experience, you probably know their legendary slogan, "You can pay me now, or pay me later."
PH6022 oil filter that's replaces PH6022 OEM Harley filter. It fits Harley-Davidson 63731-99A,63781-72R, 63796-77, 63805-80, 63805-80A, and 63806-83, which is quite a broad compatibility.
I can't say that this part offers any outstanding features, but it's definitely one of the best filters below $7. It has a sturdy resin canister that feels just like metal if you try to squeeze it, while the base gasket is made of thick heavy-duty steel. Inside, you will see a conventional resin valve gasket and multi-fiber filter covered with paper gaskets from both sides and a metal bypass valve. Of course, it's not as sturdy as the filters above, but the price is respectively lower. The performance on the streets doesn't suffer from that, but the lifespan is limited to around 3500 miles. I recommend this budget filter to everyone who looks for a black Harley filter for an average city-riding style.
FRAM PH6022 Black Oil Filter
Proven protection for up to 10,000 miles
Engineered for use with conventional or synthetic motor oil
A special blend of fibers and resin creates a proprietary filter media that captures 95% of dirt particles that can cause harmful engine wear
Designed for everyday drivers who perform frequent maintenance on their vehicles
95% dirt-trapping efficiency
Positives:
Fits many Harley models (OEM #PH6022);
96% filtering efficiency;
Best budget option;
Thick multi-fiber media.
Negatives:
Paper gaskets on the filtering media.
---
5. PC Racing PCS4B Black Reusable – Best Oil Filter For Harley Twin Cam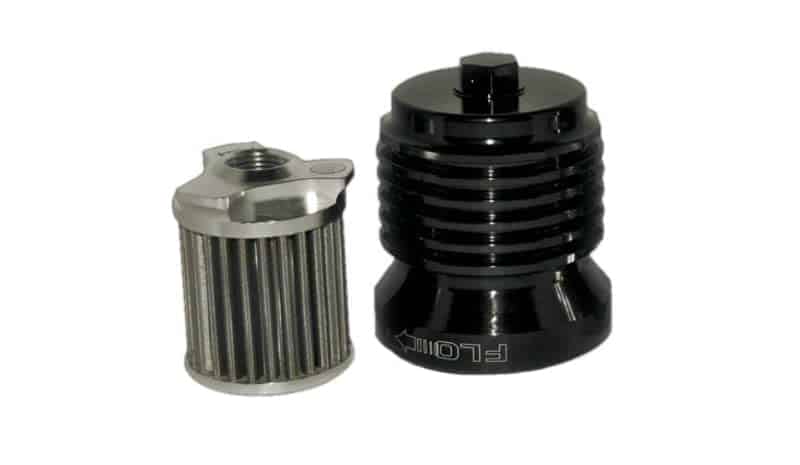 PC Racing is a medium-size brand from Murrieta, LA. PCS4B is a high-quality, ultra-premium racing-level filters that can withstand extreme temperatures of up to 600 degrees. The filter media is made of stainless micronic cloth. They promise up to 3 times longer lifespan than conventional filters provide. I haven't tested it for longevity yet, but I expect it to survive around 11,000 miles without issues. Well, the price is also much higher and varies from $100 to $120. The filter catches particles up to 35 microns, so the flow and oil clearness is excellent. The canister looks very powerful, and it actually is. The unique ribbed design looks very stylish and adds sturdiness to the construction.
PC Racing PCS4B Black Stainless Steel Flo Oil Filter
Fits: Harley Davidson Touring Twin Cam 99-13, Softail Twin Cam 00-13, Dyna Twin Cam 99-13, Touring Evo 82-98, Softail Evo 84-99, Dyna Evo 91-98, and Sportsters 85-13; Buell M2 Cyclone 97-02, S3 Thunderbolt 95-02, X1 Lightning 96-02 and more
Made from laser cut, medical grade, 304 stainless steel micronic filter cloth, this filter provides 200 percent more filter area in many cases
The Flo stainless filter catches items down to 35 microns, which is about 3 times better than most good paper or brass filters; polished stainless steel Flo reusable oil filter
Unlike glued paper filters, the Flo Oil Filter pleat seam is welded and able to withstand up to 600 degrees
This filter maintains consistent flow under all conditions including extreme heat, the presence of water, and cold start ups where paper filters can flow so poorly that they often cause the bypass valve to open and allow unfiltered oil to enter your engine
Positives:
Extra-durable filtering media made of medical-grade steel;
Racing-level performance;
Withstands up to 600 degrees;
Consistent flow independently from temperature conditions;
Survives over 10,000 miles.
Negatives:
Very expensive replacement part.
---
6. Hiflofiltro HF170C Chrome Premium – Stylish Chrome Motorcycle Oil Filter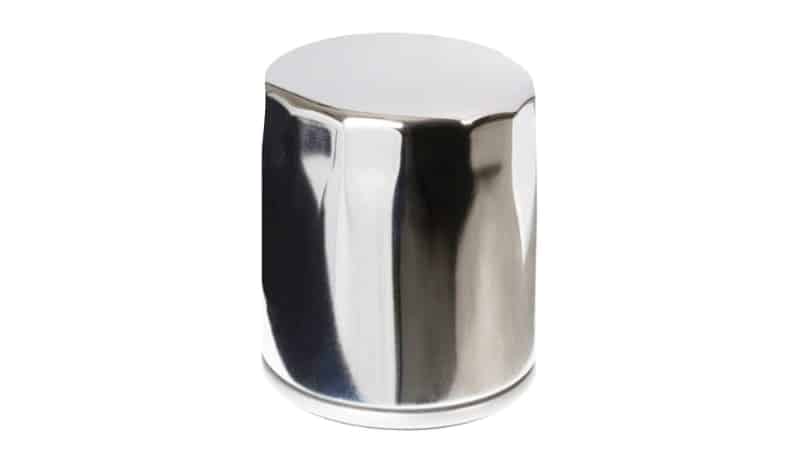 HF170C is an excellent replacement part for Harley OEM 63806-83. Similar to HF171CRC, it's a TUV-certified filter made of high-quality Toyota steel, Henkel Glue, etc. I've already replaced one HF170C after it had worked around 20% longer than the original H-D filters. It's a good result for such a modest price. It's also a stylish one! The thick metal canister is covered in high-quality chrome that shines like silver. If the original canister doesn't match your bike color, you can order the same filter with a black wrench-off canister. The media is made of high-quality conventional filtering paper, but the gaskets are of sturdy metal and hold the constriction tight inside the canister. Together, they provide excellent flow and filtration quality.
Hiflofiltro HF170C Chrome Premium Oil Filter, Single
Replaces OEM part numbers - Harley : 63806-83
Hiflofiltro oil filters provide the highest quality in filtering with a longer life than comparable OEM filters, test results prove 28 percent longer service life than O.E. brands
Constructed of the finest materials available from well known manufacturers: Steel from Toyota Tsusho and NKK Japan, glue from Henkel Germany, filter paper from Ahlstrom Filtration Finland, Hollingsworth and Vose USA and Awa Paper Japan
Every oil filter goes through 16 individual quality control checks before it is ready to leave the factory and the whole manufacturing process, is regularly audited and verified independently by TUV SUD
With the experience of more than four decades, continuous research and development and modern production facilities, Hiflofiltro manufactures some of the best quality oil filters in the world
Positives:
TUV-certified replacements part;
Up to 25% longer lifespan that OEM part;
Easy installation;
Modest price.
Negatives:
Paper media;
No anti drain-back valve.
---
A Bit About Filters
In this part, I replied to some of the most frequently asked questions about oil filters for Harleys to set you free from waiting for the answers in the comments. However, if you will still have questions, feel free to ask.
Who makes Harley Oil Filters?
It's quite clear that Harley has a vendor of oil default filters, but the name of the actual manufacturer seems to be a secret. I just can't find any info on that online, and guys from the garage don't know the answer either. Excellent third-party filters for Harley-Davidson are made by K&N, Hiflofiltro, FRAM, and PC-racing.
What is the best oil filter to use with synthetic oil?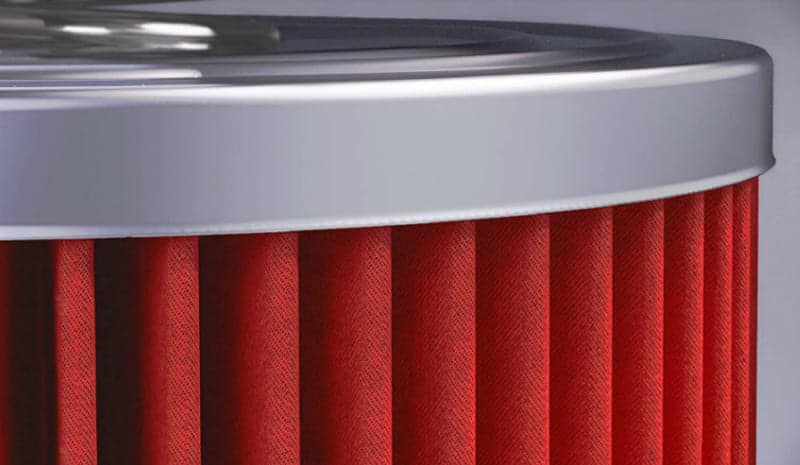 The design of an oil filter is universal, which means that it can filter both mineral and synthetic oils. The filtering layers clear the debris from your oil no matter what type of oil it is. Manufacturers offer synthetic oil filters anyway. Actually, that's just a play of words. The real difference between synthetic oil filters and conventional models is that the first type has more synthetic fibers than paper inside. There are several benefits of using synthetic motor oil, though.
What is the best oil filter relocation kit for Harley Davidson?
Replacing the oil filter on your motorcycle, you should also renew the oil in the system. Oil filter relocation kits are usually universal. You can check out relocation kits by Derale, Packbrake, Trans-Dapt, and, my favorite one, Cool-n-Clean Oil Filter Relocation Kit for Harley Touring.
How often should I change oil filters on my motorbike?
The general rule says that you should change the oil filter every time you change the oil. It's recommended to do this every 2000-5000 miles, depending on your motorbike model and custom manufacturer requirements. Some filters offer a longer lifespan, but I'd not test the truthfulness of that on my Harleys. The safest way is to stick to the rule.
Run Smooth
Now you're ready to replace your motorbike oil filter with a newer and better one. Don't forget to dispose of used oil and filters properly to avoid polluting our already awfully contaminated planet. If you're not sure that you can do the whole thing properly, take your steel dragon to a licensed Harley-Davidson service center. This operation won't take long for those guys.
Have you ever done an oil filter replacement on your Harley? Did you notice any performance improvements after that? And what filter did you use? It'd be great if you share your experience with me and other readers in the comments. You're also welcome to ask any questions on the topic.