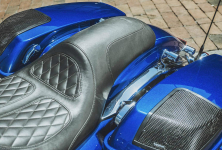 Best Sound System for Harley Davidson: Ride With Your Favourite Music
It's hard to imagine riding a cool bike without great music. But you should admit that even the loudest chords are difficult to hear on the roads and wind's noise. I know some drivers prefer to ride with headphones on. However, it's not the safest option. So that you can enjoy your favorite music and a safe ride, I wrote the seven best sound system for Harley Davidson reviews.
As with any motorcycle accessory, stereo has special requirements, so simple speakers will not work for you. A device should be compact, loud enough, shock and waterproof, easy to operate, and securely attached. Of course, it can be used for more than just listening to music. If you are a fan of long journeys on unfamiliar routes, you will surely appreciate the convenience of using a high-quality sound system and GPS navigator. This way, you will definitely not miss your turn.
Unlike earplugs or headphones (banned in some states), speakers do not completely block out ambient sounds and are a safer option for listening to music while riding a bike. You will perfectly hear approaching cars or the sounds of an accident and will be able to react timely.
Pros
Compatible with popular HD models
Convenient volume control
Compatible with different devices
Top Pick
Pros
Compatible with popular HD models
Budget Choice
Pros
Convenient volume control
Premium Choice
Pros
Compatible with different devices
7 Best Harley Davidson Stereo Systems
There are two types of bike speakers: handlebar and helmet. Only the first type is shown on my list since, in my opinion, it is the safest, the loudest and have a wider range of functions.
1. Best Harley Stereo Upgrade Overall: Rockford Fosgate TMS69BL14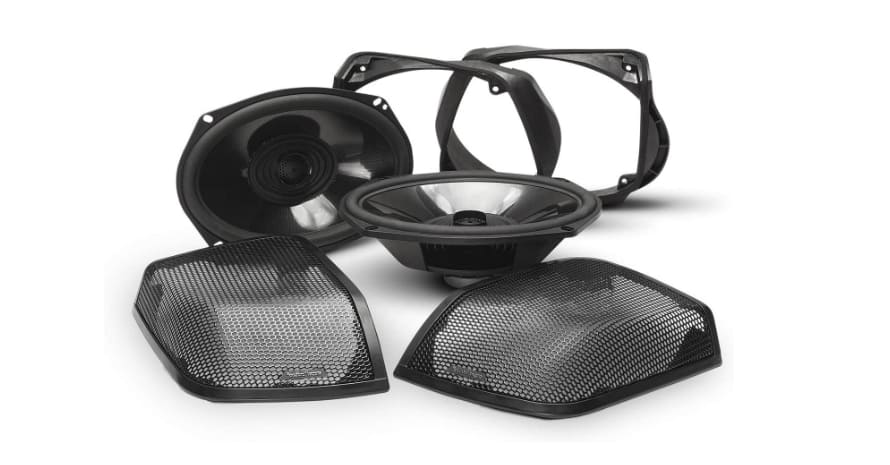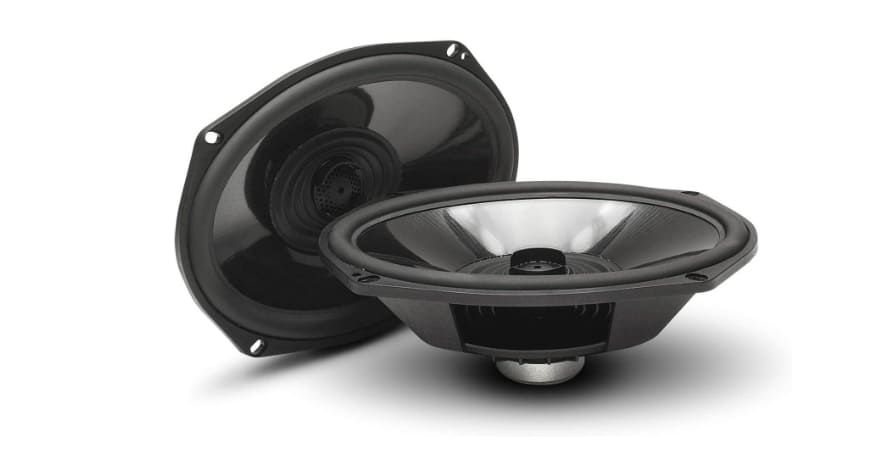 This model was specially designed for HD. With it, you can easily upgrade your bike's audio system.
Specs
The set includes two speakers with 100W output power, which will perfectly complement a factory sound system. Together with them, you will receive a template for cutting holes in saddlebags, grilles, protection rings, wires, and all the necessary mounting hardware. Each unit measures 6×9 inches and weighs 3 pounds.
Design
This system is built-in, equipped with Element Ready technology that protects the product from dust, moisture, and shock, and is CEA-2031 compliant. You can rest assured that even at the highest volume, your equipment will sound great.
The product is compatible with two HD models: Street Glide (2014 and later) and Road Glide (2015 and later). It can only be installed on ABS plastic bag lids. It is slightly more expensive than independent unit systems. But it's more reliable and is an excellent addition to existing speakers. After installation, for the system to work correctly, you will need to flash your radio.
Rockford Fosgate TMS69BL14 Power Harley Davidson Saddlebag...
ADD SADDLEBAG SPEAKERS: If you need more than just two speakers and want to really feel your music while riding then check out our add-on bag lid audio solution, designed for use with 2014 and newer factory Harley-Davidson hardshell bag lids
EASY INSTALLATION: Easy to install speaker kit includes a cutting template and 2-piece mounting system with the plug and play harness. The TMS69BL14 includes: 2 coaxial speakers, speaker grilles, mounting rings, basket protectors, wiring harness, all installation hardware, and accessories
100 WATT SPEAKERS: Includes a pair of TMS69 Power Element Ready 6 x 9 inch full-range speakers with 100 Watts RMS power
HEAVY-DUTY DESIGN: Element Ready speakers protect against dust, UV light, temperature, water, corrosion, and vibration
PLUG & PLAY: Plugs directly into a Rockford Fosgate front audio kit (HD14RGSG-STAGE2 or HD14U-STAGE2) that utilizes the Power TM400X4ad 4-channel amplifier (sold separately)
Positives:
The kit contains all the necessary hardware;
Optimal volume;
Compatible with popular HD models.
---
2. Best Harley Speaker Upgrade for the Money: Kuryakyn 2720 MTX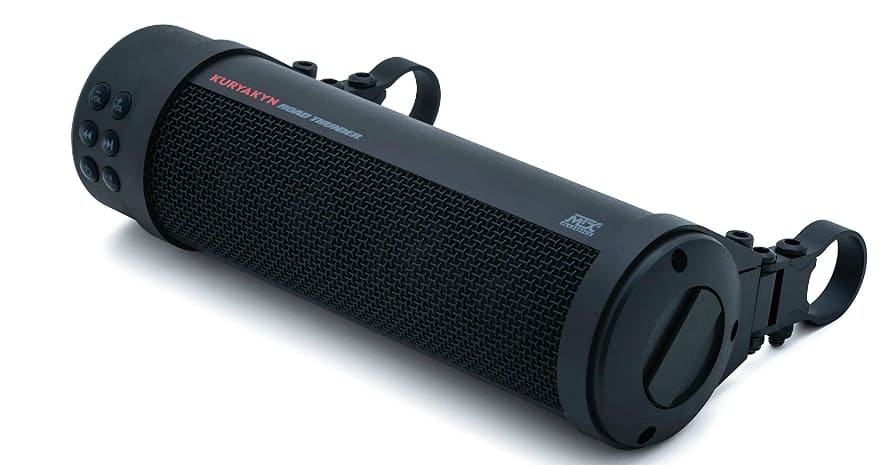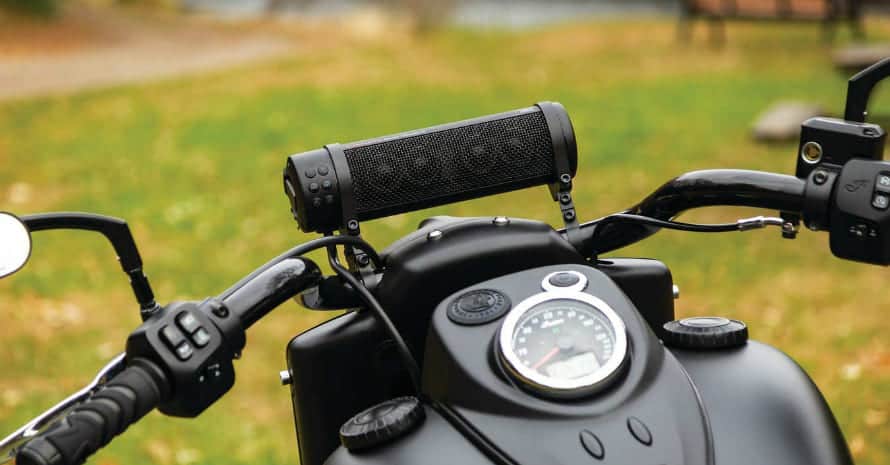 It's an audio system from an American company that has been in the industry for over 29 years. This model is a versatile soundbar suitable for different motorcycles.
Specs
The peak power of the device is 300W, which is very suitable for vehicles with loud engines. Mid and high frequencies are perfectly audible even at high speeds. However, the lowest frequencies are lacking. A 1.0-amp USB port powers it. The model is 10.6 inches long and 2.9 inches in diameter. Four high-quality speakers deliver the full frequency range and excellent sound at any volume. It works via Bluetooth with all types of smartphones, and you can use a 3.5 mm cable for standard audio devices.
Design
The Kuryakyn 2720 MTX has robust, weather-resistant housing. The manufacturer also took care of the overheating problem by introducing a special radiator. You can get Kuryakyn 2720 MTX in two colors: Satin Black and Satin Silver. While installing, you should tighten aluminum clips carefully so as not to bend the speaker-protecting grille. Also, be careful on bad roads, as the device may become loose.
Kuryakyn 2720 MTX Road Thunder Weather Resistant Motorcycle...
Motorcycle handlebar mounted sound bar with 300 watt peak power and 1.0 Amp USB charging port; Speaker measures 10.6" L x 2.9" diameter, bracket measures 6" L x 3" in diameter
Internal 4-channel amp powers two 2" x 3" full-range speakers with dual voice coils; Four high-frequency 1" silk dome tweeters with N42 grade magnets for powerful distortion-free sound at any volume level
4.1 Bluetooth receiver allows wireless connectivity to any Bluetooth-enabled smartphone or music device; Auxiliary input and output ports connect standard devices via 3.5 mm cable
Durable IP66-rated housing is weather-resistant; Built-in heat sink and self-protection circuit combat excessive heat and over/under voltage regulation
Universal articulating mounting clamps fit virtually any bars between 7/8" and 1-1/2", brackets are patent pending
Positives:
Large volume range;
Compatible with different devices;
Good price.
Negatives:
Clips may loosen while riding.
---
3. Best Speakers for Harley for Their Convenience: Boss Audio Systems MC470B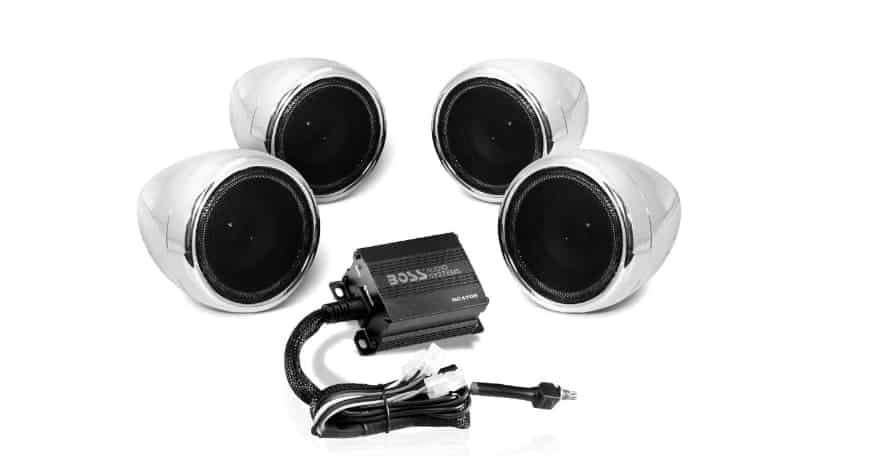 It's a high-quality audio system with four chrome speakers. Install them in any part of your motorcycle and enjoy your favorite music.
Specs
The system weighs 5 pounds and delivers 1000W of power. Thanks to this, you can listen to music without any distortion at high volume. Boss Audio Systems MC470B uses a Class D amplifier, characterized by high power in small size, and performs well in the low-frequency range.
I liked that you can control the volume using a special wire that can be installed in the desired place. It makes it more convenient to adjust the sound while driving because you do not need to reach for your smartphone or the system itself.
Design
Two pairs of Boss Audio Systems MC470B speakers are made of chrome and are suitable for all weather conditions. They can be positioned in either the front or rear of a motorcycle for the best stereo effect. However, remember the precautions. Do not attach devices to rotating parts or obstruct headlights and rearview mirrors. You can play music via Bluetooth, including directly from apps like Spotify and Pandora.
BOSS Audio Systems MC470B Motorcycle Bluetooth Speaker...
BLUETOOTH: Play and control a vast library of your favorite music using your smartphone or MP3 device, plus plug into apps like Spotify and Pandora wirelessly
AMPLIFIER: A Bluetooth, compact, weatherproof, class D amplifier is included.
WEATHERPROOF: The MC470B has been outfitted with the latest weatherproofing techniques for protection against the elements
SPEAKERS: Also included are two 3-inch, chrome, full range speakers. The adjustable brackets will fit handlebars from ranging from .75" to 1.25"
PLAYBACK: A 3.5 mm auxiliary input is compatible with audio outputs of smartphones and MP3 players
Positives:
Customizable location;
Convenient volume control;
You can replace speakers;
Affordable.
---
4. Harley Davidson Replacement Speakers With Full Frequency Range: Hogtunes 5.25″ Front Speakers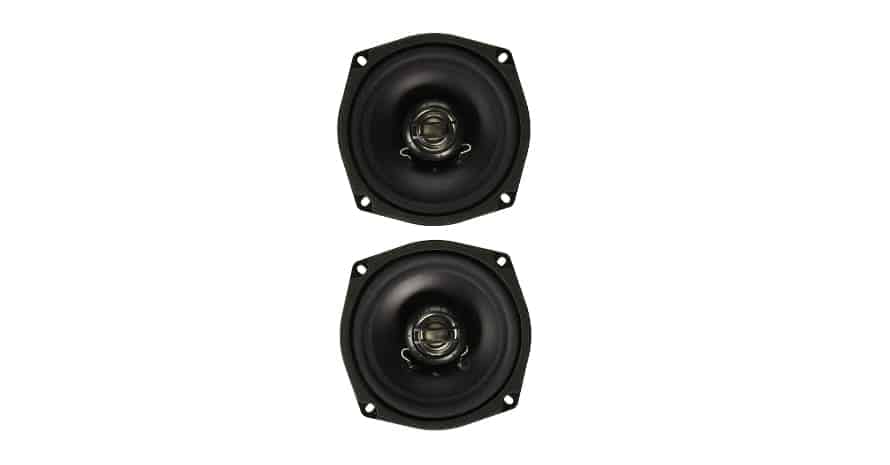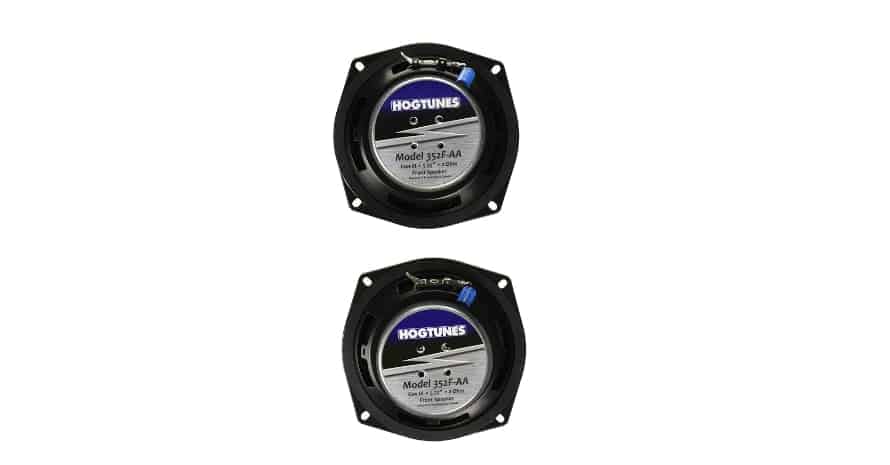 It is a pair of 5.25 inches front speakers for cruiser audio systems. They deliver fuller sound at high volumes than the previous model. It is especially noticeable at low and high frequencies.
Specs
In this model, the manufacturer used a new 1-inch titanium speaker, which allowed it to achieve tight bass sounds. At first, I was worried that I would not hear the difference compared to the standard models. It is still audible, but only at high volume. Simultaneously, the upper frequencies have become much softer and more pleasant to the ears, and the mids have become cleaner. The maximum power is 100W, which is quite enough for comfortable listening. Another advantage is the price, which corresponds to the declared characteristics of the device.
Design
You can install the speakers directly on the factory grilles. And it's very easy. I didn't even have to attach them with wires or bolts. Just put it in the grooves, and you're done. Also, Hogtunes offers its own grills SGF Grill-AA. However, they just do not differ from the factory ones. They are supplied separately, so you will have to spend extra money if you use speakers with built-in grilles.
Hogtunes 5.25" Front Speakers
𝐂𝐋𝐄𝐀𝐑, 𝐋𝐎𝐔𝐃, 𝐒𝐓𝐑𝐎𝐍𝐆 𝐒𝐎𝐔𝐍𝐃 from Gen 3 - 5.25" -2 ohm FRONT speakers for "Advanced Audio" radios; Better bass response than Gen 2
𝐁𝐄𝐓𝐓𝐄𝐑 𝐁𝐀𝐒𝐒 𝐑𝐄𝐒𝐏𝐎𝐍𝐒𝐄 from new 1" titanium tweeter resulting in smooth, full sound when played at high volume
𝐄𝐍𝐉𝐎𝐘 𝐌𝐔𝐒𝐈𝐂 𝐀𝐓 𝐑𝐈𝐃𝐈𝐍𝐆 𝐒𝐏𝐄𝐄𝐃 - Sound is tailored to cut through exhaust and wind noise even at highway speed. Speakers passed rigorous testing
𝐈𝐍𝐒𝐓𝐀𝐋𝐋 𝐔𝐒𝐈𝐍𝐆 𝐅𝐀𝐂𝐓𝐎𝐑𝐘 𝐆𝐑𝐈𝐋𝐋𝐒 or use Hogtunes SGF Grill-AA metal mesh grills (Drag Part # 4405-0379)
𝐏𝐋𝐔𝐆 𝐍' 𝐏𝐋𝐀𝐘 / 𝐄𝐀𝐒𝐘-𝐓𝐎-𝐈𝐍𝐒𝐓𝐀𝐋𝐋 𝐃𝐄𝐒𝐈𝐆𝐍 - no wire cutting required ever. Kit comes with everything you need.
Positives:
Good price/quality ratio;
Deep bass;
Easy installation.
Negatives:
Grilles are not included.
---
5. Replacement Radio for Harley Davidson Motorcycles: Aquatic AV AQ-MP-5UBT-HS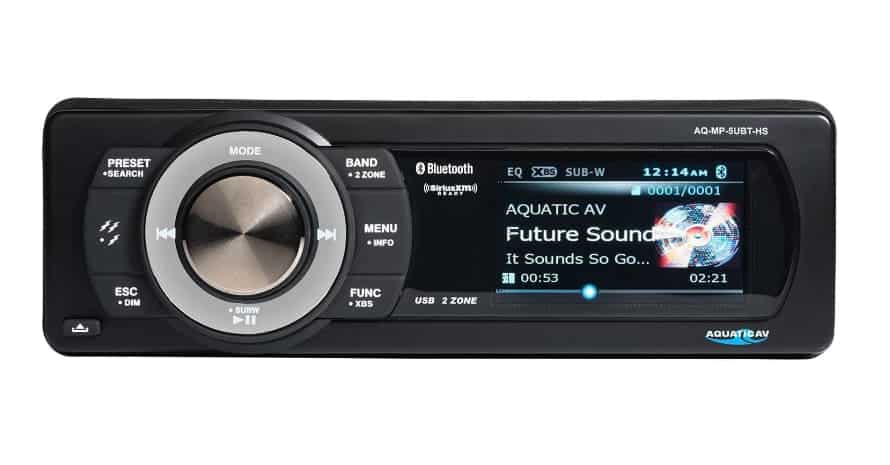 This item is a replacement stereo system for HD 1998-2013 models.
Specs
It is a waterproof wireless system that works via Bluetooth or USB (for MP3 players). Moreover, the last input can also be used to charge your smartphone, which is very convenient if you are on the go. I want to point out that the Bluetooth connection provides two-way communication between an Aquatic product and iOS or Android devices. For example, you can find the iPhone cover of a song played on the radio using the Information Apple Protocol Bluetooth. All info is shown on a LED display. Unfortunately, in my case, when I was driving in the sun, it wasn't bright enough.
Design
It is compatible with over 170 radios thanks to the built-in SiriusXM transmitter. True, it will require a subscription to SiriusXM and a special vehicle tuner, which increases the cost. The display has a separate clock mode. You can take the panel with you, leaving your bike unattended, and in its place, you can install a supplied dummy faceplate. A dust cover is also provided with the system, which is important for motorcycle owners.
Positives:
Wide range of radio stations;
Compatibility with different devices;
Moisture protection.
Negatives:
High price;
A tuner is not included.
---
6. Harley Davidson Audio With Receiver Included: Rockford Fosgate HD9813RG-STAGE1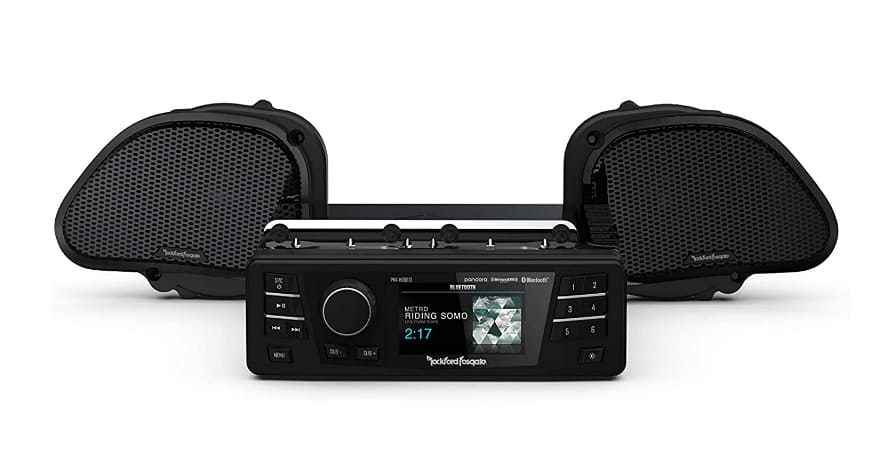 The HD9813RG-STAGE1 is another Rockford Fosgate audio system that will be the perfect addition to your HD factory sound. The big plus is that you don't have to drill or cut anything to install it.
Specs
In the kit, you get two speakers with a diameter of 6.5 inches and a power of 50W, and a media receiver that replaces the default one. And, of course, mounting hardware is included. The total weight of the product is 11.03 pounds. It supports Bluetooth, USB, SiriusXM, and AM/FM radio. After installation, you will not need to flash your bike. This model has a built-in amplifier, so you can listen to your favorite music even at high speed.
Design
The system is installed at the front of a bike, on fairings. You do not need to cut holes of suitable sizes to embed it. Just use screws provided with the speaker mounting kit instead of the factory accessories. The product was specially designed for the HD Road Glide 1998-2013. All elements of the set comply with international sound standards and are protected from damaging environmental influences.
Rockford Fosgate HD9813RG-STAGE1 Digital Media Receiver &...
The HD9813RG-STAGE1 allows you to upgrade your ride with a high performance 2-speaker, 50-watt audio system that will take your audio from ho-hum to holy-cow!
No drilling or cutting required, kits bolt to factory attachment points, and the direct connect wiring harnesses are specifically built for select 1998-2013 Harley-Davidson Road Glide motorcycles
The stage 1 kit includes the PMX-HD9813, a Digital Media Receiver replacement that provides total control over your music by featuring Bluetooth wireless streaming, USB and AUX inputs, along with Pandora and an AM/FM digital tuner that is SiriusXM Ready
The kit also includes the TMS6RG, a pair of Power 6.5" Full Range Fairing Speakers featuring an ultra-efficient 25mm dome tweeter, that fits directly into the existing fairing location
The source unit's built-in amplifier powers the 6.5" fairing speakers that are frequency-response tuned to overcome wind, exhaust, and road noise up to 75 MPH. This kit utilizes the existing factory system for power and speaker wiring
Positives:
Easy installation;
Has a built-in amplifier;
A media receiver included.
Negatives:
Suitable for a small number of models.
---
7. Harley Davidson Audio With Amplifier Included: Rockford Fosgate HD9813RK-STAGE2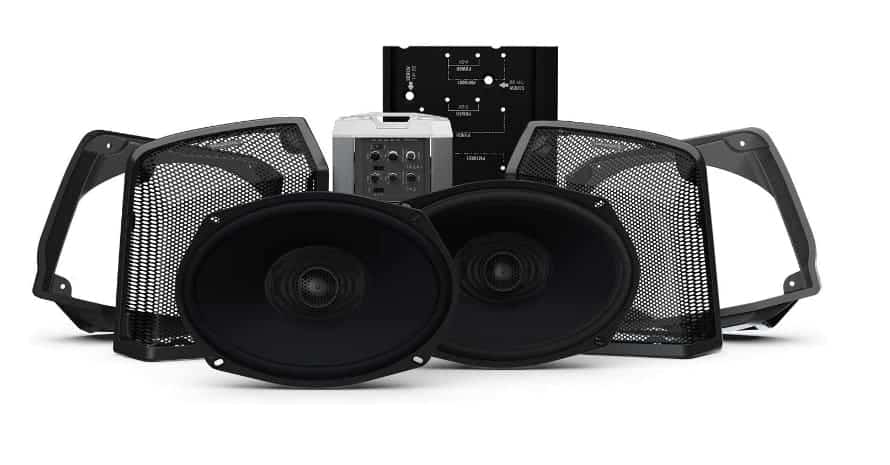 If you do not own the newest Harley Davidson motorcycle, don't worry. Rockford Fosgate took care of it and released a pre-2013 model bike audio system.
Specs
The Rockford Fosgate HD9813RK-STAGE2 Kit includes an amplifier, a speaker set, and all the necessary hardware for easy installation. The two speakers are 6×9 inches and 400W power. They connect to the supplied 4-channel amplifier. You can listen to your favorite music by connecting the system and smartphone via Bluetooth. The tool is compatible with iOS 8.0+ and Android 5.0+. Optionally, you can purchase a remote control to switch songs without being distracted from the road. All in all, it is a fairly compact audio system that won't take up much space in your bags.
Design
This item fits into saddlebags and is compatible with the following HD models: Road King 1998-2013 and Screaming Eagle Road King 2002-2003. The latter may have leather bags, in which case you will not be able to use this audio system. It can only be installed on a plastic base (not leather or fiberglass). The amplifier and speakers meet international quality and safety standards and also feature Element Ready protection against dust, moisture, sunlight, and vibration.
Rockford Fosgate HD9813RK-STAGE2 Two Speakers & Amplifier...
The HD9813RK-STAGE2 is a high-performance audio kit for select 1998-2013 Road King motorcycles designed to deliver an exceptional sound experience while retaining as much interior bag space as possible
The kit includes the TMS69BL9813, a pair of Power 6"x9" bag lid speakers that install seamlessly into the top of the factory saddlebags using the included cutting template, waterproof bag lid mounts, and speaker grilles
The speakers are connected to the TM400X4ad, an Element Ready Power Series 400-watt 4-channel amplifier that's mounted to a custom plate inside the rear of the bag with the RFK-HDRK Amplifier installation kit
The system is tied together via a plug-and-play wiring harness and included Bluetooth receiver. The rider simply connects a smartphone via Bluetooth and you're ready to ride
Famous Rockford Fosgate build quality with a full 2-year warranty when purchased from an authorized Rockford Fosgate reseller
Positives:
Excellent power;
An amplifier included;
Durable.
---
Enjoy Your Ride With the Best Speakers for Harley
As you can see, there are many great stereo systems for your Harley Davidson on the market now. In my opinion, Rockford Fosgate TMS69BL14 is one of the best motorcycle audio systems Harley Davidson bikes can have. Regardless of which product you ultimately choose, be aware of local noise limits. If loud music is added to exhaust pipes' loud noise, you could seriously violate local laws.
What kind of audio system do you use? Which model is the best for you and why? If you have any questions about choosing a suitable device, ask them in the comments section.