Best Spark Plugs for Harley Davidson: Top Picks & Tips
Spark plugs are usually hidden from your eyes, but they mean even more than you may think. First of all, they supply the engine of your two-wheeler with the spark that ignites the fuel and starts the engine. But does it matter what plug to install? Definitely! The original Harley-Davidson spark plugs that were installed in your motorcycle were made of extra-durable materials. The company uses them to provide you with maximal mileage from the store.
Unfortunately, even these spark plugs aren't infinite, and you have to shop for new ones as soon as you start noticing slower ignition or a strange fuel consumption increase.
Pros
Restores power significantly
Cheap platinum-core plugs
Up to 100,000 miles of excellent performance
Top Pick
Pros
Restores power significantly
Budget Choice
Pros
Cheap platinum-core plugs
Premium Choice
Pros
Up to 100,000 miles of excellent performance
The quality of this tiny part means a lot to your riding experience, so I decided to share my reviews of the best spark plugs for Harley Davidson to help you out. In this article, you will find 9 detailed reviews of the most reliable spark plug models. I've tested all of them, so I have a lot to tell you. I also recommend you to take a look at the FAQ section to get deeper into the topic and make a more considered choice. I also recommend you to read about proper plug removal and replacement.
Harley Spark Plug Reviews: Top 9 Products
Here are my detailed reviews of the best models amongst the top-rated spark plugs for Harley Davidson. My tests proved their high efficiency and longevity. Be attentive to match the spark plug with your Harley model and enjoy the ride!
1. NGK Iridium IX DCPR7EIX Spark Plugs – Best Spark Plugs for Harley Twin Cam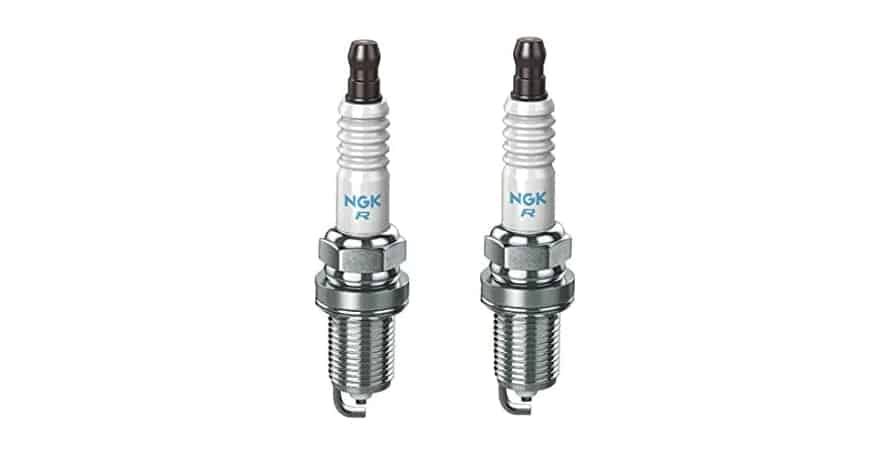 NGK is one of the world's leading spark plug manufacturers. This Japan-based company has been operating since 1936. Over 10,000 employees all over the globe are involved in production and distribution. I think there's no need to mention the Japanese quality of products.
These plugs have a sturdy metal shell base that is resistant to corrosion. The iridium electrode has a reduced size for voltage requirement reduction. It's 25% smaller than platinum electrodes and 75% smaller than average nickel electrodes. Due to this improvement, your bike's ignition system will remain healthy much longer.
I don't believe that it can add up to 3HP to the original power, but it definitely can restore the power lost over time and thousands of miles. Computer analysis of a 2008 Twin Cam showed almost a full power restoration after cleanup and DCPR7EIX installation, so it's really worth recommending. You can install it on almost any standard and custom Twin Cam built from 1999 to 2016.

Positives:
Durable rust-resistant metal base;
Reduced voltage requirements;
Restores power significantly;
They come pre-gapped;
Japanese quality control.
---
2. Harley Electra Glide Classic Spark Plug OEM# 6R12 – Best Conventional Plugs for Electra Glide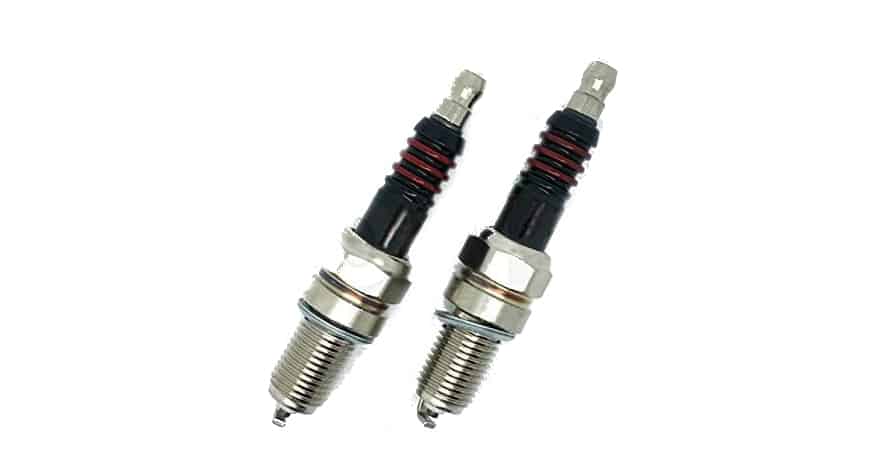 The Florida-based retailer Orange Cycle Parts has been delivering these spark plugs on Amazon for 5 years already. I decided to test them due to the high user rating, and I didn't regret it.
These affordable plugs appeared to be good enough to start Electra Glide Classic quickly and without failures in the long run. The pure aluminum insulator provides good corrosion protection, while the black ceramic top makes these plugs really stylish.
The product comes with conventional electrodes that can fairly run 20,000 miles. They run perfectly well within the claimed cycle. However, you should be attentive and check the gapping on your pair as it can be wrong. I had to fix the gaping on my plugs before installation. Fortunately, you can do it even without tools, but be gentle! It's an excellent option for casual riders who own 1999-2017 Electra Glide Classic Harleys.

Harley Electra Glide Classic Performance Spark Plugs Pair...
Conventional style spark plugs, available in OEM heat ranges
Plugs have a unique look with a black ceramic body
Insulator is made of 95% pure alumina, features strong resistance to heat shock and superior insulation
Sold in Pairs
Harley Electra Glide Classic
Positives:
Fair performance;
Fits 18 years of Electra Glides;
Stylish black top;
95% aluminum insulator;
Easy to install.
Negatives:
May require manual gapping;
Fit only Electra Glide.
---
3. Iridium Performance Spark Plugs Harley# 6R12 – Best Iridium Spark Plugs for Softail Slim Twin Cam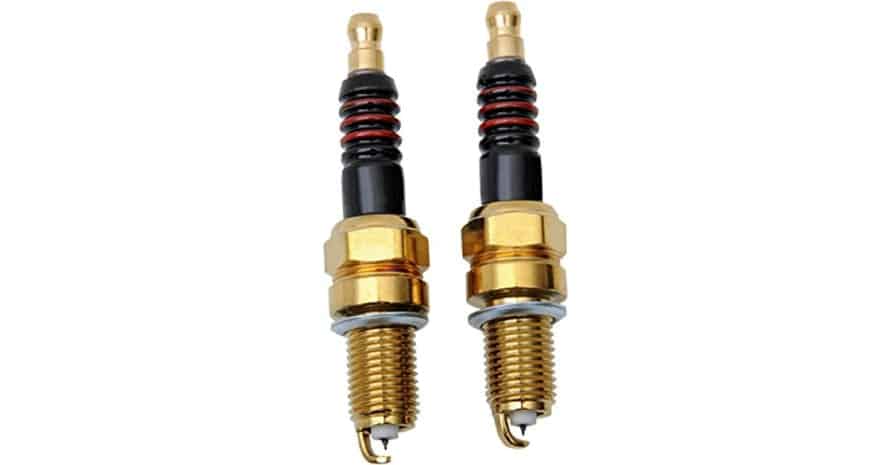 Here is one more high-quality item by Orange Cycle Parts. This one is more expensive than the conventional model but is still a bit cheaper than analogs by NGK. This item is equipped with ultra thin-tipped electrodes that consume significantly less power to start the engine.
This tip type gets much hotter than conventional tips, which extends its lifespan dramatically. The heat cleans the tip, while the sturdy metal shell holds the gap for up to 100,000 miles.
Three Softail Classic owners I know use these plugs have already beaten this mark. I'm at the 40,000-mile mark, and there are no signs of wear off. In addition to longevity, Orange Cycle Parts offers great exclusive design with a black ceramic top. That's posh!
The item is compatible with Harley-Davidson Softail Slim Twin Cam manufactured in 2000-2017. It replaces the Harley OEM #6R12 and NGK# DCPR7EIX. Be attentive, matching the models.

Iridium Performance Spark Plugs Pair for Harley Softail Slim...
The ultimate in spark plug technology and performance
Iridium electrode is smaller than a standard electrode; requires less voltage
Hotter spark and extended spark plug service life compared to conventional plugs
Has the distinctive black ceramic with and gold-colored corrosion-protected coating on the metal shell
Sold in pairs and replaces Harley# 6R12 / NGK# DCPR7EIX
Positives:
Replaces OEM #6R12 and NGK# DCPR7EIX;
Up to 100,000 miles of excellent performance;
Stylish black and gold coating;
Affordable premium quality.
---
4. E3 Spark Plugs E3.34 – One of The Best Spark Plugs for Harley Sportster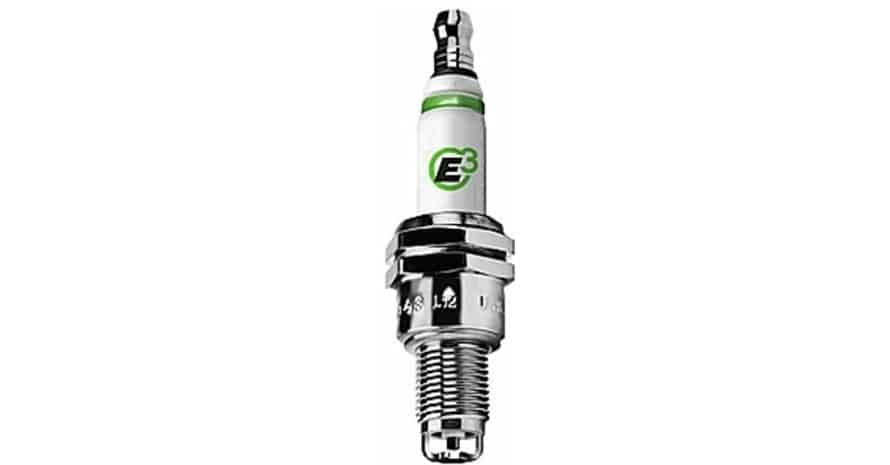 E3 was one of the most suspicious brands for me. They sell spark plugs made by a unique DiamondFire technology, which sounds very promising. But the price for the plug is low and sometimes falls below $9. The reviews were mostly positive, so I tested it anyway.
I decided to test it on a 1999 Sportster, and the result was above my expectations. Although it's just a copper-core plug, it produces a high-quality spark that burns fuel more efficiently than copper-core plugs with average J-wire ground electrodes. A complete burn also means fewer emissions and higher pressure in the cylinder, which is a true way to restore 3-4% of the power.
They also offer a 5-year warranty, which is a very reassuring feature. Unfortunately, I don't have enough time to test them for so long, but, hey, even 3 years is a good result for a basic plug!
The E3.34 plug also replaces NGK's DPR7EA9 so that you can install it on DYNA S.G. SPORT (1999-2000), FAT BOY (2000-2001), HERIT.SOFT.CLAS (2000-2001), NIGHT TRAIN (2000-2001), ROAD KING CLASSIC. (1999-2001), SOFTAIL DEUCE (2000-2001), SOFTAIL SPRING. (2000-2001), SOFTAIL STAND. (2000-2001), SPORTSTER 1200 S (1996-2000), and SPORTSTER 1200C (1997-2000).

Sale
E3 Spark Plugs E3.34 Power sports Spark Plug
Near elimination of performance inhibiting carbon deposits, dramatically longer plug life and limited
Diamond fire electrode technology that creates a superior spark and resulting flame front extending further into the cylinder, producing more localized pressure
Significant potential power increase: > 6% to 12% (depending on engine class)
Fit type: Universal Fit
Positives:
Restores up to %4 of power;
Wide range of compatible vehicles;
Affordable replacement item;
Complete fuel burn;
Reduces emissions.
Negatives:
Wide copper electrode gets dirty faster.
---
5. NGK Iridium IX DCPR8EIX – Best Iridium Spark Plugs for V-Rod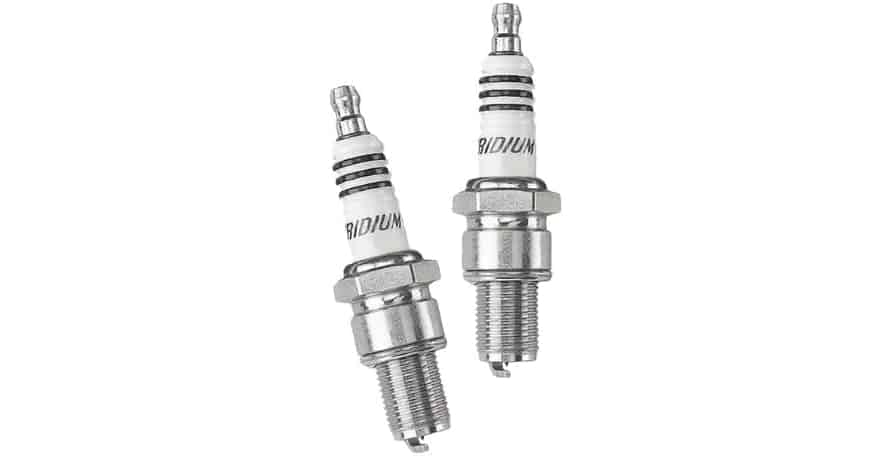 I cannot omit one more plug by NGK as it offers the same high-quality performance for V-Rods as the DCPR7EIX plug for Twin Cam. NGK delivers their plugs pre-gapped, so there's no need to adjust the gap manually. They're equipped with significantly smaller iridium electrodes that get hot so fast and don't collect waste on the tips at all. Moreover, they require lower voltage to burn the fuel, which results in better ignition system longevity.
Along with the metal coating that's protected from corrosion, these plugs can last for many years. These are the recommended spark plugs for Harley Davidson V-Rod as they fit V-Rods manufactured in 2001-2017 and guarantee instant starting without power degrading over time. Plugs with nickel and copper electrodes are usually around 50% cheaper than these plugs, but these types' lifespan is also different.

NGK Iridium IX DCPR8EIX Spark Plugs for 2006-2016 Harley...
Come pre-gapped
The iridium electrode is 25% smaller than a platinum electrode, and it's just 1/4 the size of a conventional nickel electrode
Ultra-small diameter center electrode reduces voltage requirement and extends ignition system life
The ultimate in spark plug technology and performance from the industry leader
New metal shell plating has enhanced anti corrosion qualities
Positives:
Sport-level performance;
Restores up to 6% of power;
Corrosion-resistant shell alloy;
25% smaller than conventional electrodes.
---
6. Champion Spark Plug RA8HC – Affordable Plugs by a Legendary Manufacturer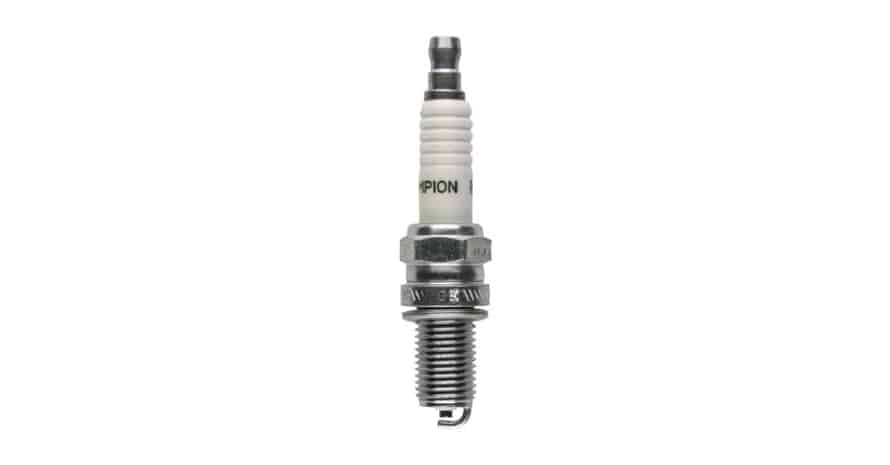 Champion is one of the oldest spark plug manufacturers, and the brand has an exceptional history. Founded in 1907, Champion supplied spark plugs for Ford Model T, Concorde, Eurostar, and many other historical vehicles. The company has been amongst the market leaders for over 110 years, so it deserves trust.
RA8HC spark plugs are made of a sturdy alloy that's not exposed to corrosion. The copper-core electrode provides standard-level performance. It feels good enough on Street Glide Special and can survive up to 20,000 miles, which is a very good result for a plug that costs less than $10. A set of new plugs by Champion can fairly restore 2-4% of the power.
You can install these pugs on Harley Street Glide Special FLHXS manufactured from 2014 to 2016. It isn't a universal plug, but it's a worthy option if you have an SGS and don't need a sport-performance plug.

Positives:
Fouling-resistant construction;
Restores up to 4% of power;
The average lifespan is 20,000 miles;
Affordable copper-core solution;
Highly trusted manufacturer.
---
7. Briggs & Stratton Spark Plug Platinum 5066K – Bargain Platinum-Core Plug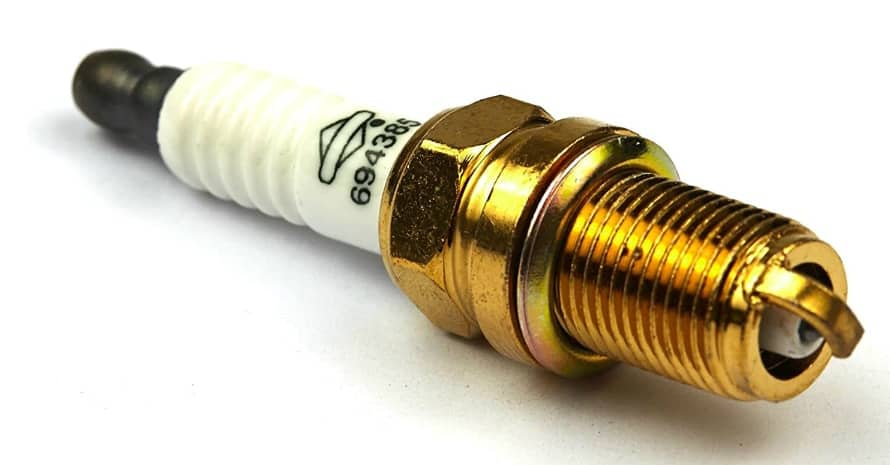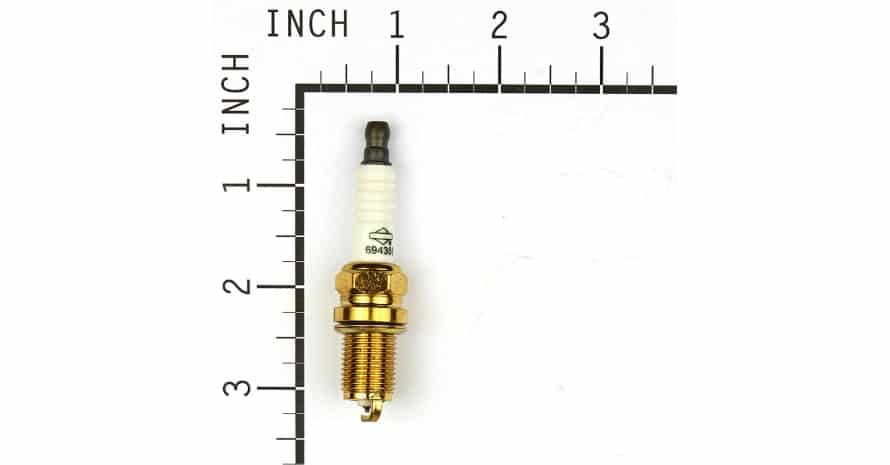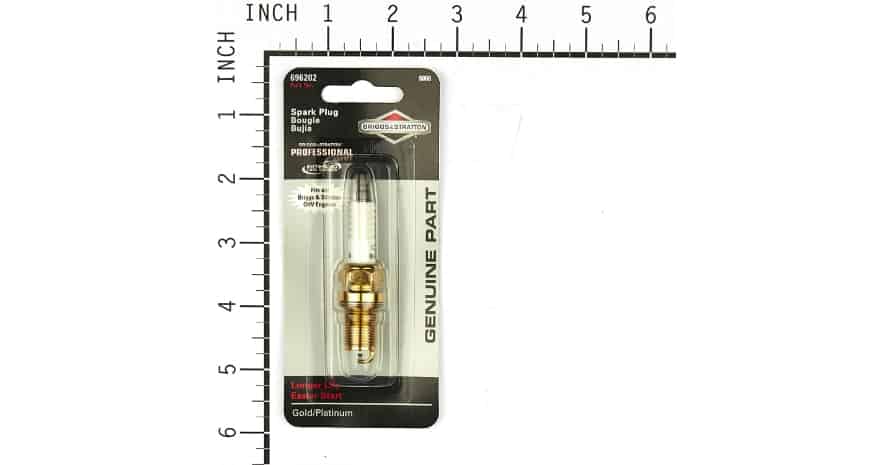 Briggs & Stratton is another trusted brand with over 100 years of history in the US. Although the manufacturer is originally specialized in outdoor equipment and accessories for machines like tractors, their 5066K spark plugs are also good enough for Harley Davidson motorcycles.
These plugs are made of a high-quality corrosion-resistant alloy and have platinum electrodes. They aren't as durable as iridium-core models, but you can buy them for almost the same price as copper-core plugs. It's a real bargain, considering that the potential mileage is from 40,000 to 60,000 miles. I didn't test it for the full lifecycle, but the reviews by other users prove these figures.
B&S Platinum 5066K replaces NGK FR5/BPMR6F/130-847, Autolite 3926, and Bosch FR8DC. Use the Harley Davidson spark plug gap chart in the user manual for your motorbike, or just match this model with the one that's installed at the moment.

Sale
Positives:
Cheap platinum-core plugs;
Excellent performance and durability;
Much more durable than copper-core plugs;
Comes pre-gapped.
---
8. Accel 2418 6R12 for Twin Cam – Runner-up Twin Cam Solution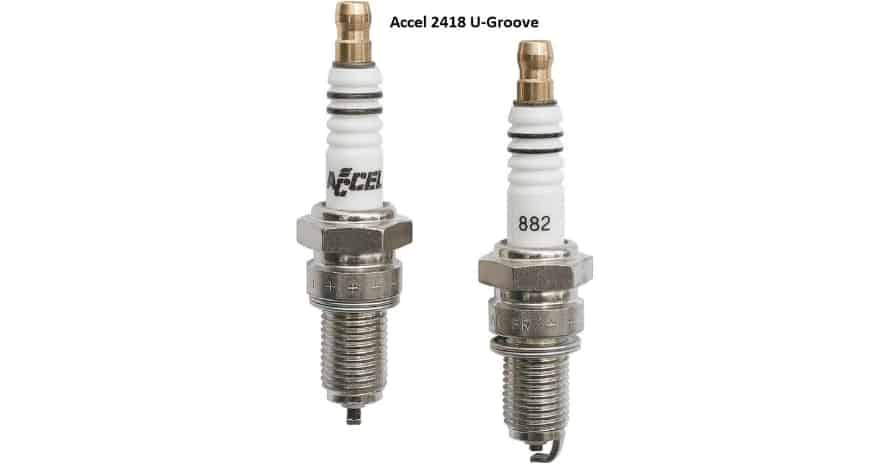 Accel (an Orange Cycle Parts brand) offers a high-quality copper-core solution with an extra durable metallic finish that prevents corrosion of the plug. The good news is that you can install this part into any Harley Davidson Twin Cam 1450/1550cc manufactured from 1999 to 2016.
Several months of tests and reviews from several users show that this plug is good at self-cleaning and doesn't foul on the tip. It's not as durable as platinum and iridium models, but the price is usually similar to models with iridium electrodes, and that's actually the only disadvantage of this motorcycle part.
I can recommend it for Twin Cams as it's reliable and provides a decent spark. Still, it would be right to consider it as an extra solution for those cases when iridium Twin Cam plugs are out of stock, and you need to get the part as quickly as possible.

Accel 2418 Spark Plugs (Pair) 6R12 for Harley Davidson Twin...
Accel High Performance spark plugs for Harley-Davidson
Suitable for all Harley Davidson Twin Cam 1450/1550cc models from 1999 up
Spark plugs produce a larger spark for more power at high RPMs. Improves throttle response and fuel economy with less fouling
Accel number 2418, replaces OEM part 6R12
Sold in pairs
Positives:
Almost universal Twin Cam fit;
Maximal copper-core lifespan achieved;
Excellent Twin Cam compatibility;
Restores power at high RPMs;
Sturdy coating alloy.
---
9. Harley Road King Performance OEM# 6R12 – Best for -Road King Twin Cam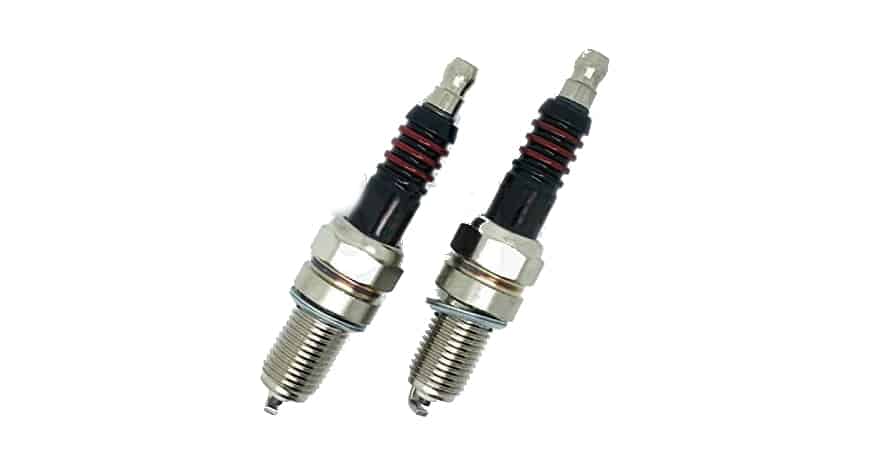 As you can see, Orange Cycle Parts are the leaders of my listing by the number of products. This spark plug is the last but not the least on my list as it provides excellent performance along with a modest price. The insulator is made of pure aluminum, which protects the plug from corrosion and overheating. The quality of the threading is also very good.
The part replaces NGK # DCPR7E and Harley OEM # 6R12 so that you can install it on your Harley Road King Twin Cam if it's manufactured from 2000 to 2020. It's a reliable conventional motor part that will serve you for up to 20,000 miles. Still, you have to be attentive as it can foul earlier.

Harley Road King Performance Spark Plugs Pair repl. OEM#...
Conventional style spark plugs, available in OEM heat ranges
Plugs have a unique look with a black ceramic body
Insulator is made of 95% pure alumina, features strong resistance to heat shock and superior insulation
Sold in Pairs
Harley Road King Twin Cam 2000-2020
Positives:
Stylish black and red top;
Affordable spark plug;
Lasts up to 20,000 miles;
Fits 20 years of Road King Twin Cam.
---
FAQ
These are the most frequently asked questions from my readers, friends, and customers. At last, I answered them all in written form to make finding answers easier for everyone. Below are brief but comprehensive answers to questions that may really bother.
Does changing spark plugs improve performance?
Spark plugs are wear and tear items that wear off over time and require timely replacement. I've heard a lot of rumors that some plugs can improve the bike's performance, but that's physically impossible as every engine has limited power. A set of good spark plugs can only help you restore the initial power, but not increase it. Answering the question, I can admit that new plugs improve performance, but only if it degrades from the original level. The difference is usually evident. The types and gap on plugs may also affect exhaust emissions.
Iridium vs. Platinum spark plugs.
Let's take a look at the pros and cons of each type to see the difference. Iridium spark plugs:
Last at least 60,000 miles, serve 80,000 miles on average, and sometimes survive up to 120,000 miles;
Are more durable than platinum. They are the most durable spark plugs on the market;
Require less voltage for producing a high-quality spark consistently.
Are the most expensive plugs.
You should learn how to gap iridium plugs.
Platinum spark plugs have both good sides and downsides too. They:
Are more durable than copper plugs. They can last up to 60,000 miles, while copper usually dies at 20,000 miles;
Get hot fast and burn all the debris around the center electrode, which means smooth performance the whole way long;
Cost less than iridium-electrode plugs, but offer great performance and longevity anyway;
Are still not as durable as iridium models.
How often to change iridium spark plugs?
Iridium spark plugs usually last from 60,000 to 80,000 miles. Some high-quality models can survive up to 120,000 miles. You should change them as soon as you start noticing ignition problems and other signs of worn-out plugs.
How to choose the right spark plugs for my Harley Davidson?
Shopping for new plugs, you have to be attentive to your bike's requirements and match the spark plug model with your Harley model and generation. If you own a motorbike with a customized engine, you should be looking for plugs with similar specs to the original ones.
Who makes Harley-Davidson spark plugs?
Many Harleys are equipped with NGK Iridium IX to spark plugs. They are pre-gapped and threaded properly to work with most H-D motorcycles. But for the last two years or so, H-D started to provide original equipment spark plugs along with premium Screaming Eagle performance plugs and gold plugs.
Sparking Up
Using the FAQ and my detailed product reviews, you can now order the worthiest spark plugs out there and enjoy your premium Harley-Davidson two-wheeler without ignition issues. I tried to do my best and test a comprehensive set of spark plugs to cover all proud H-D owners' needs. Don't forget to inspect your motorbike every 100 miles to ensure safety and get ready for timely maintenance works if needed. Spark plugs are amongst the most important elements of the system as your machine just won't be able to run without them. High-performance spark plug wires for Harley Davidson are also a worthy item to get along!
Is it the first time you are replacing spark plugs on your Harley? Which of the models from my listing would you order for your bike? If you already have experience in using any of these spark plugs, I would be grateful if you share your review in the comments below. You're also welcome to ask me any questions related to the topic if something isn't clear enough for you. I usually reply quite soon. For more useful tips and comprehensive reviews of motorbike parts, keep reading my blog, and add it to bookmarks not to miss the updates.