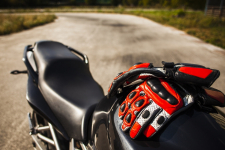 Best Summer Motorcycle Gloves: Expert Recommendations
Whether you use a motorcycle for getting around, or it is one of your biggest hobbies to take long rides on roads, you have to invest in a good pair of bike gloves. Finding the best summer motorcycle gloves is a real challenge, and a huge one if you are new to bike accessories.
I have been riding motorcycles for many years and would consider myself an expert in motorcycle gear. I understand the advantages and pitfalls of the various brands, and I also regularly try out some new products.
I want to mention a few things I consider when purchasing motorcycle gloves for the warm season. First, the coverage of such items matters. Regardless of your experience as a motorcycle rider, you need to have palm sliders, knuckle guards, padding, and reinforcements.
It is also important to consider how well the product fits. Does it have functional Velcro? Is it breathable? You have to keep in mind all these characteristics when choosing your bike gloves, with additional specifics being the price, functionality, and style.
To ease your selection process, I've decided to review a few bike accessories that proved to be sturdy, pretty accurate to the size, and allow enough air circulation. Below, you can find eight models that may become your number one option.
Amazon Bestseller
8 Highest-Rated Bike Gloves for Summer
I've tried out many motorcycle gloves over many years. In this section, I will thoroughly describe them and help you to pick a pair to your liking.
Milwaukee Men's Gloves – The Best Summer Motorcycle Gloves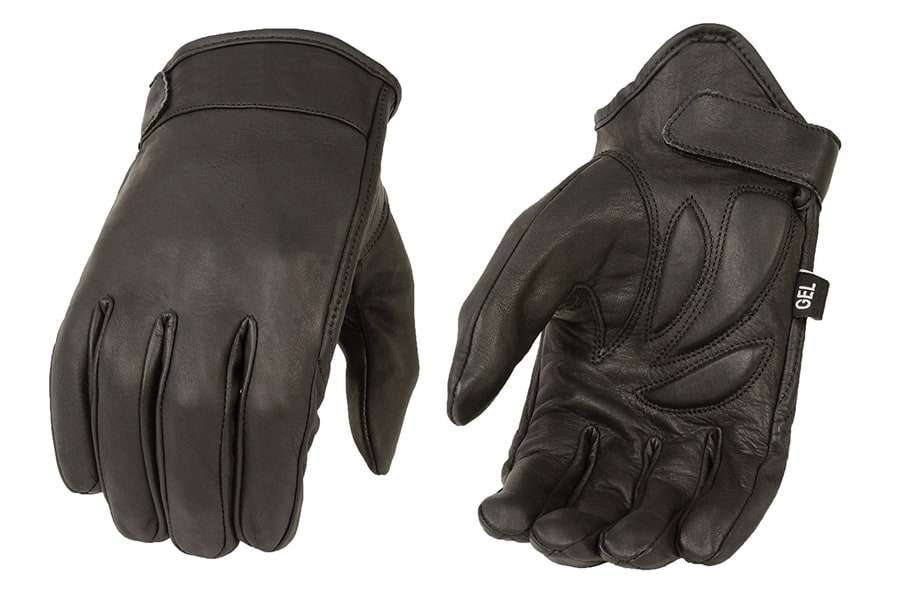 These Milwaukee gloves are made with the comfort of the biker in mind. The items are padded to make them convenient to use while riding a motorcycle. The model is also perforated to help with air circulation, and it comes especially useful in high-speed rides under the scorching heat. However, the perforations can cause a disadvantage in colder weather if you are planning to take fast rides, so I would recommend this pair for summertime only.
The gloves come in several sizes so that you won't end wearing a larger or smaller fit. You can look at the size chart to find out the model you should go for. For a better fit, they have strong Velcro adjustments.
However, I didn't enjoy using the Velcro much because they can't fasten the gloves on your wrists tightly. The width of the wrist remains quite large, and fixing the Velcro causes too much flapping around your palms. However, I like it when gloves are not too tight so that you won't feel discomfort while riding. What's more, these items are quite easy to put on and take off, thanks to the wide wrists.
These gloves are not just practical but stylish, as well. I noticed that I gathered compliments here and there with these Milwaukee gloves, and it can even help to start conversations and make new acquaintances.
In my opinion, this pair is the best summer motorcycle gloves overall. Although the appearance is a bit bulky, the perforations make the gloves well-conditioned. It is one of the universal picks I can advise to anyone.
Positives:
Comfortable to wear
Made of a breathable material
Look stylish
Easy to pick a suitable size
Negatives:
All sizes are pretty large in wrists
---
Tour Master Summer Gloves – Amazing Men's and Women's Summer Motorcycle Gloves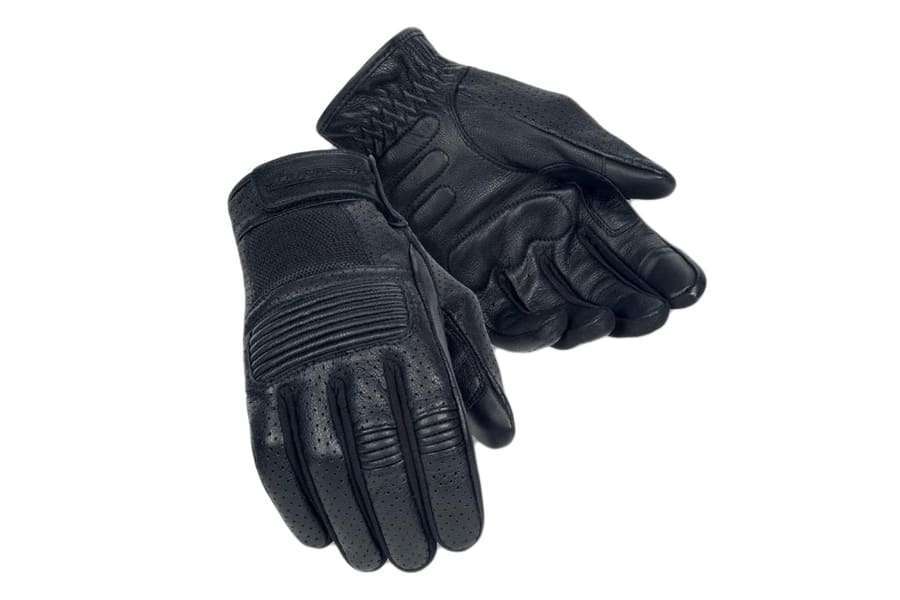 Tour Master got its start about three decades ago, and this experience has allowed the manufacturer to develop affordable and sturdy motorbike gloves. The company produces various motorcycle apparel. It aims to offer value for the cost, and these gloves prove the promised quality.
These items are fantastic for summer. This model comes in six different sizes, so you need to choose the model attentively. It is manufactured with Nappa leather, and the perforated design will look cool through the season. Besides, the top panel offers enough air to your hands.
The design of the product also allows taking care of the gloves easily and making them look good for a long time. For example, it has reinforcements on two fingers to prevent them from getting damaged.
Want to answer your phone while on the road? No problem, as this product is made with touchscreen compatible covers on two fingers. This design eliminates the need to take off the gloves to answer a call or send a message.
Another thing I like is that these Tour Master gloves have extended slip-on cuffs. If the sleeves of your jacket are of a standard length, you won't have any open space on your wrists and above. If you need to change the fit, these items have a secure hook.
In my opinion, these items are the best summer motorcycle gloves for male and female cyclists. You can easily pick the right model, and this product also offers high levels of comfort.
Tour Master Summer Elite 3 Men's Street Racing Motorcycle...
Supple, protective, perforated nappa goatskin leather backhand with breathable stretch fourchettes
Breathable air mesh top panel provides added ventilation and flexibility
Durable nappa goatskin leather palm, with light EVA foam padding to reduce shock and vibration
Touchscreen compatible conductive goatskin leather on thumb and index finger
Thumb and index finger reinforcement panels to help resist wear
Positives:
Come in different sizes
Touchscreen compatible
Perforated
Extended slip-on cuffs
---
TitanOps Hard Knuckle Gloves – The Most Durable Mens Summer Motorcycle Gloves
These gloves have the look of military gear and are also quite durable. The knuckles have shields, and this protection is hard enough even to withstand falls, in case of any.
The gloves are also quite comfortable, as they are made with high-quality microfiber, nylon, and leather lycra. These items are breathable and will keep your hands cool even during long rides. However, this product is not the best for colder weather since it lets in a lot of fresh air.
Although they are made with a lot of fabric, these gloves won't irritate or abrade your skin. You can expect this product to last for years since these items are produced with high-quality materials. Also, the stressed areas of the gloves are double row stitched.
Maintaining these gloves is also quite simple. You can clean them in your washing machine, and they dry out pretty fast. As an extra advantage, the product is resistant to bacteria and odors, meaning you won't need to clean them now and then.
Aside from riding your motorcycle, you can use these gloves for hunting, hiking, and even tactical training. The rubber-reinforced knuckles make these TitanOps items ideal for street fighting and other forms of combat. In my opinion, these gloves are the strongest and most durable available on the market. The items are perfect for people who often ride on bumpy roads.
TitanOPS Full Finger Touchscreen Hard Knuckle Motorcycle...
Protection: Our durable full finger gloves shields knuckles and prevents cuts and injuries
Comfort: Microfiber, leather lycra, nylon, extra stitching. Keeps hands warm but also breathes well
Function: Reinforced palm, adjustable wrist strap allows for flexibility, grip, and warmth
Durablity: Great for hunting, tactical training, outdoors, riding, cycling, airsoft, cosplay
Maintenance: Perfect for long-term use and safe for machine wash. Easy to clean and dries fast
Positives:
Long-lasting
Protect knuckles
Comfortable
Breathable
Resistant to bacteria
Negatives:
The size chart is not very accurate
---
Milwaukee MG7510-BLK-L Gloves – Practical Mens Summer Motorcycle Gloves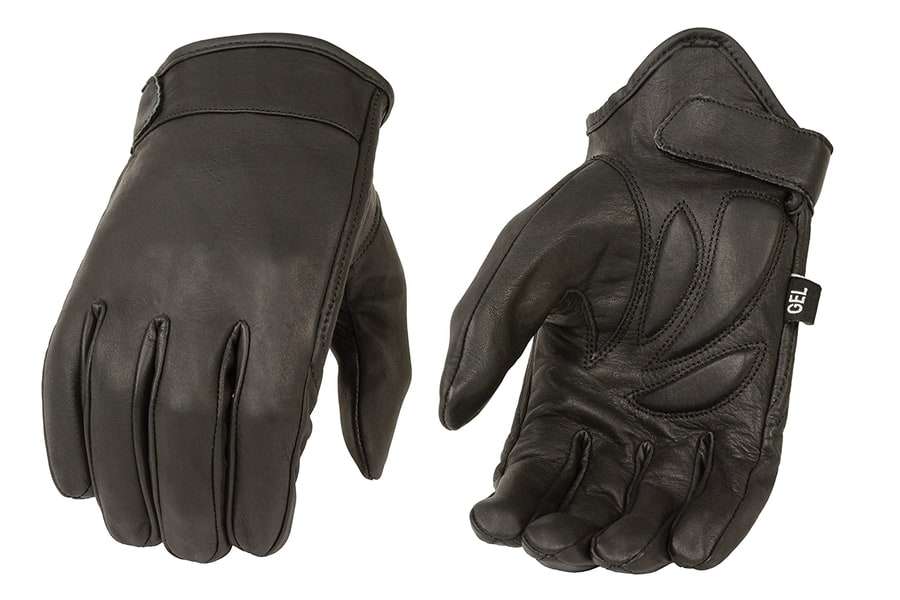 The Milwaukee brand prides itself on producing high-quality biking gear with a distinctive touch. Its products are made with full-grain cowhide leather, and it is very high in quality. These particular gloves come in seven sizes, and all of the models are black. The material makes for a stylish look.
I found these items very comfortable to wear, and I regularly use this pair for long commutes. The palms are padded with gel, and it adds to the overall comfort of the product. To fasten the gloves on your wrists, you need to use the adjustable strap closure. The only problem you may experience is that this pair is a bit heavy.
These gloves have perforations meant to promote adequate airflow in warm weather. This way, your palms will not get sweaty. It makes these items especially suitable for high-speed rides in the scorching heat of summer. On the flip side, such a design means that you shouldn't wear this pair in cold weather.
I would say that these items are the best men's summer gloves for those who like practical clothes. These Milwaukee gloves will keep your hands cool and provide high levels of protection.
Positives:
Breathable
Made of soft leather
Extremely durable
---
Protect the King Biker Gloves – Mens Summer Motorcycle Gloves for Large Hands
This pair is known as the best touchscreen gloves on the market. Wearing these items, you can use your smartphone, answer calls, or read messages without having to take off your gloves. Many bikers stressed out this feature as very important and useful while on the road.
This pair of gloves comes in six sizes, from small to 3X. It is important to note that they do not stretch a lot, so you need to go for the exact size after measuring your palms. If you like it when gloves are a bit tight, thus, assuring a firm grip, I would suggest you go for one size smaller. On the flip side, people with large hands will be in luck with this product, especially since it is hard to find extra-large models.
Compared to many other high-quality gloves on the market, these items are much cheaper. But before you make your purchase, note that they may not be the longest-lasting. To prevent this product from getting damaged, you should store the gloves accurately and avoid getting the Velcro stuck on other parts of the items.
Protection is another important factor to consider when choosing summer bike gloves. Even though this pair is not meant to last for very long, it still offers high levels of protection to your hands and knuckles. It is designed with leather-covered knuckle guards to protect your hands in case of an impact.
I also want to mention that these Protect The King items come with a 100% satisfaction guarantee. If you are not pleased with the performance of these gloves, you can return them and get your money back. Because of the large sizes of the gloves, I would say that these models are ideal for men. Generally, people who have trouble finding gloves that fit them settle on this product.
Motorcycle Biker Gloves Black Premium Summer Mesh |...
#1 RATED TOUCHSCREEN: Reported "The best touchscreen gloves on the market." by consumers. PTK Alpha-Touch Upgrade released in 2018 has ranked the SWIFT as the BEST touchscreen glove on the market for half the price of the competition.
PREMIUM AIR-MESH: We pride ourselves in only using the best quality air mesh for supreme breathability.
REINFORCED PALM: PTK offers a double layered padded leather reinforced palm for durability, abrasion resistance, and vibration support. Fingers are pre-curved to assist with riding fatigue. Leather covered knuckle guard for added impact support and durability.
PTK AIRFLOW: Breathable technology between the fingers to wick away moisture, keeping your palm cool and dry.
100% GUARANTEE: Buy with confidence through our 100% Satisfaction Guarantee brought to you by Protect the King.
Positives:
Touchscreen compatible
Affordable
Protect knuckles
---
Scoyco Protective Motorcycle Gloves – The Best Summer Motorcycle Gloves for Bumpy Roads
Scoyco is a relatively new company that focuses on the design and development of motorcycle apparel. Besides gloves, the Scoyco company manufactures boots, protectors, bags, and other apparel.
This particular pair of gloves offers an extremely stylish look. It is manufactured with sturdy black and green canvas, matching the styles of most bikers.
For shock and impact resistance, these gloves were developed with injection shell protection. This form of protection covers the palms and backs of hands. With this level of security, this model is useful for beginners, as well as experienced bike riders.
In addition to the protection, you will also enjoy high levels of comfort. These items are manufactured with breathable materials so that during hot summer days, you will ride comfortably.
One disadvantage to note about this product is that this pair can't be used with a smartphone. Whenever you need to see a text message or answer a call, you have to get rid of the gloves first, and that may be quite inconvenient. As some people have noted, this product is studded for a proper grip. That's what makes the items unsuitable for use with smartphones.
I would say that this Scoyco apparel is the best pick for people who need protection above all. Besides biking, you can wear these items for trekking, hiking, and even household jobs.
Sale
SCOYCO Protective Motorcycle Gloves,Antislip PP Shell...
▶Protection: Injection shell protection on palm and back of hand,increase the impact and shock resistance as a professional motorcycle gloves.(Size:XL--PALM CIRCUMFERENCE:24cm(9.45 inch)
▶Antislip: PVC particles on palm for antislip when cycling.
▶Breathable: Ventilation knitted fabric material design offers a soft and comfortable feeling.
▶Joint Reinforced: PP shell on the joint of finger for better anti-collision.
▶Adjustable Velcro Closure on wrist for snug fit when you are riding.
Positives:
Protective enough to be used on any road
A fantastic design
Allows proper airflow
Studded for a proper grip
Negatives:
Not touchscreen compatible
---
Oro Biker Motorcycle Gloves – The Best Waterproof Summer Motorcycle Gloves
It is another excellent pair of motorcycle gloves that I can advocate for anyone. This product has been rated highly by almost all the previous buyers. It points to the top-notch quality and reliability of the production. The Oro manufacturer stands for remarkable customer satisfaction and competitive market prices.
For comfort, these gloves are designed with soft goat leather and Velcro for fastening. Unlike other models, these items can be fastened comfortably to meet the size of your hands. The Velcro will prevent the items from sliding off as you ride your bike. With a wide range of sizes, you can select a pair to your preference.
This Oro product is also quite affordable, and unless you wear them daily, these items will serve you for many seasons. Many bikers have noted that the items can withstand extreme wear and tear during the longest rides.
Besides, this pair is manufactured with knuckle protection to keep your hands safe as you ride your bike. The palm and finger parts have padding for extra safety. They are sturdy enough to be used not only for rides but in workshops.
I want to mention that the product is touchscreen capable. Only the thumb and first finger parts are enhanced to allow typing on your phone, but that's sufficient for general use. These gloves also come with a 100% satisfaction guarantee. Thus, you are assured of the first-class quality of the product. If you don't like this pair for some reason, you return it and get a refund.
As for me, the gloves are ideal for people who live in places where it rains often. Even though these items are designed for summer use, they are made water-resistant. Thus, they won't get damaged by moisture.
Oro Biker Motorcycle Gloves, Leather and Breathable Summer...
MATERIAL: Premium Quality Goat Skin Leather and Summer Air Mesh for supreme breathability.
TOUCHSCREEN: Thumb and index finger work well with all touchscreen devices while wearing gloves.
PROTECTION: knuckle protector, fingers and palm padding offer maximum protection for your hand.
COMFORTABLE: Nicely sewing for maximum durability and adjustable Velcro for a comfortable fit.
COLOURS DIFFERENCE: Product Colour May Slightly Different From Actual Products Due to the Lighting During Photo Shooting or the Monitor's Display.
Positives:
Come with a 100% satisfaction guarantee
Made by a reliable brand
An affordable price
Well-designed Velcro
Negatives:
Not suitable for daily use and long bike rides
---
Chcycle Motorcycle Gloves – The Most Stylish Waterproof Summer Motorcycle Gloves
It seems like the Chcycle manufacturer focused on the style of their products. You are sure to catch some compliments wearing these items.
For ultimate comfort, the manufacturer made these models available in a wide range of sizes. However, the size chart may not be very accurate, as the gloves seem to be on the smaller size. Therefore, I recommend selecting one size larger.
It is one of the few products on the market where the price does not correspond to the quality. These items have a very low price tag, but they are rich in features and high-quality ones. One useful point to mention is that the pair be used with a smartphone.
Although only on the tips of two main fingers are touchscreen compatible, this feature is present on both hands. Many other brands claim to have such finger covers, but they have poor functionality. With this pair, you will be able to type comfortably.
This quality product is strengthened by a two-wire construction, known as Tigers design. This way, you can expect these gloves not wearing and tearing for an extended period. Note that these items are meant to be used during summer only. If you wear this pair in colder seasons, your hands may freeze.
I would say that these waterproof motorcycle gloves are ideal for bikers who are mainly interested in style. This pair excels in other aspects, as well, but the key selling characteristics are the red and blue designs available.
CHCYCLE Motorcycle Gloves Touch Screen Summer Motorbike...
Size is alittle smaller, we suggest you to buy one bigger size than size chart.Ergonomic design, three-dimensional drop protection fist shell, make you ride more safely
With function of screen touch, breathable,anti-slip,wearable,comfortable and fashionable
Tigers design, the use of high-strength two-wire reinforcement to extend the life of the gloves
Stretch finger sidewalls,shock-absorbing foam have a better protective effect
Combined with ergonomic design, the joint position to join the anti-collision protection plastic chapter effectively reduce the impact of impact
Positives:
Visually appealing
Affordable
Touchscreen compatible
Durable
Negatives:
Sizes are not perfectly accurate
---
The Final Word
When choosing the best summer motorcycle gloves, don't just check mentions of breathability of the models. Many other factors allow differentiating the best gloves from the worst. In my opinion, the best summer bike gear on this list is Milwaukee Men's Summer Cruising Gloves. This particular pair is a sturdy and top-quality one. The only con is that the pair is not fitted with functional Velcro adjustments.
However, I want to say that each of these products is suitable for specific needs and preferences of motorcycle riders. For example, some models will work ideal for bikers who are planning to ride through rough terrain or wet areas. Go through the reviews above attentively and choose the pair that will meet your needs and wishes.
Have you ever used any of these motorcycle products? Do you know any other bike gloves that I should have reviewed? Let me know in the comments below.