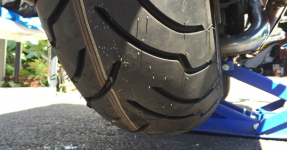 Best Tires for Harley Road King: The Most Reliable Items for You
Harley is the most obvious choice when you are looking for a reliable motorcycle with an unstained reputation and millions of customers around the world. However, when it comes to replacing the tires, the choice can be tough, as there are multiple best tires for Harley Road King at the market. While Dunlop and Michelin are considered to be good-old trusted classics, you can try something else, just to widen your horizons. Before you make up your mind, check out the list of my favorite tires for Harley Road King.
I have made brief but detailed reviews for you, paying attention to all the features, durability, guarantees, developers, and even the price. I suggest you take a good look at the pros and cons of each tire before you order anything. Don't rush with the decision, as you don't want to stuck in the middle of nowhere with a flat tire. I checked all these tires myself, so you can count all of them as my favorites.
Now you have to think about what you want the most from the product and read my Harley Davidson tires reviews. Depending on your demands, you can choose whether you want prolonged lifespan, durability, flexibility, well-known brand, lower price, or ability to handle rocky roads.
Top-8 Harley Road King Tires
Some tires are faster, and others are lighter or stronger. Depending on the type of roads you usually hit, you may look for specific tires. Buying the ideal tires in the first place will save you money and effort. Check out my recommendations and find out the perfect tires for your Harley.
1. Michelin Commander II Cruiser Bias Tire – The Best Motorcycle Tires for Cruisers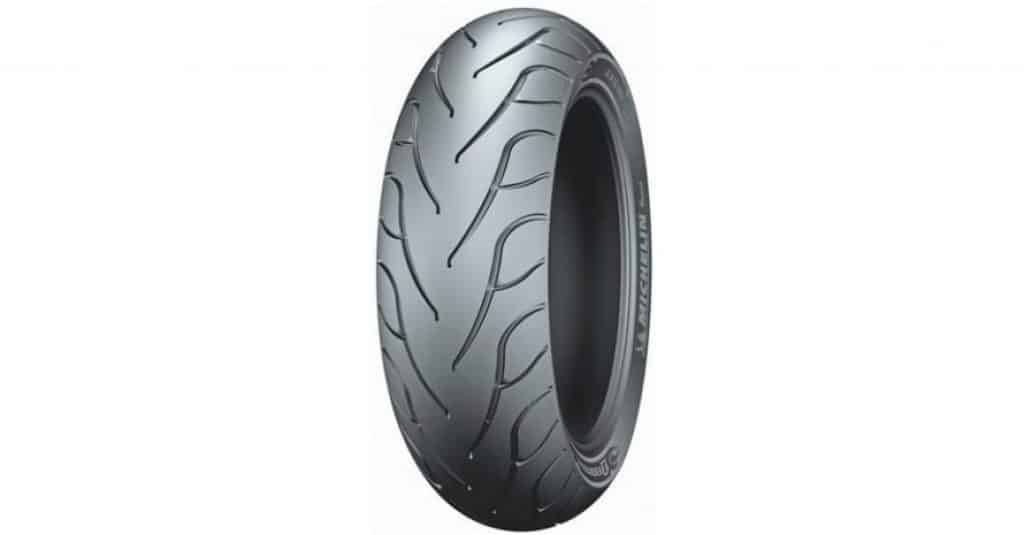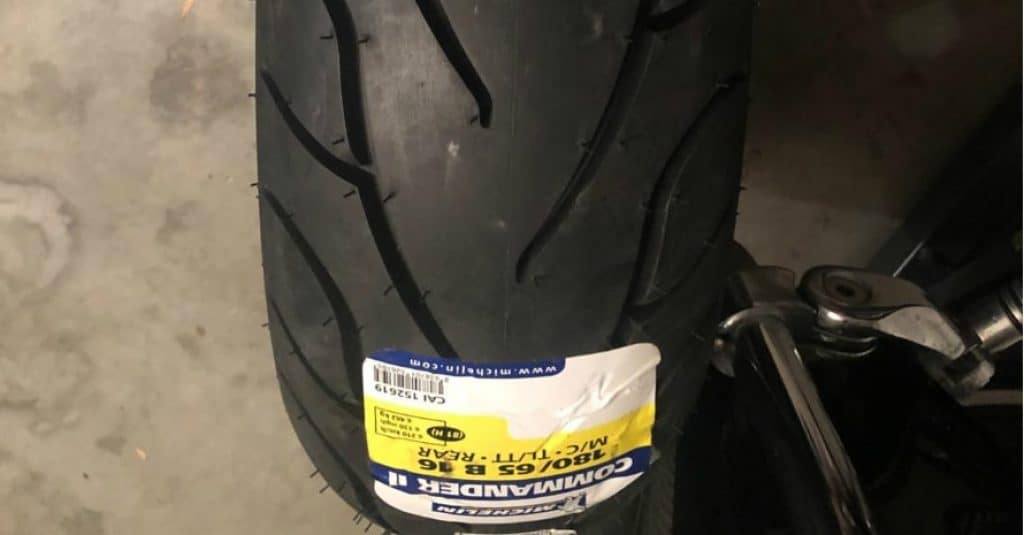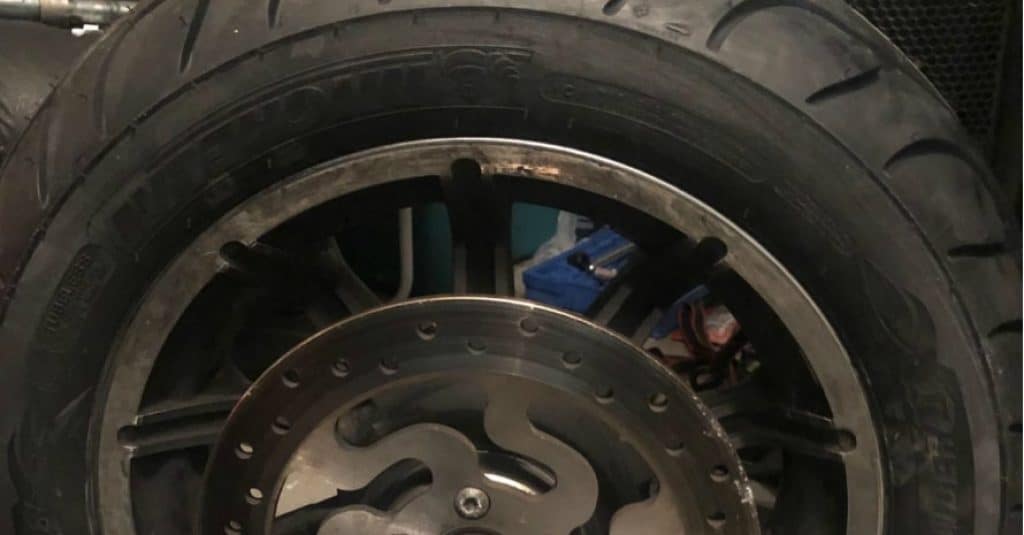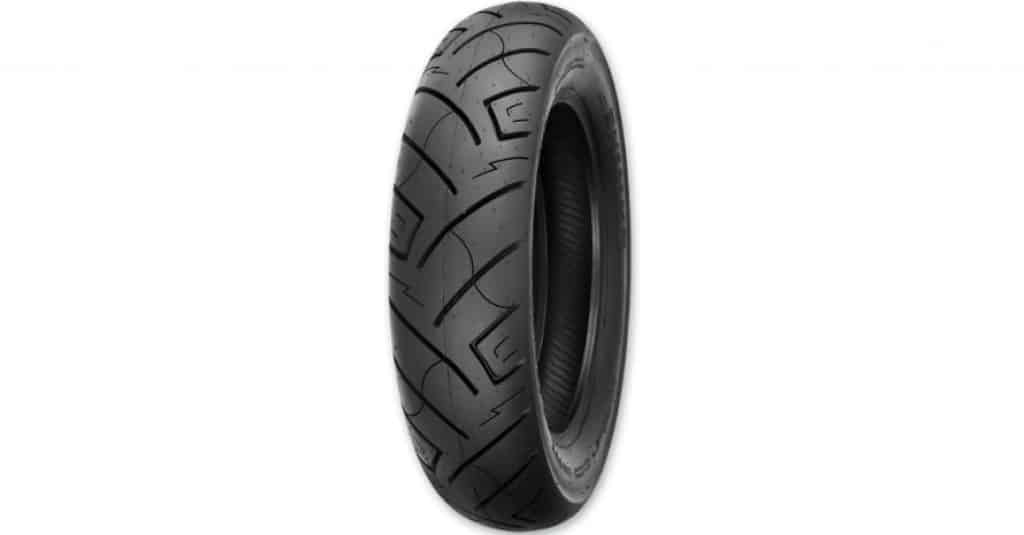 Classic is always on demand, especially when it comes to tires from Michelin. These tires are one of the most popular choices on the market. This time, the developers offer you prolonged longevity for any type of cruiser. Tests from the third-party commission made in 2011 proved that this product is twice more durable than similar competitors. The tire has a stiffer frame and a high density of rubber.
Features:
The top layer is made of: aramid fiber, which is lightweight and resistant to scratches;
Perfect grip on the water surfaces;
Longevity and durability;
Weight: 21.5 pounds;
Load index rating: 81. It can handle up to 1019 lbs;
Speed rating: H;
Dimensions: 25.2 inches x 25.2 inches x 7.1 inches. The rim diameter is 16 inches.
Michelin is a well-known brand that produces tires for various vehicles for many years. The developer is known for the high-quality of the product. This tire is suitable for versatile motorcycles, including Harley Road King. It is perfect for wet pavements, and you will not feel the difference with the dry road. I have checked it on different types of roads and used it for 5 years, and the tire still looks as good as new. The top covering guarantees stability at high speeds for the motorcycle.
Michelin Commander II Cruiser Bias Tire-180/65-16 81H
The MICHELIN tire for all types of cruisers, offering more longevity without compromising stability and handling.
Proven Longevity - The benchmark in longevity – commissioned third-party tests show that the MICHELIN Commander II rear tire lasts almost twice as long as its main competitors.*
No Compromise on Stability and Manuverability - Thanks to its high-density and therefore stiffer frame (MICHELIN Amplified Density Technology), MICHELIN Commander II features premium handling and responsiveness. The top layers in rear tires are made of aramid fibers, which combine resistance and a lightweight feel for perfect stability, even at high speeds.
Excellent Grip on Wet Surfaces - A brand new longitudinal tread provides outstanding water evacuation, and thus excellent grip on wet surfaces.
Commissioned third party tests conducted in 2011 on public roads comparing MICHELIN Commander II tires, Metzeler ME880, and Dunlop D407/D408 tires in sizes 130/80B17 and 180/65B16. Individual results may vary depending on motorcycle type and operating conditions.
Positives:
High-quality aramid fibers covering;
Longevity;
Wet surface grip;
Well-known developer;
Maneuverability.
Negatives:
This tire is slightly more expensive than similar tires of other brands.
---
2. Metzeler ME888 Marathon Ultra Rear – The Best Tire for Harley Touring Bike with High Mileage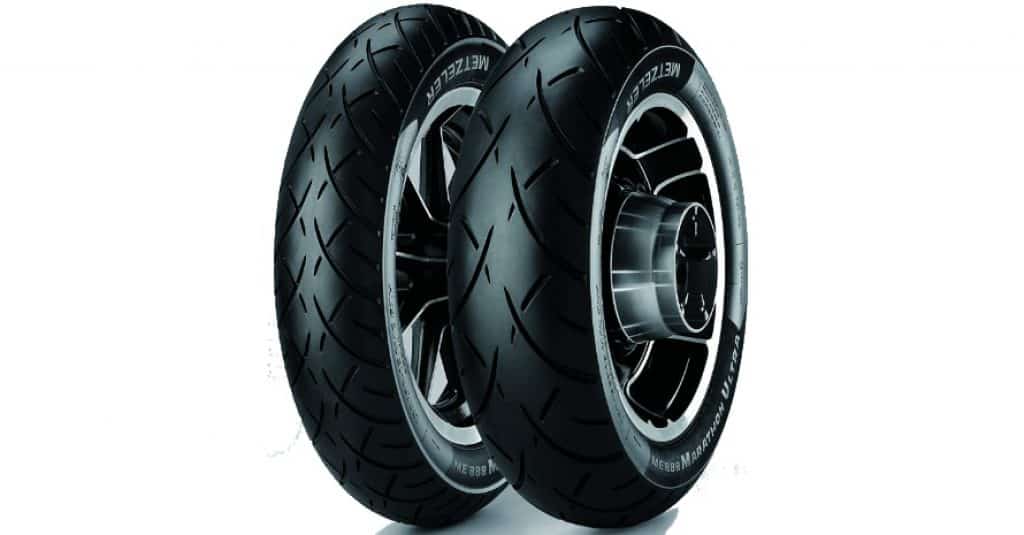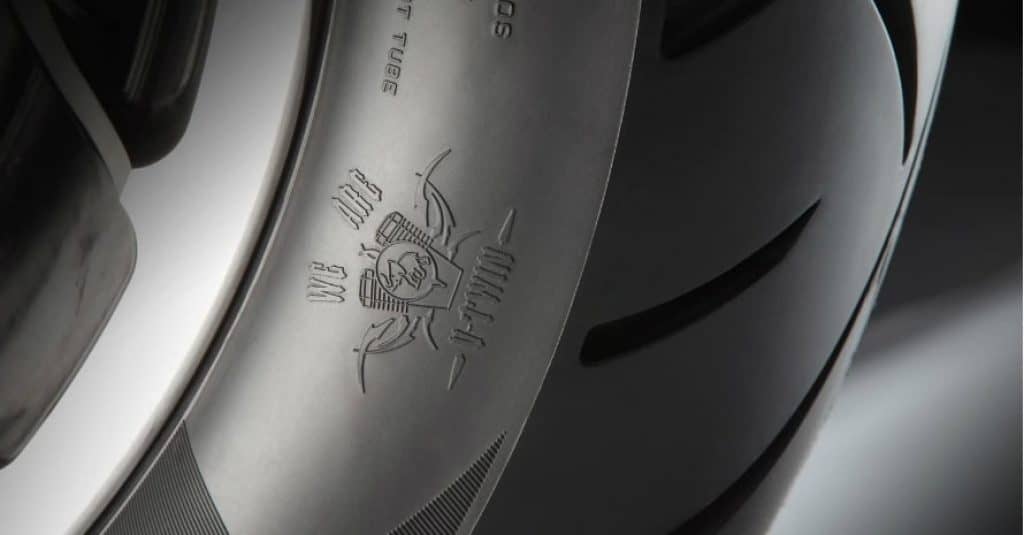 Marathon Ultra Rear by Metzeler is offered in numerous sizes and dimensions for every model of the bike. Owners of touring motorcycles, as well as V-twin cruisers, will find these tires extremely reliable. The tire provides high mileage for experienced riders. The prolonged life of the product allows you to travel for thousands of miles without rest. This tire was designed for touring motorcycles.
Features or Metzeler's Tire:
Weight: 8.8 pounds each tire;
Dimensions: 11.81 inches x 7.87 inches x 11.81 inches;
Speed rating: H, which is 130 mph maximum;
Load index rating is 81, and the tire holds up to 1019 lbs weight;
Its rim diameter is 16 inches;
This is a bias-ply tire;
High durability. It can serve you up to 12 000 miles on average with proper air pressure.
The tire was created by Metzeler, the developer of tires. It produces both front and rear tires for motorcycles. It is a top seller with dozens of positive reviews. I prefer to use this product mainly because of its stability on the road. With proper care, this tire will serve you for many years. The price is rather affordable. There are numerous options the seller offers you, so you can pick the most suitable variant for your motorcycle.
Metzeler ME888 Marathon Ultra Rear 180/65-16 Motorcycle Tire
High mileage tire for V-twin cruisers and heavy touring motorcycles.
The ME 888 Marathon Ultra - also known as the "Triple Eight" - does not replace the established ME 880, it merely provides a supplement for riders who value high mileage.
Ultra-high mileage.
Outstanding tread life (up to 50% more mileage) Metzeler combined with performance and handling.
Custom designed for touring bikes.
Positives:
High-quality rubber;
Affordable price;
High mileage;
Stability of the tire;
Well-known developer.
Negatives:
You have to make sure that the tire fits your model of the bike.
---
3. Dunlop Harley-Davidson Front Motorcycle Tire – Original Road King White Wall Tires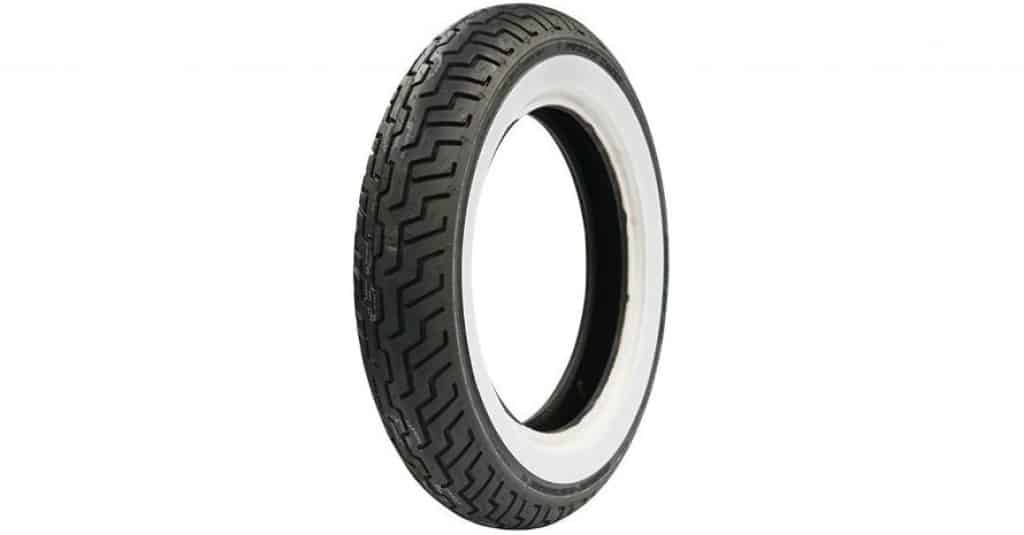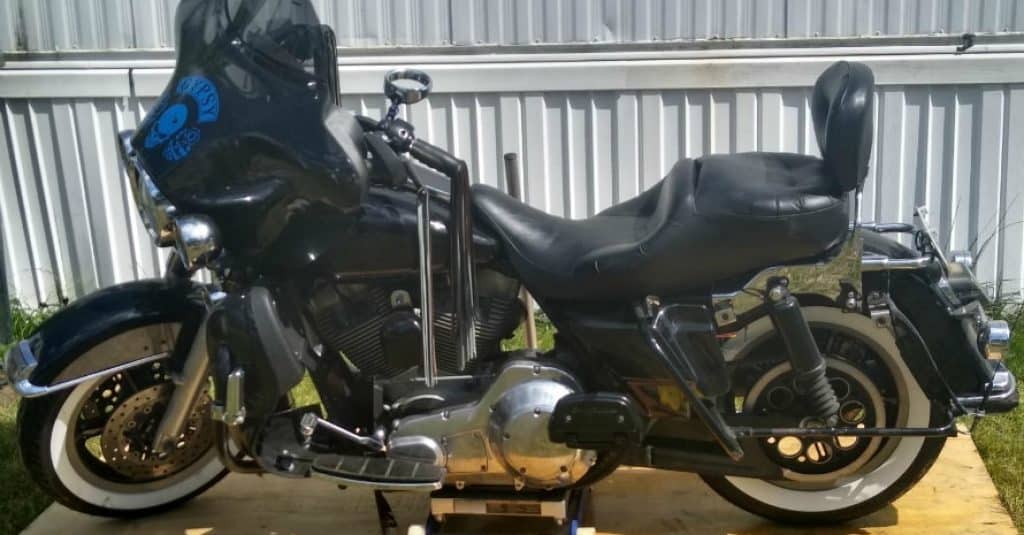 You will be surprised by how many riders usually ask about whitewall tires for their motorcycles. So, here it is. The wide tire made by Dunlop Tires is one of the most suitable front tires you can order for your Harley. Dunlop is the only one tire approved by Harley Davidson company for touring motorcycles.
There are several reasons for this, but the primary is that the casing of three-ply polyester has 2 belts of fiberglass that increases its load-carrying charge. Which, in this case, adds more stability to your bike. Besides, it has an advanced grip on water surfaces and bridges made of steel.
Features of Dunlop Tire:
Load index rating is up to 908 pounds;
You can choose a wide whitewall design or black. There is a slim and wide sidewall available;
Weight: 17 pounds;
Dimensions: 24.7 inches x 24.7 inches x 6 inches;
Rim diameter is 3 inches;
Speed rating: H.
Dunlop developers also offer you rear tires. The company is legendary. It was created back in the 1888 year in the USA. Since that time, Dunlop Tires continues to extend its production and raise the audience. If you want to buy a rear tire from Dunlop, you can choose the D402 MT90B16 model, which fits perfectly with this front tire.
Dunlop Harley-Davidson D402 Front Motorcycle Tire MT90B-16...
The Dunlop D402 is the only motorcycle tire approved by Harley-Davidson for its touring bikes. Built with a three-ply polyester casing with two fiberglass belts, the Dunlop D402 offers greater load-carrying capacity and stability.
Computer-optimized tread profile with offset center groove improves rider confidence over rain grooves and steel-grated bridges, while reducing cupping for even wear.
The Dunlop Harley-Davidson motorcycle tire Series D402 is available in front and rear blackwall, single white bar, or wide white sidewall, all with an H speed rating.
Wider MU85B16 rear tire is now available in black, slim white sidewall and wide white sidewall, and is load-rated up to 908 pounds.
D402F MT90B16 is a front tire only and is not interchangeable with D402 MT90B16 rear tire. SW = Slim White Sidewall. WWW = Wide Whitewall.
Positives:
Reliable coating;
WWW design;
Affordable price;
Approved by Harley Davidson;
Water surface grip.
Negatives:
You will have to buy a rear tire additionally if you need it.
---
4. Pirelli Night Dragon GT Rear Motorcycle Tire – Native Harley Davidson Road King Rear Tire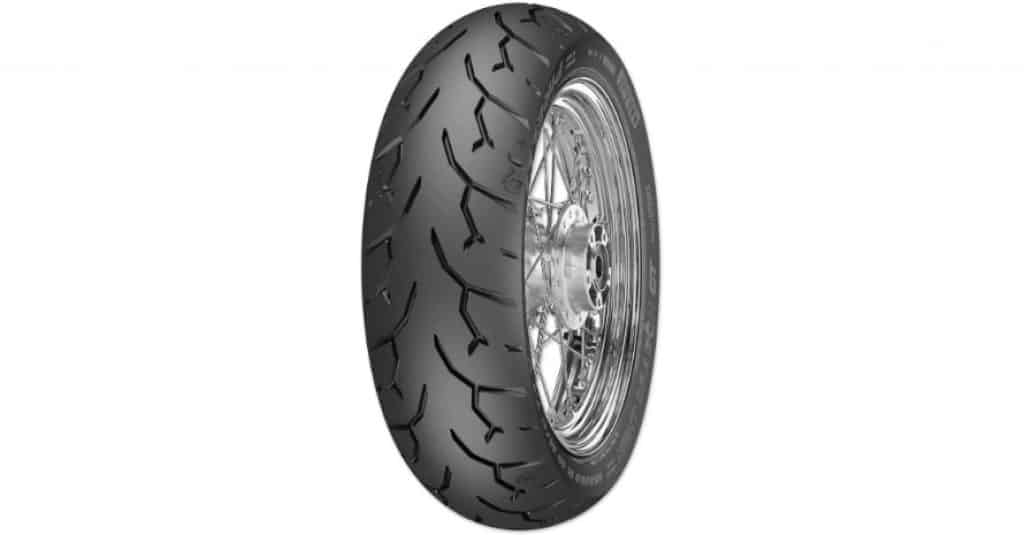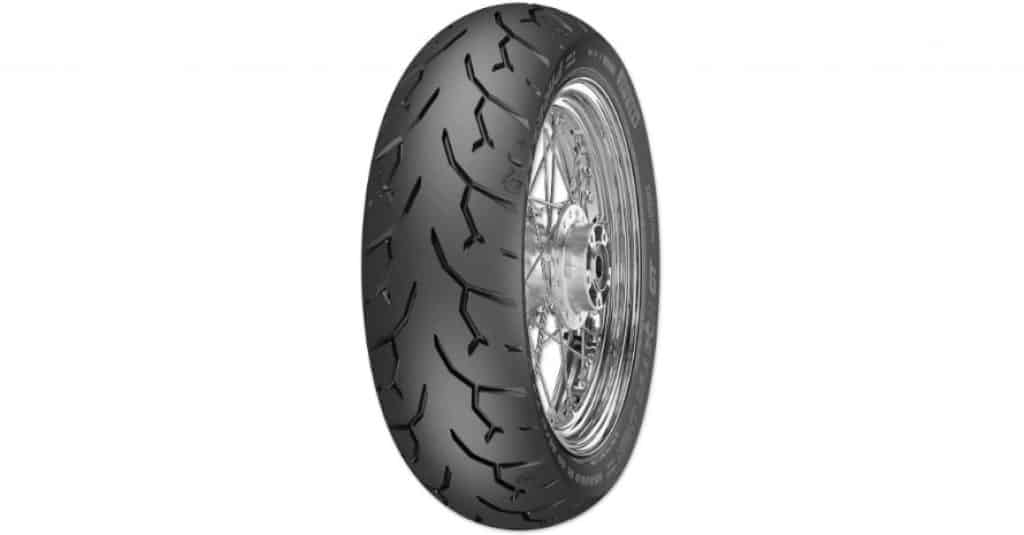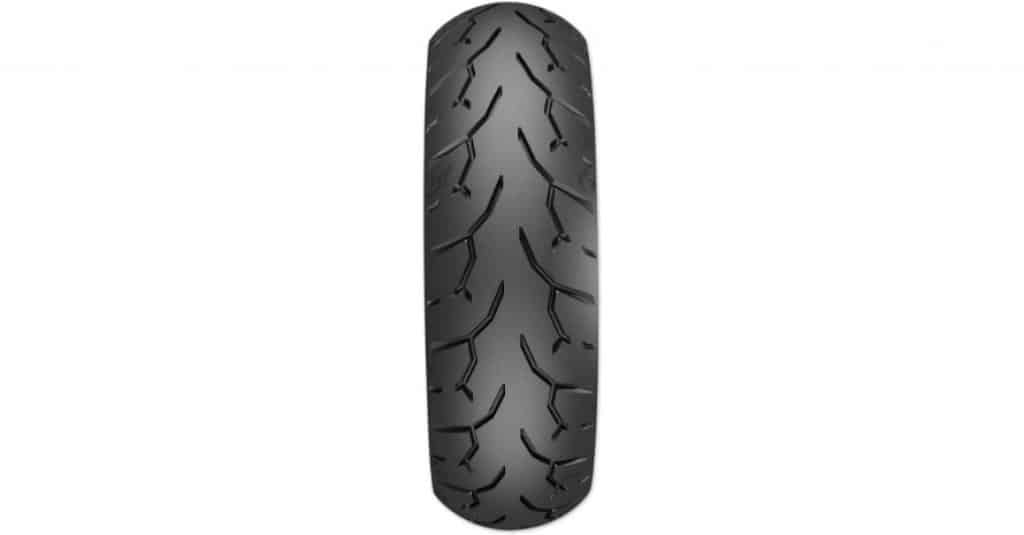 Apart from the impressive name, Night Dragon by Pirelli is a tire made for motorcycles of the Harley-Davidson brand. You can put this tire either on cruiser or custom motorcycles, and it will still ride splendidly on versatile road coating.
This product has an excellent grip and is stable on the slippery surface. The high mileage is reached mainly because of the fiber cover and well-developed design. There are grooves, especially places between the edge of the tire and the crown that made it resistible to the water.
Features of Night Dragon:
Weight of the tire: 21.8 pounds;
Dimensions: 20.61 inches x 7.09 inches x 20.61 inches;
Rim diameter is 16 inches;
Load index rating: 81;
Speed rating: H.
Pirelli is a famous developer of the tires. It offers tires for cars, bicycles, and motorcycles. This is an Italian company founded in 1872. Today they are presented widely on the global market. Night Dragon fits numerous models of Harley Davidson. However, I suggest you check whether it is compatible with the model of your motorcycle. Night Dragon itself is a line of high-quality tires, released in 2008 for the first time. The line was developed specifically for custom, touring, and cruiser motorcycles.
Pirelli Night Dragon GT Rear Motorcycle Tire 180/65B-16...
Where performance meets the road: A specific tire for high-performance Harley-Davidson® motorcycles.
Better adherence, road holding and look than standard tires for custom / cruiser motorcycles.
Designed for custom motorcyclists that need tires with high performance on the straight and inclining.
Excellent grip and a higher mileage.
Great fun to ride with a good balance between reliability and life of the tire.
Positives:
Made for Harley-Davidson vehicles;
Stable on any surface;
High mileage;
Suits to numerous models;
Unique design.
Negatives:
It is slightly expensive compared to similar tires from other companies.
---
5. Dunlop American Elite Whitewall Rear Tire – One of the Most Reliable Harley Davidson Road King Tires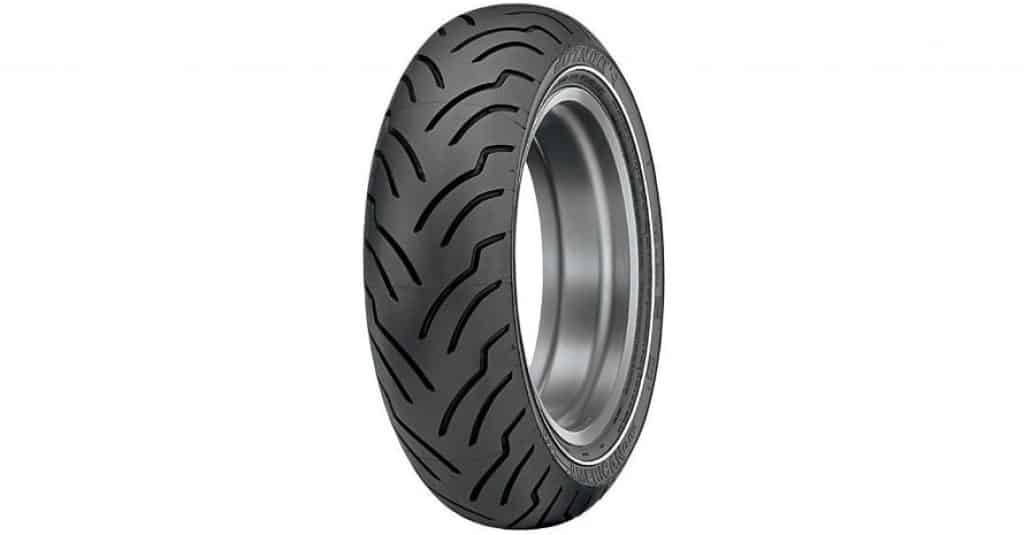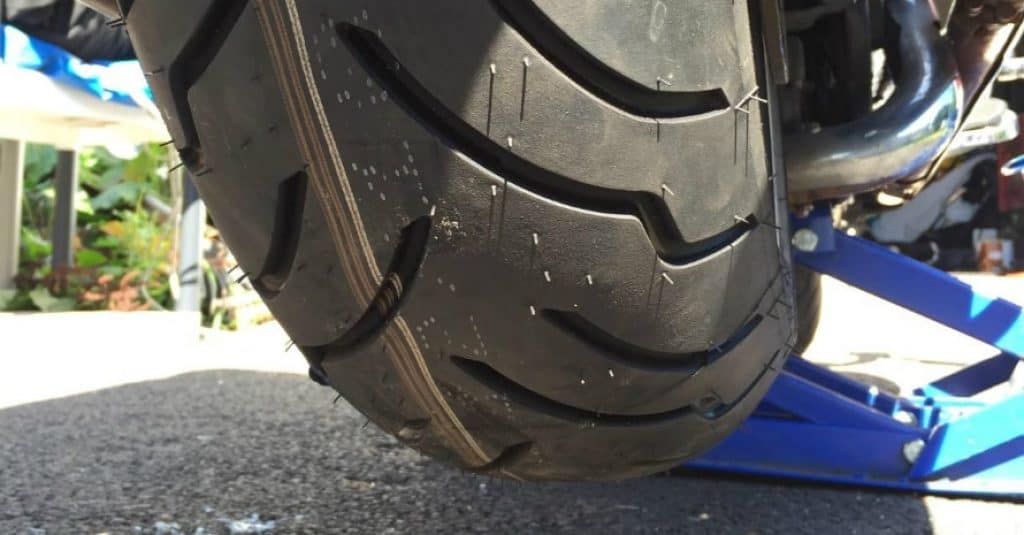 This tire looks rather exquisite. It has a narrow whitewall inside it and an admirable fresh design. Since Dunlop is known as a manufacturer that produces tires specifically for Harley-Davidson, it perfectly fits the motorcycle.
The tire was made in the USA and is known for its great quality. High-quality coating provides increased mileage. Some customers tried the tire for over 15 000 miles and say it is still good and reliable. I couldn`t check it for such length of the road, but the item looks extremely solid and has an advanced grip.
Features of Dunlop Elite Tire:
Width: 180 millimeters;
Weight of the tire: 22 pounds;
Aspect ratio: 65;
Rim diameter: 16 inches;
Load index rating: 81;
Speed rating: V, which means that tires can handle up to 149 mph.
The tire was created by Dunlop company, which offers best selling tires for various Harley-Davidson motorbikes. You can check out its rear and front tires. These tires were tested and approved by Harley-Davidson. This tire is smooth in ride and does not require much attention to it. I still recommend making sure that the air pressure in the tire is normal. This way, it will serve you for a much longer time.
Positives:
Originally created for Harley-Davidson;
Advanced grip;
High-quality coating;
Stylish design;
Affordable price.
Negatives:
This rear tire has a narrow whitewall; if you want black, you have to check out other options.
---
6. Shinko 777 Rear Tire – Top Choice for Versatile Sizes Among Harley Road King Tires Reviews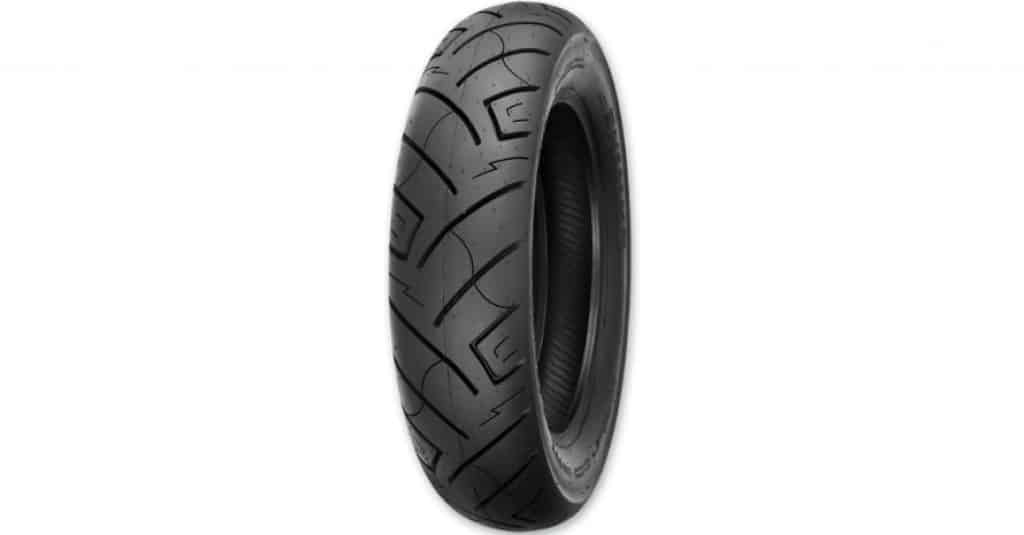 This tire was originally created for cruisers. It has multiple sizes for various motorcycles, so you will definitely find the perfect tire for you. It will fit the metric and V-twin cruisers. The load capacity is high, as well as the mileage due to the reliable coverage of the tire.
The tire was designed for different types of roads, and the tread rubber compound was intended for long roads. The durability of this tire is one of the best. If you need an advanced carcass for a heavy-duty bike's version, you can order it. Just pay attention to the size you need. There are 4 and 6 ply rated, H tubeless tires.
Features of the tire:
Speed and load index is 81 H, which is the maximum capacity to 1019, and speed is up to 130 mph;
The rim is 5.00 inches;
The diameter of the tire is 25.20 inches;
The width of the tire is 7.09 inches;
The aspect ratio is 65.
Shinko is the US-based developer of tires. It has a long history and a wide number of clients. This tire is suitable for Harley-Davidson bikes. Because of the specific design of the tire, it holds great on wet surfaces. Another advantage of the tire is that it is tubeless and does not require any tubes if you don't have them.
Shinko 777 Rear Tire (180/65-16 Reinforced)
Specifically designed for cruiser machines and is available in a multitude of sizes to fit many V-twin and metric cruiser models.Higher mileage and load capacity.Tread compound designed for a great combination of traction and mileage.Directional tread pat
(Heavy Duty) version with reinforced carcass available in select sizes.H-rated tubeless, 4 or 6-ply rated.DOT approved.Tire Specifications:Load / speed index: 81H.Recommended rim (inches): 5.00.Overall diameter (inches): 25.20.Overall width (inches): 7.09
Positives:
High mileage;
Strong grip on wet surfaces;
Unique design;
Heavy-duty coating;
Affordable price.
Negatives:
There is no whitewall model.
---
7. Bridgestone Excedra Cruiser Rear Tire – The Best Among Touring Harley Road King Tires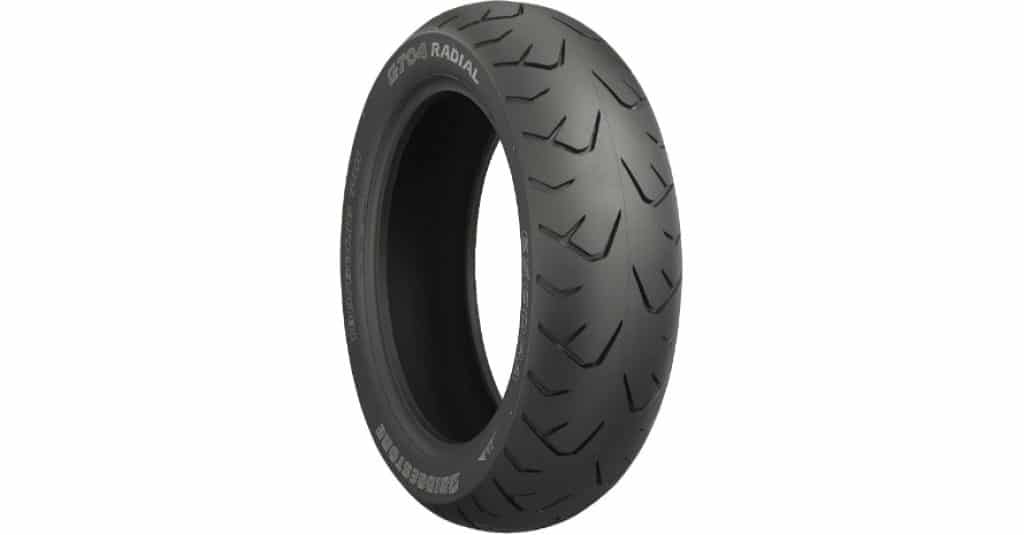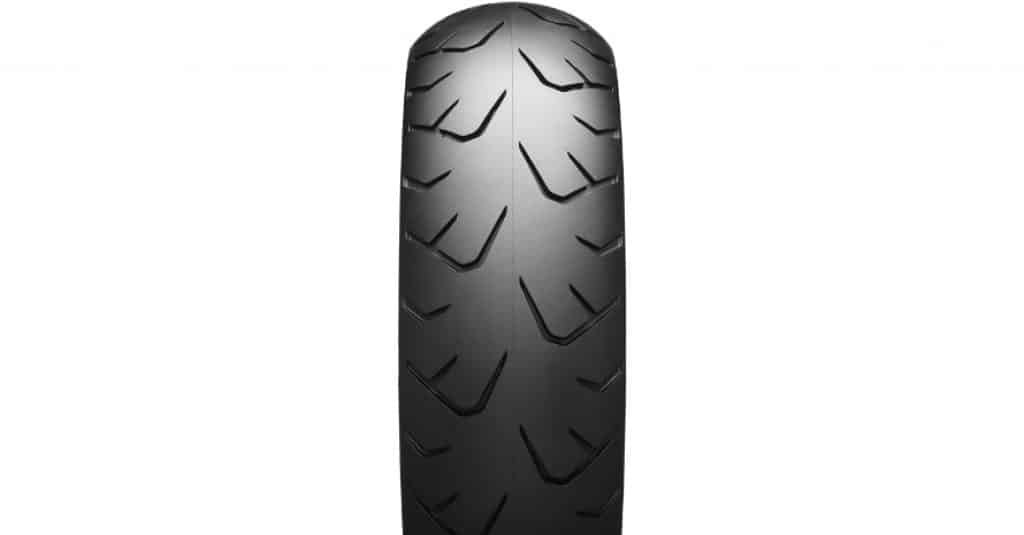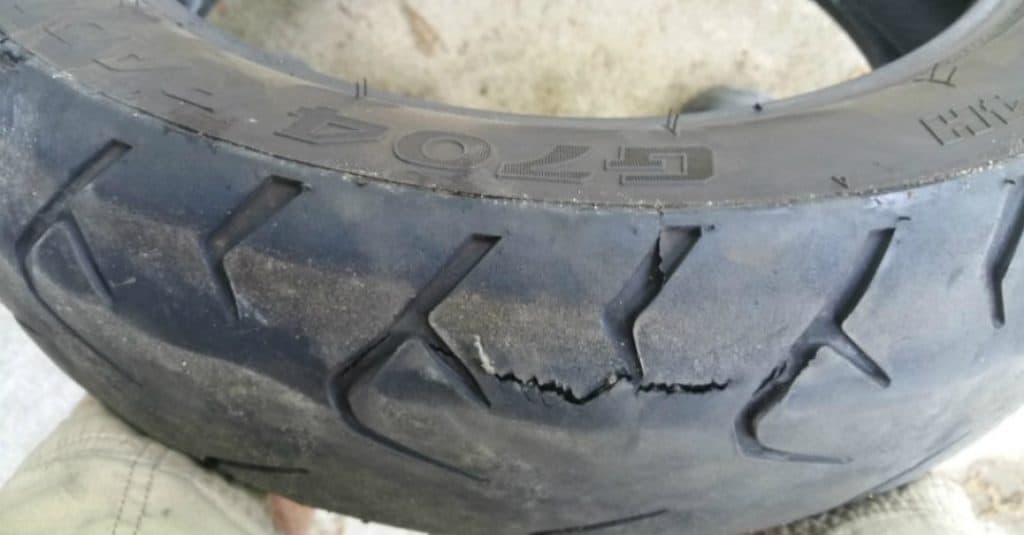 This cruiser tire suits well for cruising vehicles. This is a rear tire, but if you need the front one, the developers offer a wide range of products. The pattern on tire's coating is one-directional and perfect for both wet and dry roads' surfaces.
Even on the wet pavement, the bike will hold reliably. While the tire was originally made for Honda GL 1800 Goldwing, it is perfect for Harley Road King as well. The tire is widely used on street roads. The item has high mileage, and it is tubeless.
Features of the tire:
Weight: 19 pounds;
Dimensions: 24.5 inches x 24.5 inches x 7.1 inches;
The width of the section is 180 millimeters;
Aspect ratio: 60;
The diameter of the rim is 16 inches;
Load index rating: 74;
The speed rating is H.
Bridgestone is a well-known developer of tires for a wide range of vehicles. You can also buy a tire for your car. This is a bestselling brand in the USA. The company offers a high quality of its products. This tire is perfect for touring bikes.
While some Bridgestone fans claim that this tire suits the motorcycle better than similar Dunlop tires, I believe they are equally good. You can combine this rear tire with Dunlop's front model for better results.
Bridgestone Excedra G704R Cruiser Rear Motorcycle Tire...
Radial touring rear tire designed for the Honda Goldwing 1800.
Uni-directional pattern for reliable performance on dry and wet surfaces
Specifically constructed for today's American style Touring bikes.
Original Equipment on Honda GL1800 Goldwing
Positives:
Tight grip on wet surfaces;
Weight is lighter than in similar products;
Well-known brand;
Affordable price;
High mileage.
Negatives:
It was not originally made for Harley Davidson.
---
8. Full Bore M-66 Tour King Cruiser Motorcycle Tire – Designed Specifically as One of the Harley Touring Tires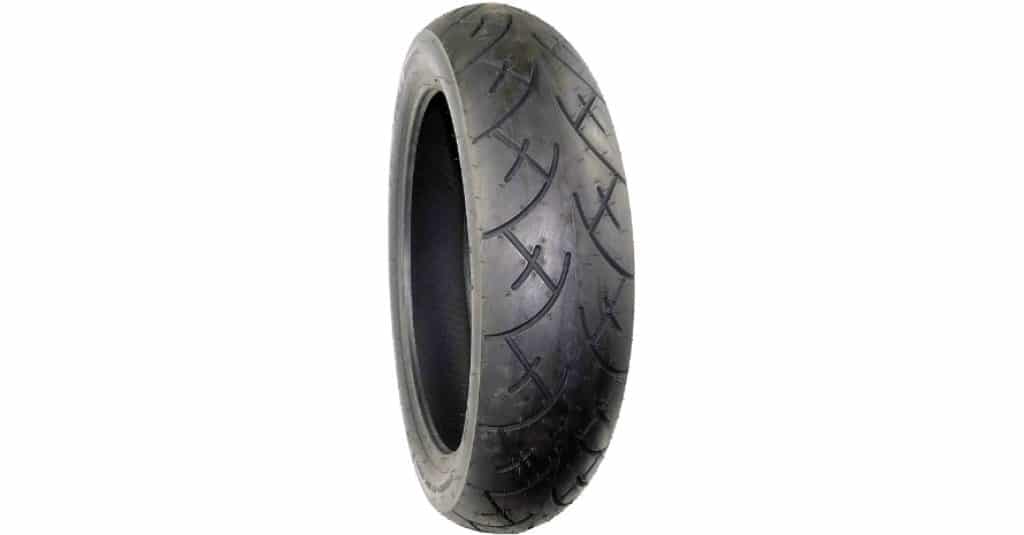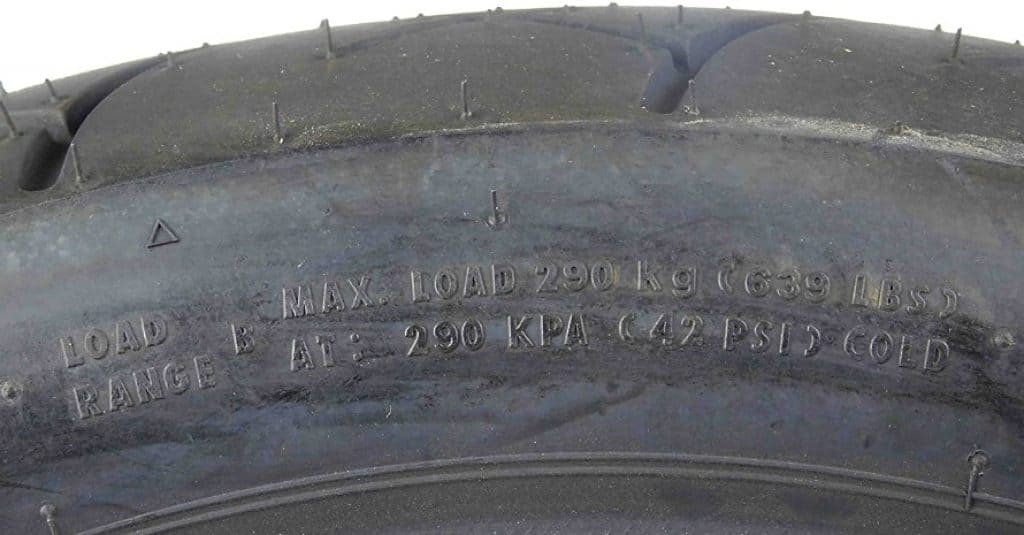 The tire is designed originally for the Harley bikes. It works splendidly on both touring and cruiser motorcycles. There is advanced traction on the tire that provides multiple benefits for the driver. The Tire has a perfect grip and is stable even on the wet surfaces. Heavy cruisers will benefit from its high load capacity.
Features of the tire:
The width of the section is 130 millimeters;
Aspect ratio: 80;
Rim diameter: 17 inches;
Speed ratio: H, up to 130 mph.
Full Bore is the American manufacturer that produces not only tires but various equipment and tools for your vehicles. This tire is perfect for long-distance travel, as it can handle any weather condition. The tire is reliable and has high mileage. It provides the high speed to your motorcycle with superior traction. Depending on the roads you will choose for your rides, it will serve you for many thousands of miles.
Positives:
Fits the model greatly;
Tubeless tire;
Affordable price;
Strong grip;
High mileage.
Negatives:
The load range may not be enough for experienced bikers.
---
How to Choose the Tire for Your Harley: Tips and FAQ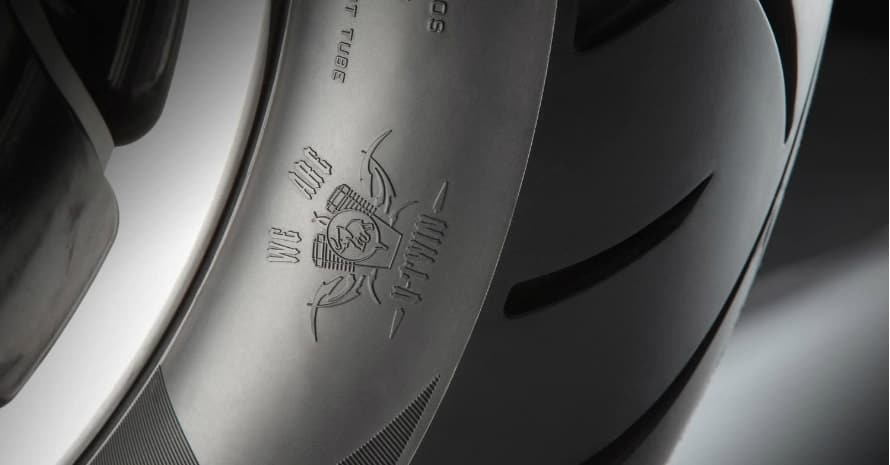 Punctured or worn tires can spoil all your fun on a long trip. Besides, it can be extremely dangerous to travel with unreliable tires. Ignoring such factors as the grip on the wet surface, slippery steel pieces of bridges, you can put your life in danger. Depending on your personal preferences, you can find the most suitable tires for your bike.
Durability
I have mentioned the high mileage of each tire on the list and its reliability on the road not because I am biased, but because I've gathered the most durable tires here of the well-known developers. Durability is highly important on the road, mainly because the flat tire in the mountains may cause you numerous troubles. Hard compound tires may be slightly more expensive than others, but in the end, you will save your money on replacements.
Price
It is the second important thing to consider. Cheap tires do not last long. Expensive tires may not bring you the satisfaction you've expected. My suggestion is to find the perfect balance between cheap and costly ones. On the list, there are no unaffordable tires. However, I did not look twice for cheap products since this motorcycle requires a high-quality level. You can mix manufacturers when it comes to choosing front and rear tires to save money.
Speed rating
The most popular speed rating is H when the tire can reach up to 130 mph. There is also a V speed on the list with up to 149 mph. This is the maximum rate tested by the developers that are considered to be safe for drivers. The coating of tires and the grip on the water also influence the speed of the motorcycle.
Dimensions and weight
It is not true that the lightweight tires are the best. High mileage is usually provided by heavy-duty tires. You need to consider whether both front and rear tires suit the motorcycle perfectly. It is also important to check their speed rate and the stability on the road. You will find dimensions and weight in features of each tire from my list. Check them out so you can see whether the tire is compatible with your bike.
Materials
The first tires were made from simple natural rubber. They were not even as durable as modern ones. Nowadays, all tires are made of synthetic rubber, the mix of silicone, carbon black, and sulfur with petroleum. The coating is usually made of aramid fiber for a better grip.
Which One Is Better? Metzeler ME888 vs Michelin Commander II
Since this is the most popular question among experienced riders, let me confuse you even more. I believe that they are both great. They are suitable for your Road King as if they are native. However, in my opinion, the Michelin tire is smoother than Metzeler's.
They offer an incredibly easy ride. In Metzeler's defense, I say that their tires may last longer. Basically, which one to choose is up to you and your style of driving. If you love high speed and rubber's abuse, Metzeler is your choice. If you are an aesthete by nature who wants a smooth ride, you can pick Michelin.
The Most Popular Questions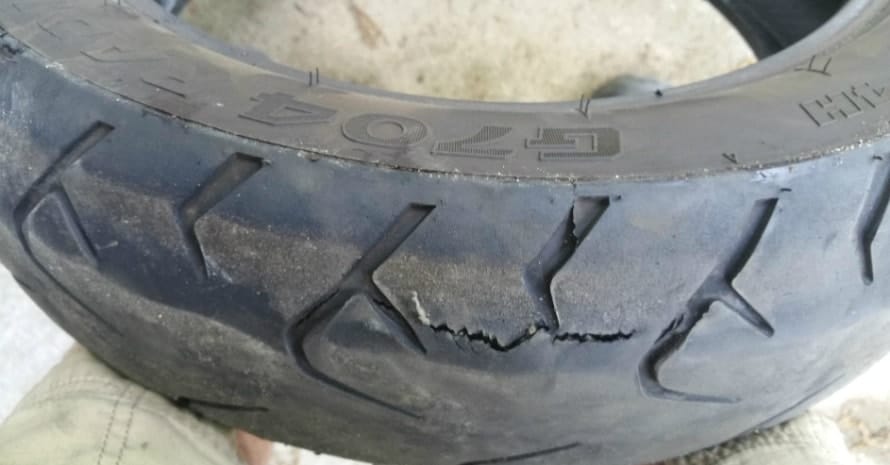 Here are a few questions that are frequently asked by riders. If you have not found the answers on your own experience, this may be useful for you. If you have something to add, you can do it in the comments below.
What is the tire size of Harley-Davidson Road King?
The size of Harley Davidson Road King is 130/80-B17. The rear's size is 180/65-B16. Check out the size of the tire before you buy it. It must fit the Road King's sizes.
How to change the tire on Harley Road King?
There are literally hundreds of videos on YouTube that will guide you step by step. You can change your tire manually, or you can ask professionals. Depending on your skills, you may choose to ask for professional help. Normally that does not cost over $100, but it can vary depending on the tire, manufacturer, and motorcycle.
What is the lifespan of Harley tires?
Reliable and durable tire usually serves up to 5 years on average. With the proper care, you can extend its lifespan up to 10 years. However, many experienced motorcyclists believe that after 5 years of service, even still working visibly unharmed tire must be changed. It is up to you, but I also don't recommend going for long distances if the tire is older than 5 years.
What should my tire pressure be?
Tires for street motorcycles usually provide the pressure from 28 psi to 40 psi. You need to follow the label on the tire that defines which pressure is preferable. It also depends on the load conditions. Big and fat tires like UTVs and ATVs normally require 2 to 10 psi. Small tires in diameter may require up to 60 psi.
The Most Suitable Tires for Harley Road King
I have mentioned 8 brilliant tires from different manufacturers that are suitable for Harley Road King. There are front and rear tires, whitewalls, with wide and narrow rims. This collection includes tires for street, cruisers, and mixed bikes.
All of them are made for long distances and have a perfect grip on wet and slippery surfaces. I also recommend them because of the famous developers that have been providing high-class tires, certified by experts, and popular among American riders, during many years. I hope my guide will help you to buy the most reliable tires for your bike.
I also recommend you to pay attention to the company-developer, dimensions, mileage, and speed rate. I have mentioned these features in every description of each tire. If you tried at least one of the tires I have described, please, share your opinion in the comments below
Also, please, answer several questions I am extremely curious about. How do you like Harley Road King? How many years have you been using it? Do you have different developers of front and rear tires? Don't hesitate to express your opinion even if you don't like the tire or had some negative experience with it.