If you are not quite sure whether it is time to change your Harley transmission oil, simply enter your model's VIN on the official H-D service info site and get the official Instruction Sheet. In its Basic RiderCourse Handbook, Motorcycle Safety Foundation insists on checking the oil level before your every ride.
And, once your Harley transmission fluid needs to be replaced, check our list to get the most appropriate oil (synthetic or mineral-based) to serve your bike effectively under any weather conditions and temperatures. Protect your Harley-Davidson's gear using the best transmission oil for Harley-Davidson and enjoy a comfortable ride longer with our Harley gear oil recommendations.
Comparison Table
Amazon Bestseller
Pros
Uses unique G4 Technology for gear protection
Top Pick
Pros
Uses unique G4 Technology for gear protection
Top 5 Best Transmission Oil for Harley-Davidson
All the brands of transmission oil listed below are perfectly suited for Harley-Davidson bikes. They do not void the warranty and meet all the HD requirements.
1. Spectro Oil Heavy Duty Platinum — Best Transmission Oil for Harley-Davidson
If you like riding frequently, and your routine trip is many miles long, Spectro Oil will be ideal for you, as it functions perfectly under heavy loads and pressure. You will forget about cold weather transmission problems and issues with shifting gears and never stop enjoying the freedom of adventure.
This synthetic Spectro oil allows your transmission to work for miles before you have to refill it. Its unique G4 Technology and special additives create the proprietary formula that covers gears with a film that protects them and makes gear shifting exceptionally smooth. G4 Technology additionally provides anti-wear protection and more quiet transmission.
5th gear often irritates experienced riders with its noise, and Spectro Oil Heavy Duty Platinum readily eliminates the clunking and whining sounds. And the owners of the fantastic but loud 6-speed transmission would also appreciate this oil for its noise reduction properties.
It's good news that Spectro Oil Heavy Duty Platinum is warranty-friendly to your Harley-Davidson. Even though this oil is not multifunctional and costly, it is still the best all-weather, smooth-shifting transmission oil for Harley-Davidson in 2022!
[wpsm_column size="one-half"][wpsm_pros title="Positives:"]
Performs well under extreme load and high pressure
Stays effective for many miles due to high viscosity
Uses unique G4 Technology for gear protection
Meets the HD warranty requirements
Significantly reduces Harley's 6-speed noise.
[/wpsm_pros][/wpsm_column][wpsm_column size="one-half" position="last"][wpsm_cons title="Negatives:"]
It's a bit challenging to find it in retail.
[/wpsm_cons][/wpsm_column]
2. Red Line V-Twin Transmission Oil — Harley Sportster Transmission Oil
Sale
Red Line (42904 V-Twin Primary Case Oil - Engine Oil (1...
PRIMARY CASE OIL - For 1984-to-present V-Twin American motorcycle engines, including Evolution, Twin Cam, and aftermarket engines of similar design
BOOSTS VEHICLE PERFORMANCE - Improves clutch operation while reducing wear and temperature, providing a longer clutch lifespan
PERFORM & PROTECT - This product is for use in the primary chaincase with wet-diaphragm spring clutches. Perfect for Motorcycles, ATVs, and Powersports
WHY RED LINE - Established in 1979, Red Line Products perform & protect better than any on the market. No compromises
FRICTION BALANCED CASE OIL - Most synthetics are too slippery for clutch operation. Our V-Twin Primary Case Oil is a balanced oil limiting slip and performing a smoother operation
How do you feel about listening to the gearbox noises when riding a sportbike? It can drive a person mad, and the main factor that affects it is transmission oil. The fluid cannot withstand the pressure of the gear teeth as they shift. And, when you have a Sportster by Harley-Davidson, this problem seems even more frustrating.
But the solution is easy; all you need to do is switch to Red Line V-Twin Transmission Oil. Its friction modifiers substantially dampen the gearbox sounds, which is why Red Line producers marked its oil bottle with a "shockproof" title. The Red Line oil's high viscosity allows it to cover every gear tooth with a thick layer and, thus, protect it from wear and tear.
Especially true for sports bikes, engine overheating is a serious problem that can hamper your riding performance and, eventually, damage the engine itself. The synthetic transmission oil by Red Line prevents the transmission fluid temperature from growing too quickly and extends the life of your engine. Also, the oil accumulates dirt as it flows within the engine, cleaning it and preventing the dirt from clumping together.
You will not have to worry about warranty issues as Red Line V-Twin Transmission Oil meets all the HD requirements. This Harley-Davidson transmission oil specifications allow it to be used in all Harley-Davidson transmissions, including Twin Cam and Evolution engines, as well as the recent Cruise Drive with its 6-speed transmission. The noticeable pink color of the liquid is useful in the case of leakage.
[wpsm_column size="one-half"][wpsm_pros title="Positives:"]
Reduces the noise of the gearbox
Has a bright pink color
Its high viscosity protects gear teeth
Cleans the engine
Prevents the gearbox from overheating
[/wpsm_pros][/wpsm_column][wpsm_column size="one-half" position="last"][wpsm_cons title="Negatives:"]
Some riders reported the smell of the burning oil
[/wpsm_cons][/wpsm_column]
3. Mobil Delvac Synthetic Transmission Fluid 50 — Harley Transmission Fluid with High Viscosity Index
Having a viscosity index of 146, this fully synthetic oil by Mobil brand supports shear stability. It keeps its viscous properties even under high temperatures and heavy-duty conditions. Therefore, this Harley Transmission oil weight is exceptional for your off-road tracks and adventures.
With this transmission fluid, you can save on your fuel and extend the functional life of your Harley's components. Mobil Delvac Synthetic Transmission Fluid 50 also works great at low temperatures and allows starting quickly due to improved shifting.
The Mobil Delvac oil is compatible with GL1 to GL-4 gears, which means it cannot be used for your 6-speed HD, which requires the GL-5 oil. The difference between the two is in the quantity of EP (extreme pressure) additives and, the higher the EP, the greater the GL is.
For instance, GL-5 has twice as many EP additives as compared to GL-4; that is why it is crucial to follow the manufacturer's recommendations based on the pressure, temperature, and riding conditions. This oil meets the original equipment manufacturer (OEM) warranty and can be used for your Harley-Davidson bike with no warranty voiding.
[wpsm_column size="one-half"][wpsm_pros title="Positives:"]
Has a high viscosity index
Reliable in extreme operational conditions
Helps with fuel economy
Meets warranty requirements
[/wpsm_pros][/wpsm_column][wpsm_column size="one-half" position="last"][wpsm_cons title="Negatives:"]
It cannot be used for your new HD 6 speed
[/wpsm_cons][/wpsm_column]
4. Maxima Racing Oil V-Twin Transmission — Best Transmission Oil for Harley 6 Speed
Sale
Maxima Racing Oils 40-01901 85w140 V-Twin Transmission/Gear...
Formulated specifically for Harley-Davidson transmissions or V-Twin models without wet-clutches
Superior protection from wear, pitting and spalling
Shear stable formula maintains viscosity and ensures smooth shifting
Surface-active chemistry keeps surfaces free of corrosion, deposits and wear
Exceeds API GL-5 specifications
Harley-Davidson manufacturers understand that its Harley riders may not always find the dealers to buy genuine transmission oil. For such cases, the HD manual gives recommendations for the oils that are acceptable for use. This way, you can use the HD transmission oil equivalent without damaging your transmission or voiding your warranty. The formula providing high performance is exceptional for extreme riding conditions your Harley often faces.
Without a doubt, you can use Maxima Racing Oil for your HD, including the 6-speed Harley transmission, as this mineral-based oil for motorcycles generates a film on the gearbox parts and works ideally under extreme loads on your transmission during racing. However, you will need to change this mineral-based oil more often than its fully synthetic equivalents, which may result in greater costs.
The additives that protect the gear from the high pressure and chemicals that cover the transmission elements' surface make the shifting softer and less noisy at shock loads. This Harley-Davidson transmission oil capacity allows you to ride on your bike non-stop for many miles.
[wpsm_column size="one-half"][wpsm_pros title="Positives:"]
Can be used in a 6-speed gearbox
Smooth gear shifting at high loads
Protects against heavy loads and wear
Includes detergents
[/wpsm_pros][/wpsm_column][wpsm_column size="one-half" position="last"][wpsm_cons title="Negatives:"]
Mineral-based oil needs to be changed more frequently
[/wpsm_cons][/wpsm_column]
5. Bel-Ray Big Twin Gear Oil — Harley-Davidson Transmission Oil Equivalent
Sale
This manufacturer guarantees to make the gear shifting process smooth and even promises to increase your Harley's power! This oil almost completely eliminates the sliding friction, allowing your bike's motor to work better than it ever did before.
The chemical additives used in this Bel-Ray oil give superior shock protection to the most sensitive parts and decrease friction, unlike almost all other oils on the market. This fluid protects the transmission from oxidation by creating a film of oil that retains its properties even under high temperatures.
Bel-Ray Big Twin Transmission Oil was created for Harley-Davidson's V-Twin Engines. These engines' transmissions require hypoid oils. The viscosity of the Bel-Ray oil helps to avoid (or at least minimize) the breakdown effect of the gear shearing. This Bel-Ray oil's distinct red color makes it noticeable when it leaks, allowing you to notice when something is wrong immediately.
[wpsm_column size="one-half"][wpsm_pros title="Positives:"]
Maximizes horsepower rate
Smoothens gear shifting
Minimizes gear shearing
Resistant to extreme temperatures
[/wpsm_pros][/wpsm_column][wpsm_column size="one-half" position="last"][wpsm_cons title="Negatives:"]
Some may not like its vivid red color
[/wpsm_cons][/wpsm_column]
Follow the Recommendations of the Manufacturer
Before you decide to buy any Harley-Davidson transmission oil equivalent, learn the manufacturer specifications for the transmission fluid, as recommended by the Universal Technical Institute of Illinois. Please remember to avoid multifunctional oils and buy separate fluids for your motor and transmission instead.
This option will cost you more but will result in a better and longer performance of your bike. Any motorcycle transmission oil from the list above is good for your HD. However, Spectro Oil Heavy Duty Platinum is the best oil for Harley transmission that will not void the warranty!
What about your own experience with Harley transmission oil? Tell us if you have already changed it, which brand you preferred, and whether it was to your liking.
FAQ Section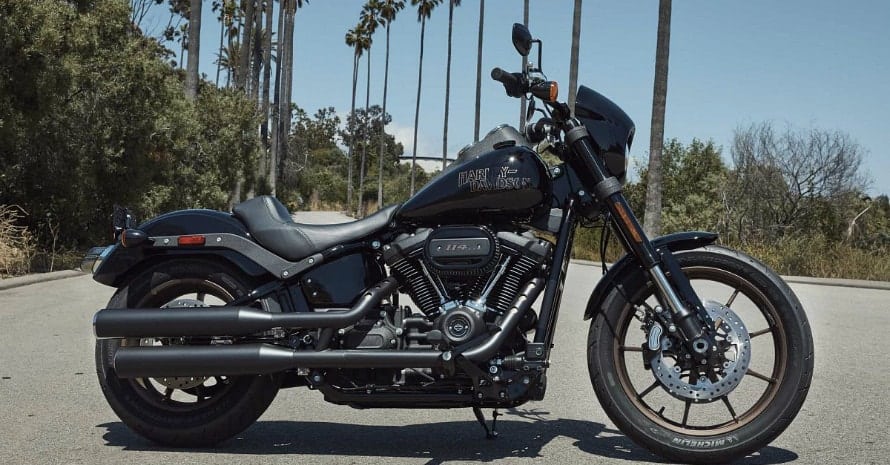 Here is a list of the most frequent questions that people ask with regard to the Harley Davidson transmission oil change.
How many quarts does a Harley-Davidson transmission take?
The capacity of the Harley-Davidson transmission container is around 24 ounces, which equals 0.75 quarts. Harley-Davidson's official service info site recommends avoiding leakage and not overfilling the HD transmission oil tank. It is best to go a little bit below the full mark on your bike's transmission.
How often should I change the transmission oil in my Harley?
The service manual states that trans fluid should be changed every 20,000 miles, primary oil should be replaced every 10,000 miles, and engine oil is renewed every 5,000 miles. The transmission oil is recommended to be changed at least once every year. However, if your riding style is hard, if you travel for long distances, or if weather conditions are rough, the oil change intervals may be shorter.
What kind of fluid is better for a Harley transmission?
You need to use the fluids certified by Harley-Davidson; otherwise, find the warranty-compatible equivalents that meet the HD requirements. In general, the transmission oil should be resistant to significant loads, extreme pressure, and high and low temperatures. Almost any synthetic oil meets (and sometimes exceeds) the HD manufacturer's requirements so that your warranty will not be voided. Our top 5 list above includes only those oils that can officially be used for your Harley.
Are there times when I should not use synthetic oil?
Whether you have an old or a new Harley-Davidson model, you can use synthetic oil for its transmission every time without exceptions. The synthetic fluid has several advantages over the standard one: it reduces the transmission noise, stays effective in any weather conditions (even the extreme ones), decreases the engine temperature, and serves longer. Therefore, you will change the oil less frequently.
How to check the transmission oil on Harley?
First, you need to warm up the engine, shift through every gear, and then turn it off. Unscrew the transmission dipstick (do not remove it) and leave the bike for 30 seconds. Take out the dipstick and wipe it thoroughly. Insert (but do not screw on) the dipstick until its top covers the hole and take it out.
You will find the mark that shows the oil's required level and see if your oil level is too low. Add a little bit of the fluid, put the dipstick in place, start your engine again, and switch through every gear. Repeat these actions until you reach the necessary level. It is essential not to go above the mark as it may damage your transmission.
So What's the Best Transmission Oil for HD?
Overall, if you look for a transmission oil for your Harley Davidson, your best bet is to purchase Spectro Oil Heavy Duty Platinum. Not only does it greatly reduce the noise that is generated by Harley's 6-speed, but it also provides high levels of protection due to its high viscosity and G4 Technology.
What are your thoughts on the transmission oils mentioned in this article? What transmission oil do you use in your Harley Davidson? Share your thoughts and comments below.
Bruce was born in Atlanta. He started riding motorcycles when he was 10 and has been passionate about them since. Bruce says he feels absolute freedom when he's on two wheels. He prefers riding his bike slowly and smoothly along a country road and hardly ever enjoys wildly speedy rides. With a strong Ducati Multistrada 1200 in the current stable, Bruce enjoys his super powerful, comfortable and easy rides. Ducati Diavel is the beast he's currently dreaming about…