Best Wax for Motorcycles: Expert Picks That Really Work
Hi! In this article, I will tell you about the best wax for motorcycles. To tell the truth, it was very difficult to choose the best motorcycle wax as the first effect of each product that I tested was very similar. Fortunately, it's not my first year in this industry, and I know some helpful testing tips! However, it took me several months to make this selection. You can't just apply wax and say whether it's good or bad. You have to ride a lot to see how it behaves on the road, how it affects painted and chromed parts, how it reflects UV, stains, and scratches, and how stable it is.
Before skipping to motorcycle wax reviews, you should also understand the difference between motorbike wax types. There are 3 main types, such as liquid, spray, and paste wax. I can't say which one of them is perfect as they all have their pros and cons. For example, spray waxes are easy to apply and don't stain plastic, but average bottles run out of liquid too fast. Liquid bike wax polish is a very durable solution, but you'll need to develop a skill to apply it evenly. Fortunately, the deep shine result is really worth it! Finally, paste waxes provide excellent results even on aged surfaces, but it requires you to apply thin layers, using a special micro-fiber. It's quite time-taking, but worth the shine either.
You should also learn how to wax a motorcycle properly. The first step is to choose the best motorcycle wax polish. A good way is to find something in your garage that shares materials with your two-wheeler. Apply the product on these parts to ensure a good result. If there's nothing like that around, apply it on a hidden place of the bike.
Next, you have to take a fine microfiber cloth. Take it seriously, and don't ever use old rags or something like that. The only way to achieve even application and high-quality shiny finish is to apply motorcycle polishes with a fresh microfiber cloth.
Finally, before applying the wax, you have to clean your bike with a high-quality motorcycle wash and wax it only after this step. You should use different cloths for cleaning and waxing to ensure proper sticking. And don't dry the surface with the same cloth that you used for washing to avoid scratching the surface with tiny pieces of rubbish.
Amazon Bestseller
Best Motorcycle Wax: Top 8 Products
Now that you know how to treat the surfaces of your bike properly before waxing, take a look at the most effective waxes that I've ever tested. Read the descriptions attentively and pick up the product that seems to be the most effective in your particular case.
Wet or Waterless Wash Wax Kit – Universal Wet and Waterless Motorcycle Cleaner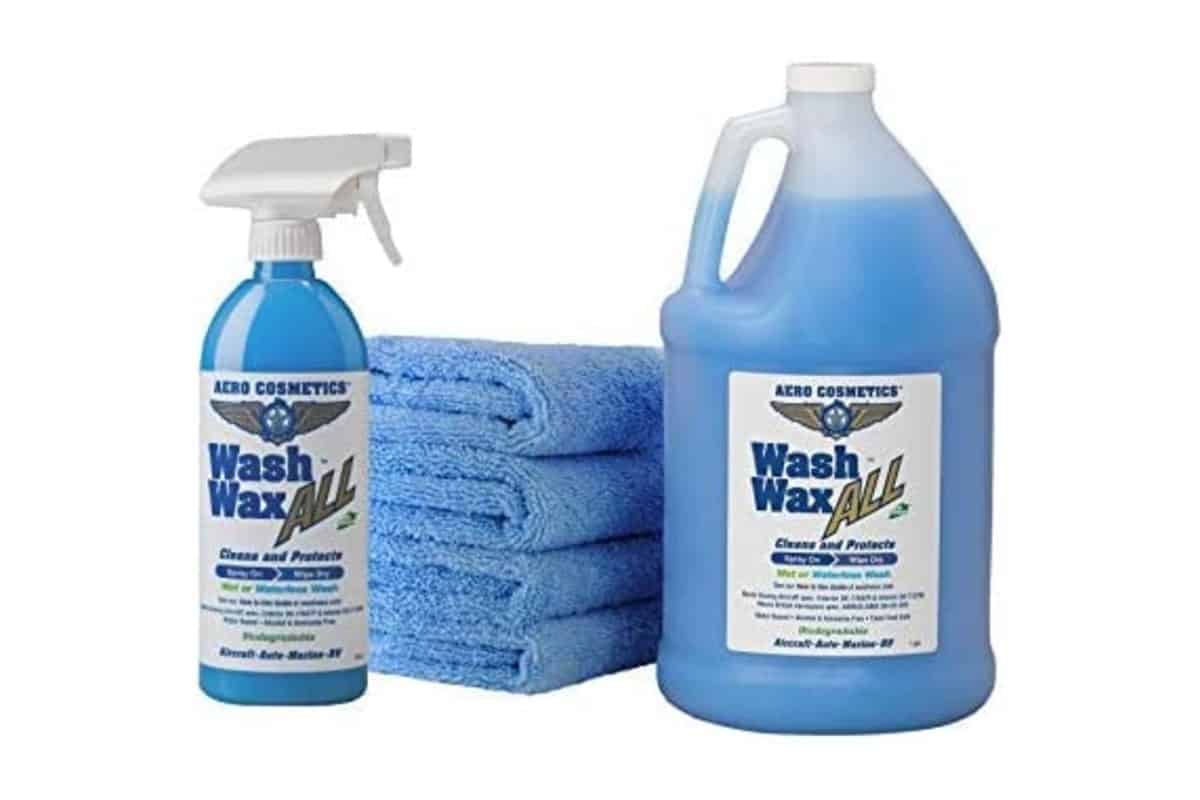 Aero Cosmetics is based in San Antonio and has been providing high-quality wash and wax products to military bases, leading airlines, and even Air Force One for over 32 years already. I don't work as their advertiser, but this fact is really impressive to me. Now, let's take a close look at the specs.
The Wet or Waterless wash wax kit includes 2 different containers of Wash Wax All products. The small 16 oz container has a convenient sprayer that will help you to spread the liquid evenly, independently from the bike part you are treating. The second bottle is a 1-gallon container that lets you refill the spray bottle 8 times after you finish it. It's one of the most cost-effective offers that you can find. Besides, the default kit includes 4 microfiber towels, which is enough to provide professional treatment to the entire vehicle.
What I really like about this product is its universality. You can apply it on all surfaces of your bike without worrying about stickiness and stains. You can apply it not only on painted and chrome metal surfaces of the bike but also on glass and leather (independently from the type). Due to this liquid's bio-safe chemical components, you are allowed to spray it anywhere you want to clean and wax your vehicle. It's nature and pet-friendly as well, meaning you're not required to stick to a list of safety measures. It can't hurt anyone, and it can't burn, so stay calm.
This item is a good choice for owners of motorcycles that don't have serious coating damage and need only protection. If you need a remedy for repairing scratched and oxidized surfaces, use a polish first. In other cases, you will be satisfied.

Wet or Waterless Car Wash Wax Kit 144 oz. Aircraft Quality...
SIMPLY THE BEST WATERLESS CAR WASH. Gently Cleans and Protects while leaving a Non-Stick UV Protective Coating on All Vehicle surfaces. Also, excellent for cleaning and protecting all other waxes, sealants, and ceramic coatings. Just Spray on and Wipe Dry. Wash and Wax Anywhere, Anytime, Parking Lots, Garages, Work, School, Apartments, RV Parks, and more. Use as a Waterless Wash and Wax as You Dry your just washed Vehicle. 128oz will Waterless Wash up to 24 cars or Wax As You Dry 36 cars.
Highly performance Aircraft Quality Wax for your Car, Boat, and RV. ONCE YOU SEE THE DIFFERENCE YOU WILL NEVER USE AUTOMOTIVE PRODUCTS AGAIN! Used by Air Force One, Marine One, NASA, The Military, Airlines, Corporate and private aircraft owners around the world for over 33 years. This is a high quality easy to use product.
Water Based - Alcohol & Ammonia Free. Our plant-based Eco-friendly formula is biodegradable and Safe on ALL surfaces both Inside and Out. Meets Boeing Aircraft (D6-17487P, D6-7127M), Airbus Industries (09-00-002), and McDonnell Douglass CDS #1 cleaning specifications. Also, Human Friendly, NO eye or skin irritation like some other automotive products
Kit includes 1 full gallon of Wash Wax ALL, 1 full 16 oz spray bottle of Wash Wax ALL, 4 Microfiber Towels (16 in x 16 in), a Product Guide, and How to Use Guide.
⚠️ Note: Understand that this is a Wash and Wax Product. Wax will protect and enhance the shine you currently have. If you have dull, oxidized, or scratched finish you will need a Polish to address those issues. WAX IS FOR PROTECTION; POLISH IS FOR CORRECTION. Our polish is called Polish ALL and is also available on Amazon. 100% MONEY BACK GUARANTEE. If you are not getting 5 star results out of this 5-star product, please give us a chance to correct the issue. Please contact us.
Positives:
Applicable on a variety of surfaces;
Lasting protection;
144 oz of liquid;
Refillable spray bottle;
Four microfiber towels attached.
Negatives:
Not for polishing of scratched and oxidized surfaces.
---
Meguiar's Motorcycle Care Kit – Full Care Cycle Kit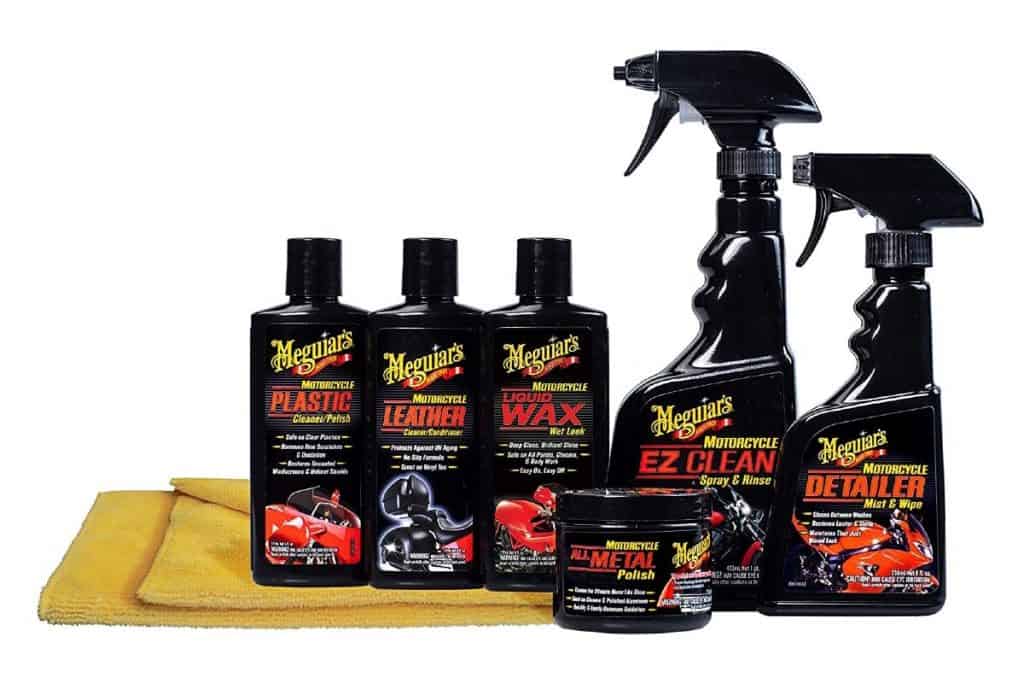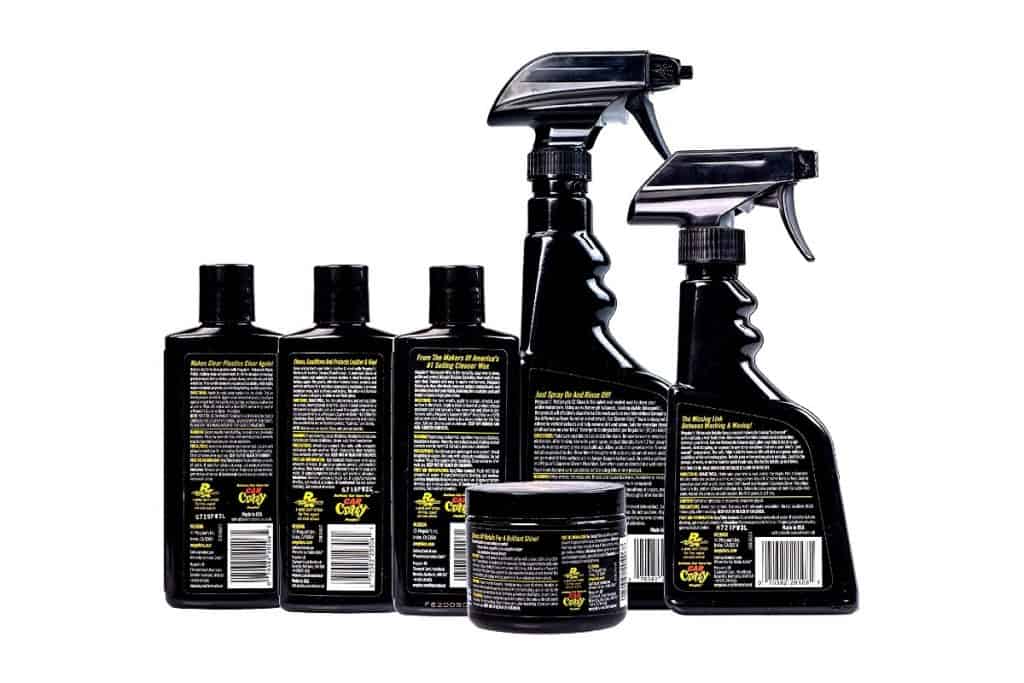 Unlike the previous all-vehicle solution, Meguiar's care kit was developed specifically for motorcycles. In addition, it's not only a cleaner and protector, but a multi-step full-cycle kit that lets you clean, repair, and protect all the surfaces of your two-wheeler. But let's examine it step by step.

As you already know, the first step is cleaning. There's a cleaner spray in the package for this purpose. You can use it to clean the entire bike, including hard-to-reach areas. The remedy lifts dirt effectively, letting you rinse it away easily.

Next goes the mist and wipe spray. This one can be used for quick cleaning after rain and dusty areas. It lets you wipe away small particles without scratching surfaces, which is highly useful when you don't have the time or opportunity to have a full cleaning procedure. As a bonus, this spray provides a neat just-waxed look.

The Liquid Wax Look spray has a bit of a repairing effect, which is enough not only to clean and wax the entire bike but to mask scratches and stains as well. Similar to previous items in the kit, it leaves a lasting attractive glossy shine. The next bottle is a liquid leather cleaner and conditioner that helps to keep leather clean and supple. Use if to prevent the material from drying.

Finally, the kit includes 2 polishes. The first one is a polishing paste that lets you repair scratched surfaces easily, while the second is a liquid cleaning polisher for plastic parts. It provides excellent protection and repairs scratched, making the parts look new and clear and again.

Although this kit is so universal, it's hardly a solution for everyone. You may need it if you want to provide complex treatment to a bike that has several problems. It's also an excellent solution for garages where you service many bikes with different surface issues.

Meguiar's Motorcycle Care Kit – Package for Motorcycle...
7-PIECE KIT: Motorcycle Care Kit cleans and protects all motorcycle surfaces including paint, plastic, leather, vinyl and metal. Contains 7 essential items, including Motorcycle EZ Clean, Detailer Mist & Wipe, Liquid Wax and more
SAFE AND EASY CLEAN: Motorcycle EZ Clean is the safest and easiest way to clean your entire motorcycle, just spray on and rinse off
ONE-STEP WAX: Motorcycle Liquid Wax is the versatile, easy way to clean, polish and protect all glossy paints and clear coat finishes in one step
NO SLIP LEATHER CONDITIONER: Motorcycle Leather Cleaner/Conditioner is a no slip formula that gently cleans and protects motorcycle leather and vinyl with no slippery residue or artificial gloss
CONVENIENT: All products are packaged in convenient sizes that can fit in saddlebags and small compartments
Positives:
Complex all-purpose treatment solution;
High-quality microfiber included;
Excellent solution for bike services;
Competitive pricing.
Negatives:
Only 1 towel in the package;
Small-size bottles.
---
Shine Armour Fortify Quick Coat Wax Spray – Best Spray Wax for Motorcycles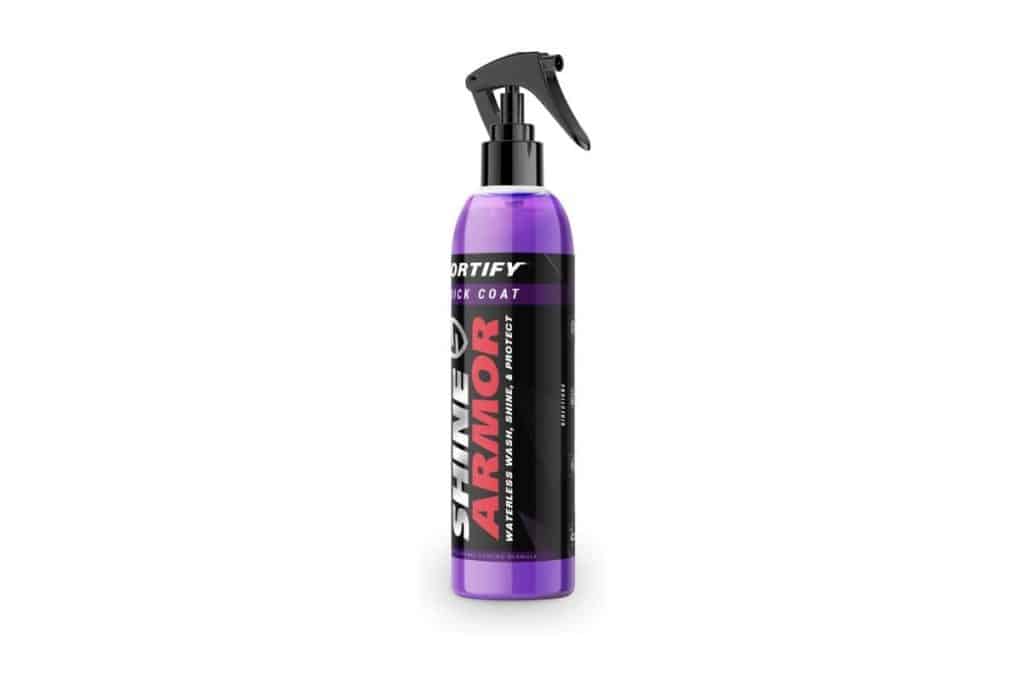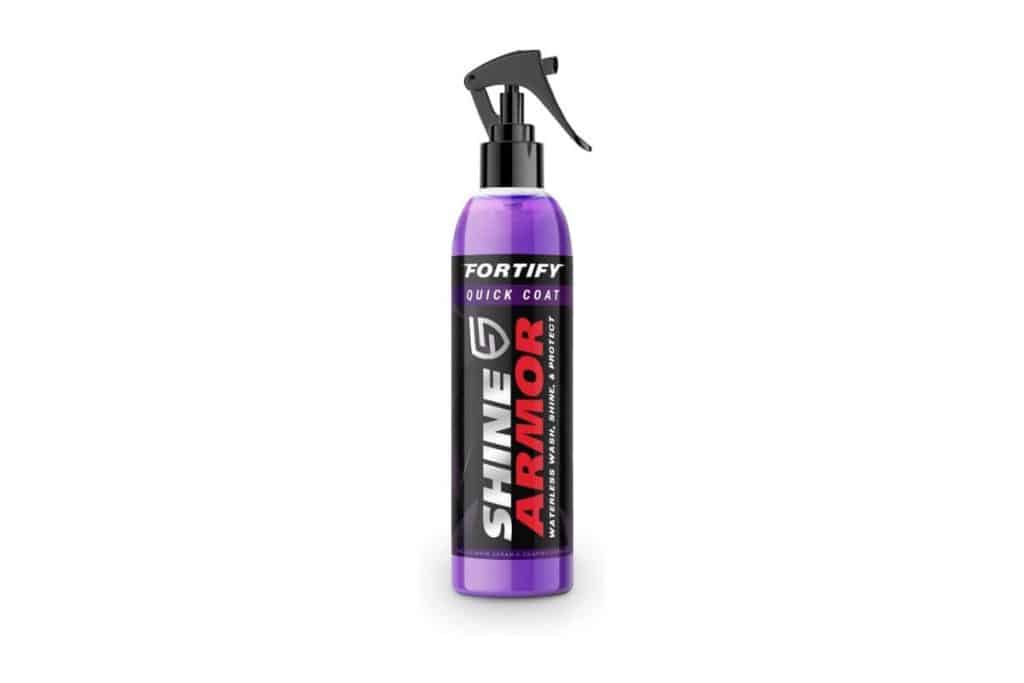 This wax spray by Shine Armor is my favorite product when I need a single-item solution for high-quality motorbike waxing. It combines 3 must-have functions, including easy dry washing of metal and plastic surfaces, high-quality protective coating, and deep shining. A single layer of this remedy is enough to make paint, chrome, glass, and leather shine. It takes less than 10 minutes to treat the entire vehicle. I also like the compact size of the spray that makes it possible to carry the bottle anywhere to keep your bike clean all the time. That's something that most other products cannot offer.

The sealant component of the spray is surprisingly effective against dirt pieces and greasy stains, letting you wipe them away with ease. Still, I'd not recommend you to wipe large pieces of dirt with microfiber as the chances you scratch pain or metal are very high. You can apply the spray and then remove large contaminations with water to ensure a safe process. If there are only mild contaminations, you can wipe everything confidently. To achieve a perfect glossy finish, use a clean microfiber towel to apply the second layer.

Another benefit of using this spray is the hydrophobic effect. It makes moisture and dirty liquids gutter, leaving small or no stains instead of large ones. Such an effect is due to an exclusive ceramic-coating technology that ensures a persistent no-streaking result.

The plus and the minus of this spray is its size. You can take it anywhere even in a small boot, but it runs out really fast too as there's slightly more than 6 oz of liquid, and the bottle for refilling isn't included. If you really need a lot of liquid for several bikes, better look at the offer by Aero Cosmetics.

SHINE ARMOR Fortify Quick Coat - Ceramic Coating - Car Wax...
ADVANCED FORMULA 3 IN 1. Our fortify quick coat is your all in one ceramic coating hydrophobic spray. Shine Armor Fortify Quick Coat ceramic car wax provides a waterless wash, coat and shine, all in one convenient product.
NO STREAKING, SMEARING OR SCRATCHING. Shine Armor Fortify Quick Coat premium formula ceramic car coating is a gentle and effective car polish for any vehicle! Get a clean, shiny finish without hurting your car's paint.
CUTS DIRT, GRIME & GREASE. Our Quick Coat ceramic wax car sealant eliminates dirt, grime & grease instantly! Our signature 3-in-1 formula gives you a waterless car wash, coat and shine for a clean, showcase look.
SAFE FOR ALL SURFACES. Use this car wax spray on automobiles, boats, motorbikes, RVs, four wheelers and more! This spray wax is the perfect blend of surfactants and SiO2 ceramic-coating science.
SUPERIOR PRODUCTS. This means superior shine for your cars! Our ceramic quick coat also works as a sealer to give your vehicle a clear shield of protection while also providing a beautiful gloss. Our ceramic coat is the best hydrophobic car spray available!
Positives:
Travel-size bottle with a sprayer;
Fast and durable effect;
Applicable on any bike surface;
Hydrophobic structure.
---
S100 Carnauba Paste Wax – Excellent Bike Wax Polish Paste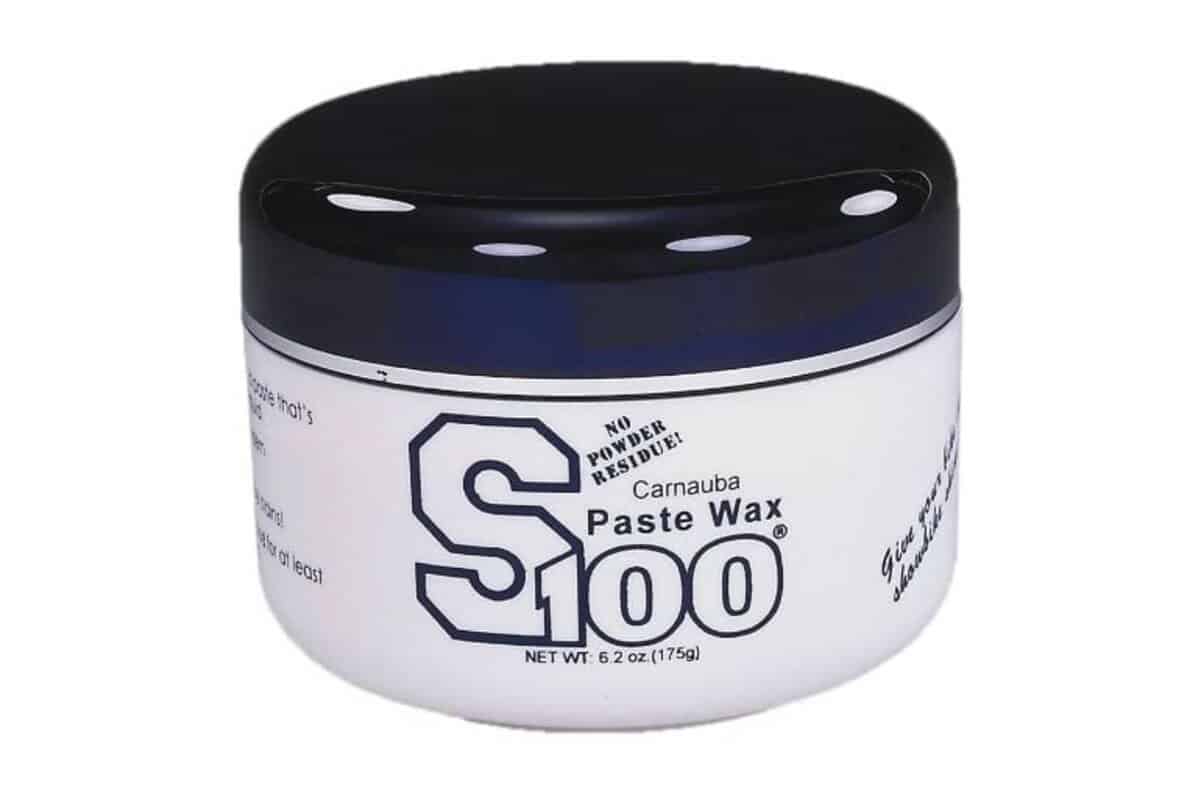 This non-cleaning paste wax is a competitive solution for deep polishing of painted, chrome, and plastic surfaces. To tell the truth, I didn't notice this product in stores and online until I decided to test a bunch of best-selling items for this review. Perhaps, the reason for that is poor marketing. Developers of S100 don't try to push it higher but seems to be selling well enough anyway, and now I understand the reason why.
This white and blue plastic jar includes 6.2 oz of a highly economical paste that provides a spotless waxing process. Unlike the majority of other pastes, this one is very easy to apply as it doesn't leave stains at all and doesn't powder when you rub it out. It means that you don't have to worry about staining plastic and rubber surfaces. Unfortunately, it's impossible to use this paste as a cleanser, so you'll need to buy it separately to achieve the needed shining effect.
Comparing the finished look after this polish with combined clean and polish solutions, I noticed a dramatic difference. Using a cleaner and polisher separately, you can achieve a much more showcasing look. Although it requires speedy application, the result is really worth the work. Consider this product for use in the garage after a thorough cleaning routine. Your new vehicle will preserve freshness much longer if you use such powerful protection. S100 is also a robust natural remedy against aging, deep scratches, oxidizing, and stains. Carnauba is considered to be the most effective natural polish with the lowest number of possible negative effects.

Sale
S100 13700W Carnauba Paste Wax - 6.2 oz.
Free of abrasives and cleaners and made with a unique blend of carnauba and beeswax
You will be amazed at the depth of shine and darkening of dark colored surfaces
Eliminates two common annoyances, powdering during rubout and white stain residues on plastics and rubber
So easy to apply and remove, it's almost as easy to use as a liquid
Use the S100 Shine-enhancing Cleanser before waxing for the ultimate shine
Positives:
Natural Carnauba-based formula;
Lasting effect;
Economical paste for your garage;
No powder residue;
Supple consistency.
---
Chemical Guys Butter Wet Wax – Superior Wet Carnauba Wax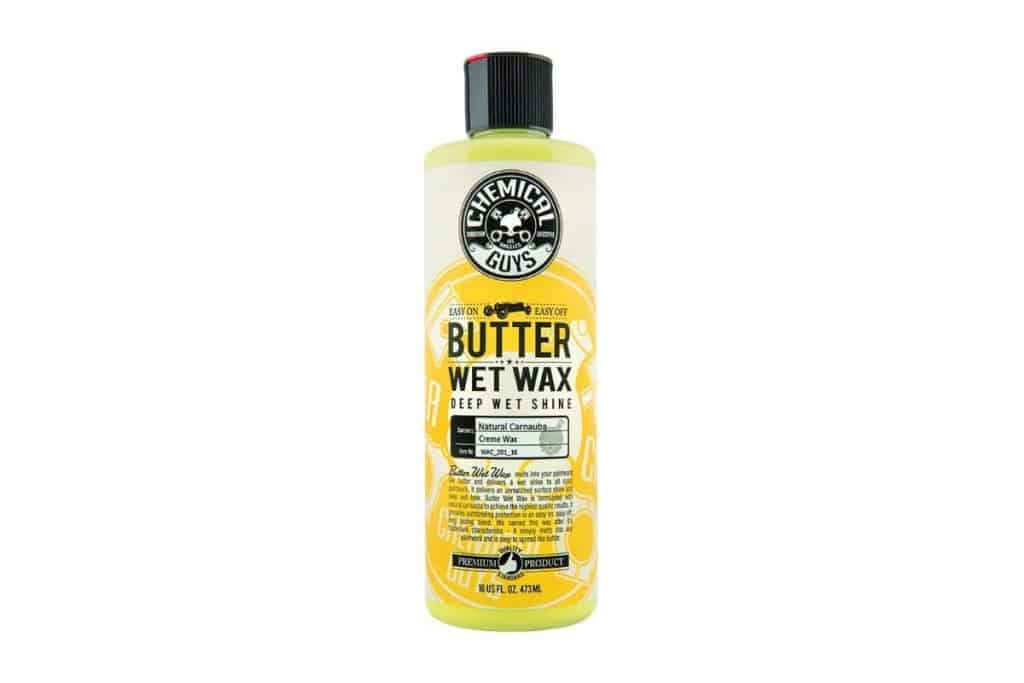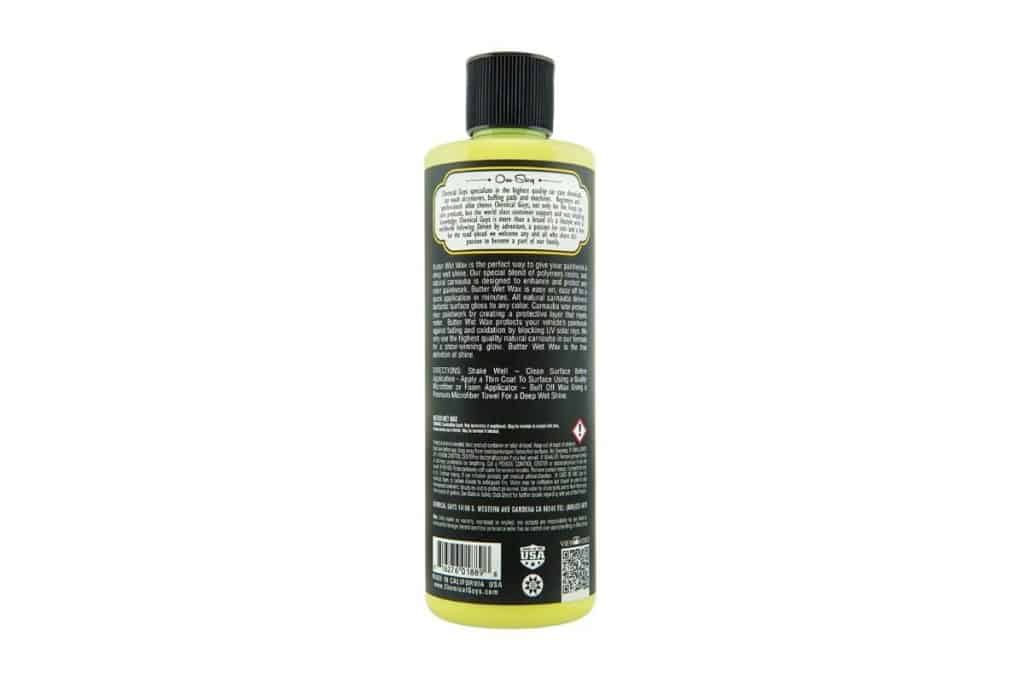 This one is another Carnauba-based product, but it has several differences from the S100 paste. First of all, it comes in a highly convenient tube, which makes it very easy to dose and apply. Second, it's not a thick paste that requires effort to spread it evenly.

Chemical Guys, a premium California-based brand, developed a unique butter-like cream that's a lot wetter than average paste waxes. As a result, you can spread it much faster without worrying about powdering and dry stains. It feels really smooth, like melted butter.

The final result is also different from traditional pastes. The cream structure lets you achieve a deep wet shining look without thinking of complicated chemical tricks. This wax consists of a carnauba and polymer resins, which is a very good composition. The average carnauba finish lasts for around 3-4 months, which means that you have to update 3-4 times per year. Due to the polymer component, the durability of the coating raises dramatically, letting you achieve up to 12 months of shining. Make sure that you clean the surface thoroughly enough to achieve full contact of the butter with paint and metal structure.

Butter Wet Wax is a good choice if you like wet paint and chrome shining. It's both easy to apply and remove, still resistant to harsh weather conditions, violent UV, and scratches. However, you should be skeptical of other semi-synthetic solutions as they may include abrasive components.

Chemical Guys WAC_201_16 Butter Wet Wax (16 Oz)
100 percent carnauba based wax
New formulation for even easier application
Deep wet look to any paintwork
Improved level of protection. Date on item is manufactured date
More UVA and UVB protection
Positives:
Up to 12 months of shining;
Convenient applicator;
Provides deep wet look;
No abrasive components;
Carnauba-polymer mix.
---
Purple Slice Clean, Wax & Polish – Effective Paint & Chrome Protection Wax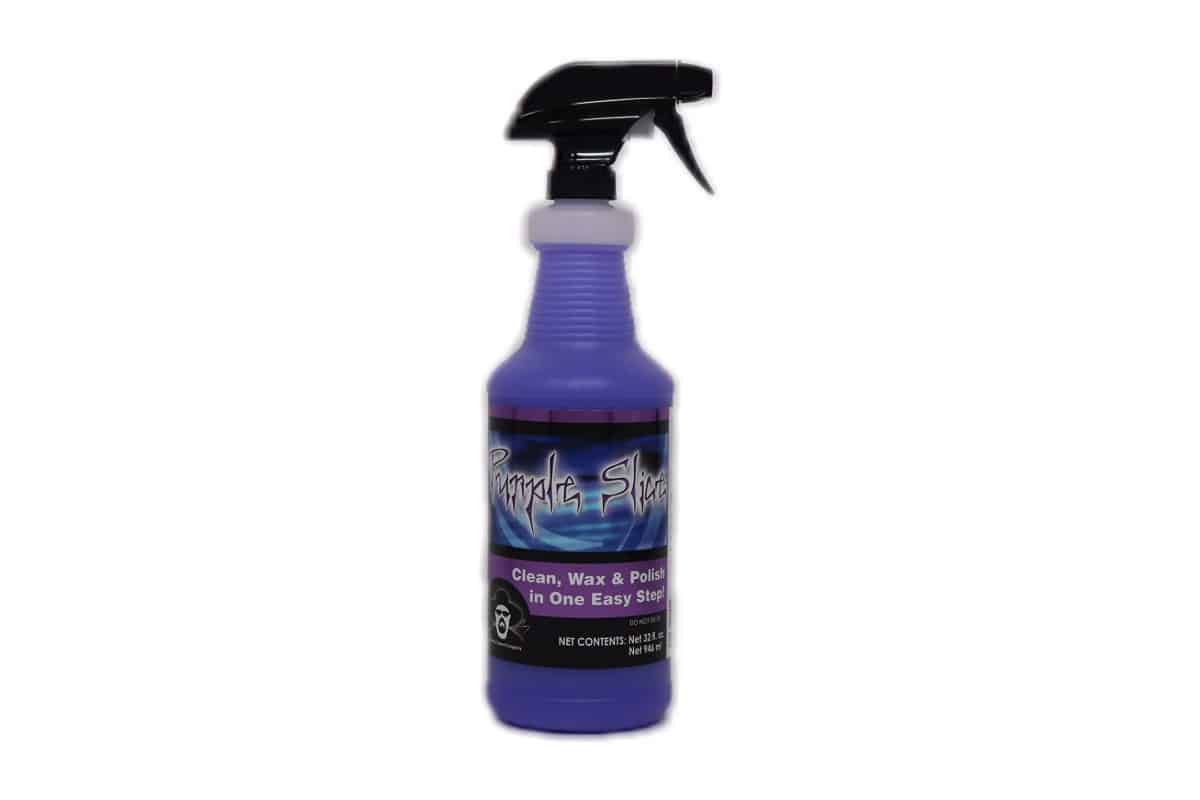 At first sight, this spray looks like a weird beverage for teenagers. I was really skeptical about its features, but the final result reassured me. It's a waterless synthetic 3-in-1 spray that lets you clean the vehicle and make its parts shine for up to 5 months. It's very easy to wipe the liquid with dirt as it easily dissolves even-aged stains on metal, plastic, glass, leather, and other surfaces. The composition doesn't include any abrasive materials, letting you clean and polish everything, including the dashboard and electronic devices, such as your moto GPS navigator LCD screen.
Purple Slice provides an excellent shining finish even after the first layer. You can also use it to achieve perfect glossy shining after cleaning your bike with another product. This spray is enough for protecting paint, chrome, and glass from UV and weather on vehicles that don't need any repair polishing yet. However, I tried it on slightly shabby surfaces and is managed to cover all issues on plastic, paint, and chrome. Besides, you can use it on clear and gel coats confidently as it cannot damage them. The finish also provides good protection to paint and chrome, saving your bike's fresh appearance for longer.
I can recommend this funny bottle to everyone who needs a simple one-step item for cleaning and polishing all the surfaces of the bike. It's also one of the best solutions for chrome parts.

Purple Slice 32 oz. Clean, Wax & Polish
spray, wipe, shine!
works great on paint, chrome, glass and more
streak free shine instantly
safe for all clear coats, gel coats and more
can be used in direct sunlight, no water needed
Positives:
Perfect for chrome;
3-in-1 spray;
Quick waterless cleaning;
32 oz is enough for multiple procedures;
Safe to use outside.
Negatives:
No microfiber in the package.
---
Honda Spray Cleaner and Polish – Waterless Motorcycle Cleaner Aerosol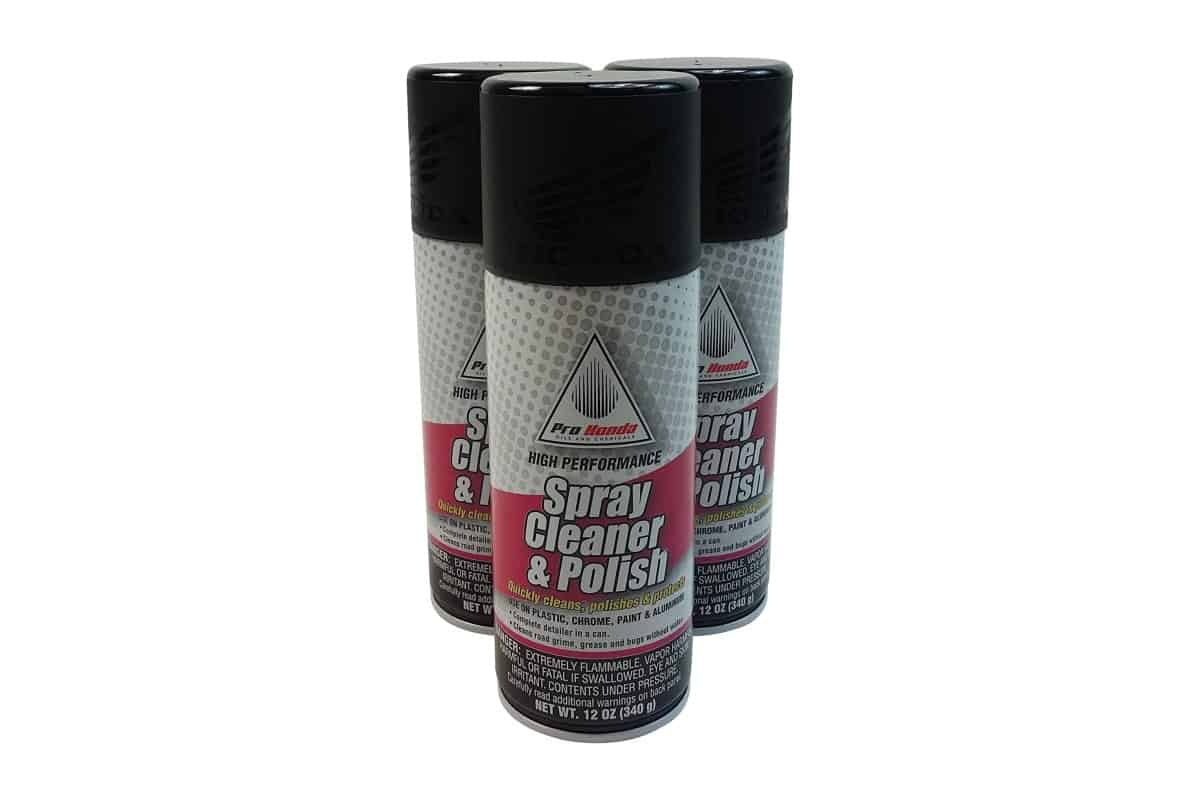 Honda Spray by Pro Honda (chemical manufacturer subbrand of Honda) is the only aerosol on my list as they are usually less effective than average liquid sprays, but not in this case. This cleaner and polish aerosol presents excellent Japanese quality for a relatively low price. The package includes from 3 to 12 cans, 12 oz each. You can use this product as a quick cleaner for plastic, chrome, aluminum, and painted motorbike surfaces.
I don't know why the manufacturer doesn't allow to use this item on the glass, but you know the rule – don't experiment with highly flammable liquids that may give unexpected results if applied in wrong places. As for leather parts, everything is clear. This fluid is too harsh for natural and artificial leather. It includes flammable quick-drying components that may do notable damage to the leather after a couple of uses. Nevertheless, the spray is highly effective against bugs, dry grime, and dirt. Due to coating polishing components, it doesn't let particles scratch paint and metal and protects the part from getting dirty for up to 7 months, which makes it the best spray wax for motorcycles that need quick cleaning and polishing to-go. It's also the best chrome cleaner and polish for motorcycles in situations when you need quick and impressive results. I recommend you to take it along to events.
I certainly don't like that I cannot use it for leather and glass, but the strength that it shows against dirt is really worth a little sacrifice. I should also warn you that this spray is highly flammable, so it has to be stored in a cool place and motorcycle containers that don't contact with warm and hot elements. You should also avoid using it when the engine is on.

Honda 08732-SCP00x3 Spray Cleaner and Polish, 12 oz, 3 Cans
Genuine pro Honda chemicals aerosol spray cleaner and polish 08732-SCP00 (3 cans)
Quickly cleans, polishes and protects all plastics, chrome, aluminum and painted surfaces
Use on plastic, chrome, paint and aluminum
Cleans road grime, grease and bugs without water
Positives:
Speedy cleaning of large contaminations;
Compact aerosol container;
Safe for paints, aluminum, chrome, and plastic;
From 3 to 12 cans in the package;
Effective detailer.
Negatives:
Highly flammable;
Not for glass and leather.
---
Meguiar's Synthetic X-Press Spray Wax – Professional Long-Lasting Wax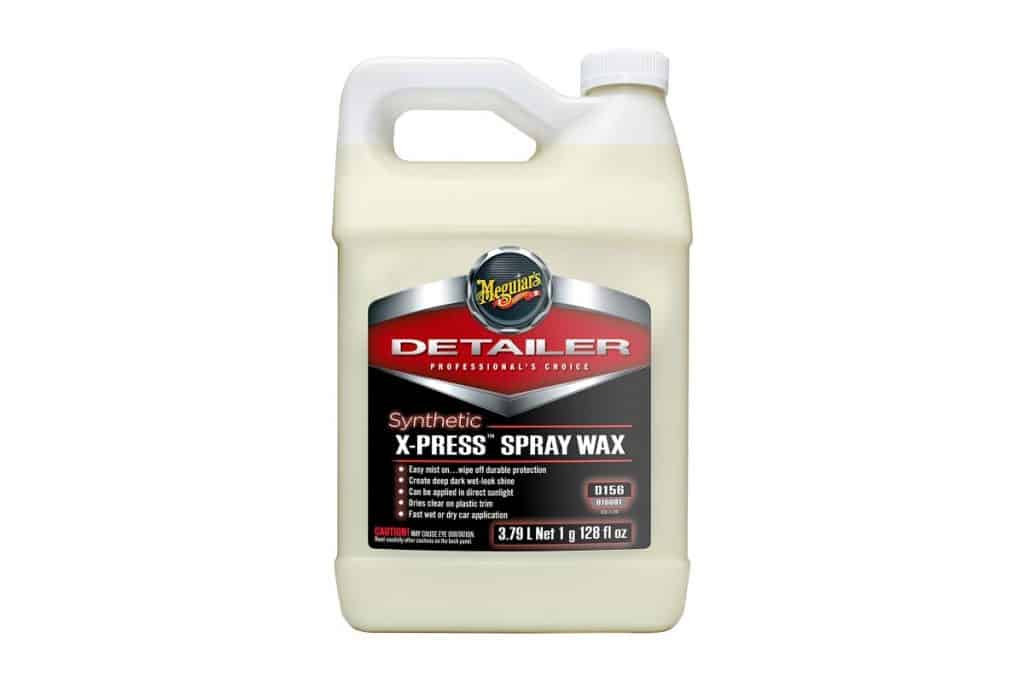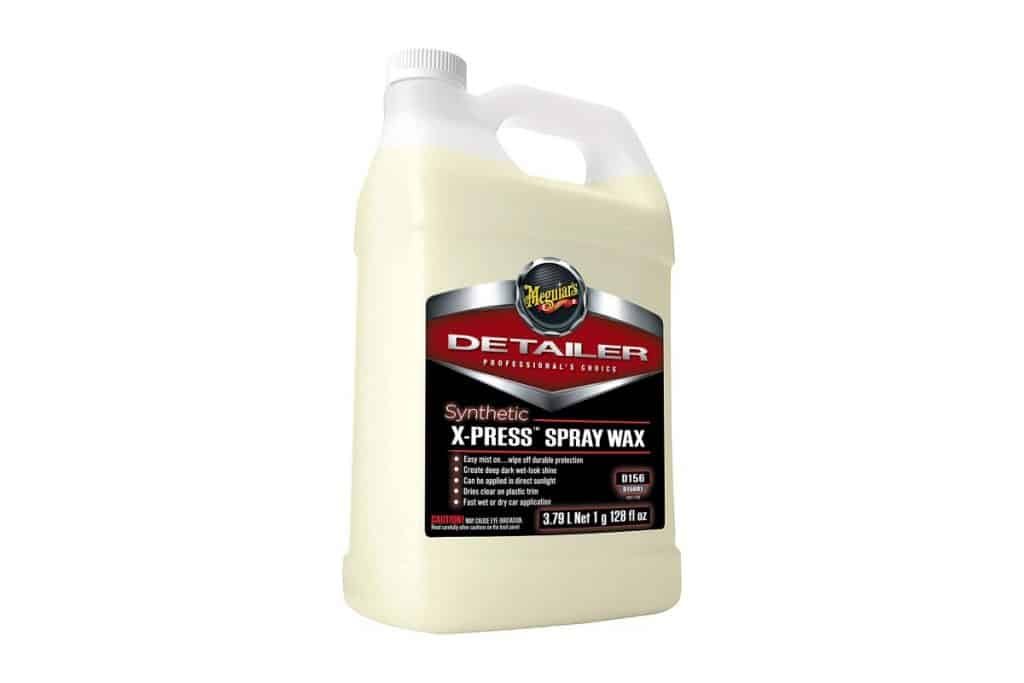 Meguiar's Synthetic X-Press is a large 1-gallon spray liquid tare that should be used for refilling sprayers. Unfortunately, the basic package includes only the canister, so you have to order a sprayer with a bottle separately. You can either get it from the same manufacturer or find an item that looks more attractive to you.

This liquid is fully synthetic and consists of hydrophobic polymer technology. Unlike natural remedies, it provides up to 12 months of protection, so you can buy this canister for your motorcycle workshop and service multiple clients without the need to order a new one. However, you have to think of a high-quality cleaner, too, because this wax requires a thoroughly cleansed motorbike to provide a long-lasting effect.

If you need the best motorcycle chrome polish or paint polish, you have to make sure that there are no greasy stains or dust. If everything is ok, the deep shine will impress you and your clients. At this point, I really want to recommend this liquid to professionals and enthusiasts who seek perfection and don't regret time to achieve it.

Meguiar's D15601 Synthetic X-Press Spray Wax,  1 Gallon
EASY TO USE: Mist on, wipe off for deep shine and durable protection
THE BEST SHINE: Produces a deep, dark "wet-look" shine
APPLY ANYTIME: Can be applied in direct sunlight, and dries clear on plastic trim
FIGHT MOISTURE: Meguiar's technology allows moisture to bead and roll off waxed paint
FLEXIBLE APPLICATION: Can be applied to wet or dry paint
Positives:
1-gallon canister for refilling sprays;
Competitive price;
Professional long-lasting result;
Repairs and protects;
Provides deep wet shine.
Negatives:
Doesn't clean the vehicle;
A sprayer isn't included.
---
Sleek & Shiny
Now you have a comprehensive image of motorcycle waxes. Use your new knowledge to pick up the most effective remedy and apply it strictly following the guidelines. Regular polishing of your two-wheeler will let you enjoy fresh shiny surfaces for long years. Yes, it requires you to spend quite a lot of time, but the result is really worth it. I recommend you be very attentive to your bike's surfaces as they are exposed to wind, moisture, static electricity, and UV. All these factors can damage even the most expensive vehicle in a rather short period of time. You can stock up with fibers and make a short wash-&-wax checklist not to miss a single detail. I have a bike care list right on the wall of my garage. Besides, I use a calendar to follow the care schedule for each of my motorcycles.
What are your average bike care routines? Tell everyone about them in the comments! You're also welcome to add value to the article and share cleaning and waxing tips as well. If you want to specify something or something remained unclear after reading, you're welcome to ask me in the comments. I read every message and reply as soon as possible. For more bike stuff reviews and tips, stay tuned on YourMotoBro.com!