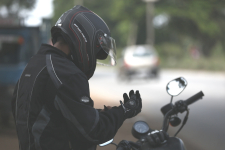 Best Winter Motorcycle Gloves – an Analysis of the Top Brands
Have you resolved that it is high time to invest in top-quality and durable motorcycle winter gloves? Well, you came to the right place. Many riders do not know the factors to consider while purchasing their winter riding gloves. Therefore, they end up with low-quality gloves that leave their hands cold. Besides, they put themselves at risk of suffering serious injuries in case of accidents. What's more? Such gloves do not last long enough.
After a painstaking search for top-quality models in addition to conducting an analysis of existing reviews, data, and expert recommendations, I have curated an immaculate selection of gloves for riding during winter. I believe they will make you a happy rider in the winter period.
The gloves that I have assessed are very cozy and flexible, and they offer top-class insulation. They elicit a good vibe because of their fashionable design. The manufacturer selected the best materials for making the items. Therefore, you will end up with a long-lasting and sturdy pair. There is no reason to be worried about its wearing out along the seams. Below is an analysis of the best winter motorbike gloves that are highly durable to last the entire distance. I have analyzed their major characteristics, pros, and cons to aid you in choosing the right pair for your needs.
Amazon Bestseller
ILM Alloy Steel Riding Gloves: Most Appealing Winter Bike Gloves
These gloves are ideal for those riders in search of safety. You may notice the shiny steel knuckles, which are a signature feature of these gloves. Below are some key characteristics of ILM steel gloves:
They offer remarkable safety due to the steel knuckles. These knuckles have been manufactured using injection molding technology. The manufacturers of this product do not take the safety of the rider lightly.
The gloves have an attractive and ergonomic design to enhance both style and comfort. If you are a fashion enthusiast, your aesthetics needs are catered for.
Finger joints have been manufactured using unique anti-collision protection. While wearing these gloves, you can rest assured that your hands are 100 percent safe as the materials minimize the impact if an accident occurs.
The exterior part of this glove has been designed using a U-shaped protection layer that covers a large segment of the hand. This arch-shape perfectly fits into the back of the hand, enhancing comfort.
When you turn the glove over, you will notice that the palms have been meticulously designed to reinforce both anti-slip and anti-collision abilities. These features will keep you in perfect control of your motorbike irrespective of the weather conditions.
Sale
ILM Alloy Steel Motorcycle Riding Gloves Warm Waterproof...
Professional steel alloy protection pads. Created by injection molding, 100% complete protection, comfortable and fashionable.
Ergonomically engineered with maximum protection for the joints. The finger joints are made with special anti-collision protection.
The outer part of the glove is designed using a large area of U shape protection; this means that the arch-shape fits well with the back of the hand.
The palm is designed to strengthen the anti-slip and anti-collision ability of the glove.
This glove gives the rider's palm the maximum degree for anti-slip functionality and a full range of grasping motion.
Positives:
Steel knuckles
Anti-slip material on the palms
Numerous color options
Affordable price
Reflective material
Waterproof feature
Negatives:
The wear-resistant materials make the gloves significantly heavy
---
OZERO -30 ℉ Waterproof Gloves: Best Motorcycle Winter Gloves for All Genders
At times, winter temperatures can get to extreme levels. Even in such situations, you should be able to ride your motorcycle. However, you require that perfect pair of gloves that will grant you adequate warmth and perfect protection. I recommend Ozero`s brand to you due to the following superior qualities:
Perfect protection
The gloves have several layers that are meant to protect the rider from cold winter conditions. There is a mixture of sponge and cotton layers, which ensure your hands are warm. The layers are both breathable and waterproof.
Waterproof membrane
There are times you may come into contact with water while riding. Fortunately, you should not worry about that. These gloves have a waterproof membrane that ensures your hands are dry even when you touch the water. Moreover, you can comfortably ski and cycle in that snowy winter weather while having this brand`s gloves on.
Anti-skid
Silica gel with anti-skid properties is attached to the palm. This permits you to be in perfect control of the bike and firmly grip it.
Touch screen capability
The goatskin used to make these items is touch screen sensitive. Therefore, this feature permits the rider to operate their mobile device. Moreover, the wrists are perfectly knitted, permitting you to put them on easily.
OZERO Winter Thermal Gloves for Men Waterproof and Touch...
Multilayer cold-proof material gives warmest protection - With windproof artificial suede leather shell, OZERO winter gloves are inserted with insulated sponge with thickness of 2mm and breathable waterproof membrane, and lined with soft and thermal TR material, resulting in better comfort and warm.
Full-hand waterproof membrane insert keep hands dry and away from wet and cold - You can dip gloves directly into ice water without worry of getting wet, perfect for the snow and rain weather. Just have fun in winter outdoor skiing, snow shoveling, cycling, snowmoblie, ice fishing etc.
The palms of the gloves are attached with anti-skid silica gel - The gloves can effectively provide your hands good grip for winter sports or work and make you work efficiently, especially suitable for driving and snow ski in winter.
Highly sensitive touch screen goatskin fingertips are stitched on the fingers - Effective touching allow you easily operate smart phone without taking off gloves. In addition, the knitted cuffs of wrists and the rubber bands of the palms make it easy to put gloves on/off.
100% money back guarantee - Please contact with us, if the gloves are defective within 30 days or you chose a wrong size or style, we will give you a better satisfying solution than Amazon customer service. Please note: Grasp the fingertips while taking the gloves off for preventing dragging the linings out, because the linings are not sewn with the waterproof sheaths of the gloves for the best waterproof performance.
Positives:
Touch screen capability
Waterproof item
Easy to put on/off
Negatives:
A bit expensive for some riders
---
Seibertron Dirtpaw: Best Motorcycle Gloves for Cold Weather Riding with Extra Protection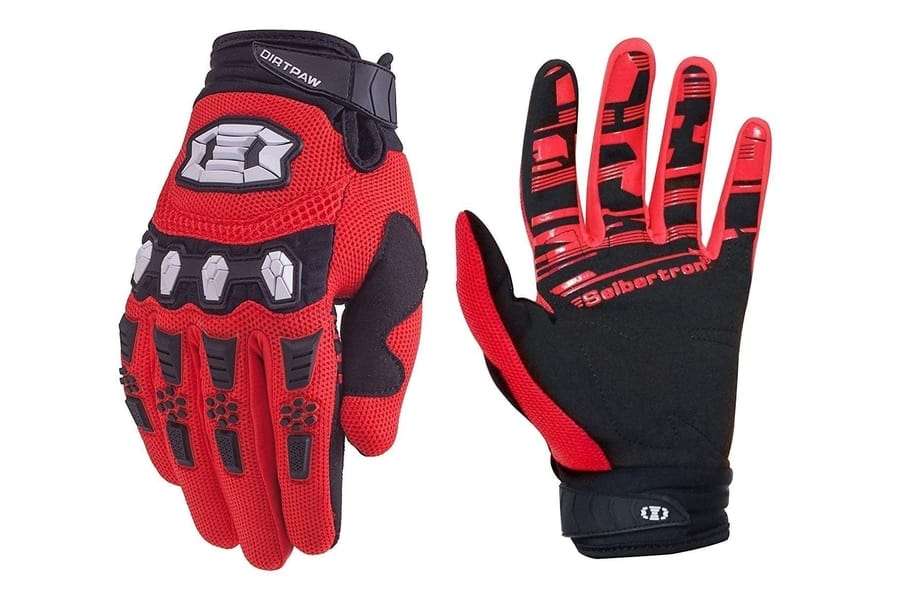 The producers of this brand are confident in the quality they provide. They give buyers a 30-day guarantee after purchase to return the product if they are not happy with its quality. You also get a 1-year warranty in which you can get a full replacement. Below, I will enumerate the characteristics of these gloves, which enable me to recommend this company without hesitation:
Protection
Your knuckles will always be safe when using this brand. The items are made to deliver extreme protection to the rider. The padding in its interior also contributes to the comfort of your fingers.
Versatility
Whether you are going downhill, using a BMX bike, or going up a mountain, you can count on these gloves to help. You spend on them once and will enjoy the benefits of several riding activities.
Durability
The materials that are used to make the gloves are top-notch. Therefore, you can use them for years without the need to replace them.
Seibertron Dirtpaw Unisex BMX MX ATV MTB Racing Mountain...
Method for choosing the size,According to palm circumference not including thumb(Refer to left size chart. XS(6.89"-7.48",18cm-19.5cm) S(7.48"-8.27",19.5cm-21cm) M(8.27"-8.86",21cm-22.5cm) L(8.86"-9.45",22.5cm-24cm) XL(9.45"-10",24cm-25.5cm) XXL(10"-10.63",25.5cm-27cm)
PROTECTION -Direct Inject Rubber Logos & Graphics Protect the back of the hand and finger knuckles impact from injury as well. especially in the event of an accident. This style of gloves is designed to provide you maximum performance without maximum cost.
COMFORT -Lycra finger Gusset, Lightly padded, Silicone Gripper on ALL Finger TPR Hook & Loop Wrist Closure. Touch Recognition has functioned on index finger tip, Not finger belly.
USE - Designed to be incredibly versatile, these gloves will keep you protected no matter what. From Downhill, Mountain, to BMX Biking and beyond'these gloves will perform in any sport where falls and crashes are common. Suit up and stay safe!
NO HASSLE RETURNS AND WARRANTY - There is a full purchase price refund within 30 days of your purchase if you are not happy for any reason. After 30 days, there is a 1yr full replacement warranty on these gloves for any manufacturing defect.
Positives:
Maximum hand protection
Durable item
Perfect grip
---
Jackets 4 Bikes Premium Leather Winter Thinsulate: Best Gloves for Cold Weather Motorcycle Riding with Extra Warmth
Jackets 4 Bikes know what riders need in cold meteorological conditions. The company made these gloves from leather and included a waterproof liner and Thinsulate insulation. These materials make the gloves appropriate for spring and winter riding since they offer extra warmth. Besides, they provide comfort. Below are other qualities that make these gloves fantastic.
Durability
You do not want to buy the gloves and find out they are damaged the next day. When it comes to durability, you can trust this brand. The 100% genuine leather that is used to make these items ensures that you can use them for a long time. The gloves are double-stitched to last even longer.
Protection
This item is perfectly padded on the knuckles. This aids in delivering adequate protection to the hands in any unfavorable conditions as you ride.
Design
The manufacturers designed these gloves in such a way that both males and females can use them. Additionally, they are stylish and offer perfect protection to your hands. They are equipped with a loop that allows you to adjust them until you achieve the fit you want.
Motorcycle Biker Premium Leather Winter Thinsulate Full...
100% Top Quality Genuine Leather.
Padding on knuckle keeps your hand safe in unwanted conditions.
Hook and loop closure and elastic band provide complete control overfitting.
Double stitching offers long lasting durability.
Unisex design. Both Men and Women can wear these gloves..
Positives:
Perfectly designed for both males and females
Durable
Offer maximum protection to your hands
Negatives:
Some riders report that the grip reduces with time
---
Kemimoto Winter Bike Gloves: Motorcycle Gloves for Cold Weather with a Stylish Design
The winter cold does not mean that you should postpone riding your motorcycle till spring. As you explore your environment, you should be stylish and safe. This is where the Kemimoto glove brand comes in. Many attractive features of its products make the riders love it. The properties include:
Touchscreen Ability
You do not need to remove the gloves to use your device. This feature permits you to touch the device's screen by the middle finger, forefinger, and the thumb. That means you can enjoy convenience as you use your navigation device.
Protection
The material used to make the gloves makes certain that your hand is safe up to the ankle level. The stability of this material protects your hand knuckles and absorbs all the impact in case of a collision.
Non-slip
When you wear these gloves, your palms do not slip. Consequently, you get a better grip and proper control of the speed of the motorcycle. Moreover, the rider does not experience any damage.
Design
The design of this pair is made for it to reflect light at night. That means the other road users can see you, which helps in avoiding accidents. Moreover, you look stylish when you wear these gloves.
kemimoto Winter Motorcycle Gloves, Waterproof Warm...
ASAIN SIZE GLOVES - THREE FINGERS TOUCHSCREEN - Tips: the size of these gloves are Asian size. Please Choose the corresponding size according to the size chart. The tip of the forefinger, middle, and thumb of the winter motorcycle gloves are made from conductive touch screen leather. So you can do everything without restriction, even if you wear gloves, you can still use the mobile phone or navigation device safely.
HARD SHELL PROTECTION - The motorcycle gloves for men designed with the protectors at ankle height on the back of the hand. They are very stable and well thought out with the extra protection on the knuckles. To protect your hands from bumps and abrasions when falling.
NON-SLIP & WEAR-RESISTANT - The palms of the riding gloves are made of non-slip and wear-resistant microfiber material that provides a better grip for the palm. Make it easy to control the speed and to ensure that you are not easy to slip in the rider to avoid unnecessary damage.
WATERPROOF & WARM - These motorcycle gloves made from velvet inner material and a rainproof layer can resist getting wet, keep your hands warm and dry while driving in winter. The elastic band is used to keep warm and resist the wind. No more cold hands while riding.
REFLECTIVE DESIGN - The motorcycle gloves for women have reflective strips on the back,it reflects the light when exposed to light at night, which will serve as a warning to make your driving at night safer. Ideal gift for your family and friends. We recommend buying a size up gloves. If there is any problem, just feel free to reach out to us for a solution.
Positives:
The gloves offer perfect protection to the rider
They have touch screen capability
Stylish design
Negatives:
Some people find the item a bit bulky
---
IRON JIA'S Winter Gloves: Winter Riding Gloves Motorcycle with Special Ergonomic Design
A distinguishing feature that places these gloves among the best items on the market is the special ergonomic design. It is a great blend of aesthetics and security. The gloves are pre-shaped to match the riding curl, and hence you don't struggle with the fabric to get a perfect grip or use your bike's controls. Consequently, the item delivers more comfort. Below are other characteristics of the product.
Protection
The item has a hard shell that absorbs impact in case of a collision. That means that your hands are protected in situations where you need the utmost control of your vehicle.
Perfect Grip
The gloves are made so that you can conveniently grip without the fear of losing control as you ride. Therefore, you are always sure of your safety on the road.
Touch Screen Capability
The material used to make the fingertips allows you to operate your phone with the gloves on. That is a convenience that comes in handy in winter.
Motorcycle Gloves Winter Warm Touch Screen Waterproof...
Special ergonomic design with hard shell protection, taking into account aesthetics and security
Fingertips using special materials ,you can still operate the cell phone when you wear this gloves .
Ergonomic, hand-dimensional drop resistance protective hard shell, shock-absorbing foam has a better than general protective effect
Suede protection between the thumb and the index finger , reduces the wear between the gloves and motorcycle ,also increased handle grip .
Positives:
Has touch screen capability
The item is durable
Perfect protection
Negatives:
A bit expensive to some riders
---
Joe Rocket Wind Chill: Best Men's Winter Gloves with High-Density Knuckle Armor
These gloves certainly deliver value for the money as they offer essential warmth on the road. Besides, the palms fit properly, and the leather is soft. What's more, they permit you to manage all the controls of the bike with maximum convenience. Here are further details of this product:
Available in Different Sizes
The size of your hand does not matter as you can always get a size that suits you, ranging from small to the XXX one. There is a perfect fit for every motorcyclist.
Protection
The 100g Thinsulate material ensures that your hands are insulated and protected from cold as well as heavy winds. Moreover, your knuckles are also protected by a high-density material that absorbs any impact in case of a collision.
Design
The item`s pre-curved design and flexibility ensure that your hands are always comfortable. Additionally, there is a dissipating gel on the palm, which adds cushioning and provides more comfort to the rider. The product is also light in weight, making it ideal for all riders.
Durability
The gloves are made from superior materials. That means you can use them for a long period without the risk of being damaged.
Sale
Joe Rocket - 1344-1004 Wind Chill Men's Cold Weather...
Supple drum dyed Cowhide outer; Waterproof Dry Tech midliner
100G Thinsulate; Integrated high density knuckle armor
Leather reinforcements throughout; Vibration dissipating gel palm
Pre-curved ride-friendly design; Articulated Full-Flex expansion panels on fingers
Secure hook and loop wrist closure; Toggle and draw cord at top of cuff
Positives:
Perfect design for all riders
Maximum protection
Durable
Excellent grip
Negatives:
Some people find it a bit small
---
ILM Goatskin Powersports Racing: Excellent Leather Winter Motorcycle Gloves
These gloves are remarkable. Their design is very appealing, and the quality of touch screen functionality is fantastic. Also, the item is made of genuine leather, it offers comfortability, and has a palm slider. Moreover, the gloves have hard knuckles to offer extra safety if a crash occurs. Read on to investigate more details about this brand:
Touchscreen Function
With the gloves on, you can still use any touchscreen device you have. Therefore, you can conveniently use them at any time. Only the forefinger and the thumb are touch screen enabled.
Material
These items are made from goatskin, which ensures that you can use them for a long time without showing any signs of damage. The hard shell also protects your hands and knuckles.
Perfect Fit
The wrist is made of an elastic strap and has a velcro. This allows you to tighten or loosen the gloves according to the level of fit you are comfortable with.
Unperforated
This property ensures that your hands will be warm in the gloves regardless of the weather conditions outside. You will feel snug and cozy as no air ventilation technology has been used to make this item.
ILM Goatskin Leather Motorcycle Motorbike Powersports Racing...
Goatskin Covered Hard Shell Knuckle - The gloves are made from high grade goat skin that ensures durability through a variety of situations. The knuckles are hard shell PVC which provides the utmost protection to your hands in the event of a knock or crash.
Touchscreen Function - The thumb and forefinger have touch screen capability. The gloves can be used with any number of touch screen devices without the user having to remove the glove. This makes them ideal for out door use.
Stretch Lips at Fingers and Back Hand - There is added capable expansion of the fingers and wrist of the glove. This allows the glove to expand or shrink with your hand depending on a change in weather or blood pressure.
Elastic at Wrist - The elastic strap around the wrist of the glove provides complete user control over how tight the glove fits on the hand. The elastic and Velcro system are used in tandem to tighten or loosen the glove according to user preference.
Un-perforated Glove - The glove is not perforated meaning that it keeps the heat inside the glove making this glove perfect for cold weather or winter riding. The glove is meant to keep the rider warm no matter the speed or weather condition.
Positives:
Offers perfect protection
Durable
Beautiful design
Negatives:
The fact that the item is unperforated interferes with its breathability
---
MOREOK 3M Thinsulate Windproof Thermal Gloves: Gents and Ladies Winter Motorcycle Gloves That Are Versatile
These gloves provide adequate warmth when riding in the cold. They are insulated with Thinsulate and warm cotton. These materials maintain body heat and ensure proper moisture-wicking and breathability. Noteworthy, they offer resistance to cold temperatures of up to -30℉.
Reflective Design
If you like cycling at night, you should not worry about your safety on the road. The reflective nature of these gloves ensures that other road users can see you. That means that you can count on this item in terms of protection. Moreover, these gloves are stylish.
Touch Screen Functionality
The index fingers and thumb allow you to swipe and tap your smartphone easily. Therefore, you can use the devices with your gloves on.
Adjustable
In addition to being available in six different sizes, there is an adjustable cuff buckle at the wrist strap. The buckle enables you to adjust the gloves until they fit perfectly. Also, there is an adjustable drawstring closure at the wrist that protects the hands from snow and water.
Waterproof
Due to the water-resistant material, the gloves keep the hands warm. This feature will come in handy, especially when you are riding in a rainy environment.
Waterproof & Windproof Winter Gloves for Men and...
200g WARMTH 3M THINSULATE MATERIAL INSIDE:MOREOK thermal gloves are insulated with 200g 3M thinsulate Insulation,which traps body heat efficiently and provides twice the warmth of other type gloves,highly breathable and moisture-wicking. Suitable for all kinds cold winter conditions. Maximum cold resistance temperature up to -30℉.
TOUCH SCREEN&ANTI-SKID DESIGN:The ergonomic comfortable palm of the glove is coated with wear-resistant anti-slip nitrile rubber which increases the friction, helping you have a firm grip on the tools. With a sensitive touch screen function on forefinger and middle finger , designed to wipe snow and fog on ski glasses or faces,which is light enough to ensure optimal mobility and dexterity.
WATERPROOF & BREATHABLE: Outer windproof fabric laminated with a TPU membrane layer, which is water-proof and breathable and prevent daily wear and tear.In the middle of cotton add a TPU Waterproof film, which mades DOUBLE-WATERPROOF effect with good breathability.With warm velvet lining inside, MOREOK ski gloves can keeps your hands dry and allows sweat out, ensuring "dry comfort.
ADJUSTMENT Design&Extended Cuff: MOREOK windproof gloves is designed with adjustable buckle wrist strap and the drawstring closure is effectively prevents against water and snow outside. Adjustable nylon tower buckle and drawstring could adjusts to the size of your wrist. Extended gloves cuffs improved the windproof and prevent snow or cold air from creeping.
MUTI-FUNCTION GLOVES FOR MEN WOMEN: Designed with reflectivematerials making it safer for night sport. MOREOK thermal gloves are great for cycling, driving, running, camping, hiking, climbing and other outdoor activities.What you get : MOREOK Thermal Gloves *1 pair , Our fan-favorite 12-month warranty and friendly customer service.
Positives:
Maximum protection
Waterproof
Touch screen functionality
Available in different sizes
These gloves can be used for other outdoor winter activities
Negatives:
The manufacturers could make the grip better
---
ISSYAUTO Motorbike Winter Gloves: Best Anti-Shock Riding Gloves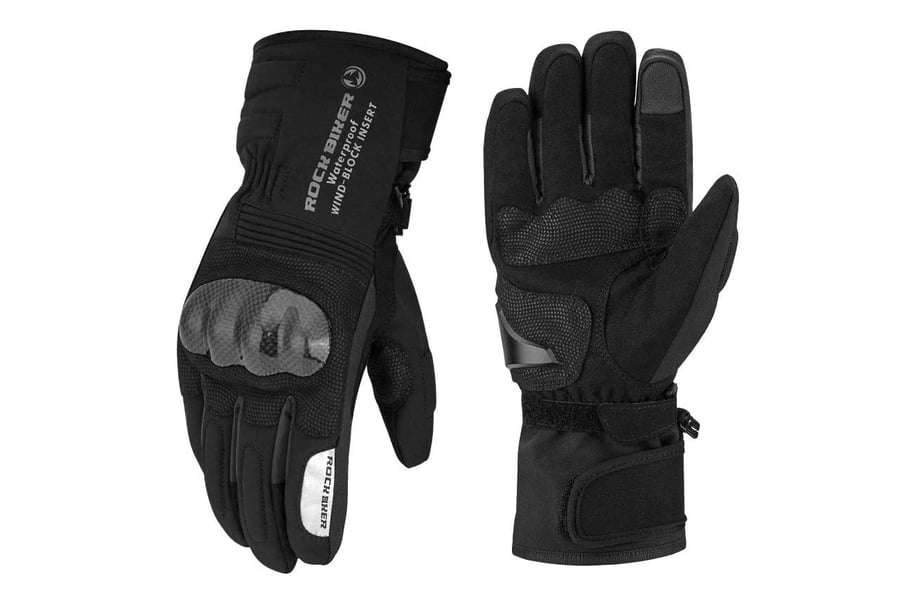 The two most remarkable characteristics of these gloves are the carbon fiber shell and the lengthening wrist part. The palm's back is made of carbon fiber to offer extra protection to the knuckles as well as the back of the hand. The elongated wrist part, on the other hand, keeps the wrist and the hand warm. Other major features include:
Touch Screen Capability
With these gloves on, you can still use your smart devices. That is what makes this pair a must-have item this year. The convenience they give you is unrivaled.
Perfect Design
The gloves are made of carbon fibers, which form a shell around your hands. This way, they absorb impacts when there is a collision and keep your hands safe. Your knuckles are also protected from any injuries.
Durability
Given the top-notch quality of the materials used to make these gloves, you can enjoy them for several years without the need to purchase another pair. That will save you time and money in the long run.
Anti-Shock and Anti-Slip
The grip is an important aspect when purchasing gloves. This brand ensures you can operate your motorcycle better. Moreover, your palms are protected from shock in the case of unexpected situations on the road.
Water-Resistant and Windproof
As you ride in winter, your hands do not get wet as there is a waterproof layer to protect them. Therefore, you do not have any reasons to fear the rainy season. Your hands are also shielded from strong winds.
Comfort
Whether you are driving, riding, or hiking, you can always be sure that your hands are comfortable. The carbon fiber and nylon also ensure these gloves are durable.
Motorcycle Winter Gloves Men Carbon Fiber Gauntlet Gloves...
【Fingertips Touchscreen Function】: Black L size Mens winter motorcycle gloves with sensitive-touch screen on the second finger is decent when using your phones, ipad, and other smart devices; easy to use touch screen; Winter motorcycle gloves provide grip, comfort and can still use your phone easily
【Carbon Fiber Shell Design】: Ergonomic design with carbon fiber hard shell protection is shock-absorbing and offers better protection to your hands. Good quality shell on the back palm to protect your hand knuckles from shock and impact;durable enough for a crash
【Anti-shock & Anti-slid: Design】: The 3mm EVA palm pad protect your palm from shock and impact; The Scooter Gloves with good grip for the anti-slid design on the palm which help you hold your motorcycle better
【Windproof & Water Resistant】: These motorcycle winter gloves with cotton and a water-resistant layer can resist getting wet, keep your hands warm while driving in winter. It is compatible with cold weather and rainy weather for ypu cam riding through rain storms
【Comfortable & Breathable】: Multiple Fabric-Durable nylon ,carbon fiber,the wear-resistant microfiber on the palm.When you wear it,you can feel its great comfort. Great for motorcycle, driving, cycling, ATV, hunting, hiking, riding, climbing, and workout sports
Positives:
Durable gloves
Comfortable and breathable
Offer excellent protection
---
INBIKE Winter Goat Skin Gloves: Best Gloves for Enhanced Visibility on the Road
These gloves are apt for riding during winter months and late fall. They do a perfect job for temperatures above 50 degrees. Besides, they aren't too bulky to use while riding. Also, the item has high elasticity in the forefinger and thumb area, and thus it bends easily, enhancing your comfort. Other amazing features include:
Material
The gloves are made from a combination of many materials in different ratios. 40% of the glove is polyester, goat leather forms a quarter, 15% is synthetic leather, nylon makes up 10%, and the remaining 10% is polyurethane. These materials ensure that the gloves are breathable, waterproof, and durable.
Reflective
If you are riding at night, other road users can easily notice you. It is possible because of the reflective nature of these gloves, hence the item enhances your safety.
Protection
The glove palms are soft and protect your hands. The manufacturer has also taken care of your knuckles by adding the carbon fiber to these gloves. In addition, there is a hook to help you adjust the item until it fits perfectly.
INBIKE Winter Goat Skin Leather Motorcycle...
【 MATERIAL】- Made of 40% polyester 25% goat leather 15% synthetic leather 10% nylon and 10% polyurethane. Palm back and Hand palm is 140g/m2 and 100g/m2 Thinsulate, It's light enough to ensure optimal mobility and dexterity.Inner With HIPORA waterproof membrane, Waterproof and breathable.
【SHOCKPROOF】-Palm TPR pad motorcycle gloves, good damping effect.
【REFLECTIVE】-The splicing reflective cloth behind the hand increases safety in the case of low visibility
【PROTECTION】-Carbon fiber protective case on the back of the winter motorcycle gloves, which can shields knuckles and prevents cuts and injuries
【SECURE HOOK AND LOOP FASTENER WRIST CLOSURE】- pull the garment sleeve in the wrist cuff and adjust the hook and loop fastener freely to keep cold out and stay warm
Positives:
Excellent protection for your hands
Durable gloves
Breathable and waterproof
---
Closing Remarks
When searching for astounding winter riding gloves, you shouldn't be in a hurry. This way, you risk ending up with a mediocre brand. You should look carefully at the options available and make the best choice.
In this guide, I have provided the best brands with their characteristics. These are gloves that you can purchase with the surety of getting the value you want. However, you should make the choice based on your preference as what works for one person may not suit another.
A good pair of gloves is evaluated by its ability to fit your hands, provide warmth, protect the hands from any damage, and allow you to use your touchscreen devices. The advantage of the brands evaluated above is that they offer you all these conveniences.
My best pick is the ILM Alloy Steel gloves. This brand stands out due to various benefits. Firstly, it offers remarkable safety due to steel knuckles. Secondly, it has an attractive and ergonomic design that boosts the rider`s style and comfort. Thirdly, the finger joints are designed with unique anti-collision protection.
Which of the brands suit you? Why is it good in your assessment? Please, share your views by leaving a comment.