In 2015, Harley-Davidson introduced the Freewheeler, which is a three-wheeled motorcycle. Discussions about the vehicle had already taken place in 2014. The Freewheeler has been a highly sought-after motorcycle ever since its release, to the point where new models were launched in 2021 and 2023.
During the 2015 Harley-Davidson introduction event, an amusing incident occurred. Before test riding any of the new motorcycles, the press was required to pass a riding test on a three-wheeler. The purpose of this was to acquaint them with the operation of the new Freewheeler. Each journalist was instructed to navigate a brief slalom course on the 2015 Harley-Davidson trike, and then reverse it before returning to the starting point. To achieve this, the Freewheeler utilized the electric starter as a reverse gear, activated by pressing the "R" button with your left thumb, similar to a Honda Gold Wing.
The company was attentive to its customers' feedback. The idea behind the H-D Freewheeler was straightforward: to provide a motorcycle that was less intimidating and more compact than the Tri Glide, which had received feedback from prospective buyers requesting a smaller option. The Freewheeler was developed to address those concerns and meet the needs of its customers.
The transformation of the Tri Glide into the Freewheeler began with the removal of the fairing and Tour-Pak top trunk. The engineers then relocated the integral trunk to the front and lower portion of the motorcycle, effectively shortening the rear end by three inches. However, the trunk's capacity remained unchanged, and it still had enough space to hold two full-face helmets within its waterproof compartment, which could be opened from right to left. The two-up seat was also adjusted by moving it forward by one inch and lowering it by almost six inches, which helped to improve the center of gravity. This, in conjunction with a 12-inch mini-ape handlebar, resulted in a 15-30% reduction in steering effort. Soft-grip grab rails were also added to provide the passenger with something to hold onto.
Compared to other trikes available in America, the HD Freewheeler has been on the market for a relatively extended period. It's a popular choice for those who want to stick with an American-made trike. The HD Freewheeler is equipped with Mini-Ape handlebars, which allow for easy control of the front wheel. The bobtail rear fenders give it a bold and distinctive appearance. The heavily reinforced cast aluminum wheels have ample spacing between the front and rear, similar to the Street Glide and Road Glide models. Dual-disc front brakes are a necessary feature to ensure stability when braking hard on a bulky bike.
The Harley trikes have several notable features that are more commonly associated with cars. The HD Freewheeler, for example, has an electric reverse function, which is a highly desired feature among trike enthusiasts. This function is made possible by the air-cooled electric motor. One of the most remarkable features of the Freewheeler, however, is its steering stabilizers, which provide exceptional stability even at high speeds. These stabilizers are installed by the factory and contribute significantly to the bike's smooth and secure ride.
Harley Davidson Freewheeler 2015
The 2015 HD Freewheeler boasts a sleek front end, highlighted by a chrome, seven-piece nacelle that hugs the forks and houses a Dual Halogen headlamp set in a polished chrome bucket. The front fender is streamlined and sits atop a 19-inch Enforcer Cast Aluminum wheel with machined accents. The newly designed rear body of the Freewheeler is lower and leaner and features a weatherproof trunk capable of holding two full-face helmets. The top trunk door conveniently opens from right to left for easy loading and unloading. Dual chrome mufflers with stylish slash-down tips are tucked into the bottom of the trunk. The bobtail fenders end with a bold flip, revealing the rear tires and incorporating bright LED stop/tail/turn lamps.
The Freewheeler is designed to provide a comfortable and confident ride for its riders. The 12-inch mini-ape handlebar, with the tallest rise available on any motorcycle, is positioned to reduce steering effort and place the hand controls closer to the rider. The seat is contoured to shift the rider forward, enabling a better reach to both the foot and hand controls. The passenger seat is integrated with the bike's bodywork, offering a comfortable and seamless experience. Soft-touch passenger grab rails are mounted directly to the body, providing an easy grip for the passenger.
The HD Freewheeler features a 103.1 cu. Air-cooled, High Output Twin Cam 103 engine with integrated oil-cooler. It comes with a range of convenient and high-performing features, including electronic cruise control for effortless highway cruising, a foot-activated parking brake for added safety and convenience, and an electric reverse gear for easy maneuvering in tight spaces. The hydraulic Assist and Slip clutch reduces clutch lever effort for smooth and easy shifting, while the linked brake system allows for both front and rear brake application through the rear brake pedal. The chassis of the Freewheeler is specifically designed for a three-wheeled vehicle, ensuring superior quality and performance that is characteristic of Harley-Davidson motorcycles.
Harley Davidson Freewheeler 2021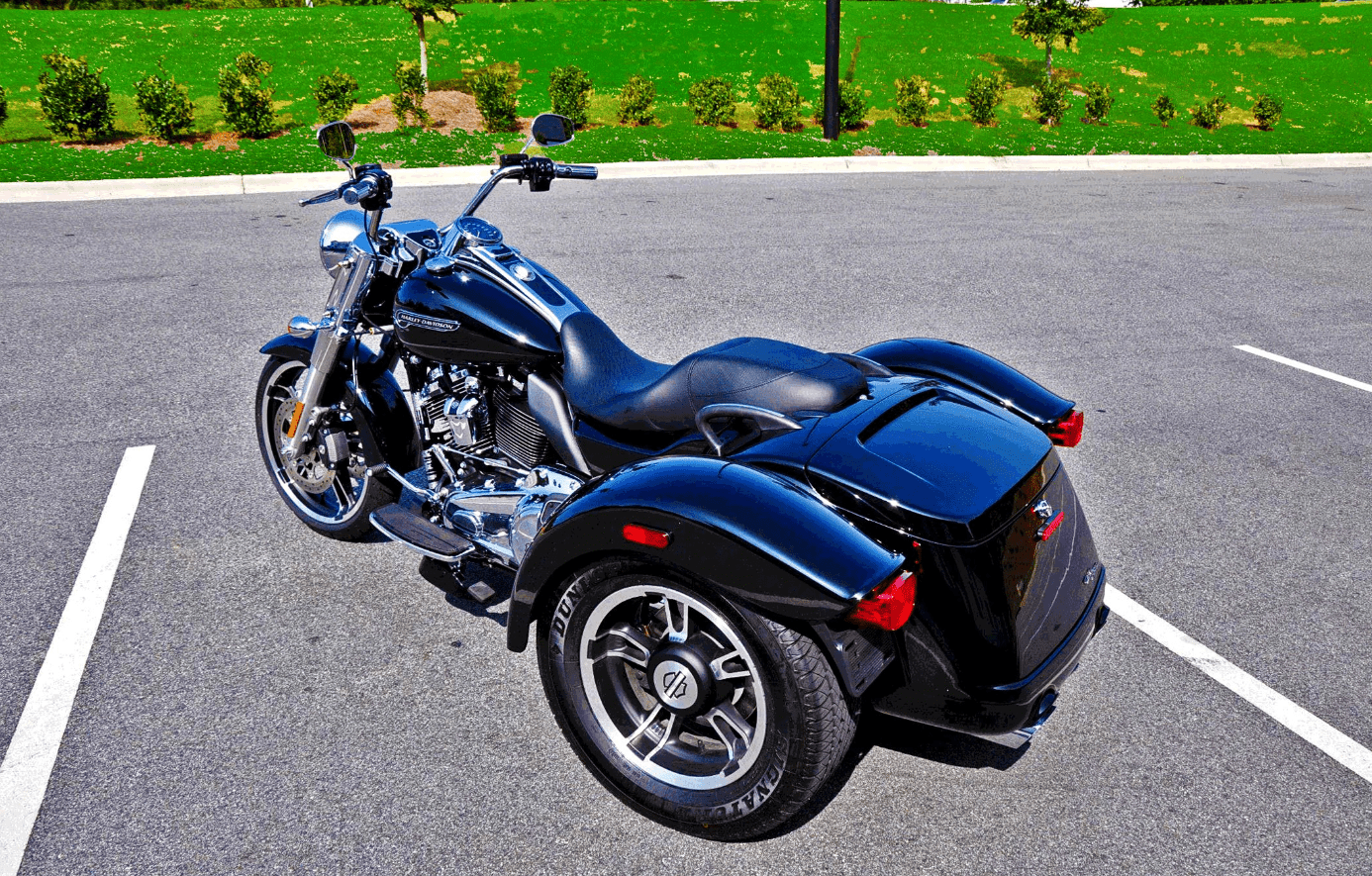 Harley-Davidson motorcycles are well known for their power-packed performance. The 2021 HD Freewheeler comes with an increased 114-cubic-inch Milwaukee-eight engine offering the maximum displacement in standard H-D Touring models.
The 2021 HD Freewheeler boasts a powerful Milwaukee-eight engine that offers a maximum displacement of 114-cubic-inch, allowing for a smooth and seamless ride. With a torque output of 122 ft-lb, this three-wheeler delivers exceptional power and performance. The Electronic Sequential Port Fuel Injection (ESPFI) system is also integrated into the Freewheeler's design, precisely controlling the spark timing and intensity for optimal fuel efficiency and power delivery.
Harley-Davidson also offers its RDRS tech with the 2021 Freewheeler. The Reflex Defensive Rider Systems makes use of advanced chassis control, electronic brake control, and powertrain technologies to help you accelerate and brake in a straight line or while turning.
The 2021 HD Freewheeler has an ingeniously crafted trunk system that can be effortlessly opened with one hand. The trunk is thoughtfully engineered to swing open from left to right, providing a spacious two cubic feet of storage capacity. The storage compartment can be securely locked with a barrel key for added peace of mind. To ensure ultimate comfort, Harley-Davidson has furnished the Freewheeler with deluxe seat leather that is simply unmatched. Furthermore, two black inserts are included to attach a backrest to the passenger seat.
Harley Davidson Freewheeler 2023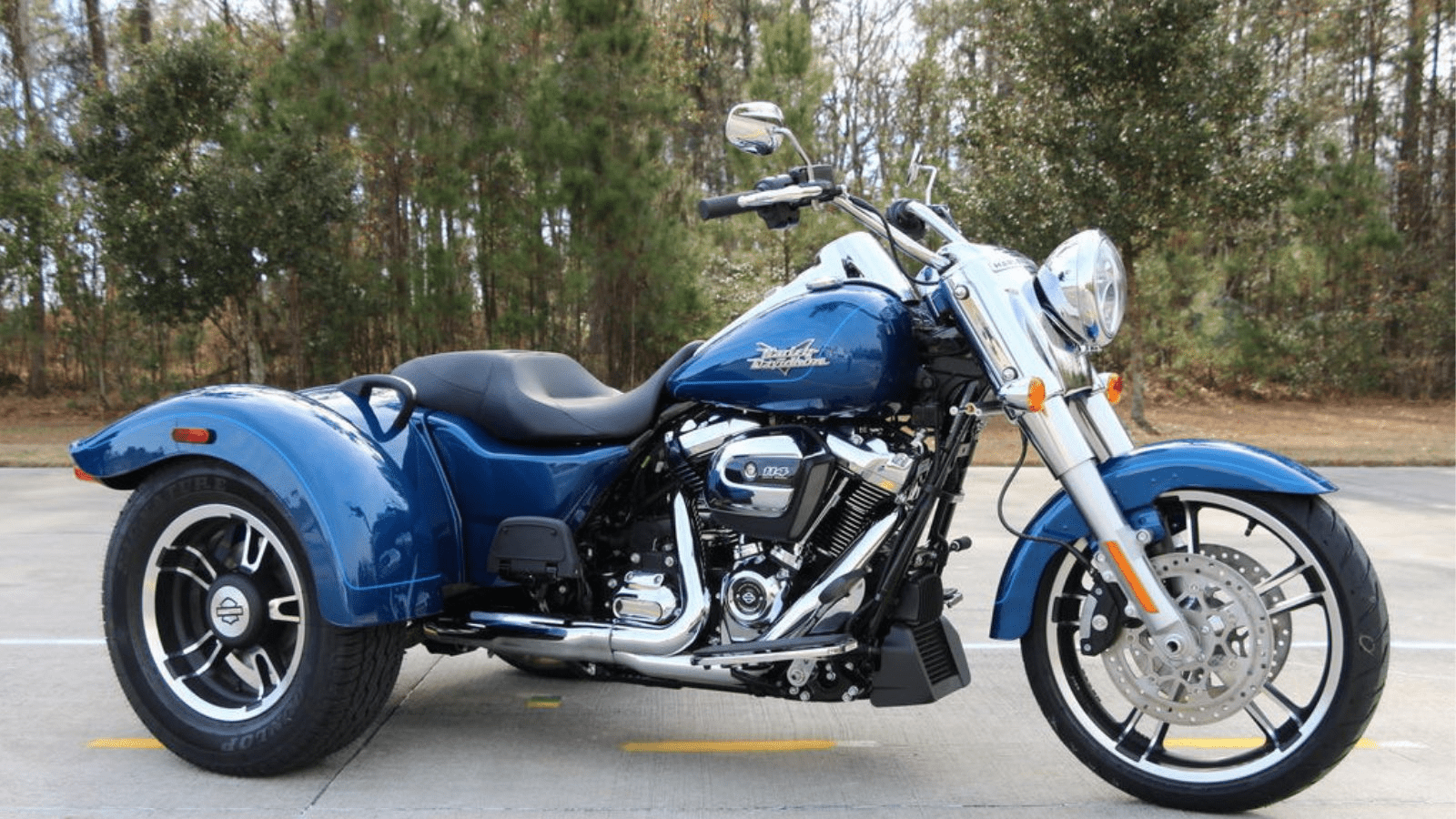 Compared to the previous model, the 2023 Harley-Davidson Freewheeler is renewed with an intense use of black. The front-end headlight housing, fuel tank console, hand and foot controls, engine, and exhaust are finished in black, replacing the previous glossy finishes. The new gloss black cast aluminum wheels, 18-inch rear instead of 15, feature visible rear lug nuts. It also features a Milwaukee 8 114 engine, electric reverse, mini-ape handlebars, classic custom wear fender, waterproof rear trunk (56.6 L) with top access hatch for easy loading, double undercut muffler, and specific technology. Advanced electronic combined braking in corners, an advanced anti-lock braking system ABS in corners, an advanced traction control system in corners, and an advanced engine brake control system in corners are some of its features. The 2023 HD Freewheeler is available in three colors: vibrant black, white sand pal, and glossy pool blue billiard gray.
As for the colors, remember, you can always customize your HD Freewheeler
Harley Davidson Freewheeler Specs
Dimensions
| | |
| --- | --- |
| Weight in running order | 1,110 lb |
| Seat height | 26.2 in. |
| Ground Clearance | 4.9 in. |
| Fuel Capacity | 6 gal. |
| Tire Type | Dunlop Harley-Davidson Series, bias blackwall front and radial blackwall rear |
Engine
| | |
| --- | --- |
| Engine | Milwaukee-Eight 114 |
| Displacement | 114 cu in |
| Fuel System | Electronic Sequential Port Fuel Injection (ESPFI) |
Performance
| | |
| --- | --- |
| Horsepower | 90 HP / 67 kW @ 4750 rpm |
| Top Speed | 100 mph |
| Engine Torque | 122 ft-lb |
Harley Davidson Freewheeler 2023 Features
Engine
MILWAUKEE-EIGHT® 114 ENGINE – The standard H-D® Touring models offer the highest displacement, providing 114 cubic inches of passing and horizon-chasing power.
REFLEX™ LINKED BREMBO® BRAKES WITH STANDARD ABS – The aim of the Anti-lock Braking System (ABS) is to prevent the wheels from locking up during braking, thereby enabling the rider to maintain control while braking in a straight line. This system functions independently on the front and rear brakes, ensuring that the wheels continue to roll and preventing uncontrolled wheel lock during emergency braking situations.
HIGH-PERFORMANCE SUSPENSION – The touring suspension technology of Harley-Davidson is of premium quality and is precisely calibrated to cater to the Trike models, ensuring a ride that is both responsive and smooth.
Wheels
ENFORCER CAST ALUMINUM WHEELS – The Enforcer front wheel takes the lead, while two additional wheels complement the rear of the motorcycle. The front brake rotors have been redesigned to flaunt more of the wheels' high-end customized appearance.
Style
BOBTAIL REAR FENDERS – With the installation of a pair of bobtail rear fenders from Harley-Davidson, the motorcycle acquires an iconic cruiser appearance and styling features.
7-PIECE NACELLE – The chrome headlight nacelle, designed in a classic style, is nestled closely against the motorcycle's frame and forks, giving it a sleek and compact appearance. Additionally, it provides an elegant mounting system for a windshield, adding to the bike's uncluttered look.
UNIQUE TRUNK SYSTEM – It's a one-of-a-kind design that opens left to right (with one hand) and extends the entire length of the body for a clean look. Enough cargo space to easily accommodate two full-face helmets.
2023 Harley Davidson Trikes
The 2023 Harley-Davidson Trike model lineup includes three models: Harley Davidson Freewheeler Harley Davidson Road Glide 3; Harley Davidson Tri Glide Ultra. Here is a little comparison between these two models:
Overall Specs
The rider position on all three of the bikes is upright and foot controls are at the floorboards. All three of the models offer passenger seats but only Tri Glide Ultra has a passenger seat with a backrest. Only Freewheeler comes without fairing. Road Glide 3 has a frame-mounted fairing and for Tri Glide Ultra fairing is fork mounted. Basic safety systems are the same for all.
Colors
The most diverse in terms of colors is Road Glide 3 which comes in 6 different colors. Tri Glide Ultra comes in 5 different colors while Freewheeler has only 3 options.
Dimensions
The seat heights of these three models are slightly different from each other: Freewheeler – 26.2 in., Road Glide 3 26.5 in., and Tri Glide Ultra – 27.1 in. Ground clearance is also somewhat the same: 4.9 in. for Freewheeler and Tri Glide and 5.6 in. for Road Glide. As for the Weight, Freewheeler is the lightest of them all – weighing 1,110 lb., second comes the Road Glide – 1,163 lb., and the heaviest one is Tri Glide Ultra – 1,243 lb.
Luggage capacity
As for the trunk, Tri Glide comes with a tour pack and has the highest luggage capacity of 6.8 cu ft, while Freewheeler and Road Glide share the same 2 cu ft trunk.
Engine
Freewheeler and Road Glide 3 both feature Milwaukee-Eight 114 engine while Tri Glide Ultra has Twin-Cooled™ Milwaukee-Eight 114 engine. All of them have the same displacement of 114 cu in and the same compression ratio: 10.5:1. Fuel system is also the same for all three – Electronic Sequential Port Fuel Injection (ESPFI). As for the exhaust. Freewheeler and Road Glide 3 feature Shorty slash-down-style chrome finish mufflers while Tri Glide Ultra has 2-1-2 dual exhausts with tapered mufflers.
Both Freewheeler and Road Glide 3 have the same horsepower of 90 HP / 67 kW @ 4750 rpm. However, engine torque is different for all of them: Freewheeler – 122 ft-lb (2750), Road Glide – 119 ft-lb (2750), Tri Glide Ultra – 121 ft-lb (3250).
Fuel
All three of them share the same 6-gallon fuel tank and the same Fuel economy (43 mpg).
Breaks
All three of these models share the same chassis. Breaks featured are Dual floating rotors (front), and fixed rotors (rear), for the caliper type in front: 32mm 4 pistons fixed, and for the Rear – floating 36mm piston integrated park brake.
Wheels and Tires
Wheels of both Freewheeler and Road Glide 3 are made of Cast Aluminum while Tri Glide Ultra's wheels are Black, 7-spoke Cast Aluminum. Tires are the same for all three – Dunlop Harley-Davidson Series, bias blackwall front, and radial blackwall rear. As for the specification of the tires, it is the same for Freewheeler and Road Glide: front – MT 130/60B19 M/C 61H; rare – P215/45R18 83T while tire specification of Tri Glide is MT90B16 72H (front) and P205/65R15 92T (rare).
Lights
Freewheeler and Road Glide 3 have the same lighting system: Dual halogen headlight 55-watt 625 lumen low beam, 65-watt 1,570 lumen high beam; Incandescent while on Tri Glide Ultra, there are All LED, low beam, high beam and signature position lamp, Incandescent tail/stop, front signal lights and rear turn signals.
Choose your favorite trike and enjoy the ride!