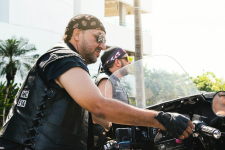 How to Choose Your Motorcycle Gloves Size
The main link between your motorcycle's control, and you are your hands. So, you need to get yourself a perfectly fitting pair of gloves. Still, do you know how to choose your motorcycle gloves size? With an incredible pair of well-fitting gloves, not only will you feel more protected, but your cycling experience will also feel more comfortable.
Ill-fitting gloves may look unpleasant. However, they will also restrict your rides, and the protective characteristics of these gloves cannot perform their job effectively if they don't fit well. Still, you'll be surprised to learn that a lot of riders experience glove fit issues. Some of them have wider, shorter, or longer than average fingers and hands.
Still, it doesn't mean that you should settle for gloves that don't fit. There should be a set of gloves that will suit you perfectly. With this guide, you'll have a better comprehension of the wide variety of available motorbike gloves, get your size, and purchase the ideal pair that you can take on your coming ride. It should allow you to feel comfortable, safe, and help you pay attention to the road more.
Step-By-Step Guide on How to Choose Motorcycle Gloves Size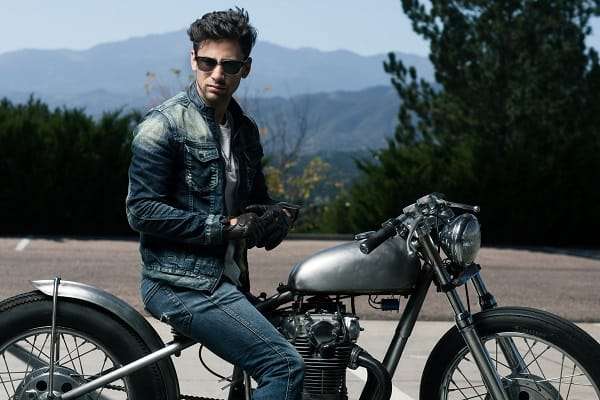 Getting a set of motorcycle gloves may sound so easy and straightforward. However, there are so many complexities involved in getting a pair, especially if you're a first-timer. Besides, to understand how to get the perfect fit of gloves, there are several guidelines that you need to put into consideration.
Factors to Consider for An Ideal Glove Size
You need to consider factors such as the size or height of the hand, the material used to make the glove, as well as the size chart used. Is it American or European sized? Another factor to look at is the function of the gloves. All these are the key factors in determining the perfect glove size.
Material
It is essential to pay attention to the different kinds of material used to make gloves. They fall into three groups. They include those made from textile, leather, as well as a mixture of the two materials.
They have been quite popular with motorbike racing for ages, and there are a lot of styles on the market. They are popular for a couple of reasons. First, leather is long-lasting, and it also provides a great feel when well fit. Another reason why leather remains a favorite for most people is that it can mold to your hand. Most riders love the "broken-in" sensation that these gloves come with.
Of course, just like the jackets, these gloves are a bit pricier compared to other alternatives. However, they provide very few waterproof choices, and they aren't the ideal choice for yearlong riding. If you need gloves with longer seasonality, you should get either holed or lined gloves for warm or cold conditions, respectively. It is also important to note that leather is your only option if you're going to the track.
Contemporary textiles have allowed glove makers to make gloves for any riding circumstances. The number one waterproof pieces on the market make use of textile construction. These gloves utilize advanced components to provide specially designed functions and protection.
Whether you're riding in really hot or extremely cold temperatures, it is the best set of gloves to get. They are also the most flexible, and you should get yourself a pair if you want to wear them in whatever season. Still, it is important to note that unlike leather, the textile does not usually form to the hand.
A tip while getting a pair of textile gloves is how they fit when you buy them, is how they will keep fitting in the long term. Besides, you need to note that several thermal liners that come in gloves intended for cold weather tend to feel a little heavy. Still, you'd rather they were bulky compared to having cold hands.
Leather and Textile Hybrid Gloves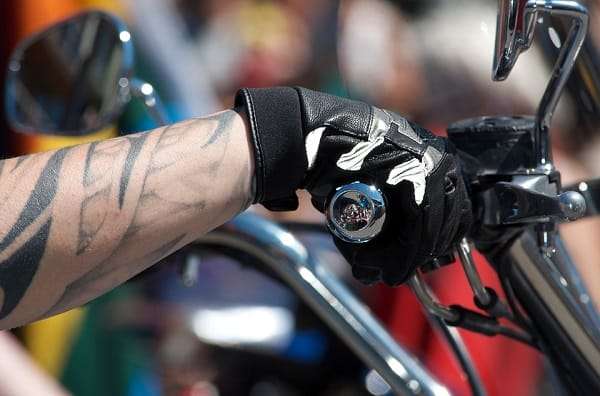 While textile has its pros, so does leather. So, there is no better way to get the most out of each than by combining them. A glove that makes use of a hybrid make will use leather when you need slide protection, then use textile for extra comfort. So, this will mean extra features such as stretch panels, being waterproof, and having mesh or thermal linings for increased airflow. They will offer you the best of both materials' features, making them a worthwhile investment.
Kinds of Motorcycle Gloves
The intended riding discipline will determine not only the kind of glove but also the size as well. There are five different kinds of gloves, including dirt, racing, street, adventure, and touring. Touring and sports gloves are entirely different. So, you should look at the varying types of gloves and their use before settling on size. For instance, a sports glove needs to be tight with the palm, leaving no wrinkles. So, this type of gloves must have an incredible touch with the bike's controls. Besides, the protections of these gloves need to be in their place. Failing to fit, therefore, means that it is not the right size.
On the contrary, touring gloves intended for winter will need to ensure other functions, such as going with warm hands. Also, they need to be waterproof and have incredible insulation. With this in mind, it is recommended that the gloves should be a little on the fingertips to preventing fast cooling. However, they still need to have protection in place. So, understanding the kind of gloves allows you to understand exactly which size to choose.
Glove fit
Glove fit comes down to two things: European and American fit. Typically, you can estimate which fit gloves will achieve by checking the location of the manufacturers. To better understand their differences, you should look for information in a motorcycle gloves size guide. It is crucial to note that a lot of American fit models tend to leave extra space around the fingers and palms, with generally smaller fingers in height. On the contrary, European fit models tend to be completely different with a thinner, longer fit, that has less space around the palm.
So, it is advisable to go for one size up for European gloves while compared to American gloves. For instance, an American size 10 would be equivalent to a European size 12. Also, make sure that your gloves feel warm and cozy all over. Your fingers need to reach the gloves' fingertips, and there should be no extremely loose fabric anywhere.
How to Achieve the Ideal Glove Fit

There is a particular way to follow in order to achieve the perfect fit. This article provides general guidelines that you need to look at. This way, you will eventually get the ideal fit.
Wrap Your Fist Around A Motorcycle Grip
To test a fit, physically wrap your fist onto an actual motorcycle grip, as you would do while riding. However, note that simply closing your fist won't accurately determine the ideal fit because closing the hand is much different from a normal grip on a bike. Typically, a motorcycle glove needs to fit comfortably without having to feel tight or restrained in your knuckles.
Besides, it should not cut off circulation. Also, your gloves should allow you to move properly and have an adequate grip to run the controls as well as turn indications. Additionally, your fingers should never touch the gloves' ends, neither should the fingers of your motorcycle gloves be excessively long. So, there shouldn't be any extra material that bunches up in the palm section.
Measuring the Hand Properly
There are different ways of measuring your hand properly, with different charts stating that you should place your hand flatly onto a tape measure, measuring your hand's widest area- that is usually just below the knuckles. Other guides will insist you check your hand's circumference using the measuring tape. So, a tape measure is your best bet at achieving a more definite fit.
Either way, it is important to check both hands, since there is a high chance that they aren't the same size. Measure them in the widest parts of each. Still, note that to achieve the most precise fit, there is no alternative for trying on the gloves to achieve.
So, how exactly do you estimate your hand's measurements? These steps should help to do so properly and achieve the best results. Start with the small finger's knuckle, and end at the same point after noting the entire circumference, with the flattened hand, and not including the thumb. Make sure not to close or clutch the fist. Once you're done taking measurements, make sure to go through the size guide of the gloves that you intend to buy, depending on the model.
Draw a Sketch of Your Hand and Make A Comparison with the Glove Size Picture
The simplest method of checking your hand's size to get an estimate glove fit is using a sketch diagram of your hand. Print out the photo of your glove size from the site whose brand you intend to purchase. Next, place the right hand as indicated on the image.
Ensure that the forefinger is against the marked dark line on the diagram. Your estimate glove size is the number to your hand's right side. However, this technique requires checking websites to confirm if they provide outlines, and it may not be entirely accurate.
Using a Size Guide
Finding a size guide online is easy. However, to achieve a more precise fit, always check the website of the company you intend to make a purchase from, to see if they have a guide. The measurements provided are normally very accurate. If you find your hand is in between two sizes, it is always recommended to get the bigger or upper one, since the fingers' area has seams. So, it isn't an area that you expect to leave excess space with time, and you'd rather get a comfortable pair from the start.
Glove Fit: Textile Compared to Leather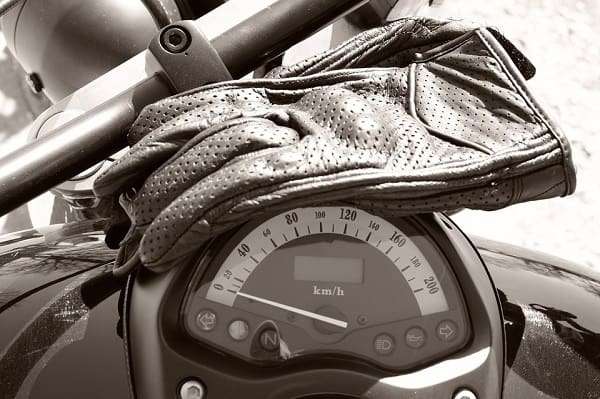 Textile tends to get softer over constant use. However, it will not stretch. Leather, on the other hand, will most likely stretch by approximately 5% with regular wear and time, so these gloves could be a tad snug when initially bought. If the gloves are made of fabric, always make sure that you choose the next or bigger size, if your a size in between.
Glove Fit: Depending on the Use
As stated earlier, the fit and feel of gloves will differ, based on their usage. The uses range from cold weather, speed, touring, adventure, racing, etc. A racing glove created for high prowess and control while riding tends to have forceful pre-curved fingers, and fits more cozily.
On the contrary, a touring glove, intended for daily and long-haul riding, is engineered to protect someone from the pavements as well as other items: so, a pair needs to fit close, with great prowess and sensation of the bike's controls. Finally, gloves intended for cold weather conditions tend to be heavier due to extra insulation layers, and the waterproof membrane coating intended to prevent the hands from getting wet. So, they need to feel cozy but not compact.
Also, you may want extra space for putting on a glove liner when it is extremely cold. For whatever kind of riding, your set of gloves need to let the fingers maintain a natural angle to grip the controls. However, one should still feel cozy after riding for long hours.
Glove Fit: Women's Hands
A lot of companies provide a particular line designed for women as a result of the unique features of women's hands. So, it will help achieve the best fit since women tend to have longer fingers and narrower palms, meaning that even smaller men's gloves won't fit. Still, make sure to check whether the company has a girl motorcycle gloves youth size guide before making a purchase.
Glove Fit: Different Brands
It is important to note that different motorcycle glove manufacturers offer different makes and sizes. Of course, I cannot tell you what brand to purchase. However, to get the perfectly fitting gloves, try on a couple of brands at least a size down or up. Once you've settled for the brand that meets your needs, it's advisable that you maintain it, since it will become easier to choose styles in the future.
Choosing the Perfect Glove Fit
Are you looking for a set of spiffy gloves that will give you the perfect feel, comfort, and control while riding? You have to consider so many aspects before settling for just any pair of gloves. Make sure that they don't pinch, bunch, or bind. Still, even if they feel a tad too snug for the first time – especially leather gloves- they will loosen up after riding with them for approximately 20 hours.
Also, you cannot merely rely on a size guide or the above methods to get a set of gloves. Go the extra mile and read reviews online and also speak to other riders to learn about their opinions. You'll learn so much more. Also, make sure that the company you buy from has a reliable return-policy, since you may fail to get the right fit. With all that said, this article should come in handy with the tips provided. How do you choose the ideal fit of motorcycle gloves? I would love to see your comments and questions in the comment section below.