Motorcycle Camper: a Comprehensive Guide for the Best Pick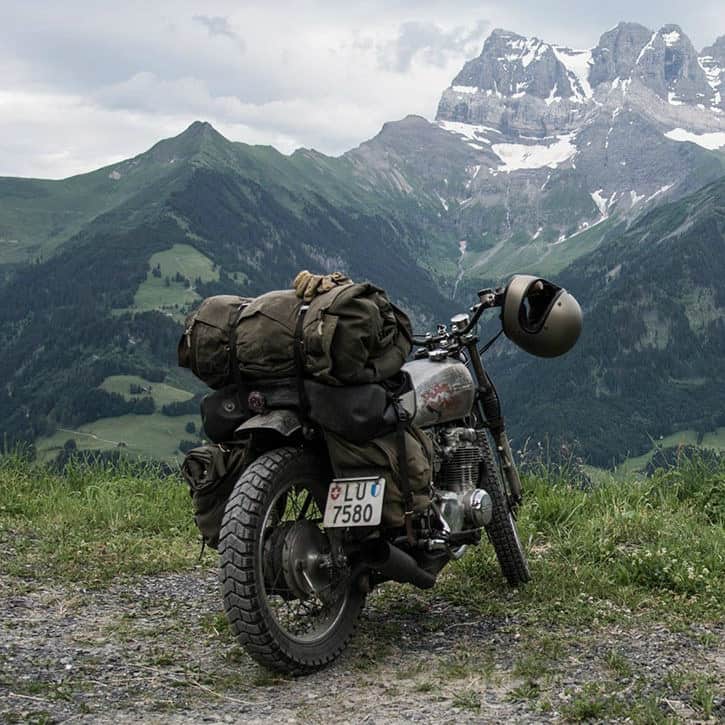 People in the USA love riding motorcycles, and a good proportion of motorcycle enthusiasts is also fond of camping. If you are interested in both these activities, you should consider buying a DIY motorcycle camper. These products are simply hauled by the motorcycle and will provide shelter when you need to relax for the night. But since they are relatively new on the market, you may have some trouble selecting the best motorcycle hauler camper. 
For this reason, I have decided to write a post on motorcycle campers. I have used the campers many times and learned exactly what you need to consider when buying a camper. The cheapest and most basic motorcycle camper will still set you back a few thousands of dollars, so you should not leave any room for mistakes. And a poor-quality product might not be your best companion during a cold night. Let's ensure you will confidently select the best motorcycle camper on the market.
What Is a Motorcycle Camper?
 Basically, a motorcycle camper is a bike that combines camping and cycling. Most of these bikes are designed with small cubes that contain pop-up campers. The cubes are easily towed behind the motorcycle. It is worth noting that motorcycle camper trailers come in different designs. 
back to menu ↑
Which Types of Motorcycle Campers Exist?
With proper tips, it will be easy to find a motorcycle camper suitable for your preferences. Nowadays, you can get an open trailer, a cargo trailer, or a clamshell camper trailer.
back to menu ↑
Open Trailer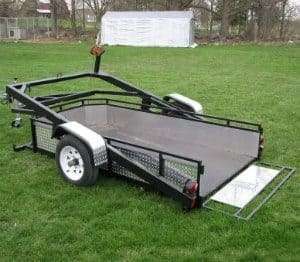 Open trailers are not necessarily meant for camping, but they offer high levels of versatility. This pull behind camper for motorcycle accommodate many different items. Another advantage is that they will cost you very little money. 
back to menu ↑
Cargo Trailer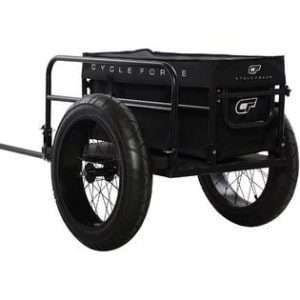 Being a little more expensive than open trailers, cargo trailers come with multiple advantages. First, since they can be locked, you will not need to worry about the security of your stuff. It also means your food will be safe at night. 
back to menu ↑
Clamshell Camper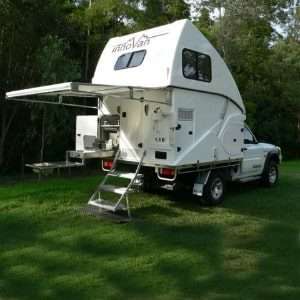 Clamshell camper trailers are ideal for people who are primarily interested in style and comfort. These trailers allow you to camp with modern conveniences. Some of these trailers even come with running water and cabinets.
back to menu ↑
Pop-Up Camper Trailer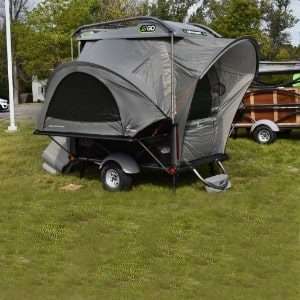 Pop-up camper trailers are the most common options since they are optimized for camping. They can easily be towed. Some are also designed to accommodate more than one rider, meaning they are ideal for couples. 
back to menu ↑
How to Choose the Best Motorcycle Teardrop Camper
The best motorcycle camper should last for long and provide an excellent camping experience. Here are some things you should consider when selecting a motorcycle pull behind camper:
back to menu ↑
Size
It is essential to consider the sizes of pull behind motorcycle camper trailers. Size should be determined by the number of campers, but usually, they can fit only one or two people. You also need to consider the size of your ideal mattress and select a camper trailer that will fit your bed. Additionally, take into account the height of your mini mate motorcycle camper since it will determine the level of comfort in the trailer.
Reaching for the best quality, there is no need to pick the largest trailer on the market, especially if you don't plan to share the one with others. A larger product will always weigh down the bike and affect your acceleration. 
back to menu ↑
Price
A motorcycle camper trailer does not have to cost you a lot of money. The cheapest trailers I have seen have a price of around $2,000, and the expensive ones can go up to $6,000. The cost is usually determined by the space and the features of the trailer. For example, a motorcycle camper with AC will usually be more expensive than an item without one. 
But you still don't have to forgo the features in order to save money. I have purchased a used trailer before and noted that with a proper approach, you can save a lot of money. If you choose this route, make sure you inspect the trailer thoroughly, and it has no issues.
back to menu ↑
Weight
Hauling heavy items with a motorcycle can significantly affect your riding experience. The thing I hate most about heavy trailers is that they affect the acceleration and speed, and these are some of the biggest perks of riding a bike. For this reason, you should go for a lightweight motorcycle tent camper. 
Because of the extra weight, I had to change my riding habits. You will note that it will be necessary to break early because of the increased stopping distance. The modifications in weight will also have an impact on switching lanes and turning. You can consider practicing with it at home for you to understand the changes that you will need to make. 
back to menu ↑
Comfort
A camper trailer for motorcycle has to be highly comfortable, especially if you are planning to go on long camping trips. The tent should be large enough to accommodate you and any other person you intend to camp with. For long camping sessions, the tent should offer more extra room. Some motorcycle camper manufacturers make their products to be spacious yet lightweight. These would be the best tents for people who need larger tents. 
back to menu ↑
Setup
Setting up your motorcycle camper bunkhouse is part of the camping experience and can even enhance your trip. But no one would like to spend more than 10 minutes setting it up. The shortest time I have noticed for this purpose so far was 5 minutes. 
back to menu ↑
Windows
I find windows essential for outdoor camping as they help you feel connected to nature, even as you sleep. The best camper with motorcycle storage on the market comes with around four zippered windows.
back to menu ↑
Modern Features
As it has been mentioned earlier, the most expensive motorcycle pop up camper products come with modern features. For example, some will come with AC ports to help you stay warm or cool. Modern features will definitely make your experience exceptional, but you should compare these advantages with the prices.
back to menu ↑
Key Take-Aways
To sum it up, I would like to remind you that some motorcycles may not be suitable for camping. They may not be able to haul the weight of the camper and will simply mess up your experience. A motorcycle popup camper trailer should be able to carry basic items such as your beddings, but it should not be too large. If the product is too heavy, you will not enjoy riding the motorcycle at all.
Make sure to educate yourself on the different types of motorcycle campers available beforehand. When you go shopping for these products, ask the manufacturers and sellers about the types they have so that you can thoroughly carry out your research. Remember, these items are not very cheap, so you should get the best product on your first purchase.
What do you think are the biggest priorities when selecting a motorcycle camper? Have you had any experience with the manufacturers of these products? Please let me know in the comment section below.