Best Motorcycle Wheel Chock to Buy in 2020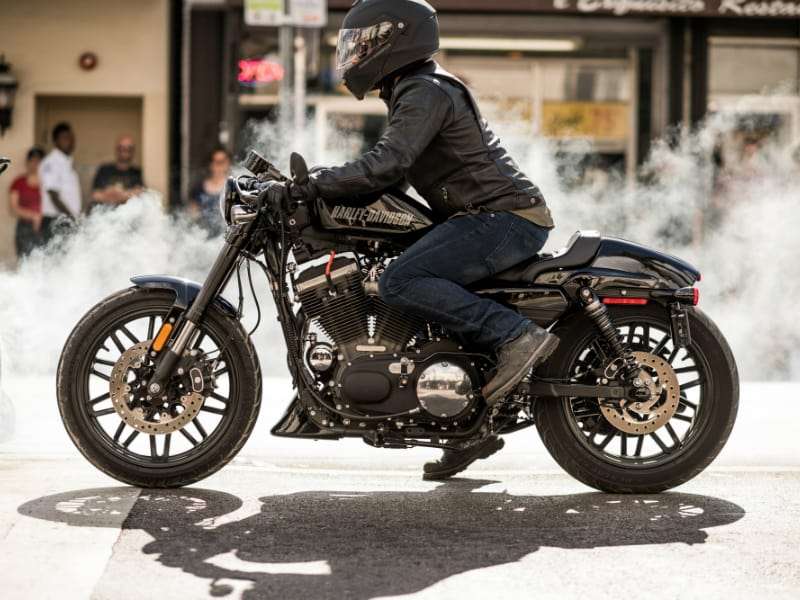 When you own a motorcycle, you can't help but feel good because movement from one place to another becomes easy. You can go shopping or just ride in the woods for fun. It is fun and games until the gadget breaks down or you have to relocate to a new city. How do you transport your motorcycle safely?
If you are thinking about the stand, well, you are not badly off. But, imagine using the stand to transport a motorcycle ten thousand miles away. You have to worry about the safety of your motorcycle. With a stand, you have to keep checking to ensure that everything is okay. These checks may consume a lot of time and slow your journey.
The safest and easiest way to move the bike is to get a wheel chock. A wheel chock is a gadget that holds your motorcycle in position. It locks the front wheel so that it does not move the slightest bit. With a wheel chock, you can transport the motorcycle using a trailer, and you don't have to keep checking whether the machine is in position because you are sure nothing will go wrong.
So, which wheel chock should you get? There are many wheel chocks on the market, and they differ in terms of their weight, capacity, and wheel diameter that they can support. In this review, I will discuss the features of the best wheel chocks that you can buy today.
Amazon Bestseller
Reviews of the Best Wheel Chocks for Motorcycles
Each wheel chock has unique features. One that can hold your motorcycle may not be able to support another brand. That is why I am reviewing ten of the best wheel chocks while identifying their pros and cons.
CONDOR TK-3000 Pit Trailer-Stop Adaptor Kit- Best Motorcycle Trailer Mount Kit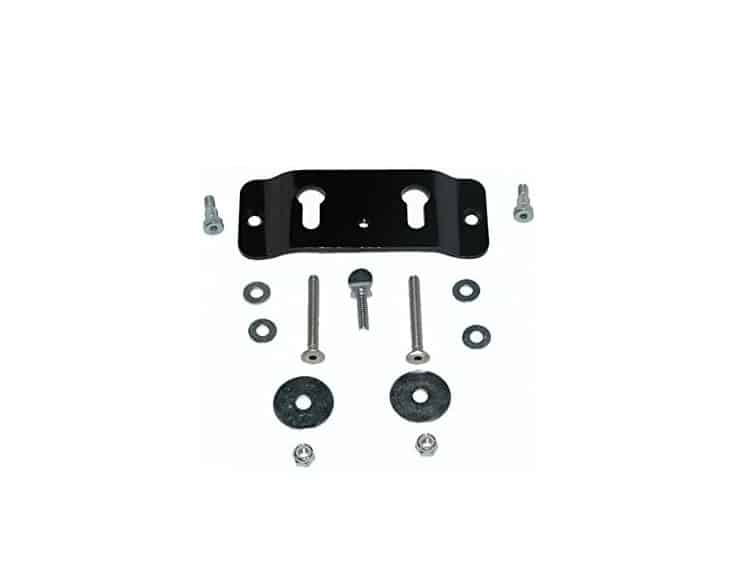 In the earlier times, there was no way you would chock your motorcycle wheel without resting it on its kickstand. While this worked at the time, it limited the number of maintenance activities you would perform on your bike. It also did not provide the best options when it came to transporting your bike in a trailer.
However, innovations are changing things for the better. One company creating such innovative products for bike lovers is Condor. Some of the innovative bike accessories in their product catalog include the chock, garage dolly, cycle loader, and tie-down straps. However, in this section, my focus will be on their Condor Pit Stop kit.
The reason it is called a kit is that it contains both the pit stop and trailer stop wheel chock. You can either choose to buy them as a whole or select just one unit, depending on your usage requirements.
The first thing I loved about this wheel chock is that it is made of strong but light-weight aluminum material. Any product made of aluminum instills a high level of confidence in terms of strength and durability. You will not have to worry about the chock rusting or not being able to support the heavier motorbikes.
To keep up this quality level, Condor also has steel in all the pit stop parts that do not have aluminum. Even better is the fact that this steel is powder-coated to protect it from harsh weather elements. Therefore, you do not have to worry about the steel parts rusting even when you expose them to conditions like snow.
The company's innovativeness does not end there. The edges of the pit stops are fitted with durable rubber. It helps minimize the possibility of scratching on the surfaces you place them on. Further, it helps increase their stability, thereby making it easier to secure your bike. The flexible nature of this pit stop will also amaze you. It can comfortably be used for bikes of all wheel sizes.
Sale
Condor TK-3000 Pit-Stop/Trailer-Stop Adapter Kit
The CONDOR Trailer Adapter Kit works on all forms of transport platforms, such as enclosed trailers and open flatbeds
Simply mount the low-profile kit to the floor of your trailer, and the Pit Stop / Trailer Stop (PS-1500; sold separately) is ready to be attached in seconds by using only one thumb screw
Includes mounting hardware
Positives:
It is made of thick aluminum for better strength and durability
It is flexible enough to support bike wheels of all sizes
It is one of the affordable wheel chocks
It comes with a manual that gives you clear instructions on how to fix it
Negatives:
It is still not appropriate for securing your bike while performing tire and suspension maintenance
---
Condor SC 2000- Best Motorcycle Wheel Chock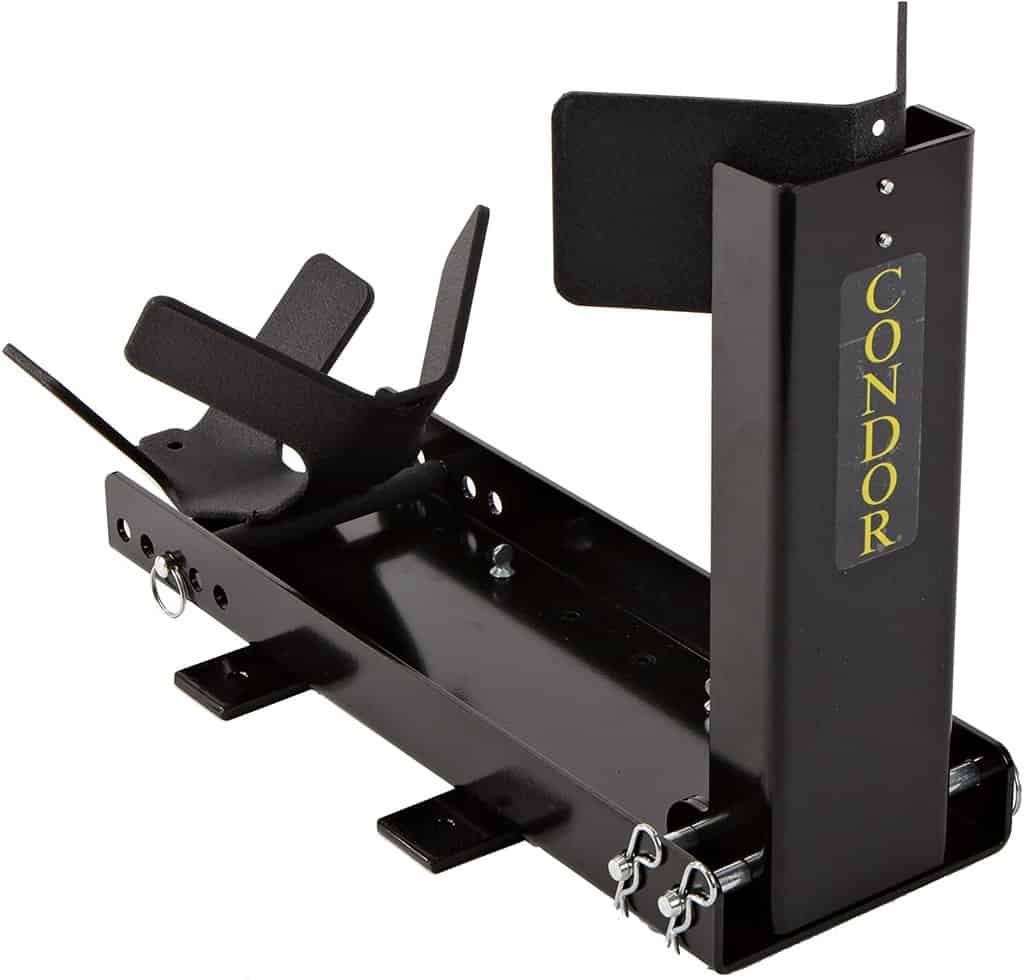 This Condor wheel chock weighs 34.8 pounds, which is a little bit heavy. But the good thing is that the chock was designed to be carried on a trailer. Therefore, you will not need to lift it unless when you are storing or mounting it on a trailer. The weight should not be a bother, considering that it is a gadget designed to carry motorcycles up to 3000 pounds heavy.
Besides, you can store the wheel chock in parts. It has two major parts, one that supports the wheel at the bottom and the other one that locks it from the front to prevent movement. When you separate the parts, it is easy to lift and move the chock to wherever you want, and you won't be stressed by the weight.
The item is easy to store just as it is easy to move. If you have enough space, you may store it in the assembled state. However, if you have limited storage, you can disassemble the gadget and store each part separately. It will take up less space, and it will also be secure in that state.
It is simple to install a wheel on the chock. One person can do the job without anyone's help. Also, you don't have to be an expert to install this equipment. By following the simple instructions in the manual, you may get everything done within minutes.
The dimensions of the product are 24.5 by 12.5 by 9.8 inches. The measurements ensure that it can carry wheels between 14 and 22 inches. Therefore, it is multipurpose as it is useful with a variety of motorcycles.
It is durable and will hold your motorcycle in position. In this way, it prevents the mess that usually occurs when moving a motorcycle without locking the wheels. With the gadget, you can even carry other items and don't worry that the motorcycle wheels will move and cause a mess. Knowing that the chock is keeping your motorcycle intact will also save you from stress and what-if questions.
Sale
Condor SC-2000 Trailer-Only Chock
Fully adjustable wheel locking system capable of accommodating either front or rear wheels in sizes from14-22in/80-220W and bikes weighing up to 3000 pounds
Patented locking mechanism securely supports motorcycles in an upright position
As a trailer chock it easily snaps on and off transport platforms
Requires only one person to load or release any motorcycle and 2 tie-down straps to secure bike for transport
Fold down for easy storage
Positives:
It is easy to install
It can last for years when used carefully
It can support wheels between 14 to 22 inches long
It is easy to store
---
Ego Bike Wheel Chock- Two Looped Front Wheel Chock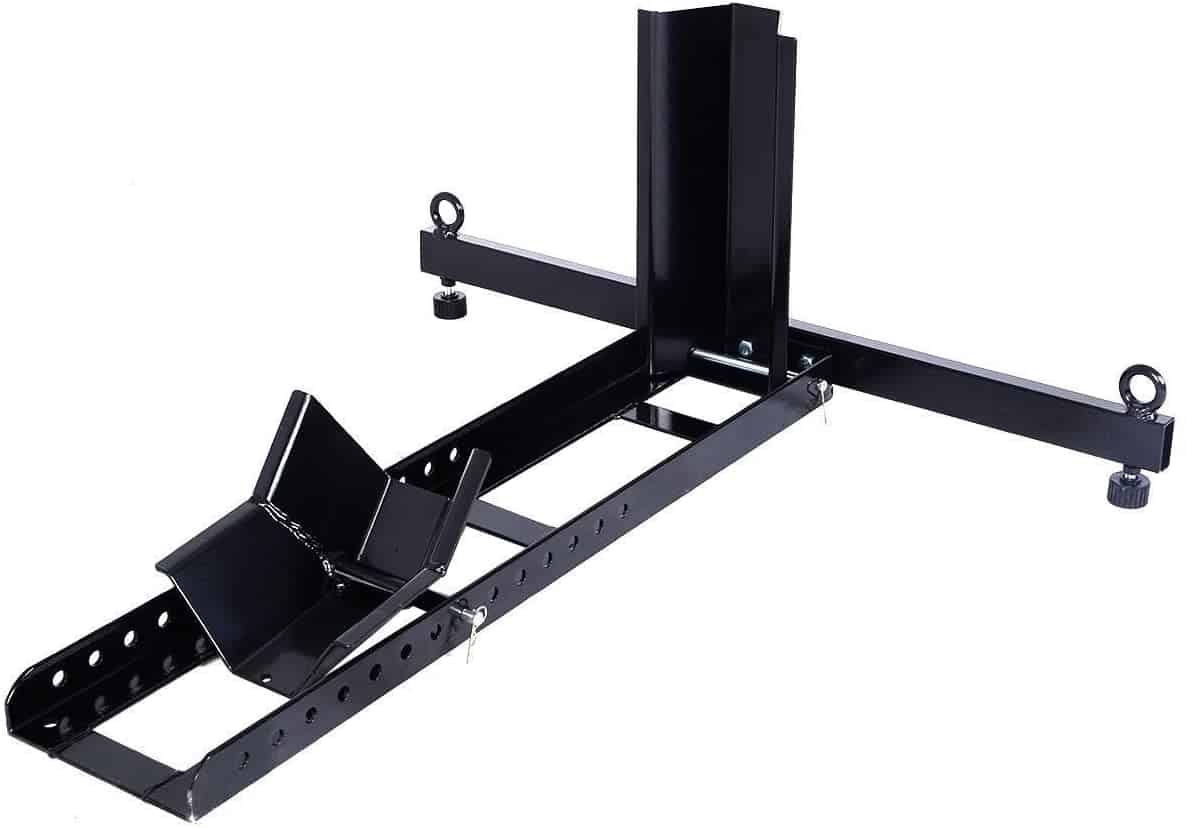 If your bike is a large machine, you may prefer a wheel chock that is sure to support its weight. Well, in this case, the Ego Bike is the wheel chock you are searching for. It is made from the premium heavy-duty type of steel that guarantees its strength.
It is no wonder that it is capable of supporting a motorcycle weighing 1800 pounds and supporting wheels between fifteen inches and twenty-two inches. To ensure the chocks durability, the steel has been coated with an extra powder layer. Therefore, you do not have to worry that the chock may get corroded or rusted.
For better strapping of a heavy bike, this chock has two eye loops. The loops can also be used when you want to connect the adapter for wheel tilting. Therefore, it is a chock you can rely on when performing wheel maintenance practices on your bike.
When combined with the free stand design, these features make it more convenient for you to secure the bike on a trailer or floor. Moreover, once the wheel is mounted, it will automatically be locked in place.
The fact that this brand has patented this automatic lock should tell you that not every other chock has this capability. For the user, it means that you do not have to waste much time trying to secure your bike onto the choke.
EGO BIKE Heavy Duty Motorcycle Wheel Chock Adjustable...
-SUPERIOR CONSTRUCTION & HIGH STRENGTH DESIGN: Made of high quality solid steel, with Powder coated surface finish, which is anti-corrosion and impact-resistance, ensuring a long-lasting usage for outdoor performance. The strong structure can hold up to 1800 pounds, ensuring it can be used on heavy motorcycles without crack or damage.
-ADJUSTABLE LENGTH & WHEEL LOCK: The wheel chock are equipped with 14 cradle adjustments, which can be widely applied for wheels or wide tire which is 15" - 22" diameter / 76 - 130mm, utilized for garage storage, routine maintenance, or bolted directly to a surface for transportation purposes.
-CONVENIENT STRAPPING & FREE-STANDING DESIGN: The two Eye Loops are designed for safe and convenient travel, make sure you motorcycle avoid shaking and wiggle even on rough roads during transportation. Free-standing design can be mounted to floor, truck or trailer bed. The adjustable feet can be fixed on uneven ground.
-IMPORTANT SPECIFICATION: Accommodates 15" - 22" diameter wheels/ 76 - 130mm wide tire; Weight capacity: 1800 lbs; Height:16 1/8"; Length:36 3/5"; Width:35 2/5".
-BEST SERVICE: If your items encounter any adaptation and color difference or anything-else problems, please give us the opportunity to replace the item/part. We provide technical support at any time, please feel free to tell us what we can do for you,we will reply in 24 hours.
Positives:
It features a sturdy steel construction
It is capable of supporting a bike weighing 1800 pounds
It has an automatic lock function for securing your bike's wheels once mounted on the chock
It contains two eye loops that you can use for strapping and connecting accessories such as the wheel tilter adapter
Negatives:
Several users have complained that the chock does not hold firmly on the floor
---
MaxxHaul 70271 Heavy Duty Chock- with Capacity of 1800 Pounds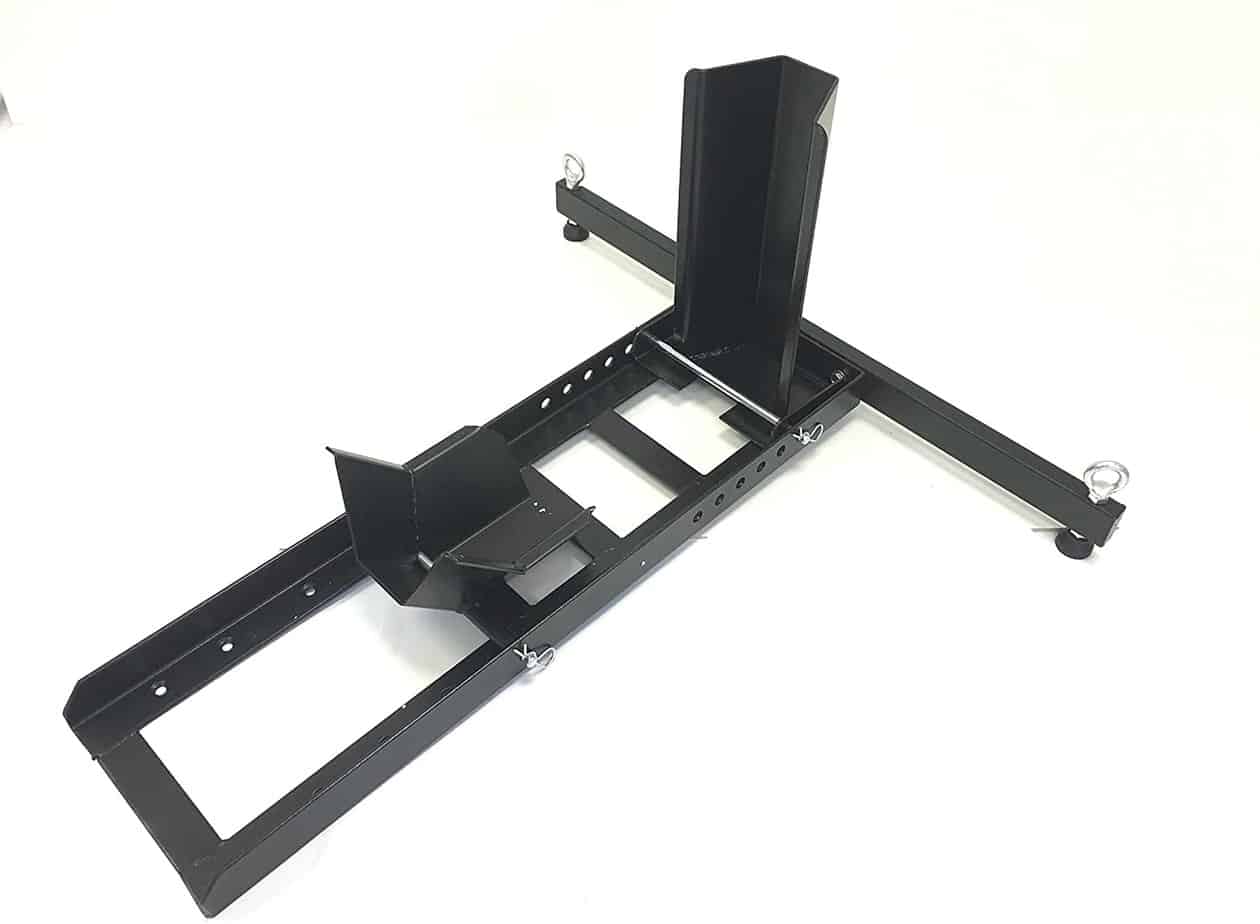 First, Maxxhaul is a black wheel chock with a security cradle, just like most of the other chocks. The cradle enables you to slide the wheel on the chock and maintain it in position once you lock the gadget. It helps you use less energy to mount wheels on the chock, which is rather convenient.
It has a capacity of 1800 pounds. This capacity is enough to hold most wheels on it, but not as much as Condor that can carry up to 3000 pounds. Despite this fact, the chock is heavy-duty, meaning that it will be stable as long as it carries within its capacity.
Its dimensions are 37" by 11" by 6", which allows the chock to fit wheels with a width of three to five inches. Partly, this is also enhanced by the six adjustments on the cradle. You can adjust the cradle depending on the diameter of your wheels. Thus, it is flexible and easy to use.
The chock is made of steel that is a durable material. It does not break under pressure as long as you do not overload the wheel chock. Even more advantageous is the fact that this chock is easy to operate. You can mount your motorcycle on the trailer or pickup without asking for external help. If you get confused, the product comes with a manual that you can refer to whenever you are stuck.
MaxxHaul 70271 Adjustable Motorcycle Wheel Chock Stand Heavy...
Capacity: 1,800 pounds
Accommodates most wheels 3 to 5 inches wide
Heavy duty steel construction; Black powder coat finish to resist rust and corrosion
Self-locking wheel cradle utilizes bike weight to keep itself upright
Anchor points for added stability
Positives:
It can carry motorcycle wheels with 3 to 5 inches
It is made of steel that is a durable material
It is easy to assemble
Negatives:
It is wide and requires ample storage space
---
Baxley LA Trailer Motorcycle Wheel Chock- Best Small Wheel Motorcycle Chock Stand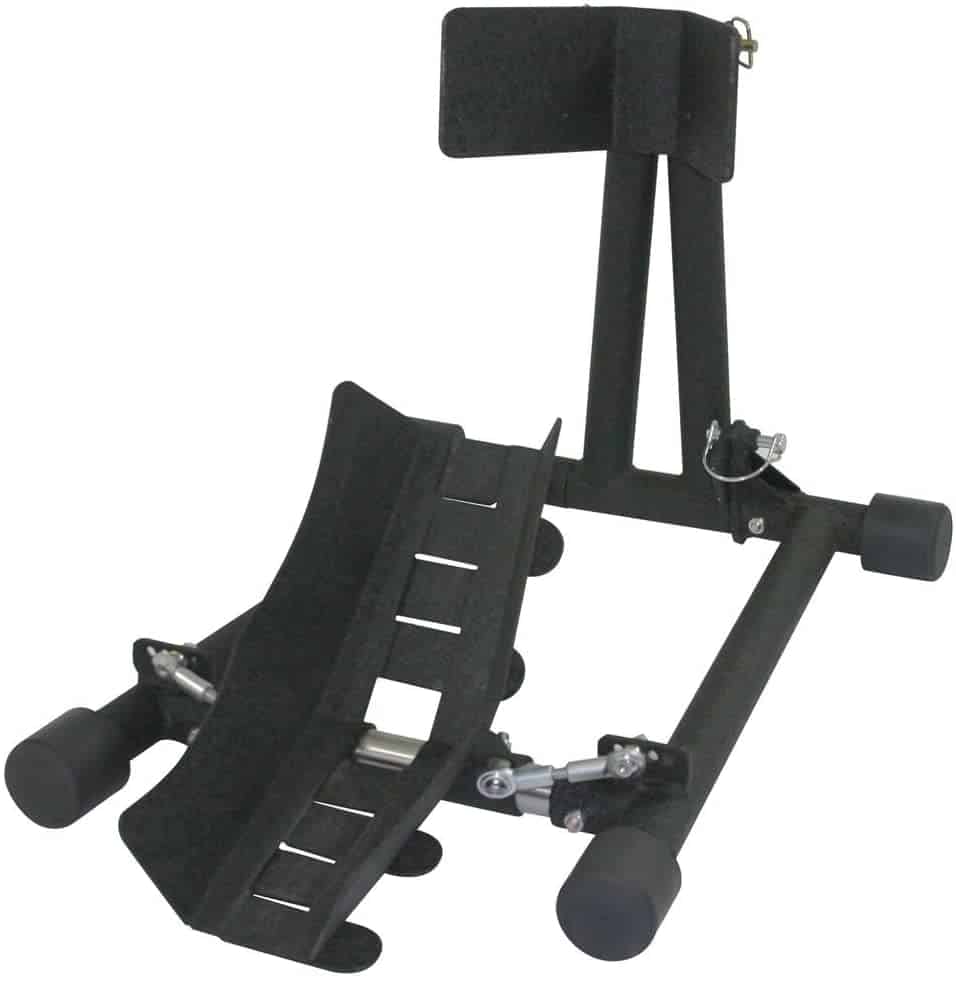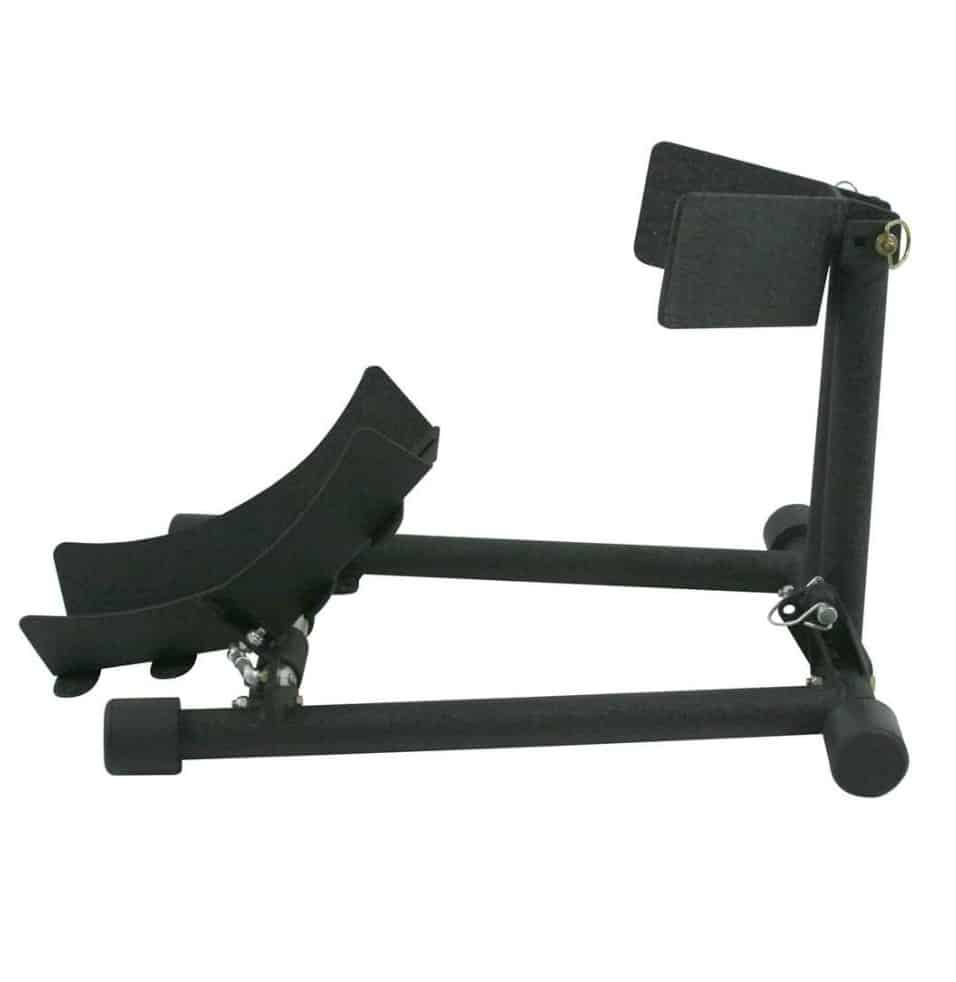 Most of the chocks above are for riders with the big bikes. But is there a brand that takes care of the needs of individuals with smaller wheel bikes? Well, Baxley is the company with the right solutions for this particular market segment.
Baxley is an American company that specializes in the manufacturing of motorcycle trailers and chocks. Established in 1997, this company believes in making handcrafted products, which makes it possible to guarantee its quality. Innovation wise, Baxley was the first brand ever to make a chock that could independently support a motorcycle.
The Baxley LA can be adjusted to support smaller wheels with a diameter of between 80 mm and 180 mm. None of the chocks I have already reviewed has such capabilities. Even better is the fact that the Baxley LA was designed with a smaller base that creates an extra room for your motorcycle.
On the other hand, there is a reason why I recommend this chock for use during transportation on motorcycles in a trailer. It features a compact design. This feature makes it efficient for you to secure and transport several bikes without consuming much space.
The wheel rack of this chock is thirteen inches long. Therefore, the chock is ideal for places with minimal spaces or when transporting motorcycles in an enclosed trailer. The edges of the chock are capped with rubber. That's why it is stable and does not slide when in use.
Baxley LA Trailer Motorcycle Wheel Chock
Premium motorcycle trailer chock
Adjusts to fit motorcycle tire sizes 80mm to 180mm wide
Smaller base for additional room
Ideal for enclosed trailers and compact areas, mounting hardware is not included
Heavy duty steel construction with a black crinkle finish
Positives:
It is adjustable to support wheels of smaller diameters
It is made of heavy-duty steel that is powder-coated for increased strength and durability
Its compact design makes it an ideal choice for use in small spaces or when transporting bikes in an enclosed trailer
It is much smaller base allows for the creation of added room to support several bikes
Negatives:
You have to spend a lot of money to acquire it
---
Extreme Max 5001.5010- Best Harley Wheel Chock for 17" to 21" Wheels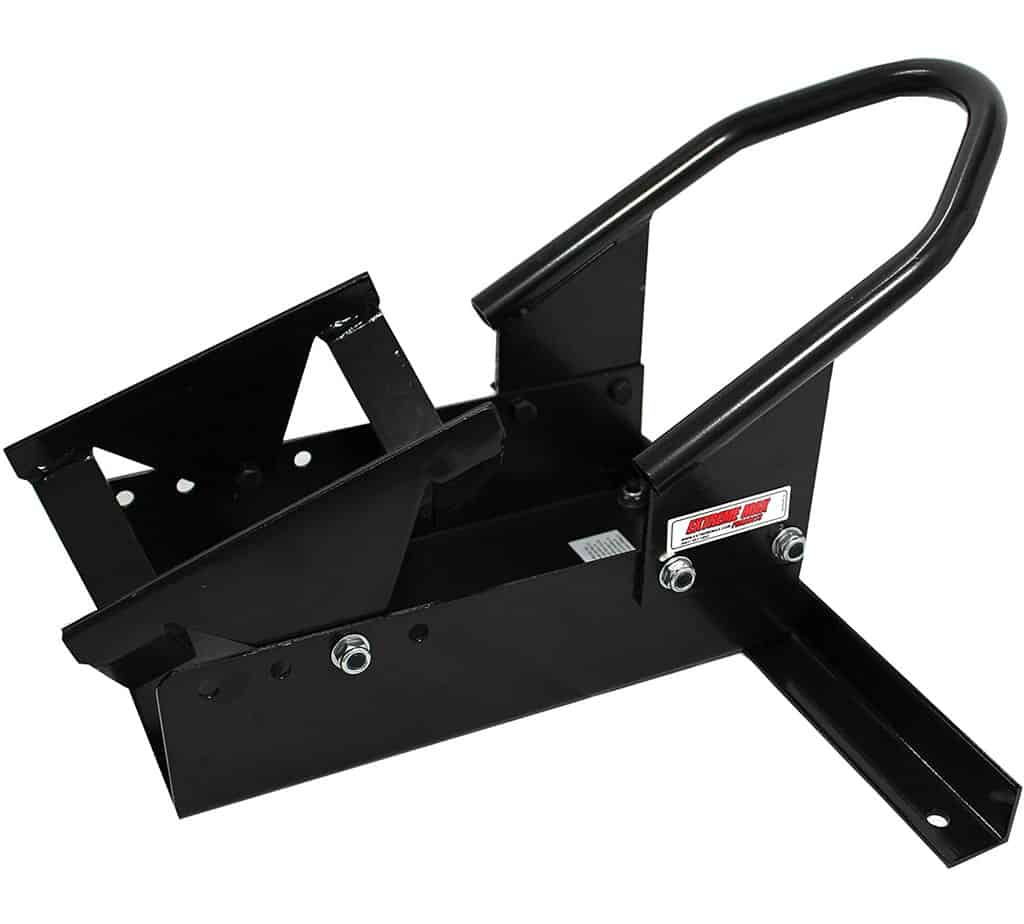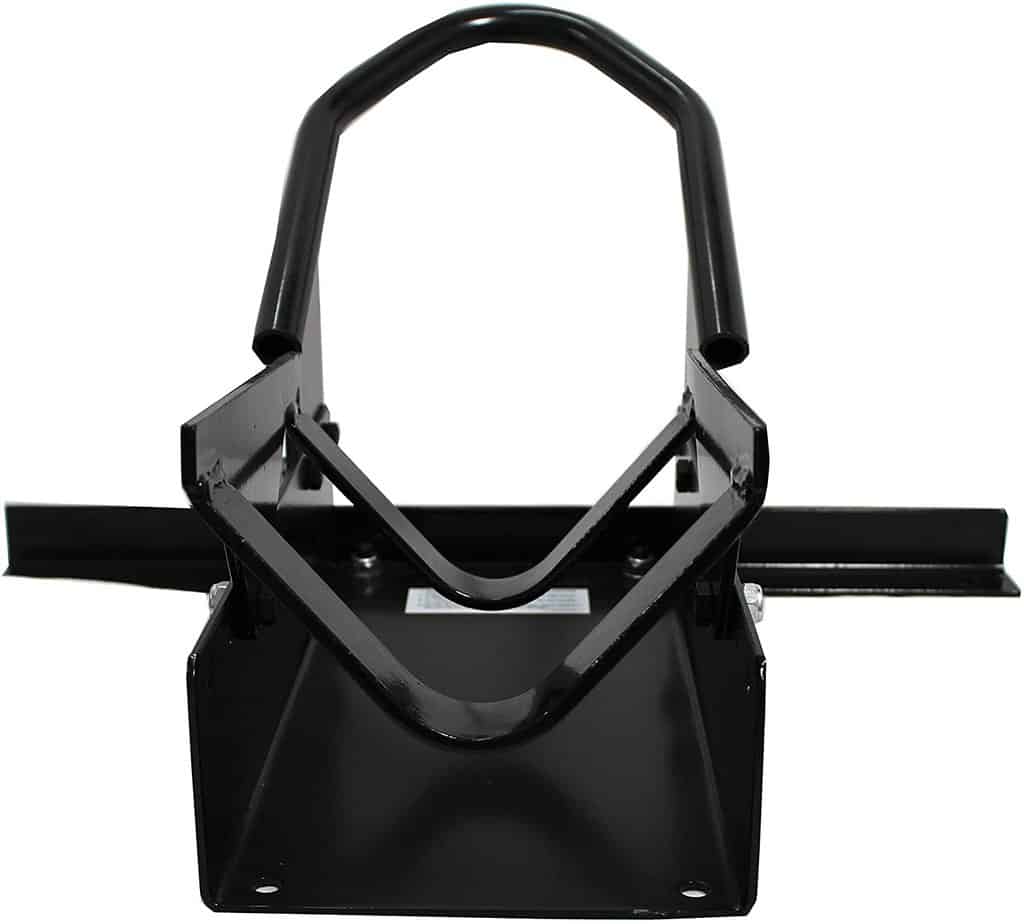 If you are a minimalist, you will love this Extreme Max wheel chock. It is small with dimensions of 10.7 by 23 by 1.8 inches. Therefore, it occupies less space, yet it can perform similar tasks as other gadgets such as the Condor.
The Extreme Max can carry motorcycle wheels of between 17 and 21 inches. Therefore, it is efficient for motorcycles with large wheels. Motorcycles with wheels less than seventeen inches may be too small to be supported on the chock. So there is no guarantee that it can carry them in one piece.
The gadget does all that with a weight of 21 inches only. The weight contributes to the stability of the gadget despite that it is sleek. The strength and stability of the Extreme Max also depend on the durable steel frame that supports it. The robust material enables the wheel chock to withstand pressure without collapsing. Therefore, it adds to the durability of the gadget.
It is easy to operate. For example, the cradle has four mounting holes, and each of them extends up to one and a half inches. You can adjust it to your liking. Thus, it ensures flexibility and gives you the chance to mount wheels from various motorcycle types on the chock without stress.
When using the Extreme Max, you can be sure of its stability. The stance increases the width of the gadget, hence adding to its stability. With the stance-enhanced stability, you can mount the gadget anywhere you want, whether it is the trailer or your garage.
Extreme Max 5001.5010 Standard Motorcycle Wheel Chock -...
Solid front cross bar and boot provide maximum stability
Durable steel and textured semi-gloss black powdercoat provide heavy duty strength and good looks
Multiple rear wheel cradle adjustments fit wheels perfectly
Designed to hold 17" - 21" wheels between 3-5/32" - 7-3/32" wide
Easy bolt-together assembly
Positives:
It has a steel frame that enhances its durability
It can carry mostly large wheels
It is flexible as it has four mounting holes in the cradle
It is light (21 pounds)
Negatives:
It is inefficient for wheels smaller than 17 inches
---
Pingel Series E- Simple Wheel Chock

The Pingel Series E represents one of the simplest yet complex chocks I have ever come across. By this I mean that it is a product that has a simple construction but works better than you would think. It has been made using thick heavy-duty steel and is good for starters.
Just like the other chocks, it is dependable when it comes to being strong enough to sustain the weight of your bike. It will also prove to be a reliable option in terms of durability.
The chrome finishing on this steel improves its aesthetics and also ensures that the chock cannot be destroyed by corrosion or rusting. The aluminum plate used for mounting bikes on to the stand also contributes to its quality. Everything about the chock represents innovation at its best.
The fantastic thing about this product is that even with this sturdy construction, it is one of the lightest chocks at 12.5 pounds. Moreover, its compact design ensures that it occupies lesser space, whether in storage or when in use. For those people that need to carry their tool kit, this chock could be a good option to consider.
Another useful feature of this product is that it is easy to assemble and to use. The makers of the chock made it efficient to use in the sense that you can look to find your bike at any point down the track.
Therefore, you are given the freedom to position your motorcycle at the most convenient place. The design capability makes it a suitable chock for when transporting several bikes on your trailer. It is simply economical on space.
Pingel Series E Track Wheel Chock System WC65EF
Locate your motorcycle anywhere on the track for best position
Optimum space utilization
Easy Installation
Installs securely in both recessed and floor mounted Series E Tracks
Heavy-duty thick wall steel construction
Positives:
It is one of the lightest chocks available
It a good option if you are looking to save on storage and maintenance space
It is easy to assemble
Negatives:
Many users consider the price to be high
---
Rage Powersports MWC-2900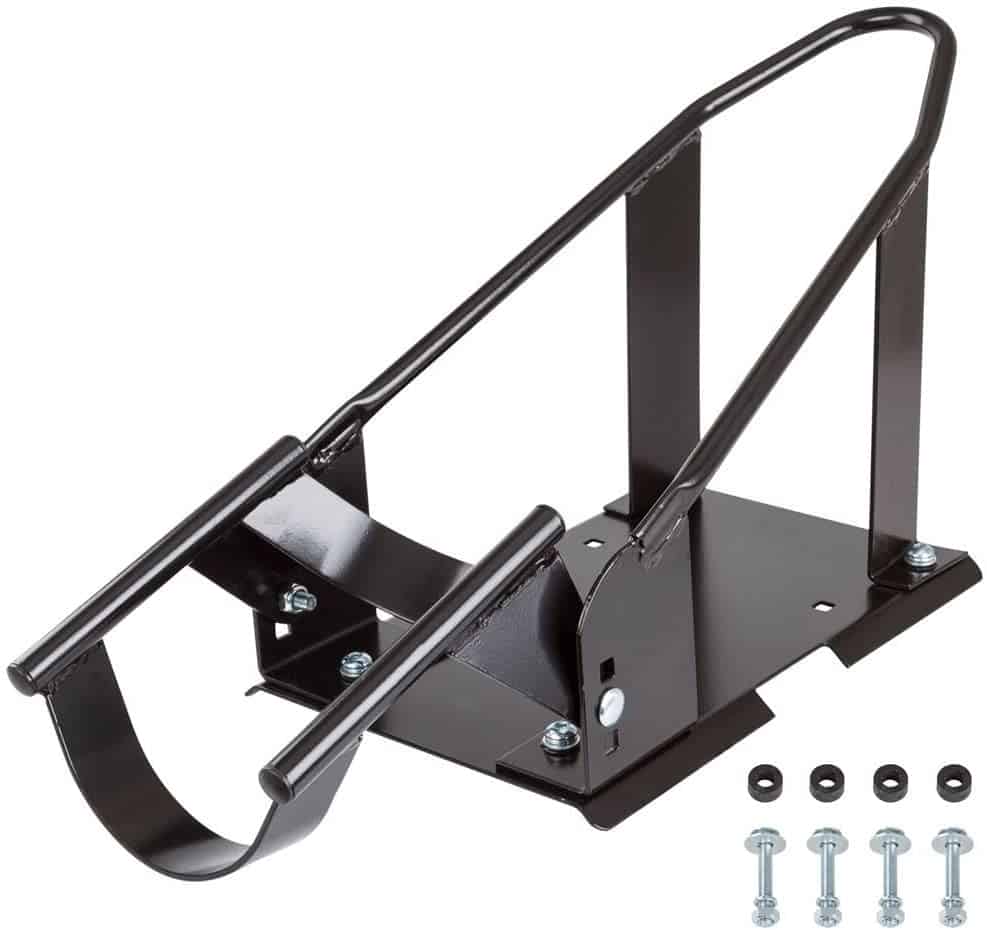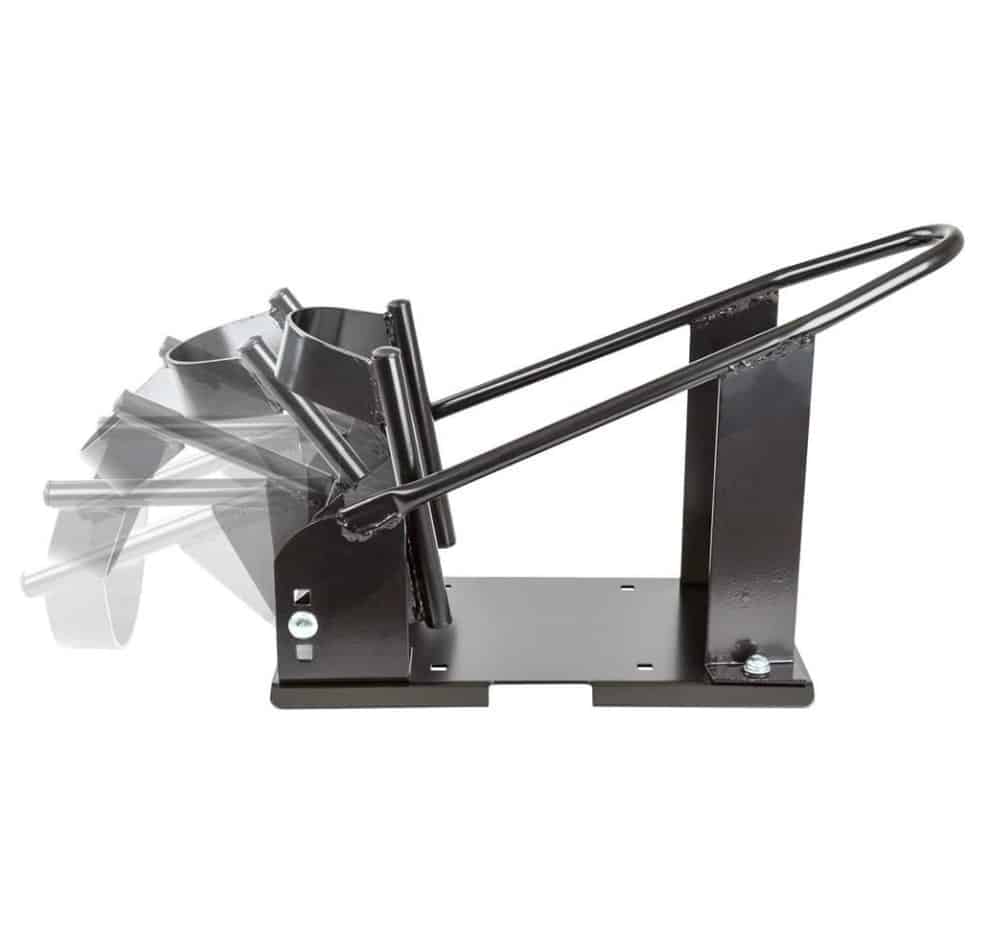 With so many brands selling motorcycle wheel chocks, there was the apparent need for companies to start differentiating their products. The Rage Powersports is a brand that did it in style. Their chock is unique in two dimensions.
The product has been made with robust, heavy-duty steel material. The final product is a strong chock that can be relied on even in the transportation of sportbikes. The steel framework also contributes to this product's durability.
You would be forgiven for assuming the robust steel framework of this chock makes it challenging to move around. However, this chock weighs only seven pounds, which makes it one of the lightest of all the products I have reviewed.
The design of this product also creates the impression that engineers had the idea of saving space in mind. Those that have used this chock will agree with me that they achieved this goal, and it is possible to economize on the space used during storage.
Another distinguishing feature of Rage Powersports is its adjustable pivoting wheel holder. It was designed to be adjustable in three different positions. The adjustments are influenced by the wheel clearance you are dealing with. It can comfortably support a wheel with a diameter of between sixteen and twenty inches. Once you mount the wheel, the chock will automatically lock itself.
Rage Powersports Black Widow MWC-2900 Self-Locking...
Truck bed or trailer mounted wheel chock for transporting a sport bike or street motorcycle
Measures 15.5" L x 10.5" D x 13.125" L; fits tires 16" - 20"; weighs 13 lbs
Requires mounting to truck or trailer bed with 4 bolts
Includes all hardware
Heavy-duty steel construction
Positives:
It has a pivoting wheel holder that can be adjusted into three positions
It automatically locks itself once the wheel has been mounted
It is one of the lightest chocks
Negatives:
There are times it may fail to self-lock</li
---
Dragway Wheel Chock- Suitable For 16" – 21" Tires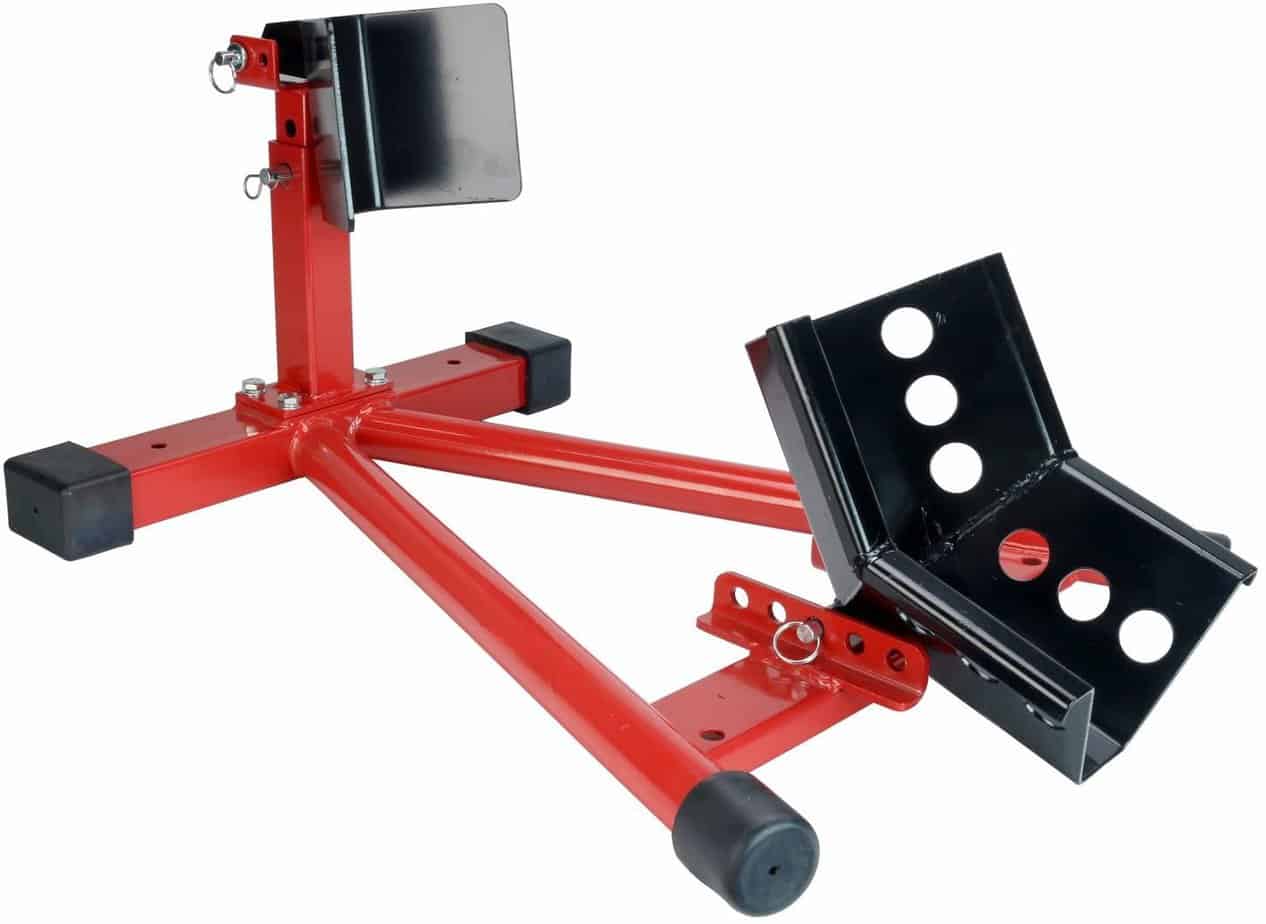 Adjustment is the primary feature that you need in a wheel chock. You should be able to adjust it depending on the size of your wheel so that it fits. You can be sure that Dragway won't disappoint you. It has five adjustments on the cradle and two on the upper shoe. Thus, it gives you enough flexibility to fit and hold tight any motorcycle wheel.
When looking for a chock, you want one that can withstand pressure without breaking down quickly. That means it has to be made of sturdy materials. Dragway is made from alloy steel. The material enables it to hold on to heavy weights while maintaining stability. The chock can last for several years when used and stored correctly.
It is made of steel; hence it doesn't rust. Therefore, it can maintain its good looks, and it is easy to store because you don't need to keep oiling it as you would with other materials. When in good condition, it can support up to 1500 pounds, which is enough for a home user. Commercial users who work with both light and heavy motorcycles may need to upgrade to a gadget that can support more weight.
It is easy to mount a wheel on the machine as you just need to adjust the cradle and direct the wheel to the position. It is also simple to get it off. All you have to do is to pull your bike backward, and the cradle will release the wheel immediately. I love gadgets that don't require rocket science to operate because I can work with them by myself.
Positives:
It is easy to maintain
It does not rust as it is made of alloy steel
It weighs only 22 pounds
Negatives:
Its capacity is limited to 1500lb
---
Titan Ramps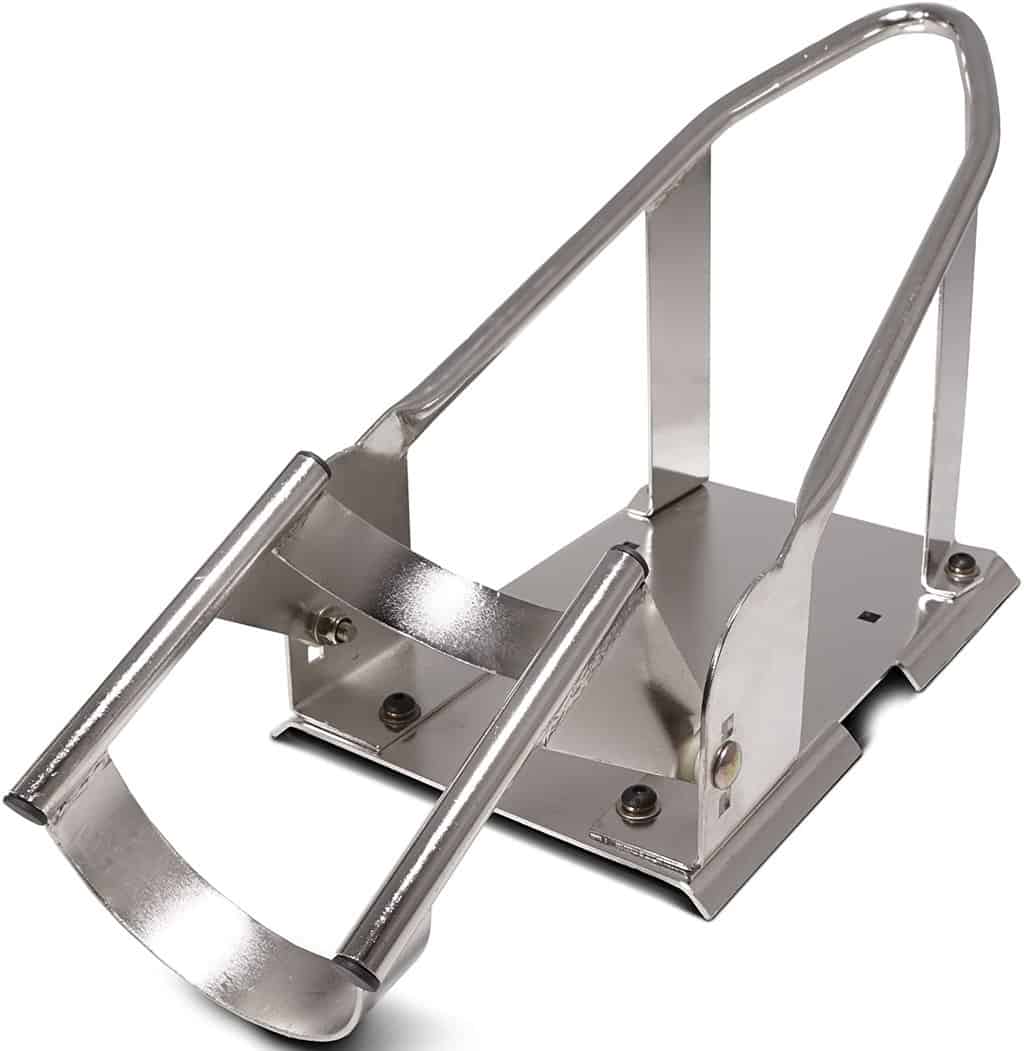 There is no reason why your motorcycle wheel chock should not look attractive and still perform the necessary functions. One brand that certainly agrees with me is the Titan Ramps. As the name suggests, their chock has a shiny titanium coating that helps improve its appearance while minimizing damage through corrosion or rusting.
Beneath this coating is sturdy and robust steel construction. Therefore, you can still count on it to be reliably strong to support your bike during maintenance or transportation. One aspect I love about this chock is that it comes with a dependable mounting tool. It simplifies the effort required to secure the wheel onto the chock.
You do not need assistance to drive your bike into this equipment. On the other hand, the flexible nature of this chock means that you can use it for wheels of varying dimensions. According to the manufacturer's manual, the chock should comfortably handle a bike with a wheel diameter of between 17 inches to 21 inches.
You will also notice that this chock can be easily mounted on your floor. Its design ensures that you do not have to bolt it down to make it stable. All you should do to ensure it is firm enough is to support your bike with its kickstand or use a strap to secure it.
Positives:
It has a titanium finish for better appearance and protection against rusting
It comes with additional mounting equipment that minimizes the effort required to get the bike's wheel into the chock
It can be comfortably used during transportation and maintenance of your bike
Negatives:
Several users complained that the titanium coating is not effective in preventing the wheel chock from rusting
---
Ready to Select a Wheel Chock for Your Bike?
Are you ready to get a wheel chock? The brands I have reviewed are some of the best on Amazon. I have tried a few, and they have worked well for me. I even carry my wheel chock when I need to go shopping because I have to leave the bike out for a long time. The wheel chock gives me comfort that all is well with my Harley.
When selecting a chock, first, you need to determine if it can carry the weight of your motorcycle. As you can see above, some of the gadgets can support 3000 pounds, while others can only manage 1800 or 1500 pounds. Therefore, it is good to be sure that the chock can carry the required weight before you get one.
Durability should not be an issue as most of the wheel chocks I reviewed are made of steel that does not rust. Some of them have a titanium finishing that adds to their beauty and their ability to withstand pressure.
You should also consider the space that you have. If you have enough storage space, then it should not be an issue. But if your space is limited, you need to get a compact chock. It should not eat up much of the space in your garage, and even in the trailer when transporting your motorcycle. Have you owned any of these wheel chocks before? How was your experience? Share your opinion in the comments.