Simon Dufour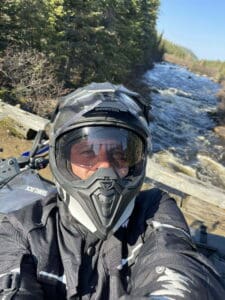 Title: Yourmotobro owner
Age: 46
Email: [email protected]
Motorcyles owned:

BMW GSA R1200 2015 (Primary)
Suzuki DRZ400-SM 2009 (In maintenance to become 490 cc)
Honda CRF150R (Motocross)
Honda CRF250-Rally 2015 (Lended to my lover Patrica…XXX)
Honda shadow750 1984 (R.I.P.)
Honda CB500R 2016 (Sold, Snif!)
Harley Davidson 2005 Night train stage II (Sold…My worst decision to date)
Harley Davidson softail 2002 (Sold)
Yamaha YZ450F 2005 (Sold, must be dead by now)
Honda Aero 50cc (R.I.P. in a accicdent)
Kawasaki KE175 year unknown (R.I.P.)
Honda BW80 1986 (Not really owned, i just beat it)

Certifications:
I vividly remember my early fascination with motocross, although my introduction was through a Canadian Tire CCM bicycle rather than a traditional motocross bike. I would attach playing cards to the rear spokes, mimicking the sound of an exhaust, lost in my make-believe world of racing. My bedroom walls were adorned with images of motocross bikes, with the Kawasaki green motorcycle capturing my imagination the most. My father, not being much of a motor enthusiast, never really understood my passion.
However, my world changed when I turned ten. My Uncle Alain introduced me to his BW80, marking the beginning of my genuine love for muddy terrains and adrenaline-packed rides. I would eagerly work on his farm, with the promise of a thrilling 30-minute ride at the end of the day.
As time went on, I transitioned from motocross to scooters, relying on them for my daily commutes. However, a severe accident at 17 made me set my two-wheeled love aside for a while.
Life took another twist, and I found myself immersed in the world of underwater hockey. My dedication to the sport took me to the Canadian team and eventually led me to coach the women's team during the 2006 and 2018 world championships. During these years, I was blessed with two beautiful children and embarked on a venture owning a hunting farm. Unfortunately, 2018 marked a dark period in my life, resulting in bankruptcy and significant personal losses.
Today, I have found my way back to my roots. By day, I'm a respected telephony consultant, and the rest of my time is dedicated to my undying passion for motorcycles. Life's trials and tribulations have taught me invaluable lessons, and I'm eager to share with you.
---
Laurie Thibault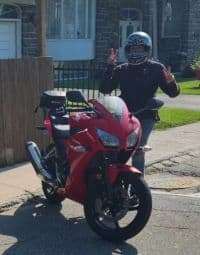 Title: Yourmotobro assistant
Age: 23
Email: [email protected]
Motorcyles owned:

Honda CBR300R (My first one)
I always know I will have a motocycle someday. My uncle, my father, a lot of people around me drive one and the idea to have mine one day became true.
This summer was my first summer since I had my license. I had my license 2 years ago but my desire to travel stopped a little bit my pratise. Well when in april (2023), i just have a little accident when the road wasn't perfecty clean, but i didn't hurt myself a lot.
My first lesson on the road and right now I'm more careful. I passed the rest of the summer to enjoy with my bike and to discover the beautiful ride in Quebec.
In Quebec, I was a delivery girl of flowers and I was going at Saguenay to delivery. Now, I live in UK and I'm an assistant teacher. A place where motocycle can circule all the year. Maybe I will check to start motocycle here too !