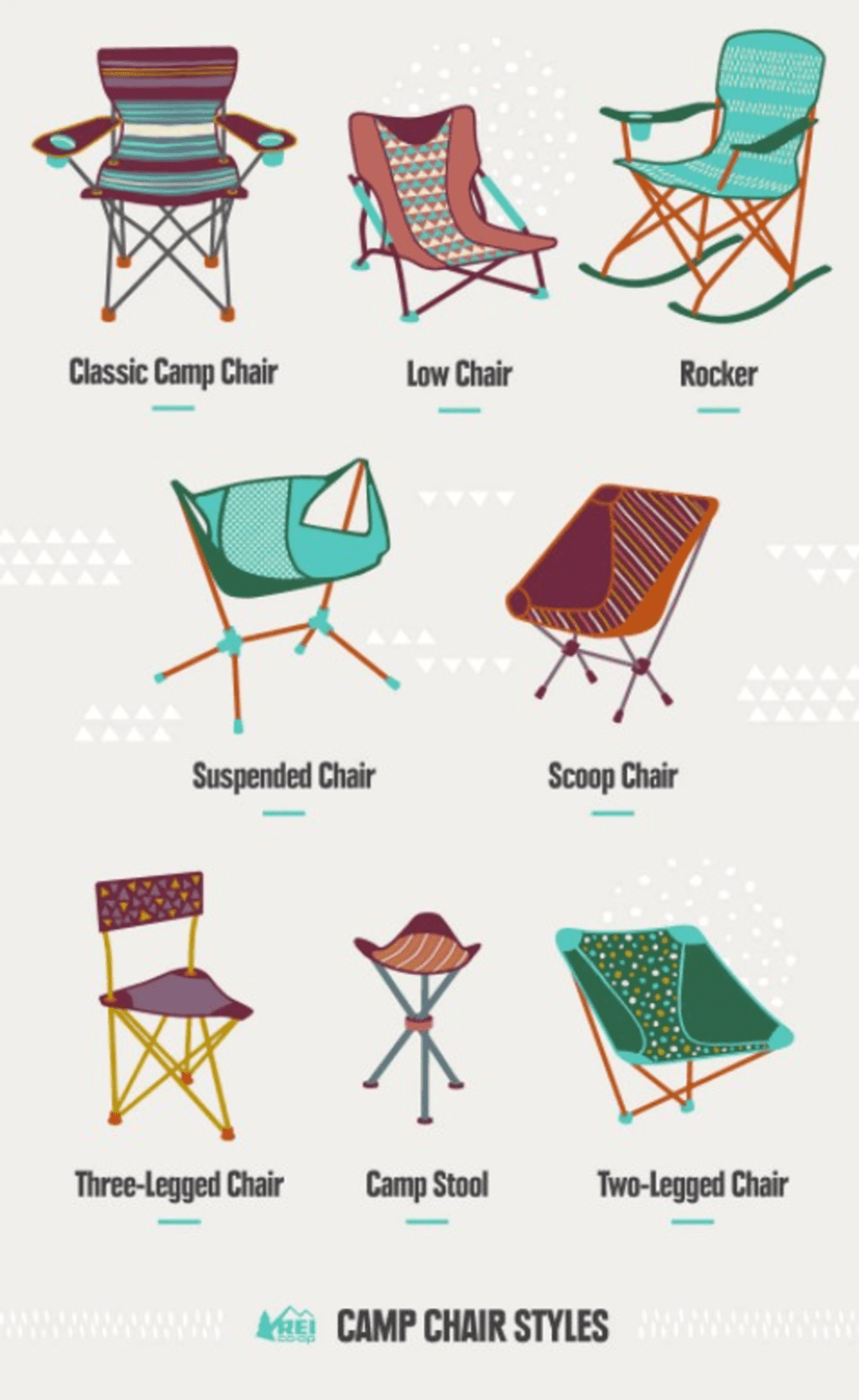 From my own multi-year experience of motorcycle camping, I can assure you that once you're in the wild, a small camping chair can become a luxury. A camping chair, sometimes as compact as a water bottle, allows you to rest your back for a while after a long exhausting ride and enjoy the beautiful surroundings even more. There are various camping chairs on the market. However, choosing one for a motorcycle camping trip can be tricky as you are limited in space and capacity. So, I share with you a few things to consider when purchasing a chair for motorcycle camping with some chair recommendations to choose from for your next adventure.
Use
As you can see in the illustration, there are plenty of different types of camping chairs and not all of them are for everyone and every use. Consider the type of your trip and the purpose the chair would serve in the process. For example, if you go on a simple solo trip, just a camp stool will work. However, if you are planning a long-distance trip where you have to spend nights in camp, you might want to invest in a good, comfortable camping chair where you may spend hours during your trip.
Size
The thing about motorcycle camping is that you are quite limited in space. Therefore, when choosing a chair for motorcycle camping, it is important, how small it packs. Ideally, a camping chair should be small enough to fit into a pannier, but you can always attach the chair somewhere on top of the luggage. There are a lot of camping chairs promoted to be able to pack as small as a "water bottle" but for some of these chairs, this is not the case. So you have to look closely when choosing. Weight is another aspect to consider as you don't want your chair to be bulky and heavy.
Size requirements
When choosing a camping chair, it's important to consider how much weight it can handle since everyone has different body types and needs. For instance, I have a larger physique and not all camping chairs are suitable for me. I require something wider and sturdier to ensure my comfort and prevent the chair from breaking in the middle of the wilderness.
Manufacturers typically specify the maximum weight capacity of a chair, and if you exceed that weight, it's advisable to select a stronger and more rigid camping chair. Additionally, consider the chair's height to ensure it's suitable for your needs. Chairs with a higher seating position make it easier to sit down and stand up without discomfort or back pain, whereas scoop chairs that are low to the ground can be uncomfortable to get up from.
Easy setup
There are different types of chairs. Some, like a camp stool, can be set up with just one hand, while others need to be constructed. When it comes to a motorcycle camping chair, it's important that it's easy to set up, so you don't waste time putting together a piece of furniture. Luckily, the chairs I've used so far can all be assembled in under a minute, which is a real luxury when you're out in the wilderness.
Stability
Based on my personal experience, I can assure you that you'll need a sturdy and stable camping chair if you're traveling on and off-road. It's essential that the chair doesn't sink into the ground as soon as you sit on it. Some chairs have anti-sink feet, but you can also use DIY hacks to address this issue. For instance, you can attach tennis balls or Callaway plastic golf balls to the chair legs.
You can find more information about these life hacks in the video:
Design and comfort
Once you've decided on a few motorcycle camping chairs based on the criteria listed above, you can choose according to your preferences. Both design choice and comfort can be subjective: for some, a comfortable camping chair is one with a backrest, and for others, it may be a wider space. Generally, chairs that have a backrest take up more space compared to chairs that don't have back support. So you may have to compromise some comfort due to space limitations. But my advice as an experienced camper is to value comfort more. You will thank me for this as soon as you experience the pleasure of sitting on a good camping chair after a long motorcycle ride.
Below are some recommendations for motorcycle camping chairs. This list consists of the most compact models which you can either fit in your luggage or easily mold to your motorcycle: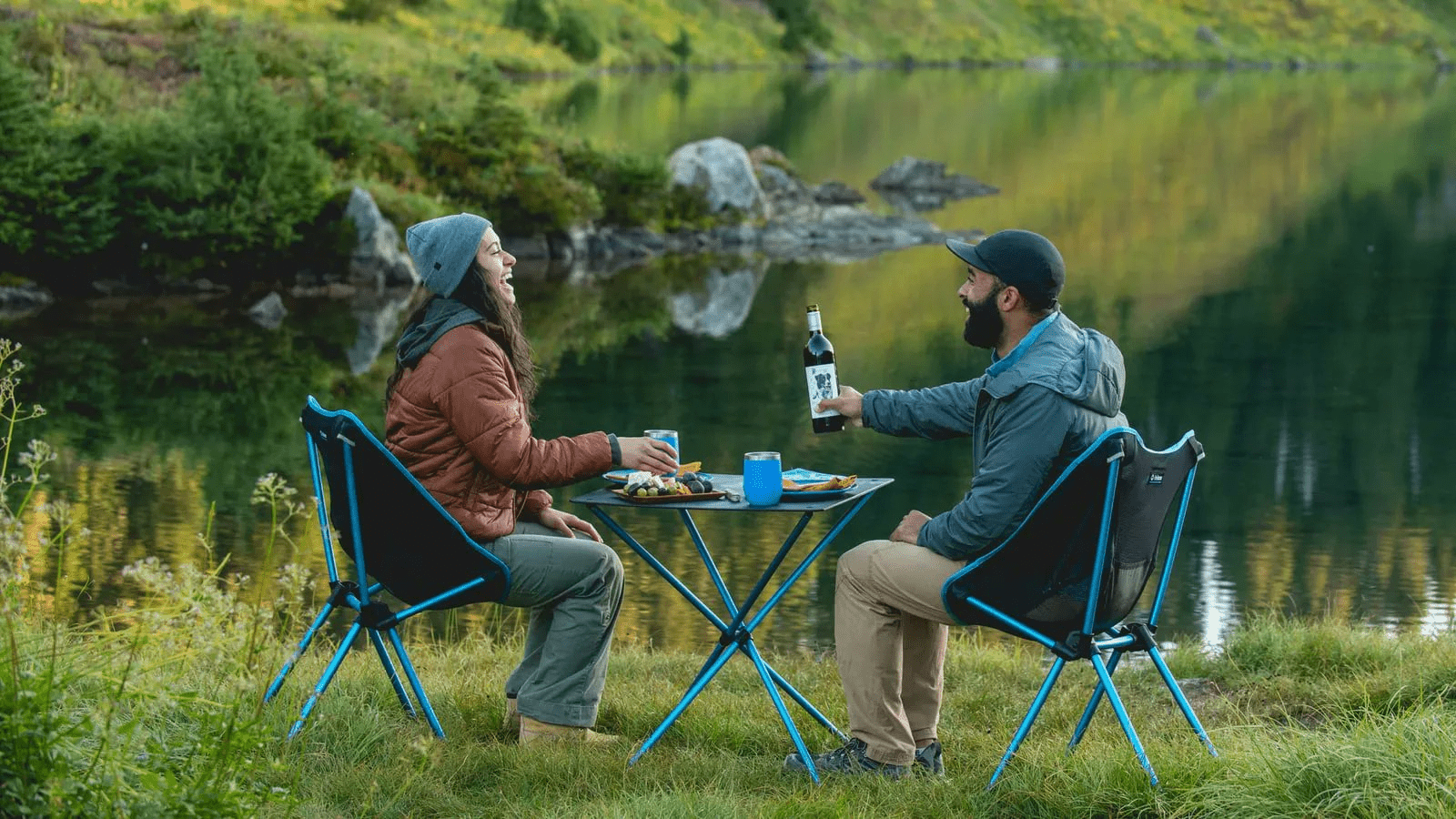 It is much more comfortable than a standard, ground-level camping chair as it offers more back support and keeps you off the ground. Needs under 40 seconds to set up. Helinox Chair One provides excellent lower back support, and has a medium-high seat height (especially for a portable model), making it easier to get in and out. If you're seeking a chair that's light enough to carry long distances but offers more comfort than the simple backpacking models, you have to try this one! It's perfect for any "medium-sized" person and holds up to 320 pounds. However, getting a Helinox chair is a bit of a luxury as it costs over $100.
| | |
| --- | --- |
| Dimensions | 20″D x 21.5″W x 25.5″H |
| Material | Aluminum / nylon |
| Seat height | 10 inches |
| Weight | 2.10 pounds |
| Capacity | 320 pounds |
| Price | $109.95 |
| Assemble time | 40 sec. |
| | |
| --- | --- |
| Pros | Cons |
| Compact | Expensive |
| Good back support | Neck support is lacking as is stability |
| Weight | Not effective on stiff grounds |
| Excellent ventilation | Not for sandy settings |
| Easy to set up | |
| Durable | |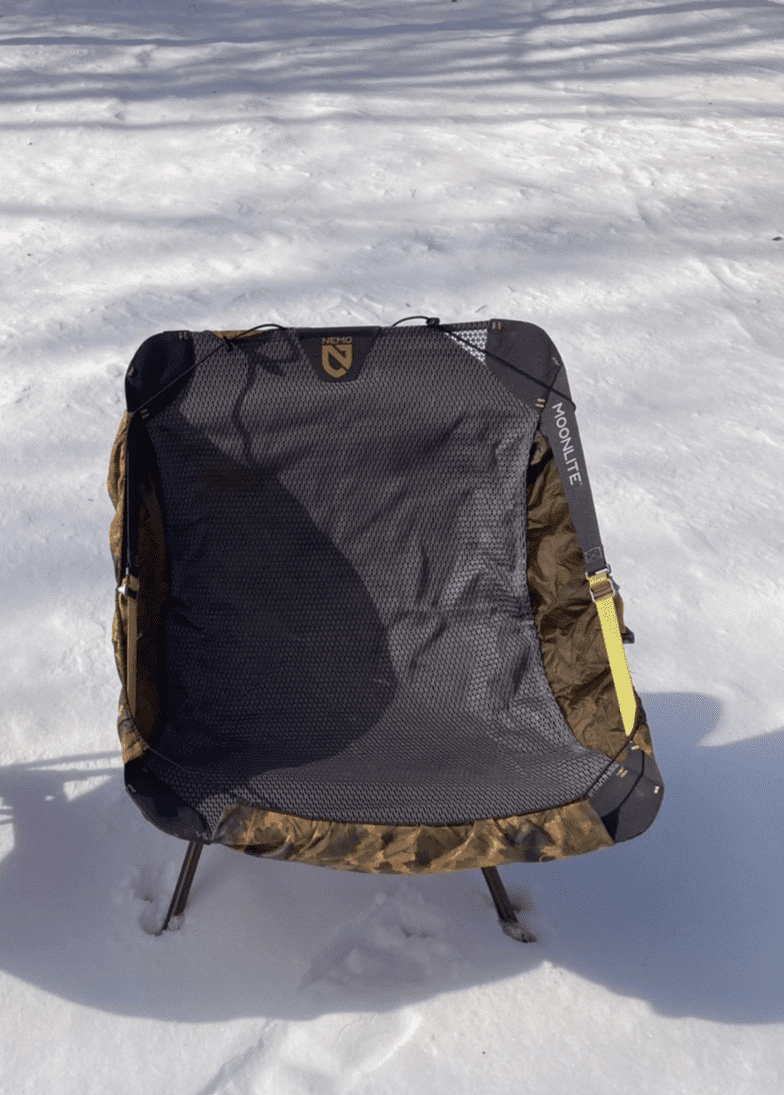 emo Moonlight is a lightweight chair that is extremely inconspicuous when packed in your luggage. It is versatile enough to be used for any occasion and is quite sturdy. Setting it up is a breeze and it can handle heavy weights without any difficulty. The chair is adjustable and can be tailored to your preferences. With thicker hubs and aluminum tubing, it offers a more solid and confident sitting experience. The seamless polyester seat is comfortable for people of different body shapes. However, it is the priciest option among the reviewed models, costing around $150.
Bikers who have used this chair vouch for its comfort and recommend it for trips.
| | |
| --- | --- |
| Dimensions | 26 x 20 x 20 inches |
| Material | Aluminum / polyester |
| Seat height | 10.5 inches |
| Weight | 2 lbs. 1.7oz |
| Capacity | 300 pounds |
| Price | $149.50 |
| Assemble time | 1 min. |
| | |
| --- | --- |
| Pros | Cons |
| Light | Expensive |
| Easy to clean and fast to dry | Low on the ground |
| Compact | Squeaky feet on hard surfaces |
| Comfortable, supportive, and easy to get in and out of for all sizes | Frame setup takes a little getting used to |
| Reclining system for multi-position sitting | |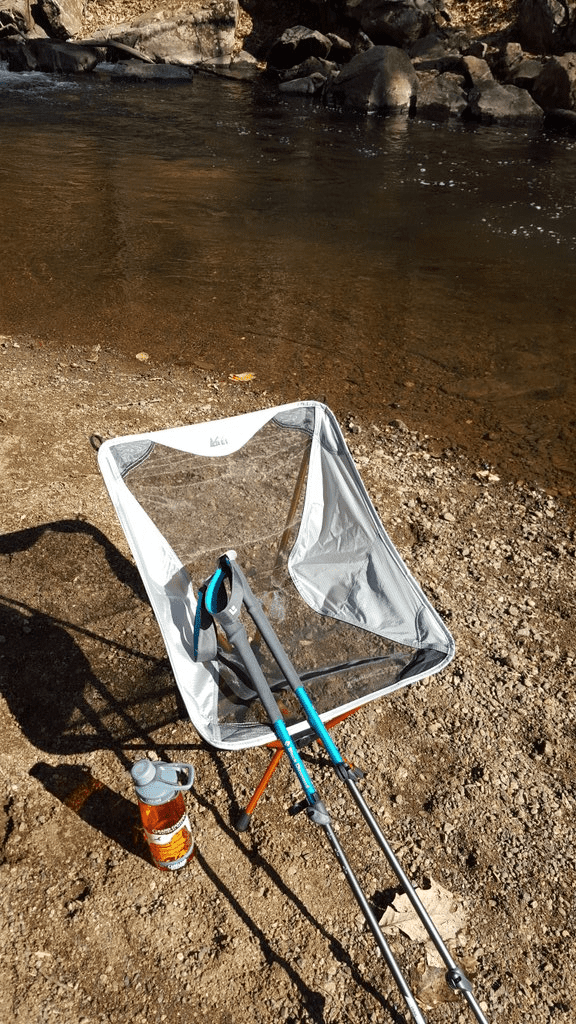 This little Tweet speaks more than enough about the REI Flexlite camping chair. Easy to set up, bigger, wider, comfortable, and taller from the ground – this chair has everything you need for your motorcycle trip. A little under a hundred bucks, it is compact and comfortable. Being tall off the ground makes it easier to stand up. But it lacks stability: While ideal for cooking or packing in the parking lot, this chair wobbles on grass and sinks quickly in the sand. So you have to think wisely about where to take it with you.
| | |
| --- | --- |
| Dimensions | 29.5 x 24 x 24 inches |
| Material | Aluminum / Polyester |
| Seat height | 14 inches |
| Weight | 2 lbs. 14 oz |
| Capacity | 300 pounds |
| Price | $89.95 |
| Assemble time | 50 sec. |
| | |
| --- | --- |
| Pros | Cons |
| Light | Lacking in stability |
| Easy setup | Used only on flat surfaces |
| Compact | |
| Comfortable | |
| Tall | |
| Relatively affordable | |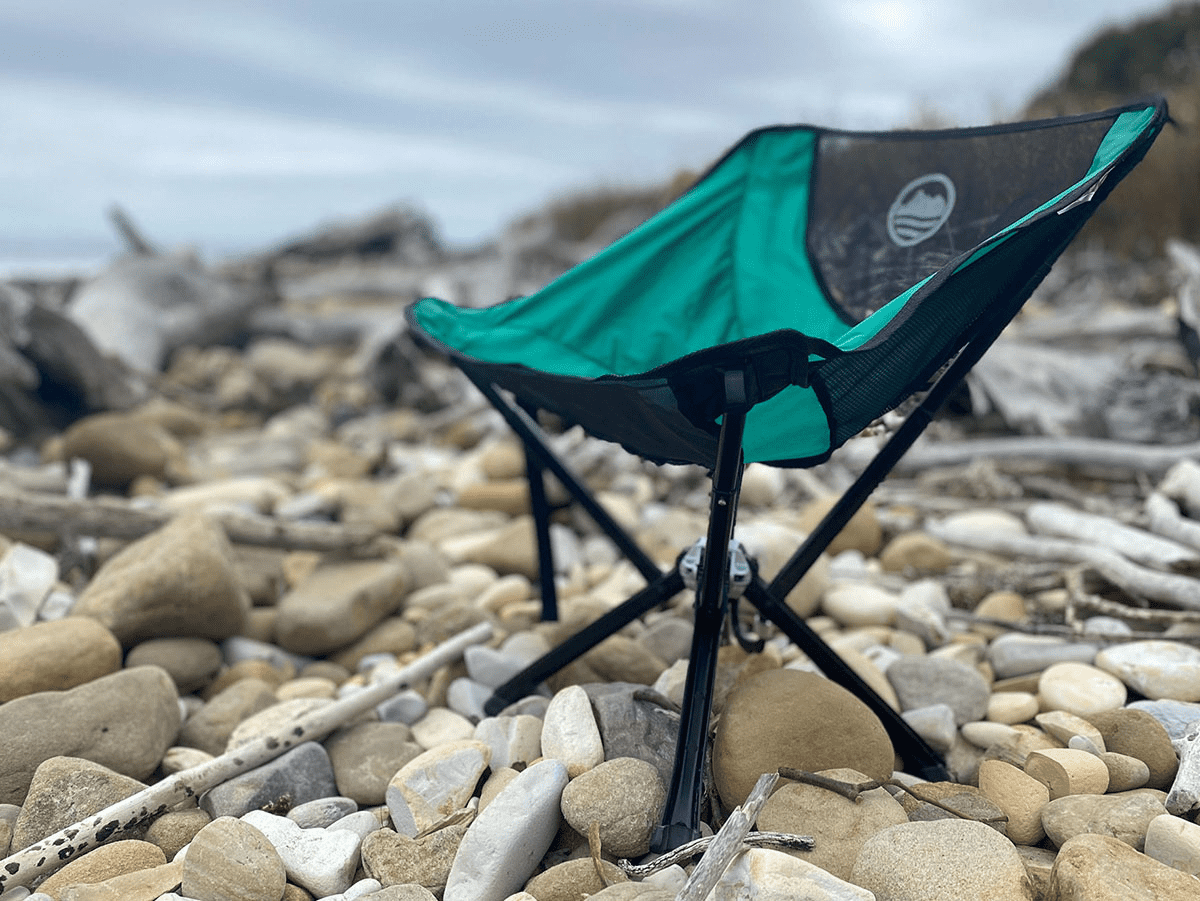 The CLIQ Camping Chair is a small camping chair that is the "size of a large water bottle" when packed up and sets up in just 5 seconds. It's well-made of aircraft aluminum and nylon, weighing under 4 pounds. CLIQ claims that its chair is the "most funded portable chair in crowdfunding history". Such popularity before it was even on the market proves that there are many of us out there looking for a better-engineered camping chair. Well, it may not be the size of a water bottle but it is compact. I've used this chair for relatively short-distance trips and it does its job. Setting up takes about 5 seconds and you're good to go. However, it is a bit heavier for motorcycle camping so keep it in mind when planning to purchase. It costs $98.99 and comes with a bag for two chairs.
| | |
| --- | --- |
| Dimensions | 3.4″D x 3.4″W x 13″H |
| Material | Aluminium / Nylon |
| Seat height | 12 inch |
| Weight | 3.5 pounds |
| Capacity | 300 pounds |
| Price | $98.99 |
| Assemble Time | 15-20 sec |
| | |
| --- | --- |
| Pros | Cons |
| Streamlined setup reduced to a single button push | Heavy |
| Compact | It's pricey for something that isn't a full-sized camp chair |
| Super sturdy hinge joints for stable sitting experience | No mesh pockets |
| Adjustable height and tilt angle | |
| Durable construction | |
| Easy setup | |
| | |
| --- | --- |
| Dimensions | 21″D x 21″W x 28″H |
| Material | Anodized aluminum / plastic |
| Seat height | 16" |
| Weight | 2.35 pounds |
| Capacity | 300 pounds |
| Price | $56.45 |
| Assemble time | 1 min. |
| | |
| --- | --- |
| Pros | Cons |
| Light | Rubber feet are too small to keep you from sinking into mud or sand |
| Easy to set up | The width |
| Seat height | |
| Packed size | |
| Affordable | |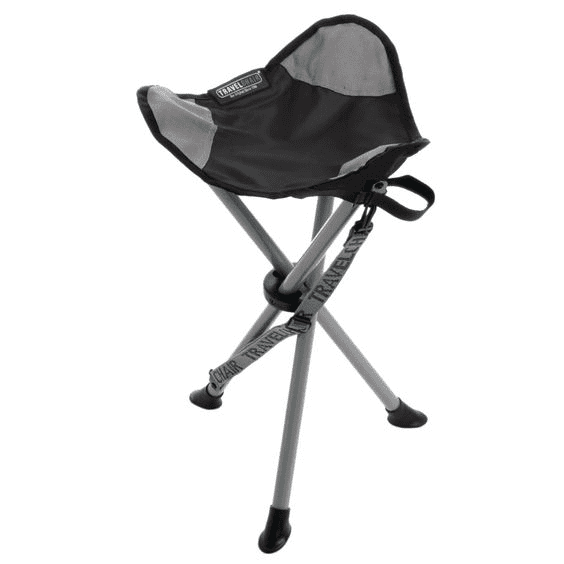 This one's for those who look for easy, cheap options just for $39. I, just like many of my biker friends, still own and use this little stool chair for those quick trips when all you stop for is to get a snack or some tea. No backrest, no extra comfort – super small, just something to sit on for a while.
The Slacker chair stands on a tripod frame and supports weights up to 275 pounds, which is great considering the size of this mini camping chair. The frame of the chair is powder-coated and made of durable steel material, which amounts to its feather-like weight of just 1.9 lbs.
| | |
| --- | --- |
| Dimensions | 14″D x 12″W x 20″H |
| Material | Metal / 1200d Jacquard Polyester |
| Seat height | 16'' |
| Weight | 1.9 pounds |
| Capacity | 275 pounds |
| Price | $38.72 |
| Assemble time | 15 sec. |
And for those who look for something more luxurious, there's always The Kermit Chair: The Original Motorcycle Touring Chair with a unique, characteristic design:
The Kermit Chair weighs 5 pounds, and packed in its nylon bag, it measures 22 inches long and 15 inches around. This sturdy, handmade chair even looks classy with its hardwood base. Two pieces of curved air-dried oak or walnut attach to the chair, giving it support, and double as carrying handles. The wood is double-dipped in marine-grade polyurethane and all the hardware is aluminum and stainless steel so it won't rust. The cloth that covers the bottom and back is 1,000-denier-treated nylon that won't unravel. The seams are double-stitched in the areas where most of your body weight falls. This chair is relatively big but can be molded on the motorcycle or above your luggage on your back.
| | |
| --- | --- |
| Dimensions | 19″ wide, 23″ back height, |
| Material | Hardwood |
| Seat height | 12.5″ |
| Weight | 5 pounds |
| Capacity | 350 pounds |
| Price | $270 |
| Assemble time | 1-2 min. |
This luxury costs around 270$ brand new.
I included some of the most versatile items in this list. Anyways, if you still don't have a camping chair on your motorcycle trip, there's always a way to fix that. You can always improvise: use your panniers or even wood logs as chairs and tables. Just like them: