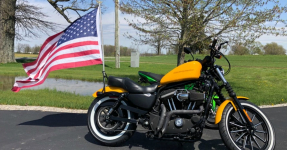 The Best Tires for Harley Sportsters — For Easy & Long Riding
Good tires are radical for your bike. A chopper, ADV, cruiser, scooter… Their performance and your personal enjoyment greatly depend on the feedback the tires provide. Not to mention speed parameters, safety, and so forth.
To choose a good set of rubber for a Harley Sportster, you must pay attention to these factors:
Bead.
Tread.
Carcass.
Sidewall.
Tube size.
Tire longevity.
What kind of bike trips you're planning.
When put together in one equation, all this stuff can be terribly confusing. So, to help you avoid another headache, here's the best 9 tires for Harley Sportster. The list includes both affordable and fancy-expensy models that can even suit competitive riders.
The Best 9 Tire Picks
Whether you're planning to take a ride every Tuesday's afternoon or there's an ambitious bike voyage with a thousand miles ahead of you — you will find a tire model for every purpose here.
1. Metzeler ME888 Marathon Ultra: The best Sportster tires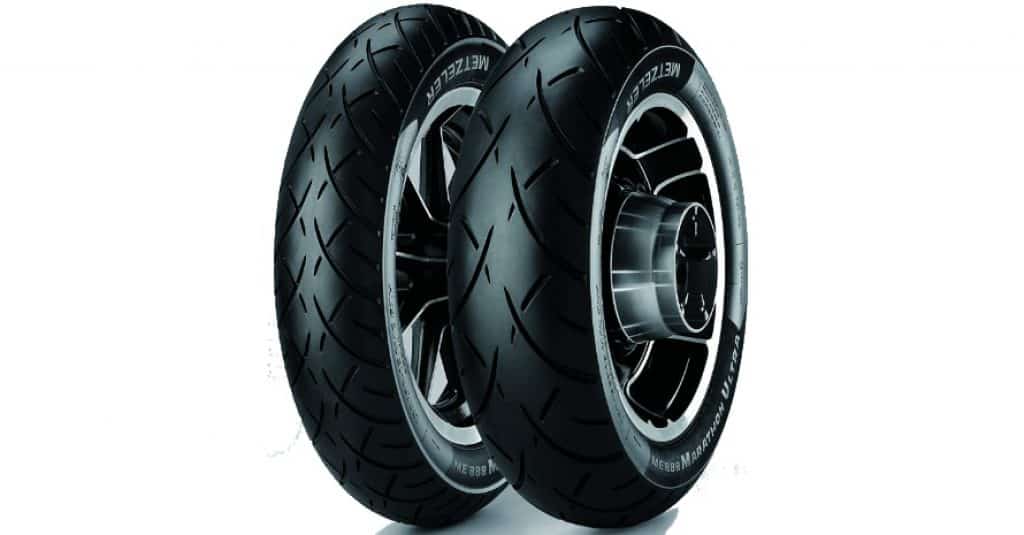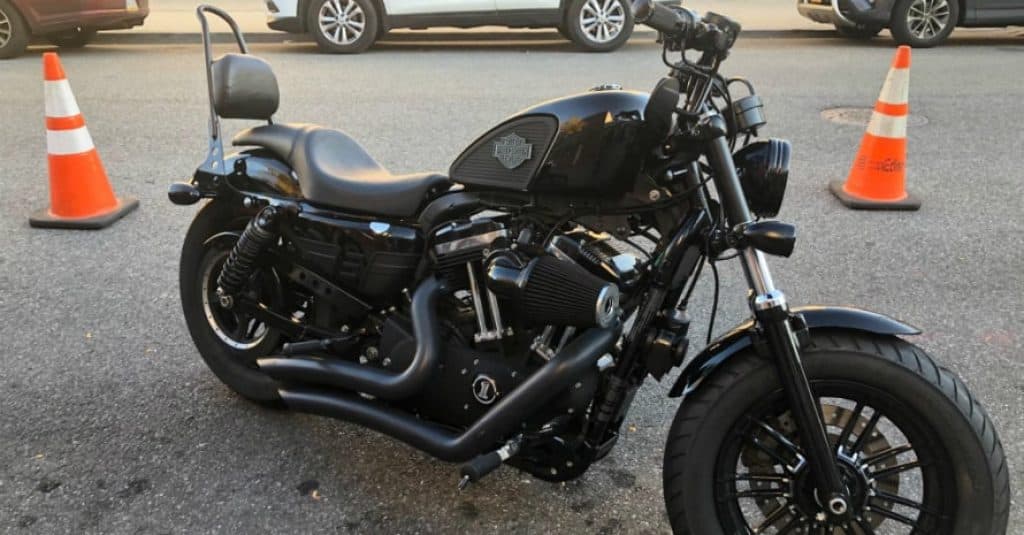 Metzler is a brand with some history. Since 1892, the company has been specializing in making bike tires. So, I would expect some A-grade quality form this product.
This model offers front and rear tires. We have a nice parabolic groove on both. This tire pattern allows for quicker water drainage. That means, that ME888 is pretty good at dealing with rain-moisturized roads and highways. (Though, risky maneuvers best be avoided).
Speaking of maneuvering. Metzeler gives you some fair freedom at maneuvering. The wheels spin freely as you gain speed, providing good tire adhesion at the same time.
It appears though, ME888 has an adaptable grip: in certain conditions, it becomes much tighter. So, if the highway you're rolling down is blazing with heat, grip control will wake up from its dormancy and restrain your possible speed escapades.
Now, let's check its specks. With the rim diameter of 16 inches, load index 72, and H speed rating, Metzeler appears to be a reliable companion for those who enjoy long bike trips. It can cover as much as 2,000 miles and still look as good as new. As if telling you: hey, it was just a warm-up!
With all that, Metzeler ME888 is great at handling different weather conditions and retaining its longevity at the same time. It's possible thanks to its wider footprint, rounded sidewall, improved curvature, and redesigned sidewall profile.
What do these fancy words mean? Stress received by the tire during a ride is re-distributed more evenly now. As a result, you can score an impressive mileage and the Metzeler's lifecycle won't even expire yet. It's definitely the best pick for a long biker odyssey.
Metzeler ME888 Marathon Ultra Front Tire (Sold Each)...
Ultra high mileage coupled with Metzeler performance and handling
Developed in Germany for the roads of America
Specifically designed for custom touring bikes
Technology offering consistent performance throughout the tires life
Outstanding high and low speed stability and smooth handling
Positives:
Parabolic pattern;
Smart grip control;
Nice maneuverability;
Impressive longevity;
German quality.
---
2. Michelin Commander II: The longest lasting sportbike tire?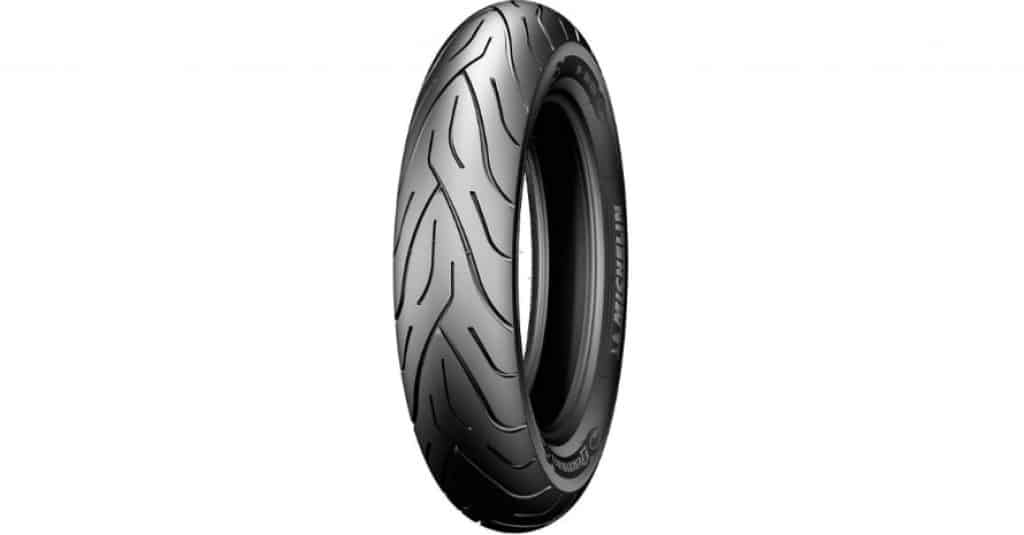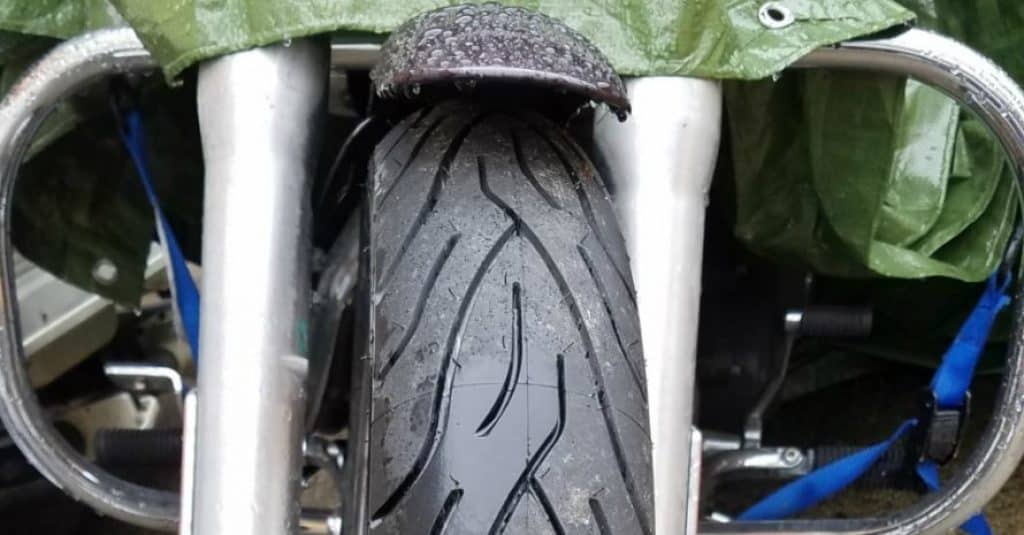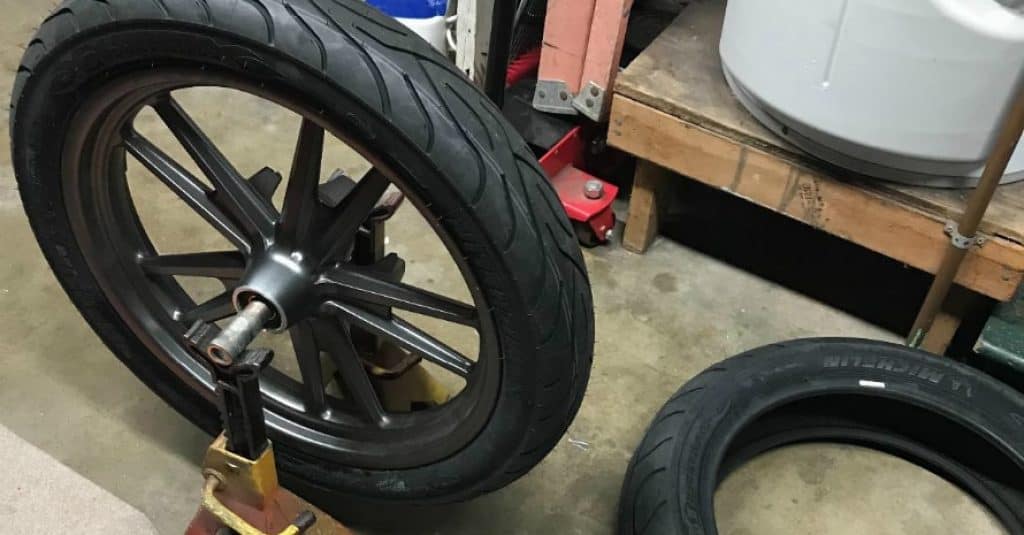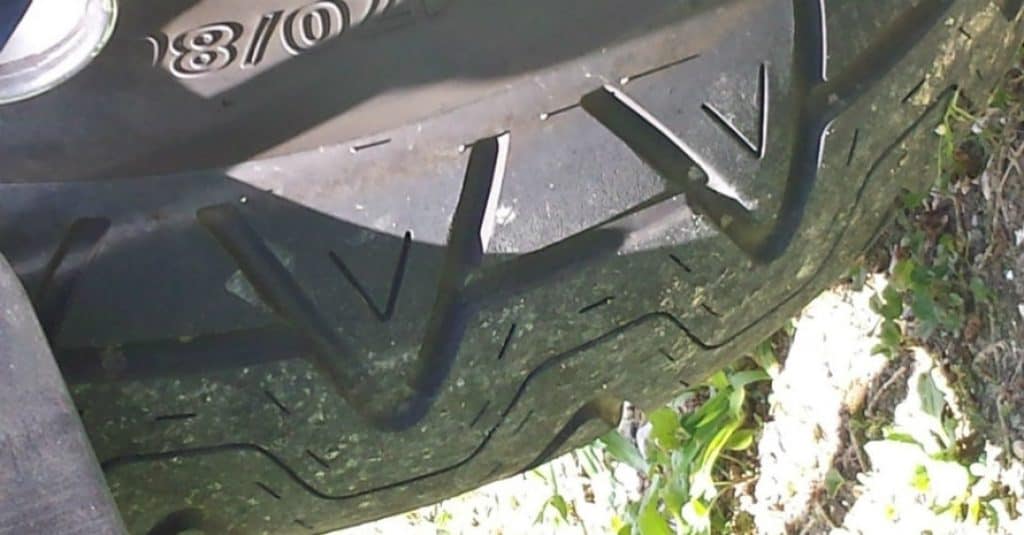 Michelin Commander II has some French roots. Maybe this is why it adds an elusive tinge of elegance to your driving?
Motor rides with Commander II onboard feel rather smooth. Its tire pattern provides a good, stable grip, which remains reliable even at a fairly high speed. At the same time, you're not limited in terms of maneuverability — the responsiveness of these tires is quite satisfying.
What you might especially like abut Commandeer II is that it's way easier to take turns with them. As well as easing in/out. This neat combo of stability & maneuvering is possible thanks to the tire's anatomy. So, let's dissect!
We have here a 19-inch diameter, 57 load rating, and the classic H speed rating. Inside, Commandeer II is supported with a rayon ply carcass. Rayon is a viscose material that is more reliable than basic, cheap polyester — it allows better bike-handling.
The rear tire is enhanced with aramid belts. They are in charge of centrifugal growth. It means that the tire will last longer, also allowing more stability during a ride.
As I've learned, in 2011 Michelin conducted an experiment involving other tire brands. I have no idea if it was rigged or not, but Commandeer II showed longevity twice as longer than the rest.
No doubt, the longevity of your tires depends on a caboodle of factors. And your riding style is one of those. But if you're looking for a rubber that will last for long, maybe it's time to try Michelin?
Michelin Commander II Motorcycle Tire Cruiser Front -...
Developed and tested by and for American riders. Test riders logged more than half a million miles on U.S. roads
Each front Commander tire size is tailored to the unique handling characteristics of each bike by a combination of profile and casing designs
Rayon carcass ply instead of polyester for a compliant ride and stable handling
Aramid belts in the rear Commander, instead of less costly fiberglass, controls the centrifugal growth on the tire allowing a large contact patch, excellent traction and wear
Italian (Publication Language)
Positives:
Good ta taking turns;
High-grade materials;
Impressive longevity;
Normal Harley Sportster tire size.
---
3. Dunlop D401 For Harley-Davidson Series: Good use, good cruise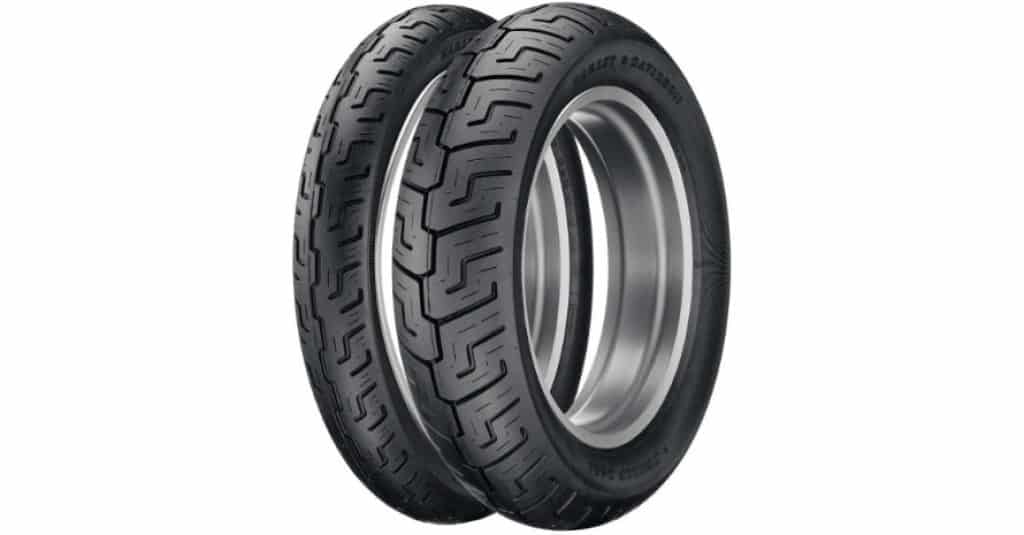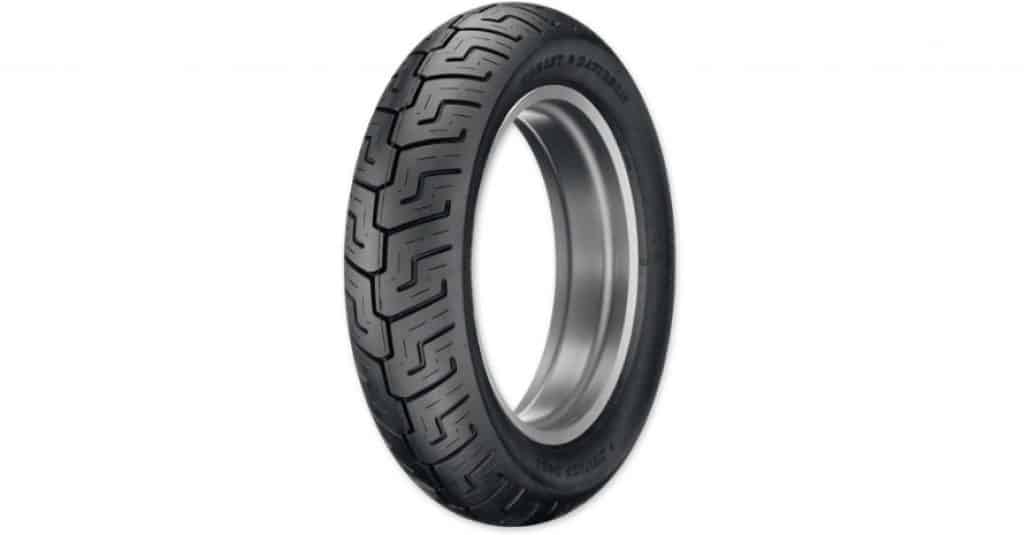 Dunlop D401 is a rear tire for Harley. In case you didn't know, Dunlop tires are a default 'footwear' for all Harley-Davidson bikes. So, I guess if a brand is trusted by the world's top bike-maker it says something.
D401 has a standard 16-inch diameter and the H speed rating. These parameters are pretty basic. The tire's construction is a peculiar beast, though.
Dunlop has a somewhat intricate tire pattern with a special groove in the center. As the company tells us, it serves to increase the rubber's longevity. Plus, lateral compounds on each side provide a firmer, more reliable grip.
It seems to be true, as the tires do feel quite 'sticky' on the road. But I wouldn't exclude a possibility that over time the central groove may get cuts. So, don't forget to inspect the tire after each 7,000-8,000 miles.
At the same time, the D401 tread pattern can handle different weather. It manages to stay firmly on its legs even if the road is wet and a bit slippery. Yet, just like any other bike tire, D401 doesn't serve as a 100% anti-accident warranty. So, drive responsibly.
All in all, I find D401 a reliable model. It's good at taking turns, adapting to whims of weather and surviving a long mileage. Maybe it has a lower amortization degree than its fancy rivals from Europe. But it's American, affordable and officially approved by H&D. Besides, Dunlop Elite series are one of the best tires for 883 Sportster.
Dunlop D401 For Harley-Davidson Series Rear Motorcycle Tires...
The new D401T rear tire features MT Multi-Tread technology that uses a long-wearing compound in the center of the tread for longer tread life, and special lateral grip compounds on the left and right shoulders for outstanding grip.
An advanced tread pattern and specifically formulated compound helps deliver impressive grip in wet and dry conditions and helps provide long tire life.
Incorporate a computer-optimized tread profile to help promote even wear.
The Dunlop for Harley-Davidson Tire Series feature special for Harley-Davidson branding on the sidewalls.
The use of the tire and other vehicle data and information accessible through this webpage is limited to persons located in the United States of America and Canada.
Positives:
Affordable price;
Can handle about 8,000 miles;
Made in US;
Solid adhesion;
Immune to wet roads.
---
4. Kenda Kruz K673 Motorcycle: The best tires for Sportster cheaply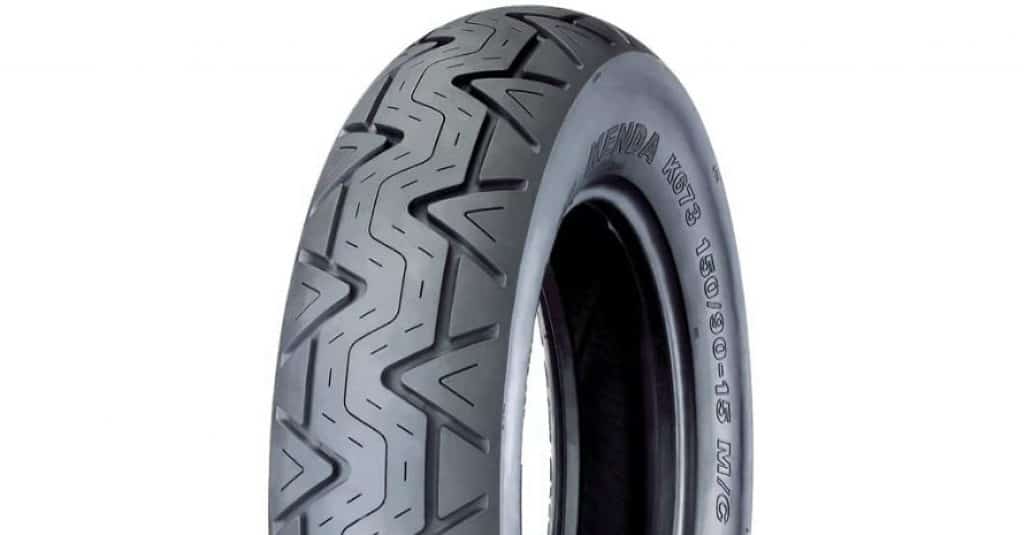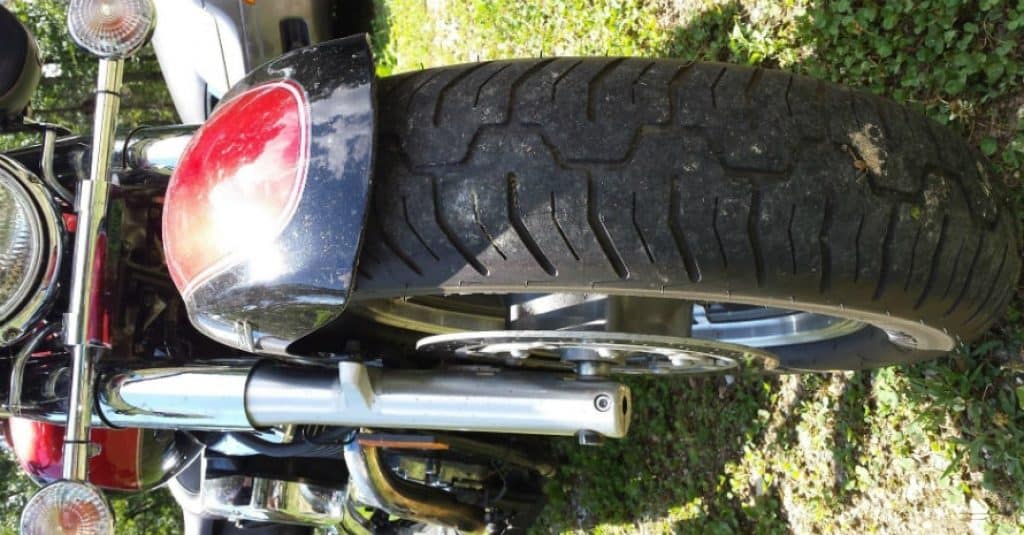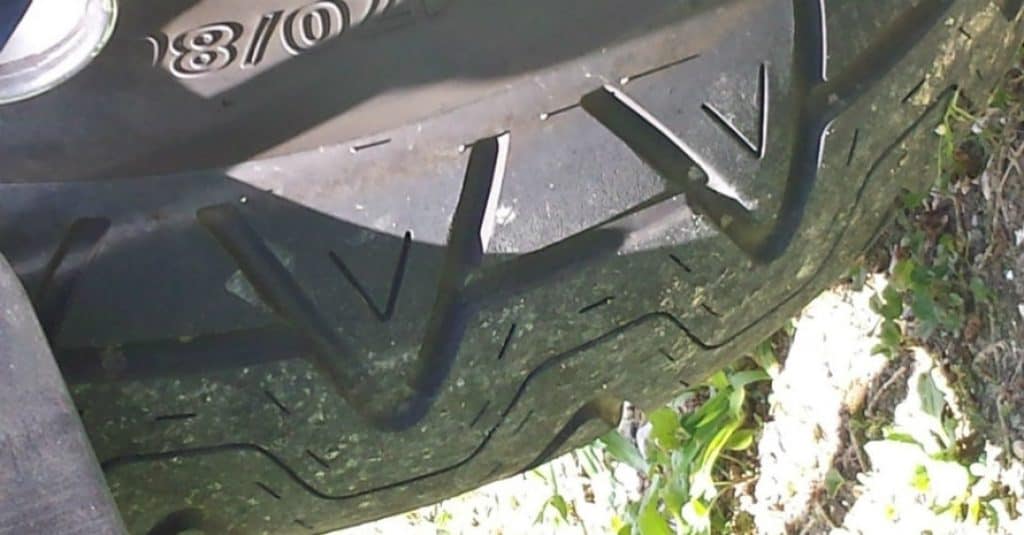 Up next, we have an interesting exhibit — Kenda Kruz 673. It's a lesser-known brand, as you won't see its advertising too often. But maybe it's for the good: Kenda seems to strive to deliver the best product they only can.
With a 16-inch diameter and speed rating H, K673 weighs about 19 pounds. So, balancing the tires isn't a problem at all. The tire pattern is a triangle ornament that actually provides an impressive grip. Kenda is both heat and rain-friendly, as it turns out.
But what's really impressive, is the tire material of this model. This is the finest, solidest rubber I've encountered so far. (Maybe it's also bullet-resistant, who knows?)
It is so sturdy and hard, that you can even run your bike on flattened Kenda tires for some time! So, if you forget to fill up the tires, you will get stuck in the middle of nowhere with K673.
What also makes Kenda Kurz one of the best tires for Harley Sportster is its mileage prowess. Like a champion, it can handle up to 9,000 miles and more. And this durability is nicely complemented by the smooth-rolling — courtesy of the balanced curvature, footprint, and again the triangle' shaped tire grooves.
To sum up, it's a fascinating product. So, if your budget can't afford the likes of Metzeler — Kenda is your best bet. It's reliable, mindbogglingly tough, and artfully designed.
Kenda Kruz K673 Morotcycle Street Rear Tire - 150/80H16
Designed to meet the needs and looks of the very popular Cruiser market
New tread design front and rear, with deep wide grooves for all weather cruising
New 3 + 2 bias/belted casing design for improved handling and high load carrying capacity
New rubber compound for improved mileage and all weather condition traction
New inflated tire shapes for improved straight line stability and cornering performance
Positives:
Extremely tough rubber;
A-grade longevity;
Rain-friendly;
Affordable price;
Good at cornering.
Negatives:
Isn't officially recommended by H&D.
---
5. Pirelli Night Dragon: Wide tire for a Sportster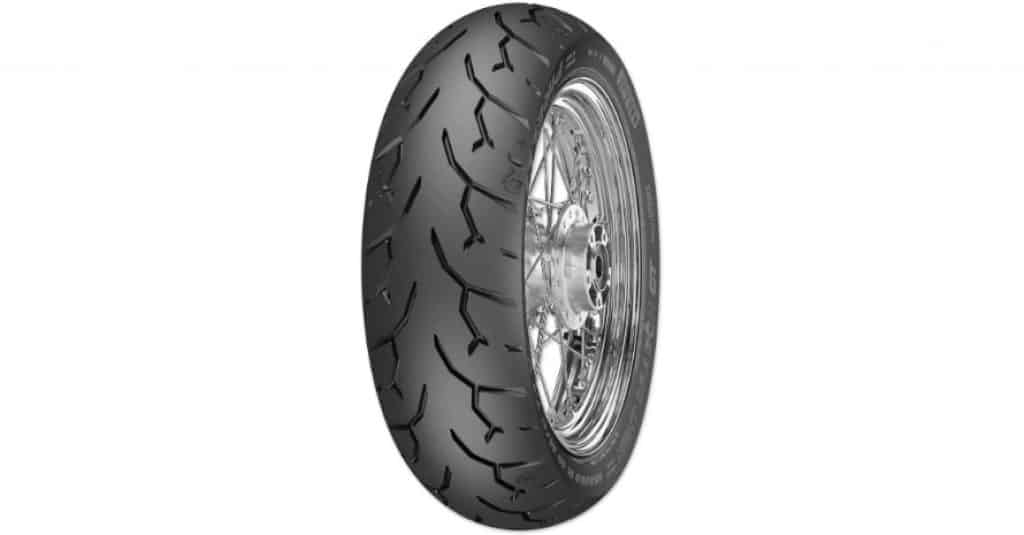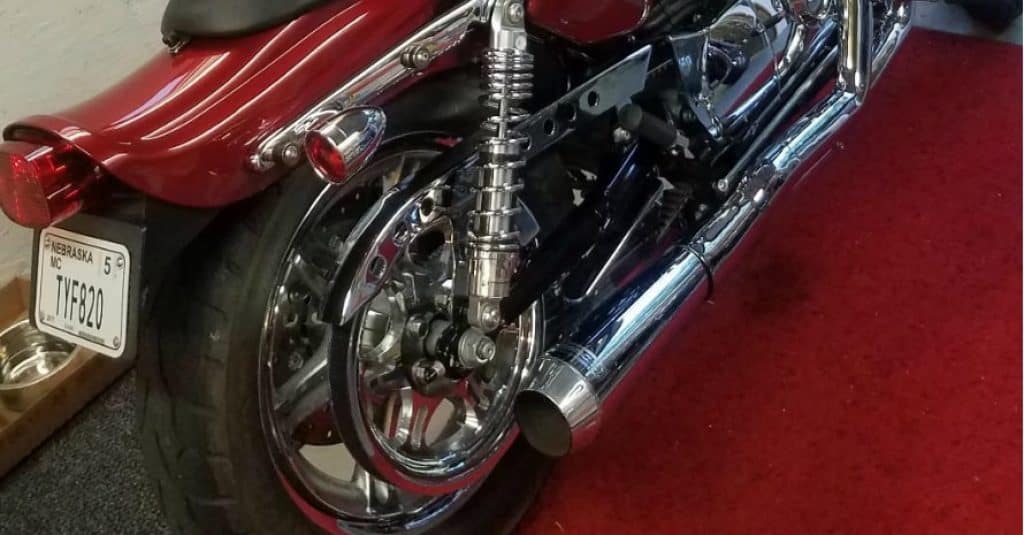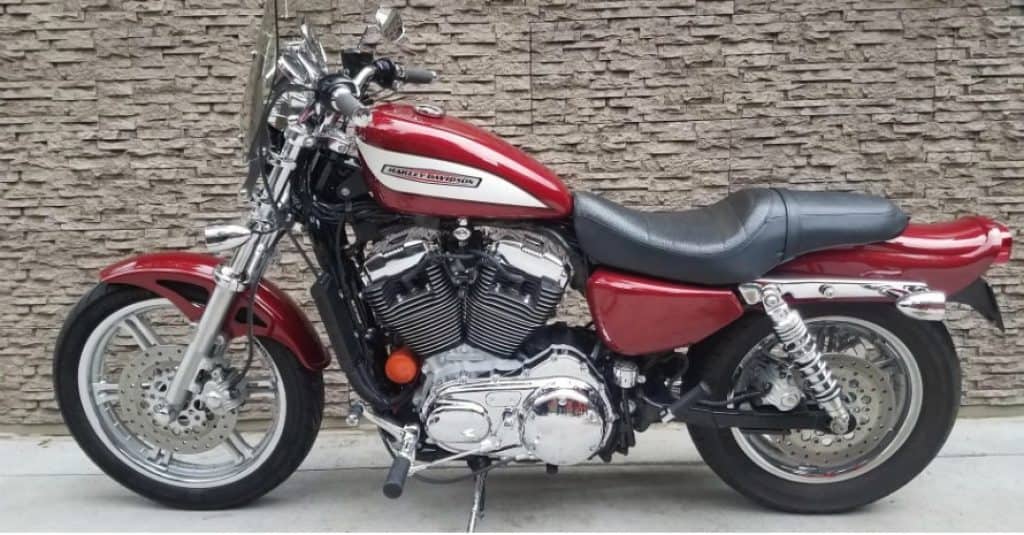 Pirelli Night Dragon rear tire fully deserves a mythical monster's name. The thing is, its design provides a truly dead grip. It seems so tight, so even if the Earth's gravity weakens by 35%, your bike will be forced to stay attached to the ground.
The parameter list includes the standard 16-inch diameter, H speed rating, and an impressive load index with 77 — these tires can handle up to 400 kilos.
Thanks to its construction, Night Dragon handles basically any type of surface like a pro. A combination of the durable compounds, a tread pattern with a large patch between the grooves provide impressive stability.
So, if you have to cruise down a road covered with gravel, ride through a bridge expansion joint or take a trip down an old village road, Night Dragon will isolate the unpleasant feedback that a rough surface would usually send to your arms, legs and, well, buttocks.
As for the whims of weather, our brave Dragon isn't afraid of its whims. You still get enough stability and grip when dealing with a moistened road. So, neither a drizzle nor a storm will ruin your motorbike journey. (Just don't forget to subdue your speed).
Finally, Pirelli guarantees that Night Dragon will fly 6,000-8,000 miles with you. But if you're fond of bike racing and burnouts, you can reduce that number to just 5,000. However, the rest of its performance is almost magic just like its name.
Pirelli Night Dragon GT Rear Motorcycle Tire 150/80B-16...
The NIGHT DRAGON GT tire features a unique design to provide unbeatable grip and stability at every lean angle in the dry. The specially placed grooves between the crown and tire's edge efficiently evacuate water. All of this combined helps offers very quick warm up that instills confidence for the rider shortly after the start of the journey.
Italian (Publication Language)
Positives:
The tightest grip possible;
Impressive load index;
Solid construction;
Smooth riding;
Makes maneuvering easier.
---
6. Shinko 777 Front Tire: A stylish choice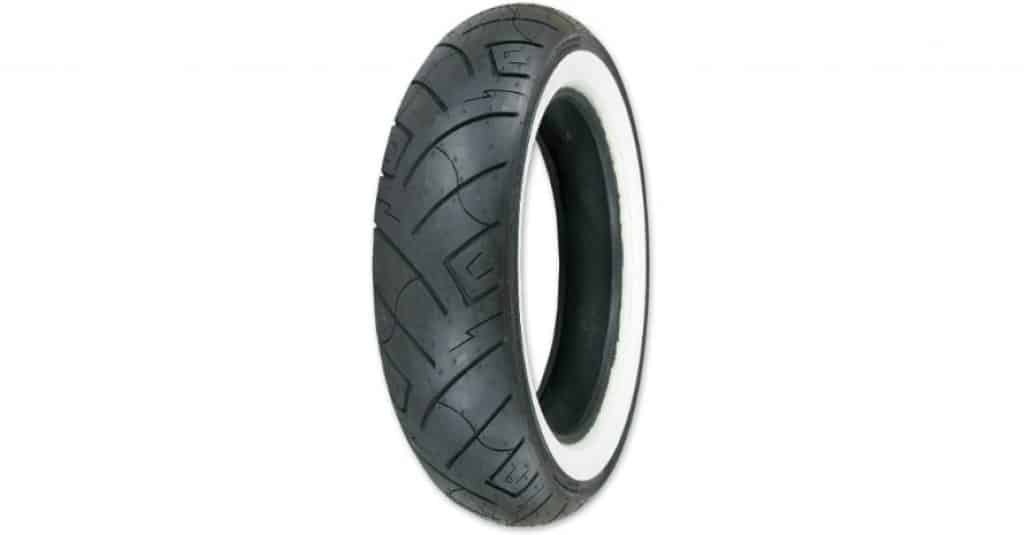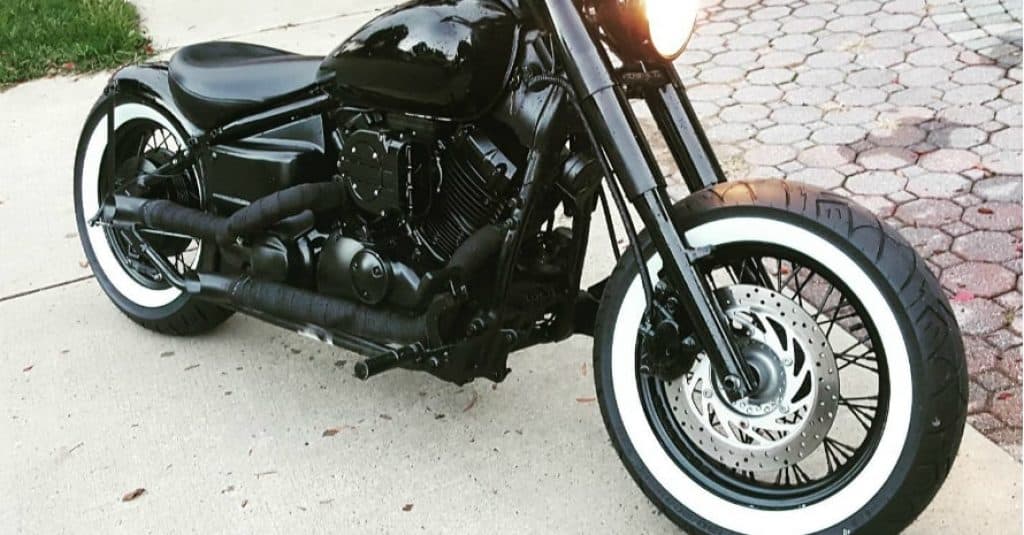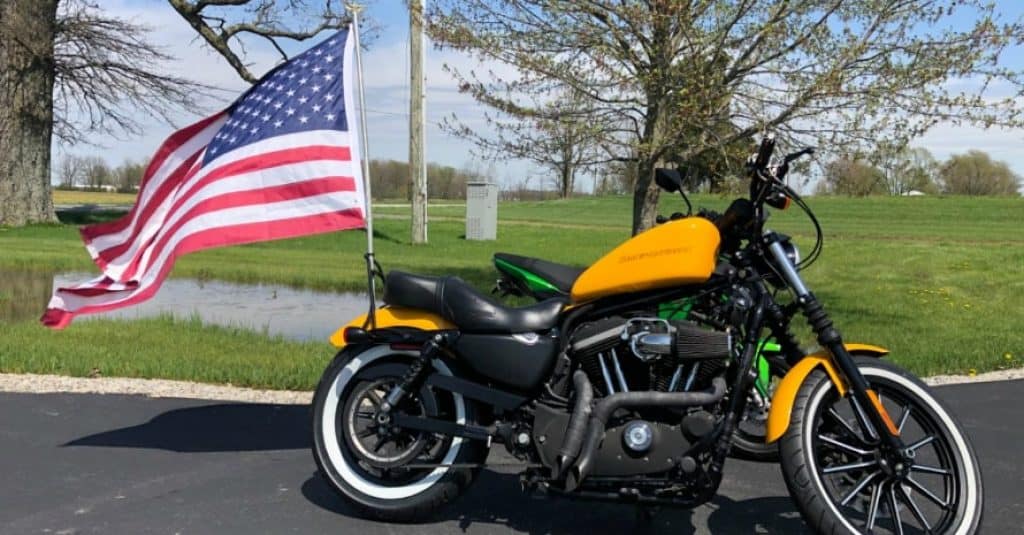 Up next, we have Shinko 777 — a set of Harley Sportster whitewall tires. It's one of the most aesthetically pleasing models. And if you want to ride with style, like Marlon Brando in The Wild One, this is a good pick.
Shinko 777 is made of the hard-duty rubber. The speed rating is H and the rim diameter is 19. So, if you think there could be some compatibility issues — worry not. Shinko 777 provides really smooth and enjoyable rolling — it's a perfect tire set for occasional cruising.
The grip is also reliable. Your bike will be safely 'stuck' to the road surface. Even if it got washed by the rain a few minutes ago. And maneuvering also becomes more painless, especially cornering — rarely you can find a tire model that makes taking a turn so smooth.
But it's not all peaches and honey with Shinko 777. Its main issue is a limited lifespan. With these tires, your best bet is to make 4,000-5,000 miles before changing the rubber.
So, I'd compare Shinko to a pair of fancy-looking sneakers. Taking a stroll downtown on a summer evening? Yes. Going for a hike in Tennessee's mountains? No, they will be a wreck afterward.
All in all, if you're taking your first steps in the bike life, Shinko 777 is a good choice. If you don't embark on long moto trips and roll within your area — I recommend it again. It has a trustworthy grip, smooth handling, and a low price.
Sale
Shinko 777 Front Tire - Whitewall (100/90-19 Reinforced)
Specifically designed for cruiser machines and is available in a multitude of sizes to fit many V-twin and metric cruiser models.Higher mileage and load capacity.Tread compound designed for a great combination of traction and mileage.Directional tread pat
(Heavy Duty) version with reinforced carcass available in select sizes.H-rated tubeless, 4-ply rated.DOT approved.Whitewall version.Tire Specifications:Load / speed index: 61H.Recommended rim (inches): 2.50.Overall diameter (inches): 26.10.Overall width (
Positives:
Really cheap;
Good tire adhesion;
Easy cornering;
Stylish looks;
Lightweight.
Negatives:
Medium longevity at best.
---
7. Dunlop Trailsmart Rear Motorcycle Tire: Off-road Harley Davidson Sportster tires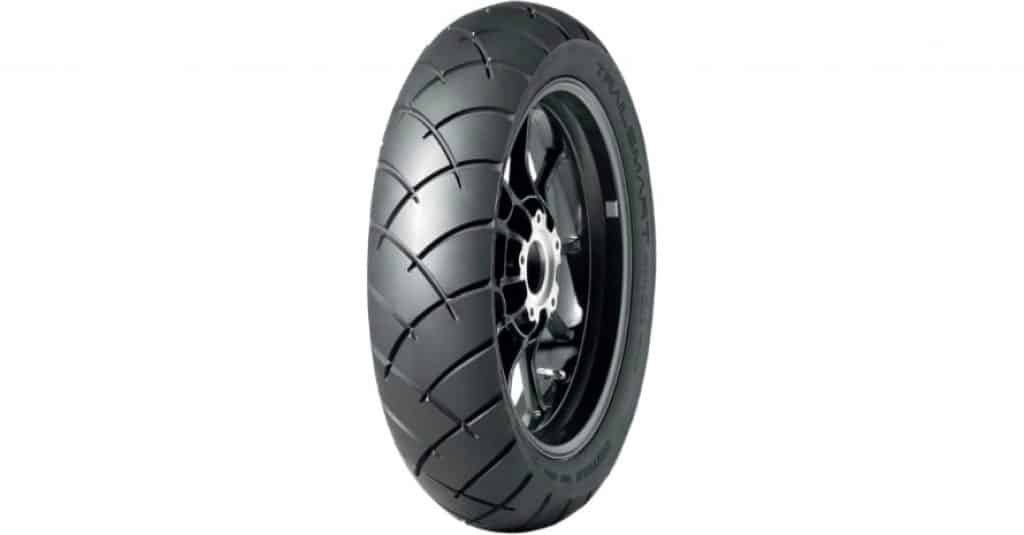 Another item from Dunlop, Trailsmartis a type of tire for adventurous riders. It's a 'footwear' for your bike that isn't afraid of gravel, rain-saturated mud, and poorly constructed pavement.
This is an on/off-road rear tire. Its parameters are standard: 18-inch rim diameter. Speed rate isn't mentioned as there are different modifications, but H rating is included. Though the model's weight is pretty impressive: 17,7 lbs.
We have here an XGT pattern and a dosage of silicon dioxide, which is also known as silica. Their duo provides more confidence, tighter grip, and nice responsiveness. Especially when you drive down a wet highway.
When on concrete/asphalt, Trailsmart gives barely any kinetic feedback. Such a path feels as smooth as butter with this model on. When you're driving off-road, Dunlop really shines, allowing you to conquer even the roughest surfaces at a decent speed of 40-50 Mph.
All in all, it's a splendid choice for a mid/heavyweight motor machine. If you're a risky, adventurous rider and like lengthy bike trips where all sorts of obstacles may occur — Trailsman is a right companion.
Dunlop Trailsmart Rear Motorcycle Tire 150/70R-18 (70V) -...
Next generation trail tire for medium- to large-displacement adventure bikes.
Revised tread pattern for improved mileage. Improved up to the limit wet performance.
Optimal on- and off-road capabilities.
Exceptional cornering grip in all conditions.
Size range to suit the latest adventure bikes. Tubeless.
Positives:
On/off-road tire;
Provides good isolation;
Trustworthy grip;
Isn't afraid of mushy surface;
Silica component.
---
8. Bridgestone Exedra Max Rear: Reliable Sportster rear tire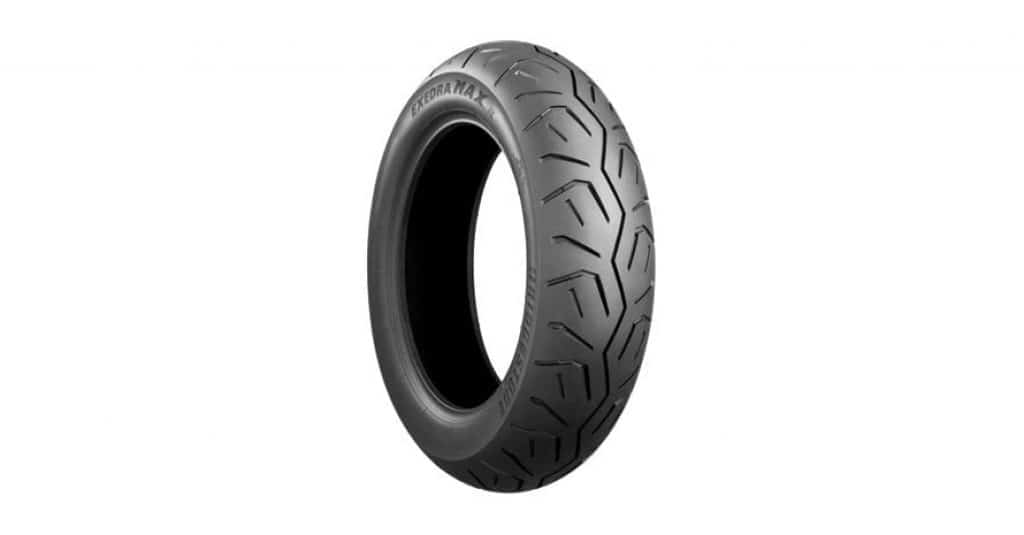 Bridgestone Exedera is a controversial model for sure. On one hand, we have here amazing traction for sporting riders. On the other, its lifespan leaves a lot to be desired.
Tubeless Exedera meets the standard criteria: H speed rate and 18-inch rim diameter. The load rate differs as there are various sub-models on the list. But the maximum known capacity is 86, which translates to roughly half a ton.
Tire profile is pretty wide — this has been done so the tire won't retire too soon. However, being a great choice for sportive riding, Bridgestone can't boast of a long lifespan. At times, it wears out after about 3,500-4,000 miles. Guess, this is the price you need to pay for extreme riding?
As for the grip, this a strong side of Exedra, luckily. Its grove pattern was specifically designed to get rid of rainwater. So, a drizzled highway or racing track won't be much of a problem.
So, I recommend Bridgestone Exedra to all sports enthusiasts. Street biking is also acceptable with this model if you show enough diligence. But it's not an optimal choice for a long-distance cruise.
150/80B-16 (71H) Bridgestone Exedra Max Rear Motorcycle Tire...
Specific rubber compound for cruiser applications provides long mileage.
Unique wide shape of tire profile supports touring-type riding while reducing fatigue.
Rubber compounds and tread patterns enhance water evacuation and both dry and wet grip.
Tubeless.
Positives:
Nice water grip;
Good maneuvering;
Ample responsiveness;
Enough traction;
Good for sports.
---
9. Continental TKC70 Dual Sport: From Germany with hand-crafted love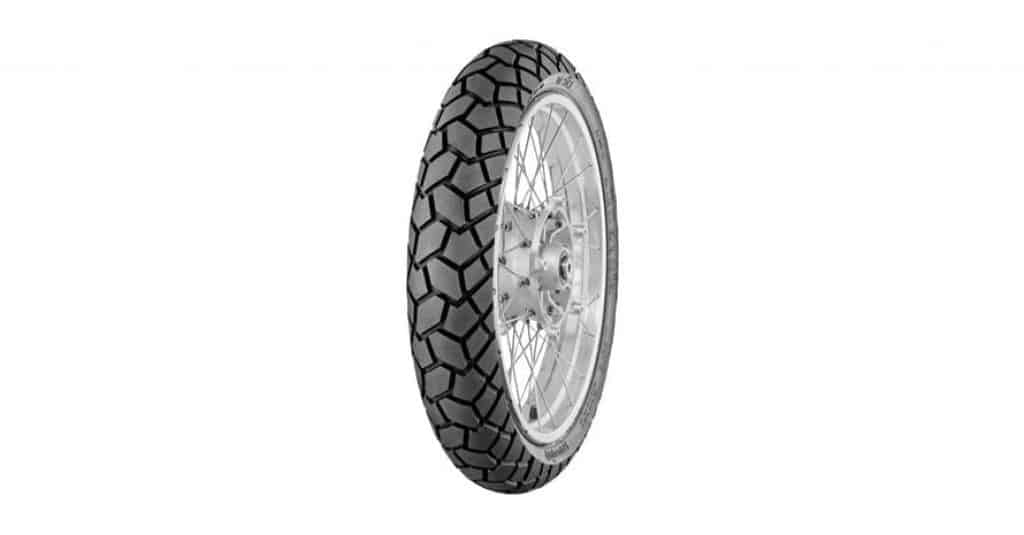 Our final item, Continental TKC70 is another work of German quality. It's a Harley Sportster front tire that seems to marry traction and longevity. Plus it has a weird, but effective construction.
Its performance capability is divided. About 60% belongs to the on-road riding and another 40% is for the off-road adventures. We have here a radial steel construction that seems to control the temperature.
The center tread is fascinatingly tough, meanwhile, side shoulders are a bit softer. Possibly, this know-how provides a better amortization, as the stress that the tires receive is diminished more effectively.
All this clever engineering is here to serve one purpose: good grip. While you're on the smooth asphalt road or a narrow lane within a city — grip remains steady and predictable.
Once you decide to leave the safety of a smoothly paved highway, TKC70 begins working its miracles. When dealing with soupy mud, forest roads, potholed tracks, and other biker's nightmares, TKC70 remains perfectly readable and controllable. (Although less predictable).
As for its specs, everything is standard: 17-inched diameter, 120/70 tire size, speed index with up to 240 km/h, and so forth. Plus, it has pretty nice longevity: at least 6,000 miles is a sure can-do for this German wunderwaffe.
To sum up, I can recommend TKC70 as a solution for heavy biking. Only keep in mind that 60% of your riding time should be spent on the road if you want to avoid premature exhaustion of this rubber.
Continental TKC70 Dual Sport Front Motorcycle Tire...
Only trail-tire with a radial design constructed for off-road use - Handmade in Germany.
TKC 70 is positioned for 60% on-road and 40% off-road use.
Unique tread block pattern makes the TKC 70 quiet and stable on the road while still providing good off-road capability.
Agile on streets and safe on gravel roads. RainGrip: New compound with outstanding grip in wet weather conditions and very short warm-up phase.
MultiGrip: Continentals own semi-dual compound technology allows different levels of hardness on the central tread and shoulder area (more mileage and improved grip). The 0 Degree steel belted construction guarantees high stability and a low kickback.
Positives:
Unconventional construction;
Partial dirt protection;
Good grip;
Off-road biking;
Sturdy steel.
Negatives:
Won't suit non-stop extreme bikers.
---
How to choose the best tires for Harley Sportster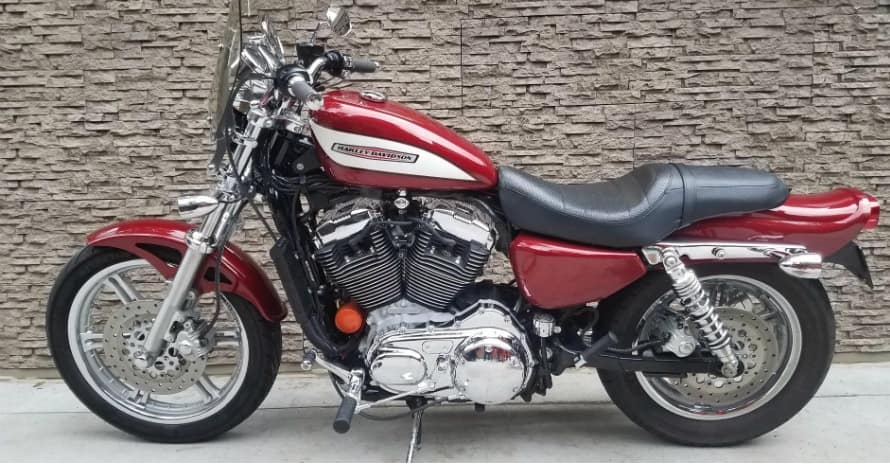 Okay, to choose a good set, you need to keep in mind:
Sturdiness. How often and how far are you going to ride? If it's for daily trips to your work, then a tire with a medium lifespan of 6,000 miles will do. If you're planning to ride through the entire continent, something like Kenda Kruz is a must.
Area. Within the limits of a city you'll be fine with Shinko 777. Dealing with gravel, marshy patches and decrepit roads requires something tougher.
Tread. That's the part that contacts the ground. Some are only for city streets. Others are perfect off-road. And also there's a hybrid 50/50 type.
Load rate. The tires should meet the minimal criteria of weight that your Roadster can carry. Couple its wet weight of 253,8 kilos with that of yours and any other possible cargo.
Speed rate. If a tire has a speed rate lesser than 174 km/h — the Sporster's max speed — it's potentially hazardous.
Sidewall. This thingy affects bump absorption, maneuverability, suspension, and pretty much everything else. It can be stiffer or softer. In turn, it can tremendously change your riding experience.
Also, avoid mixing tires of different brands. For example, you shouldn't have Michelin as a front tire and Dunlop as a rear one. Due to different parameters, it can create a potentially dangerous situation once you hit the road. And tangible discomfort during the ride will be a sure nuisance.
If you have no other option, then carefully compare the parameters of different brand tires. They should be matching as much as possible. (But again, different grove patterns may not work in agreement). So, if the parameters don't match, use the safety of walking instead.
FAQs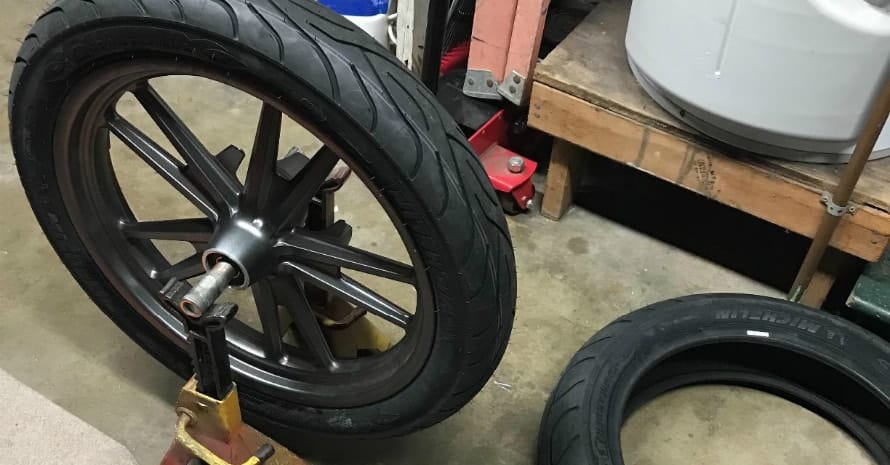 Now, let's answer a few popular questions that can be seen throughout America's H&D forums.
What size are Harley Sportster tires?
It depends on a Sportster sub-model. A classic Roadster has a 18×4,25 max rim. And Sportster XR 1200 has 18×5,5. To be sure, consult this table provided by Harley-Davidson.
How to change a tire on Harley Sportster?
If you've never changed a bike tire before, your safest bet would be to take it to the shop and have the entire procedure finished for about $20.
The reason is if you have zero experience with Roadster's wheels, you risk ruining the tire's bead. As a result, coughing up another $90 and more for a new tire will be your bitter reward.
But if you're 100% sure you can pull the job off, here are the two best tutorials: front wheel, rear wheel.
What is the lifespan of Harley tires?
It depends on how often, how far, and how intensely you ride. Averagely, a Roadster tire will last for about 5 years. Or about 8,000-9,000 miles.
Some have been reported to score 10,000 and 12,000 miles. But that's only if their owners were very responsible for the tire maintenance. And very disapproving of the burnouts.
Tires that don't get tired…
That sums up today's tire guide. Follow the tips, pay attention to the Roadster's specs and decide what kind of rides you're interested in. All these factors will help you choose the optimal tire that will accompany you wherever you go: dusty highways, accurate city lanes or soupy forest roads.
What is your favorite tire brand to go with the Roadster? Which one has the best mileage? How well does it handle burnouts? Let us know in the comments!