According to the National Insurance Crime Bureau (NICB), motorcycle thefts have increased by 26% since 2019. In 2021, there were 51,129 motorcycles stolen in the United States. Unfortunately, the chances of recovering a stolen motorcycle are low, with only a 46% recovery rate despite law enforcement efforts.
Fortunately, in today's technological age, protecting your property and tracking its location has become easier. By installing a motorcycle tracking device, riders can have a sense of security and peace of mind. These trackers can send notifications to a mobile app or call center, which will promptly alert you if an emergency is detected. While there are some free options available, most GPS trackers require a monthly or yearly subscription fee to provide these services. This article provides a detailed analysis to help you identify the best motorcycle GPS tracker on the market.
How Motorcycle GPS Trackers Work
Motorcycle GPS trackers rely on satellite technology to accurately monitor the location and movements of your bike. This feature can prevent you from losing your way or straying from planned routes. In the event of an accident or other dangerous situation, your loved ones can quickly locate your position and provide the necessary aid. Additionally, GPS trackers allow you to generate alerts that notify rescue teams or your riding group about your location, simplifying the process of receiving assistance.
Using GPS technology, motorcycle trackers are user-friendly and can be installed on any model of bike. These tracking systems use GPS to monitor and document real-time location data, including speed, direction, and other relevant information. They also assist riders in optimizing their routes and avoiding potential hazards on the road. By installing a GPS tracker on your motorcycle, you can also secure your bike against theft or unauthorized use, receiving alerts if someone attempts to tamper with it.
Benefits of Motorcycle GPS Trackers
Although some may view adding a GPS tracking system to their motorcycle as an unnecessary expense, there are numerous benefits to having one :
Many insurance firms will lower your coverage rates if you have a GPS Tracker.
Motorcycle GPS tracking systems are widely available and can be found at most retailers that sell GPS devices and other motorcycle accessories.
A GPS tracker provides regular location updates of your motorcycle, making it easier for you to track and recover your bike if it's lost or stolen.
With GPS technology, you can create a safe zone for your motorcycle by setting up virtual boundaries and receiving alerts if the bike moves beyond those areas without authorization or unusually.
GPS trackers can help you find your way back to your planned route if you deviate from it, ensuring that you reach your destination safely.
GPS trackers monitor your real-time location and can share that information with others, enabling you to receive timely assistance if needed.
Some GPS tracking devices are equipped with an SOS button feature that can raise an alarm in emergencies, prompting an immediate response.
The GPS tools work well in places with limited or no network signal and track your location.
Recommendations
To prevent Motorcycle Stealing
Disc-lock: Most motorcycles have enough space to tuck in a disc-lock, which is a device that prevents the front wheel from turning. However, it's essential to note that a disc lock alone may not prevent a determined thief from lifting the motorcycle into a van. The most vulnerable part of the disc lock is the disc itself, which can be cut using an angle grinder to remove the lock.
Chain and lock: One of the most effective ways to prevent motorcycle theft is by locking it to something solid. As a general guideline, a chain with a thickness of around 12mm is the thickest you can carry on the motorcycle and provides a good level of protection. For home security, it's recommended to use thicker chains for maximum protection. Research indicates that using heavy-duty security, such as 19mm and thicker chains, makes motorcycles less likely to be stolen than cars.
Immobilizer: While electronic immobilizers are a standard feature in most motorcycles over 125cc, and prevent motorcycles from starting, they may not be enough to prevent theft. Thieves can still push the bike away with the help of a scooter or load it onto a van. Many stolen bikes are stripped down and sold for parts, rendering the immobilizer useless. Therefore, additional security measures such as chains and trackers are essential to deter theft and aid in recovery.
Datatag: Visible and invisible marking can help deter thieves who know they'll have more problems shifting parts that are security marked, plus this system has helped bring down criminal gangs in the past. It's fitted as standard to the majority of new bikes over 125cc.
General Recommendations about Motorcycle GPS Trackers
Keep in mind that often thefts leave stolen motorcycles outside for a brief period after stealing, to see if someone comes to retrieve it using a tracker. Therefore, even if you don't have a support team for your tracker, it can still be useful in this situation. It's important to remember that a tracker is not intended to prevent theft, but rather to aid in the recovery of your bike.
It's not advisable to publicize that your motorcycle has a tracker since it might deter casual thieves, but more determined ones who target properly locked bikes will likely tear out any tracker they find. As soon as they discover it, many thieves will remove the seat to look for a poorly installed tracker. Therefore, it's crucial to ensure that the tracker is well-hidden to prevent it from being easily detected.
If your motorcycle is on public property, there's a good chance that you may be able to recover it quickly by yourself. However, it's essential to involve the police in such situations as you cannot be sure if the criminals are still nearby. It's vital never to put yourself at risk when attempting to recover your stolen bike.
Police officers say that they usually respond promptly to any credible tracker event, subject to available resources. However, partnering with an established and trustworthy tracking company will ensure that there are already reliable communication channels and strong relationships between the tracking provider and the police force.
What to consider when choosing The Best Motorcycle GPS Tracker
When making a purchase, several factors should be taken into account, especially when considering a GPS tracker. Here are some important things to keep in mind before investing in one.
Types of services – Before choosing a tracker, consider the types of service the manufacturer offers, how well you want your bike protected, and what you are willing to pay in yearly subscription fees for it. What system does it use to track your bike and is it adequate for your needs? Some work on GPS networks, radio frequency, or cellular technology, or sometimes more than one of these.
Portable or Wired? A wired tracker is a suitable option for individuals who only need to track a single vehicle, such as a car. This type of tracker is designed for those who want to make a long-term investment in a tracker that offers additional features beyond location tracking. On the other hand, portable GPS trackers are convenient to carry and require minimal setup. Some models are compact enough to fit in your pocket!
Tracking Software – Tracking software enables you to easily locate the tracker in real time through an app or a website whenever needed. This feature is particularly important during emergencies when you need to know the exact location of the tracker. At the same time, some of the trackers come with free tracking software which can be a great advantage when purchasing.
Monthly fee – most motorcycle trackers come with monthly/early subscriptions with different fees which depend on the services offered by the tracker. Choose a subscription plan that best fits your needs.
Long Battery Life – Consider the battery life before buying a portable GPS tracker. Review how many times it needs to be charged in a month, and how long it lasts on a single charge, and read reviews to make the most of the device.
Emergency Alerts – GPS trackers can offer automated alerts for collisions and tampering, and some have an SOS button feature that sends alerts to emergency services and family members. It is recommended to get a tracker that provides a variety of alert options and to choose a device with an SOS button if it's for your loved ones.
Accuracy – Geo-location is the most accurate method to determine the exact location of your stolen motorcycle, which is essential for recovery. Different GPS trackers have different update intervals, ranging from every few seconds to every minute, and some advanced trackers using three-axis accelerometers can alert you if it detects that your bike has been stolen. Accuracy in determining the location of the motorcycle while parked or on the move is crucial to improve the chances of recovering it.
Compact size – GPS tracking devices' design, size, and compactness are essential factors to consider when choosing a tracker, depending on your specific needs. For bikers, lightweight and compact devices that are easy to handle and fit into small spaces are the most suitable options.
Installation – It's always better to choose a handy GPS device that is easy to install and comes with a magnetic case that is preferable for bikers. The device should have a strong magnet mounting to ensure that it stays in place during rough rides or high speeds.
Durability  – When choosing the best motorcycle GPS tracker , it's important to consider its durability and robustness, so that it can withstand different weather conditions and be reliable over time. Look for a tracker that can function smoothly even in extreme temperatures, rain, or dust, and choose one that is waterproof. A durable GPS tracker will provide you with peace of mind and will serve you for a longer time with reliability.
Flexibility and Compatibility – To ensure efficient functioning, the GPS tracking system for a motorbike should be compatible with various digital devices and have reliable software support. It should also be flexible enough to integrate with different software and hardware devices, allowing convenient accessibility for multiple users. The user interface should be intuitive, making it easy to access live tracking and other advanced features.
Customer Support – To ensure a positive experience, it is important to choose a GPS tracking device with reliable customer support. This is especially important in case the device malfunctions or requires troubleshooting. Look for service providers that offer 24/7 customer support to ensure you can get help at any time, even during off-hours or while you are on the road.
GPS trackers can easily be installed on motorcycles, ATVs, and scooters. Installation of wired devices will usually require hooking them up directly to the battery. Things to consider that will help you find and install the best GPS tracker for motorcycles:
Some devices may require extensive technical knowledge for installation so if that's not up your alley, make sure to find a motorcycle GPS tracker with easy-install properties. Check out the video below for what installing a GPS tracker entails.
Top 10 Motorcycle GPS Trackers
I have chosen the 10 best motorcycle GPS trackers currently on the market :
1. LandAirSea 54 GPS Tracker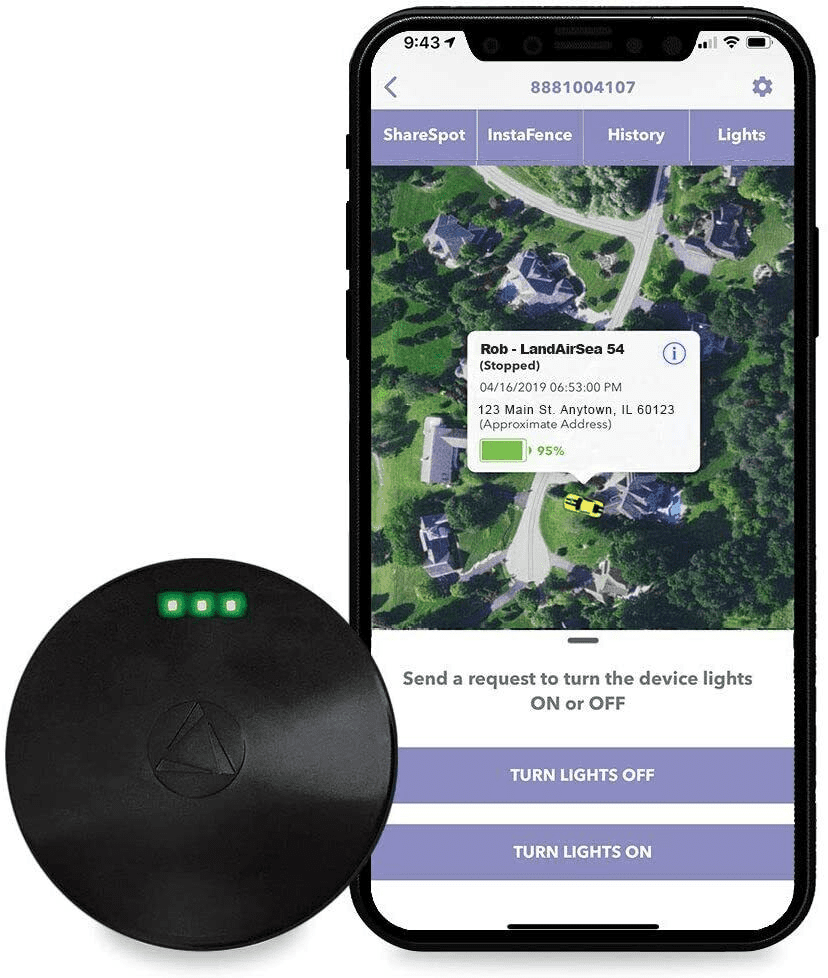 The LandAirSea 54 GPS tracker is a round device with a strong internal magnet that can be easily fixed to a motorcycle and withstand bumpy rides. It has a dustproof and waterproof casing, providing durability. The device provides accurate location details and instant alerts in case of unauthorized use. The magnetization is strong enough to fix the device securely on the motorbike in all conditions. The LandAirSea 54 GPS tracker has a superior-quality dustproof and waterproof casing, making it durable.
Real-time location and movements of the motorcycle can be accessed through an app or web platform. The app also allows sharing of location details with contacts in case of help. The device is powered by a rechargeable lithium-ion battery, which can last up to six months in low-power mode.
Get LandAirSea 54 GPS Tracker on Amazon
Price
$29.95
Subscription
$19.95 per month (with additional subscription plans)
Battery Life
10 days
Mounting Type
Magnet
Dimensions
D: 2.275″ H: 0.945″
Charging Time
4 Hours
Key Features
Precise location tracking up to six feetReal-time alertsLocation sharing with othersStable battery backup
App Download
IOS
Android
2. Trak 4 GPS Tracker for Motorcycle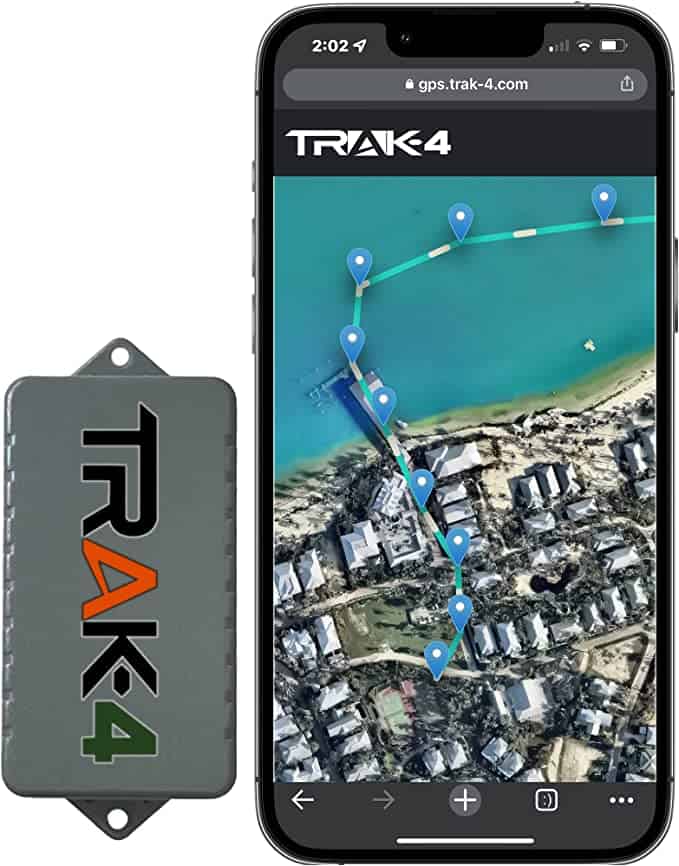 The Trak 4 boasts an exceptional battery life that outperforms its competitors. With daily reporting enabled, its lithium polymer battery can last an impressive 12 to 18 months before requiring a recharge. To conserve battery, users can customize location update settings as needed. When the battery level does get low, alerts are sent through the user's preferred communication method. Recharging is simple using the micro-USB cable that comes with the device.
The Trak 4 is a durable and waterproof device made of commercial-grade materials. It features built-in screw mounts or adhesive magnet mounts for easy attachment. The device provides daily check-ins, even during periods of inactivity, offering peace of mind for bike owners. Users with multiple motorcycles can track several devices simultaneously through the mobile app. Overall, the Trak 4 is an essential investment for those who value the safety and security of their motorcycles.
Get Trak 4 GPS Tracker on Amazon
Price
$35
Subscription
$6,99 per month
Battery Life
Up to 18 Months
Mounting Type
Built-in screw mounts
Dimensions
3.25 x 1.75 x 1.25 inches
Charging time
3 Hours
Key Features
18-months of use on a single chargeCommercial-grade weatherproof exteriorCustomize updates to optimize battery life
App Download
IOS
Android
3. Monimoto 7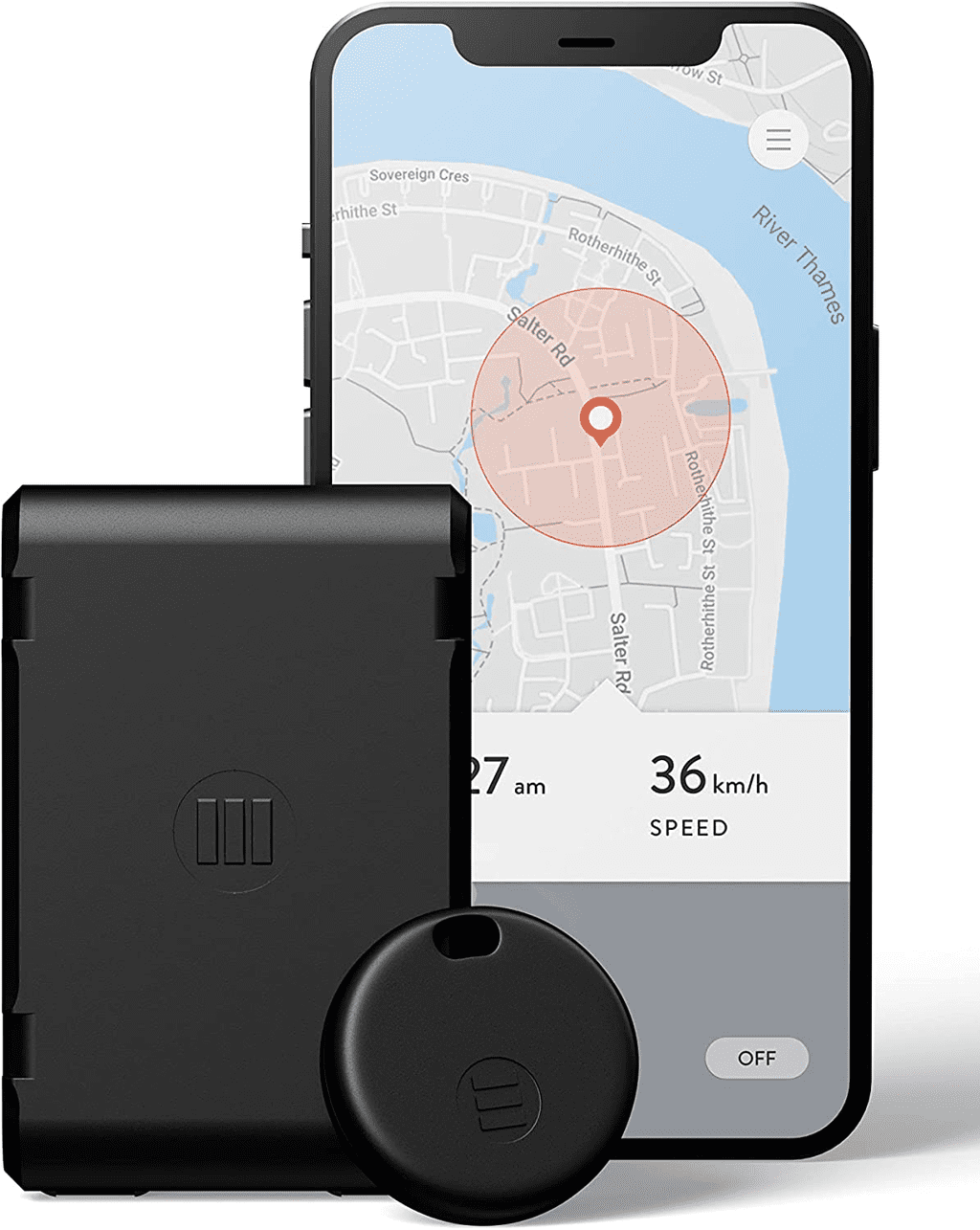 The new Monimoto version is even smaller, easier to install, and more compact. Monimoto 7 uses LTE-M (LTE Cat-M1) and 2G networks and works in the United States and Europe. It is powered by 2 long-life batteries, so even if the vehicle's battery is dead your ride will still be safe. Monimoto comes with an embedded eSIM card with 2 month FREE subscription.
You can install Monimoto yourself, and it really couldn't be much easier. Opening the box reveals a card with the details of the app to download, which then guides you through the very simple process of getting your account set up, then you're done.
The supplied fob lets Monimoto know it's you moving the bike around, as long as it's nearby. That does mean that you need to consider where your keys are kept relative to the bike as it can pick it up through a wall.
Get Minimoto 7 tracker on Amazon
Price
$120
Subscription
$49 Annually
Battery Life
10 days
Mounting Type
No wiring
Dimensions
2.4 x 0.75 x 3.7 inches
Charging Time
Key Features
Low maintenanceEasy to set upWorks globally Works with a mobile app Calls your phone
App Download
IOS
Android
4. Trackimo GPS Tracker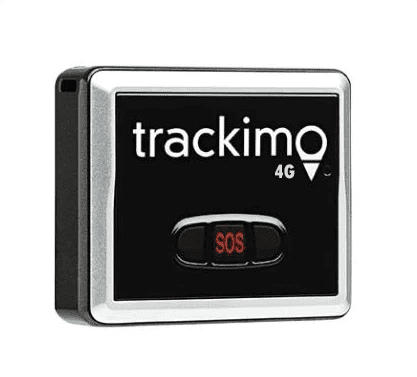 Trackimo® is an intelligent, GPS-LTE tiny device that allows you to find and track your precious things in real-time, automatically alerting you when sensing distress signals exceeding speed settings, or leaving or entering a fenced zone. Trackimo's location is accessible through any computer or mobile device from any spot in the world. With unique Revolutionary GPS/LTE-GSM/Wi-Fi/BT hybrid tracking, Trackimo uses 4 different technologies to accurately locate anything worldwide. GPS and cellular technology send the location information to Trackimo's servers where you can access the information from anywhere Secured and in Real Time. GPS utilizing Global Positioning Satellite technology to locate outdoors within 30-150 feet (10-50 meters) accuracy. Wi-Fi is used for indoor tracking and Bluetooth for the last 10-60 feet (3-20 meters).
Trackimo 4G GPS Tracker includes a SIM card loaded with 1 year of international worldwide cellular service. The device works out of the box, is easy to use, and is up and running within minutes.
Get Trackimo GPS Tracker on Amazon
Price
$190.90 (with first year subscription free)
Subscription
$60 Annually
Battery Life
Up to 48 hours
Mounting Type
Magnet
Dimensions
1.8 x 1.6 x 0.7 inches
Charging Time
12 hours
Key Features
Live tracking including route, speed, panic button, speed, move, geo-fence crossing and SOS alertssmallest and lightest GPS trackerno monthly subscription fee for first 12 monthsAccuracy Water resistant: product comes with silicon cover
App Download
IOS
Android
5. Rewire DB2 Motorcycle Tracker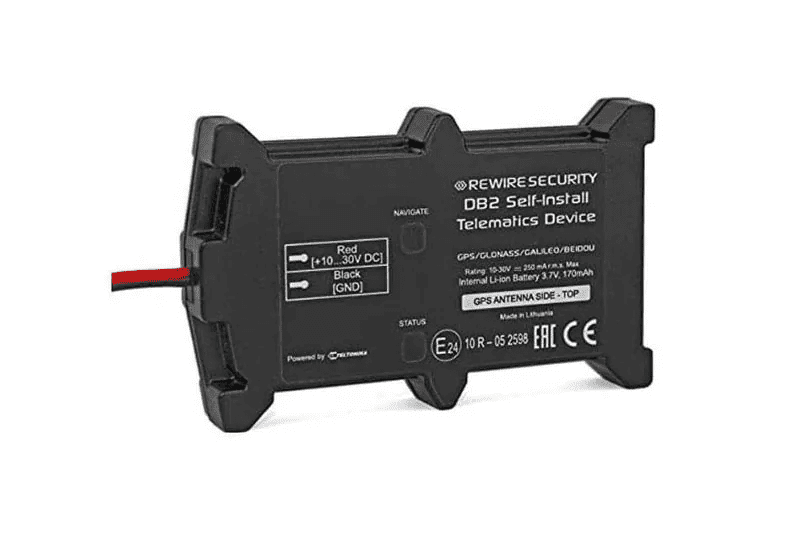 It is easy to connect the GPS tracker to your motorcycle's battery using two wires, and even if the battery is disconnected or cut, it will remain active for a short period. The tracker comes with a SIM card and operates on a pay-as-you-go system, meaning you only have to top up when you need it. The monthly subscription fee is $9.95, $9.95 a month (Paid Annually), or $10.95 a month (Prepaid Monthly).
Despite its low cost, the tracker provides numerous features, such as a user-friendly app that updates your motorcycle's location in real-time, displays route history, and sends alerts via text or email.
Get Rewire DB2 Motorcycle Tracker on Amazon
6. TrackmateGPS MINI PRO LTE GPS Tracker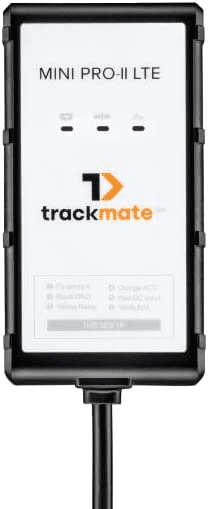 The Trackmate GPS tracker has anti-theft features, as it is hardwired to the motorcycle, and can detect when the bike is being turned on and off. The device is powered by a motorcycle battery, eliminating concerns about battery life.
The Trackmate Mini is designed to be hardwired to a motorcycle and has unique features such as the ability to remotely cut off the ignition if the bike is starting without authorization. The device is powered off the motorcycle and has a built-in backup battery for added dependability. Alerts are sent if the device is tampered with or disconnected. Despite its small size, the device is inconspicuous when mounted on a motorcycle.
It is compatible nationwide with AT&T and T-mobile service and offers mobile phone or tablet, iOS, or Android compatible apps.
Get TrackmateGPS MINI PRO LTE GPS Tracker on Amazon
Price
$69.99
Subscription
$9.99 per month
Battery Life
Wired to the motorcycle battery
Mounting Type
Wired with two wires
Dimensions
3.4 x 2.2 x 0.5 inches
Key Features
precise tracking and detailed reportshardwired for constant powerno contract and a choice of 5 monthly plansnationwide coverage
App Download
IOS
Android
7. Optimus 2.0 GPS Tracker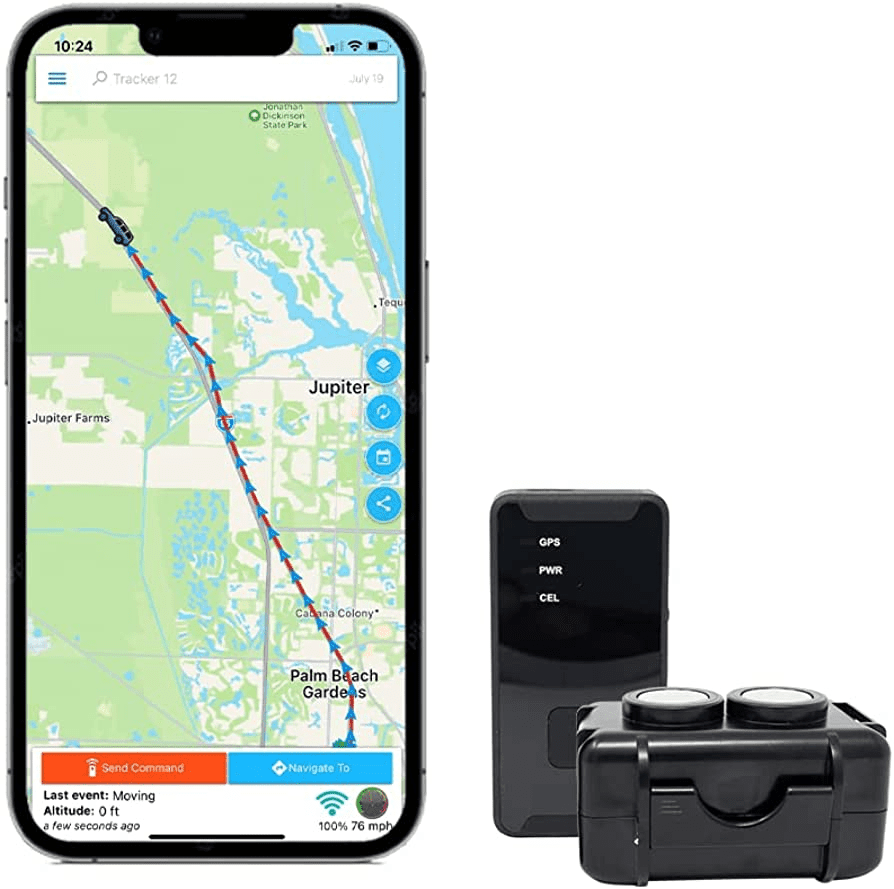 The Optimus 2.0 GPS tracker is a reliable device with excellent battery monitoring capabilities and an integrated accelerometer for detailed activity insights. Despite its affordable price, the tracker provides a wide range of features, including a dual-magnet case that makes mounting on a motorcycle a breeze. Optimus offers a flexible, low-cost subscription plan for GPS access, which does not require a long-term contract and can be canceled at any time. Even with this low-cost subscription, location updates are available every 10 seconds.
The affordable GPS tracker offers excellent value with a long-lasting lithium-polymer battery that can last up to two weeks on a single charge. Users can monitor the battery level and receive notifications when it reaches certain levels. The accelerometer feature helps conserve battery power by activating a power-saving standby mode when the vehicle is not in motion. Additionally, for pet owners, there is a recommended dog GPS tracker for keeping pets safe.
Get Optimus 2.0 GPS Tracker on Amazon
Price
$24.95
Subscription
$19.95 per month
Battery Life
Up to 2 weeks
Mounting Type
Hardwired installation
Dimensions
1 x 1.5 x 3 inches
Charging time
5-6 Hours
Key Features
AffordableLow, no-fee monthly subscriptionDual-magnet case mount included10-second location updates at no extra costService coverage limited to cellphone coverage in the USA and Canada.
App Download
IOS
Android
8. Americaloc GL300W Mini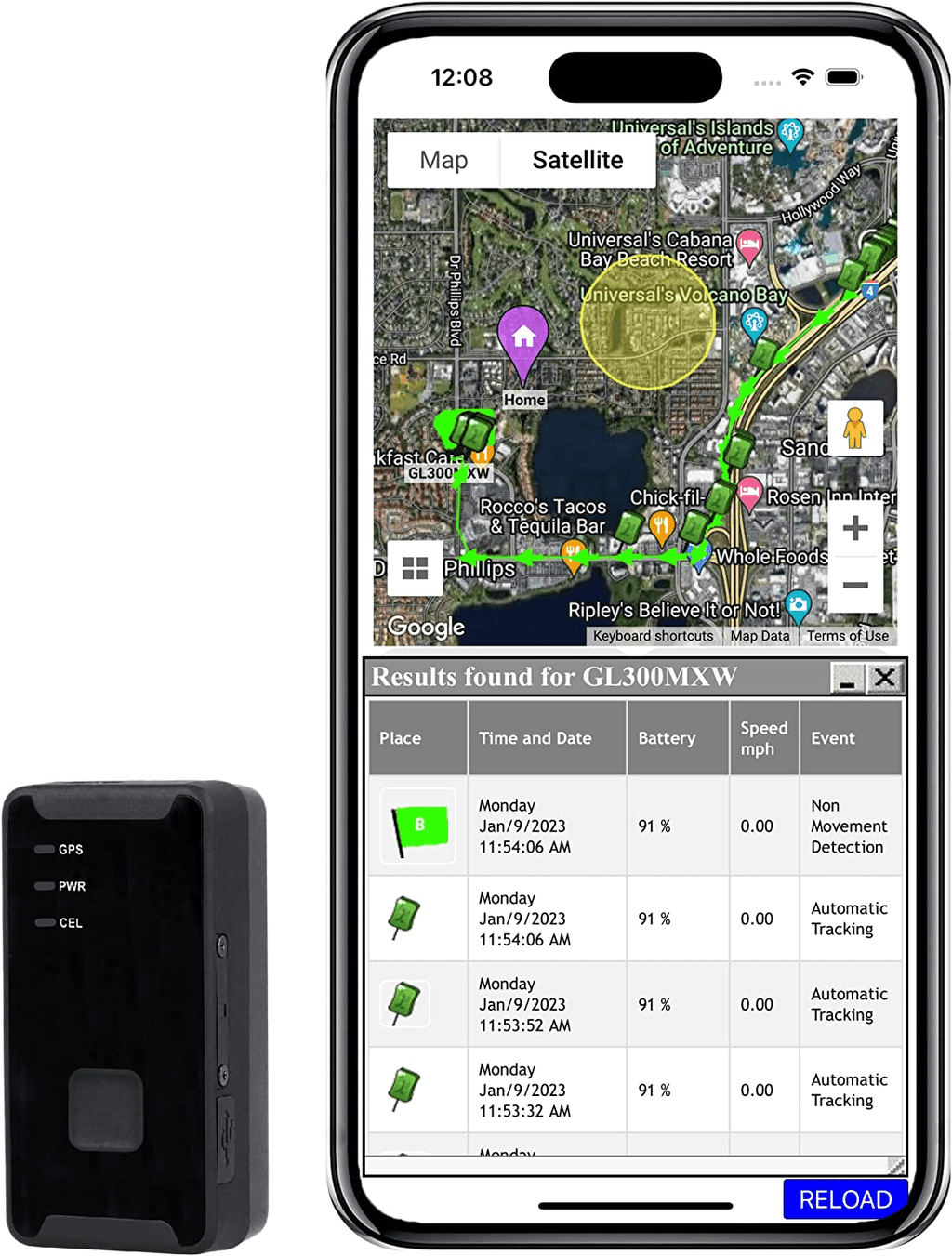 Although it's more expensive compared to other GPS trackers on our list and requires a monthly service fee, the higher cost of this motorcycle GPS tracker is worth it as it has a longer battery life and wider coverage, even in remote areas in the US, Canada, and Europe. It's also compatible with most weatherproof magnetic cases for GPS trackers and has a durable battery. Although it won't work in underground or metal/concrete roofed areas, this is only an issue when the motorcycle is parked there, as real-time alerts will be sent to your phone as soon as it leaves the area.
Get Americaloc GL300W Mini on Amazon
9. Amcrest GPS GL300 GPS Tracker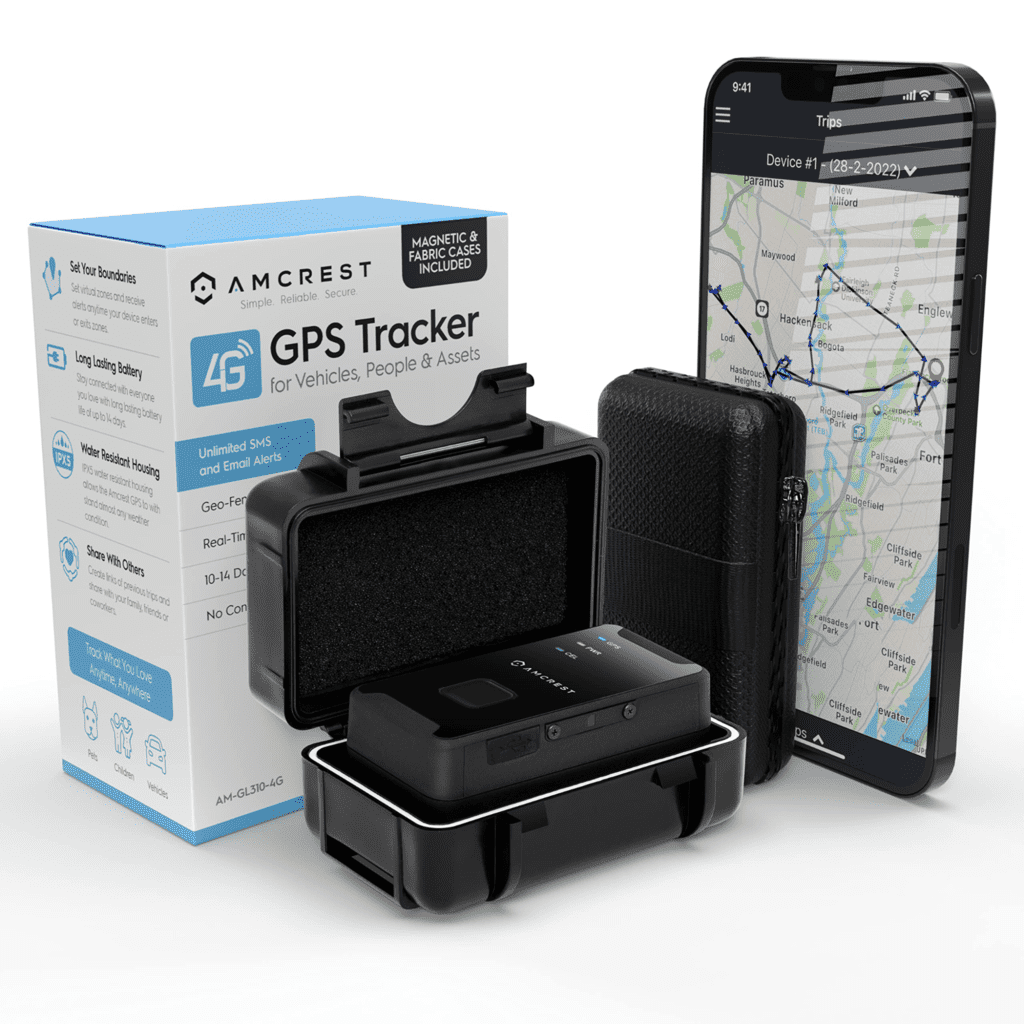 The Amcrest GPS GL300 is a reliable and easy-to-set-up device that comes with an IP65 weatherproof housing, two magnets, and a pouch case. It uses a 4G satellite network that requires a subscription, which can range from $240 to $420 per year depending on the chosen plan. Real-time tracking updates are available every 60, 30, 15, or 5 seconds, and updates can be sent to a desktop or the Amcrest GPS smartphone app. The device also features geo-fencing and alerts for certain areas, speed limits, or harsh braking. Battery life ranges from 10 to 14 days for updates every 60 seconds but drops to 2 to 3 days for updates every 5 seconds.
Get Amcrest GPS GL300 GPS Tracker on Amazon
Price
$45
Subscription
From $240 annually
Battery Life
10-14 Days
Mounting Type
Wired
Dimensions
3 x 1.5 x 1 inches
Charging Time
3 Hours
Key Features
DurablePortable,MagneticGood valueReal-time trackingWaterproof magnetic case includedGeo-fencing smart alertsSome subscription plans are pricey
App Download
IOS
Android
10. Spytec GPS Tracker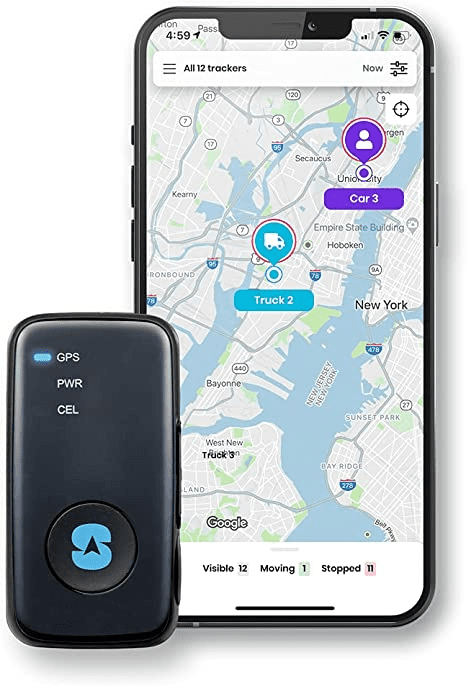 And lastly, my favorite The Spytec GL300 is a highly capable GPS device that excels in many areas, including its rapid five-second real-time updates, making it an ideal tool for locating a stolen motorcycle. Spytec also offers a highly reliable service with a 99.99% uptime, and the device is equipped with a long-lasting lithium-ion battery that can operate for up to 2.5 weeks on a single charge. When the battery is running low, alerts will be sent, and users have the option to add an extended battery pack for up to six months of additional power.
Spytec provides a well-crafted mobile application and web platform to complement the device's outstanding performance. With this platform, you can access real-time tracking, view past data, create custom reports, and tailor the notifications and alerts that you want. Additionally, you can create multiple geofences of any size and shape and receive notifications when the motorcycle enters or exits those areas.
Get Spytec GPS Tracker on Amazon
Price
$40
Subscription
From $25/month
Battery Life
14 Days
Mounting Type
Wireless
Dimensions
1.25 x 1.5 x 3 inches
Charging Time
4-6 Hours
Key Features
Includes magnetic waterproof caseReal-time location tracking via GPSIP65 waterproof ratingLifetime warranty14-day battery lifeLifetime warranty & affordable subscription
App Download
IOS
Android
Lastly, if you're wondering where to hide your GPS tracker, here are some options: