The Rise of Electric Motorcycles
Electric transportation is gaining popularity rapidly. What was once a unique and uncommon sight, is now commonplace. Major manufacturers and electric specialists like Tesla are producing various models that move silently on roads and occupy motorway charge points. This trend isn't limited to cars, as electric motorcycles are also becoming more popular. While some may see replacing their gas-powered motorcycles with electric ones as a betrayal of their way of life, there's one group of riders who are eager to adopt battery power: commuters.
Electric vs. Hybrid Motorcycles: What's the Difference?
Hybrid motorcycles, both in existence and in concept, have multiple engines that can use either gasoline or diesel in combination with electricity. This allows riders to choose which type of engine to use depending on the availability of fueling or charging stations and the type of journey they are undertaking. For city commuting, it's generally more efficient to use the electric motor, whereas for highway travel, fossil fuel engines are more effective.
Advantages of Electric Motorcycles
Hybrid motorcycles have greater power and autonomy than electric motorcycles. However, electric motorcycles are cleaner and more sustainable in terms of the environment, and it's not only the air-polluting emissions in the atmosphere but also the noise that CI engines produce that is also polluting the environment. Today I chose to talk about electric motorcycles only and all the motorcycles listed here are fully electric and use electric engines.
The Environmental Benefits of Electric Motorcycles
Despite significant advancements in performance and range, electric motorcycles still maintain an emission-free status, making them a highly sustainable and environmentally conscious alternative to motorcycles powered by internal combustion engines. Furthermore, electric bikes are almost completely noiseless. Electric motorcycles produce little noise other than the subtle whirring of their electric motors and the sound of the tires rolling on the road, creating a distinct contrast to the loud, roaring gas-powered engines found in most motorcycles on the road.
Creating Sound for Electric Motorcycles
If you're looking to restore the classic exhaust sound of your motorcycle, there are two options available to you. Firstly, you can purchase an additional electric exhaust system such as the Akrapovolt Electric Exhaust. Alternatively, if you're feeling adventurous, you can create your own motorcycle sound using just 5 simple steps:
Download MP3 sound in your player
Get some speakers to play sound on
Install the speakers somewhere on your motorcycle
Mount the MP3 player
Hit the road!
You can even use bicycle exhaust to make your motorcycle sound. See the video:
Choosing the best electric motorcycle for your trips becomes harder as there are quite a few options to look into. When choosing a motorcycle, the essential issues to consider are:
Range: Modern electric motorcycles can now travel for several hundred miles, and some models can increase their range further with additional battery packs. As technology advances, these bikes can receive firmware updates, enhancing their performance and range capabilities.
Price: While electric motorcycles are still more expensive than their internal combustion engine counterparts, their prices are becoming more competitive, and it is possible to find a good quality electric motorcycle for under five-digit price. Premium models with higher performance capabilities have higher price points, but it's essential to consider what you're getting for the money before making a purchase.
Weight: The battery packs on electric motorcycles have improved in terms of power and size, but they still contribute significantly to the overall weight of the bike. The weight is usually carried low in the center of gravity, but it's important to consider this factor when evaluating the specifications of a particular model.
Power and performance: Electric motorcycles have impressive power, resulting in fast acceleration and high top speeds. Understanding the bike's performance capabilities will give a better idea of its power output.
Charge Time: Fast charging has improved drastically, with complete charge times taking only a few hours. Additionally, the growing availability of charging infrastructure makes long-distance travel with an electric motorcycle more feasible than ever before.
To make your choice easier, I've collected here 10 of the best electric motorcycles on the market today:
1. Energica Experia
| | |
| --- | --- |
| Range | 261 miles |
| Price | Around $25,000 |
| Weight | 573 lb |
| Power and performance | Top speed: 112 mphMax power: 80 hp |
| Charge Time | 40 minutes |
Energica Experia is considered the best electric motorcycle on the market today. Launched in 2022, the Energica Experia is the newest platform from the Italian electric motorbike maker, and it represents the biggest leap forward in capability in electric motorcycle design and engineering to date. In short, it is one of the best electric motorcycles you can currently buy.
The Energica Experia Green Tourer is a battery-powered adventure bike that is the world's first true touring-capable electric motorcycle. It has impressive specs, including a 3.5-second 0-60 mph time, a top speed of 112mph, and a range of 261 miles. The PMASynRM (Permanent Magnet Assisted Synchronous Reluctance Motor) motor has been redesigned to produce 102hp and up to 664 ft-lbs of torque. To enhance the touring experience, the bike has multiple USB outlets and comes with side hard panniers and a top case, providing a combined 112 liters of storage space.
2. Zero SR / F
| | |
| --- | --- |
| Range | 187 miles |
| Price | $23,795 |
| Price for Used | Approx. $13.000 |
| Weight | 500 lbs |
| Power and performance | Top speed: 124 mphMax power: 110 hp |
| Charge Time | 2 – 3 hours |
One of the best models on the list, I believe, is the Zero SR/F. While the cost of the Zero SR/F at around $23,000 may not fit everyone's budget, it remains highly desirable among e-bikes for several reasons. Its appearance is more traditional, which means you will feel comfortable riding it from the start. Additionally, its powerful motor-battery combo provides a claimed maximum speed and range of 124 mph and 156 miles, respectively, which means that you won't have to worry about running out of charge quickly. It also has top-of-the-line components, including fully adjustable Showa Big Piston forks and Showa monoshock, as well as Pirelli Rosso III tires. Finally, it comes with all the bells and whistles of modern technology such as ride modes, TFT instrumentation, smartphone connectivity, LED lighting, and even a stability control system by Bosch.
3. Harley Davidson LiveWire / LiveWire One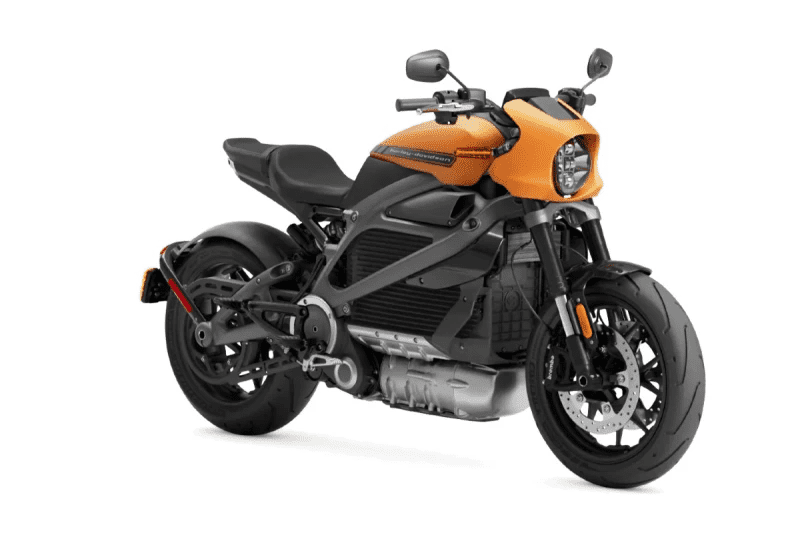 | | |
| --- | --- |
| Range | 146 miles |
| Price | $22.000 (LiveWire One) |
| Price for Used | $16,000 |
| Weight | 460 lb |
| Power and performance | Top speed: 110 mphMax power: 105 hp |
| Charge Time | 8 hours |
If it's the classic fat, stocky road bike that you're looking for, Harley-Davidson nails it with the LiveWire. First rolled off lines in 2019, LiveWire experienced so much success that Harley spun the production into a separate, publicly-traded brand in 2021.
This ambitious, still-mean vision of the open road flashes a classic Harley orange "fuel tank" and headlight guard atop an athletic matte black and gray frame. These motorcycles don't growl like their gas cousins, but they provide 100 horses and 84 pounds-feet of torque — similar to Harley's ICE bikes, but with an even quicker takeoff. There's no need to rev to uncork instant electric power via the LiveWire's 15.5-kilowatt-hour battery that can launch the machine from 0 to 60 in three seconds. The LiveWire also comes installed with a lightning-quick 40-minute charge from dead to 80% full.
See a detailed review of HD Electric Motorcycles here.
4. Energica Ego
| | |
| --- | --- |
| Range | 260 miles |
| Price | $19,550 |
| Weight | 570 lbs |
| Power and performance | Top speed: 150 mphMax power: 169 hp |
| Charge Time | 3-4 hours |
The Energica EGO is a highly regarded electric sports bike that first debuted in 2013. Originally designed as a pro racing bike, it has since evolved into a powerful consumer model. The EGO has a massive battery that can provide an incredible range of 261 miles, which has been improved upon in the 2022 model by 10% with the upgraded electric motor. With a top speed of 150 miles per hour and a slick tricolor paint scheme, the EGO is not only powerful but also stylish. It is estimated to have an MSRP of $19,500. Energica has had a positive impact on the electric racing circuit, and the EGO is a prime example of its engineering expertise.
The Energica Ego is outfitted in full-fairing race-inspired bodywork, has an aggressive sport bike riding position, and produces a claimed 169 horsepower and 164 foot-pounds of torque. Energica claims the Ego can do 0 to 60 mph in 2.8 seconds.
5. BMW CE 04
| | |
| --- | --- |
| Range | 80 miles |
| Price | $11,795 |
| Weight | 509 lbs |
| Power and performance | Top speed: 75 mphMax power: 42 hp |
| Charge Time | 3-4 hours |
One of the advantages of electric motorcycles is that it allows more creativity in terms of design. And that being said, I can't help to mention the BMW CE 04. Ranked as the best premium electric motorbike, BWM CE 04 has always fascinated me with its futuristic design and classy look. The motorcycle features a small yet potent motor that works together with a slim battery pack, freeing up space for carrying additional gear or accommodating two riders. Additionally, a spacious storage compartment is available, making it convenient for everyday use.
See the test-ride here:
And I love the BMW CE 04 Vagabund Moto concept.
6. Arc Vector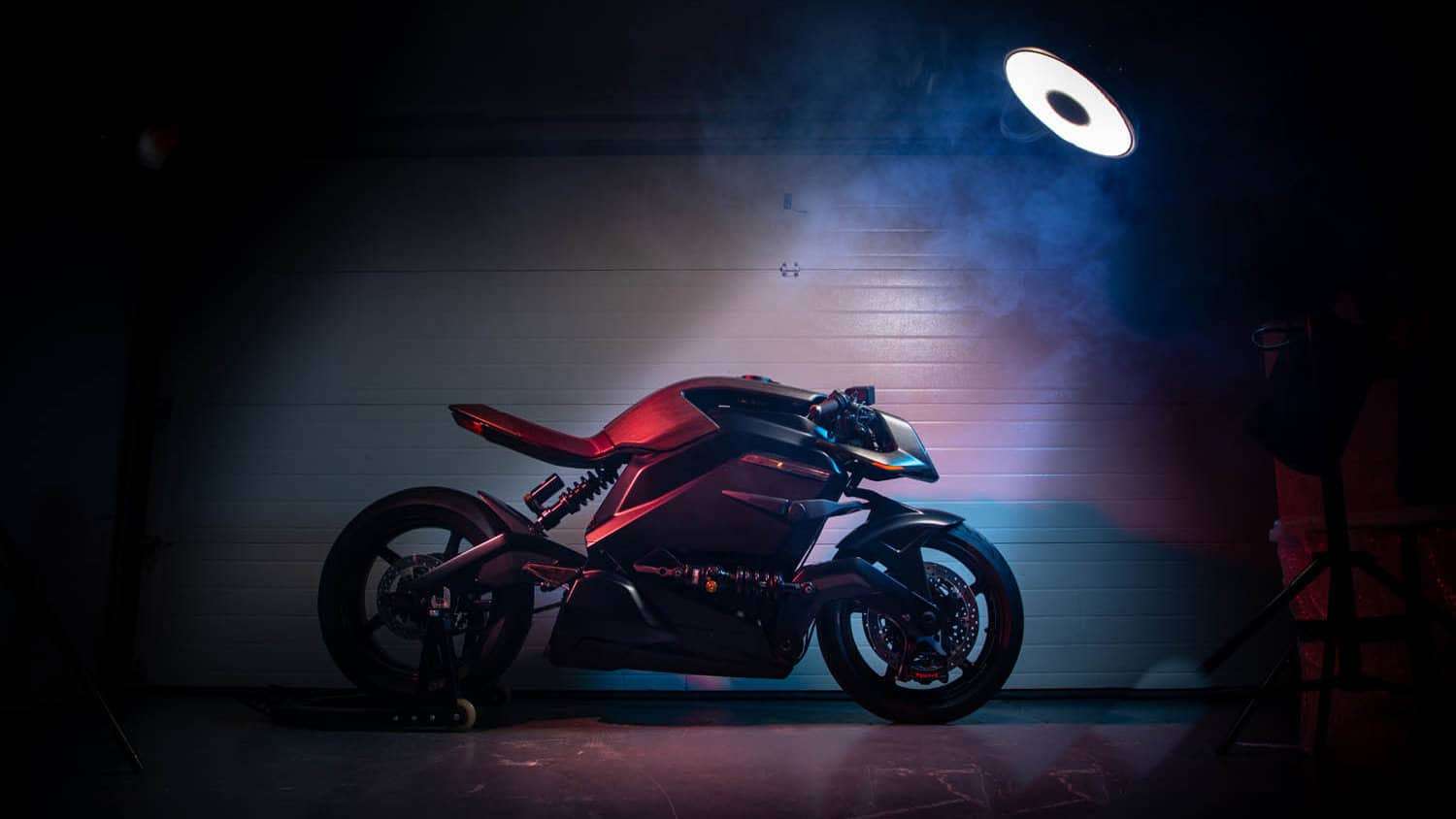 | | |
| --- | --- |
| Range | 271 miles |
| Price | $120,000 |
| Weight | 530 lbs |
| Power and performance | Top Speed: 120 mphTop power: 120 mph |
| Charge Time | 40 min |
It is my dream electric motorcycle. I adore its elegant look. The Arc Vector is an electric motorcycle with an elegant design and impeccable craftsmanship, utilizing a no-holds-barred approach. It incorporates advanced technology such as a Human Machine Interface and an Arc Pilot System heads-up display helmet, as well as the Origin Jacket with active feedback. The bike has a 399-volt motor producing 128 lb.-ft. of torque and 117 hp of power, with a top speed of 200 kph (120 mph) and a 0-100 kph (0-62 mph) time of 3.1 seconds. The Vector is considered the world's most advanced motorcycle the Vector incorporates a Human Machine Interface with an Arc Pilot System heads-up display helmet and the game-changing Origin Jacket with active feedback. It is like nothing else the world has seen.
The CEO of Arc Vector, Mark Truman, recently gave a guest lecture at the University of Wales Trinity Saint David for alumni.
7. Lightning LS-218
| | |
| --- | --- |
| Range | 160-180 miles |
| Price | $38,888 |
| Weight | 495 lbs |
| Power and performance | Top speed: 218 mphTop power: 200 hp |
| Charge Time | 2 hours |
The 495-pound LS-218 is lightning fast, as its name indicates. With a blistering top speed of 250 mph, Lightning's LS-218 is a true superbike. It currently holds the record as the fastest street-legal electric motorcycle in the world. It's the most identifiable motorcycle on Lightning's roster.
The top-spec LS-218 is known for its durability and power and can go from zero to 60 mph in just 2.2 seconds, thanks to its 150-kW motor that produces 168 pound-feet of torque, drawing electricity from a 12kWh battery pack. The bike's underpinnings are equally impressive, including Ohlins FGRT forks, an Ohlins TTX monoshock, and forged aluminum wheels.
On a single charge of 120 minutes, it can travel 160 to 180 miles, depending on its use. Being the first electric bike to challenge its gasoline superbike counterparts and win, Lightning's LS-218 is truly built for speed. On Pikes Peak Race: 2013, the 150 kW (200 hp) Lightning LS-218 made history as 1st electric motorcycle to win first place. Second place finisher, a Ducati Multistrada 1200 S, finished a full 20 seconds behind the LS-218.
8. Evoke 6061
Range
290 miles
Price
$25,000
Weight
700 lbs
Power and performance
Top speed: 125 mph
Max power: 120 hp

Charge Time
30 Minutes
Rarely do we see electric cruiser bikes, but the Evoke 6061 happens to be one of them. However, this isn't why it's on this list. You see, the Evoke 6061, while being an e-cruiser, can also charge from zero to 80 percent in just 30 minutes! This brings it right on par with gas-powered bikes, considering this is essentially the same amount of time you'd spend topping up your motorcycle at a busy gas station. Before you get suspicious, let us tell you that this isn't a marketing gimmick achieved by using a tiny battery. The Evoke 6601 packs a huge 25kWh battery, giving it a range of 360km, which is accompanied by a beefy 120kW motor.
9. Maeving RM1
| | |
| --- | --- |
| Range | 40 miles |
| Price | £6,990 (Around $8,000) |
| Weight | 273 lbs |
| Power and performance | Top speed: 45 mphMax power: 5.9bhp |
| Charge Time | 4 hours |
The Maeving RM1 is a motorcycle that combines modern technology and performance with old-school British bobber aesthetics. It has a top speed of 45 mph and can produce almost 120 ft-lbs of torque. The RM1 is equipped with a swappable dual-battery setup that provides up to 80 miles of range on a single charge. The bike features a diamond-stitched bobber-style seat, LED lighting, bar-end mirrors, and Bosch ABS. The RM1 is also equipped with an electronic compartment, a single round speedometer with integrated warning lights, and connectivity to a dedicated mobile app that offers tracking and geo-fencing capabilities.
10. SUPER SOCO TC MAX (For Begginers)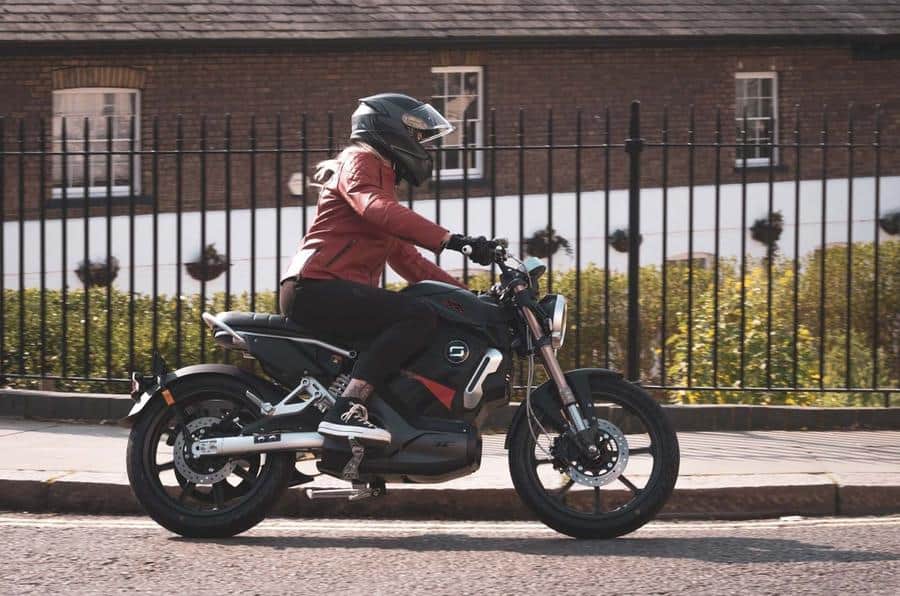 | | |
| --- | --- |
| Range | 60 miles |
| Price | $3.429 |
| Weight | 200 lbs |
| Power and performance | Top speed: 49 mphMax power: 7 bhp |
| Charge Time | 3-4 Hours |
Electric motorcycles with lower power output are ideal for beginner riders who want a simpler ride without gear changes. These bikes have a twist-and-go mechanism and some models are equivalent to 125cc petrol bikes, making them easier to ride and accessible without requiring a full bike test. However, these bikes come with a downside. For example, the Super Soco TC Max is propelled by a 6.7bhp electric motor, which is half as powerful as a typical learner 125cc bike. Despite this, the motorcycle delivers power efficiently, since the motor only needs to move a 100kg motorcycle. The bike has three power modes that limit the top speed to 30mph, 40mph, and unleash the full power of the electric motor. The manufacturer claims a top speed of 58mph, but actual testing recorded a top speed of 49mph, which is not impressive.
This was my list of best electric motorcycles on the market in 2023. As a verdict, I can confirm that the Top 3 of them are:
Overall Best: Energica Experia
Speed: Lightning LS-218
Longest Range: Evoke 6061 (290 Miles).