Sometimes the "best bike" for touring is whatever bike you own or have access to. I even remember taking trips of 1000+ miles using a Suzuki 125 dual-sport. The choice of which bike is also a financial issue. What can you afford? A top-of-the-line touring bike will cost between $26k and $36k brand new. So the first friendly advice from someone who's spent half of their life on a moto is to try first. Try renting a bike as you go for whatever you plan as a long-distance ride and decide. Choosing a bike can be a very subjective decision but long-distance touring on a motorcycle demands some design characteristics and features on the motorcycle to enhance the exhilarating experience of riding a bike for hours on a wide-open road, so here I have collected a list of ten best motorcycle for long trip just to help you make that choice easier.
Consider these criteria when selecting the best motorcycle for long trip:
reliability
size and weight
engine size and type
safety features
comfort
cargo
good fuel range
spare parts available worldwide
can be easily fixed anywhere
You need to start getting ready for your long-distance trip early. Before you plan your routes and prepare all the necessary gear to take with you, you have to choose a motorcycle. There are several categories you can look into and choose further according to specific needs:
Touring motorcycles are designed for the express purposes of long-distance riding, and some of them are more comfortable than the couch in your living room! Equipped with numerous amenities solely aimed at enhancing the journey, these motorcycles provide an unparalleled riding experience
Adventure motorcycles are essentially dual-sport motorcycles due to their versatility and are good for both on and off-road riding. But with their long-distance capabilities, they are also ideal for long trips.
Cruisers are the optimal choice for long trips. With a reclined seat and front-set foot pegs, they offer a very relaxed posture. Although their heavy build and rigid suspension make them unsuitable for off-roading, they are highly recommended for those who don't venture off-road.
Choosing the top 10 was not an easy task but having asked experienced fellow bikers having thousands of miles ridden on their account, added to my own experience, here's a list of the top 10 motorcycles you can choose from for your future unforgettable long-distance ride. Does not matter if you're a beginner or an experienced rider, you can find a model that suits your needs and long-distance trip plans here.
Harley Davidson Electra Glide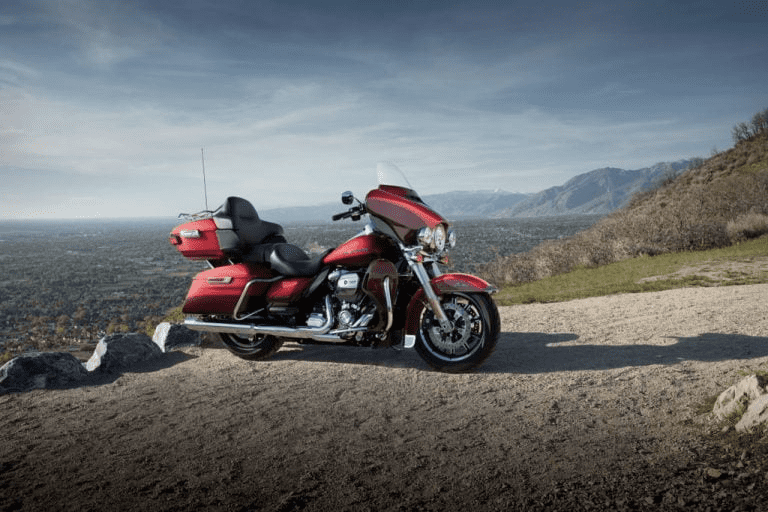 | Pros | Cons |
| --- | --- |
| Supreme Touring Capabilities | Quite expensive |
| Stripped-Down Aesthetics | General oil leaks |
| Side Bag Storage | Hot Engine in Slow Traffic |
| Good handling and stability | ABS Braking System Problems |
Harley-Davidson has always been associated with quality motorcycles, and the 2020 Electra Glide is no exception. It is ergonomically designed and a spectacular ride created for long trips and smooth journeys.
Nothing will make you feel more American than rambling down a lone highway with a pulsing Harley-Davidson V-Twin rumbling beneath you. The bike includes GPS, Infotainment, a one-touch saddlebag, and a powerful engine. Its seating position allows for excellent control, and the motorcycle is outstanding on freeways. It's the best of what makes a Harley. You get the strong 1,753cc Milwaukee Eight 107 V-twin engine that chugs out 111 lb-ft of torque. Power is sorted via a six-speed transmission, and you have a nice fairing to keep the wind from blasting you.
And another advantage of HD motorcycles is that you can always find a place to buy even a shirt from dealers when riding your long-distance trip all around the USA.
You can get a brand new Harley Davidson Electra Glide for around $20,000 and used for $15,000 on average.
Indian Roadmaster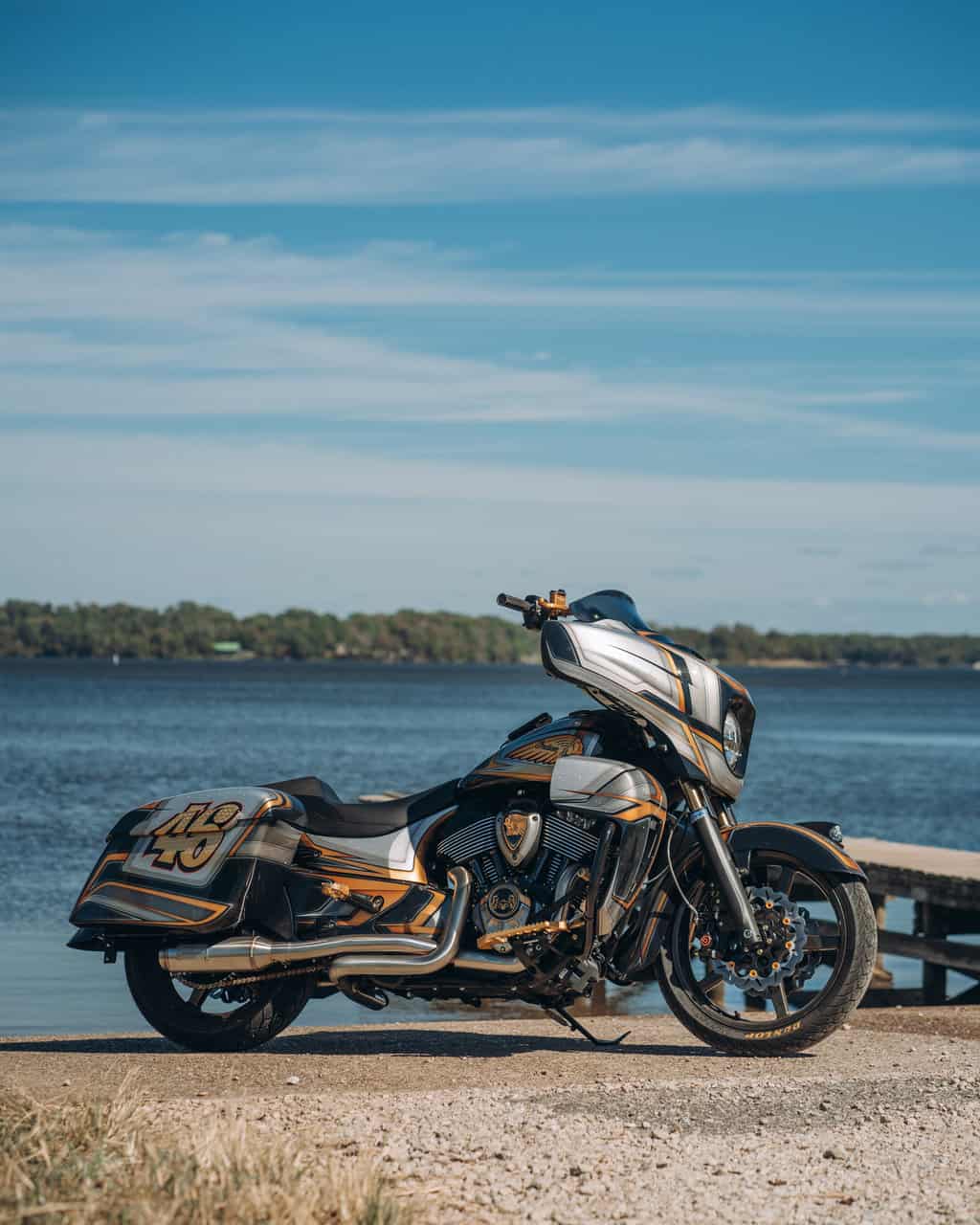 | Pros | Cons |
| --- | --- |
| Powerful engine | Heavy weight |
| Comfortable ride | High price |
| Ample storage | Fuel economy |
The Indian Roadmaster is a premium touring motorcycle, perfect for those looking for a comfortable and powerful ride on their long trips. With a 1,811 cc engine and a smooth suspension system, the Roadmaster provides a smooth and effortless ride, even on rough roads.
The motorcycle features a long list of standard amenities including a heated seat, heated grips, and a touchscreen infotainment system, making your trips even more enjoyable. The ample storage space on the Roadmaster allows you to carry all the essentials you need for a long trip. Although it is a bit on the heavy side, making it a bit challenging to maneuver at slow speeds, the Roadmaster's luxurious and comfortable design more than makes up for it. If you're in the market for a top-of-the-line touring motorcycle, the Indian Roadmaster is definitely worth considering.
Riding an Indian is an unparalleled experience
You can get a brand-new Indian Roadmaster for around $30,000 and a used one for $15,000.
BMW R 1250 GS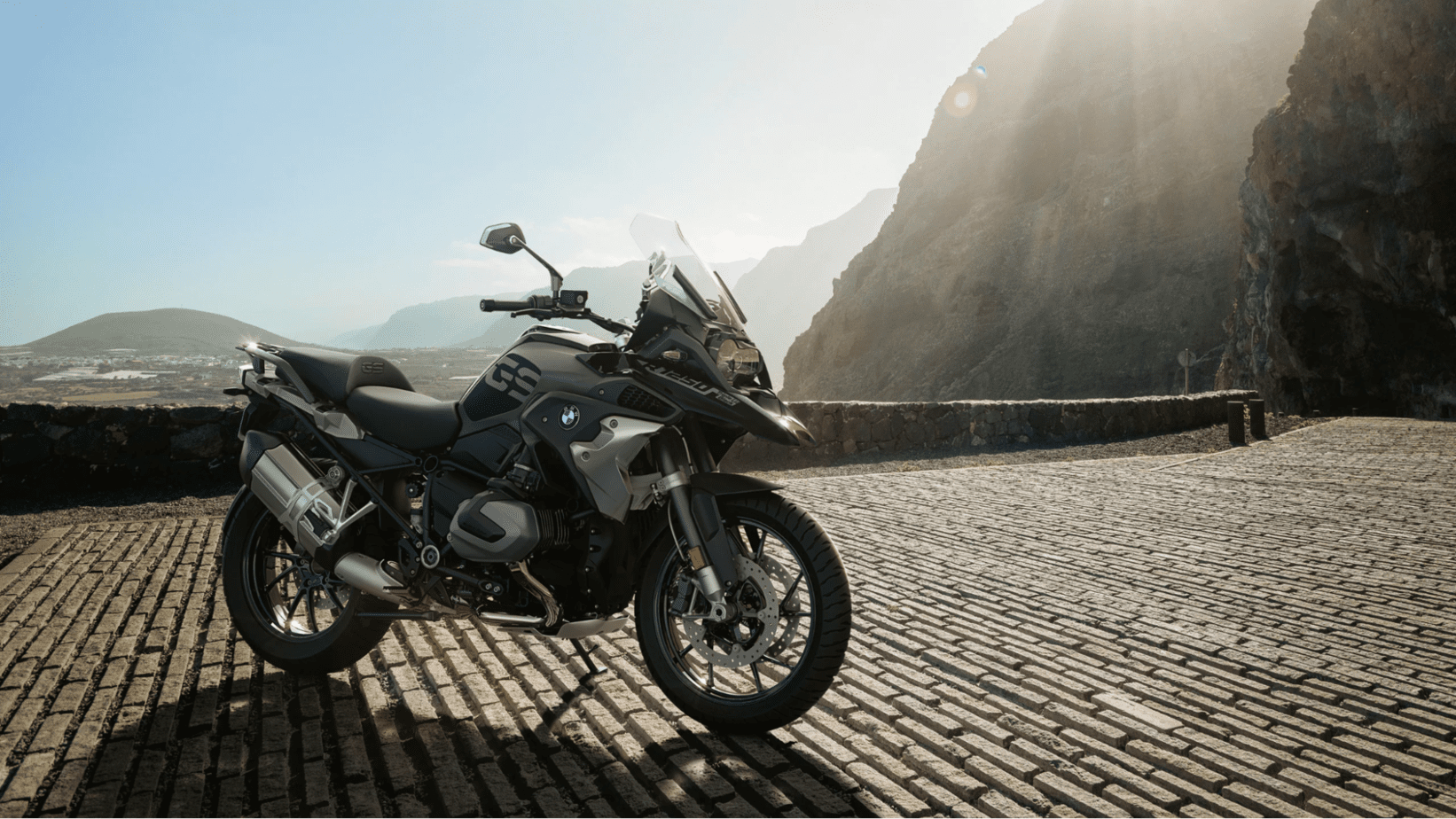 | Pros | Cons |
| --- | --- |
| A powerful and smooth engine | Expensive |
| Easy to ride | High cost of ownership |
| Lots of features | Likely to heat up in traffic |
| Good performance on and off-road | Comparatively tall |
For the most experienced bikers, the BMW GS series is the most used motorcycle for the famous long-road trips.
The BMW R 1250 GS is a touring bike with adjustable handlebars and seating positions that provide drivers with exceptional control and unhampered visibility. This motorcycle is known for its versatility and is one of the most comfortable models on the market, making it perfect for long trips. It performs well in the city and on long stretches of road.
As you might expect from a BMW motorcycle, the bike is beautifully finished and features exquisite attention to detail. It rides like a very comfortable, oversized dirt bike. The powerful engine delivers 91.5 pound-feet torque at 6,510 rpm and over 117 hp at 7,770 rpm.
Honda Africa Twin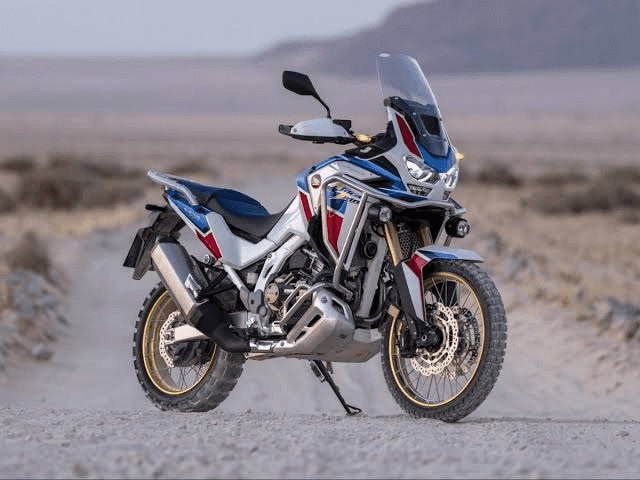 | Pros | Cons |
| --- | --- |
| Powerful engine | Quite expensive |
| Lots of features of instrument panel | Outdated monochrome LCD |
| Good off-road capability | Limited service reach |
| Good fuel efficiency | Poor wind protection |
It is a great choice for those who enjoy both off-road and on-road experiences. Compared to other heavy adventure bikes, the Africa Twin is lighter and more capable for off-road adventures, without sacrificing its ability to tour and handle mountain bends. The Africa Twin is a versatile and well-rounded adventure motorcycle for those who want a larger bike for their worldwide adventures.
The Africa Twin is lighter than its competitors in its class due to Honda's continuous efforts to improve its competitiveness and sustainability (to meet stricter EU regulations), with a 1,100 cc engine producing 100 horsepower. It allows riders to customize with features such as wheelie control, cornering ABS, rear-lift control, DCT cornering detection, and adjustable engine-braking and torque control levels. With a low seat height of 33.5 inches and a generous 10 inches of ground clearance, the Africa Twin is also more affordable than other options in its class.
According to user feedback, the Honda Africa Twin is generally regarded as providing a comfortable riding experience, especially on longer rides, a claim which can be corroborated through personal experience.

Honda Africa Twin can be found almost anywhere in the world from the Saharas to the Mountains of Scotland. Here are some Tweets from the users:
Incredible Sahara trip with Honda Africa Twin
Honda Africa Twin in Scotland
You can get a new Honda Africa Twin for around $15,000 and used from $10,000.
Triumph Tiger 1200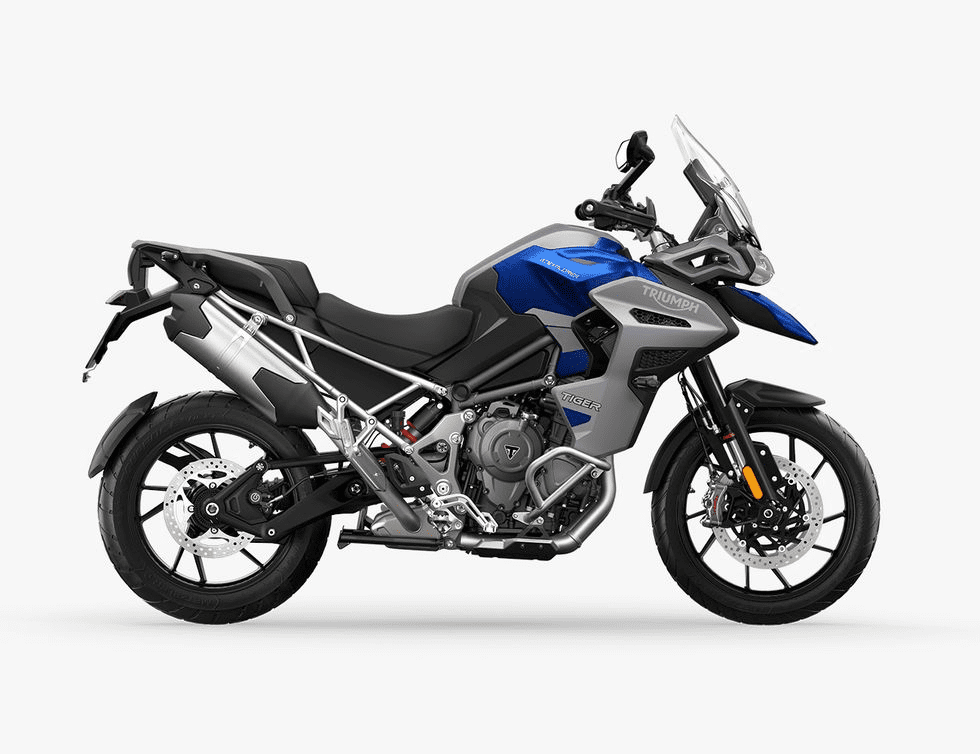 | Pros | Cons |
| --- | --- |
| Safe | Slightly expensive |
| Reliable | Quite heavy |
| Easy to maintain | Wide turning radius |
| Impressive power and acceleration | Expensive spare parts |
Triumph's latest Tiger ticks all the boxes, in part because Triumph is offering so many versions. You can have it in five different configs: Some with more suspension travel and some with larger fuel tanks for greater range, as well as with either spoked wheels (for off-road) or cast hoops (better for pavement). The 2018 XCa model is geared more towards road use, but it's still versatile with the ability to switch between power modes and suspension settings for road-oriented activities like touring or sport riding, and off-road adventures. It features a powerful Triple engine and low-maintenance shaft drive. The model we tested came with amenities like heated seats, heated grips, fog lights, a skid plate, and a sleek TFT display for easy information access. The only downside is the relatively small gas tank, which might limit your riding range despite the bike's comfort level that tempts you to keep going.
You can get a brand new Triumph Tiger 1200 for around $20,000 and used from $15,000.
Honda Goldwing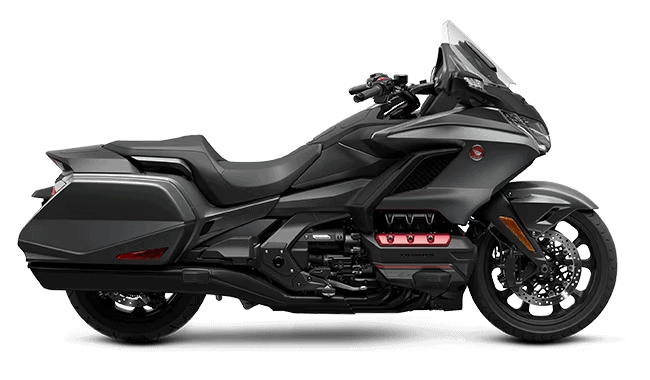 | Pros | Cons |
| --- | --- |
| Smooth and effortless engine | Expensive |
| Sports bike like dynamics | Too big / heavy for everyday riding |
| Modern equipment | The fuel tank could have been bigger |
| comfortable ride | Luggage capacity |
This one's my personal favorite. I've spent hundreds of miles on Goldwing and it has never disappointed me.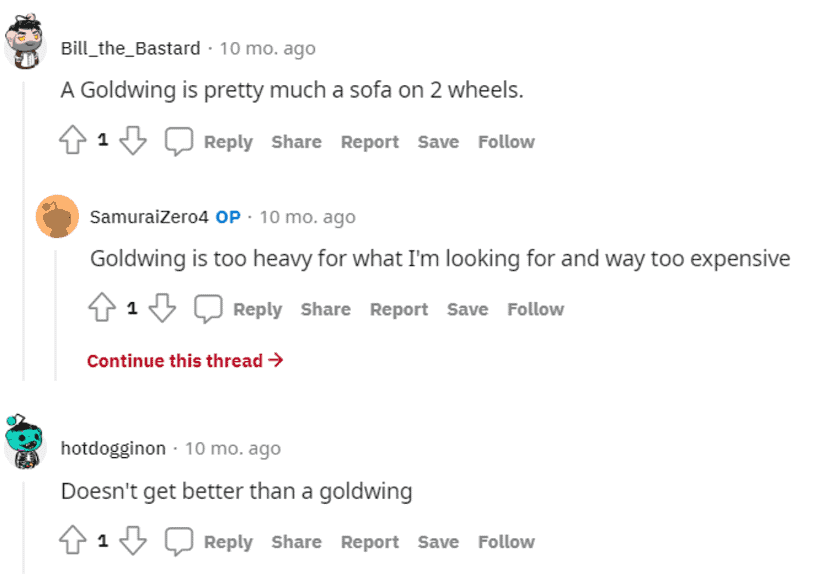 "Sofa on 2 wheels" as Bill puts it, Honda Goldwing is a classic standard for touring bikes. First available in 1975, the Goldwing has gone on to be one of the most popular bikes in its class. With over 640,000 sold in the U.S., there is plenty to come by.
The Goldwing is a top pick for touring because of its diverse engine options, including flat-four or flat-six engines with carburetors or fuel injection. Its fairings effectively block wind while providing conveniences such as an infotainment system and cup holders, creating the perfect balance of power and comfort. Additionally, it offers towing options for those who require extra gear.
You can get a brand new Honda Goldwing for about $28,000 and used for anywhere between $10,000 and $25,000, depending on the year and condition.
Great shoutout to my favorite Honda Goldwing and a record motorcycle ride by Emilio Scotto :
Suzuki V-Strom 650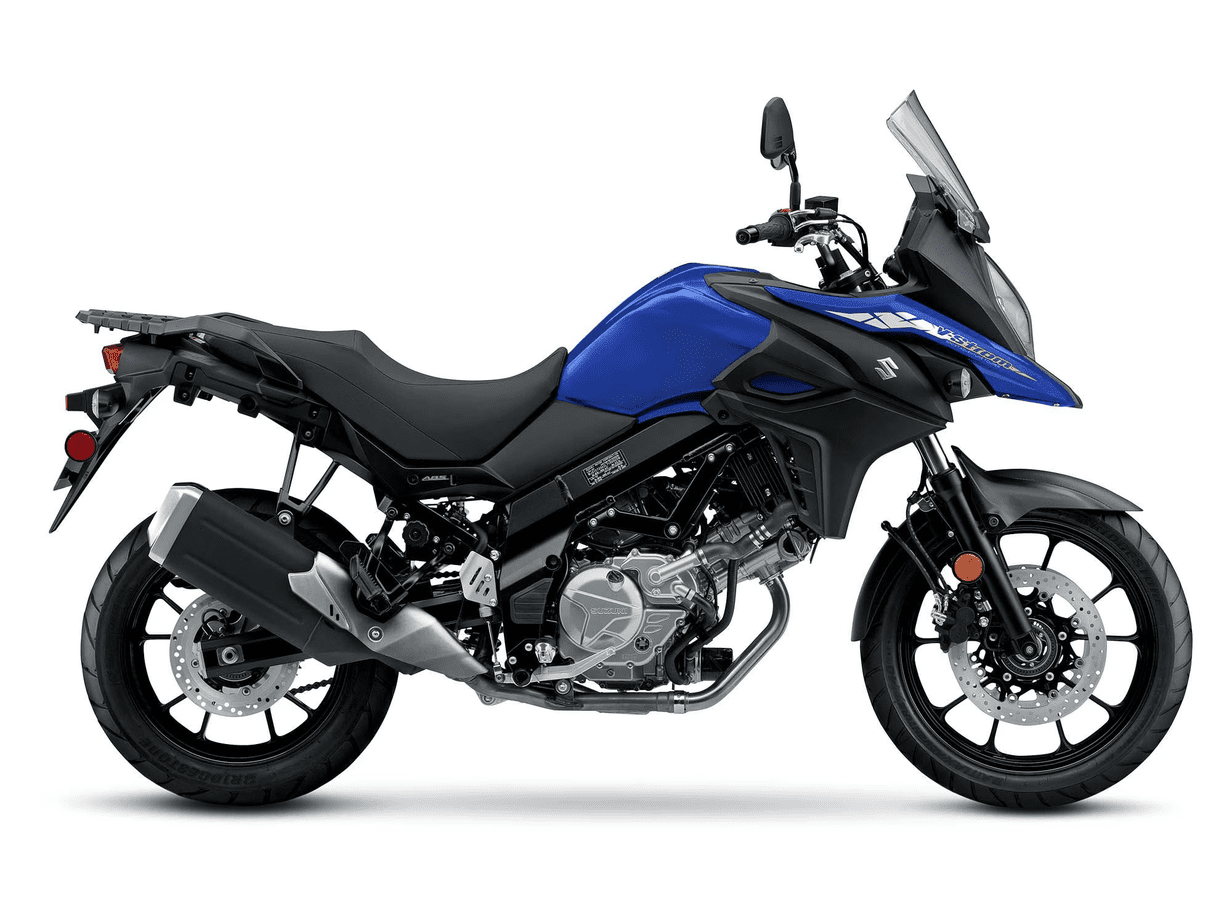 | Pros | Cons |
| --- | --- |
| Affordable | Ugly |
| Efficient | Ground clearance |
| Low seat height | Not as narrow as many V-twin engined bikes |
| Reliable | Heavy |
The V Strom is considered a pioneer in the adventure touring motorcycle category. When it was first introduced, its unique purpose and design made it difficult to classify. But two decades later, it is a well-established motorcycle known for its dependability, design, comfort, and performance. Though its appearance may be unusual, it offers surprising aerodynamics and effectively slices through wind. Although the suspension could be a bit more forgiving, it manages to handle rough roads and potholes with ease. With added luggage capacity, it provides ample space to carry all your gear.
The V-Strom 650 offers a rider-friendly power output and torque curve, making it a capable long-distance motorcycle. The relaxed standard seating position and effective windshield deflect wind away from the rider's chest. With 19-inch front and 17-inch rear wire-spoke wheels, it is also capable of venturing off-road if desired.
The V-Strom 650 is available in three variations: standard ($8,904), XT ($9,399), and XT Adventure ($10,499). Differences between models are small but important. Standard V-Strom 650s roll on 10-spoke cast wheels, while the XT gets spoked-style tubeless wheels, hand guards, and a lower engine cowl.
And you can't believe how easily customizable Suzuki V-Strom can be. For example, you can always add a fitting kit.
And you are ready for a trip of your lifetime on Suzuki V-Strom just like Phil from Ecuador who has just left for his big trip – from Florida to Argentina.
You can get a used Suzuki V-Strom for $ 7,000 on average.
Kawasaki KLR 650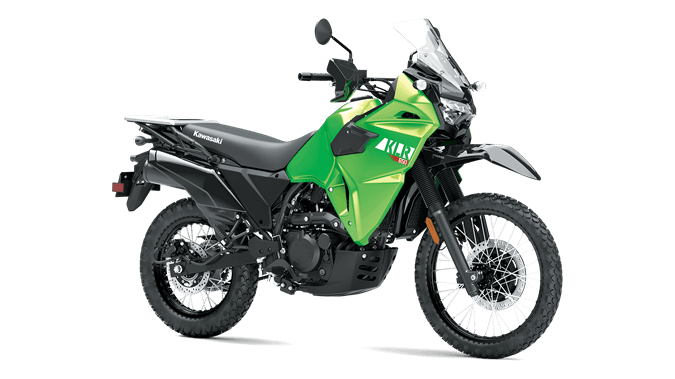 | Pros | Cons |
| --- | --- |
| Affordable | Off-road boots don't play well with the stock shifter |
| The wind is well shielded, and the buffeting is limited | Even with a stiffer suspension, moving at a steady pace is still necessary |
| Designed for both on- and off-road use | Heavy |
| Durable | No tachometer |
The KLR650 is an excellent motorcycle for both off-road adventures and fast road rides, known for its flexibility, durability, and reliability. It has a quiet and comfortable feel while still being powerful and capable, making it one of the best motorcycles for world touring.
Throughout its history, the KLR650 has remained largely unchanged, making it easy to find replacement parts on the road. In 2022 the legendary Kawasaki KLR650 was finally brought back to life and given a makeover. Updated and upgraded for '22, the KLR gets an LCD dash, an ABS option, fuel injection, a one-piece frame, a new fuel tank and fairings, clutch updates, more mid-range power, a new seat, wider bars, and pegs, a screen, and a few more tweaks. There are a lot of new changes, but none of these are special. Instead, they just bring a very outdated bike up to the minimum level of today's bikes.
While the suspension may be a bit soft and the drivetrain relaxed, the torquey, dependable, and flexible engine more than compensates. Additionally, KLR650 comes with a stock 23-liter tank, with aftermarket options available for up to 30 liters.
Kawasaki KLR 650 is good for both on and off-road destinations even in Hawaii:
Kawasaki KLR 650 is the ultimate user's choice in the noisiest discussions about the best motorcycles to go for long trips.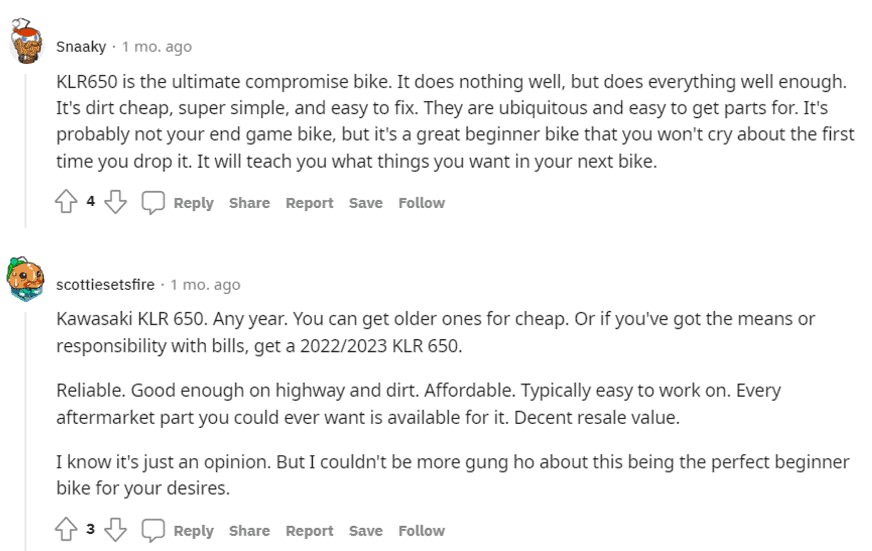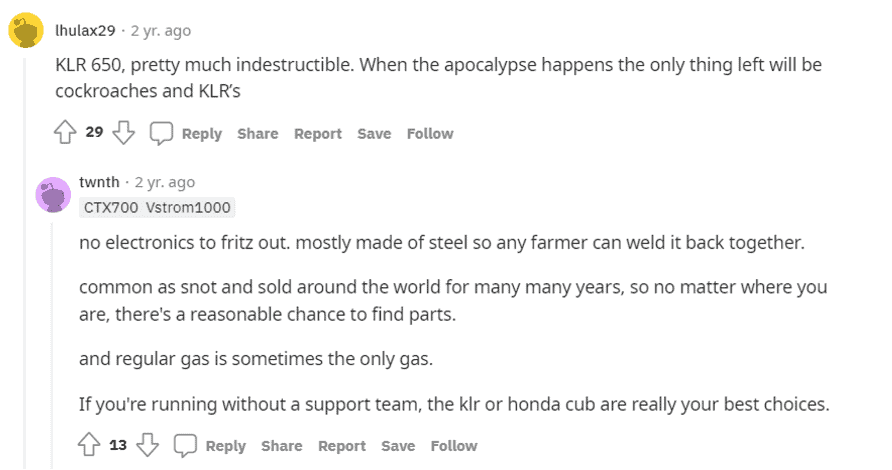 You can get a brand new Kawasaki KLR 650 for about $7000 and used for about $6000
Royal Enfield Int 650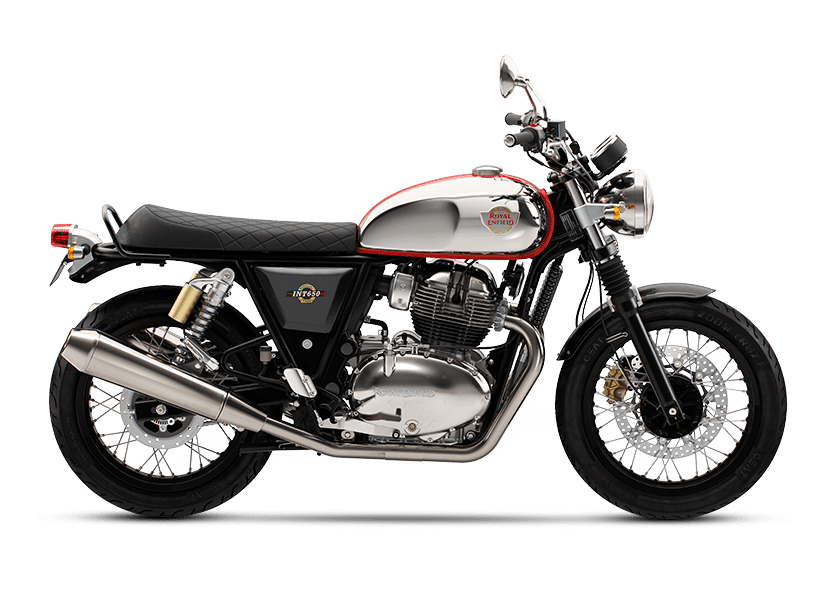 | Pros | Cons |
| --- | --- |
| Affordable | Chrome will oxidize sooner than you notice it |
| Comfortable for everyday use and touring | Weight |
| Powerful and refined engine | Stock exhaust are too wide so you have to take care while filtering through traffic |
| Timeless design | Awkward shape of seat |
What could be better than a Royal Enfield with classic looks calling back to their original 1960s Interceptor, stamped and posted with modern components and technology? The 2022 Interceptor 650 is the perfect bike to get you from point A to B with a refined no-fuss attitude.
This one is for those who like Retro style and would like to get modern features. The INT650 is a classic British roadster with a retro design and modern features. The motorcycle offers a comfortable seat and standard riding position, along with high and wide handlebars. It is equipped with a 648cc parallel-twin engine producing 47 horsepower and 38 lb-ft of torque. Modern amenities include fuel injection, advanced brakes with ABS, upgraded rear shocks with external reservoirs, and a refined wet multi-plate clutch for smooth gear engagement. This affordable motorcycle is good even if you are planning your first long trip and only just beginning.
For inspiration of your future road trip with Royal Enfield, here's beautiful photos of Royal Enfield Meteor 650 from a 700 km road trip:
You can get Royal Enfield Int 650 for around $7,000  and used for around $6,000.
Ducati Multistrada 1260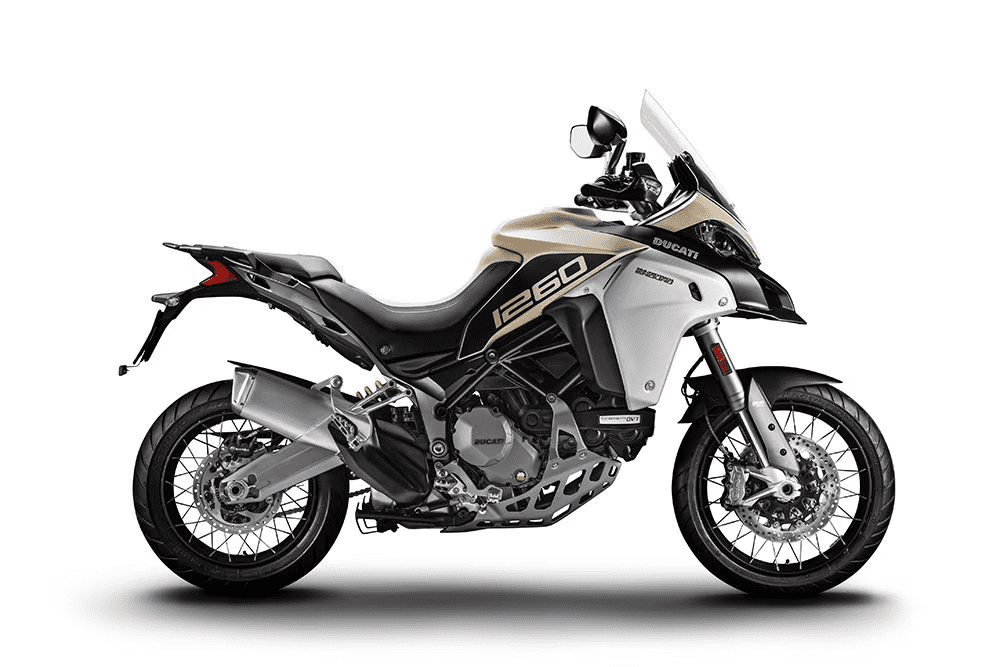 | Pros | Cons |
| --- | --- |
| Comfortable | Expensive |
| Wonderful engine and handling balance | Handlebar button labels unreadable at night |
| Low seat height | Mirror vibration at highway speed |
| Excellent LED lights all around | Limited aftermarket support |
| Electronically adjustable suspension | Poor fuel efficiency |
This one's for those who seek a comfortable journey while enjoying the powerful performance that the iconic Italian motorcycle brand is known for. When you take the Multi 1260 through a bend, you will be surprised at how well this large motorcycle handles, and the engine is nothing short of phenomenal, delivering impressive torque that makes it easy to power through tight hairpin turns. With the ability to adjust the engine and suspension, as well as a long list of advanced technologies, the Multistrada is truly the ultimate all-in-one motorcycle from Ducati.
The Ducati Multistrada 1260 comes in five different variations to suit a range of rider needs. These include the 1260 ($18,995), 1260 S ($21,295), 1260 S Grand Tour (new version—$23,295), 1260 Pikes Peak ($25,795), and 1260 Enduro ($22,095). You can get a used Ducati Multistrada for around $15,000-$20,000 depending on model, year of manufacture, and condition.
To finish up, I would like to share some of the incredible photos taken by motorcycle road-trippers all around the world. There shots fully reflect how exciting a long-distance motorcycle trip can be.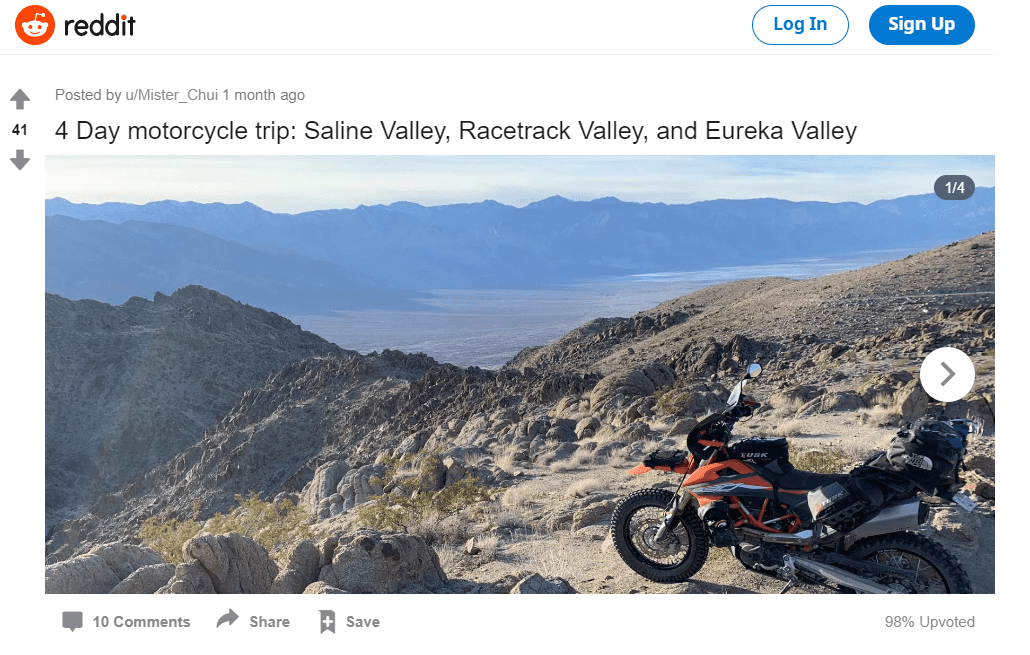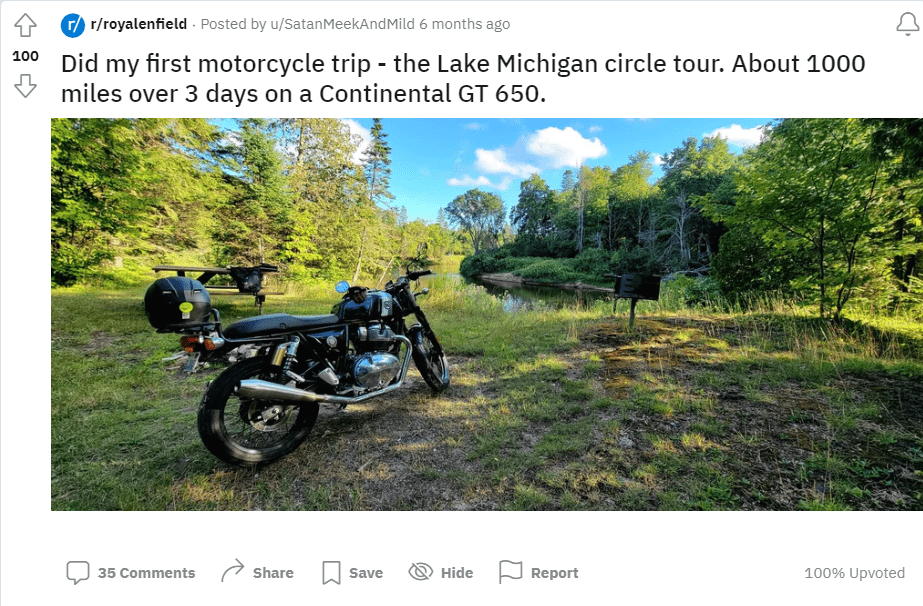 And finally, your dream trip around the world can even serve a purpose: a charity, for example, like in the case of Jess Stone from Canada.
Bruce was born in Atlanta. He started riding motorcycles when he was 10 and has been passionate about them since. Bruce says he feels absolute freedom when he's on two wheels. He prefers riding his bike slowly and smoothly along a country road and hardly ever enjoys wildly speedy rides. With a strong Ducati Multistrada 1200 in the current stable, Bruce enjoys his super powerful, comfortable and easy rides. Ducati Diavel is the beast he's currently dreaming about…