Discovering America on a motorcycle is a dream of every rider. The drives are every bit as awesome as you can ever imagine. The perfect stretch of smooth tarmac, biker-friendly stops and incredible vistas make riding on the road an adventure of a lifetime. If there's one thing this country is known for, it's its various biomes and scenic views. One day you may be driving on a straight desert road, then another through a forest, and another over mountain ranges and canyons. Of course, there are plenty of bike routes around the coasts with stunning views as well. The article introduces the ten best motorcycle trips in the USA.
Before you hit the road to the most scenic routes of the USA you have to consider several issues:
Offline / Paper Maps
Cell coverage is not perfect everywhere, especially on twisted roads, so make sure to have a good offline map application like GPS Copilot or Scenic App . You can also use Google Maps offline. You just need to download offline maps. Once you've searched for your desired place, At the bottom, tap the name or address of the place
tap More
Download offline map. If you searched for a place like a restaurant, tap More
Download offline map
Download.
Camping Gear
All of the routes I've chosen provide excellent opportunities for motorcycle camping. However, if you decide to go wild camping, make sure to have all the necessary camping gear on hand. Consult KOA – Campgrounds of America for additional info about camping.
Tires
Pay particular attention to your tires. Especially if you choose to go on long-distance rides. the pavement on Some of these routes in the area is beautifully grippy but will wear tires more quickly than your average road. It is always better to replace your tires before hitting the road. If your tires are past the wear bars it is important to replace them beforehand or Bring a spare one if needed. Some of the areas discussed here offer tire-changing shops and services but you wouldn't want to see yourself in the middle of the 400-mile road somewhere distanced from the population.
Lastly, here's a perfect set of general advice for road trips from experienced rider: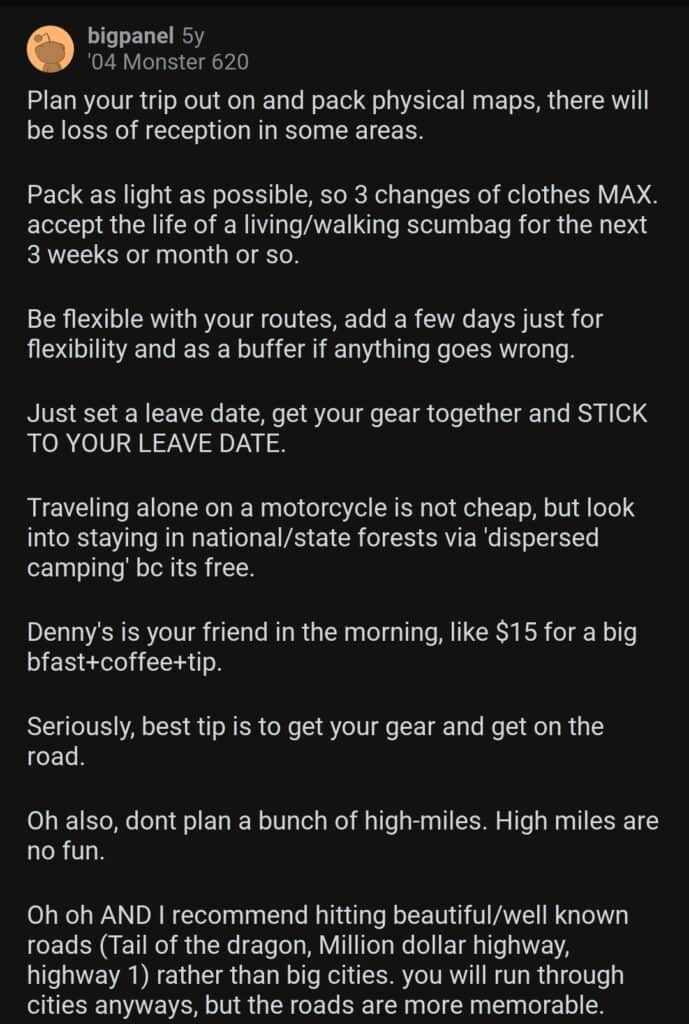 The Best Motorcycle Trips in The USA
I have chosen the top 10 road stretches in the USA that are best experienced on a bike, including the best motorcycle trips in the USA. You will see the general overview of the route below in different sections, followed by the lodging, best stops, places to eat, and camping sites offered. The length of these routes ranges from 11 to 444 miles sorted from shortest to longest and most of them are under 100 miles, so whether you are a beginner or a pro, you can find something to fit you here.
Tail of the Dragon, Deal's Gap, North Carolina
| | |
| --- | --- |
| State | NC |
| Length | 1 Miles |
| Start Point | North Carolina at the intersection of NC 28 and US 129 |
| End Point | Tabcat Creek Bridge in Tennessee |
| Time to Pass | 30 minutes |
| Speed Limit | 30 mph |
| Website | https://tailofthedragon.com/ |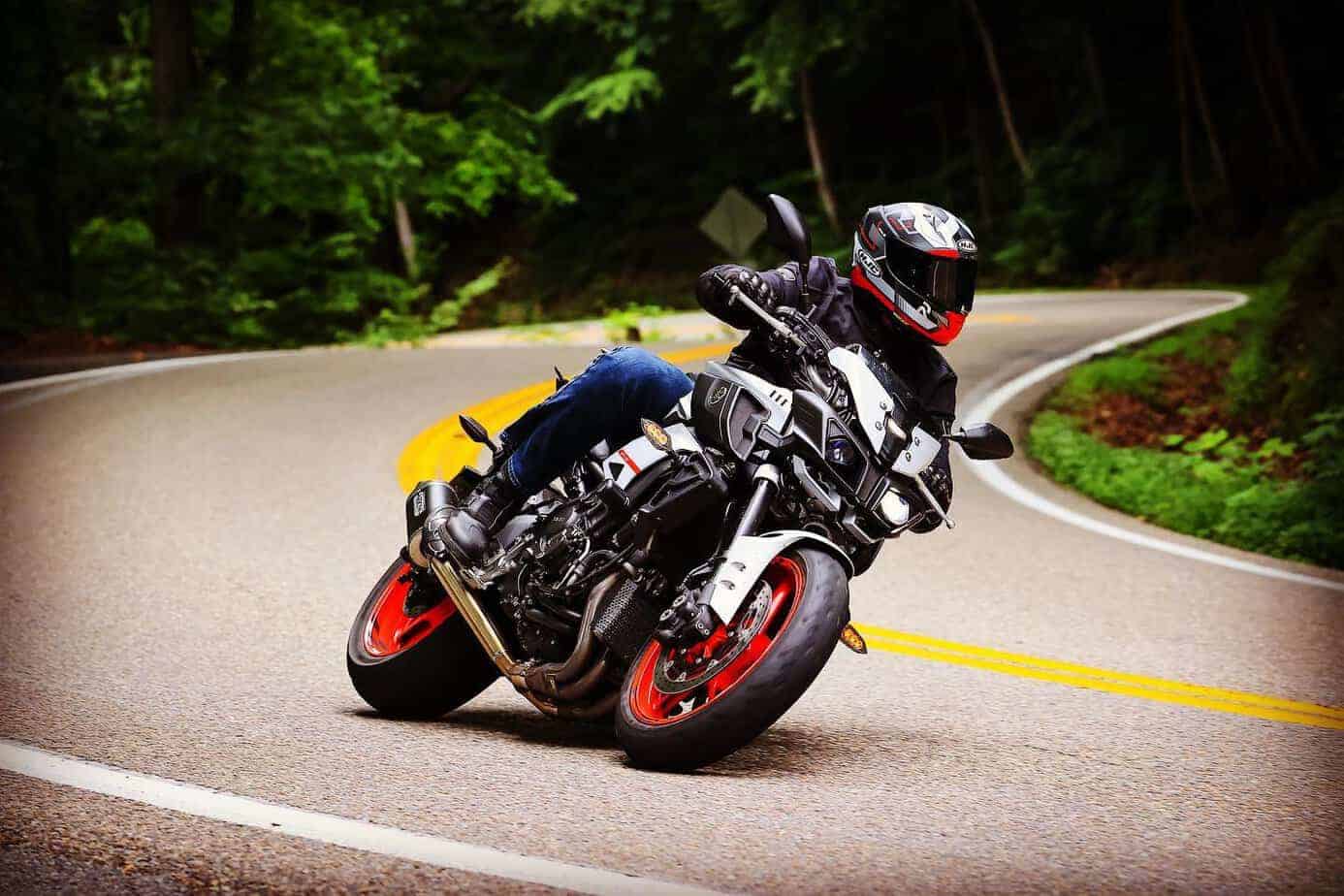 A good friend of mine recommended the Tail of the Dragon which runs through the Great Smoky Mountains between Deals Gap, NC, and Tabcat Bridge in Tennessee. There are 318 sweeping curves in the 11-mile section of US 129. This part of the ride takes 1 hour and 15 minutes to 1 hour and 45 minutes on average. Even though this is a shorter ride, there are many other rides in the area so you can make a day of it. Avoid riding hard on the Dragon in heavy traffic times. Weekends from 11 am to 5 pm are the busiest.
Route Map
Dangerous Spots to be aware at Tail of the Dragon
The Tail of the Dragon is dangerous for various reasons. It has lots of curves and slopes, unpredictable weather, and lots of vehicles on it. Regarding the unpredictable weather, the sun could be shining one moment, and then suddenly snow could be falling the next moment. This can be a deadly combination because visibility is poor, and cars or trucks coming around the corner may not see you on your bike until it is far too late to stop a crash.
Where to stay at Tail of the Dragon
In case you're looking for a place to sleep after your ride to the Tail of the Dragon, here are some suggestions:
Where to Stop at Tail of the Dragon
Where to Eat at Tail of the Dragon
Camping Sites at Tail of the Dragon
Tunnel of Trees Road, Michigan
| | |
| --- | --- |
| State | MI |
| Length | 22 Miles |
| Start Point | Harbor Springs, north of Petoskey |
| End Point | Cross Village |
| Time to Pass | 40-50 minutes, if you don't stop, 2.5 hours to explore around |
| Speed Limit | 45 mph |
| Website | http://www.m119tunneloftrees.org/ |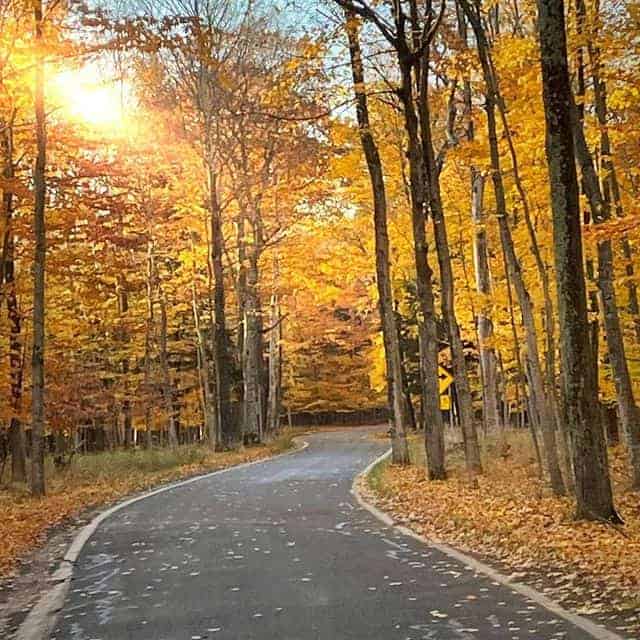 The Tunnel of Trees, or M-119, is a stunning route in Michigan that's particularly beautiful in fall. Riding through Tunnel of Trees Road during the fall foliage is just another story – magic to never forget. It's a 20-mile ride that follows the shoreline of Lake Michigan and passes through charming towns and colorful forests. As one of the top motorcycle road trips in Michigan, it's a highlight of the North Country National Scenic Trail and one of six loops that begin and end in Cadillac. To make it even more exciting, consider taking the Ironton Ferry across Lake Charlevoix.
Route Map
Dangerous Spots to be aware at Tunnel of Trees Road
M-119 begins at the north end of Petoskey, but it doesn't officially become The Tunnel of Trees until north of Harbor Springs. From there, the state highway becomes narrow, running 20 miles along a spectacular bluff overlooking Lake Michigan. Watch for sharp twists at Devil's Elbow (said to be haunted by an evil spirit after dark) and Horseshoe Curve.
Where to Stay at Tunnel of Trees Road
Where to Stop at Tunnel of Trees Road
Thorne Swift Nature Preserve – short hikes and a beautiful beach
Legs Inn – rustic stone architecture at Cross Village
Good Hart – Totally authentic local business – one of the most iconic stops along the Tunnel of Trees. Stop in for snacks, one of their famous pot pies, souvenirs, or just a photo op with the red building.
Harbor Springs – scenic beauty, stargazing, quaint historic sites, and, of course, one end of the Tunnel of Trees.
Where to Eat at Tunnel of Trees Road
Camping Sites at Tunnel of Trees Road
Cherohala Skyway
| | |
| --- | --- |
| State | TN |
| Length | 43 Miles |
| Start Point | Tellico Plains, Tennessee |
| End Point | Robbinsville, North Carolina |
| Time to Pass | 1-2 hours |
| Speed Limit | 45 mph |
| Website | https://cherohala.com/ |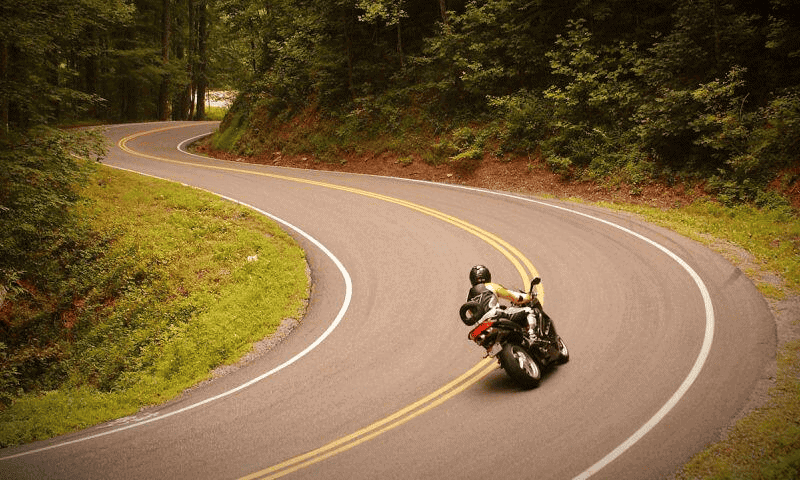 While Cherohala Skyway in Tennessee is an excellent road to drive on its own, many people prefer to combine it with the famous Tail of the Dragon at Deals Gap to create a loop. Although it's a challenging and full day's ride on a cafe racer or touring motorcycle, it's worth it because these two roads are among the best in the world and are located close to each other. This allows you to fully enjoy your motorcycle in a shorter time frame. If you have more than a day to spare, you could do the loop multiple times. Of course, if you're in the area for more than a day, why not do it more than once?
Route Map
Dangerous Spots to be Aware at Cherohala Skyway
It is a beautiful and hidden drive through the mountains with lots of scenic overlooks. It's a favorite for motorcycle and sports car drivers with its many twists and turns. It can be desolate at night and extremely dangerous in the winter months.
Where to Stay at Cherohala Skyway
Where to Stop at Cherohala Skyway
Shute Cove Overlook – with lovely picnic tables
Big Junction Overlook
Brushy Ridge Overlook – best place to get a quick lunch
Lake View Overlook – especially beautiful during fall foliage
Turkey Creek Overlook – huge pull-off area and toilet facility
Where to Eat at San Cherohala Skyway
Camping Sites at Cherohala Skyway
Beartooth Pass / Highway, Wyoming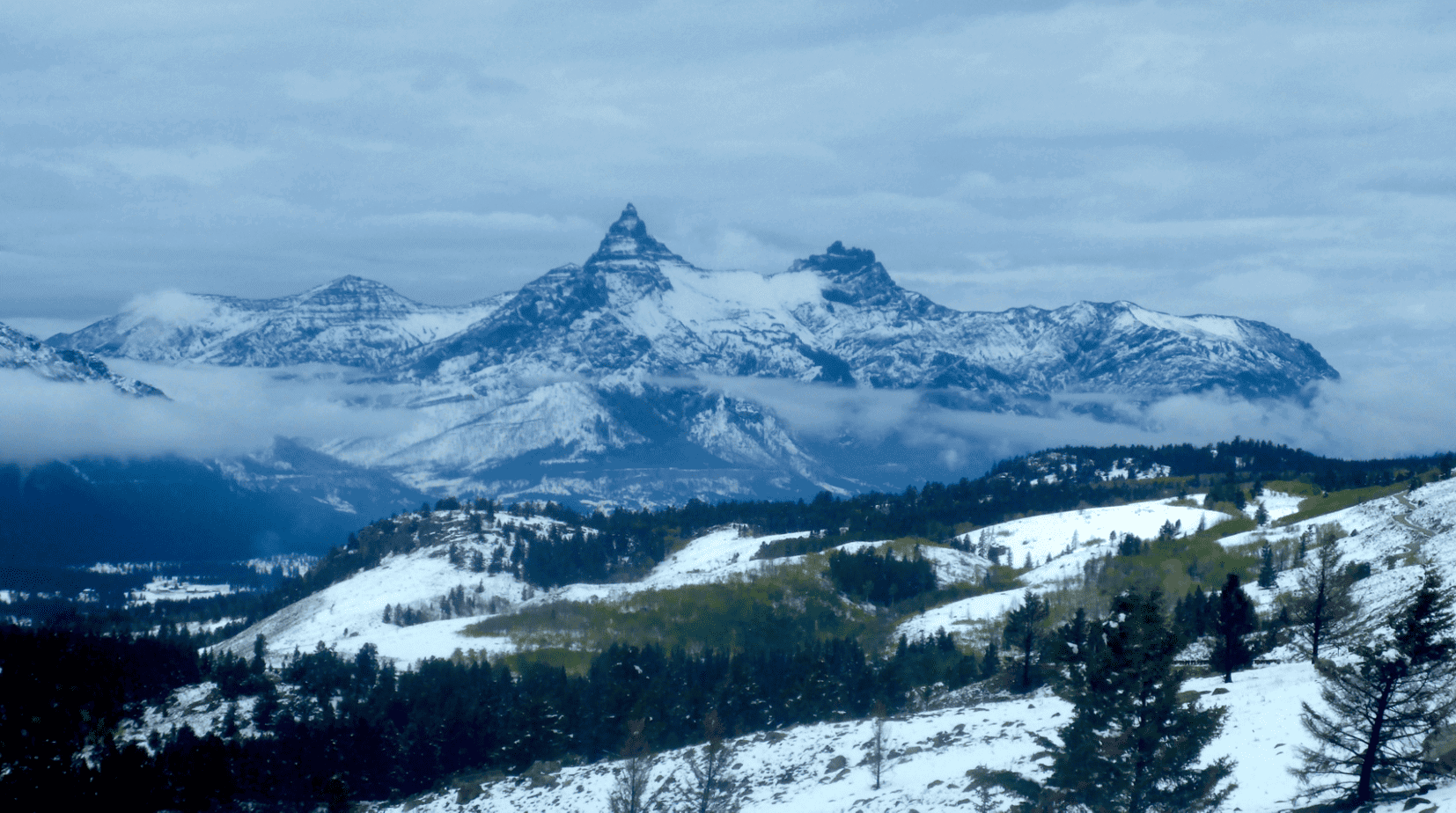 Beartooth Pass in Wyoming is a challenging route for bikers, with few guard rails to rely on. However, the stunning mountain vistas make the journey well worth it. It can take between 2 hours to a full day if you stop to hike and enjoy the scenery. The road winds through dense forests, alongside winding rivers and impressive rock formations, as well as areas of snow and tundra. A thrilling descent down the steep rocks on the route is sure to leave you breathless, making it a truly unforgettable experience.
Route Map
Dangerous Spots to be Aware at Beartooth Highway
One of the Cowboy State's most famous highways is also one of its scariest – many consider the Beartooth Highway to be the most dangerous road in Wyoming. This scenic and historic highway takes drivers through the Absaroka Range of the Rocky Mountains. Hairpin turns and switchbacks make up much of the journey, which can be dangerous and scary to anyone not used to mountain driving.
Where to Stay at Beartooth Pass
Here are some hotels and places to stay closest to the Beartooth Pass:
Where to Stop at Beartooth Highway
Beartooth Pass is not just another incredible ride. It offers brilliant sightseeing and breathtaking views. I've noted some of the places to stop during your ride. The first time I was there, I couldn't believe my own eyes so it is worth checking all these out:
Red Lodge, Montana.
Beartooth Scenic Byway Welcome Sign.
Beartooth Highway Switchbacks.
Rock Creek Vista.
45th Parallel.
Beartooth Basin.
Gardner Lake Pullout.
Bear's Tooth (Na Piet Say)
Where to Eat at Beartooth Pass
Camping Sites at Beartooth Pass
Camping along the Beartooth Highway is a memorable experience. The quiet solitude you experience can be a once-in-a-lifetime event and is something you will never forget. Many of the campgrounds are at high altitudes where the night skies light up with the full majesty of the milky way on display. If you have the opportunity you should plan to spend time camping in this special place.
There are 17 Forest Service campgrounds located on or near the Beartooth Highway. Each is a treat for campers but there are differences between them. Only hard-sided campers are allowed in some, others are located on or near special attractions. Some have reservations and others are first come, first-served.
Going to the Sun Road, Montana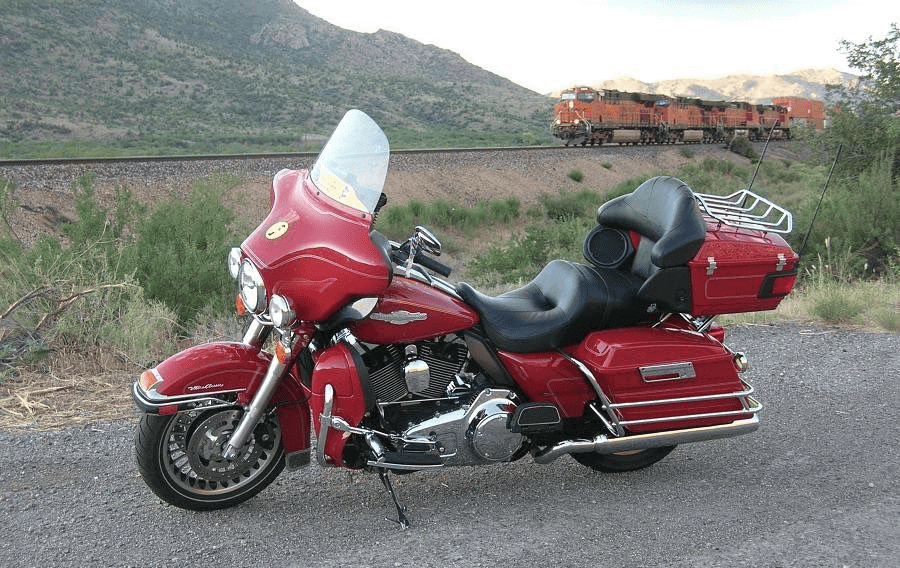 This fantastic summer-only ride is short, smooth, and sure to attract adventurous thrill-seekers in search of the ultimate mountain road. Spanning 50 miles through Glacier National Park, the two-lane causeway is one of the most epic alpine routes in America. It crosses the Continental Divide via the 6,646-foot summit at Logan Pass and descends 3,000 feet to Lake McDonald, offering countless twists, turns, and breathtaking views of glaciers and rugged mountain ranges along the way. Be sure to drive carefully as the speed limit is 45 miles per hour at lower elevations and 25 miles per hour higher up, allowing you to fully appreciate the stunning scenery. You'll find plenty of scenic pullouts along the route, which winds through windswept alpine tundra. The road is generally open from late June through late October, but weather conditions can vary greatly, so it's important to check the forecast before starting your journey. For even more fun, consider driving the road in both directions.
Route Map
Dangerous Spots to be Aware at Going to the Sun Road
If the snow does not block the roads, then the road is smooth and regularly taken care of, which ensures a secure surface for traveling. However, the journey can still be quite nerve-wracking, as the steep drops and sharp, winding turns can be quite hair-raising and have been likened to a "nail-biting" experience. In addition, there is little protection on the route, with some parts lacking guard rails entirely, while others only have short barriers or low walls made of rocks. So more timid riders may want to drive the road from east (St. Mary) to west. The majority of the east-west route is on the inside next to rock walls, rather than closer to the road's edge.
Where to Stay at Going to the Sun Road
Where to Stop at Going to the Sun Road
West Glacier Village – fill up on gas, grab some snacks, and prepare for the scenic drive ahead
Apgar Village & Visitor Center – The first stop inside Glacier National Park is Apgar Village, home to several lodges, a camp store, and Apgar Campground
Lake McDonald – one of the largest glacial lakes in the park
McDonald Falls – a short cascade just upstream from Lake McDonald. There's a parking area next to the viewing platform, perfect for a quick leg stretch.
Sacred Dancing Cascades
Where to Eat at Going to the Sun Road
Camping Sites at Going to the Sun Road
The Three Sisters (aka The Twisted Sisters), Texas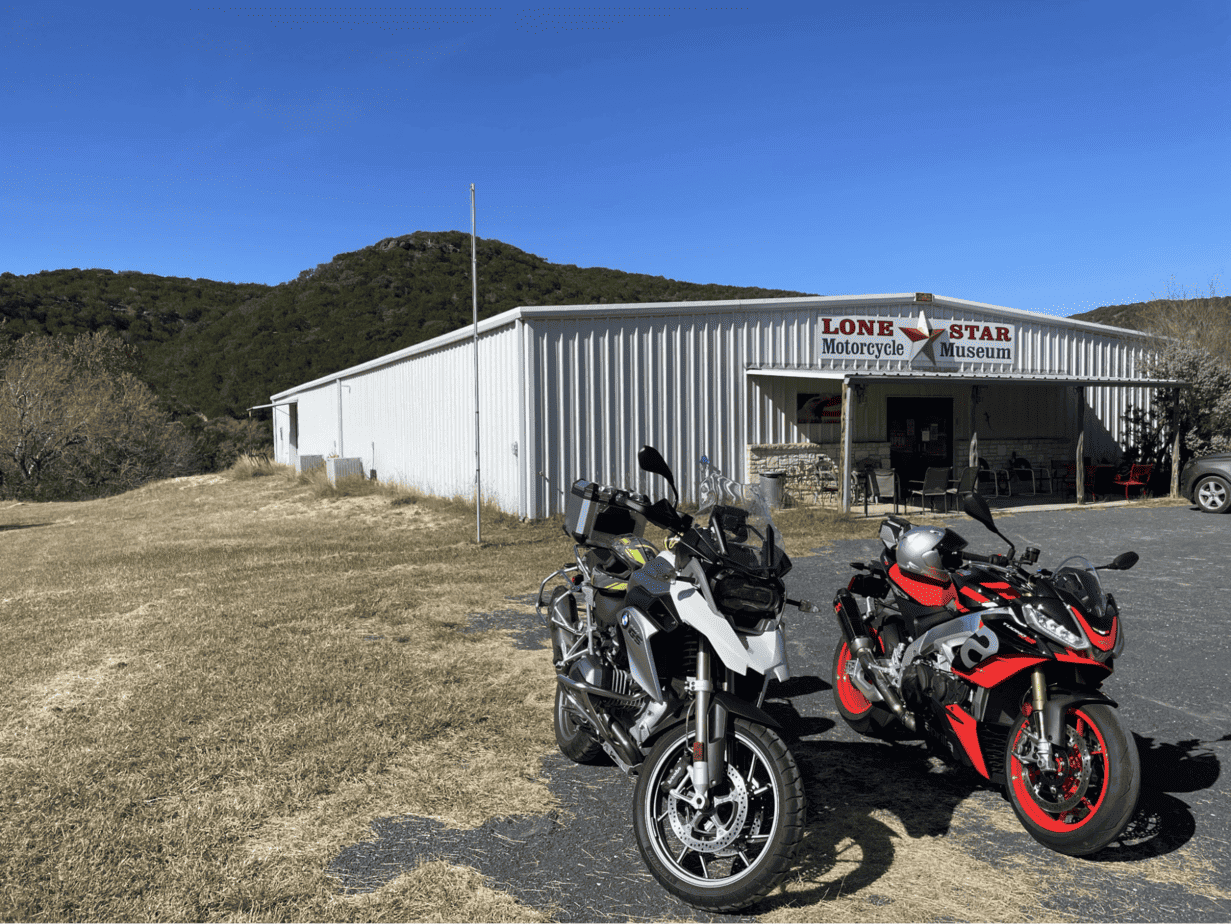 The Sisters are a connecting trio of Texas county roads, Ranch-to-Market Roads (RM) 335, 336, and 337, that form a 100-mile loop which is Undoubtedly one of the most demanding and thrilling motorcycle routes in the state. It meanders through canyons and ascends steep, rugged hills, with numerous sharp and winding curves that are often perilously close to cliffs. There are about 65 curves in just a 15-mile stretch of road! Skilled motorcyclists revel in the challenges posed by this route, but novices are advised to concentrate fully on the road, even when presented with breathtaking panoramic views. It's important to fill up the gas tank before embarking on this exhilarating journey.
Route Map
Dangerous Spots to be Aware at Twisted Sisters
These three Ranch Roads, collectively known as the "Twisted Sisters," feature more than 200 bends and curves throughout the Hill Country. The gusts of wind are so intense that they may rattle your car windows and try to force their way in. Despite the fear this may cause, it's an incredibly exciting experience. Once you reach Camp Wood, you'll encounter an intense sharp bend where Ranch Road 335 terminates and 337 commences. This will lead you northeast at a 45-degree angle for some time before the real excitement begins. The first 15 miles of Road 337 alone contain over 65 turns, which is more than half of the road's total.
Where to stay at Twisted Sisters
Where to Stop at Twisted Sisters
CAMP WOOD – Casa Falcon Restaurant
LEAKEY – Frio Canyon Chamber of Commerce
MEDINA – Patio Cafe @ The Apple Store
VANDERPOOL – Foxfire Log Cabins
Where to Eat at Twisted Sisters
Camping Sites at Twisted Sisters
Pacific Coast Highway, Morro Bay to Monterey, California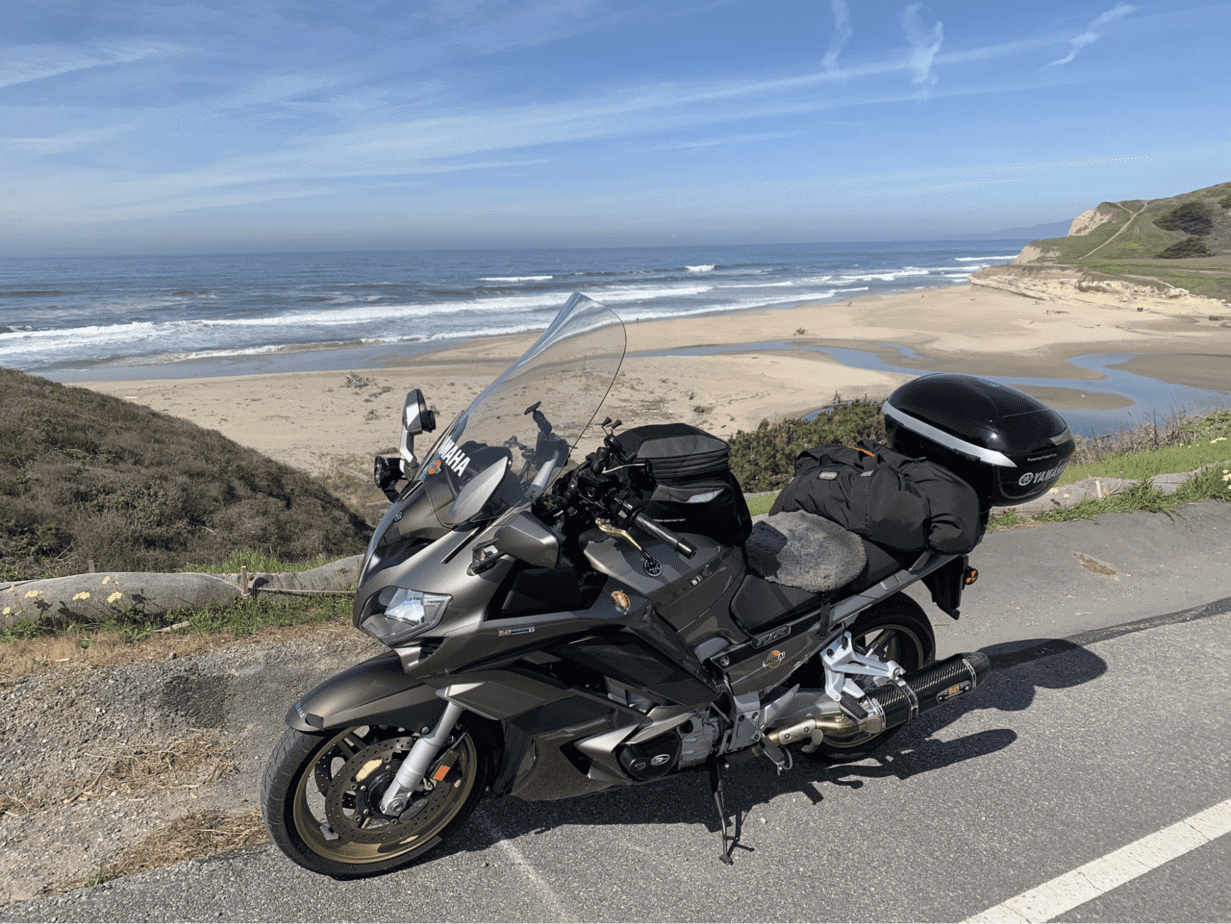 Pacific Coast Highway, also known as "the 1" or "the PCH," is a quintessential road trip destination for many motorcyclists in California. Following the coast the entire way, this scenic route offers breathtaking views and numerous curves that will keep you on your toes. Spanning from Southern California to the Oregon border, the 123-mile stretch of PCH between Morro Bay and Monterey, known as Big Sur, is considered the most awe-inspiring section. As you traverse along the shoreline, you'll witness stunning seal-strewn beaches, towering redwoods, and crashing waves against rocky cliffs. Be sure to refuel before you start your journey as you'll quickly leave urban areas behind and ride through remote mountainous terrain. Avoid traveling during summer weekends and check the road and weather conditions beforehand, as long stretches of PCH can be blanketed in fog (especially during summer) or closed due to landslides. The excitement doesn't end in Monterey as the route continues beyond San Francisco to Oregon.
Route Map
Dangerous Spots to be Aware at Pacific Coast Highway
No special driving skills are required to navigate Hwy. 1, but the driver must remain vigilant, pay close attention, and adjust their driving according to the conditions. Excessive speeding, distractions, and impairment are not acceptable. While there are guardrails along much of the road, there are sections where they are absent. Most of the way, the road is flanked by cliffs, although there are places where pastures or headlands provide a buffer between the road and the water. However, dense fog is a common occurrence, which can be extremely dangerous, particularly at night or during storms. On such occasions, it may be necessary to reduce your speed to less than 3 mph to ensure safe passage.
Where to Stay at Pacific Coast Highway
Where to Stop at Pacific Coast Highway
Crescent City – city destroyed by tsunami
Humboldt Redwoods Park – forest of giant redwoods
Half Moon Bay – Devil's Slide Trail
Santa Cruz – incredible view and beach
Where to Eat at Pacific Coast Highway
Camping Sites at Pacific Coast Highway
Book your camping site at:
San Juan Mountain Skyway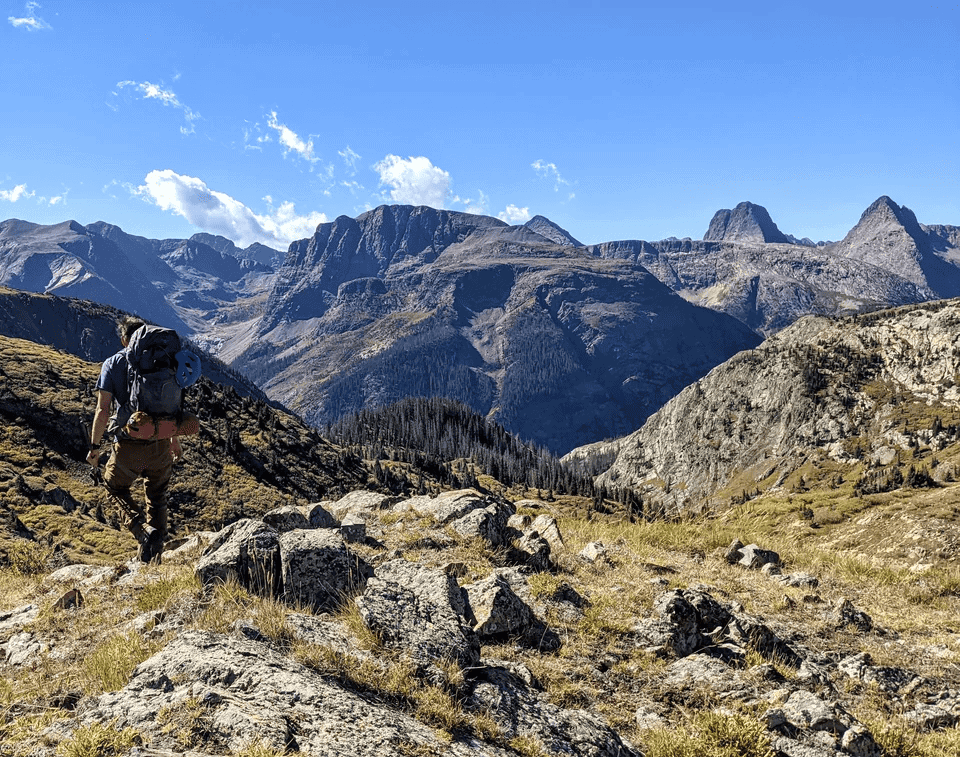 The San Juan Mountain Skyway in Colorado is a circular route that can be started from any point, with the option to travel in any direction. It offers breathtaking views of the Rocky Mountains that are often unique and awe-inspiring. The route passes through historic mining towns, national parks, dense forests, and world-renowned ski resorts. The San Juan Mountains are home to several of Colorado's highest peaks, some exceeding 14,000 feet. Along the way, motorcycle riders can experience vivid red rock formations, gorgeous river valleys, hot springs, and stunning mountain ranges that have earned the area the nickname "Switzerland of America." Low COG and wide tires are surprisingly manageable on this type of well-groomed dirt road.
Route Map
Dangerous Spots to be Aware at San Juan Mountain Skyway
Always check the weather forecast before you start your journey: adverse conditions are common as you travel through high mountain passes. Be prepared for summertime afternoon thundershowers and inquire about road conditions in winter. Many parts of the road have drop-offs that lack guardrails. The road features many switchbacks and steep parts.
Where to Stay at San Juan Mountain Skyway
Where to Stop at San Juan Mountain Skyway
Chimney Rock Archaeological Area
Canyons of the Ancients National Monument
Ute Indian Museum
Where to Eat at San Juan Mountain Skyway
Camping Sites at San Juan Mountain Skyway
Natchez Trace Parkway, Tennessee, Alabama, and Mississippi
| | |
| --- | --- |
| State | TN, AL, MS |
| Length | 444 Mile |
| Start Point | Nashville, Tennessee |
| End Point | Natchez, Mississippi |
| Time to Pass | 8-10 hours |
| Speed Limit | 50 mph |
| Website | https://www.nps.gov/natr/index.htm |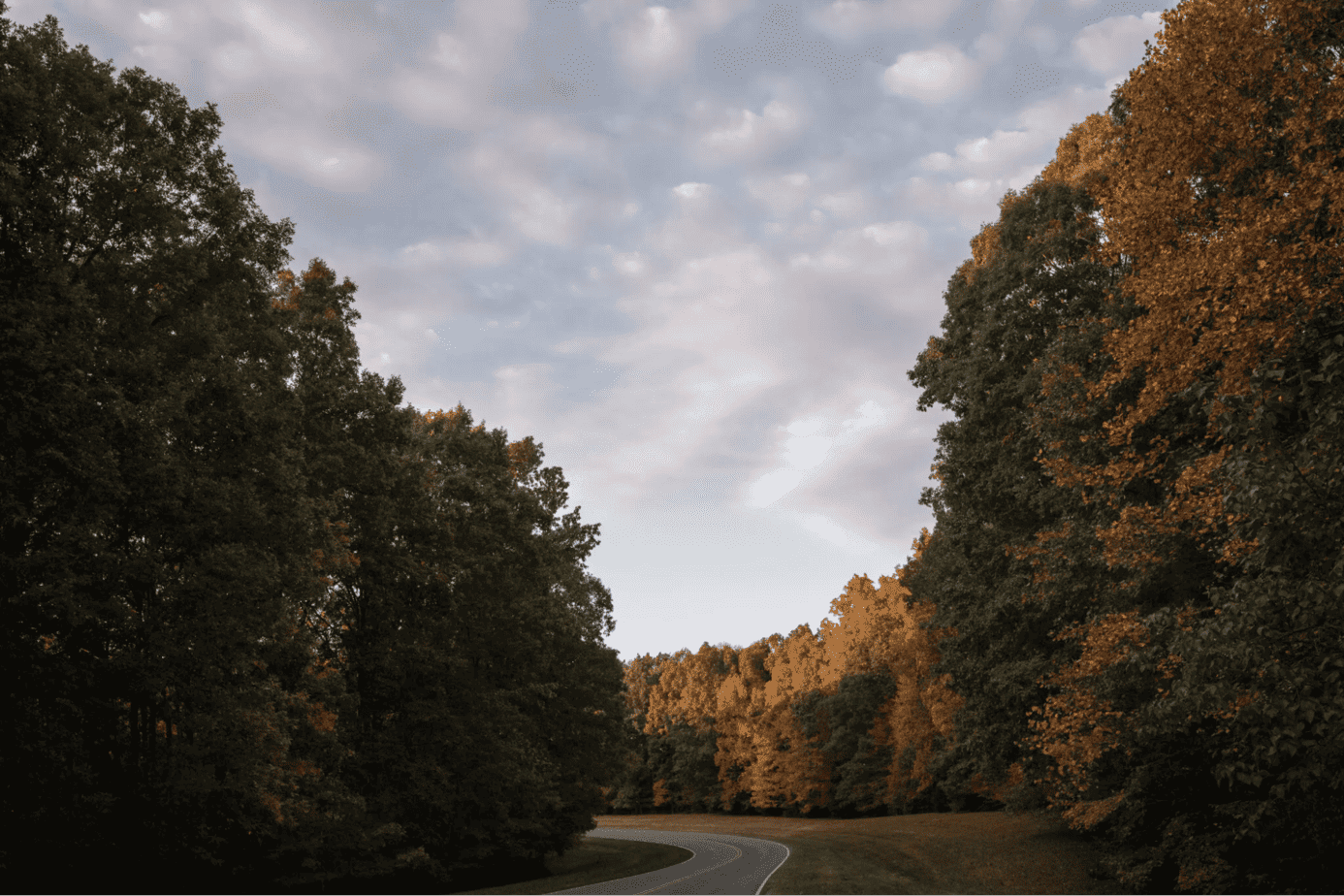 The Natchez Trace Parkway is a relaxing, 444-mile route that has been recognized as a National Scenic Byway and All-American Road for its stunning scenery. The "Old Natchez Trace" runs through a cypress swamp, farmland, and a national forest while also taking riders on a historical journey from Nashville, TN to the Mississippi River in Natchez, MS. This meandering two-lane route, which was completed in 2005 and is part of the National Park Service, roughly follows an ancient travel corridor. It has been used by Native American tribes such as the Choctaw, Chickasaw, and Natchez, as well as American traders until the arrival of Mississippi steamboats. With 90 marked stops, riders can visit breathtaking waterfalls, Civil War sites, and Indigenous archaeological sites at a leisurely pace. The route has no trucks or stop signs, making it a perfect ride for those seeking a peaceful and meditative experience. The speed limit is set at 50 miles per hour, so riders can relax and take in the beautiful surroundings. Thick tread tires might work on this route.
Route Map
Dangerous Spots to be Aware at Natchez Trace Parkway
Avoid the Tupelo, MS, and Jackson, MS, areas during weekday rush hours due to the high volume of motor vehicle traffic. Plan to be off the Parkway between sundown and sunup.
Where to Stay at Natchez Trace Parkway
Cabin rentals are available at state parks near the Natchez Trace Parkway.
Where to Stop at Natchez Trace Parkway
Gordon House Historic Site – The brick home of Captain John Gordon and his family, built in 1818
Jackson Falls – one of two waterfalls on the Natchez Trace Parkway
Tobacco Barn & Old Trace Drive – barn was built for Mr. Leland Greenfield in 1959 from timber grown on this farm. Mr. Greenfield first grew tobacco here in 1932.
Fall Hollow Waterfall – another waterfall in the area
Meriwether Lewis Burial Monument – burial site of famed explorer Meriwether Lewis on the Natchez Trace Parkway near present day Hohenwald, Tennessee.
Where to Eat at Natchez Trace Parkway
Camping Sites at Natchez Trace Parkway
Blue Ridge Parkway, Virginia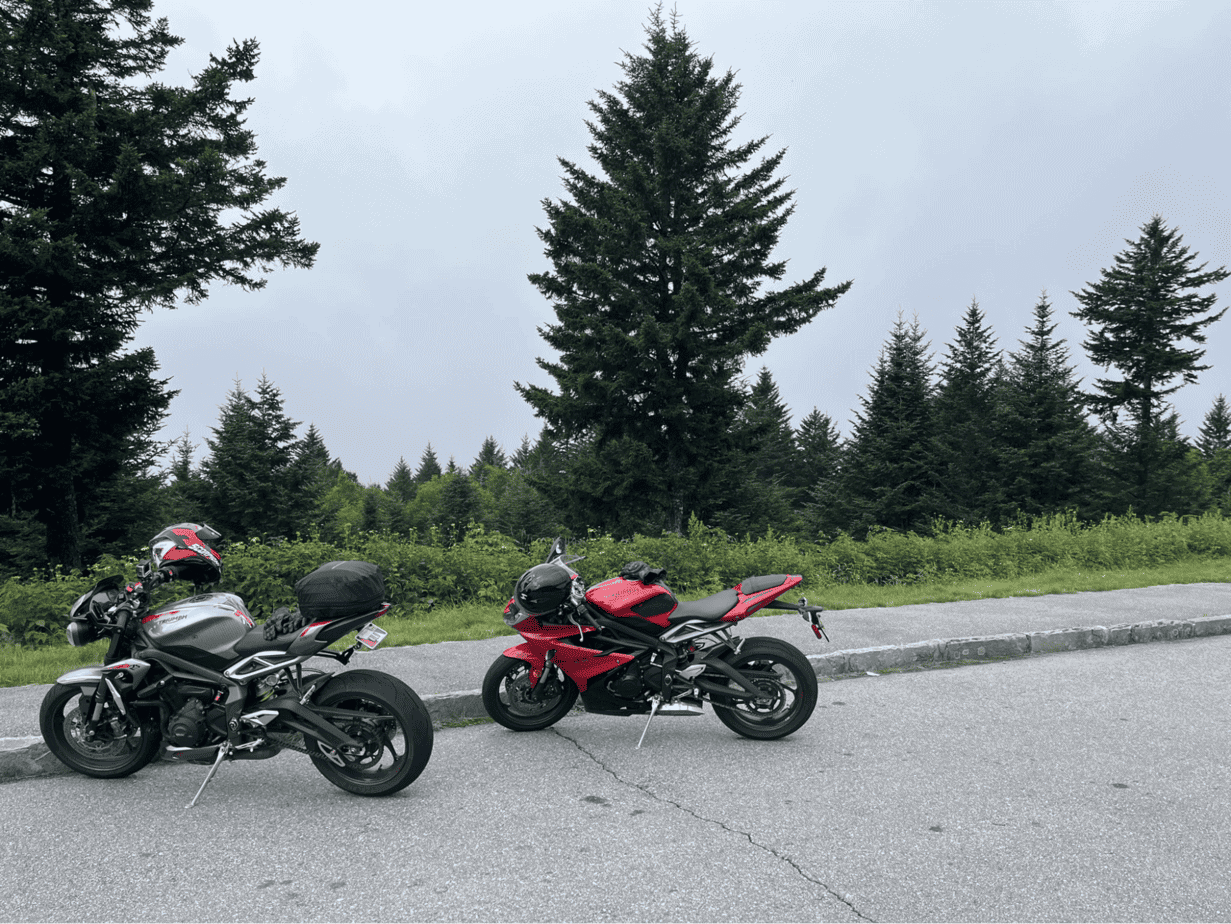 The Appalachian Mountains are the perfect setting for the scenic Blue Ridge Parkway, a 500-mile stretch of road that passes through from Rockfish Gap, VA to Cherokee, NC. With stops at places such as Shenandoah National Park, Peaks of Otter, and Humpback Rocks, the Parkway provides incredible views and opportunities to observe the area's wildlife. If you're up for a walk, there are over 350 miles of trails, including the Mountains-to-Sea Trail and the Appalachian Trail. With millions of visitors each year, the Parkway is also a place of great natural importance, full of incredible natural resources. Motorists can enjoy many overlooks and stops, along with a chance to sample the local culture and cuisine.
Route map
Dangerous Spots to be Aware at Blue Ridge Parkway
The narrow road shoulders of the parkway allow for meadows and forest edges to grow close to the pavement, enhancing the scenic beauty of the drive but requiring extra attention from drivers. Unlike most highways with curves that have a standard radius, the parkway features decreasing radius curves that may become tighter as you navigate them, requiring extra caution, particularly for motorcyclists. Although it may seem like a drawback, sections of the road are regularly closed for maintenance, and in bad weather to ensure safety, allowing you to check the parkway's current conditions and avoid getting stranded during snow or floods. In general, the Blue Ridge Parkway is a safe route to travel.
Where to stay at Blue Ridge Parkway
Lodges along the parkway provide overnight accommodations from spring through fall. Venturing into local communities is another enjoyable way to find a place to stay for the night.
Here are some of the Best Blue Ridge Parkway Hotels & Cabins :
Where to Stop at Blue Ridge Parkway
If you plan to go on a motorcycle trip to Blue Ridge Parkway, there are plenty of sightseeings to visit. Here are some of my favorites:
Waterrock Knob
Craggy Pinnacle
Mount Mitchell
Chestoa View Overlook
Flat Rock
Where to Eat at Blue Ridge Parkway
Camping Sites at Blue Ridge Parkway
National Park Service administers camping sites at Blue Ridge and offers both front-country camping in developed campgrounds, and backcountry camping. The parkway's eight campgrounds are open from May through late October, weather permitting. They are closed in winter. All campgrounds have potable water, comfort stations with flush toilets and sinks, and a dump station for recreational vehicles. Showers are available at Julian Price and Mount Pisgah campgrounds. There is a $3.00 fee for non-campers to use showers or dump stations. Each campsite includes a picnic table and a fire ring. Camping is permitted only in designated campsites. Campsites are available on a first-come, first-served basis at a fee of $20 per night. In addition, reservations can be made for all campgrounds. The fee for campsites reserved in advance is $20 per night. Reservations can be made up to six months in advance by visiting www.recreation.gov or by calling (877) 444-6777.
If you're still having doubts about going on the motorcycle trips on these spectacular routes or whether is it fun or not, take a look at these amazing photos from the super long tours including Beartooth Pass, Blue Ridge Parkway, Tail of the Dragon, and the Cherohala Skyway!
Riding these spectacular routes is an inspiration for amazing photos by professionals as well as just riders who love the lifestyle they live.