Best Clear Motorcycle Glasses to Buy in 2020: Ride Safely and in Style
If you ride your bike a lot in summer, you probably already have a dedicated pair of sunglasses to reduce the glare and minimize the strain on your eyes. When it's cloudy outside, the glare is no longer a problem, and the sunglasses are left behind. However, this seemingly logical decision could have some grave consequences for riders who wear an open-faced helmet. Even if the sun is no longer an issue, your eyes are still going to be exposed to all kinds of road debris and dust. Fortunately, there is an easy solution to this problem — clear riding glasses.
Amazon Bestseller
Top-6 Best Clear Motorcycle Glasses for All Use Scenarios
In this article, I am going to review 6 pairs of clear motorcycle glasses in hopes of helping you choose one that will work best for you. To help you make a well-informed decision, I am going to focus on the objective strengths and weaknesses of the reviewed glasses. So, let's take a closer look at the clear riding goggles that could make your next ride so much more pleasant!
WYND Blocker: Simple Clear Glasses for Motorcycle Riding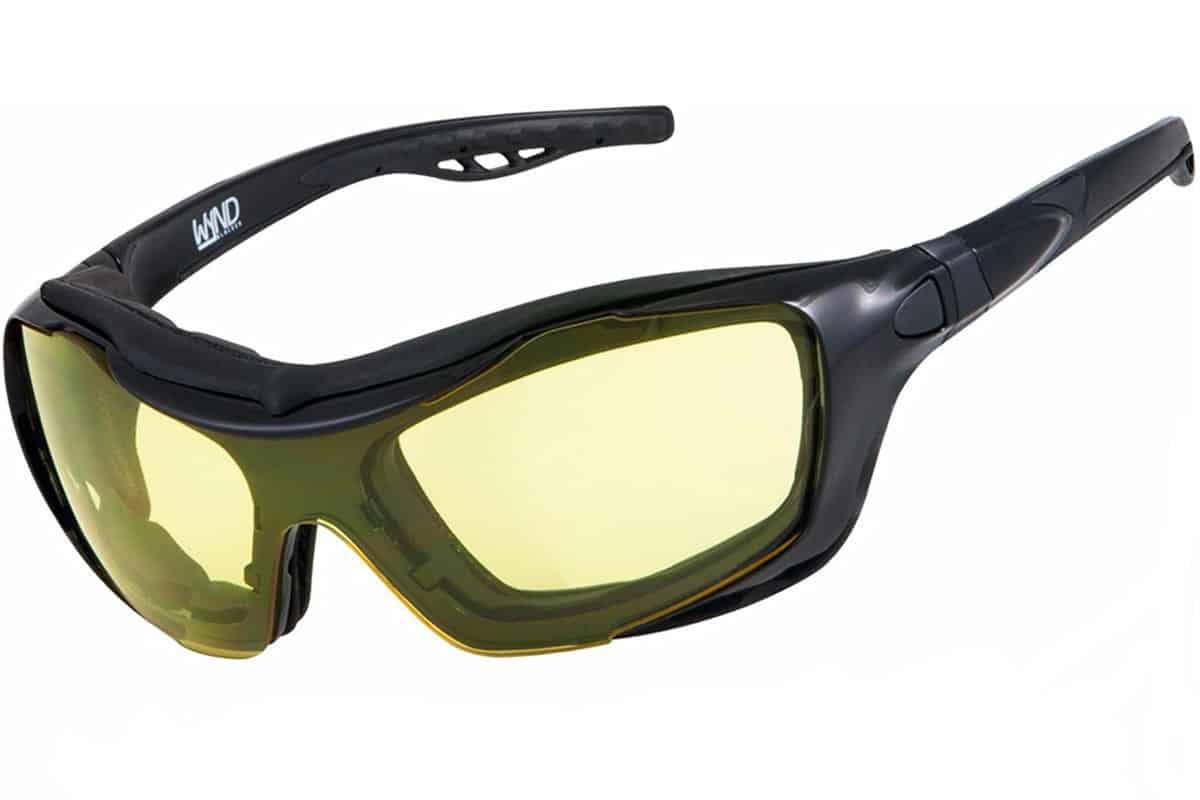 If you're currently looking for your first pair of clear motorcycle glasses and don't really want to invest in an expensive pair, these WYND Blocker glasses might just be the right option for you. Available in multiple frame sizes, these motorcycle glasses are ideal for people who are new to riding and aren't sure what they expect from this accessory yet.
The frame is built from durable plastic, so you don't need to worry about accidentally damaging the glasses. What's more, the lenses are made of plastic as well, making this product extremely resilient to all kinds of impact. Of course, you can still break them if you try really hard, but they are definitely sturdy enough to survive a couple of years of heavy use even if you're not very careful with them.
The lenses are not polarized, so sun glare is still going to be an issue when wearing the WYND Blocker. I wouldn't say that this is a big issue because most riders likely have a dedicated pair of sunglasses for sunny days, but it could still be a dealbreaker for some people. The glasses also have a relatively narrow frame, so they might not fit you that well if you have a big head or a wide face. These drawbacks mean that the WYND Blocker is probably not taking the "Best clear motorcycle glasses" award home, but it is still a solid option for riders who prefer simplicity or have a limited budget.

WYND Blocker Motorcycle & Biking Wind Resistant Sports Wrap...
PC LENS - UV400 blocks 100% of UVA/UVB rays; Impact resistant, anti-scratch and shatter proof
SIZE - Height - 40mm; Lens Width - 65mm; Temple - 140mm; Nose Bridge - 20mm; Frame Width - 140mm
FEATURES - Floating rubberized frame helps prevent loss in water; Rubberized ear pieces help maintain stability and grip on users head; Lightweight design is ideal for motorcycle riding, boating, fishing, biking / cycling, driving, running, and other various motorsports and outdoor activities
INCLUDES - WYND Blocker microfiber bag which can also be used as a lens cleaner
LIFETIME GUARANTEE - 100% money back guarantee against defects - please contact the WYND Blocker brand owner with any concerns
Positives:
Affordable, yet high-quality product;
Protects from wind, dust, and road debris;
Impact-resistant and anti-scratch;
Simple yet stylish.
Negatives:
Non-polarized lenses;
The frame might be too narrow for some people.
---
Bertoni Italy Goggles: Undeniably Stylish Clear Lens Motorcycle Glasses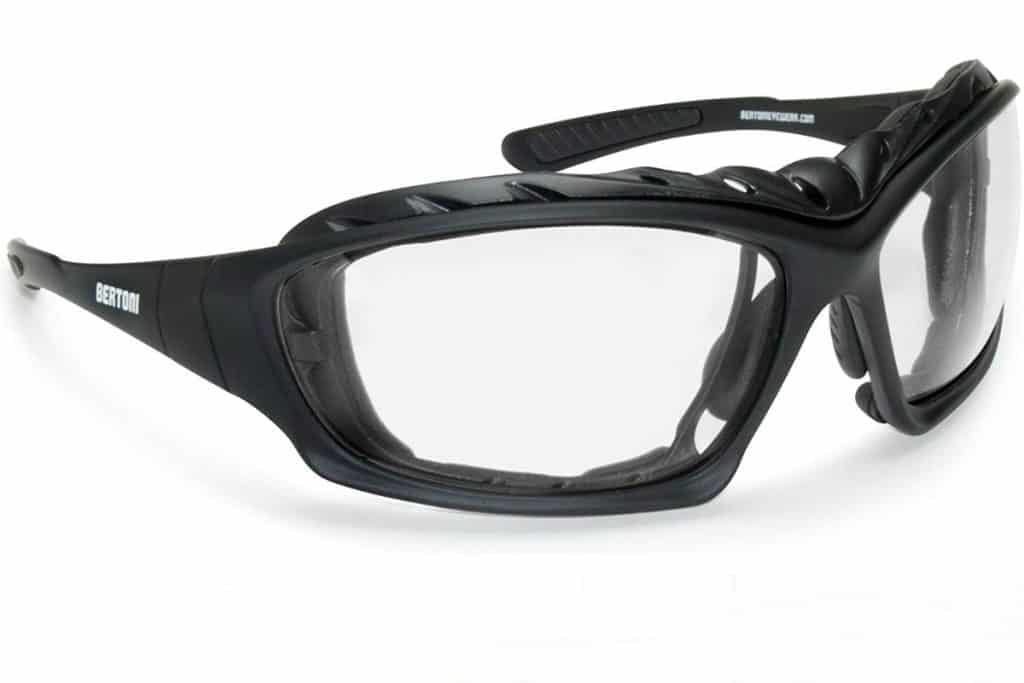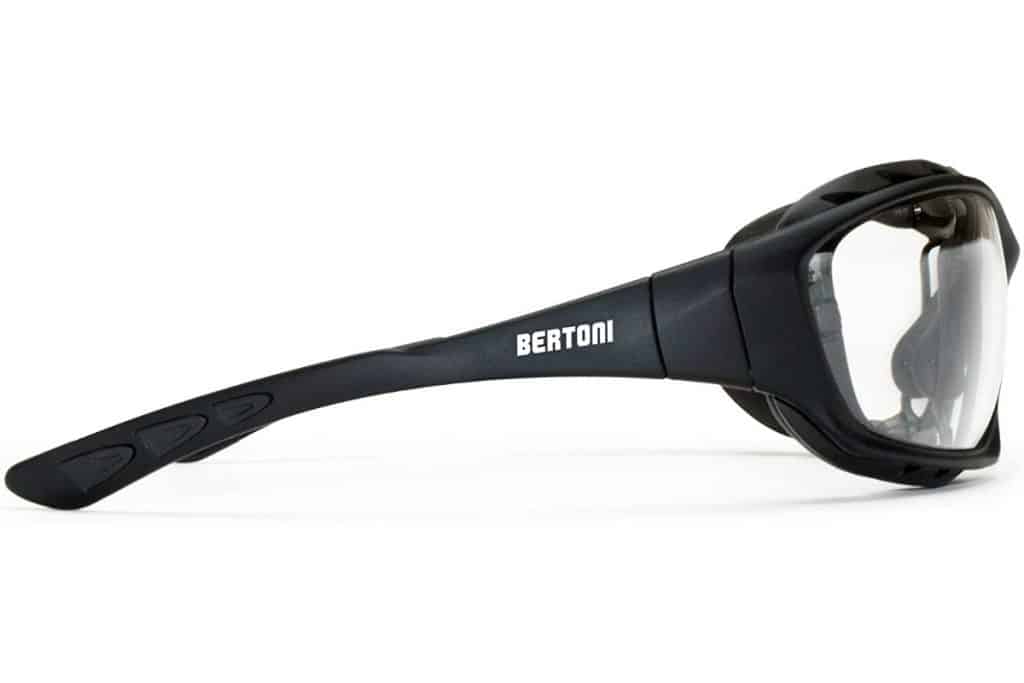 More experienced riders who have already tried some motorcycle glasses may want to take a look at these glasses from Bertoni Italy. It is clear at first glance that one of the main selling points for this model is its elegant, effortless style, but it has more tricks up its sleeve. Whether you're interested in creating a cool biker look or just want a pair of quality clear glasses for motorcycle riding, these ones definitely have a lot to offer.
These glasses were surely designed with flexibility in mind, so there's a lot you can customize about them. The adjustable nosepad makes sure that the glasses always sit comfortably on your face, so you don't have to worry about their fit. The removable arms add another degree of flexibility, and they also come with detachable rubber bands to ensure a more snug fit when you need it.
Another aspect of these glasses that deserves praise is the lenses. They offer optimal performance in all-weather settings, from foggy to sunny. What's more, making use of proprietary technology, these Bertoni Italy glasses adapt themselves to lighting changes. This allows them to provide 100% UV protection regardless of the weather conditions. Finally, the glasses also include a special insert for easy installation of prescription lenses — this way you can use these glasses even if you have poor eyesight.

Bertoni Italy Motorcycle Goggles Padded Sunglasses -...
Frame: motorcycle glasses convertible to goggles in mat black anticrash polycarbonate - ADJUSTABLE NOSEPAD: soft Adjustable nosepad offers an exceptional fit for any shape of face. This system also allows to adjust the glasses' height and their distance from the face to prevent misting - Thanks to their excellent grip at arms, at the adjustable nose pads and thanks to the elastic strap, this sunglasses will stay in place.
NEW Sunsensor Photochromic Antifog Lens from cat 0 to 3: Innovative Technology , react consistently to light and UV rays - they darken from category 0 transparent ( indoor, foggy days, bad weather ) to grey category 3 sun tint ( outdoors, high brightness ), this lens adapts itself to changes in light - 100% UV protection. You can wear your tech sunglasses all day, don't need to change your lenses according to light conditions. Lenses are decentered in order to avoid any optical distorsion.
Included a Removable Optical Insert Adaptor for Prescription, It can be stuck in the groove near the nosepad. Doesn't need install tools - any strength friendly, your optician can easily assemble your prescription to the clip - The inside of the front frame is covered with a removable windproof soft foam for a comfortable fitting.
Interchangeables arms with elastic strap to have a very skin tight fitting for motorcycle and extreme sports - Size: suitable for all types of faces (narrow to large). The lens meets "drop ball anticrash test".
100% UV protection - Wraparound design: protects the eyes from wind and bad weather, provide enhanced peripheral vision - Lens width: 65mm ( curved sport wraparound windproof lens ) - Lens height 44mm - Optical Clip: 40x25 mm. - 4 Years Warranty - Lifetime Support - 30 days to return - ALL INCLUDED inside paper box, case, microfiber.
Positives:
Stylish frame;
Compatible with your prescription lenses;
Interchangeable arms;
Configurable frame.
Negatives:
May be too expensive for some riders;
Don't work with low profile helmets.
---
Bikershades Rhinestone: Designed with Female Bikers in Mind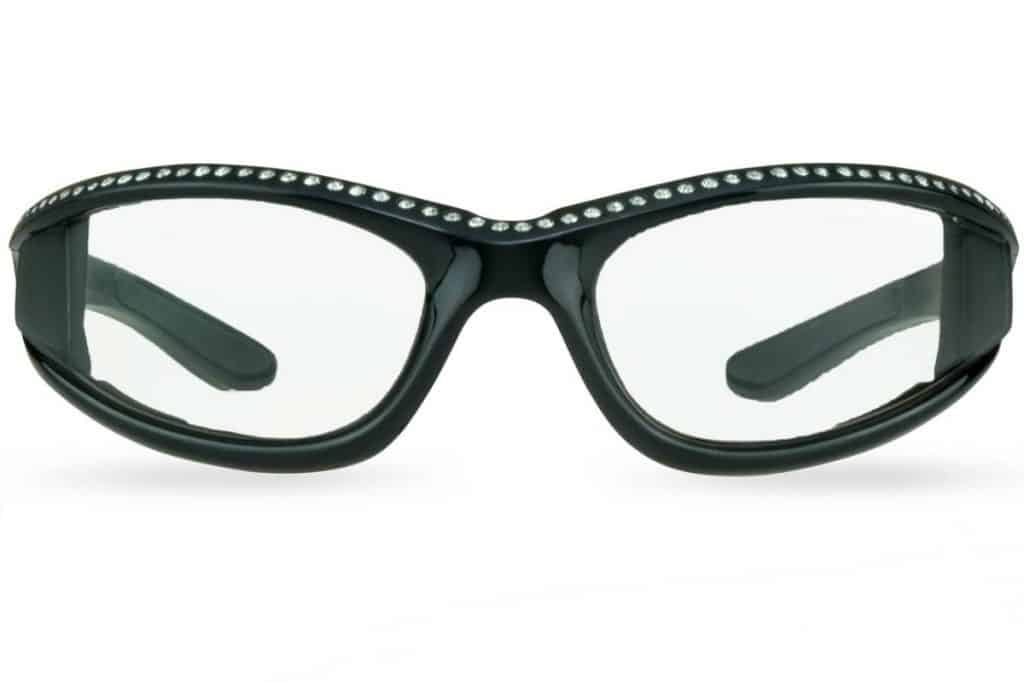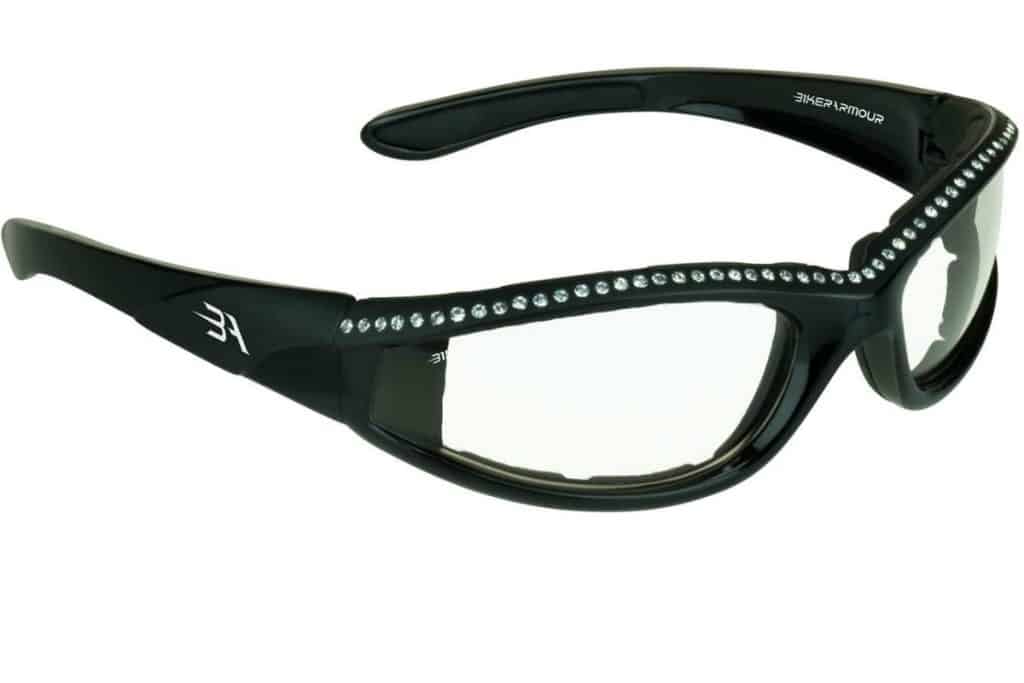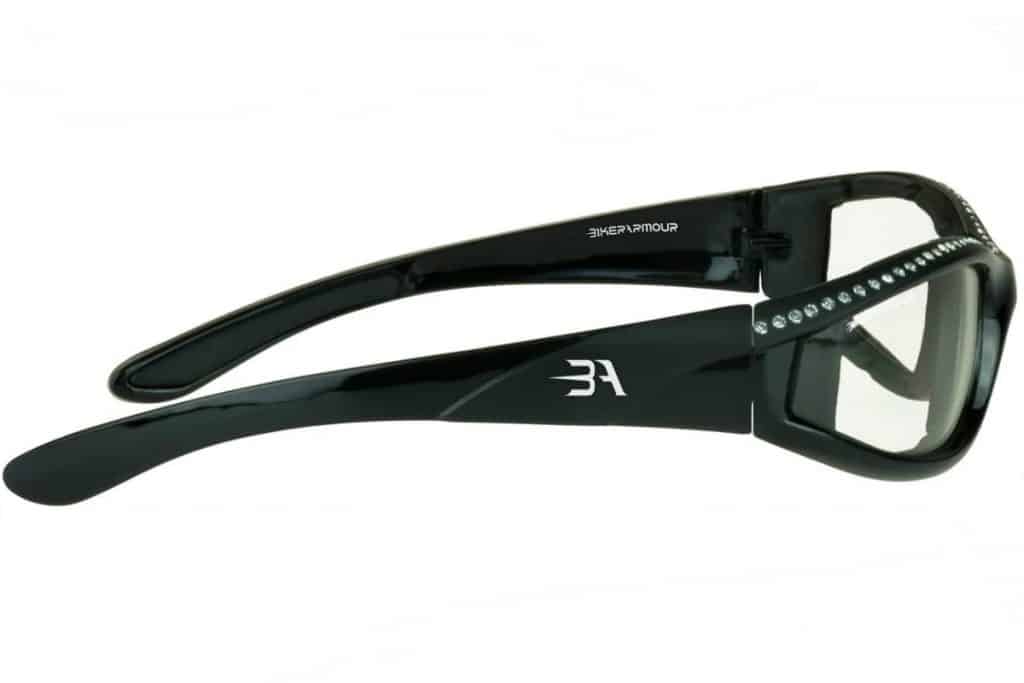 It seems like the media wants us all to think that only men enjoy riding motorcycles, but in reality, there are plenty of women who have a passion for motorbikes too. Unfortunately, female riders are mostly limited in their choice of accessories because the vast majority of them are designed for a target male audience. This is why I was so glad to discover the Rhinestone model from Bikershades and knew immediately that it belonged on my list.
These clear motorcycle riding glasses have a sturdy and ergonomic polycarbonate frame. Designed with the female facial anatomy in mind, Bikershades Rhinestone provides a great fit without feeling too wide or too bulky. The polycarbonate lenses have anti-glare coating and are impact resistant, which is a great set of features given this product's price.
Last but not least, the glasses feature an attractive design with a bold rhinestone stripe across the top of the frame. The rhinestones are clear and shiny, and it doesn't seem like they are going to fall off the frame and get lost any time soon. With a cool look like that, a snug, yet comfy fit, and a very reasonable price, the Bikershades Rhinestone are a tough match for most competitors.

Positives:
Great design for female riders;
Fits most female faces extremely well;
Quality lenses;
Affordable price.
Negatives:
Not compatible with prescription lenses;
No lens polarization.
---
Birdz Phoenix: a Great Choice for Prescription Motorcycle Glasses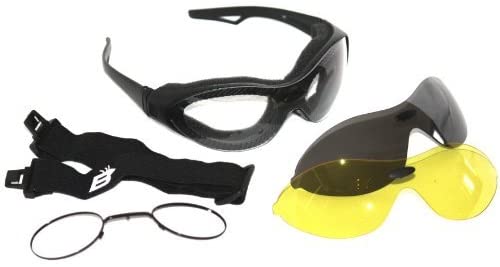 Riding a motorcycle requires you to be fully alert and perceive your surroundings as much as possible. This means that people with weak eyes already have to wear glasses when riding, so finding a pair of protective glasses that fit becomes a huge challenge. The best solution is to buy a pair of riding glasses that offer the option of installing your own lenses and have your optician fit your prescription lenses into them. I found Birdz Phoenix to be one of the best clear riding glasses for this purpose.
Of course, this doesn't mean that you should just skip over to the next entry on my list if you have good eyes. In addition to prescription inserts, Birdz Phoenix comes with three sets of interchangeable lenses that can be used in daylight (smoke mirrored lenses), overcast or dusk (yellow), and in darkey settings (clear). As a nice bonus, all three sets of lenses have anti fog coating, which is not something many manufacturers offer. Depending on your preferences and riding needs, you can choose to swap the lenses out or just use the clear ones in all conditions.
If you frequently ride at high speeds or simply enjoy a tighter fit, you can transform your Birdz Phoenix glasses into goggles with the included strap. The strap is easy to attach and retains its elasticity very well, which means that you won't have to look for a replacement after a dozen uses. Overall, I'd say that Birdz Phoenix is one of the best clear motorcycle glasses I reviewed, especially considering their price.

Phoenix Vital Life Motorcycle Glasses and Goggles That Comes...
This is Rx-able!
These are Interchangeable from goggles to sunglasses! 3 sets of lenses also included! Interchangeable goggles/sunglasses with 3 sets of lenses!
Shatterproof, polycarbonate lenses. Three Lenses: DAY (SMOKE MIRRORED), OVERCAST OR DUSK (YELLOW), NIGHT (CLEAR)
Lens Insert (frame) included so that you can take to your own eye doctor and get it filled with your own lenses!
100% UV PROTECTION, ANTI-FOG COATING on ALL lenses (some manufacturers out there say their lenses are Anti-Fog, but only one set has the coating- ALL three sets of ours have the anti-fog coating! Inside of the frame is foam covered for comfort and durability. Comes with sunglass arms and an adjustable strap to wear either as glasses or goggles! Our Birdz belt case also included to keep them in. Very easy to change lenses, single lens pieces!
Positives:
Three sets of high-quality lenses with anti-fog coating;
Transformable to goggles with the included strap;
Very reasonable price;
Offer a comfortable fit for most riders;
Compatible with prescription lenses.
Negatives:
The lenses are not scratch proof;
The frame may not feel sturdy enough.
---
Choppers Oversized: No Going Wrong with These Motorcycle Clear Glasses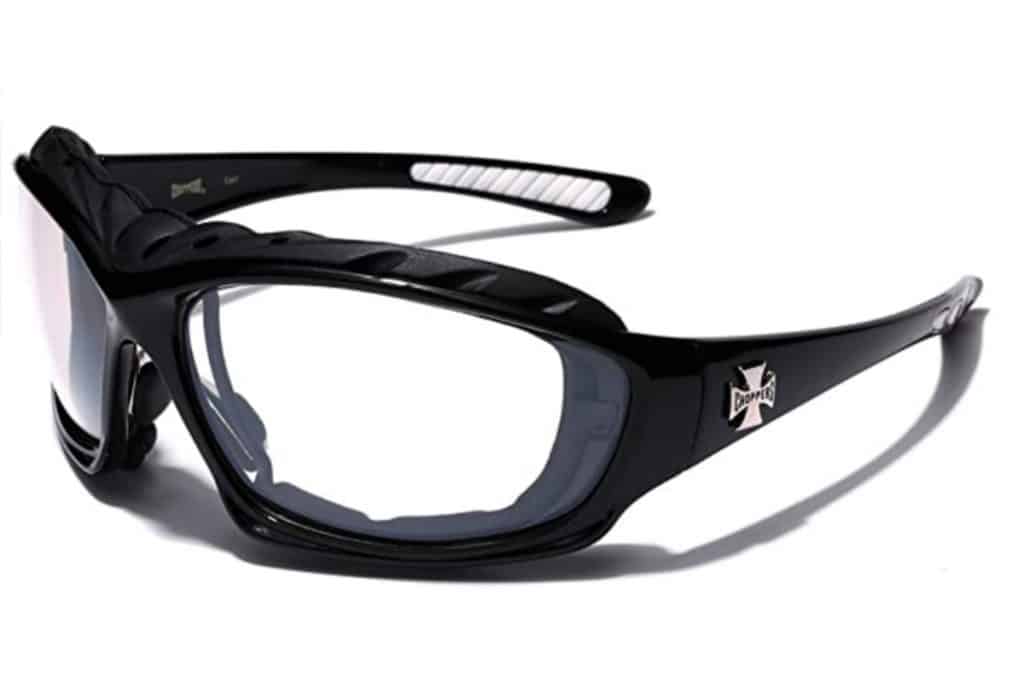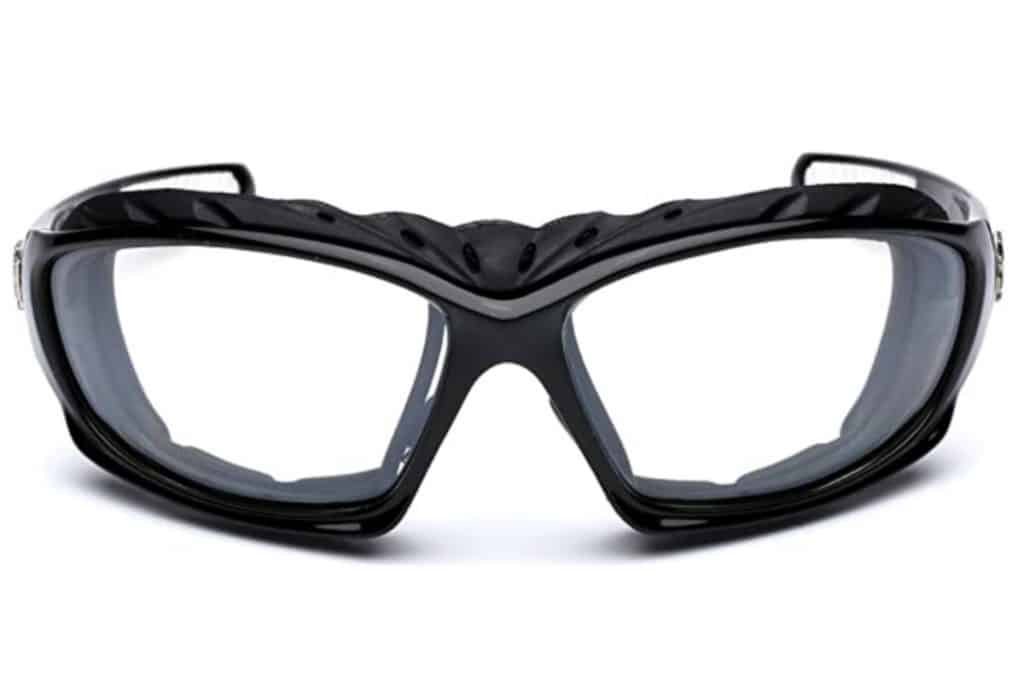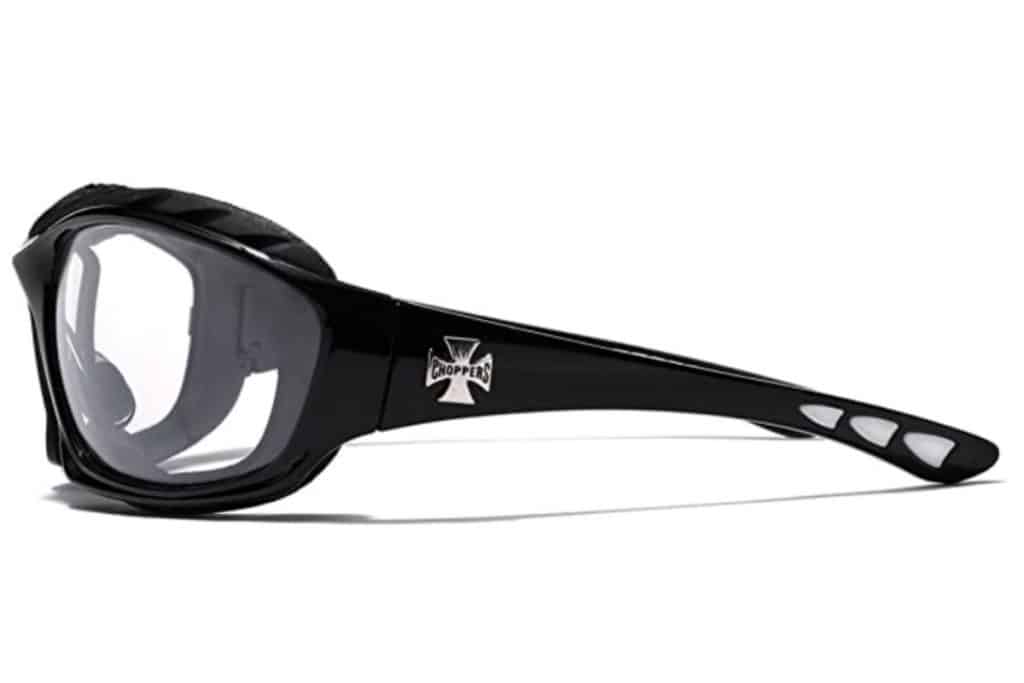 Once again, I decided to include a product from the budget section of the clear riding glasses market because I find it extremely important that you have an opportunity to test an inexpensive, yet decent pair of glasses to see what you need from one. Some riders may end up sticking with their first pair because it already meets their needs, while others can go on to purchase a more expensive product based on a set of clear expectations.
In the case of this Choppers Oversized model, "affordable" doesn't translate to "poor-quality," so I feel confident recommending them to anyone looking for their first pair of clear motorcycle glasses. The only reason to stay away from these glasses would be a need for custom prescription lenses because Choppers doesn't provide the special insert with this model. Otherwise, you'd be getting high quality lenses that offer surprisingly good UV protection, a sturdy polycarbonate frame, and of course, a pretty cool look.
Admittedly, the lenses aren't polarized, but I'd hardly say this is a problem considering the price.
You may find that the lenses scratch too easily, especially if you're not very careful with your things. To protect these glasses and make them last longer, you'll have to use the included storage pouch and avoid placing them next to objects that could scratch them. On the other hand, the Choppers Oversized glasses don't cost a fortune, so you don't have to worry as much about damaging them as you might with a more expensive pair. In addition, the reasonable price means that you can easily replace these glasses if you happen to lose or wreck your current pair.

Positives:
Fits riders with large heads/wide faces very well;
Sturdy frame;
Good quality lenses with UV protection;
Very affordable.
Negatives:
Lenses scratch easily;
No support for prescription lenses.
---
Bikershades Chrome and Pink: Best Choice to Highlight Your Feminine Side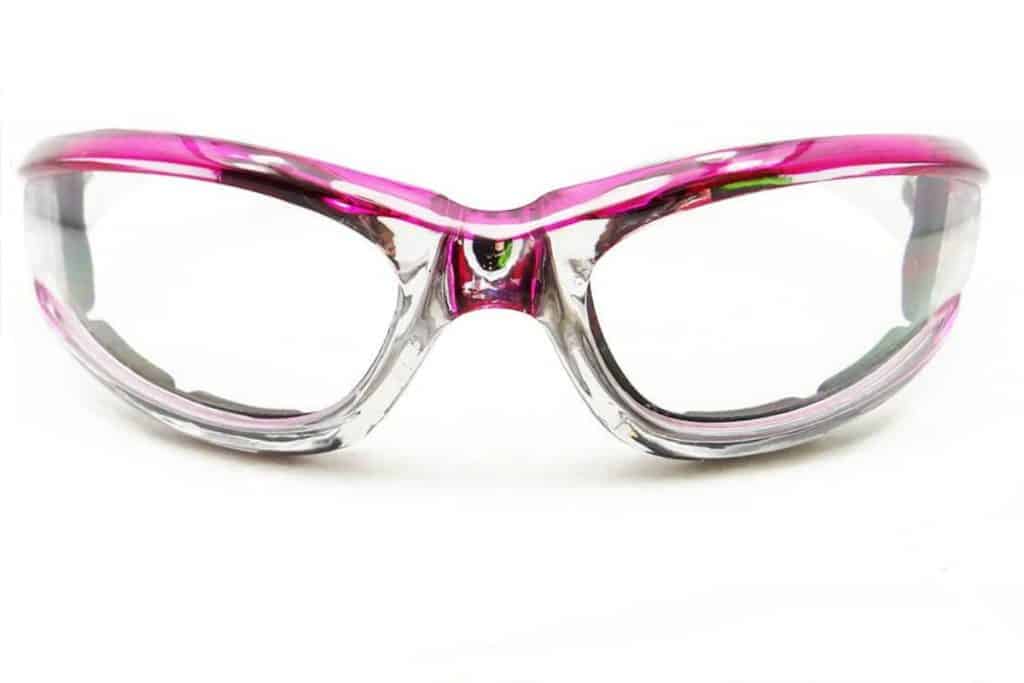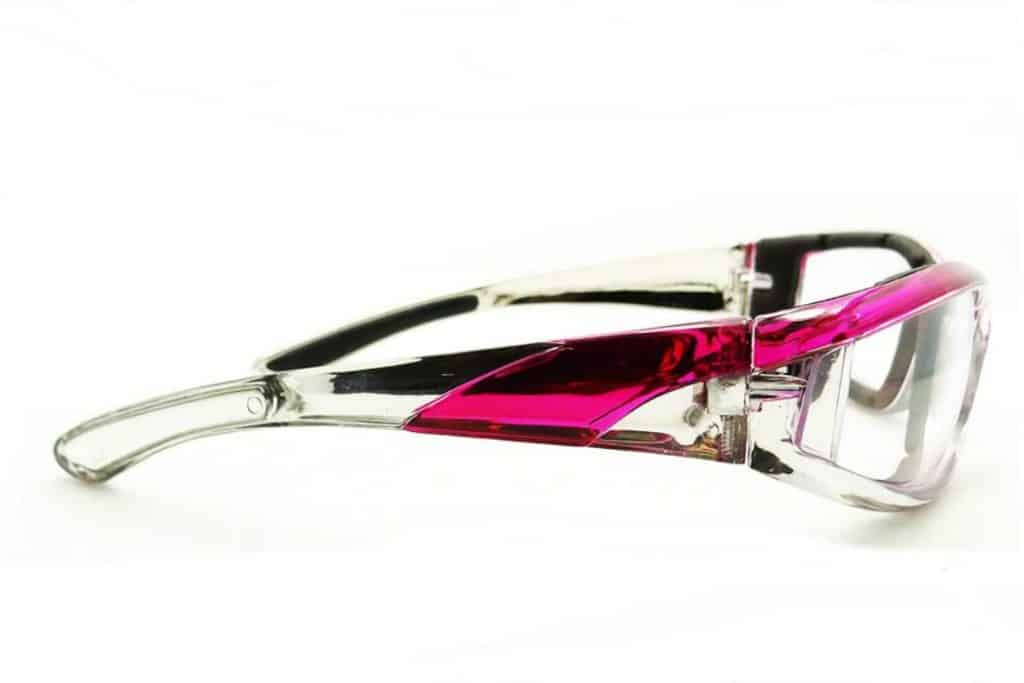 Last but not least, the Chrome and Pink model from Bikershades also made my list because of its unique design and rather impressive price/quality ratio. These women's clear motorcycle glasses are going to look great with just about any outfit, and they also offer a comprehensive list of features that makes them a good choice for both newbie and experienced riders.

One of the things that impressed me the most about these glasses is the lenses. While they aren't polarized, they are made from very high-quality polycarbonate that is frequently used for motorcycle helmet visors. This means that they offer great visibility and provide impressive UV protection regardless of your surroundings. In addition, the lenses don't scratch easily, are impact resistant, and seem extremely durable altogether. If you want to invest in a pair of riding glasses that won't have to be replaced after a season of heavy use, these ones won't disappoint.

Positives:
Cool feminine design;
High-quality lenses;
Attractive price;
Good fit.
Negatives:
Doesn't support prescription lenses;
The amount of padding below the frame may not be enough for some riders.
---
Best Clear Motorcycle Glasses: The Bottom Line
Depending on your needs and preferences as a rider, you are surely going to gravitate more towards one or two products mentioned in this review and feel less favorably about others. However, regardless of which clear riding glasses off the list you end up going for, you'd be getting a high-quality product that can make your motorcycle rides safer and more pleasant.
Do you have a favorite clear motorcycle glasses model that you'd like to be included in the review? Do you have any tips for readers who need prescription biker glasses? Maybe you have a question regarding one of the reviewed products? If so, be sure to share your thoughts in the comments section below!