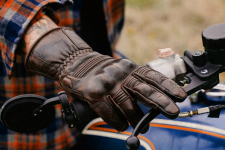 How to Wash Leather Motorcycle Gloves: A Comprehensive Cleaning Guide
Many bikers assume that it is not necessary to wash leather gloves. These items are most likely the gear that you barely pay attention to because you've never really noticed any dirt on them. Still, if you want your favorite pair of motorcycle gloves always to look good and last longer, saving you money in the long run, then you need to take care of these items.
Gloves can accumulate quite an amount of dirt or even start to smell, depending on how often you use them, meaning that you need to learn how to wash leather motorcycle gloves properly. If you wonder how to go about it, here you will find tips on how to clean and care for the gear. So, with these few easy steps, rest assured that cleaning your gloves will be quick and easy.
A Step-By-Step Guide on How to Clean Leather Motorcycle Gloves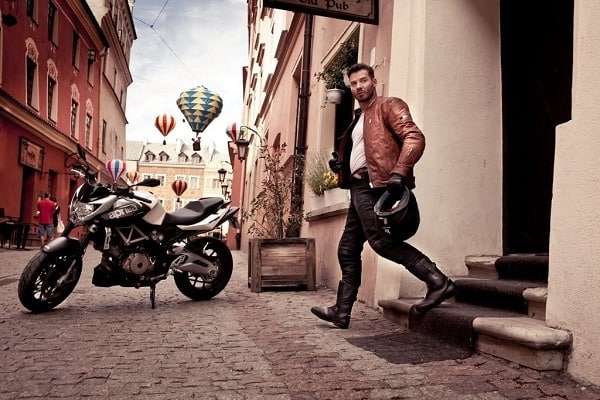 Leather apparel always looks better as it gets older. So, you can expect to look great in the leather motorcycle gear that you've had for ages. But just because leather pieces of clothing age like wine, it doesn't mean that you can leave them without the proper care.
You have to take a couple of steps to clean and wash riding gloves. While not all details may be included in the instructions provided by the particular manufacturer, you should always check the company's recommendations before starting with cleaning your gloves. This guide will provide you with a couple of tricks that should come in handy while washing the gear.
There are three basic steps to cleaning your gloves. You need to perform all of them if you want to achieve the classic look of your apparel while retaining the quality and function of your gloves. Also, it is vital to invest in the right leather care products, as they will ensure that your gloves look great for an extended period. The three steps to remember include:
Clean the interior;
Clean the exterior;
Drying your gloves.
Cleaning Your Gloves' Interior
Riding makes you sweat, and the inside lining of your motorbike gloves fills up with oils and salt from sweating. However, the amount of accumulated dirt will vary, depending on the weather conditions, the kind of ventilation used on the gloves, how often you ride your bike, etc. These factors will affect the type of cleaning needed for your leather gloves.
Step 1: Can You Remove the Interiors?
It's easier to clean gloves if they come with removable interiors. However, only a few models on the market have such removable parts. If the interior can be washed in a machine, simply pull the interior out, do a load, and then move on to the next step.
Alternatively, if the interiors are not removable, you can simply use a cloth, warm water, and soap. Do not apply an excessive amount of detergent, as it can leave marks on your gloves.
Once these pieces of clothing dry out, apply a small amount of talc. If the interiors come with a waterproof membrane, there is no need to treat them with it, and you can just put the inside parts back in the gloves when they dry out, too.
Step 2: Airing the Gloves Out
If your gloves don't have a removable interior, there's no need to worry. A lot of leather motorcycle clothes have a sweat-absorbing, anti-bacterial liner. So, there is probably an enhancement in the interior condition of your apparel if you just air it out.
If this does not work, you can try a different trick, that is, a leather fabric refresher. If airing the gloves out doesn't clean them, this treatment should work wonders.
Step 3: Application of De-Salter
The salt that collects inside your motorcycle gloves can, over time, result in some funky smells, as well as mold. Sometimes, airing out gloves or using the fabric freshener may not deliver the desired cleanness. If it happens, you should consider investing in a quality de-salter to get rid of the odor and mold.
To wash the interior of your gloves using de-salter, turn your gear inside out while applying the solution thoroughly on the material. Make sure that you leave the gloves inside out until they completely dry out.
Cleaning Your Motorcycle Gloves' Exterior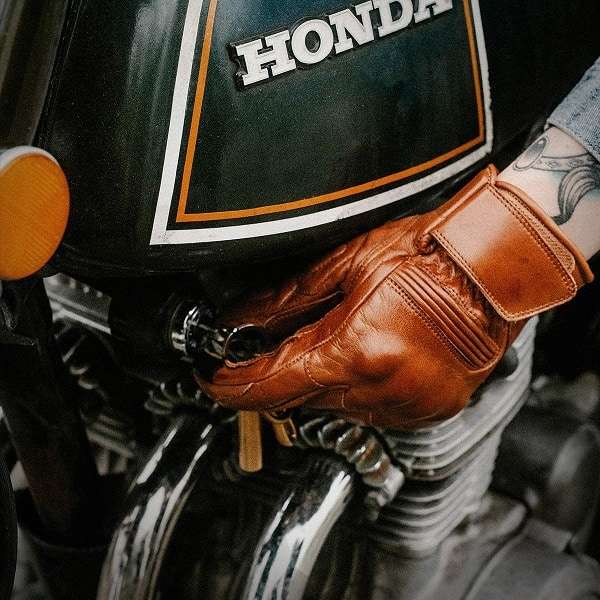 The outside of your gloves is most likely very resilient. The treatment process of leather fabrics allows them to withstand so many things, look good, and not catch stains as fast as other materials.
So, whether you're washing a pair of modern or old-school motorcycle gloves, you must be extra careful with the ingredients of the cleaning solution you use. You also need to check the instructions provided by the manufacturer so that you don't cause any damage to your favorite gear.
Step 1: Choose the Appropriate Leather Cleaner
You need to identify the solutions that you should not use to wash your motorcycle leather gloves. Factors may vary based on the glove's brand, design, and type of leather. However, it is typically advisable to keep off waxes, as well as silicones, as they usually dry out the fabric.
Also, you should stay off animal-based solutions, including mink oil paste, since these byproducts can discolor your leather apparel. Once you figure out the leather cleaner that will work best for your gloves, you can now get to washing them.
Different people use different methods of cleaning their motorcycle leather apparel. However, from my experience, the most effective technique is using a rag for spreading the solution on your gloves.
Step 2: Apply a Little Cleaner to the Cloth
Make sure not to use too much of the cleaner. More does not always translate to better, especially with leather gloves. The clue is not to overdo the washing and spread the solution on your gloves moderately. To achieve the perfect amount, it is important that you first apply the solution on a cloth. It will lower the chances of spreading too much solution directly to the gloves, as it could be quickly absorbed by the gear, leaving marks on the leather.
Step 3: Spread the Cleaning Solution all over the Gloves
Once you've applied the solution to the cloth, spread it on the glove's exterior. No need to be aggressive while cleaning the gloves. Gently apply the solution in circular movements to treat all the areas. Start with fingers and work your way to wrist parts, checking on the buildup of dirt on your cloth.
Once it gets dirty, you need to dip it inside clean water, wring out the excess water, and then continue where you stopped. Also, note that you don't need to clean your leather gloves with a specific solution now and then. You can simply use wet or even baby wipes since they can effectively spot-clean leather, thus, saving you from washing the items a lot of times throughout the year.
Step 4: Let Your Gloves Dry Out
You need to let your gloves fully dry out. Leave them out for as long as needed and make sure that your apparel dries out completely and smells fresh. Besides, for the conditioning step to be effective, the gloves have to be dry. It is important to let your gloves stay for a whole day between cleaning and conditioning to achieve the best results.
Conditioning and Drying Your Leather Motorbike Gloves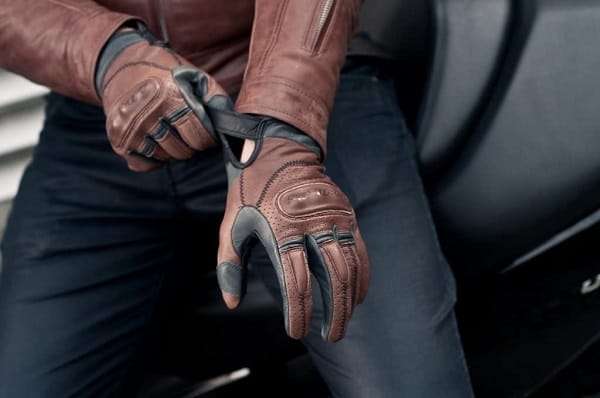 Your skin would crack if it got exposed to eighty miles per hour wind, or if you stayed out in the hot sun for hours. It is the same thing that happens to your leather gloves over time. Conditioning your leather items will rejuvenate them with the essential oils that diminish with usage, time, and getting exposed to a lot of things. Moisture will be restored to the pores of your gloves through conditioning that will increase the quality and service life of your gloves.
Step 1: Spreading the Conditioner to the Clean Leather Gloves
You will see that there are tons of leather conditioners available while conducting your research on how to go about conditioning your leather gloves. There are various opinions on which products work best. So, the critical step is to get one that suits the design and age of your gloves and then adhere to the particular instructions.
While a lot of such conditioners follow a similar application method, the most effective practices and guidelines provided by the manufacturer can slightly vary. Just like with the cleaner, spread the conditioner moderately to a soft cloth or a sponge. Then, apply it in circular movements to your gloves.
Also, just like the cleaning process, make sure to move over each entire glove by applying the conditioner evenly and don't miss the areas between fingers. It is vital to note that while you are not required to condition your gloves each time you clean them, you have to clean your gloves each time you intend to treat them.
Step 2: Leave the Apparel to Dry
Conditioning is an essential part of the cleaning process. To make it effective, you have to make sure that the apparel dries out the same way it needed after cleaning. It will ensure that your motorbike gloves absorb all the essential oils from the conditioner. Thus, your motorbike leather gear will look as if new and serve you for long.
Step 3: Do Not Condition Your Gloves Excessively
The final tip is to ensure that you don't overdo the conditioning procedure. It's okay to perform it either once or twice annually, depending on how often you use the gloves. Excessive conditioning will lead to a lot of oils on the gloves, resulting in their discoloration. Besides, it could eventually clog the gloves' pores, precipitately wearing down the material itself.
Tips to Keep in Mind for Cleaning and Storing Your Gloves
That was the entire process of washing your leather gloves. However, you also need to keep in mind these tips on how to effectively clean, store, and care for your motorbike apparel. It will not only ensure that they have a longer service life but also still look good:
Do not clean your motorbike gloves using a wet cloth dipped in hot water.
You can get rid of stubborn stains using a neutral detergent, a soft textile, or a leather cleaning solution.
Do not use any solvents, such as a softener, a cleaning agent, or petrol. These solutions could alter the color of your gloves.
Do not use machine-washing if it is not allowed by the manufacturer. Also, do not try to apply high pressures to help the items dry out or use a hairdryer to make the gloves dry out faster. High pressure and temperatures can seriously damage the leather material.
Ensure that you air dry your gloves for approximately twenty-four hours before storing them. Damp gloves placed in a poorly ventilated space could lead to odors or even deformations, destroying your favorite gear.
Do not expose your gloves to direct sunlight or a direct source of heat since they will get stiff.
Make sure to store them in a well-ventilated place.
Only dry your gloves naturally if they get wet. Place an absorbent material, such as newsprint, inside the gloves if they get wet inside.
If you have textile gloves with leather parts, it is advisable to treat them like leather gloves.
For waterproof gloves made of leather, do not put them close to sharp items, as they could pierce the waterproof insert found inside them.
Do not keep your motorcycle leather gloves inside your helmet. While it is common practice, it is not advisable to leave them inside the helmet, as they can become deformed. Once you remove them after riding, let them lie on a flat surface.
Final Remarks on How to Wash Leather Motorcycle Gloves Thoroughly
You may have initially assumed that you don't need to wash your gloves much. However, if you expect your favorite pair to last longer and still look good, you need to take care of it.
Considering how often you use the motorcycle gloves, it could be virtually impossible for them to stay clean. Although you can use wet wipes to spot-clean your leather gear, the gloves still require proper cleaning once in a while. With these tips, you can clean and maintain your leather motorcycle gloves easily so that they will remain to look great and serve you for many more rides.
How often do you clean your gloves? What do you use to clean them? Do you condition them? For how long have you had them? Share your experience with me! Also, if you have any queries or comments reading cleaning leather gloves, you can leave them in the comment section below, and I'll answer each one of them with pleasure.