The How's and What's of Street Legal ATV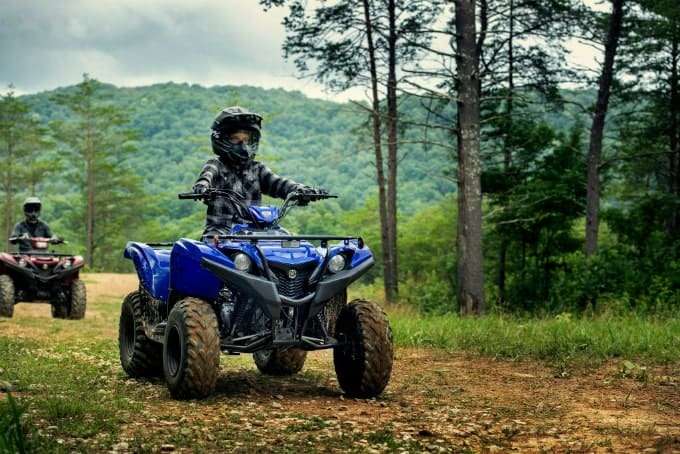 All-terrain vehicles (ATVs) are great fun, but they're quite different from cars, and I'm not talking about the design. Legally speaking, ATVs are considered a completely different type of transport. That's why a different set of laws and regulations rule over how police and government institutions like DMV treat these vehicles. 
Generally, if you're buying an ATV for personal use in your area, there are no problems with it. However, if you'd like to show off your ATV to your friends by rolling up to their houses, then some legal issues can arise.
This article goes through the aspects regarding driving ATVs on public roadways. Below, I will talk about what states allow driving ATVs on roads, under which circumstances you can do it, and how you can modify your ATV to adhere to state regulations.
Are ATV Street Legal in the US?
The answer to the question above is twofold. In the US, every state has the authority to regulate the means of transport, specifying which are street legal, and which are not. US street vehicles encompass cars, bikes, and trucks. It means that these types of transport are allowed to be driven on the public roadways across the US. 
However, the same doesn't go for ATVs, as these vehicles are not usually advertised as the means for public road driving. So, in some states, you can drive an ATV without worries, and in others, you'll be fined. 
As a person that has been long involved in the ATV motoring scene, I constantly see the same question popping up: "Are ATV street legal in my state?" That's the reason why I have decided to gather relevant information on ATV-related laws in all states into the list below. In this article, you can find all the street legal ATV states, as well as the states that don't allow ATVs on roads. 
Thus, if you're interested in whether you can drive your ATV on the streets of your state but don't want to read tons of laws and regulations, this post is for you. Read on to find your state mention with a short description on whether you can drive your ATV on public roadways or not. The information below is also applicable to UTVs (side-by-side ATVs), and it will help you to determine if you have a street legal side by side ATV.
A Strict No to ATVs in Alabama
Off-the-road vehicles are prohibited on public roadways of Alabama. Also, it is not allowed to drive them on the beaches and dunes on the Gulf of Mexico. You can drive an ATV only on private property with permission.
Alaska: The First of The ATV Street Legal States
You are free to drive an ATV on a public roadway to cross the terrain. If the off-road conditions make travelling impossible, you can drive the vehicle there, too.
Street Legal ATV Arizona
Arizona street legal ATV laws state that to drive on-road, you need to equip your ATV with appropriate brakes, taillights, and headlights. Also, persons under 18 aren't allowed to operate an ATV on public roadways.
Arkansas: Only Farming ATVs
Registration is required, but there's no special equipment needed. Only farming ATVs are allowed on roads. Children aged 11 or under can drive ATVs under supervision.
Are ATV Street Legal in California?
Yes, for everyone aged over 14. Street legal ATV California laws require ATVs to be equipped with at least one headlight and a spark arrestor. 
Colorado ATV Street Legal Laws
Colorado ATV street legal laws require registration of your ATV and allow driving on roads only to cross terrain or in an emergency. Also, the common ATV equipment (a head and a tail lamp, a muffler, brakes, and a spark arrester) is obligatory.
Connecticut Rules Say No
No ATVs are allowed on public roadways of Connecticut. You can cross the terrain only in case of an emergency. Registration and standard equipment are required.
Delaware Denies ATVs
ATVs are prohibited on roads of Delaware and must be pushed when crossing a road. Registration, in this case, is also a must. 2/3-wheel ATVs require the motorist and passenger to put on helmets.
Are ATV Street Legal in Florida?
Street legal ATV Florida regulations state that ATVs can't enter public roadways, except for unpaved ones with a speed limit of fewer than 35 miles/hour.
Georgia Is A-Okay with ATVs
ATVs are treated as any other street legal vehicle in Georgia. No registration is required, and you can freely drive your vehicle.
ATV Prerequisites in Hawaii
Only farming ATVs are allowed on public roadways of Hawaii with crossing no more than two lanes and the speed limit of less than 35 mph. Also, you should have the appropriate driver's license category. Safety helmets with chin straps are obligatory.
Idaho: Safety First
ATVs can be driven on-road. For persons under 18, safety measures such as a helmet are a must.
Illinois Is OK to Drive In
A special stamp must be bought annually and correctly displayed. No driving on railroad tracks is allowed.
Indiana Is a No Go
There's no public road access for ATVs, except for emergencies and road-crossing. Headlights and tail lamps for dark hours are required, too.
Iowa: Farming-Focused
Only registered farming ATVs receive public road access. It is obligatory to install effective muffling and lights on your vehicle.
Kansas Is Very Tolerant
No registration needed here. Although ATVs don't get roadway access, the crossing is allowed. You must have lights on your vehicle.
Kentucky: No ATV Fun
ATV driving for recreation requires safety gear. However, there's no public roadway or roadway access for this means of transport.
Louisiana Partially Allows
ATVs are allowed on public roadways but only on shoulders. Roadways are open for driving these vehicles to the nearby-living farmers. 
Maine: A Small Fee for a Whole Year
ATVs are subject to general street road rules. However, recreational use requires registration and an annual fee of $33.
Maryland: Lots of Requirements
ATVs must do good on all technical requirements. Your vehicle should have at least one head and tail light, a braking system, and a muffler. Safety gear is required, as well as supervision for children aged 12 and up.
Massachusetts: Even More Regulations
All ATV motorists must complete state vehicle safety courses. Reregistration is required every two years and must be displayed. Standard equipment is obligatory, plus you must have a red rear reflector. There's no public road access, except for emergencies. Note that you can drive only the ATV manufactured later than 1998.
No Special Treatment in Michigan
ATVs are treated as regular street legal vehicles here. Children aged less than 16 must complete a state ORV course. 
Minnesota: Not a Let-Down for ATVs
Registration is a must to drive an ATV in Minnesota. Also, ATVs mustn't be driven in pedestrian public areas.
Mississippi: Don't Forget Your License
A driver's license is needed for public roadways access. Motorists aged under 16 must wear protective gear.
ATV Street Legal in Missouri
ATVs are street legal here. Possession of ownership certificate and registration are obligatory. 
Montana Opposes ATVs on Roads
Public roadways can be used for crossing, and you can drive on the road shoulders in case of an emergency. An on-ATV decal of the registration has to be present.
Nebraska: Not a Chance
ATVs are prohibited on roadways with more than two lanes. Class O qualification is a necessity, and you must drive not over 30 mph. Also, there are common technical requirements for ATVs.
Nevada Is a No Go
No driving on paved roadways. Registration, safety gear, and standard technical requirements are obligatory.
New Hampshire: An ATV Haven
Crossing roadways is authorized, except for interstate, divided, and controlled-access roads. Protective gear must be present on motorists under the age of 18. Lights must be on when driving at nighttime.
New Jersey: Another No
The annual registration costs $50. However, you get no access to public roadways, except for crossing over. Driving in the nighttime requires safety gear and the standard technical ATV specifications.
New Mexico: Inaccessible for ATVs
Headlights and a spark arrester must be present. ATV mustn't produce noises louder than 96 dB. Also, ATV motorists under 18 have to wear safety gear.
Are ATV Street Legal in NY?
Yes, ATVs can be operated on public roadways of New York but not on roadways. Street legal ATV NY laws require common ATV specifications, and tires should be with no visible breaks.
North Carolina: Another Loss
ATVs are prohibited on public motorized sections. However, it doesn't apply to the farming ATVs. 
North Dakota: Unexpected Surprise
Driving on roadways is authorized. Head and tail lights and high-quality brakes are a necessity.
Not at All Street Legal ATV Ohio
In Ohio, you have limited access to public areas for motorized use. The only way you can drive an ATV is for crossing or on the shoulder of a roadway.
Maybe Oklahoma?
ATVs are allowed only on unpaved roads and public roadways when crossing (driver's license must be present). Persons under 18 must wear safety protection.
Oregon: A Great Choice for Driving ATVs
All roadways are open to ATVs unless specific ways designated differently. ATV motorists under 16 must hold a permit and be supervised by a person with a driver's license.
Pennsylvania: Impassable Obstacle for ATVs
ATVs must be titled and have registration. Public roadway use for ATVs is prohibited, except for crossing. 
Rhode Island: Emergencies Only
Registration is needed. Public roadways are only for crossing and emergencies. Mufflers are a necessity.
South Carolina Says Yes to ATVs
Public roadways are open but require lights at nighttime. Motorists under 18 must wear safety protection, as well as carry a safety certificate. 
South Dakota: Licensure Needed
Public roadways are only for crossing, so you can't drive an ATV here freely. Also, you need to have a valid license even if you cross the road.
Tennessee: No ATVs on Roads
Two-lane roadways are open only for crossing. Lights and protective gear are a must on roads. Farming ATVs are authorized on roadways.
No Street Legal ATV Texas
A driver must possess a safety certificate, and the ATV should have functioning brakes, muffler, and spark arrester, as well as lights for nighttime rides. Protective gear is needed to drive on public roadways.
Street Legal ATV Utah
Public roadways are open for ATVs, but the vehicle must be registered. Lights, muffler, brakes, and a spark arrester are a must. 
Vermont: No Public Area Access
Registration needed. Public roadways are restricted to ATVs.
Virginia: Farming-focused
Only farming ATVs are allowed on public roadways. Here you can drive your vehicle only in case of crossing or an emergency.
Washington: Don't Forget Registration
Registration is a must. Public roadways are for crossing only. 
Washington, DC: Not Allowed
Roadways are not for ATVs. Additionally, registration and affixing a metal plate to the ATVs is a must.
West Virginia: Sound Dampening Needed
ATVs must have spark arresters and mufflers. You have to drive with lights on at nighttime. Asphalt ways are for crossing, and driving on road shoulders is allowed.
Wisconsin: Only for Farming
ATVs for farming can use public roadways, and for other vehicles, there's only crossing allowed. Lights have to be present at nighttime. Registration is obligatory, as well as protection for motorists aged between 12 and 18.
Wyoming: Get a Truck to Transport Your ATV
Only crossing public roadways is allowed. Farming ATVs can use roadways only outside cities. Annual registration is obligatory.
Can You Make an ATV Street Legal?
If you live in one of the states that allow driving ATVs on public motoring areas, but there are some special requirements, don't worry. You can customize your ATV to make it street legal with small efforts, just like you would do it with your car or motorcycle. No laws prohibit modifications of vehicles. However, if you're not sure about your technical abilities, any local auto shop can help you with it.
How to Make an ATV Street Legal
As I have noted above, modifying your ATV requires adding some gear to the vehicle to make it street legal. In some states, no matter how much gear you add, you won't make your ATV street legal as these means of transport are not allowed at all. However, in states with specific requirements for ATVs, it is easy to customize your vehicle to fit the rules.
Street Legal ATV Kits
You can find online a lot of so-called street legal kits. They are made for people who want to customize their ATVs but don't want to get bogged down in searching for parts. The are many kits that include the most common parts. For example, there can be an ATV street legal kit that only contains an easy-to-install horn. Some other kits combine licensed spark arresters, mufflers, blinkers, and mirrors. Check out the requirements of your state and customize your vehicle accordingly.
Street Legal ATV Tires
Don't forget to think about tires. There are many types of tires when it comes to ATVs, including all-terrain, for mud, for snow, for rocks, for sand, etc. 
However, if you want to drive your ATV solely on public routes, consider buying street tires. They will improve your grip on the street, which will decrease the probability of an accident. Also, such tires will improve your braking and overall steering. Regarding the diameter of your tires, go for wide ones for asphalt, as they have an increased surface area and will improve your traction.
Safety of Street Legal ATV
The sole reason why so many states have regulations and prohibitions regarding ATVs is safety. ATVs and UTVs are not designed with public ways in mind. These means of transport do not excel on the surface of a road, which can potentially lead to accidents. Additionally, the ATVs' design makes the outcome of accidents even more dangerous. That's why it is essential always to wear protective gear when driving this type of vehicle. 
If you haven't purchased such a vehicle yet, and just checking the regulations before making a purchase, I recommend considering such street legal ATV manufacturers as Honda, Polaris, and Yamaha. If ATVs are allowed in your state, make sure to go for a trusted brand.
back to menu ↑
To Sum Up
In this article, I've gone through all the states in the US, highlighting which ones allow ATVs on public roadways, and which don't. I hope that you have found this post useful, and now you know whether ATVs are street legal in your area or not. Also, now, you are aware of the options you have if you want to modify your ATV to make it street legal. 
Can you drive an ATV in your place? Did I miss any details regarding ATV customization? Or maybe you'd like to share your personal story of customizing your vehicle? Feel free to leave a comment down below.